Flashback May 18, 1986 in the Tacoma Dome. Me a young 19 year old metal head there to witness Judas Priest with Dokken opening. Not in a million years would I have guessed I'd be back there in 2014 to see them in concert again.The Metal Gods still to this day deliver the goods.
Celebrating their current 17th album release "Redeemer of Souls" (the band's first top 10 charting album in the US ever landing at #6 on Billboard) is a perfect mix of Judas Priest over the years. The classic rock sound of the early 70s meeting the molten metal machine they've became from the 80s till now. In their 16 song set, a fourth of the set was new songs including the show crushing opener of "Dragonaut". The remaining third of the set included many of the Priest classics we've grown to love, but I was a little bummed no "Electric Eye", "Screaming For Vengeance", "Green Manalishi" or "Freewheel Burning" in the set. With 40 years of music to choose from I can't be too picky cause look at the final awesome setlist: Dragonaut / Metal Gods / Devil's Child / Victim of Changes / Halls of Valhalla / Love Bites / March of the Damned / Turbo Lover / Redeemer of Souls / Beyond the Realms of Death / Jawbreaker / Breaking the Law / Encore: Hell Bent for Leather / You've Got Another Thing Comin' / Encore 2: Living After Midnight (Joined onstage by Steel Panther) / Defenders of the Faith. Pretty bad ass setlist still!
Highlight for me goes to the Metal God himself Rob Halford. How in the hell at 63 years old is this guy still amazingly singing some of these songs? "Beyond The Realms of Death" was beautifully mind-boggling perfect. Definitely one the greatest singers ever in any music style. (Check out KISW's Men's Room audio interview 11/20/14 with Rob - Click Here)
When original guitarist KK Downing left the band in 2011 and was replaced by Richie Faulkner, it was like a energy infusion to the Priest lifeline. His crazy good guitar skills and energy onstage was an undeniable catalyst with Judas Priest continuing on touring and recording new albums when they originally announced they were done after touring in 2011/2012. It was super bad ass to see Richie come out and play his custom D'haitre' Stealth V! A guitar company based right here in Washington State by former Zakk Wylde guitar tech Andy Beech. His energy and style just fuels the fire of the guitar master himself Glenn Tipton. These two twin guitars rip as good as the old days with KK.
The Tacoma Dome nearly lost their mind as soon as they heard the roar of the Harley motorcycle coming onstage for the encore. We all know what that meant. The classic "Hell Bent For Leather" was here to fill our ears. Definitely one of the Top 5 favorites of all-time with fans in the Priest catalog. The Metal Gods live on and this show proved there's no stopping Judas Priest, the defenders of our faith...METAL! Thanks to YouTube channel Raphaefeli for the live videos! To view my full set of Judas Priest live photos click here.
Opening the show was Steel Panther, the 80s Sunset Strip butt-rock parody act with heavy over the top XXX overtones. They might look like they are stuck in 1984, but these guys play like rock masters and lead singer Michael Starr has the voice 100% of those 80s rock acts wish they still had. Well David Lee Roth at least, ha!
A definite crowd favorite to those there that knew them and a complete shocker to those that had no clue who the band was. I'm sure parents there with their kids plugged their ears and blindfolded their eyes, especially when the crowd of girls were invited on stage to strut their stuff on the last two songs of the night. Opening their set with the awesome "Pussywhipped" (off their new album "All You Can Eat") sent the crowd into fist pumping, head banging, hair metal frenzy. Their hour long setlist was a non-stop barrage of classics in the Steel Panther catalog: Pussywhipped / Party Like Tomorrow Is the End of the World / Asian Hooker / Just Like Tiger Woods / Community Property / Eyes of a Panther / 17 Girls in a Row / Gloryhole / Party All Day (F**k All Night) / Death to All but Metal. One thing most people don't know is Steel Panther guitar wiz Satchel (aka Russ Parrish) use to be Rob Halford's guitar player in his band Fight in the early 90s!
Steel Panther are back to Seattle January 17th at the Showbox Market. Buy tickets here! My biggest personal highlight tonight (besides Michael Starr trying to pull me up on stage numerous times from the photo pit - thanks Mocha Charlie for photo below of one of those moments) was with Steel Panther.
We've done many end-of-show shots over the past years, but to actually be on stage looking out to the thousands in attendance like so many musicians I've seen there for the past 30 years was a moment I'll never forget!! To view my full set of Steel Panther live photos click here.
---
This is pretty cool… Lawyer Milloy raided the 12th Man Flag on Sunday, and the former Seahawk and Husky had a GoPro on his head as he did it. Check out the footage…



Speaking of the Hawks…yesterday we "debuted" the new Marshawn Lynch / Collective Soul mash-up. Now we have a music video for the song…check it out!

---
Group Therapy is all about Rock-A-Holics helping Rock-A-Holics!

Jennifer's soon-to-be-husband has no idea that she has slept with 4 of the 6 groomsmen in the wedding party. She also slept with 3 more of his friends, who will be guests in the wedding. The groom-to-be recently asked Jennifer if she had slept with anyone who would be at the wedding, and she lied because she felt terrible about it.

Knowing that the groom has asked that specific question tells me that he has a pretty serious hunch that the answer is yes. Maybe he doesn't know the full extent of this rather shocking revelation, but I suspect that he was testing you, Jennifer. It seems obvious to me that you are trying to spare his feelings and leave your past behind you, so I hope that he won't hold it against you. I'm pretty sure he knew at least part of the answer to his question, so maybe it's time to come clean and move forward.

Jennifer says that she used to drink a lot, and that informed her decision-making process. Personally, I don't think that you need to make excuses for your sexual choices. It's 2014! If you're disease-free, and you are faithful to the man you're going to marry, then the important points are covered.

What say you, Rock-A-Holics? Should Jennifer reveal the truth? And how do you think the groom will – or should – react?
---
I think this text sums up yesterday's Hawks game…

There was some of last year's magic yesterday. You could feel it. They got the chip back

What an awesome win! And what an awesome post game interview by Marshawn Lynch!



His "Yeah" answers inspired us to create a remix of a classic Collective Soul song…look out Ed Rowland…I think the band has a new lead singer!



Did you see what many are calling the greatest catch in NFL history? Rookie Odell Beckham Jr. from the Giants made an insane catch yesterday…check it out:



I call the catch "The Shocker" as he only needed three fingers to catch that ball… waka waka!

Finally… yesterday was the WWE's Survivor Series Pay Per View…and history happened as STING made his way into a WWE ring for the first time EVER. This is huge for us wrasslin' fans. It was a moment I won't forget…I only wish this would have happened closer to Sting's prime, but if last night was any indication…I am excited to see how he is used! This video might be gone by the time you read this blog…but here is the moment last night…



Here is another version of the video…in case the one above is pulled…the quality of this one is not great, but typically videos of people recording off their TV stick around longer!

---
Today's blog comes from one of my mentors, Dan Sanders:
Anyone, especially someone who has worked in radio as well as fans of pretty good TV, will remember the show
WKRP in Cincinnati,
which ran from 1978 until 1982. A classic episode was called "Turkeys Away." Mr. Carlson, AKA the Big Guy, decides to create a big Thanksgiving Day promotion. He gets a helicopter with a banner attached to it saying "Happy Thanksgiving from WKRP" and drops live turkeys from the helicopter. This obviously created a less than celebratory reaction on the ground as the turkeys plummeted earthward. A classic line from that show is uttered by Mr. Carlson who confesses he thought turkeys could fly.
This year another misguided effort related to Thanksgiving is taking place—a movement comprised of people against shopping on Thanksgiving, supposedly out of deference to employees who would have to work that day. While I totally agree with supporting the employees who want to stay home with their families, I'm pretty sure not all employees want that day off. I have worked for the hourly wage (which will go to $9 an hour on Jan 1 in Massachusetts, a raise from the current $8 an hour), and being one who would have missed the money by not being paid for a day, I worked. Many employers, especially in retail and hospitality, are open on holidays and conduct business as usual. Workers are expected to work holidays and are
typically paid their normal pay rate
, but it is pay they would not get staying home. Instead of a shopping "strike," the real focus should be on these workers getting paid and paid fairly.
Kmart offends me. Kmart will open at 6 a.m. on Thanksgiving Day (if local blue laws don't prevent it) and remain open for 42 hours, meaning that many employees will have to come to work. The company says it tries to fill shifts with volunteers or seasonal hires, but workers report that the reality is very different. Kmart has said that any employee who doesn't come to work will be fired. If you were struggling to support a family or a student with a $100,000 loan to pay off, what would you do? You would work, and after Thanksgiving, deal with all the seasonal mayhem (or should I say turkey and ham?) that continues for employees on Black Friday and Cyber Monday and throughout the holidays that pad the pockets of the CEOs.
As for the protesters, I wonder how many of these non-shoppers will go to restaurants, buy gas, go to a movie, or pick up something at a convenience store on Thanksgiving? If they're going to avoid shopping, they should also refuse to patronize other establishments with, perhaps, the exception of mom and pop stores, each of which can choose to be open if these owners wish to work.
I don't know how to fix this situation, but while the protestor's heart is in the right place, I do know Joe and Mary Worker will have to work on Thanksgiving. Somehow companies like Kmart need to be brought down and retail workers need to be treated fairly, but I'm afraid this "Don't Shop on Thanksgiving" knee-jerk initiative won't do it. Like the elections, which attracted only 40% of voters, nothing will change with this effort and some, like a mom working to feed her children, might actually be hurt if they can't work.
---
Bill Cosby is facing a ton of accusations right now, but this blog post isn't specifically about the terrible allegations that he's dealing with in the media. I think that people all over the world are hoping that these matters will somehow be disproven to everyone's satisfaction. It's not looking so good in that department, but we do hate to see a revered comedy legend like Bill Cosby fall from grace, especially right out in the public eye like this.

Raven-Symone – who played Cosby's young daughter on TV – has been forced to step forward to deny the claim that she was molested by the comedian during their time on The Cosby Show. Why would she have to defend herself against this story? It's all because a so-called "parody" website circulated an article claiming that Symone was pursuing charges against Cosby, and that article went viral.

I find this completely disgusting, and offensive in every way; not only did these people jump on the horrific Cosby sexual assault bandwagon, but they invoked child molestation to improve their click-count. They have confused the real news cycle, and they hurt Raven-Symone, who had no relation to this case. I think we all know how long it takes for a fake news story to be disproven when it seems real, especially after it goes viral and makes the rounds on social media.

You want parody? Go read The Onion. This is way over the line, it's not funny, and it's just plain disgusting. We joke about a lot of taboo things around here, but this kind of nonsense is just beyond the pale.

---
I'm sure by now you have all seen that video of the three grandmas getting stoned for the first time. If you haven't seen it, you can click HERE to watch it.

Since it was their fiurst time getting stoned…we figured we would conduct a similar experoiment…we had Mono-Nick NOT get stoned for the first time. Enjoy…



A comedian named Lauren O'Brien posted a great video where she impersonates 14 different celebrities…if they were stuck in traffic. The funniest ones are probably Drew Barrymore, The Olsen Twins, Kristen Stewart, and Miley Cyrus.

---
Today was awesome…we had Anna Faris on the show, as there is a new episode of Mom tonight. Mom is one funny show…somehow they have taken a show about teen pregnancy, being a single mom, alcoholism, and even a gambling addiction…and turned it into a compelling funny show.

Anna is a Edmonds gal…and her husband Chris Pratt is a Lake Stevens guy…so when we started talking about the Seahawks, she handed the phone to him because he wanted to talk Hawks and his dog too! How awesome is that!! I figure since we talked Hawks and pups…I would tweet them a thank you note….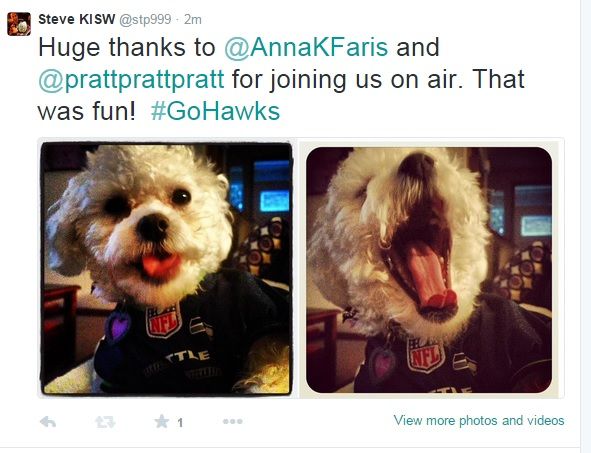 Check out this awesome interview HERE!

This is pretty cool. The other day I was talking about wallets, and now I have a wallet that actually doesn't take up a ton of room in my pocket. Plus…it's made from recycled and reused materials. The pictures don't do it justice, but the fact that this is made from recycled stuff is blowing my mind...the quality is top notch and it's a cool looking wallet. Now I need to make some more money so I can fill this bad boy up haha!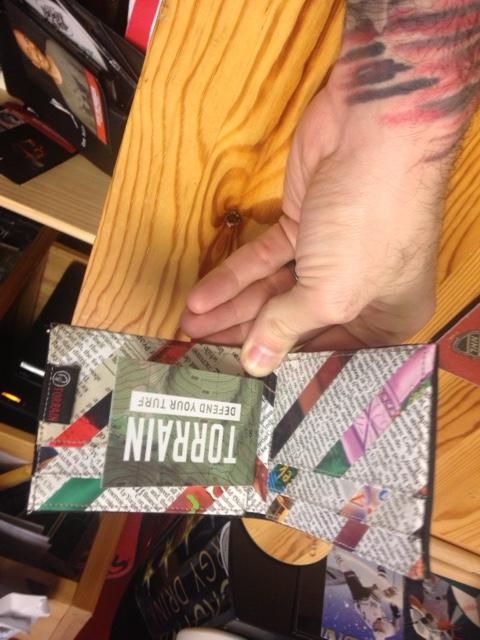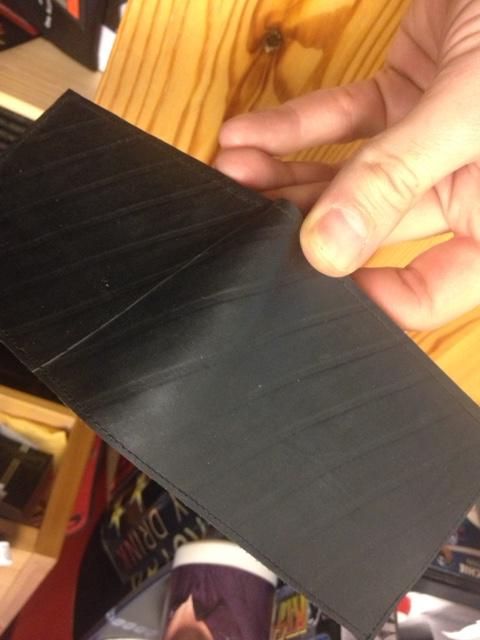 Check them out online…it's a Portland based company called Torrain, and they also make some cool looking bags that are made from recycled stuff too: www.torrain.org . If you dig the wallet, just CLICK HERE to go right to the page with it.

Did you know that Thee Ted Smith and I do a podcast? It's called The Mega Cast, and we just posted a new one last night! This week on the Mega Cast -- we give you 30 (push-ups), so we expect the same. Plus we talk about Tosh ripping on ESPN. Push up for days, son...you in? Listen to this week's episode on iTUNES & Stitcher (subscribe too…search The Mega Cast), or listen right HERE!
---
Social media is a real minefield sometimes.

Dave and Buster's is a sports bar/arcade restaurant with locations all around North America. They recently tweeted: ""I hate Tacos" said no Juan ever", in reference to a Taco Tuesday promotion. As you might expect, this didn't really go over very well with some people, and the backlash is in full effect.

I asked our own Vicky Barcelona – a young woman of Mexican descent – and she said she's not offended at all. In fact, her father and brother are both named Juan, and Vicky said that she frequently shares "Juan" wordplay jokes with them, and they all think they're funny.

Thin Skindrome continues to sweep our country, and this is a case that I find especially bothersome, because I don't believe that non-Mexicans necessarily have a right to be incensed by this situation.

Dave and Buster's deleted the tweet, and later issued a public apology. Do you think the tweet was offensive? And how do you feel about people being outraged on behalf of groups – ethnic, sexual, or whatever – that they don't belong to?
---
It's time for Group Therapy, gang!

Today, we're trying to help Mary (not her real name). Her soon-to-be-fiance just confessed something that she's struggling to accept: nearly twenty years ago, he was a prostitute…and his customers weren't women. In fact, he says that he's slept with over a hundred men!

This was something that happened during a very different time in his life. He was living in Florida, addicted to drugs, and living on the streets; the prostitution was just a way to make ends meet, and feed his addiction. These days, he's happy, fully recovered from the drugs, and thankfully disease-free. He also says that he's not gay. Unfortunately, it's not all good news for Mary, who didn't know about the drug addiction, or the prostitution. She says this revelation has hit her like a ton of bricks.

Mary's sister knows the secret now, and she thinks it's time to put the relationship out to pasture. Mary is concerned that her boyfriend must be gay, if he slept with men in the triple digits. She doesn't know what to do, so she came to her fellow Rock-A-Holics for help.

Mary, your boyfriend's sexuality isn't much of an issue, in my opinion. The real question of concern here is: will he be monogamous? Is there any chance of a relapse, either to the drugs, or the prostitution? That's the big red flag issue for me.

Can anyone offer Mary some advice? We'd love to hear from everyone, but we're especially interested in some feedback from people who have been in a similar situation…

---