The world is coming to an end y'all. Why is that? Well Russell Wilson is getting divorced, and the internets can't handle it. People on Facebook and Twitter are collectively losing their "dook" over this. How could it be? Not Russell Wilson! I get that it's a bummer story, but I have no idea what is going on in his personal life, but at the end of the day…he will be OK. His wife will be OK. Thankfully they don't have children, so their non-children will be OK.

The crazy part about this is how personal some are taking it. I love the Seahawks as much as anyone else, but I'm certainly not going to get mad if someone if making a joke about this. Some people are losing their cool on their friends when they "dare" to joke about this. I saw one person on Facebook joke about it… saying something like "Russell is getting a divorce, hit me up Russell!". Maybe if she added an LOL at the end of it people wouldn't have been mad, but that post led to a slew of comments saying how awful and wrong it was to joke about this. Settle down kids.

TMZ made this a big story as well. I loved some of the comments that showed up from readers about the divorce news…here are just a couple highlights:

Gotta ditch the wife before the big contract comes in, smart man.

Word is she slept with Golden Tate. He got traded, she got dumped.

WILSON DROPPED THE 3RD YEAR OPTION ON HIS WIFE

This guy won the SB and getting so much more tang thrown his way.

Ok…moving on… here is a funny video I came across. In every infomercial, they show someone struggling to do something simple…like use plastic wrap or crack an egg without getting pieces of shell in the food. The actors always make it look IMPOSSIBLE. So someone took a bunch of those clips, and posted a four-and-a-half minute montage online.

---

All aboard the Group Therapy bus! Keep your hands and heads inside the vehicle at all times, please, and always remember who your Rock-A-Holic Buddy is!

We received a message from Mike on Facebook, and he shared a pretty shocking story about a school bus driver who stopped at a bikini barista stand while she was driving kids around!

The bus driver – who is female – left the doors open and the bus engine running, with kids onboard, while she got coffee. It gets worse, if you can believe that: she got back on the bus with her cup of coffee and a lit cigarette!

Mike's co-worker got pictures (he sent one to us) and they say this wasn't the first time they've seen this particular driver make her coffee stop.

Let me be clear on a big point: anyone who leaves any kind of vehicle running while they do something else is an IDIOT. That is just plain dumb behavior, and it's a thousand times worse if your vehicle is full of kids whose safety is your responsibility.

One more time, with emphasis, just in case there's any question about my position here:
YOUR VEHICLE HAS CHILDREN IN IT, AND IT'S YOUR JOB TO TAKE CARE OF THEM. ANYTHING AND EVERYTHING YOU DO SHOULD BE DIRECTLY CONNECTED TO THAT ONE SIMPLE RESPONSIBILITY. DON'T BE AN IDIOT.

I have no problem with bikini baristas, but I can certainly understand why most parents wouldn't want their kids being exposed to that particular kind of business.

When all is said and done, there is no acceptable excuse for this, but I have to admit that I'm sort of doubly surprised that the bus driver was a woman. Is it unfair for me to say that I expect a female to be smarter than this? Maybe I misunderstood all the lessons I've been learning from Oprah, but I just feel like women usually have enough common sense to know better.

(For the record, we sent the photo of this "coffee break" up to our management folks, just to be sure that we're performing all due diligence.)

How would you feel if this was your kid's bus driver? Let's hear your thoughts, people!

---
Hello again, friends! If you're looking to perform a good deed today, you could do a lot worse than helping out a fellow Rock-A-Holic with some Group Therapy!

We heard from Jeff, who told us about an encounter he had the other morning:

A stranger followed Jeff down the highway for ten minutes (or so the man claims), and finally caught up to him when he stopped for a bite to eat on the way to work. This man explained to Jeff that he tracked him down to tell him gas cap was open. Jeff was grateful, and thanked the man for letting him know…but he was pretty shocked when his so-called Good Samaritan asked me for 10 bucks for gas, because he'd traveled so far to tell Jeff about the gas cap!

Jeff had some cash in his wallet, but he told the stranger that he didn't have any money. That didn't go over so well, but Jeff thanked him again, and then left. Jeff's wife later said that he should have given the man some money.

What is it with some people and giving money? It doesn't come from an endless source, but I know some people who seem to think that it does, including my wife! I think it's absolutely ridiculous, personally.

Plus! Let's not forget that the "good deed" was an open gas cap. I'm sure Jeff would've noticed at some point during the day, and it's not like an open cap does serious damage.

I also find it more than a little weird that this guy followed Jeff so far. That kind of behavior tells me that this guy isn't on the level. We have some homeless scammers in downtown Seattle who try to extort money for "parking assistance" – offering guidance for meter-feeding, holding parking spots, etc. – and this situation doesn't seem too different to me.

Admittedly, I get a little lost when we move outside the world of waiters and hotel bellhops; I have trouble knowing who to tip! This is a different circumstance, but it still leaves most people with questions about "doing the right thing." I think I'd probably offer some kind of rewarding gesture for someone who really saved me from a major inconvenience, or alerted me to a safety risk that I wasn't aware of…but an open gas cap doesn't really meet the criteria for me.

I also seem to remember being raised to understand that we do good deeds for the sake of it, not the potential rewards. Am I the only one who caught that lesson?

What do you think, Rock-A-Holics? How would you handle this situation?



---
Last night I was watching the NHL playoffs and something hilarious happened during the Rangers / Flyers game after Dan Carcillo scored for the Rangers. You have to love the rivalry between these two franchises…not only with the players, but also with the fans. Keep in mind that Dan was once a Flyer, so this fans reaction and his reaction in turn was priceless…


Yesterday all of us went to lunch and had an awesome meal at some New Orleans themed restaurant in Fremont called Roux. Wow…this place was amazing! I had the Fried Oyseter Po'Boy and the Jumalaya, and it was incredible. I highly recommend it. Speaking of getting high…I was on a sugar high from the dessert…it's called a beignet, it's like a very powdery donut. As I ate it, it left a remnant that looked suspicious!




Check out Roux here: restaurantroux.com – everyone from the show dug it.

Yesterday we re-capped our (Thee Ted Smith & I) trip to Spokane with my hockey team, the Tacoma Donkeys. During the re-cap we shared a story of the fun we had with a ball that glows upon impact.


Listen to the whole podcast HERE! You can also listen on iTUNES or Stitcher -- just do a search for STP-CAST and subscribe!
---
SIS Happybeertime.com 14 Best Songs About Beer.


In honor of The Men's Room's event this Thursday, April 24th at Elysian Brewery Production Facility for a night of beer drinking, dinner, and debauchery! Full details in link! http://www.kisw.com/MENS-ROOM-BREWERY-NIGHT/18766215

Dig the full article with video's and more from Happybeertime.com http://www.happybeertime.com/en/2013/09/13/15-best-songs-beer/

And a playlist to get you primed for Thursday!
http://kisw.tunegenie.com/u/__znjWJ0YSSKBC2kr2EE2Yg/sis-happybeertimecom-14-best-songs-about-beer/


Long Neck bottle – Garth Brooks

I like beer – Tom T. Hall

Beercan – Beck

I drink alone – George Thorogood

Duff Beer Song – The Simpsons
In an ESPN.com column he wrote:

My name is Duff McKagan, and I play rock and roll music. The beer on "The Simpsons" show was named after me, and not the other way around. (I suppose it is a testament to how much alcohol I used to drink. Yeah, not too sexy really.)

"Our management for GN'R got a fax but it was from like an adult cartoon. Now there wasn't any adult cartoons in 1988. There just wasn't and like, 'an adult cartoon?' They want to use your name as the name of the beer on the thing and they just want your blessing. It's not like I own the name Duff, I should've trademarked that thing on up if I would've known but yeah, that think took off, that Simpsons deal."
And here's how he put it in his autobiography:

When Guns N' Roses began to break into the public consciousness, I was known as a big drinker. In 1988, MTV aired a concert in which Axl introduced me – as usual – as Duff "the King of Beets" McKagan. Soon after this, a production company working on a new animated series called me to ask if they could use the name "Duff" for a brand of beer in the show. I laughed and said of course, no problem. The whole thing sounded like a low-rent art project or something – I mean, who made cartoons for adults? Little did I know that the show would become The Simpsons and that within a few years I would start to see Duff beer glasses and gear everywhere we toured.


Six pack – Black Flag with H.Rollins


40 Oz. to freedom – Sublime


One Bourbon, One Scoth, One Beer – John Lee Hooker


Drinkin' beer – Jimmy Witherspoon


Hey Bartender – The Blues Brothers


Oh good Ale – The CopperFamily


La bière – Jacques Brel


Pretty good at drinkin' beer – Billy Currington


Roadhouse Blues – The Doors


---
Today I as I write this blog I do not feel great but I feel a lot better than Monday. Last weekend I made the trip to Spokane with STP from the morning show and his hockey team the Tacoma Donkeys. This trip is really a fun and awesome time for all the boys on the team and me. See while I do not play hockey I help inspire the team and keep the energy level up as a coach of sort. When I say I do the little things like fill up water bottles with beer and watch over some of the locker room. I also make sure to do my job as an ambassador for the donkeys in the beer garden. I like to go in there and have a few and chat some people up about the rest of the crew. The thing about this trip is that it is different in the fact no one cares about what you do and no one is just a D. Every year some guy will get too drunk and have to put to bed early. Side note I was that guy last year. The beer garden is also a blast event though we did not spend a ton of time in it this year. I am also happy to announce that I finally went to a Trappers sushi with STP and it was great. Overall a great weekend and a great time to catch up with my old buddy STP. This weekend my Mom is in town and I am taking her on a little weekend trip that will be fun but not Donkey fun
---
We thought this was a pretty interesting study about status.

A new survey compared the top status symbols from the '80s to the top status symbols today. Interestingly enough, only one thing was the same: Sending your kids to private school.

Here are the top 10 status symbols today…

1. A fancy car.
2. A designer watch.
3. A swimming pool.
4. Flying first class.
5. Owning a second home.
6. Having a tennis court.
7. Sending your kids to private school.
8. Having a vacation home.
9. A home with electric front gates.
10. A nanny.

Here are the top 10 status symbols from the '80s...this will crack you up as some are just things we all have now…

1. A car phone.
2. A dishwasher.
3. Sending your kids to private school.
4. Having two cars.
5. Going overseas for a vacation.
6. Having a sunroom.
7. Owning a horse.
8. A color TV.
9. Diamond jewelry.
10. Having a cordless phone.

Here is yet another example of why The Tonight Show With Jimmy Fallon rules…this blows me away that he and his crew were able to edit this up as well as they did. Check it out…Brian Williams edited so that he is singing Snoop Dogg!

---
Come on in, gang! It's time for some Group Therapy!

We heard from Glenn, who needs some advice about his damaged laptop. This isn't a tech support situation, however…

Glenn's 9-year-old son knows that his dad's home office is completely off-limits, but he still goes in from time to time. During a recent rule-breaking visit, the son's friend spilled juice on Glenn's laptop, completely ruining it.

The kid's parents have only forced him to apologize, but Glenn is wondering if he should ask them to replace his laptop. Glenn says that the neighborhood kids are also fully aware of the rules, and should know that his office is a "no-play zone," so it's not like his son's friend was completely oblivious to the house rules.

Back in the day, this wouldn't have been a question. The parents would step up and replace whatever their kid ruined, intentionally or accidentally. That's just how things worked then, but we certainly live in a different age now.

I've seen my own son (and his friend, whom we call "Coke Can Boy") damage someone else's property -- in a very nice home with expensive contents -- but the "victim" dismissed my offer to pay for it. I was sincere about doing the right thing, but I will admit that I was a little relieved that I wasn't on the financial hook for the incident.

There is a line of thinking that says you can't really blame the neighbor kid if your own child broke the rules by allowing access into the office in the first place, but Glenn did specify that the other kids are aware of the rule. It's a tricky situation, to say the least. I also can't help wondering why a 9-year-old and his buddy were unsupervised long enough to enter an office and spill juice on a laptop, but that may be a completely different Group Therapy session in itself.

Has this happened to you, Rock-A-Holics? How did you deal with it?

On the other side of the coin, have you been the parent whose kid ruined someone else's property? Did you step up and at least offer to pay for the damage?

---
Today's blog comes from one of my mentors, Dan Sanders.

Sometime in July of 1955, a magical thing happened. Walt Disney's dream came true, and the gates to Disneyland were opened wide. Originally called Disneyland, its name was changed to Disneyland Park in the 1990s to distinguish it from the expanding complex. The place was and is full of glitter and romance, inhabited by princesses and princes and a mouse named Mickey.

Back then, I had the embarrassing opportunity to tour the Magic Kingdom. Yes, embarrassing. My mother insisted that I place a Mickey Mouse ears/hat on my head, which already had over sized ears, and I looked like a two-headed rat, er, mouse. I don't know what that embarrassing hat cost back in 1955—it was an original—but Annette looked a lot better in it than I did.

This blog is not about my childhood humiliations, though. It's about the children of today and the movie Frozen, which has spawned an outbreak of buying frenzy for the movie's costumes. Desperate parents are paying thousands of dollars for Elsa dresses. Yes, thousands!

This is insane! Even if parents have money to burn, they are sending their children a discomforting message about consumerism and the things that matter: They will always get what they want. Corporate retail loves this, but what if children's future careers are more barista than barrister, as happens often today, and they are confronted with disappointing choices they are unprepared to make? The VW will have to do instead of the Lamborghini, and even buying the basics might require some thought. The price of milk has skyrocketed, and gas remains volatile, making me very glad I don't need to drive a lot.

I'm not sure if my argument is more with the media marketing giants that lead us to want, want, and want until we actually believe that we need, need, need, and will spend the bread, bread to get it, or is it just part of a continuing circle? In the case of the Elsa dresses, you search, run, and beg and plead because you want to be a good parent and give to your child what you didn't have. ("Gee, mom, my friends have one. Why can't I?") I'm not condemning parents, but I do think it's feeding a circle of want that makes corporations giddy with happiness and leaves values in peril.

There will be more thoughts about these and other topics at Rambling Harbor. Stop by and give a listen.


http://dbsanders.podbean.com/2014/04/20/teach-your-children-how-to-spend/
---
Over the weekend I was in Spokane for the annual hockey tournament my hockey team, the Tacoma Donkeys, go to – the Northwest Classic! It's easily the best weekend of the year, 32 teams all show up to Spokane to play hockey, hang out, and have a great time. It's questionable if we really accomplished the first goal (play hockey), as we got our donkey asses handed to us, but we definitely succeeded in the other two goals (hang out & have a great time).

Before we left for Spokane on Friday, Thee Ted Smith came over my house to spend the night, as he is our coach for the weekend. On Thursday night we hit up Trappers in Puyallup, where he got to try their sushi for the first time, and he loved it!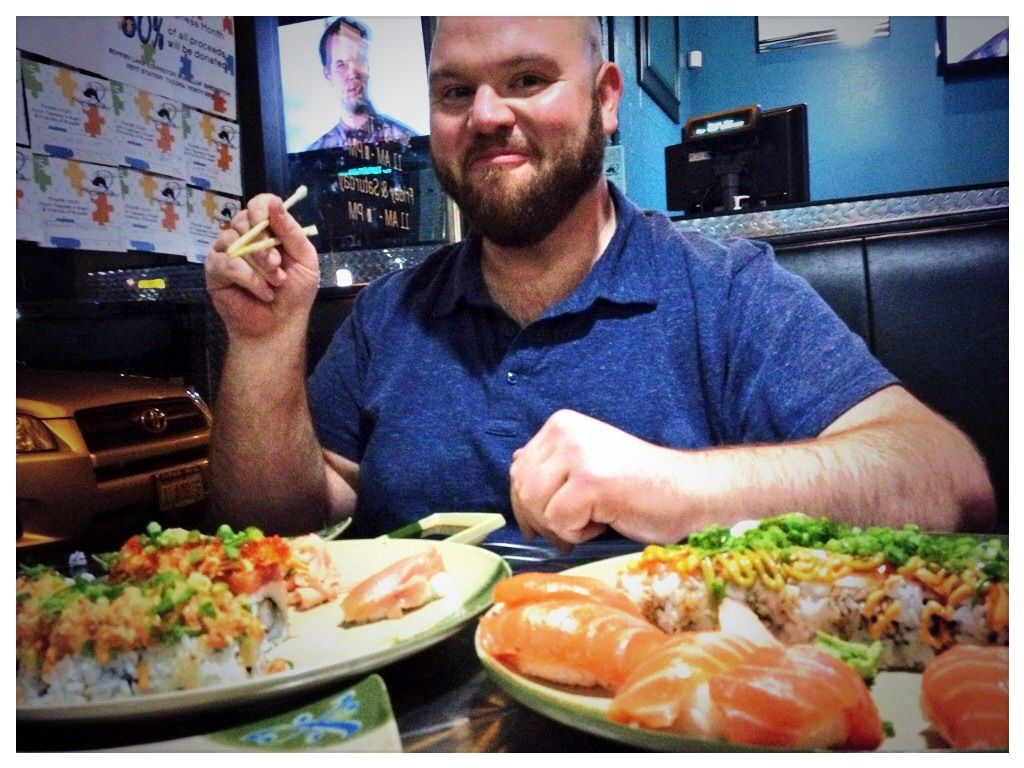 Friday morning, we woke up…packed up my Jeep with the essentials, and headed to the rink to meet up with the guys…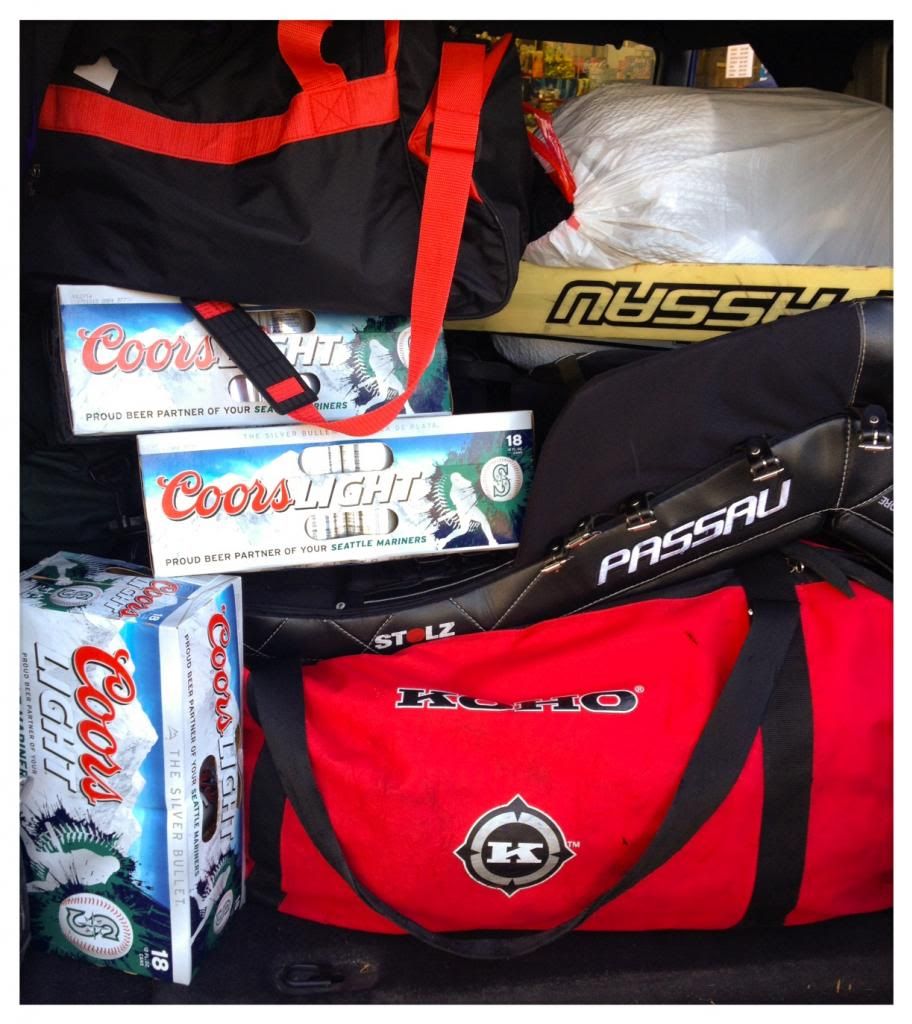 When we get there, I see our Party Bus…yes we took it to the next level, we graduated from a limo to a party bus, and holy smokes what a great upgrade! The party bus was amazing…I've never been in one until this weekend.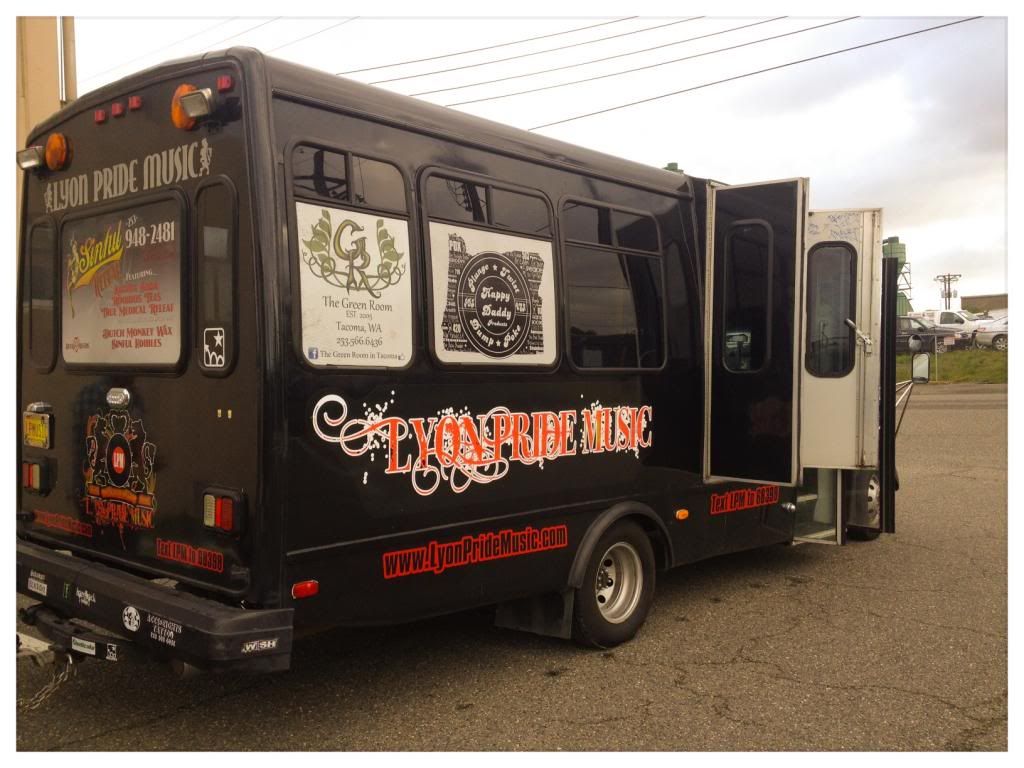 Big props to Kotton, and Levi from Lyon Pride Music for the great experience on the party bus. If you are ever looking for a party bus, you should hit these guys up…I know they have a lot of bands use it, but now they can add hockey team to their list of clients. We would use these guys again in a heartbeat…Kotton was like our "Den Brotha", he kept us all together throughout the weekend, and when you have 13 drunk fellas walking all around, that is a HUGE feat!

If you are looking for a party bus…hit these guys up at www.lyonpridemusic.com or get info HERE.

Before we got on the bus we had to take inventory on our beverages.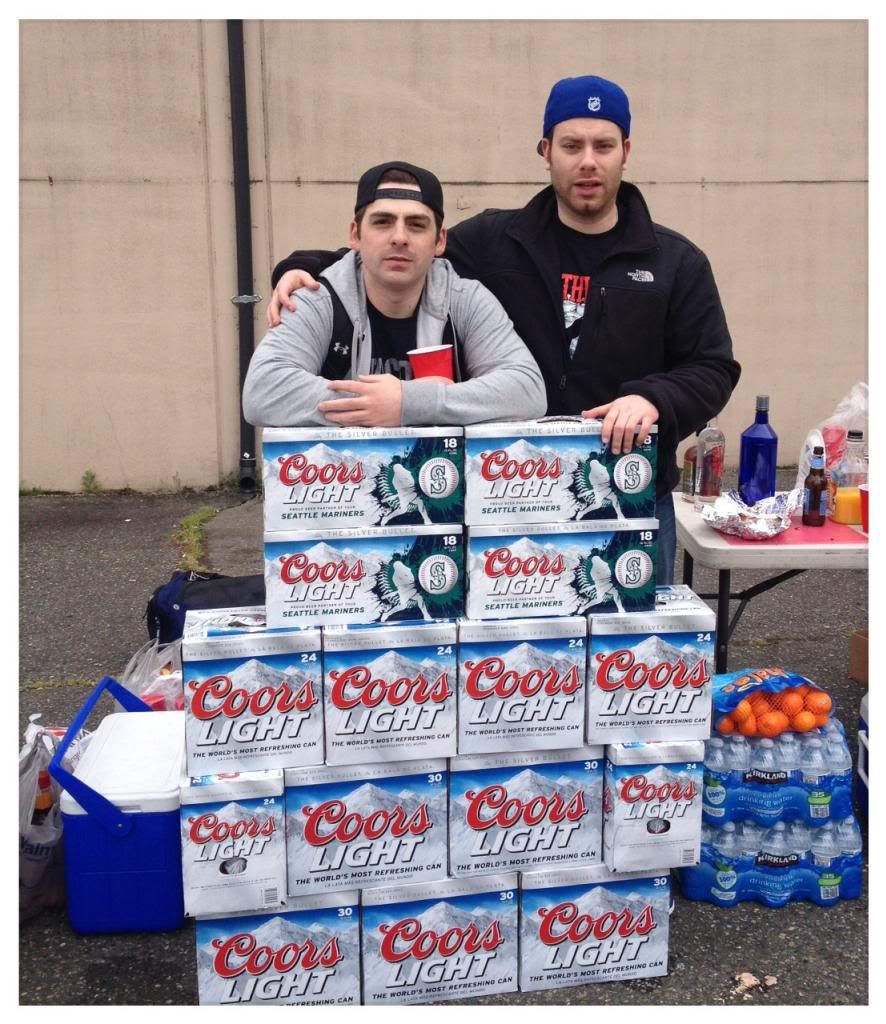 Here are a couple pix of us hanging on the bus…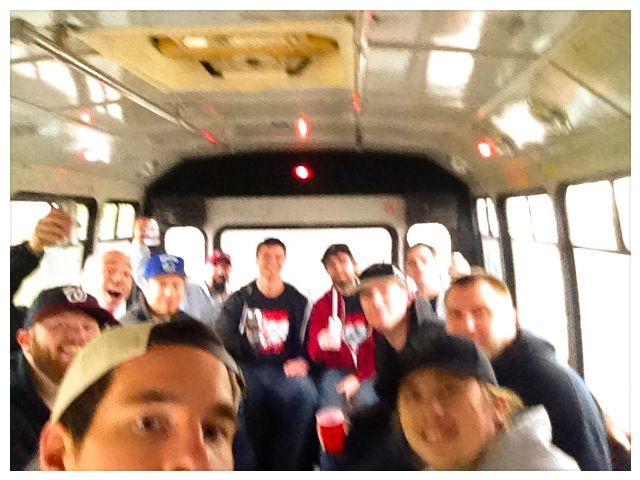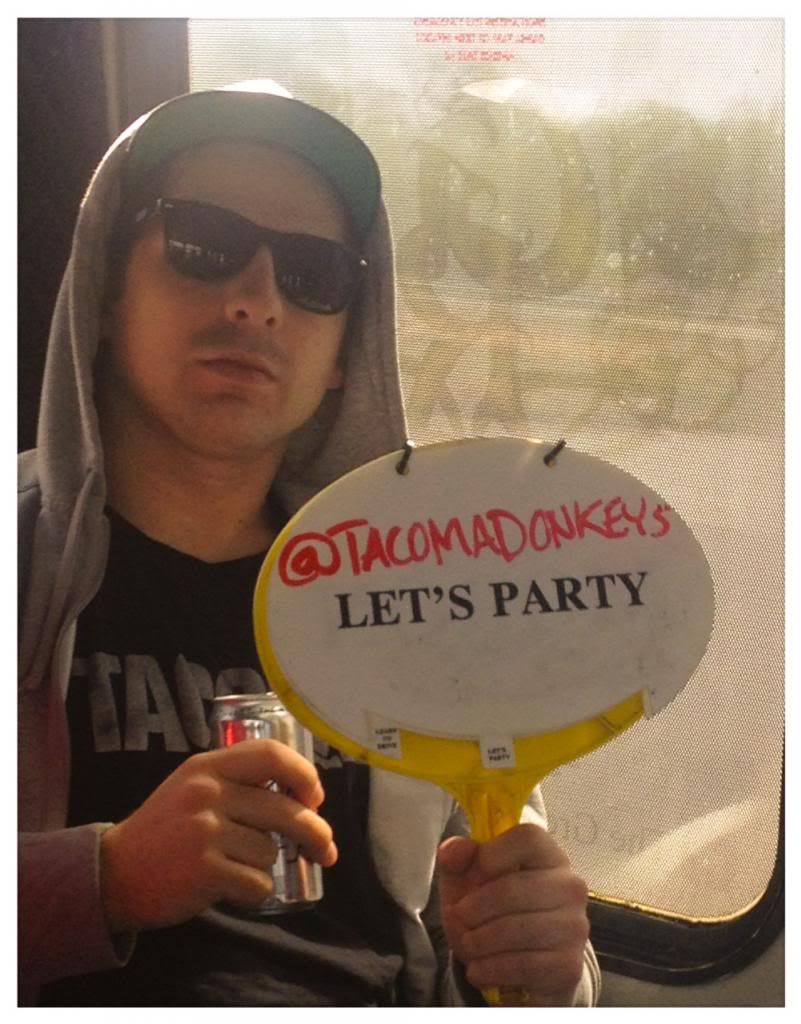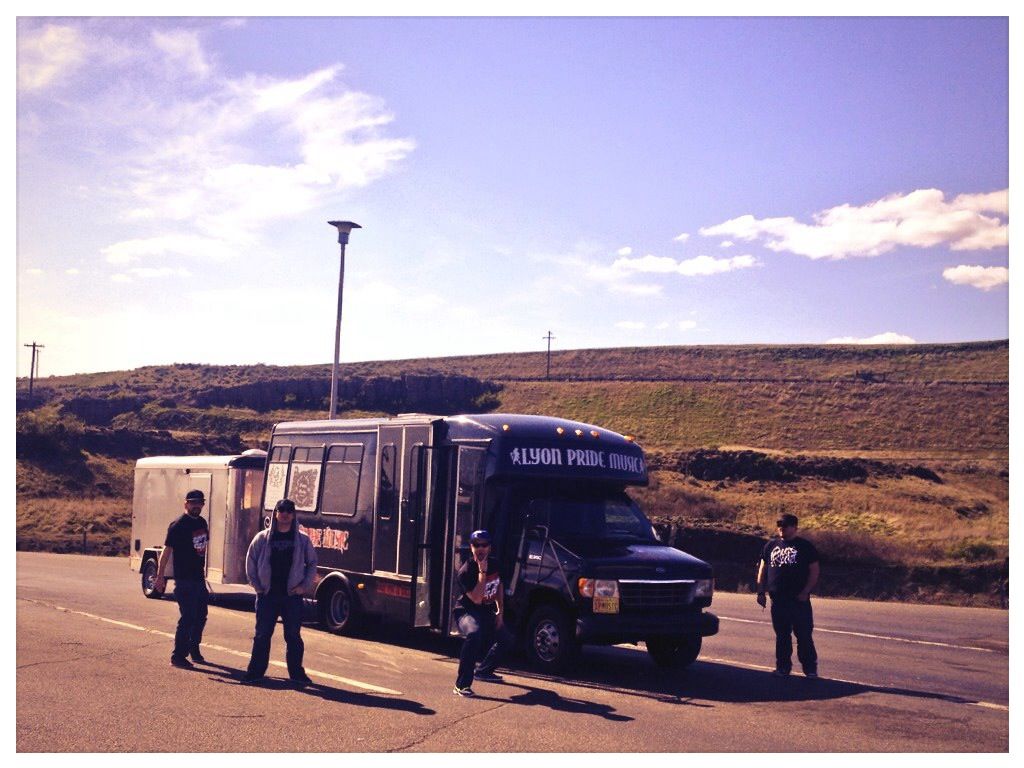 The trip to Spokane was a blast…once we got there, we had to play hockey. Man did we get smoked…our first game we lost 16-3, the next game we fared a little better…losing "only" 12-4 (I think), and in our final game…we almost picked up a "W", losing 4-3!

Here is Thee Ted Smith giving us an inspirational speech while wearing a cup…for protection of course: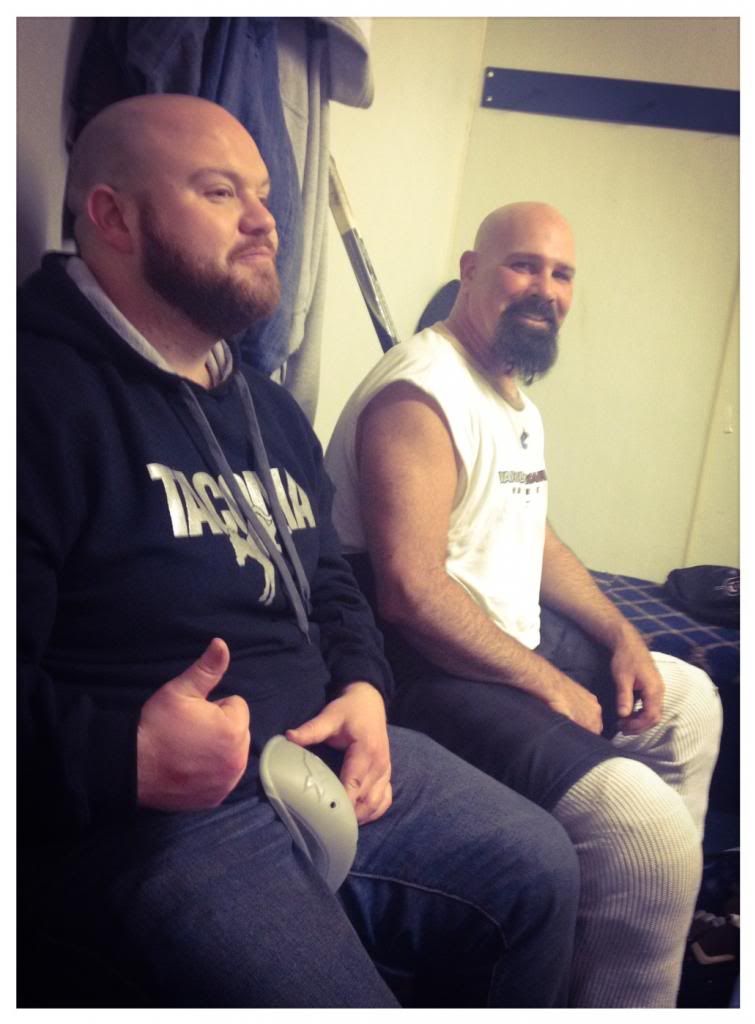 Here are some other fun photos in the locker room…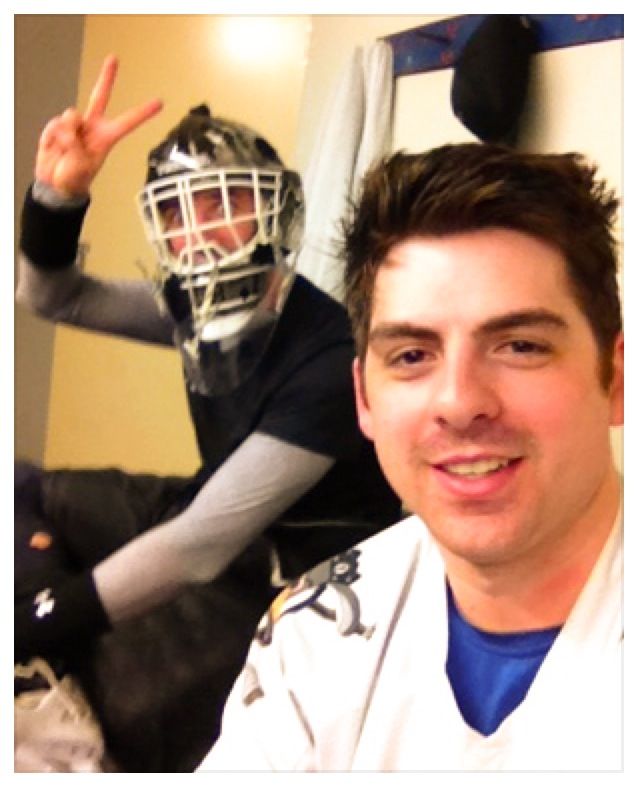 Eventually we ended up partying in the hotels…so what happens when you order pizza, drink Coors Light, and have light up glasses and bouncy ball on you? This…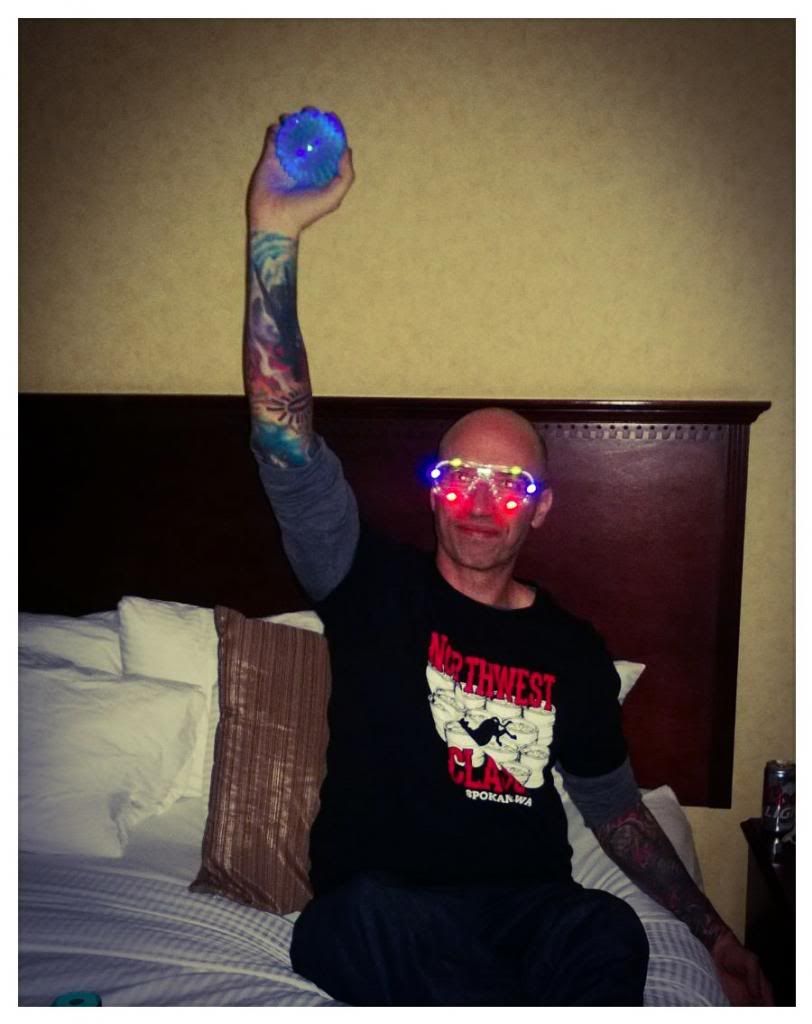 On Sunday we got back on the party bus and made the trek back home…this picture sums it all up best as we were all passed out for most of the ride.




Only one more year to go until we do it again!
---