Posts from March 2013
DEVICE, HALESTORM: Stream Ozzy & Lita Cover

Device have posted their cover of "Close My Eyes Forever" on YouTube. The track features David Draiman and Lzzy Hale tackling the roles of Ozzy Osbourne and Lita Ford -- and giving it a modern spin.
The song is on Device's self-titled album, which is due out April 9th.

Give a listen and TELL me what you think below! Thanks!! (photo credit to loudwire.com)

---
Yesterday during the Lukewarm Topic, we were talking about the TV shows we like to "binge" on and watch all in a row. During this, someone called in to talk about something that happened between her favorite character and her.


Rock-A-Holic Maggie called in, she explained that she actually got to meet her favorite character from her favorite show and gave him her number.


He later texted her asking to see her breasts! Even though she said she wouldn't, her and her friend still went to his hotel room later on. She mentioned that she was down to do the deed until she looked at him and realized he's older and isn't really the character she admired in her teens.


Here's a news flash: If a male celebrity exchanges phone numbers with a woman, chances are that he will be contacting her because he is interested in her sexually.

Also, if he was younger and looked more like his TV character, she would have had sex with him. Hmm…it sounds a little shallow to me.


News flash two: Men aren't the only shallow ones in society.

---
Big weekend for me, and Thee Ted Smith and I are heading to Spokane with my hockey team -- the Tacoma Donkey's for the Northwest Classic hockey tournament. Every year it's an epic adventure, but this year I think might set the standard as we are taking a LIMO! Yes...a limo. We will be rolling in style in this: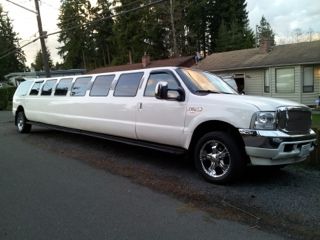 Huge thanks to Marcus and Dane from Next Level Limousine for helping us make this happen. They are fellow Rock-A-Holics, which is how we met. Great dude...if you ever need a limo, they have a ton of sweet ones -- check them out on Facebook:

https://www.facebook.com/pages/Next-Level-Limousine/362287327186360

Or give Marcus a call at 425-232-9735.

To give you an idea of what this tournament is about...this is what you see once you go inside the rink:




Also…the Rev is off today because he spends the weekend at a hotel with his buds for NorWesCon.

So based on this…whether it be something you have done, or something you want to do…what is the ultimate guys…or gals…"get away" for you? Here are the texts we got:

Strip club and brewerie crawl in portland -​ good getaway

Getaway at the moonlight bunny ranch! Had a blast! Amber in Shelton

My ultimate guys trip would be riding my harley to sturgis. I hope to this year. Rob in grand mound

Went down to portland last weekend with some buddies went to the Acrop then the Blazers game then strip club hoppin afterwards.

PAX can't wait for 4 days of pure gaming bliss this year. 4 days of taking over downtown Seattle we're gonna rock it every night

Crescent bar with a the boat, boys, and beer. Scott from Lacey

Elk hunting. Two weeks in the woods with no women and lots of booze

Our girls weekend consists of Vegas for the StreetCar Super Nationals in November! Fastest streetcars &hot men all in Vegas!!

When my close buddies and my little bro hike out in the olympics camp overnight and get waisted. Cody from olalla


Today's video blog features Mono-Nick checking out Spring Training for the Seattle Mariners last week in Arizona.



Here is the same Video Blog for you iPHONE users:


---
Tuesday night, Duff McKagan's performance/spoken word show, "It's So Easy & Other Lies, A Punk's Revue" returned to Seattle for one mega special night. What was different about this one? It was the fifth time Duff & friends have played this intimate format and as part of the film, they shot the show for an upcoming movie documentary based on his best-selling autobiography "It's So Easy and Other Lies."

The night featured an amazing multi-media exploration through Duff 's life and career told through excerpts from the book, musical accompaniments, performances and imagery. Seattle area musicians and long time friends of Duff accompanied him through this spoken word journey. His usual Loaded band mates Jeff Rouse, Mike Squires and Burke Thomas, local pedal slide guitar wiz Paul Hutzler, guitarist Jeff Fielder and the string quartet consisting of Danah Olivetree, Seth May-Patterson, Andrew D.B. Joslyn and Alina To. Special guest Mike McCready from Pearl Jam also appeared at the end of the show.
Duff's book "It's So Easy (And Other Lies)", which came out October 4, 2011, has sold over 200,000 copies. California film company Rainstorm Entertainment is handling this documentary based on the life of this former Guns N' Roses bassist which (along with this performance) include interviews with all of his closest friends and colleagues including world renowned musicians such as Mick Jagger, Slash, Elton John and film-makers such as James Cameron and Arnold Schwarzenegger to name a few. Christopher Duddy ("Cougar Club") will direct and produce along with Steven G. Kaplan for Rainstorm and McKagan.
Duff shares his story of excess, angst, struggle and triumph detailing his rise to the outer limits of fame and fortune to his struggles with alcoholism and drug addiction. He details his personal crash and burn, his immaculate turnaround to sobriety and to his success as business man and most importantly loving husband and father. Imagine sitting in front of a huge audience of fans, wife, kids, family and friends in attendance and there you are opening up about your whole life of incredible highs, near death lows and everything in between. As you could imagine, Duff's emotions were all over the place during the performance. From the photos I took documenting the show, you don't even have to have subtitles to explain the emotions you'll feel just viewing them. (see show photos here)
It takes big balls to do what Duff did. Such a big production, such courage to open up about his life. But it makes sense for McKagan to do his self-therapy this way. The show was one fantastic, smooth and moving event. From the ambiance, the amazing music arrangements, the perfect visuals on screen all coordinating with Duff's words. As an audience member, you went through his whole roller coaster of emotions along with him. For myself, I actually came crashing down with joy when towards the end of the production my Duff crowd surfing photo came onto the screen and stayed displayed for the last 10+ minutes of the show. The moment became very powerful when I saw Duff look up where I was and gave a salute. Just a very powerful moment for me and I have to proudly admit, some tears of joy.
As a photographer, you always try to capture emotion and powerful moments without the need of explanation. That night (12/16/11), in the sold-out Seattle Key Arena, Duff and his band Loaded did something unthinkable to some people and actually opened for his former band Guns N' Roses. I knew it was gonna be a special moment and from all the press photographers on hand (from in and out of town) they did too. What was explained to all the photographers before the show was 3-songs and out, except for me. I knew this moment was huge and I had to deliver but how? This was Duff's night! This was Duff conquering all the demons from his past and into all the goodness that keeps him straight in his life with his true loves - his wife Susan Holmes and their daughters Grace and Mae Marie. This show was a full circle in his life and career and to be allowed to be the only photographer per Duff to shoot the whole show, I was waiting for something that would go down in his documented history and boy did it come! Like a baptism with the hometown fans, Duff left the stage and with guitar in hand went to the fans and crowd surfed while playing. Lucky I always shoot with two camera bodies and one had my 16mm fisheye on it. The moment came and within a blink of an eye Duff's conquering moment captured!
Who knew a little over a year later the shot would still have a powerful impact on him. Especially something so close and personal in his life, this show event at the Moore Theatre. As the show ended with the whole cast of stage members giving thanks and that photo still in the background is something I will never forget and always be thankful to one of the greatest, inspirational and luckiest living rock stars we know here in Seattle with Michael "Duff" McKagan. Thanks for showing us anything in life is achievable, even at the bottom of the barrel! I walked out of the Moore with even more respect for a man that has given us a lifetime worth of rock music and still going strong with his band Loaded.
A day after the Moore event, Duff sent out a Twitter message that I'll never forget. I can't express the appreciation and validation, especially since I recently quit my day job to do music photo documentation full-time.
Iron Mike Savoia

To buy Duff's "It's So Easy & Other Lies, A Punk's Revue" book click here at Amazon
To stay up-to-date on the movie's progress visit: https://www.facebook.com/ItsSoEasyAndOtherLies
To stay up-to-date on Duff McKagan's Loaded: https://www.facebook.com/DuffLoaded

To view (and vote for) my Duff crowd surfing shot in the 2013 Rocktographer contest at the Triple Door in Seattle, join us for the opening night party in the Musicquarium from 5-7pm (21+) April 4th! The contest voting lasts for a month. Metallic prints are available to order. I hope to see ya there and remember to vote for me/Duff! More event info HERE.

---
Easter weekend is here well not totally as it is on Sunday and not today. My point being is that even though I am not very religious these days Easter is still a good time to get together with family and friends. Now my family all lives back east in the DC area but I have a lot of friends out here and one of them is STP from the morning show here at work. Steve and I are good friends and have been for years. He has met and even spent a Easter with my Mom when she was out one year and I was lucky enough to be in his wedding. Now this year things have changed and I am embarking on a trip to Spokane with Steve and his hockey team the Tacoma Donkey's. I can't even explain how fired up I am to part of this trip. The Donkey's have even asked me to stand in a coach behind the bench. Now I hear you asking yourself do you know anything about hockey Ted? No I really don't know a ton but I know about pregame speeches and that's what I am bringing to the table. The plan is to, well I don't think there is a plan other than many beers and a very impassioned speech by me. Maybe I throw down some Irish whiskey so I can work up a tear or two for effect. I should also watch some hockey speeches to get ready tonight. So this weekend while I am out with Steve and the Donkey's having fun and coaching make sure to hang out with some people you like as well. Like I said Easter is not like it used to be as kid for me but still a great excuse to get together with some people you care about and eat some good food. Enjoy the weekend and you know we will.
---
"Hola,

For many, many years, undercover cops have been issued fake ID's so that they can do the clandestine work they need to do when they're, you know, UNDERCOVER. You would just assume that that's the case (being that they're UNDERCOVER and all) but, believe it or not, the state Legislature didn't even know about the program until about a week ago. Makes you wonder what other overwhelmingly obvious things these folks are unaware of. Almost scary... but that's a story for another day. Obviously, a fake identity is the hallmark of effective undercover work, but many of us have assumed a false identity for some reason. Sometimes it's just a fake ID to get into a bar when you're underage, other times it's a case of mistaken identity, but you just roll with it. Today we wanted to know: WHEN DID YOU PRETEND TO BE SOMEONE YOU AIN'T? (yea, 'ain't').

Back in 1991, he borrowed his Russian friend's passport so that he could visit the Black Sea. Can't say I've ever done anything quite like that

Currently 17 and uses a fake ID to buy beer

At age 17, had an 'authentic' ID that said he was 27... got busted by the cops

Had a few warrants out for his arrest, so when the cops confronted him, he gave them a fake name... turns out that the other name he gave ALSO had a warrant out

Has pretended to be gay, blind and from Australia just to get laid. To be fair, he didn't pretend to be all three of these things at the same time, but on separate occasions

Put on an old Boy Scout uniform and went around raising money for a 'camping trip'... he kept all the money

Pretended to be homeless so he could get medical treatment. Can't blame the guy for that one

Missed her flight home from Vegas... the airline called for the last passenger to get on ANOTHER flight, so she pretended to be that person and made it home

THE BLUE DART
I've hinted about a project that I've quietly been working on for the last few years; well,
here's a better description of the thing:

Very excited about this project. I'll let you know when we officially launch it.

Until we meet again, do what you do best and STAY BEAUTIFUL!"
---
Last week during Group Therapy, we read a message from a Rock-A-Holic named Mark who had a major problem involving his daughter and her hobby.

He spends many hours and thousands of dollars a week taking his daughter to gymnastic training; the problem he says is that she's not good, and that's putting it kindly.

He wishes she would quit so he could save all that money and time every day but his wife thinks she's getting better when the truth is…she's not.

He hates thinking this way but this is really putting a massive strain on his budget and doesn't know how to talk to either his wife or daughter about this.

This is a very difficult situation because all kids need their hobbies and physical activities but to do something every day that is breaking the bank isn't a very responsible thing to do.

Time is also a valuable resource that needs to be taken in account when a person is overstressed and overworked. Sometimes saving time is just as good as saving money.

The first thing Mark should is talk to his daughter to make sure this is something she even really likes.

Sometimes parents ask kids to tell the truth about stuff and parents get mad at them for telling them how they feel because it's not what they wanted to hear. That's when parent/children relationships get tainted early because they think they can't be truthful with their parents.

Steve the Producer shared the story about how he stayed in Little League far longer than he wanted to because he was afraid of disappointing his parents. When he finally told them, they were relieved!

If she says that she's really interested in going far in gymnastics, ask a professional what their honest opinion is of her ability is. If she has the potential to get better and even be great, then that might be something to invest in, if not, then talk to your daughter about other activities she might be interested in or a cheaper alternative like going to the Y.M.C.A.

If his wife and daughter still want to go through with the training, then they can take over the reigns so he can get part of his life back.

---
We are back live today…it's great to be back. BJ was in Boston for a week…or as I now call it…the City of Cream. Listen to the first break of the 6 am hour to get why it's called that!

Yesterday was "We Day" …what an awesome thing that was done for the kids in the Northwest. 15,000 kids packed the Key Arena (they got in not by buying a ticket, but earning one through community service) to see Pete Carroll and a few Seahawks (Russell Wilson, John Moffitt, Richard Sherman, and Russell Okung), as well as Magic Johnson, Jennifer Hudson, and the highlight…a surprise performance by Macklemore and Ryan Lewis. Check out the footage a fan shot…it looks like a blast!


Speaking of Macklemore…on this week's STP-Cast, we were lucky enough to have Wanz in studio. Michael Wansley is the guy who sings the hook to "Thrift Shop", and his story is incredible. This guy filled up the room with inspiration and positivity…


Check out the podcast…it's a good one:

http://media.kisw.com/a/72466238/stp-cast-03-26-13-singer-wanz-from-the-macklemore-hit-thrift-shop-talks-about-what-it-was-like-to-record-on-the-album.htm?

Over the weekend I finally tried my roll…and it is AWESOME! Yes…be sure to check out the STP-Roll at Trappers Sushi (www.trapperssushi.net)...it's officially on the menu on Monday, buit you can sample it if you go there.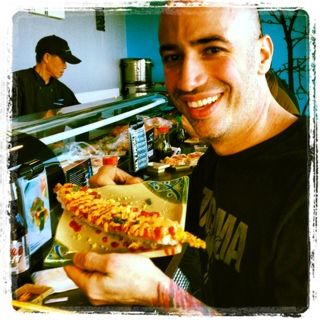 I was holding that plate…and I angled it to the point where I almost lost my roll!!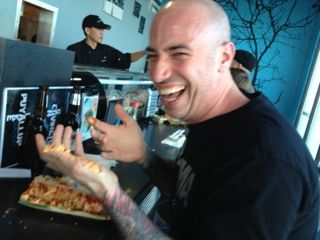 What's in it? Tempura shrimp, white onion, garlic cilantro sauce, covered with avocado, topped with spicy yellowtail, tempura crumbs, hot sauce, and warrior sauce. Even if my name wasn't on it, this would still be my favorite roll. I had it twice while we were off.




A research group went through the numbers from some of the biggest streaming services from January of last year through this past January . . . and put together a list of the shows viewers most often BINGE on.

Here are The Top 10 Most-Binged TV Shows:

1. "Prison Break"
2. "Charmed"
3. "That '70s Show"
4. "How I Met Your Mother"
5. "Gossip Girl"
6. "Supernatural"
7. "Scrubs"
8. "Heroes"
9. "24"
10. "One Tree Hill"

The TV show that people "binge" on the most is Prison Break…what about you? What is that one show where you have watched multiple episodes is one sitting? Here are the texts we got:

Battlestar Galactica! Watched first 2 seasons in one sitting. Ya gotta check out Portlandia's spoof on watching Battlestar.

Sons of Anarchy! I've got the 1st 4 seaons on DVD (Season 5 not out yet) & regularly sit & watch a seasoon at a time. Jerry the Tubaman- Spanaway

Arrested Developement with Jason Bateman and Michael Cera. The Bluth Family at its finest.

The X-Files! Scully just got sexier every year! Greg from Auburn

Dexter

Show I binge on is firefly. I first saw it when I was sick and watch the entire season in one sitting. I will still go back and rewatch the entire season

One show I watched was doctor who, wanted to see what the big whopla was about and was immediately addicted. Jeff from Marysville

The big bang theory Even though I have seen them all I still DVR all the reruns and watch them. Now I even got my boyfriend watching too! I told him he fell in love with a nerd from day one! :-). Alyssa

Game of Thrones. You'd think that each episode being an hour long would deter bingeing. I spent an entire weekend on HBO GO. Both seasons. Loved every second.

I'm currently on a LOST binge...I have a full time job but managed to watch 56 hours of it in 13 days. Chris in Newcastle

I watched the Retro Real World Weekend all weekend last weekend. It was great seeing the old episodes esp the first one. Jewels

I've spent many hours smoking my bong and binging on the show weeds.

Today's Video Blog is some more footage from our Meet the 2013 Rock Girls party...enjoy!



Here is the same VLOG for you IPHONE users:


Tags :

Topics :

Entertainment_Culture, Human Interest

Social :

Entertainment_Culture, Human Interest

Locations :

Boston, Marysville, Newcastle

People :

Developement, Jason Bateman, Jennifer Hudson, John Moffitt, Macklemore Lewis, Magic Johnson, Michael Cera, Michael Wansley, Pete Carroll, Richard Sherman, Russell Okung, Russell Wilson, Ryan Lewis




---
"Hola,

It's been done since the invention of ink; someone passes out and someone else draws a d*ck on their face. It happened Friday night in Virginia. The difference is, when the guy woke up and discovered the drawing on his face, he freaked out and beat the living hell outta his roommate. He was arrested for 'malicious wounding'. Insult to injury; the penis was sill on his face in his mug shot. Meanwhile, a disabled guy was awarded $8000 by Disneyland after he was trapped on the "It's a Small World" ride for 30 minutes. Even after being freed from the ride, it took him 3 hours before he could be medically stabilized. What was the problem? The song "It's a Small World" played continuously while he was stranded. And then there's the story we hear way too often; road rage. There's a video on the internet right now featuring a 40- year- old man who punches the driver of a truck in the face after he was cut off. Naturally, a fight ensues and ends with gunfire. Chill out. Anyway, this brought us to today's question: WHAT WAS IT THAT MADE YOU SNAP?

When his drill sergeant made an off- color comment about his mother he lost his mind. Seriously... after beating the sh*t out of the DS, he was in a straight jacket in a padded room for the next 15 years

Like the question's inspiration, he ALSO got stuck on "It's Small World". He was 16 and got stuck on the thing for 45 minutes! They never stopped playing the song. That should be a requirement; if the sh*tty ride breaks down, turn off that Goddman song

He's a guy... he works with all women

Tried to run a VW bus off the road with his log truck after they intentionally cut him off

When she was 7 months pregnant, she freaked out on the sandwich "artist" because they'd run out of Italian dressing. Bitch be trippin'

His wife filed for divorce on Monday and left with his car. As a result of losing his car, he couldn't get to work on Tuesday, so he was fired. The good news is that he has some condition (that I can't remember the name of) that prevents him from freaking out about anything. He sounded positively happy to tell us his troubles. Weird

Some dude called him a "fag", so in return, he beat the guy senseless... also fractured part of the guy's skull, so charges are pending

Snaps when he sees people litter. Don't litter

His name is Christopher, but it's spelled Kristophfer. He gets angry when people make fun of it. He SHOULD be mad at his parents, who decided at birth to ruin his life.

OK bitches, I'm suffering from a well- earned hangover from last night.

Until tomorrow, smoke 'em if you got 'em and STAY BEAUTIFUL!"
---
CLUTCH!!

The new album is titled "Earth Rocker" and this is the leadoff song called "Crucial Velocity"!

One hellofa show Friday night (Showbox at The Market!) with the mighty Orange Goblin!! Kyng rules as well. There may be a band called Scorpion Child on the bill as well. They kick ass, caught them 6 months ago at The Funhouse (RIP).


Showbox and 99.9 KISW Metal Shop Present
Clutch
Earth Rocker World Tour
Orange Goblin, Lionize, and KYNG
at Showbox at The Market
Mar 29, 2013, 6:30 PM


Anyhow dig the video man!!!


---