It's Group Therapy time once again, Rock-A-Holics! Let's walk down the aisle and see what we find, be it new or slightly used.

We're trying to help Rachel today: she got divorced after 5 years, and plans to marry a new guy this fall. Like everyone in the world, she's trying to save a little bit of money…and she wants to know if it's okay to re-wear the wedding dress from her first wedding.

Rachel hasn't said anything to her husband-to-be yet, but she has sought the advice of the people around her. She says her family believes the dress is jinxed, and they're a little horrified by the idea. Likewise, some of her friends think that wearing the dress again is disrespectful to the new groom.

I'm handing this one off to the good people who read my blog. I have my own beliefs about second (and third, fourth, fifth) weddings, but I've only been married once. So, I don't know if I really have much of a perspective here. I do find it curious that a groom traditionally rents a tuxedo that's been used by countless men before him, but a wedding dress seems a little more sacred.

Give Rachel your best advice, folks! Maybe you can teach me something in the process…

---
Huge news…The 50 Shades Of Grey trailer is out. OK, not huge for anyone that has testicles, but I'm sure the ladies are going nuts (pun intended) about it! I watched it, and I have say that I sadly geeked out for a second. At about 24 seconds in, you will see a building in the background…it's OUR building! Yup…the home of KISW is featured in this movie (the story is based in Seattle). Check it out:



Buzzfeed.com made a list of songs that are supposedly "guaranteed" to help you "seal the deal" in the bedroom … here is the top 3.
1. "Come Live with Me Angel", Marvin Gaye
2. "Feel All My Love Inside", Marvin Gaye
3. "Make Sure You're Sure", Stevie Wonder

Screw this R & B crap…this is my pick:



This song inspires me…so much show that I had to show "what's up"…and The Rev caught me on video!




If you think jumping on a trampoline while DRUNK sounds like a terrible idea, you're right. Here is video proof of that!



Very classy moment when he has the kid hold his cigarette…what the hell!?!
---

I love hardcore punk. I love metal. Some people think these two separate yet respective sounds need to be held as far apart as possible, never blending the two and always remaining "true old school." Well, that sure ain't me. There are tons of bands that blur the lines in ways that make me smile from ear to ear - namely Norway's Kvelertak, Sweden's Disfear , and more recently, the side project of Municipal Waste vocalist Tony Foresta and former Darkest Hour drummer Ryan Parrish, Iron Reagan. These songs are short, fast, pissed and meant to be played at max volume. Don't expect any guitar sweeps or solos, fancy drum fills or anything of that sort. Just simple, to the point, angry anthems for anyone that still remembers all the lyrics to both Minor Threat AND Anthrax discographies. Take a couple minutes to check out this track, "Miserable Failure." This track comes off their forthcoming Relapse Records debut "Tyranny Of Will," due out September 16th in the U.S. If the rest of the 34 songs (!!!!) are anything like this one, I'm sold.



---
Since today's weather is so crappy…I choose to go back in time…to Saturday, when this was my view…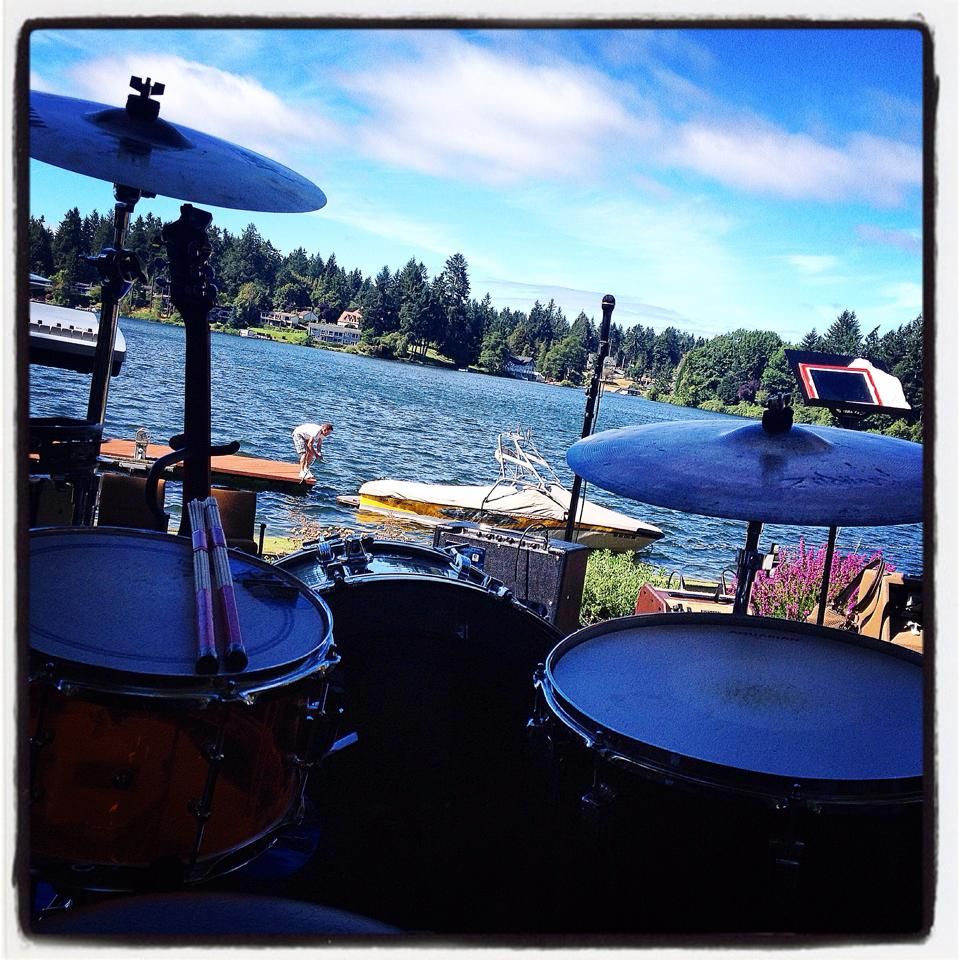 Every year our church hits the road and we post up in the backyard of one of our member's home. It's in Lakewood with an incredible view of Lake Steilacoom. I have been lucky to play drums in front of thousands of people in my life, and even though a packed room at the EMP Sky Church or the Capitol Theater in Olympia is awesome…it doesn't compare to playing the drums with that view!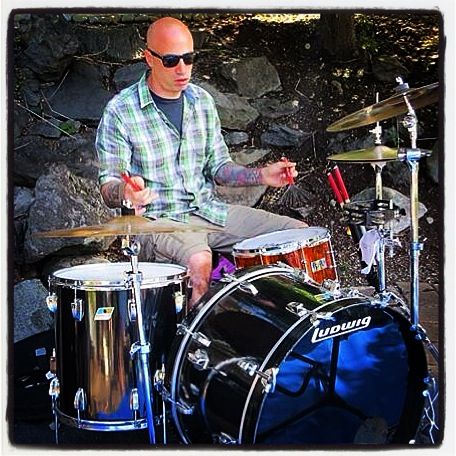 Have you heard the new Weezer song? I have been a disappointed fan for the last couple of records (I will always love the band, but the last 2 CD's were not my favorites)…well it seems like Rivers and the boys are back to being awesome! If , and this new song is any indication of what their record will sound like…I think 2014 will mark the return of Weezer! The new CD is called "Everything Will Be Alright In The End", and it's coming out on September 30th. It's being produced by Ric Ocasek (he produced their debut CD, and their 3rd disc)…here is the first song "Back To The Shack", which lyrically feels like a public apology from Rivers for losing their "way" over the years…I think if you are a fan of Weezer, you will geek out about this song! =w=

---
As you probably know, Reddit is a very popular "fun" site to visit on the internet…but it can definitely backfire on you.

Recently, a woman posted something that her 26-year-old husband sent to her before he left town on a business trip. It was a spreadsheet of all the times she has turned him down for sex, and the reasons she gave for the rejections.

This chart didn't exactly paint a picture of productive intimacy. From June 3rd to July 16th, they had sex just 3 times…but she turned him down 25 times. Yes, you read that correctly: 25 (twenty-five) times.

The wife offered up every stereotypical excuse, including these classics:
She has to wake up early
Tired
Sick
Watching a show (it was a rerun of "Friends")
Just got home from gym, and feeling gross
Too drunk, and ate too much

She posted this spreadsheet on Reddit, for reasons that escape me. It seems she was trying to make her husband the bad guy, but this document went viral, and the whole thing sort of backfired on her.

Look, nobody should be forced to have sex if they don't want to. That's not even open for debate. However, I do have to wonder about a situation like this. When you're in a committed relationship, monogamy is expected; on the other hand, we never talk about the expectation of sex within the marriage itself.

Prenuptial agreements aren't very romantic, but how many relationships are damaged when the sex life falls into a rut, or vanishes almost completely? How can a couple reach an understanding about the needs and desires they're bringing into a marriage?

Let's hear it from you, good people. Bonus Honesty Points if you'd like to share your own spreadsheet numbers for the last month or two…

---
SIT N SPIN: MOTLEY CRUE FAREWELL!!




​

KISW PRESENTS MOTLEY CRUE'S "ALL BAD THINGS MUST

COME TO AN END" TOUR. SUNDAY AT WHITE RIVER AMPITHEATER WITH ALICE COOPER!! Tickets are still available! http://bit.ly/1rzpMLe

With so many Motley memories today we went down the old dusty debaucherous trail!! Dig the playlist of the songs below Crue fans!! http://bit.ly/1pbts2o


Too Fast for Love (1981) "LIVE WIRE" (if you have one of the 900 original pressings of Too Fast For Love on Leathur Records its' worth $$$) Ian Gillian of Deep Purple funded their demo after he saw them in a LA Pub. )

Shout at the Devil (1983) "SHOUT AT THE DEVIL" The bands breakthrough album. "Looks That Kill" & "Too Young To Fall In Love" were both singles. The band thanks Krell in the liner notes….Crue slang for cocaine. Motley Crue's preformance at the 1983' US Festival was a breakthrough. Check out their WHOLE SET!


Theatre of Pain (1985) "HOME SWEET HOME". Released in the aftermath of singer Vince Neil's arrest for manslaughter on a drunk driving charge that took the life of Vince's friend Razzle, the drummer for beloved Finnish glam rock band Hanoi Rocks. The album moved more towards glam rock vs heavy metal. Pink, lace….. The album was orginaly to be called "Entertainment Or Death" name was also said to be inspired by the Christian Death album "Only Theater Of Pain". "Home Sweet Home" is one of the few Motley hits with Vince Neil credited with the songwriting.

Girls, Girls, Girls (1987) "GIRLS, GIRLS, GIRLS". Harley's drugs, life on the Sunset strip.

Dr. Feelgood (1989) "KICKSTART MY HEART" Last album to feature Vince on vocals till his return in 1997 for Gen Swine. Bob Rock produced. Their best selling album….first album to feature a mostly sober Crue.

Mötley Crüe (1994) "HOLLIGANS HOLIDAY". First and only album released w singer John Corabi.

Generation Swine (1997) "AFRAID" Vince Neil returns and Generation Swine is Tommy Lee's last album till his return for "Saints Of Los Angles"

New Tattoo (2000) "HELL ON HIGH HEELS" The band returns to its 80's roots. Ozzy drummer Randy Castillo fills in on drums. This was also when Tommy Lee was serving jail time for his assault on Pamela Anderson.

Saints of Los Angeles (2008) "SAINTGS OF LOS ANGELES" With all the original members back in the fold the band announced its first Cruefest tour!

Justin Moore Feat Vince Neil "HOME SWEET HOME"
Nashville Outlaws: A Tribute to Mötley Crüe, an upcoming collection of countryfied Crüe covers that officially hits the shelves on August 19th.

---
If you don't follow me on Twitter, you are seriously missing out on some thought provoking "ess". Especially on Sunday when I was watching the WWE's Battleground Pay Per View.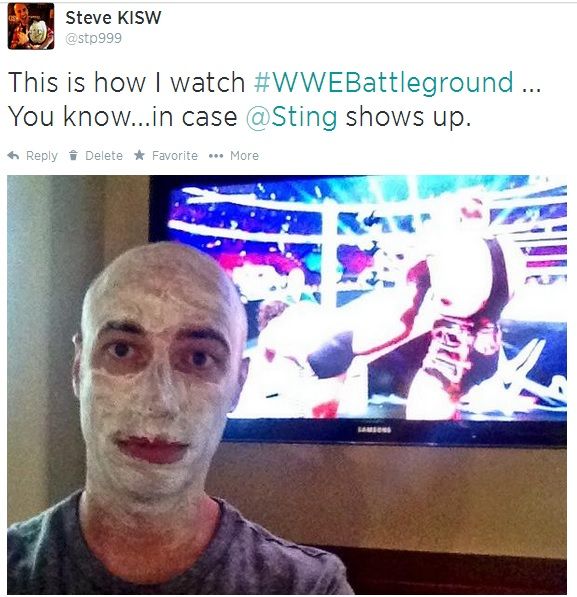 Speaking of Sting… I am so pumped that he is going to be featured in the new new WWE Video game, . If you pre-order the game, you get his characters…yes…both of his characters (I'm assuming "The Crow" Sting, and "Surfer" Sting). I ain't gonna lie…when I saw this on Monday Night Raw over a week ago…it was goose bumps city for me!



I hope that the WWE and Sting get it all figured out so that he has at least one match… I know he's around 55, but he's in great shape and I believe he has one more match in him./.. I (an millions of others) would love to see The Icon take on The Phenom… Stink Vs. The Undertaker in Wrestlemania 31!

I'm also doing some powerful stuff on Instagram…things that will bring peace to your soul. Like this:


---
Sigh.

Here's another Terminal Case of Stupid, gang…

30-year-old Megan Christopherson has been in the news lately, and it's not because she's contributing positively to society.

Megan brought her 4-month-old daughter to a Brad Paisley concert, and was completely shocked and outraged when police wouldn't let her bring the baby (and her other, slightly-older daughter) into the pit!

Police asked her to leave the pit, pointing out the obvious risks to the well-being of her children. She claims that they made her leave for breast-feeding, which she had apparently been asked to stop earlier during the event.

Megan posted video of the incident and tried to claim police harassed her, but the recording does nothing but show how patient and polite they were. Unbelievably, they had to repeatedly explain how her actions were bordering on child endangerment – exposing tiny eardrums to loud music, not to mention the potential physical harm of having the kids in a tightly-populated group of excited fans.

Megan's arguments were outrageously stupid, but even worse - she has apparently done this before! I don't know why I'm shocked, but this one just makes me mad. Megan left the show, rejecting the very kind offer of proper seats located further back, but she ran to YouTube to make her case against the police and concert security. Sadly, this has become national news, but Brad Paisley himself has publicly confirmed that he's in complete support of the police officers' decision, because bringing young kids to a concert like that is just a bad idea.

The entire video is posted below, so take a look, and let me know what you think of this mother's judgment!



---
Last Friday afternoon me and Jolene had the pleasure of covering and representing KISW at this small ceremony groundbreaking of the new future home of the Jimi Hendrix Park. Located at 2400 South Massachusetts Street in Seattle (at the Northwest African American Museum) off I-90, this phase one "Little Wing" ceremony was a great overview of what's happened in the planning process and the future vision for the park. Many guest speakers including Founder/Director Janie Hendrix, informal tables, great food and awesome music from Ayron Jones & The Way filled the 2-hr+ ceremony. For all the current info on the Jimi Hendrix Park download the brochure HERE or go to Facebook: www.facebook.com/JimiHendrixParkFoundation or the official website http://www.jimihendrixparkfoundation.org

The Jimi Hendrix Park Foundation Vision: Create a community space inspired by the electrifying music and story of Jimi Hendrix. To create a gathering place for individuals of diverse backgrounds and ages to celebrate cultural heritage, experience community pride, and enjoy innovative educational programming.
Remember to purchase the limited edition 2014 KISW/Jimi Hendrix Park t-shirts to help support the development of Jimi Hendrix Park. Proceeds from the sale of each shirt will go towards the construction efforts. CLICK HERE TO VIEW/BUY. For more ceremony photos go to KISW photos HERE and for complete photo coverage on my photo page HERE.
---