So this is pretty cool…A 24-year-old guy in L.A. applied for a job at Snapchat recently. Instead of sending an actual resume...he sent them a Snapchat video of himself. yes...that was his application! He didn't talk about his actual job skills though…he took it down a comedy road instead! He recorded himself riding a bike and spinning a basketball on his finger at the same time.

I give him credit…in a world where everyone is looking for jobs (yes as I typed that I have the movie guy voice in my head), this will make him stand out. Plus…it shows that he tailored it for his job application. Good thing he wasn't rying to get a job at Hummer huh? Waka Waka! No word if Snapchat has called him yet.



Yesterday I came across the Tweet of the Day…it comes from Bruce Irvin from the Seahawks. It's a simple tweet that says so much!



And now…a moment from our pup Lulu. We can't tell if she LOVES cars so much that she freaks out, or if she HATES em…

---
Hey, kids! I hope you'll stick around for another session of Group Therapy, because I like to think of us as a big family. I guess I would be the dad in this case. I hope that's okay.

One Rock-A-Holic is having some daddy issues at the moment. Kelsey has been dating a man that she met on a singles website, and everything has been going great; he's a true gentleman, and she's pretty sure she's starting to have some real feelings for him. There's just one problem…

The dream guy just revealed that he got a woman pregnant, and only recently learned that the child has officially entered the world. He doesn't want any kind of relationship with the mother, but he does intend to take responsibility for the child. He didn't want to keep this a secret from Kelsey, but now she's not sure how she feels about having a serious relationship with a dad.

As much as I admire the man for stepping up to the plate, but I also understand why Kelsey is grappling with her potential life choices. We'd love to hear what you have to say on the subject, gang!
---
Sit And Spin!! Facts You Probably Didn't Know About Cleb-Inspired songs!



Diffuser.fm came out with a list of 10 Facts You Probably Didn't Know About Celebrity-Inspired Songs. http://bit.ly/17P6RnK

Foo Fighters -- 'I'll Stick Around' The controversial Courtney Love has made some enemies over the years, and some of those people have written songs about her -- like the Foo Fighters' 'I'll Stick Around' ...

The Velvet Underground -- 'Femme Fatale' Velvet Underground pal and manager Andy Warhol asked Lou Reed to write a song about his muse Edie Sedgwick. He turned in the classic 'Femme Fatale' about the troubled actress.

Sheryl Crow -- 'My Favorite Mistake' While Sheryl Crow insists she'll never reveal whom 'My Favorite Mistake' is about, almost all signs point to her affair with Eric Clapton.

John Lennon -- 'How Do You Sleep?' After Paul McCartney took a few pointed jabs at John Lennon on his solo album 'Ram,' his former Beatles bandmate responded with the biting 'How Do You Sleep?'

Nine Inch Nails -- 'Starf---ers, Inc.' Trent Reznor and Marilyn Manson had a fight shortly after Reznor produced Manson's 'Antichrist Superstar,' so the Nine Inch Nails frontman wrote 'Starf---ers, Inc.' about him. They eventually patched things up, and Manson appeared in the song's video.

Courtney Love -- 'But Julian, I'm a Little Older Than You' When Courtney Love isn't pissing people off, she's lusting after them. Like she does on 'But Julian, I'm a Little Older Than You,' which is about Strokes singer Julian Casablancas.

311 -- 'Amber'311's Nick Hexum once dated Nicole Scherzinger, the main singer of the Pussycat Dolls. She's the inspiration for their hit 'Amber.'

Derek and the Dominos -- 'Layla' Model Pattie Boyd was married to George Harrison when the Beatles guitarist began collaborating with Eric Clapton, who grew so infatuated with her that he wrote 'Layla' in her honor. She later left Harrison and married Clapton.

The Babyshambles -- 'Katy'The Babyshambles' 'Katy' is about frontman Pete Doherty's troubled, chaotic and volatile relationship with model Kate Moss.

INXS -- 'Suicide Blonde'After Kylie Minogue dyed her hair platinum blonde, her boyfriend, INXS' late Michael Hutchence, wrote 'Suicide Blonde' about it.
Tags :

Topics :

Entertainment_Culture, Human Interest

Social :

Entertainment_Culture, Human Interest

People :

Andy Warhol, Courtney Love, Edie Sedgwick, Eric Clapton, George Harrison, John Lennon, Julian Casablancas, Kate Moss, Kylie Minogue, Lou Reed, Marilyn Manson, Michael Hutchence, Nick Hexum, Nicole Scherzinger, Pattie Boyd, Paul McCartney, Pete Doherty, Sheryl Crow, Trent Reznor




---
Come on in, gang! We're cooking up a new helping of Group Therapy! We do it just like your grandma does!

(Well, not like everyone's grandma does. You'll understand the need for clarification in just a moment...)

We're trying to help Greg, whose grandfather has been married to his wife (Greg's step-grandmother) for over 30 years. Isn't that adorable, when old folks have been in love for decades? Well, it usually is…but Greg's family recently learned that Granny's been having an affair!

If that wasn't bad enough, here's another problem: if Greg's family were to tell their patriarch about his wife's cheating ways, they would run the risk of ruining his life in many ways; as it happens, the old lady owns pretty much all of their assets. A divorce would leave him with next to nothing. Greg says his grandfather is too independent and stubborn to live with one of his loving family members, but they're willing to take him in.

This debate has been raging within the family for over a month now, and they could really use some help! What advice do you have for a Rock-A-Holic in need?

---
You all probably know that I am a big WWE fan…and one of my favorite Superstars…ok, my favorite superstar is Aberdeen's own… Daniel Bryan. I have been pretty lucky to meet him a couple times….

Here I am with him and his wife, Brie Bella, at last year's Summer Slam radio row!




This pic rules as I got to hold the belt!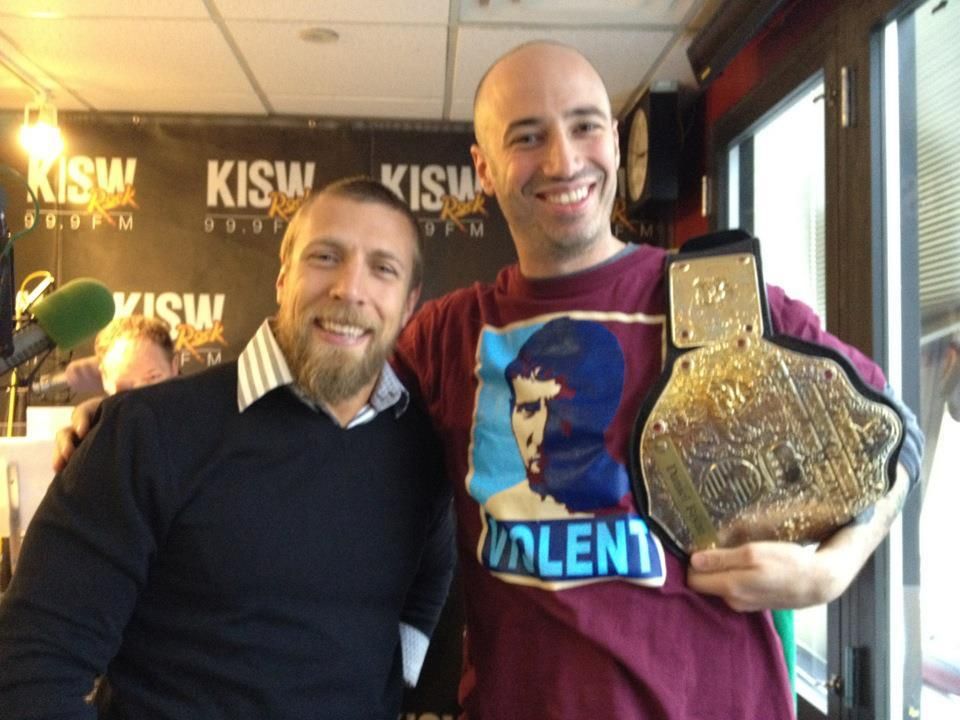 This pic is funny to look at as his hair game is a lot shorter…this is one of my favorite pix I have taken at a WWE event…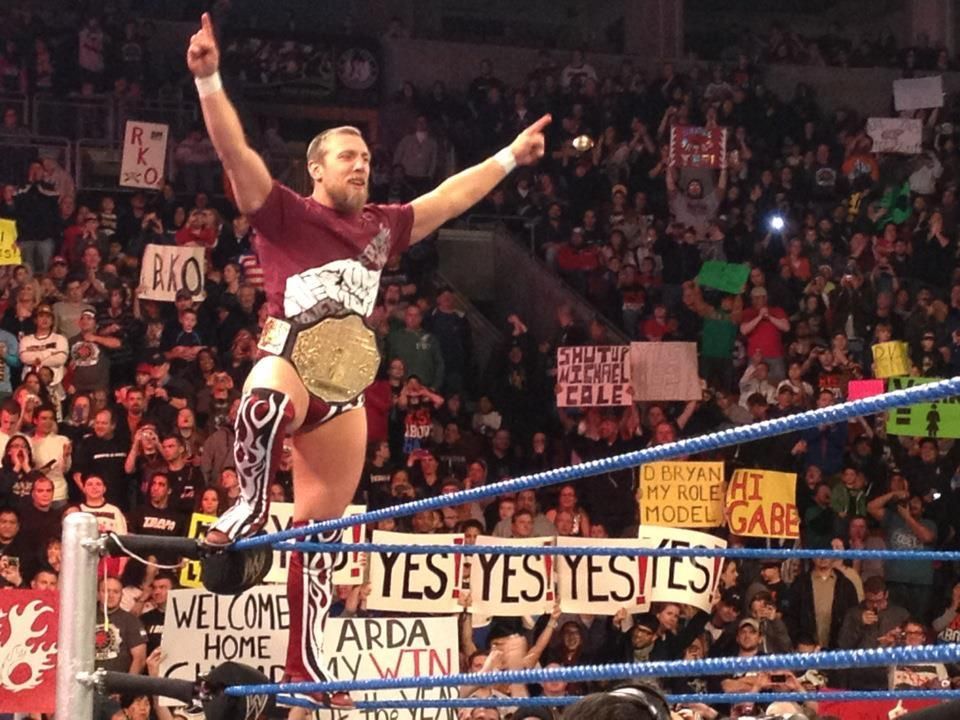 Well… Daniel and the WWE are coming to town in a couple weeks for a live event on Saturday 3/14. Get tickets at TICKETMASTER.

Yesterday, Thee Ted Smith and I had the opportunity to speak with Daniel on our podcast, THE MEGACAST. During the interview, we definitely got nerdy in our chat, as both Ted and I are fans of sports entertainment!

During the interview, Daniel spoke about who he would be interested in wrestling at WrestleMania:

"I would really like the Dolph Ziggler match…mostly what I want is that I want to be featured in a prominent role at Wrestlemania. I think that Dolph and I are two of the best wrestlers in the WWE and so it would be a fantastic match".

Daniel talked about the WWE Network version of NXT (this is the WWE's developmental program where the new stars get to gain experience in the ring on a show that is available on the WWE Network), compared to the TV version that Daniel was on a few years ago:

"I think this version of NXT is better at getting talent exposure to the WWE fans than our was. The difference was we were actually on TV… if this NXT show was on TV it would be making stars out of people...to where they can go straight from NXT to being a main guy on RAW or Smackdown or whatever."

Daniel also shared an interesting idea that he had regarding NXT:

"Yeah I've actually pitched to go down and work one of the NXT specials against someone like Hideo Itami and Finn Balor or somebody like that...because it's hard sometimes when you are telling people 'Hey, you need to check out this awesome Sami Zayn / Kevin Owens match or Adrian Neville / Finn Balor match"'..But if you are to say 'Hey check out this awesome Daniel Bryan vs Hideo Itami match on the Network', more people I think would be willing to check it out."

Check out this week's episode of The MegaCast here (or search iTunes & Stitcher: The Mega Cast)… the interview with Daniel begins at around 17:30.

---
Today's blog comes from one of my mentors, Dan Sanders:


Up until a day ago, I had my mind set to write something totally fun and foolish, but some things really ticked me off, and the thing that ticks me off most is anyone doing or saying anything that could harm someone else. It's not enough to ignore it.

A few weeks ago, I thought Rand Paul and his statement that vaccines should be an individual's decision, as if he were an authority, was about as stupid as it gets. It reignited a controversy and re-cleared a path many parents followed as a result of a scare a few years ago that speculated there might be a relationship between vaccines and autism. Now everyone but Paul seems to know there is no connection—everyone, that is, except those who chose to follow a nutcase to the cracker farm.

Now a bigger idiot has joined the fool's parade. Nevada state assemblywoman Michele Fiore (R) plans to introduce a bill she said would provide more options for cancer patients, but it actually relies on what medical experts call a myth. As reported at ThinkProgress.org (http://thinkprogress.org/health/2015/02/24/3626567/nevada-assemblywoman-cancer-fungus/) Fiore said on her radio show: "If you have cancer, which I believe is a fungus, and we can put a pic line into your body and we're flushing, let's say, salt water, sodium cardonate [sic], through that line, and flushing out the fungus… These are some procedures that are not FDA-approved in America that are very inexpensive, cost-effective." She believes, and she's not a doctor!

I know a little to a lot about cancer treatment as my wife battled it for 14 years and during the last two was a part of Phase 1 trials at Dana Farber, one of the best cancer research hospitals in the world with some of the greatest doctors in the cancer research field, and I can tell you that Fiore's statement is BUNK! The argument that sodium bicarbonate can be used to flush cancer out of the body stems from unsubstantiated treatments by an Italian doctor, Tullio Simoncini. Simoncini's license to practice medicine was revoked in 2003, and three years later, he was convicted of wrongful death and swindling.

What scares me the most are people like Michele Fiore and Rand Paul who have a national stage and an audience, including vulnerable cancer patients, willing to believe almost anything. I have never been diagnosed with cancer, but I can't possibly imagine a more frightening medical diagnosis. I saw the fear my wife lived with day after day and was party to the various thoughts that entered her mind, particularly right after she was diagnosed. Almost ready to try anything, she'd say things like (and I made this up), "Gee, I heard someone say that sitting on a limb and hooting like an owl cures cancer. Well, I'll try that. It's better than dying," and then the limb breaks. Or take Farrah Fawcett, flying back and forth to Europe to get some types of treatment she couldn't get here. No one wants to die, and any imbecile who plays off that fear by endorsing quack cures should be locked away for the safety of us all.

I have a little more to say about this subject and also some fun stuff on the shores of Rambling Harbor. Join me there.


http://dbsanders.podbean.com/e/the-crazed-who-walk-among-us/
---
Did you catch the UFC 184 over the weekend? Rhonda Rousey did her best Mike Tyson (in his prime) impression by beating Cat Zingano in 14 seconds. Yes…14 seconds! The big joke online is the fight was so short that you could fit the entire match on an Instagram video (whick can be a max of 16 seconds)…here is proof to that!


I thought this was one of the cooler tributes to Leonard Nimoy, who sadly passed away on Friday. An astronaut by the name of Terry Virts gave love to Spock from space!



A few years ago we were lucky enough to chat with Leonard when he was promoting Star Trek Into Darkness. He was a great interview…if you never heard it, check it out here:

---
Happy Friday to you, loyal Rock-A-Holics! Let's kick off the weekend with a little bit of Group Therapy, shall we?

Monica needs some advice about a woman in her group of friends. This particular lady is a real flirt…with Monica's boyfriend!

Monica's boyfriend isn't a big fan of this woman, and he says he just ignores the flirting. Meanwhile, Monica CAN'T ignore it, and it makes her angrier every new time it happens. Her group of friends is the kind that spends a lot of time together, including special occasions; this includes events like Monica's upcoming birthday party. Even though she knows that the other women in the group will question her decision, Monica is thinking about leaving Flirty off the invitation list.

Personally, I wonder if there's a possible future in which Monica tells the woman how much she's bothered by her behavior, the woman apologizes profusely, and the flirting stops immediately, never to return.

It could happen, right? RIGHT!? HEY, WHERE ARE YOU GOING!?

Can you help out Monica with some advice?
---
Huge thanks to KING 5's New Day Northwest for having us. We were a part of their Hot Topics segment with Shawn Wayans…it was a blast being on the show again!




There's a photo going around online that's causing intense debate..serious debate. It's just a dress, but some people see it as blue and black . . . and others see it as white and gold. There's clearly an optical illusion going on, but so far there's no good explanation.

Ellen posted it on her Instagram and the internet exploded…



This is completely crazy…some of you see blue and black…others see white and gold, and everyone thinks the other camp is wrong. Oddly, I have seen it both ways…I'm one of the lucky few. I have seen someone post it on Instagram…saw white and gold…then scrolled down…someone else posted it and I saw blue and black. So I scrolled back up to the one I originally saw, and it was now blue and black. This ESS is crazy.

For those of you that are being too cool for school and saying, "who cares", "zero EFF's given", etc…just shut up. Stop being so incapable of having fun.
The other thing on the net people were losing their crap about was the llamas video! A couple of llamas were on the loose in Arizona. It was hilarious how this was a big news story… Shepard Smith from Fox News spent at least eight minutes cracking jokes and reading llama facts on live TV. At one point he actually used the word "Llama-palooza."



---
I'm just going to leave this here for your entertainment…

There is a video spreading virally, and it's just a baby laughing…however; this baby laughs like an evil genius…check it out:



If you listen to our show, you know the guys like to "flag" moments when I say ridiculous things./ Nothing beats going on KISW's twitter page to see that they "flagged" a fine moment from this morning's show…

---