Bill Cosby is facing a ton of accusations right now, but this blog post isn't specifically about the terrible allegations that he's dealing with in the media. I think that people all over the world are hoping that these matters will somehow be disproven to everyone's satisfaction. It's not looking so good in that department, but we do hate to see a revered comedy legend like Bill Cosby fall from grace, especially right out in the public eye like this.

Raven-Symone – who played Cosby's young daughter on TV – has been forced to step forward to deny the claim that she was molested by the comedian during their time on The Cosby Show. Why would she have to defend herself against this story? It's all because a so-called "parody" website circulated an article claiming that Symone was pursuing charges against Cosby, and that article went viral.

I find this completely disgusting, and offensive in every way; not only did these people jump on the horrific Cosby sexual assault bandwagon, but they invoked child molestation to improve their click-count. They have confused the real news cycle, and they hurt Raven-Symone, who had no relation to this case. I think we all know how long it takes for a fake news story to be disproven when it seems real, especially after it goes viral and makes the rounds on social media.

You want parody? Go read The Onion. This is way over the line, it's not funny, and it's just plain disgusting. We joke about a lot of taboo things around here, but this kind of nonsense is just beyond the pale.

---
I'm sure by now you have all seen that video of the three grandmas getting stoned for the first time. If you haven't seen it, you can click HERE to watch it.

Since it was their fiurst time getting stoned…we figured we would conduct a similar experoiment…we had Mono-Nick NOT get stoned for the first time. Enjoy…



A comedian named Lauren O'Brien posted a great video where she impersonates 14 different celebrities…if they were stuck in traffic. The funniest ones are probably Drew Barrymore, The Olsen Twins, Kristen Stewart, and Miley Cyrus.

---
Today was awesome…we had Anna Faris on the show, as there is a new episode of Mom tonight. Mom is one funny show…somehow they have taken a show about teen pregnancy, being a single mom, alcoholism, and even a gambling addiction…and turned it into a compelling funny show.

Anna is a Edmonds gal…and her husband Chris Pratt is a Lake Stevens guy…so when we started talking about the Seahawks, she handed the phone Chris Pratt because he wanted to talk Hawks and his dog too! How awesome is that!! I figure since we talked Hawks and pups…I would tweet them a thank you note….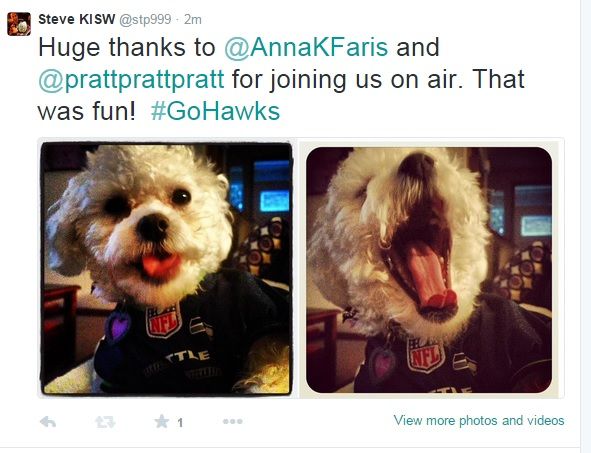 Check out this awesome interview HERE!

Did you know that Thee Ted Smith and I do a podcast? It's called The Mega Cast, and we just posted a new one last night! This week on the Mega Cast -- we give you 30 (push-ups), so we expect the same. Plus we talk about Tosh ripping on ESPN. Push up for days, son...you in? Listen to this week's episode on iTUNES & Stitcher (subscribe too…search The Mega Cast), or listen right HERE!
---
Social media is a real minefield sometimes.

Dave and Buster's is a sports bar/arcade restaurant with locations all around North America. They recently tweeted: ""I hate Tacos" said no Juan ever", in reference to a Taco Tuesday promotion. As you might expect, this didn't really go over very well with some people, and the backlash is in full effect.

I asked our own Vicky Barcelona – a young woman of Mexican descent – and she said she's not offended at all. In fact, her father and brother are both named Juan, and Vicky said that she frequently shares "Juan" wordplay jokes with them, and they all think they're funny.

Thin Skindrome continues to sweep our country, and this is a case that I find especially bothersome, because I don't believe that non-Mexicans necessarily have a right to be incensed by this situation.

Dave and Buster's deleted the tweet, and later issued a public apology. Do you think the tweet was offensive? And how do you feel about people being outraged on behalf of groups – ethnic, sexual, or whatever – that they don't belong to?
---
It's time for Group Therapy, gang!

Today, we're trying to help Mary (not her real name). Her soon-to-be-fiance just confessed something that she's struggling to accept: nearly twenty years ago, he was a prostitute…and his customers weren't women. In fact, he says that he's slept with over a hundred men!

This was something that happened during a very different time in his life. He was living in Florida, addicted to drugs, and living on the streets; the prostitution was just a way to make ends meet, and feed his addiction. These days, he's happy, fully recovered from the drugs, and thankfully disease-free. He also says that he's not gay. Unfortunately, it's not all good news for Mary, who didn't know about the drug addiction, or the prostitution. She says this revelation has hit her like a ton of bricks.

Mary's sister knows the secret now, and she thinks it's time to put the relationship out to pasture. Mary is concerned that her boyfriend must be gay, if he slept with men in the triple digits. She doesn't know what to do, so she came to her fellow Rock-A-Holics for help.

Mary, your boyfriend's sexuality isn't much of an issue, in my opinion. The real question of concern here is: will he be monogamous? Is there any chance of a relapse, either to the drugs, or the prostitution? That's the big red flag issue for me.

Can anyone offer Mary some advice? We'd love to hear from everyone, but we're especially interested in some feedback from people who have been in a similar situation…

---
Huge thanks to Mark Klebeck for swinging by to drop off some Top Pot Donuts. I completely "fan-boyed" out on Mark…why you ask?

Because Mark is the co-founder of Top Pot Donuts…him and his brother created my favorite donuts! There was a point that I actually said to Mark, "Thank you for bringing me so much joy with your food".




I have met a lot of awesome celebrities that I am a huge fan of… from Hulk Hogan to John C. Reilly…but I was able to keep it cool with them…but not with Mark…I was a total fan boy!

Thanks to former KISW personality, Cathy Faulkner, for sending Mark our way. They are buds…so Mark swung by not only with the donuts, but with an awesome note from Cathy that featured the KISW Duck!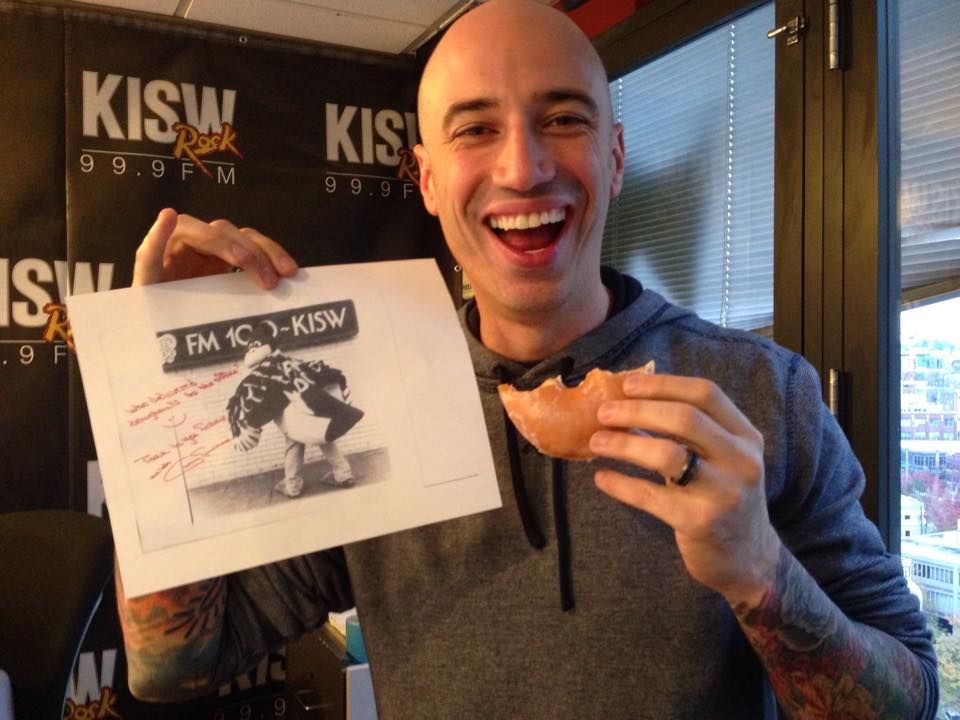 ---
Sit N Spin! AC/DC Rock Or Bust


Today's Sit N Spin is about AC/DC! Last week The Mens Room chatted Angus & Cliff Williams about the new album and the Phil Rudd situation.

The new album "Rock Or Bust" drops December 2nd!

We featured the two new songs "Play Ball" & The title track "Rock Or Bust"……then featured part of the interview the guys had with AC/DC's Angus & Cliff.

Listen to the FULL INTERVIEW WITH THE MENS ROOM AND ANGUS YOUNG & CLIFF WILLIAMS!!! http://bit.ly/1uOaT8u


Enjoy "Play Ball"



Dig on "Rock or Bust"


---
This past weekend, the Jacksonville Jaguars were on their Bye Week, and starting cornerback Dwayne Gratz spent his time off getting wasted! How wasted? To the point that he thought gum was currency! Yes, THAT wasted!

Gratz was arrested at 5:53 A.M. in Miami Beach on Sunday morning for disorderly intoxication and trespassing. He was so drunk that he tried to use BUBBLE GUM to purchase items from a store after realizing that he was out of cash. When it didn't work, he argued with an employees, and refused to leave until the cops came and arrested him.

This led to a fun topic…

"Drunk or sober…I can't believe I tried to do (BLANK)."

Hot Kyle shared a great video, as he said that he couldn't believe that he witnessed his friend chug a 6 beer Das Boot in 15 seconds…check it out:



Here are some of the texts we got on the topic…

Drunk as hell pounded on all the neighbors' doors wearing Little Bo Peep underwear and stockings singing I'm bringing sexy back

I once tried to steal a bus in college

Tried to order drinks at Aladdin's Gyros in Fremont & started a huge argument because they wouldn't serve me

I got exorbitantly drunk while fishing at a lake in a state park, urinated into the lake while people paddled by in canoes, and I tried to call my friend and get him to bring me a gun so I could shoot the fish because I was mad that they weren't biting my hook

I once tried to brew a pot of coffee with vodka instead of water. I figured they were about the same consistency so it should work. Little did I know it ruined the machine.

Stoned out of my mind, tried to come onto my mother in law. Then was SO paranoid that my wife knew when she got home from work. She didn't...but I was high.
---
Hey, gang! If you'd like to hook up with other Rock-A-Holics in your area for some casual Group Therapy, then just wipe left…or swap right. I'm not sure how this whole swap-wipe-swipe-slop thing works, so you'll have to figure it out for yourself.

Natalie and her boyfriend are both in their 20s, and they've been together for five months. They met on Tinder, and it's been going pretty well for the couple. Of course, Natalie deleted her Tinder profile immediately, but her boyfriend didn't. Recently, one of Natalie's friends saw the boyfriend's profile, and took a screenshot…because his most recent Tinder activity was just a few hours earlier.

Whoops.

While the boyfriend was showering, Natalie got into his phone and checked out his profile. It turns out that he had been communicating with three other women in the early days of their relationship. Natalie says that he seems to have zero recent activity, and the conversations weren't scandalous. Her friends are telling her to dump the guy on principle, but she's not sure what to do about this. She hasn't told her boyfriend about the issue – or her snooping – and she came to us looking for some advice.

I don't have much to offer here, except to say that you need to manage your own feelings if the people around you are jumping directly to "dump your mate" when you share a problem with them. Make your own decisions, and follow your heart-brain-gut to figure out what's best for you and your relationship.

Let's hear it from you, good people! How should Natalie deal with this Tinder situation?

---
I know I have been raving about the Foo Fighters show on HBO called Sonic Highways. Every episode the band visits a different city to absorb their musical culture and then record a song based on that experience, and the last episode was easily my favorite.

The episode is based in LA, where they cover the LA punk scene (hell even Duff McKagan makes an appearance)…but the best part of this episode is when they focused on a scene that developed outside of LA in the Palm Desert area…mainly stemming from the Rancho de la Luna recording studio. This was a fascinating segment…here is the trailer for the episode…



One of the big bands to come out of that "Desert" scene is Queens Of The Stone Age…which was a band that came from the ashes of the stoner rock band Kyuss. One of the guys that runs the studio, Rancho de la Luna, is Dave Catching. While watching it, it brought me back to the time that I met Dave…along with the early version of Queens Of The Stone Age: front man Josh Homme, drummer Alfredo Hernández, bassist Nick Oliveri, and guitarist/keyboardist Dave Catching.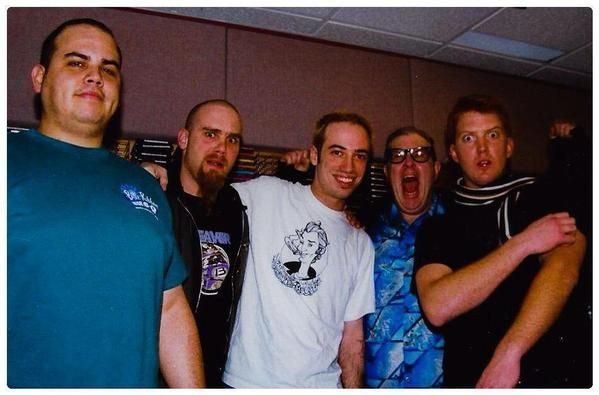 I'll never forget getting to hang with these guys the night before they joined me in the morning back when I worked at The End. We met up the night before to lad in their gear…and set up the audio for their morning show appearance. I have been on an ongoing quest to find that audio of their performance on air…if anyone has the audio…PLEASE email me at steve@kisw.com, I would love a copy of that!

Ok…back to the Foo Fighters…Here is the full song featured in this week's episode…which features JOE WALSH on the guitar solo, and was recorded at Rancho de la Luna in Joshua Tree, CA.



When we interviewed Dave Grohl on the Mega Cast (a new podcast that Thee Ted Smith and I are doing), I asked Dave to pick one song off the new CD for us to play…and he picked "Outside" – if you haven't heard our interview/podcast…please check it out! You can find The Mega Cast on iTUNES or Stitcher…or just click HERE for the Dave Grohl episode.
---
Sheriff Tony Lippa
Nov 21
Sheriff Tony Lippa
Nov 20