How is the summer going for you so far? I am back to asking questions to start the blog. Sorry I have been gone for a minute just got busy with summer and living. At this point in the summer I have been doing a ton of fun things and just enjoying the great Seattle weather. 80's during the day and they cool and night is just the best weather in my mind. Now I have become a Seattle person so I am looking forward to a rainy day in the fall but we will have plenty of those so for now I will take the sun and if I have to sweat a little bit then that's fine with me. I went to Hempfest on Sunday and if you like to people watch and good food options then you should go next year. It is crowded and long lines but it is fun and just have fun with the fact it is Hempfest and its going to be slow walking around. I had a tasty strawberry smoothie followed up by the best damn grill cheese sandwich ever thanks to The Grill Cheese experience. Summer is great in Seattle and I hope you are out there enjoying it. Have fun and Go Sounders, they are going to make the push into the playoff's soon so make sure to give your full 90
---

FOO FIGHTERS: Now This Is an Ice Bucket Challenge Video!
Well, it looks like Foo Fighters have made an ice bucket challenge video that tops all others.
After a serious intro from frontman Dave Grohl challenging Jack Black, John Travoltaand Stephen King, the video turns into a parody of the 1976 film Carrie that starred Travolta and was based on the book by King. It's worth three minutes of your day to watch it now on YouTube.

---

Last month, "WEIRD AL" YANKOVIC scored his first ever #1 album. It wasn't shocking that he'd never had one before, but it was a big deal that he got one now, after 30-plus years in the business.
And last week, TOM PETTY AND THE HEARTBREAKERS landed their first #1 album in 37 years. That career-long drought was a little more surprising.
Now, Billboard.com has put together a list of "10 Surprising Artists Without a #1 Album." Check out the full piece here. http://bit.ly/1oEcStg

1. David Bowie. He's had seven Top 10 albums, and four in the Top Five, but none that have topped the Billboard 200.


2. Marvin Gaye. His 1973 album, "Let's Get It On", reached #2.


3. The Who. They've had ten Top 10 albums, and they've hit #2 twice: With 1973′s "Quadrophenia" and 1978′s "Who Are You".


4. Cher. She hit #3 with her most recent album, "Closer to the Truth", and got up to #2 with "Look At Us", the album she put out with Sonny Bono in 1965.


5. Sting. He's had ten Top 10 albums as a solo artist, with three of them hitting Number Two. But he DID have a #1 album with The Police. "Synchronicity" spent 17 weeks at #1.


6. Aretha Franklin. She's made it to #2 twice . . . with "I Never Loved a Man the Way I Love You" in 1967 and "Aretha: Lady Soul" in 1968.


7. Willie Nelson. His 1982 album "Always on my Mind" spent four weeks at #2, but couldn't reach #1.


8. Tina Turner. Her 1984 album "Private Dancer" spent 11 weeks stuck at #3 behind Prince and the Revolution's "Purple Rain" at #1 and Bruce Springsteen's "Born in the U.S.A." at #2. And "All the Best" in 2005 hit #2.


9. Dr. Dre. "The Chronic" spent six weeks at #3 in 1993, and his album, "2001″ spent three weeks at #2.


10. KISS. They don't have a #1 . . . but they're the American band with the most top 40 albums, with 26. They got closest to #1 with 2009′s "Sonic Boom", which debuted and peaked at #2.
---
By the time you read this, we will have been a week deep into a very dark place, a place void of laughter, quick-thinking, brilliant-funny, and sometimes heart-breaking emotions, with the loss of Robin Williams and his cast of characters, including Mork from Ork, sitting on his head in a chair, and John Keating, a professor taking a stodgy, aristocratic school of boys and helping them see the world differently by standing on his desk whistling the "1812 Overture" in
Dead Poets Society.
Sometime around 1978, I was living on Beacon Hill in the fine aristocratic city of Boston. I have never been one to engage in an outpouring of vocal belly-busting laughter, but on one particular day (and for decades to come) Robin Williams was able to invoke that behavior in me. Then in 1989, he brought me to tears in the
Dead Poets Society
as a professor bringing humanity and real learning to a brain-numbing line-stepping school. I know how that can be, having spent two years in such a place until I convinced my father I would get thrown out if he didn't take me out. Good old dad decided I would indeed disgrace myself in private, so he figured it was better I do it in public, and I was released from those gates, and off to public school I went. Fifty years later I am still marching my own line-step and to my own beat. John Keating was that type of true Teacher. Mork from Ork, John Keating, and other memorable characters have left us, but fortunately for us all the memories remain.
People ask why such gifted people end their own lives--by drugs and alcohol in a slow death or more quickly. Personally, I think the powers-that-be do not always give great gifts
and
an unconquerable soul. The mind and heart are often veiled behind the gifts they give us. Emotionally, I am standing on my desk, whistling the "1812 Overture."
Speaking of whistling, we also lost Lauren Bacall to a massive stroke this week at age 89. Lauren Bacall had the level of sophistication and sensuality I look for in every woman I have ever known. Just check out the film
To Have and Have Not
and the "whistling" exchange between the characters played by Bogart and Bacall. From the voice to face no one will take her place.
There is so much spinning around in my head right now, and this blog has only touched the surface. Our learning to lock-step in blind obedience starts in the first year of school. Somewhere, I hope there are a lot of students who, if not now, will someday stand on their desks on their own two feet. I'm going out now to do what I have been doing all my life: whistle into the wind and hope someone catches the tune.
---
A new list details the five dumbest things doctors have heard from patients. Prepare to shake your heads along with me, my friends…

1. A young woman visited her doctor for an STD check. She only has one partner, but claims that everything should be perfectly safe, anyway. After all, he uses a condom every time, and makes sure to wash it after every use.

2. One doctor had to explain to a 27-year-old woman that her monthly bleeding was totally normal. You might think she's simply naïve and uninformed…but this woman has two kids.

3. Another woman was asked by her friends why she was so nonchalant about losing her foot. She explained that she knew the situation was serious, and that surgery was inevitable, but she wasn't worried. After all, she also knew that her foot would grow back.

4. A young couple was irate because their birth control pills weren't getting the job done. It turns out that the pills were negatively affecting the woman, so her boyfriend started taking them instead.

5. Finally, a doctor had to break the bad news that Band-Aids don't actually treat any kind of illness or injury. This revelation was delivered to a woman who covered her body in bandages in an attempt to fight off the problems caused by her Type-2 diabetes.

Sigh.

We need more education in this country, and that's a fact…but in these cases, I have to wonder if it would even make a difference.



---

The great Robin Williams is no longer with us. That's hardly breaking news at this point, but it's certainly a topic that you're seeing and hearing everywhere. We know now that Williams took his own life, but I guess I was holding out hope that we'd learn a different truth.

I've never been to that depth of pain in my own mind, and for that, I'm very thankful. It's not hard to see how beloved Robin Williams was, by fans and fellow entertainers alike, but it seems almost certain that he couldn't see that affection for himself. It's a real loss for the world of entertainment, and just one more strike against our society at large in regards to the care and handling of depression and mental anguish.

If you're depressed, or just uncertain about the path your life is on, don't be afraid to speak up and ask for help. Talk to friends, family members, co-workers, or even a caregiver at your local hospital. Pick up the phone, send a text, write an email, or just reach out for some human contact. Someone will be happy that you did…and that little bit of personal honesty and self-awareness might just help you realize that you're not alone.

Maybe it's not everything you need all at once, but it can definitely be a start.

If you need help, please call 1-800-273-8255 for the US National Suicide Prevention Lifeline.

---
BJ and I are off to LA…going to WWE Summerslam baby! Be sure to listen all morning tomorrow as we will be broadcasting live from Lucky Strike in Los Angeles…and we will be talking to a bunch of WWE Superstars. If you don't recall…I did this last year, and it was a blast! Here is the video I made of some of the highlights from last year!



Summerslam is this Sunday at 5pm. It's available on the WWE Network or on Pay Per View. Get more info at WWE.com .

Speaking of wrestling…here is part 2 of our interview with WWE Superstar Roman Reigns…he joined us in studio on Tuesday to promote Smackdown…which airs tomorrow night!

---
So yesterday was awesome for this Wrasslin' fan! The morning started off with a great interview with one of my favorite WWE Superstars, Roman Reigns.




Roman is quickly becoming a huge star in the world of sports entertainment, and in my opinion he is the future of the WWE (along with a couple others)… BELIEVE THAT! If you missed our interview with Roman, here is part one…



After the interview I recorded the STP-CAST (listen and subscribe on iTUNES or STITCHER), and a listener named Utchay sat in and watched…plus he surprised me with this awesome sign that he made and was planning on showing off at Smackdown!






After that was done… I met up with my bud "The Jay Mac", and we grabbed dinner & drinks at Shawn Kemp's place in Queen Anne called "OSKARS" – awesome spot, and the bartender ruled!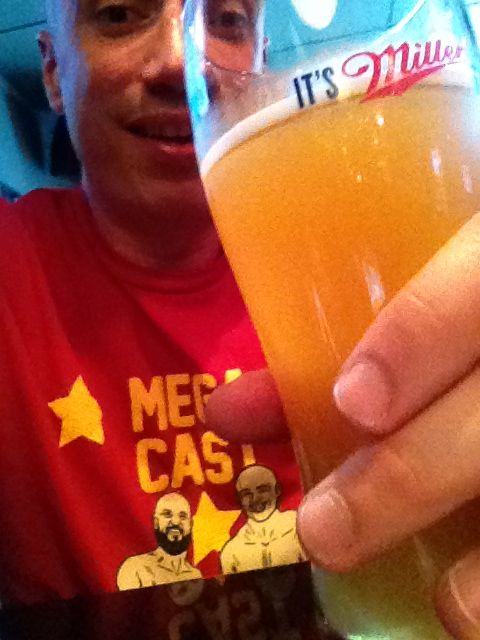 We then made it into the Key Arena, and we got to sit RING SIDE!




I have been lucky to experience sitting ring side in the past, and it never grows old…I still geek out like a 12 year old as I absolutely love the WWE, and they did not disappoint…Smackdown (and Main Event – they taped that too) was awesome…be sure to watch it on Friday night. Be sure to look for my bald head…hell… Mark Henry saw me and even pointed at me! Thanks to @ProperJam for the pic!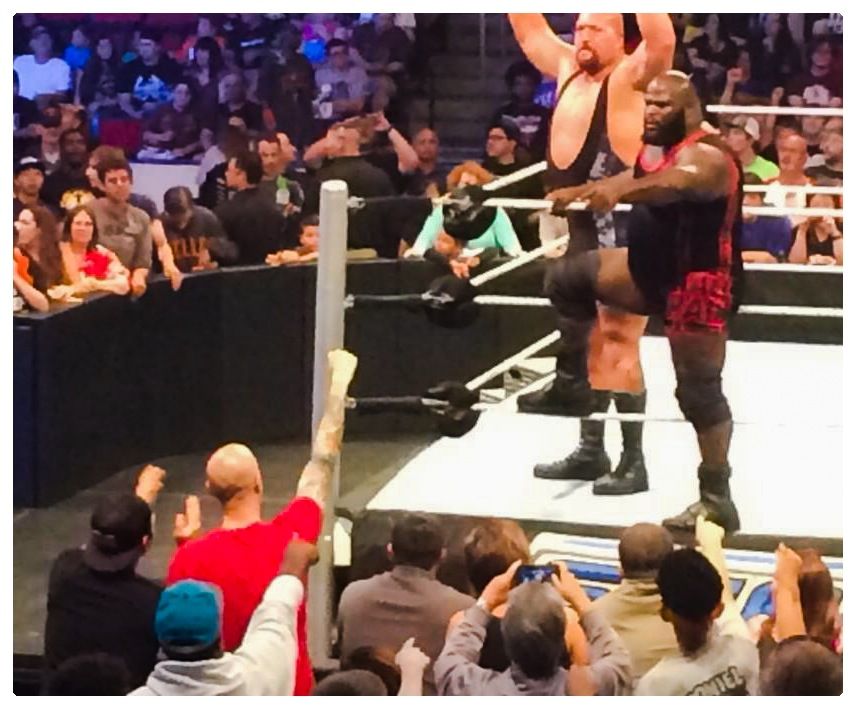 The best part…Utchay was sitting 6 rows behind the announcers…so I think we will see the sign on TV! You rock Utchay!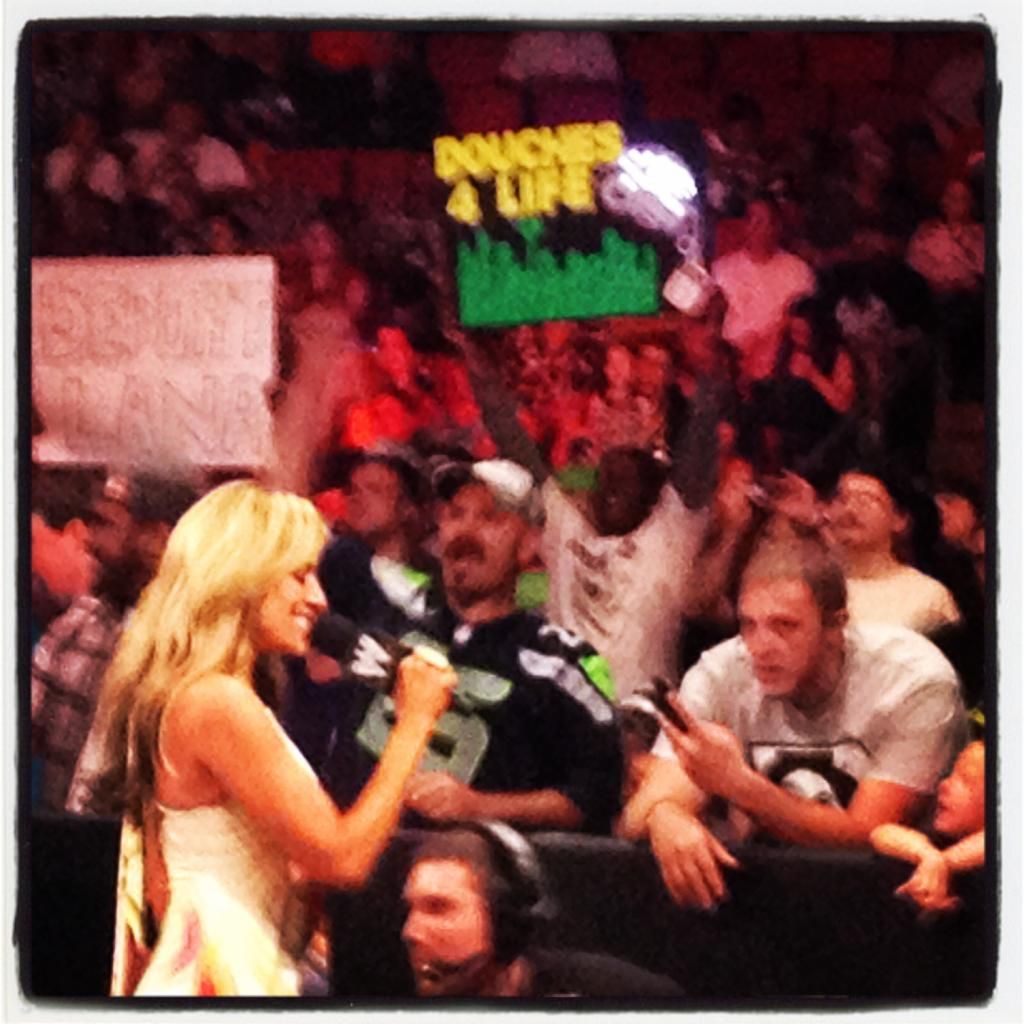 Here are some pix I took…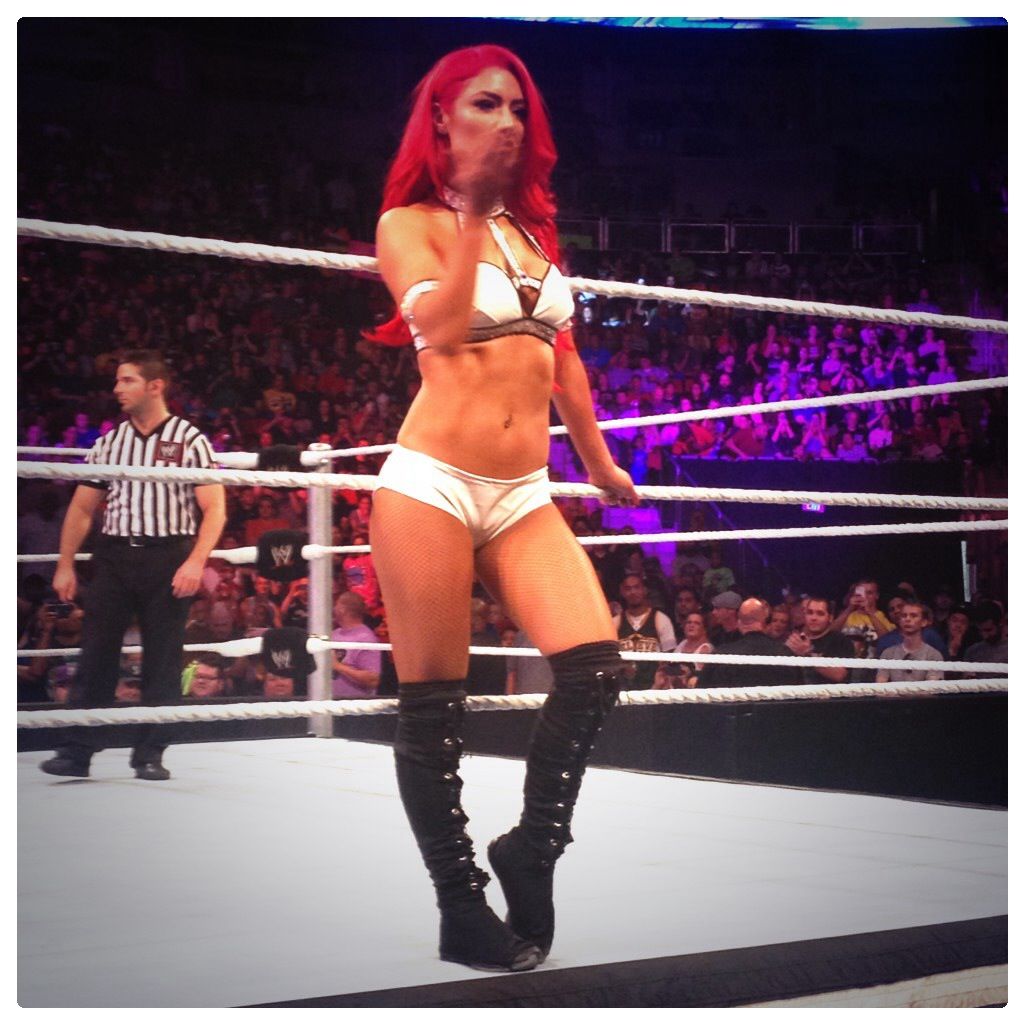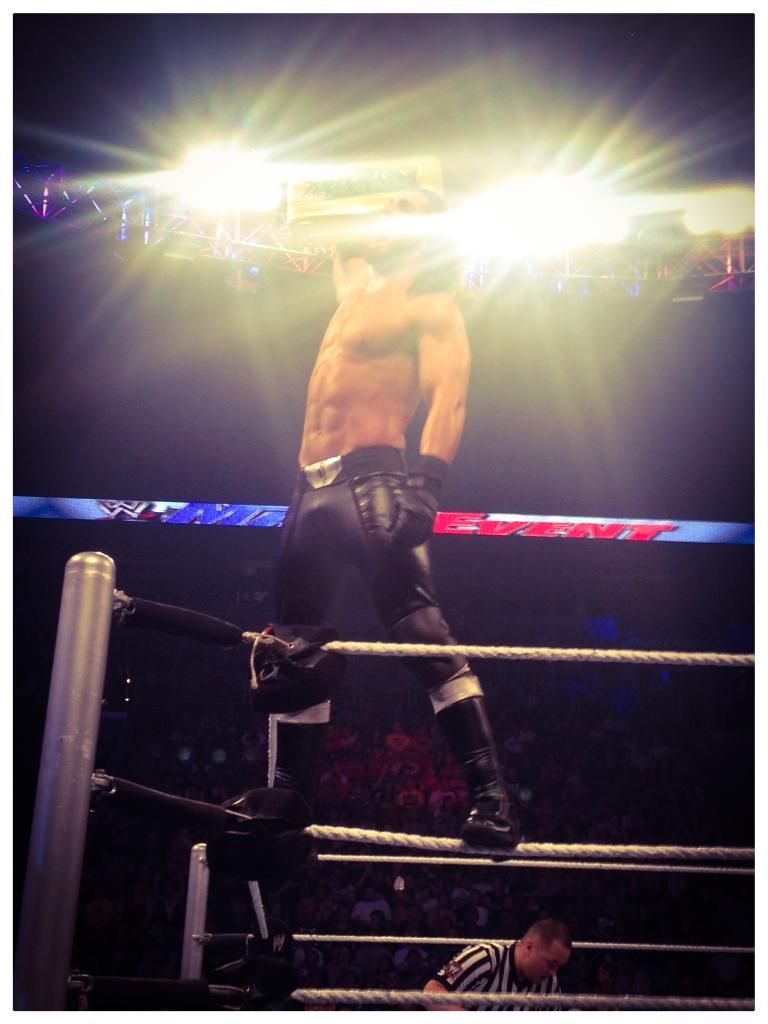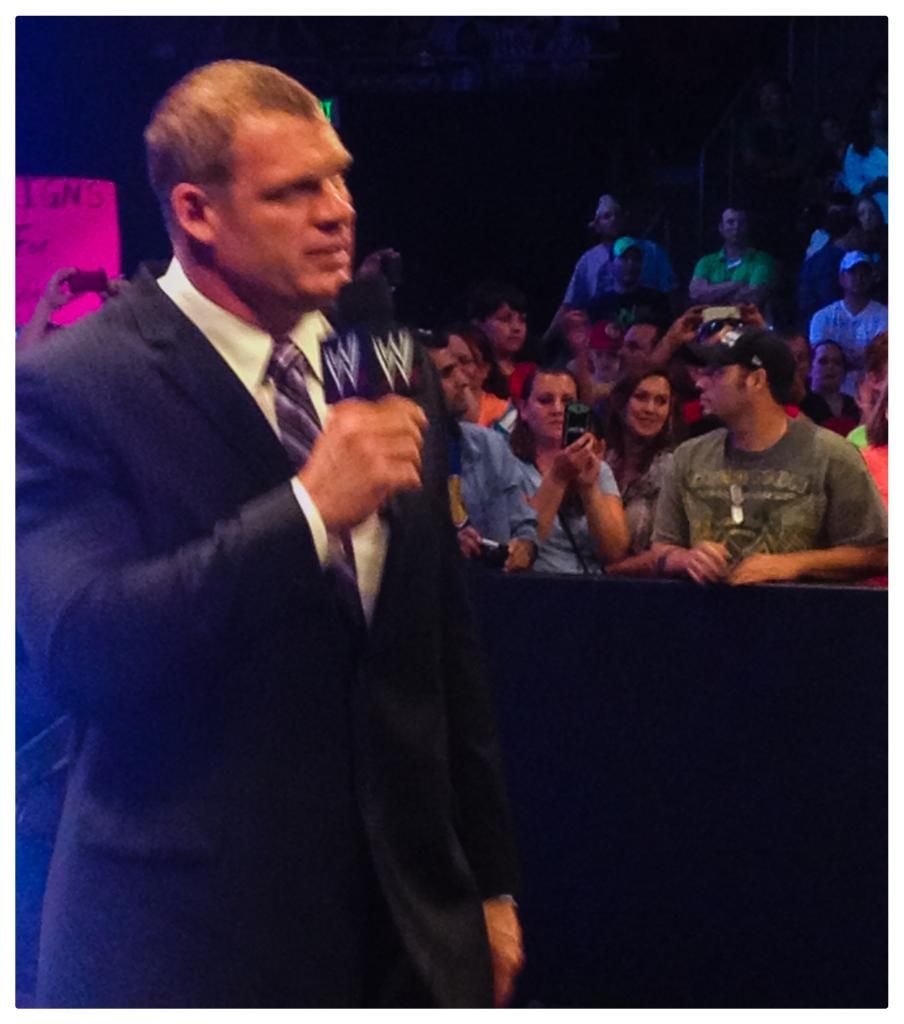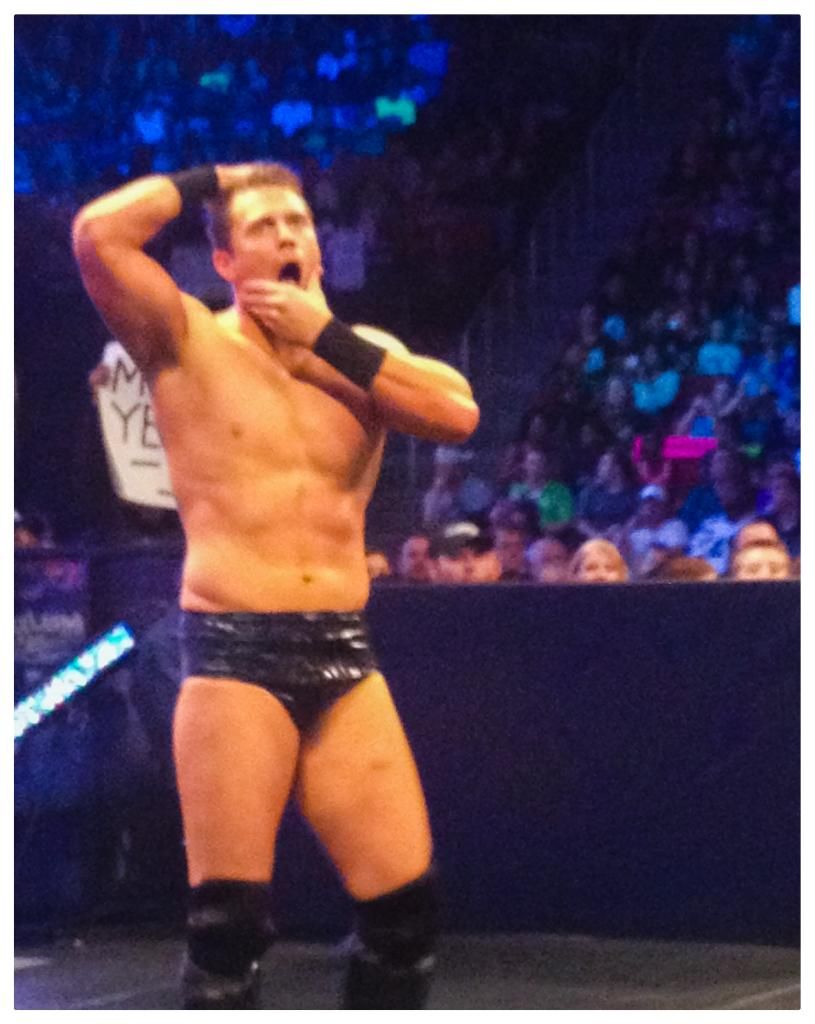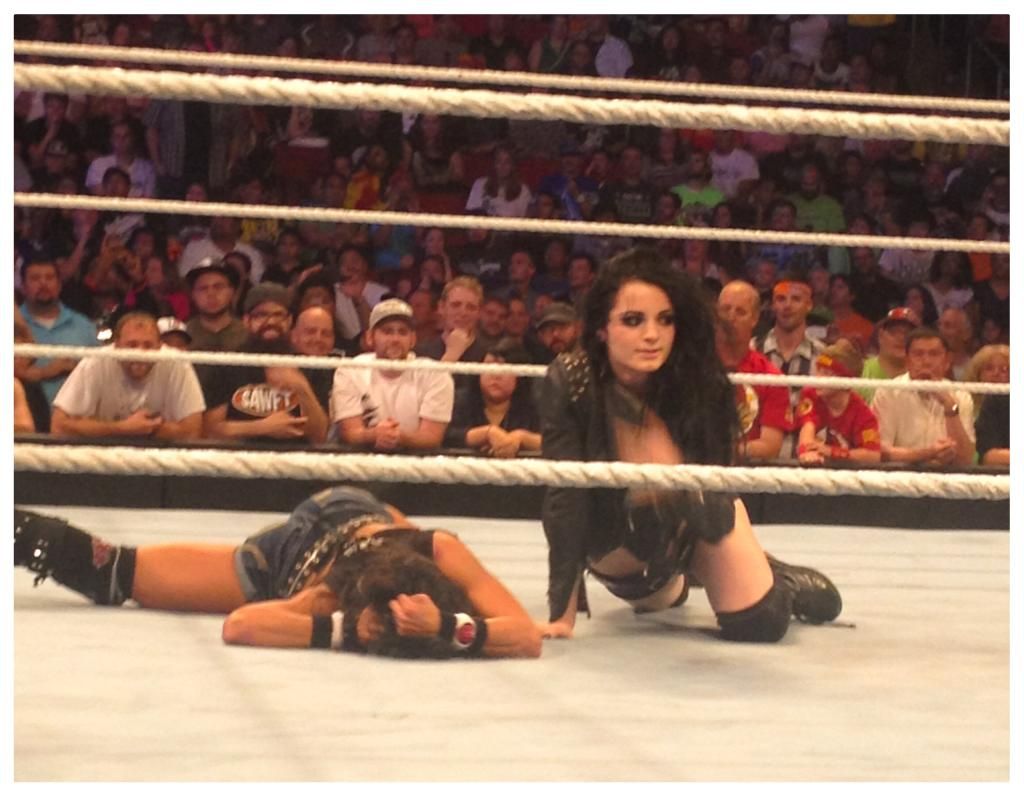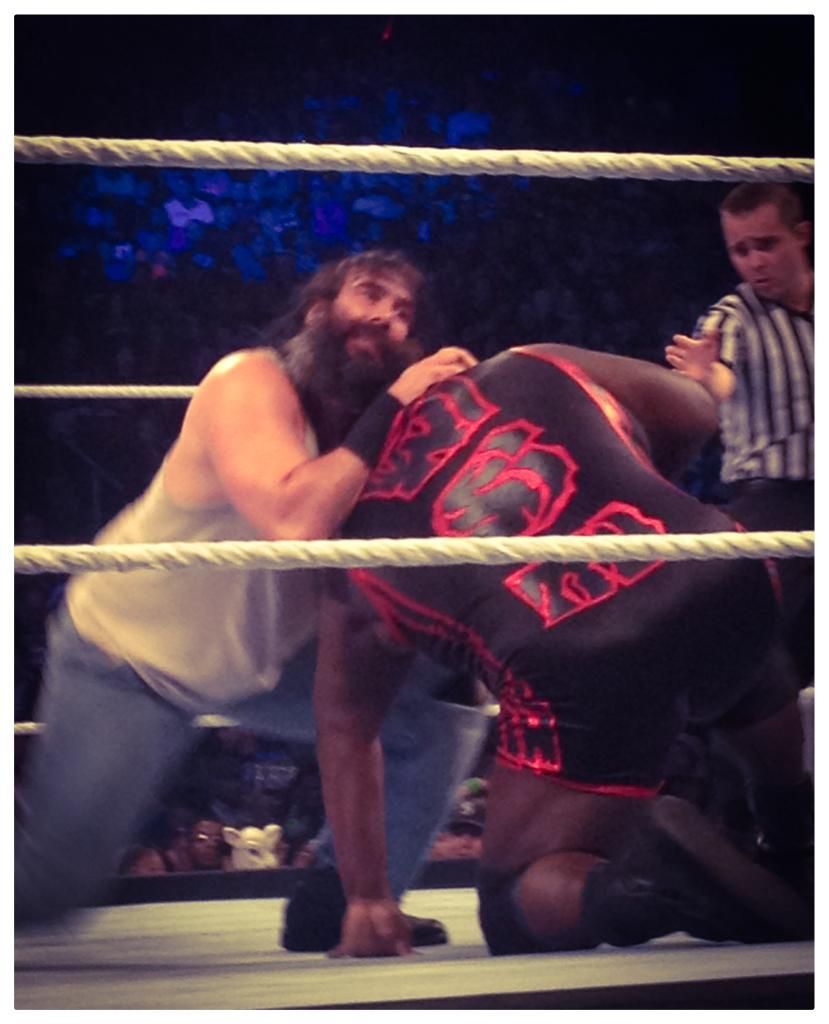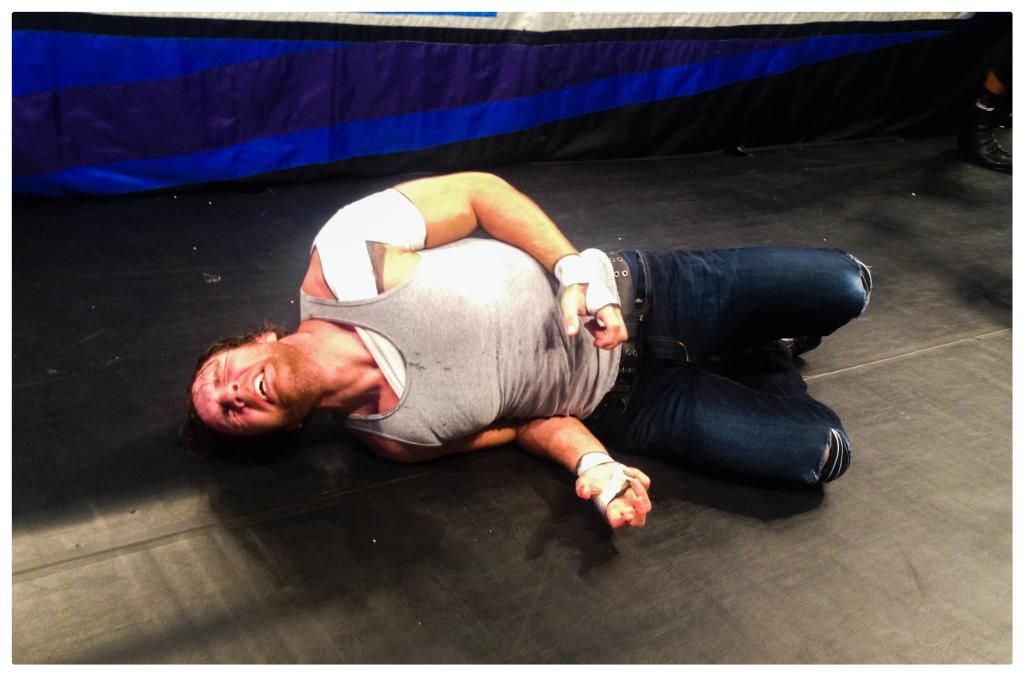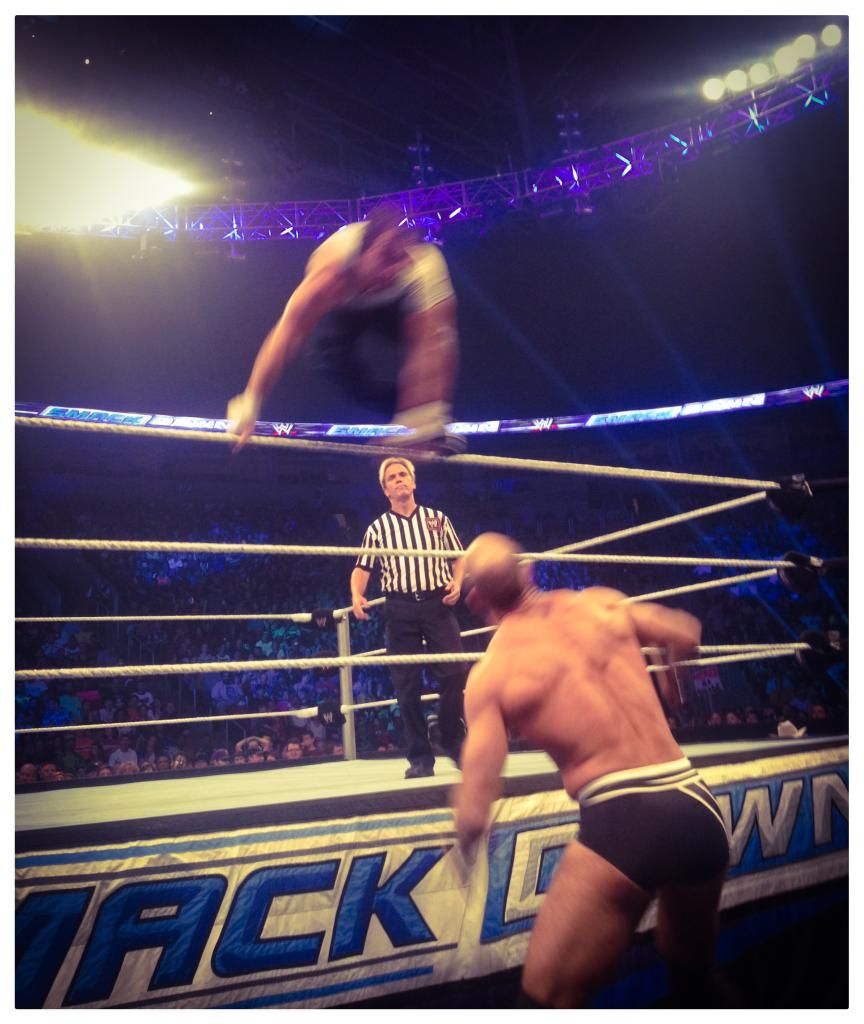 ---
It's time for some Group Therapy, folks! I hope you're as committed to this as I am!

Today's topic comes from Dawn, who knows her man wants to get married, even though he hasn't specifically asked her yet. Dawn has no interest, but she hasn't made it clear to her boyfriend. Her friends say she should tell him now, but it hasn't come up, and she's not sure when she should make her feelings clear. Dawn says she's having fun, and she doesn't want that fun to end yet!

People don't have to get married, I suppose. Kurt Russell and Goldie Hawn have been together forever, but they've never seen the need to make it official. They sure seem happy.

Personally, I'm a little bothered by Dawn's position. I'm assuming that she just doesn't want to marry THIS guy. Maybe I'm wrong, but it sure sounds that way to me. I believe in love, and I've made my relationship decisions based on the idea that people get together in the hopes that they'll STAY together. I realize I'm occasionally the odd man out with this line of thinking, but there it is.

What do you think? Should Dawn tell her boyfriend that she doesn't want to marry him, or wait until he pops the question? It seems to me that there might be less heartbreak for the guy if she's upfront about it now, but we all know that I'm old-fashioned…

---
Top 10 Songs In America


So the braintrust had a brilliant idea (heh, heh) to feature the Top 10 Songs in America (for the last week in July btw).

The idea is that if any member of the show can guess the artist or title they win a dollar! Miles, Steve, Ben and Ian (Metal Shop) each figured out a few!

Talk about torture for your money right?

This brings to mind an article that Hairclub sent us. How the music industry is brainwashing you to like bad pop songs. There is science involved! http://bit.ly/1mAAKsW

Dig the playlist if you dare……. http://bit.ly/1p3imNG


10. "SUMMER" BY CALVIN HARRIS
9. "CHANDELIER" BY SIA
8. "ALL OF ME" BY JOHN LEGEND
7. "LATCH" DISCLOSURE FEATURING SAM SMITH
6. "MAPS" MAROON 5
5. "PROBLEM" ARIANA GRANDE FEAT IGGY AZALEA
4. "AM I WRONG" BY Norweigan pop duo NICO & VINZ
3. "STAY WITH ME" BY BRITISH SINGER SAM SMITH
2. "FANCY" BY IGGY AZALEA FEAT CHARLI XCX
1. "RUDE" BY THE CANADIAN POP/REGGAE QUARTET MAGIC!

There it is Rockaholics, I would like to take this moment to apologize to you. For the pop music blast.

Till next Tuesday!
Jolene
---