Posts from April 2013
Sit N Spin

New Tunes!

Some new singles and such that have come across my desk as of recent. Please feel free to let me know what you think of the songs in the comments section below!

As always dig today's playlist!!!

Yes, All the songs listed below are in the playlist.
http://kisw.tunegenie.com/u/__znjWJ0YSSKBC2kr2EE2Yg/new-music-for-your-ears/



GHOST B.C. "YEAR ZERO" INFESTISSUMAM IS OUT NOW

ANDREW STOCKDALE "LONG WAY TO GO" SOLO ALBUM "KEEP ON MOVING" OUT JUNE 7TH.

BARONESS "MARCH TO THE SEA" LATEST SINGLE FROM THE YELLOW AND GREEN ALBUM.

AIRBOURNE "LIVE IT UP" BLACK DOG BARKING OUT MAY 21ST.

PAPA ROACH "LEADER OF THE BROKEN HEARTS" THE CONNECTION ALBUM OUT NOW.

NICO VEGA "BEAST" FURRY OH FURRY EP OUT NOW.

QUEENS OF THE STONE AGE "MY GOD IS THE SUN" LIKE CLOCKWORK WILL BE DROPPING JUNE 4TH.

MEGADETH "SUPER COLLIDER" THE TITLE TRACK FROM THE NEW ALBUM OUT JUNE 4TH.

HEAVEN'S BASEMENT "FIRE, FIRE" ALBUM IS CALLED FILTHY EMPIRE AND IS OUT NOW.

THE VIRGINMARY'S "DEAD MAN'S SHOES" ALBUM KING OF CONFLICT OUT NOW.



---
"Hola,

Yesterday, 12- year- NBA veteran and current player Jason Collins became the first openly gay male player in the four major American sports when he came out yesterday. Personally, we don't care, but in the homophobic world of sports, admitting that you're gay is news... at least it is for Collins because he's the first to do so. Whatever. Good for him. 'People' magazine, inexplicably, named Gwyneth Paltrow 'the Most Beautiful Woman in Hollywood'... narrowly beating out Joan Rivers and Rosie O'Donnell, I suppose. Whether you think Gwyneth is beautiful or not, most people agree that she gives off an extremely pretentious, uppity and silver- spoon vibe... and THAT'S why we were shocked to learn that when it comes to grooming her nether regions, she just lets it go... or, as she said on the "Ellen" show, "I work a 70's vibe. You know what I mean?" Yea, baby, we know what you mean. And then there's actress Catherine Zeta Jones who admitted that she's bi- polar. Not sure why that qualified as interesting, but I guess it's because she's an actress. Who knows? But, as far as getting TRULY shocking news, few people can top the British guy who, after almost 20 years of marriage, found that the woman he loved used to be a man. Every- so- often, the monotony of our lives gets bitch- slapped and shaken up when we find out something we never expected: WHAT DID SOMEONE TELL YOU THAT BLEW YOUR MIND?

Got shot in the arm while serving in Afghanistan, which isn't terrible shocking... he didn't KNOW it until a medic told him

One of his former friends once shared the story of the time she INTENTIONALLY swerved her car to HIT pedestrian... and left him for dead

Found that his nephew had been shooting heroin for the past 3 years... to his nephew's credit, he confessed to it

Had his mind blown when his ex called to mention that she'd tested HIV positive... turned out to na false positive

Friend of 25 years just told him that he was getting a sex- change operation

Found out his mom was married before being married to his dad... he only found out because he intercepted one of the letters that the guy was STILL sending his mom. The guy was serving life in prison for murder

His adopted cousin had a two year sexual relationship with his birth sister... to this day, neither of them know

Her daughter's boyfriend told her that he was transgender

Was at sea for 11 months when one of the guys on the ship discovered that his wife had just had a baby. Do the math

Her husband of 8 years asked her if she'd be interested in swinging... she said sure, met another guy and got together with him on a permanent basis... he first husband committed suicide as a result

SIT AND SPIN

Actually listened to some new music today... something we rarely do. Here's the link

OK bitches, I'm outta here.
Until tomorrow, shuck it and STAY BEAUTIFUL!"
---
Yesterday during Group Therapy, we read an email from a Rock-A-Holic named Max who was having a work place dilemma.

Max has severe allergies to fragrances to the point where he has tried 30 different deodorants in the past year in hope to find one that won't cause his nose to itch.

The other day, his boss's boss told him in front of everyone in the office told him to stop sniffling because it's just as annoying as if he were clicking a pen non-stop. At first he thought his boss was joking but then he suggested that they put him in an isolated environment.

Max asked a few of his office mates if his sniffling has ever bothered them and they not only said no, they said that he should report this boss to HR because he discussed a "medical issue" in front of everyone.

The problem is if that it might not be a good idea since he is a contract worker and is hoping to get hired on full time in the fall.

I get where Max is coming from because I too am sensitive to strong fragrances and my allergies can get really bad, but he does have to learn to manage it like by maybe using allergy medication. I'm not saying the way the boss went about telling him was appropriate, because it was definitely a jerk move. He isn't asking the people in his office to change the fragrances, but if he's trying to further his career, maybe it wouldn't be the worst thing to take the separate office. It would show his boss that he is a team player and willing to do what it takes to make sure everyone is at their best to get their jobs done.



---
Man yesterday was like a punch in the gut for Seattle sports fans, as the NBA Board Of Governors voted unanimously against moving the Sacramento kings to Seattle. This is definitely a major speed bump in Chris Hansen's efforts to bring the Sonics back. The timing couldn't be worse as yesterday there were a few rumors and reports circulating that the NHL franchise, the Phoenix Coyotes, are one foot out the door and Seattle would be a great destination for them. The crappy part…no NBA franchise means no new arena, which means no NHL franchise. Ugh. A lot of people are pissed, it seemed like this was the perfect opportunity, and who knows if there will be another one. Thankfully us pessimists are not in charge of this ownership group, as Chris Hansen released a statement…it's a great read:

To the Sonics Faithful While we are disappointed with the relocation committee's recommendation, we just wanted to let you all know that we remain fully committed to seeing this transaction through. As you are all well aware, we have a binding transaction to purchase the Kings for what would be a record price for an NBA franchise, have one of the best ownership groups ever assembled to purchase a professional sports team in the US, have clearly demonstrated that we have a much more solid Arena plan, have offered a much higher price than the yet to be finalized Sacramento Group, and have placed all of the funds to close the transaction into escrow. As such, we plan to unequivocally state our case for both relocation and our plan to move forward with the transaction to the league and owners at the upcoming Board of Governor's Meeting in Mid-May. When we started this process everyone thought it was impossible. While this represents yet another obstacle to achieving our goal, I just wanted to reassure all of you that we have numerous options at our disposal and have absolutely no plans to give up. Impossible is nothing but a state of mind.
"Impossible is just a big word thrown around by small men who find it easier to live in the world they've been given than to explore the power they have to change it. Impossible is not a fact. It's an opinion. Impossible is not a declaration. It's a dare. Impossible is potential. Impossible is temporary. Impossible is nothing." ?Muhammad Ali
—Chris Hansen

I'm glad this guy is steering the ship.

I'm not going to ruin it for you How I Met Your Mother fans…but last night's episode was as Barney would say "Legen…wait for it…Dary!" Seriously, watch it…the cameo at the end is so awesome.

Today's Video Blog is all about Torture Tuesday. Today you voted for Vicky B. to slap Hot Kyle!



Here is the same VLOG for you iPHONE Users:


---
"Hola,

Today was the Monday Random Question, so, as always, I'm gonna avoid explaining all of that. Instead, I'll share whatever we happened to learn today.

Even people who live in 'Tornado Alley' are more terrified of rednecks than Mother Nature.

NBA Commissioner David Stern is a douche

It's possible to have freckles on the palm of your hand

There is a person who has a phobia of flour

If you're paralyzed from the waist down, you don't actually know when you're gonna poop or fart... it just happens

'Lascivious' means 'inclined to lustfulness or arousing sexual desire'. We wondered how you get charged for lude AND lascivious behavior. Now we know

Have you ever masturbated while you were on your knees? Ted has... in a corner... on his balcony... at 4 in the morning


This past Saturday night, myself and Ryan Castle provided a little rhythm section action for our pals in Windowpane, while Kyyle from Superfecta, provided some vocals. If you're interested, here's a video of us doing
Man in the Box.

OK bitches, I'm outta here.

Until tomorrow, get off your knees and STAY BEAUTIFUL!"
---
Maiden!!!!!!!!!!!!!!


Elderly Couple Charged For Playing Iron Maiden Until 4am. Amazing Work.


This may be one of the better things I've read all day! Read on via our friends at Metal Hammer.

http://www.metalhammer.co.uk/news/elderly-couple-charged-for-playing-iron-maiden-until-4am-amazing-work/



---
Last week during Group Therapy, a Rock-A-Holic named Brett was in some serious trouble and needed some help.

He explained that he got his girlfriend pregnant, but doesn't think she will make a very good mother. The reason is…she's a heavy drug user!

I long for the day where I won't hear the words "girlfriend" and "pregnant" in the same sentence. There are so many precautions that can be taken if people don't want be parents yet, why is it that we hear about so many people in this situation?

This woman, including anyone else who has a recent history of drug abuse should not be allowed to be the caregiver to a kid yet the system we have in place that doesn't seem to keep this from happening!

Why is it that no one seems to care about the child's rights? How many kids are out there dealing with heinous things all because their parents are too irresponsible to give them the care they need!

She should not be allowed to have custody of this child and I hope other men see Brett's situation as a learning experience for what not to do.




---
What a great weekend! On Saturday night I went to my first Mariners game of the season. My good bud from college Brandon was in town, so I got us tickets to the M's game, and we sat in the Kings Court! The timing couldn't be better, I figured what better game to go to with Feliox pitching, and what better section to sit in. If you haven't sat in Kings Court, I highly recommend doing so. The seats are cheap, 30 bucks, and you get a Kings Court T-Shirt and "K" card with the purchase of the tickets. It's a cool site to sit in a sea of yellow, while supporting Felix Hernandez! Plus there is a throne you can sit in while there!


My bud lives in Colorodo and he said Safeco Field blows away Coor's Light park…especially "The Pen", and the beer garden in the outfield.




Yesterday, all of us from the show went to Tech City Bowl in Kirkland and took part in the annual Sleep Country Pajama Bowl. It's fopr a great cause, Foster Kids, and it was a great time. Mono-Nick was easily our bext bowler…and although I bowled horribly (didn't finish last, but we will leave it at that), I think I was the sharpest dresser!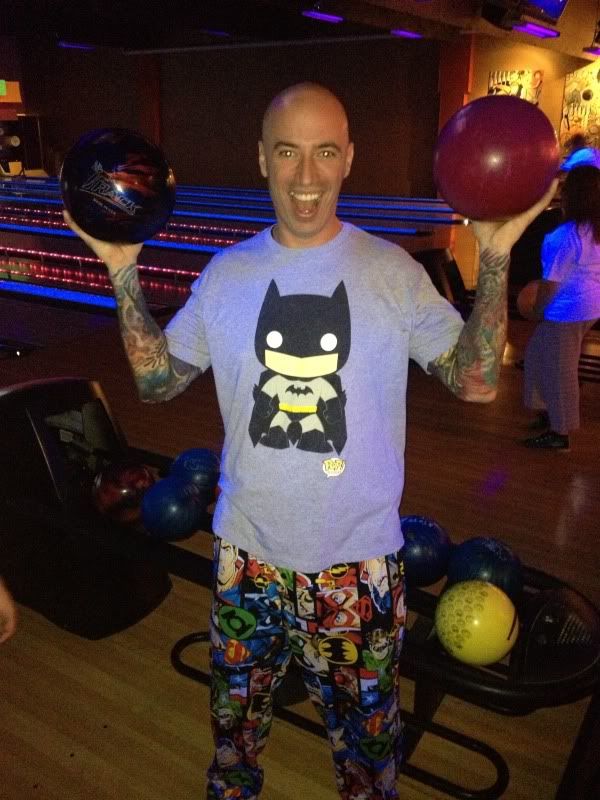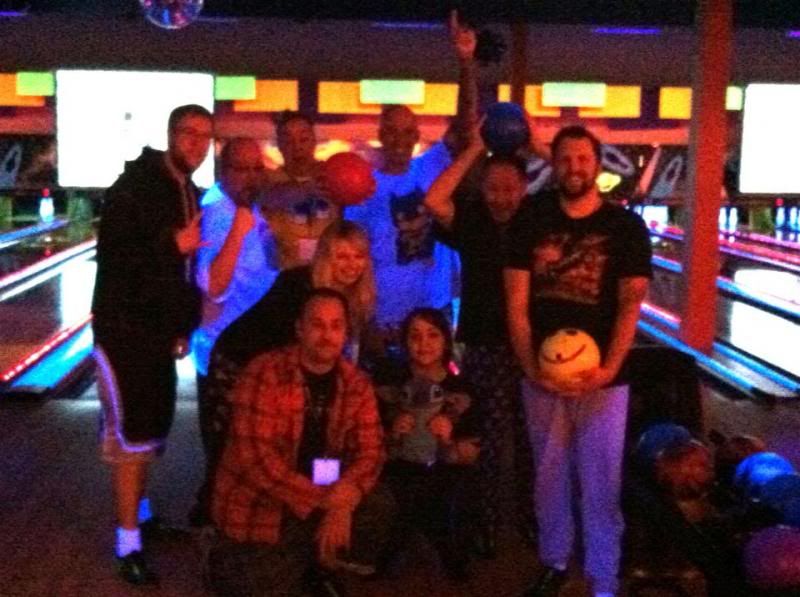 According to a new study, at least HALF of us have a fear that's strong enough to be considered a SERIOUS PHOBIA. The most common phobia is a FEAR OF HEIGHTS. That's followed by a fear of the dentist, fear of flying, and fear of spiders. About a quarter of people with phobias say they don't want to admit it. About 10% say the phobia has affected their love life . . . and 7% say a phobia has cost them a JOB.

According to a new study, at least half of us have a fear that's strong enough to be considered a serious phobia…what is yours? What are you terrified of? Here are the texts we got:

Flying spiders!!! Id kill myself!!!

Moths, birds, butterflies.

I am an exterminator and i used to be afraid of spiders up until i killed off a few generations of the bastards

CLOWNS!! I hate those creepy bastards :) Melinda

Sounds funny but hate glitter. They are the herpes of the craft world. They never go away. If I get some on me, I have to wash it immediately and scrub like a surgeon. Cajun

Sharks! Jaws f'd me up! Saw it when I was eight, I'm 37 now and still just as afraid of sharks as I was then.

Ants im teriffied of ants just texting the name has me freaked out

Afraid of being lost. Was lost in the woods once, it was terrifying.

Having people behind me I got pushed off a cliff into the lake when I was 16 still can't handle people behind me. I'm 33, I'm also claustrophobic. :) Faith

HORSES! I CANT EVEN PET ONE! <>< DON ~ Montesano

Bees. I stop my car in the middle of a road because a bee flew into my car...that's how scared I am of them!! -Pancho-

I used to have such a crippling fear of heights, but I couldn't even climb up a ladder. I decided to face the fear head on last year, by going skydiving. Greatest experience of my life! Now, no fear of heights.

Today's Video Blog features us at Tech City Bowl for the Sleep Country Pajama Bowl!



Here is the same VLOG for you iPHONE users:


---
"Hola,

The Jackson family; father Joe used to physically abuse the sons that made up the Jackson 5, Jermaine, the second oldest son, started having a relationship with younger brother Randy's ex-girlfriend after he divorced his second (of 4) wife. They had 3 kids together, in addition to the three kids she'd already had with Randy. Janet Jackson almost single- handedly set television and radio broadcasting back 50 years (seriously) after her surprisingly ugly nipple was visible for exactly one half of one second on live TV, and then there's Michael... accusations of pedophilia and confirmations of out- of- this- world weirdness followed the King of Pop everywhere... deservedly so... and in spite of all this, it's sister LaToya who has the ability to make the family cringe when she opens her bizarre mouth. Most recently, she admitted that she's been consulting a psychic (and why wouldn't she?) and what she discovered is that Michael is watching over his kids from the great beyond... and, according to LaToya, he's doing it while tap dancing. Seriously. In honor of LaToya, and her ability to make even one of the most ridiculous families look more ridiculous, we wanted to know: WHAT FAMILY MEMBER MAKES YOUR FAMILY LOOK BAD?

His family in Louisiana... as he says; political views aside, their response to anyone who disagrees with anything they say is "f**k you!". Although, being that they're from Louisiana, I imagine they say, "f**k you... ah, ah, ah!"

His brother... used to get drunk and fight anyone for any reason... he's since sobered up and only fights family members. Baby steps

His grandmother is currently dating her own step- brother

Toss up between his alcoholic father or his mother, who married his sister's drug dealer

His cousin... 4 kids by 3 different women. No diploma, no GED, collects welfare and child support

Although his cousin is 24 now, he first went to rehab at 12... it didn't work and he hasn't changed his ways

Her... she's a self- professed bitch, drunk and slut. Don't know about you, but I like her

Her Aunt Frances... 7 kids with 6 different men (impressive), she's on Welfare, and three of her seven kids got pregnant between the ages of 13 and 15

His entire family makes the entire family look bad

His mother was in the Hitler Youth in Germany... then again, so was the last Pope

OK bitches, the weekend is upon us. If you're not doing anything tomorrow night, come down to Studio 7 in SoDo and check out Windowpane. Castle and I will be playing a few songs with them. Love playing and Glenn from Windowpane is the f**king man. Should be awesome, and Studio 7 is my kinda joint.

Until Monday, do what you do best and STAY BEAUTIFUL!"
---
Man I am fired up for this weekend. For starters it is a great sunny day out there today and that already has me in a good mood and have dinner plans with a buddy. The other reason I am so excited is tomorrow I am the MC at Cagesport MMA at The Emerald Queen Casino. The event is awesome and I get to walk down the ramp like one of the fighters with not one but two ring girls on my arm. Now after the action get's started I get to sit right up on the apron, which is what they call the seats on the cage. That's the other great thing is I get to go into a cage with a mic and talk to people. Other than fighters who really get's in a cage? Now I hope to see some of you all down there for the fights but if your not don't forget that Saturday is also UFC 159 which features Jon Jones VS Chael Sonnen. I like Sonnen as a entertainer and fighter but I think he is way over matched in this one. I think Jones will go in there and do his job. I am predicting a TKO in the forth round of this fight in favor of Jones. The other fight I am looking forward to on this card in the Roy Nelson fight. I cheer for big country for one reason alone and that's he look likes a average dude with his belly hanging out. Win one for the fat boys Roy.
---