Posts from March 2015
Group Therapy is all about Rock-A-Holics helping Rock-A-Holics, so let's see if we can lend some assistance to one of our own! After all, you know what they say about a friend in need…

Penelope (love that name!) needs some advice about a situation with Lisa, her best friend of 7 years. The two young ladies recently moved in together, and it's been pretty great so far, with the exception of a recent incident with the guy that Lisa's been dating for a little while. Lisa is head-over-heels in love with her boyfriend, but that's not the problem…

The girls held a little get-together at their place, and Lisa didn't have the stamina to continue drinking, so Penelope and Lisa's boyfriend put her to bed. Then, the two of them continued the festivities on their own.

(Gosh, what could go wrong?)

"The next thing I knew," Penelope says, "we were hooking up." When she realized what was happening, she put an immediate stop to the situation. The boyfriend gave her no resistance, but he did beg her not to tell Lisa about the indiscretion.

IN MY OPINION – he says, emphatically - the phrasing of Penelope's account was quoted above for a very specific reason: her version of the story opens the possibility that this might have been happening against her will; simply put, it comes across like a description of date rape. That's not an insignificant matter, and should never be taken lightly. I should note that no one else in the studio came away with this impression; they all understood it to mean that she stopped herself immediately, rather than being a victim who slowly realized what was happening TO her.

Whatever the case may be, this definitely raises the question of responsibility for one's actions while under the influence. Penelope is being eaten alive by guilt, and wonders if she should come clean with Lisa, but she's scared of the repercussions.

What do you think about this, good people? Let's give Penelope some advice…

---
I finally got around to watching some of Saturday Night Live with The Rock…man that dude is just plain awesome. I have to thank Thee Ted Smith for raving about this particular sketch that they did that as a wrestling fan, I absolutely LOVED!



I thought this bit was great too…and as silly as it was, I have to say…I would totally go see this movie!!

---
Seattle! Time to come out and support what could and should be Seattle's next national recording rock band: WINDOWPANE.
KISW 99.9 "The Rock" presents the official SCREENING PARTY at Studio Seven on Saturday, April 4th 2015 at 7pm. Hosted by the one and only Jolene Skisw :)

The screening of the full length feature film "There is No Such Thing As the Record Label Fairy" The Story of Windowpane on a big screen. See trailer in HD below all this text. There will be chairs provided for the duration of the film.

Followed by the first official live WINDOWPANE performance in 10 months (chairs will be removed). The band will be joined on stage by guest artists including members of:
Queensrÿche - Klover Jane - The Mothership - The Crying Spell - Van Eps - Mechanism

All Ages, full bar with ID (and because this is a NON-ticketed event, alcohol will be allowed anywhere in the venue for persons of legal age), Doors at 7pm

***FREE ADMISSION*** (Courtesy of Windowpane & Studio Seven) *First come, first served*
(Place holds 800 peeps, all should be able to get in, but we do recommend that you get there early and know that chairs for the screening of the film are limited to 250)
STUDIO SEVEN 110 S. Horton ST Seattle, WA 98134
Windowpane on KISW's "LOUD & LOCAL" show 3.29.15
---
Wrestlemania 31 went down last night. How was it… I'll just let my tweet last night do the talking.



Yes…it was that good. It was definitely the greatest Wrestlemania of my adult life…possibly ever. It's tough to compare it to the early ones as I was just a kid back then and not nearly as critical as I am now. I might not havce been super pumped about some of the endings, as I would have loved to have seen Sting win his match and Bray Wyatt win his…but wins and losses are not the be all end all in sports entertainment. Every match was full of great entertainment…they told incredible stories in the ring. There wasn't one bad match! Props to the WWE and all of their Superstars for putting on an awesome show.

Speaking of props…Very cool of the WWE for showing love to JBLM!



The whole weekend was great… I LOVED how the WWE Network covered the entire weekend, their "red carpet" coverage was doner better than any awards show, and I have a new found love for Maria . I have always dug her, but when she was chatting with "The American Dream", Dusty Rhodes, and busted into his famous "Hard Times" promo…she cemented herself as one of the cooler celebs out there!



If you have never seen the "Hard Times" promo, here it is…



I was on Twitter this morning and noticed that she wound up doing the promo again…



The Hall Of Fame ceremony was long, and I know some complained about that…but I was OK with that. These inductees did years of damage to their bodies, and are getting one night to be in the spotlight again… I think that's awesome, and give them every second they want to share their thoughts.

The highlight was Daniel Bryan… I am stoked that we get to call him our own (he's from Aberdeen), as he gave an incredible induction speech for Conner Michalek – AKA Conner The Crusher. Who is Conner? He was a young boy that loved wrestling and sadly passed away due to cancer. During the speech…Daniel spoke from the heart…. Click HERE to read more about his speech and to watch the speech.

Here is a very cool video that the WWE recently aired about Conner…



I had some friends over for the party…Castle was there…doing work in the kitchen and providing some great commentary…



I was rather proud of the door sign I made to convince people to take their shoes off when entering our home!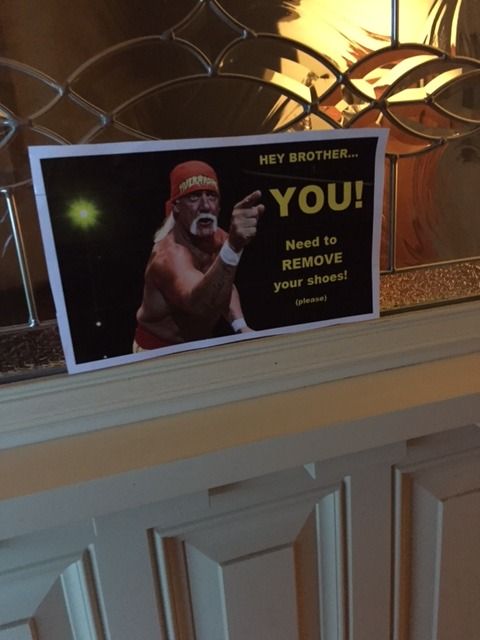 ---
Today's blog comes from one of my mentors, Dan Sanders:

I'm possessed! I have tried ceremonies of self-exorcism, but nothing has worked. I considered blowing up my TV—I had a drummer friend who actually did that with a squirt seltzer bottle. It's the John Prine solution, where he contended that the pyrotechnical disembowelment of one's television, using your newspaper as kindling, then starting a farm with a stripper and living happily ever after is the only way to go. I have never abandoned that plan.

So what is it I've done to disgrace myself so badly? Did I go to a strip show, watch pornography, do drugs, or go to a rock-and-roll party? No, none of these (or if I did, that's not the issue). And no, I did not watch Fox News with the sound up. What I did was start paying attention to politicians again, in spite of weeks of verbal purging and swearing that I was laying off Sarah Palin (take that as you may), and ignoring Ted Cruz and Rand Paul and other jugglers and clowns in the big-top circus that is Washington, D.C.

As hard as I try, I can't help but be concerned about those frayed around the mental edges and running loose in D.C., which if you haven't heard, has now legalized marijuana for recreational use. The "Columbia" of District of Columbia might be changed soon to "Columbian" or "Panama Red," and the 1973 song "Panama Red" by New Riders of the Purple Sage might become the alternate national anthem. I think marijuana should be legal everywhere, and even John Boehner might agree, just as long as they don't shut down the martini fountain.

Imagine this. Sarah Palin and Teddy " The Cruzer" Cruz kicking back in the oval office toking on a number, doing the usual, (there are a lot of usuals to do in the oval office, as Bubba Clinton might attest), and Sarah gets a wicked case of munchies, picks up the RED phone, and orders a steak bomb.

One more thing has me sleepless in Seattle and everywhere else. They have developed driverless cars. Why? Isn't the point of a car to drive someone someplace? Now we can drive air to nowhere. There's also a plan to build a 12,400-mile highway from Britain to America that would cross Russia with the American end in Alaska. I wonder if Sarah Palin is planning on going "Cruzing" from her house? After all, she can already see Russia from there.

There are more thoughts on politicians, some music news, and other things on the shores of Rambling Harbor. Sit back and hit the Play button, but don't touch the RED phone.

http://dbsanders.podbean.com/e/i%E2%80%99m-possessed-and-don%E2%80%99t-touch-the-red-phone/
---
Happy Friday to you, good people! I hope you've put aside some time for a Group Therapy session, because we have a Rock-A-Holic who needs some assistance…

Today's topic was brought to us by Mary, who is bothered by a text that she recently on her boyfriend's phone. Her guy advised one of his friends to join him at the gym to check out the hot chicks there. When she asked her boyfriend about the text, Mary found herself on the receiving end of some serious irritation. The boyfriend is upset that she was reading his texts, but insists that his interest in girl-watching doesn't extend beyond observation. Mary feels like she's being disrespected, but he says she doesn't have a case.

This is one of those tales that has been passed down from the dawn of time: Man partners with Woman, and Woman soon decides that he is forbidden from even looking at another of her kind. If Man breaks that rule, he soon lives in the House of Dog.

Personally, I think that the male desire to look at women happens on a genetic level, or maybe even deeper. It's an imperative to keep the species alive, and we are drawn to women because of that drive that has been part of our existence for centuries. It's just what we do, and we'll never be able to explain that to the opposite sex.

Mary, I'm turning this one over to your fellow Rock-A-Holics, simply in the interest of being fair and balanced…
---
This weatherman is a man after my own heart! A weatherman in Boston named Pete Bouchard was talking about how Mars and Venus were visible the other night…he also mentioned another planet. Check it out!



So Wrestlemania 31 is this Sunday…and all of the wrestlers have been doing a bunch of media to promote the Super Bowl of Wrestling! Including John Cena…who was HILARIOUS on Jimmy Kimmell! If you missed it…check it out:



Did you know that Thee Ted Smith and I are doing a podcast? It's called the Mega Cast, and we just got a great tweet that sums up the most recent episode…



Check out this week's episode right here:

---
Welcome back, Rock-A-Holics! I hope our little mini-vacation left you feeling refreshed and recharged! Let's get right back into some proper Group Therapy, shall we?

We heard from Jason, who is deeply concerned about his mom's new boyfriend…who happens to be Jason's friend! This couple with a 20 year age gap met on Tinder, and they've been dating for a while now. Jason had heard his friend brag about a "hot cougar", but hadn't seen a picture until recently. He almost passed out when the woman was revealed, but it was surprising for the friend, too: he didn't know he was dating Jason's mom (who, incidentally, fibbed about her age a little).

I'm sure I don't have to tell you that Jason is freaking out about this. His friend thinks it's funny, and has made it clear that he has no intention of breaking things off; he also isn't going to tell her anything about this discovery, because she doesn't know that Jason knows. Jason has broken off their friendship, but he wants to know if we think he's wrong for reacting this way.

Jason, this is something that my generation would never tolerate. Moving beyond the Stone Age, I'm not sure how the social order works. Maybe it's more common in the era of internet dating, but I still think you have every right to be skeeved out by the notion that one of your buddies is bedding your mom…

What do you say, gang?
---
This weekend is the Super Bowl of wrestling – WRESTLEMANIA! I am so excited for it…and even more excited because I was able to chat with "The New Face Of Fear" – Bray Wyatt! It was fun talking to Bray about the evolution of his character!



Check out the full episode of the STP-CAST to hear our picks for WM31, and more!

---
Today's blog comes from one of my mentors, Dan Sanders:

One definition of "pigeonhole" is a small compartment in a desk or wall for storing letters or papers. Another definition is a category assigned to someone that focuses on a particular characteristic, not the whole person, so it's often unfair. I fear that second definition.

I have spent two weeks sounding like I might be morphing into a news commentator ranting about some government lunacy or other dog-and-pony show, all played out by that big-top circus called Washington, D.C. That's a place where, when you use the term "seat of government," it's used in polite company and does not refer to the asses running our country.

I don't want anyone to get the idea they would necessarily come to these shores and find Dan's latest diatribe about this world issue or that one—yes, sometimes, but by no means all the time. Now that Rambling Harbor is gaining some foothold in the big, wide, scary world of blogging and podcasting. I want to say this about that. One week, I might focus on Kanye West and Kimmie K.'s ass or on Donald "The Duck" Trump. I might tell you a story from my life—a trip to Greenwich Village in the 1960's or Harvard Square in the 1970's or, having been a DJ, something on music and musicians. As I said last week, I'm not Rachel.

This week the biggest issue in my life was my closet. I'm convinced there are small people living there. I don't see them, but they are there and always leave it a mess. My cat Chloe sees them at night. I have seen her dart from inside the darkest depths of her closet kingdom, where she has a warm safe bed, and run to the kitchen and back, and at times I swear I hear other tufted footfalls besides Chloe's. It always sounds like fun, especially when they have fights with my socks! How else could such a mess happen?

My podcast sometimes has very little to do with my blog. After writing 500 words or so, why in heck would I want to talk about the same subject for 15 more minutes, and why would you listen to it? Remember, variety makes life spicy.

As I'm gaining new followers (thank you! thank you!), I thought it necessary to let you know that this is Rambling Harbor, emphasis on "rambling." Just add variety, stir in a dash of lunacy, and a pinch of WTF, and there you go.

I'm not sure what you'll find on the shores of Rambling Harbor this time, but join me there, won't you?

http://dbsanders.podbean.com/e/it%E2%80%99s-rambling-harbor-not-pigeonhole-cove/
---