Amon Amarth/Sabaton/Skeletonwitch - El Corazon - Seattle, WA 09.30.14
Swedish music artists have been influencing America and many others around the world for years. Obviously the most popular of those that come to my mind include Abba, Yngwie Malmsteen, Europe, The Hives, etc. but what Sweden is best known for is the heavier to melodic side of rock/heavy metal that you might of never known comes from Sweden. Ghost, Meshuggah, In Flames, Opeth, Arch Enemy, Bathory, At The Gates, Candlemass, Avatar, The Cardigans, etc. In that list you definitely have to include the Viking Kings of Amon Amarth and the War-torn battle stories from Sabaton. Both bands have been raging around for years and finally America is catching on. Of the two, Amon Amarth has been around the longest, since 1992, Sabaton since 1999. It wasn't until 2008 when Amon Amarth's "Twilight of the Thunder God" album reached number 50 in the US Billboard charts and ended up #7 in Revolver Magazine's Top 20 Albums for that year. Then last year they really hit it with an ever bigger Heavy Metal audience in America unaware of them with a main stage spot on the 2013 Rockstar Mayhem Tour opening for Rob Zombie, Five Finger Death Punch and Mastodon. Not only did they take the opportunity and run with it they blew everyone away with a stage show that included a Viking ship with huge dragon mast and drums atop on deck, something I can recall never seeing in my 30+ years of attending concerts. The medieval stages and dragon Dio had back in the late 80s could compare though. Here's a couple of my shots from last years Rockstar Mayhem showing their Nordic Viking ship awesomeness.
Now last night at the sold-out El Corazon it was a little different situation with a stage 1/3rd the size from the Mayhem tour and a roof only 12ft above their heads. For how much I loved their huge stage show last year, last night blew my doors off with no dramatic stage props (the way you know it's a great band) just the music and small club feel. It was packed sardines in there! Hard to believe just a couple days ago I saw Chris Cornell (Soundgarden) and Tom Morello (Rage Against The Machine) on that same stage playing together (see video).
Amon Amarth, brutal yet melodic death metal that adds some Viking Nordic folk and singable choruses that stick in your head probably like how a sword through your head in a medieval battle was...permanent. Opening with the title track of their latest album "Deceiver of the Gods", Amon Amarth rolled through a near hour and half, 17 song set of music like a soundtrack to a great Thor or mythological movie.


Deceiver of the Gods/Runes to My Memory/Death in Fire/Free Will Sacrifice/As Loke Falls/We Shall Destroy/For Victory or Death/Varyags of Miklagaard/The Fate of Norns/Father of the Wolf/Guardians of Asgaard/Warriors of the North/Destroyer of the Universe/Cry of the Black Birds/War of the Gods/ Encore: Twilight of the Thunder God/The Pursuit of Vikings. Check out the amazing movie music video (over a million views) for my favorite Amon Amarth song off the new album "Father of the Wolf".

True underground metal that might not be for everyone, but let me tell ya, singer Joakim Brodén & his mates are one hell of a band and their fans (including many girls in attendance) of the same Swedish/Nordic heritage there believed Amon Amarth were Gods in their own right. A piece of their Viking heritage from Sweden live in the flesh! Great experience seeing it in a small club. Amon Amarth haven't been around for 20 years for nothing. Check out their new album on Metal Blade Records "Deceiver of the Gods" for a good punch in the gut!



Opening the show was Skeletonwitch from Athens, Ohio. Evil thrash death metal that was actually enjoyable and the pit was raging for their whole set. Great grooving bass lines and dual guitars that sooth and puncture the ear drums at the same time. Check out their single "Burned From Bone" from their new album "Serpents Unleashed" on Prosthetic Records. Love the band groove!
Now on to Sabaton. Featuring lyrical themes based on war and historical battles, singer Joakim Brodén is fantastic live and always connected one with the crowd with his good humor (see my video below...still laughing on the YMCA thing) between songs interacting and seriously seemingly enjoying all his time on stage.

As you can hear in the live video and music video for "To Hell And Back" below Sabaton are a great melodic power metal band with that European kinda happy folk underlining tone. New CD "Heroes" on Nuclear Blast Records is out now. Overall it was a great show from start to finish and seriously enjoyed every minute of it. I'll be posting some various concert photos from the bands at this show in the next days at www.Facebook.com/SavoiaPhotographyLive so go LIKE and wait and see ;)
"Iron" Mike Savoia - Facebook - Instagram - Twitter
---
Auto insurance is one of your larger expenses, so periodically take so time to see if it can be reduced.

Check for discounts for paying the premium in full, consider raising your deductible and for older cars, and make sure it still makes sense to carry comprehensive and collision coverage.

Remember, you credit score can also play a factor.

---
When making a purchase you should have a list and stick to it.

With on-line shopping it is even more critical. On-line retailers track what you have purchased in the past and offer up what are perceived to be limited timedeals.

Ignore the offers and only look for coupons or deals when it is time to make a purchase.

---
Sometimes it's the simple things that entertain me…and apparently over 3 million other people.

Someone posted a video of their dog sitting outside a glass door to their patio, waiting for someone to let them in.

But the door is already open. It just THINKS it's closed. And it doesn't walk in until someone eventually walks over and pretends to open a door.
---
Greetings, Rock-A-Holics! You're just in time for a new session of Group Therapy! We've got a guy here who could really use some advice, so let's try to help him out, shall we?

We heard from Ron, who said that he never expected to be in a situation that would require Group Therapy help. He's here now, though, and he doesn't know what to do.

Ron's father is a 57-year-old widower, who is back into the dating scene after Ron's mother passed away three years ago. Dad recently revealed that he's been on a couple of dates with a woman who is closer to Ron's age. This didn't bother Ron in the least…until he saw the woman's picture, and recognized her immediately.

Ron dated this woman in college. Well, okay, they didn't date, but they spent a night together, if you get what we're saying. Ron says he's not even bothered by the fact that his father is dating the woman, but he isn't sure what to do about the fact that it's a woman he once hooked up with.

We don't have all the information here, so we can't effectively run the numbers. Maybe Ron's night with this woman was decades ago, or maybe it was a few years ago. There's no real way to be sure.

Should Ron tell his dad, or just wait to see how things play out? BONUS HONESTY POINTS if you've been one of the parties in a situation like this, and can speak from experience…

---
Sit N Spin All 87 Led Zeppelin Songs, Ranked according to SPIN



The gang over at Spin.com have ranked according to them the top 87 Led Zeppelin songs. This is a HIGHLY DEBATEABLE LIST!

Check it out! http://go.spin.com/1uzEjYC

For Sit N Spin we went to the top of the list and covered the final 10.

Dig the playlist of sweet, sweet Zeppelin tunes!! http://bit.ly/1vsUcNL

Below is Spin.com's thoughts on the top 10.

10. "Immigrant Song" (Led Zeppelin III, 1970)
With an opening and riff as classic as either "Love" or "Dog" (and twice as violent), "Immigrant Song" also has the advantage of being under 150 seconds long, an improbably compact shore-invading assault that barely gives you time to process its ass-kicking awesomeness before it gives way to "Friends" on LZIII. Any hockey game where this song isn't played at least once — and preferably once per goal, home or away — is not giving its attending fans the experience they deserve. (And in terms of geeky metal imagery cliches, norse mytholygy >>>> Frodo.)


9. "The Rain Song" (Houses of the Holy, 1973)
That's the Way" is the band's best acoustic number, but "The Rain Song" is their best ballad, a gorgeous, chiming epic that builds and unwinds itself perfectly, with strings, piano, and even mellotron all adding to the song's stately mystique. Even without the title and "Just a little rain..." section of the song's climax, it evokes the feeling of rain falling outside your window as well as any other song ever has, and shows that the world's biggest band didn't always have to go huge to achieve maximum impact.


8. "Misty Mountain Hop" (Led Zeppelin IV, 1971)
The secret weapon of the group's best album, cleansing the palette post-"Stairway" with one of the group's simplest, most accessible and most addictive rockers. The overstuffed verses create a tension with their mantra-like intonation, one gleefully alleviated by the sheer release of the main riff, a streamlined guitar, and electric piano wallop that keeps Plant's raving about a late-'60s hippie bust from ever getting bogged down in flower-power dippiness or self-righteousness. It's an absolute blast, and one of the more underrated numbers from Zep's classic period, if such a thing is even possible.


7. "Ten Years Gone" (Physical Graffiti, 1975)
Perhaps the best Zeppelin song that radio never seemed to really get a handle on, a dark and devastating epic that lives up to the contextless drama of its title. It's also the secret masterpiece of Jimmy Page's ouevre, a stitching together of about a half-dozen riffs, each of which has its own unmistakable identity, somehow woven together to create the base for a surprisingly coherent masterwork of regret and unease. "It sounds like nature coming through the speakers," Rick Rubin once said of the song, and he wasn't wrong.


6. "When the Levee Breaks" (Led Zeppelin IV, 1971)
If John Bonham never did anything for Led Zeppelin but the first two measures of "Levee," his place in rock history would still likely be secure. The song's thundering intro — the famous sound of which was achieved with two mics at the other end of a staircase from the kit — has been sampled and rebuilt so many times in rock and rap history that you'd think it'd lose its impact, but when it hits as the last track on LZIV, right before Plant zooms in with that swampy harmonica blaring, it doesn't matter how many thousands of times you've heard it before. The rest of the song is nearly as great, but when you have the best intro on a Led Zeppelin song — the group with more classic intros than any other rock band in history — it's worth keeping the focus on that.


5. "Fool in the Rain" (In Through the Out Door, 1979)
A large portion of the Zep-listening population would likely bristle at the inclusion of the band's final Top 40 hit in their all-time top five, and it's not hard to see why. Conceptually, the song sounds disastrous: a pop song closer that's just as much "Bennie and the Jets" as "Whole Lotta Love," which drops out with a hissing disco whistle for an extended samba breakdown? Luckily, Led Zeppelin were really good goddamn songwriters, and "Fool" is as tight and catchy and clever as any other late-'70s crossover, with one of Plant's finest story lyrics — a mopey tale of getting stuck in the rain waiting for a date, with the perfect last-line resolution — and an out-of-nowhere Page solo that shreds about as much as anything he did on the band's first few albums. Ignore the haters: "Fool" is classic Zep, and shows that the band was still capable of excelling in new and interesting modes, right up until their untimely breakup the following year.


4. "Stairway to Heaven" (Led Zeppelin IV, 1973)
The most monolithic song in rock history, a song that's no fun to write about and is occasionally no fun to even listen to. But what can you say? "Stairway" is "Stairway," and there'll never be another song like it. If it's not the band's best song, it is the one you need to have heard, the one that tells you everything about the band's lyrical and musical infatuations, their strengths and their weaknesses, their power and their legacy. And by the end, yeah, it rocks pretty damn well too, with a Page solo consistenly ranked as the greatest in music history, and deservedly so. It might not be our favorite Zeppelin song — the Song Remains the Same doc might have permanently ruined any chances of that — but if you were to put it No. 1 on your list, we couldn't really disagree with you.


3. "Heartbreaker" (Led Zeppelin II, 1969)
A typically searing main riff and Plant vocal for the first few verses, but "Heartbreaker" doesn't reach its highest gear until the key shifts unexpectedly for the song's makeshift third verse, which goes all crazy at the end ("Why'd you call me some other guy's name / When I'm tryina make LOOOOOVEEEE TO YOUUUUU!!!") before cutting out completely for a solo Page showcase. His playing in that section, sans accompaniment — rivaled only by "Eruption" as the most famous true guitar solo in rock history — is peerlessly electrifying, and the moment when the band kicks back in is nearly as good.

Taken in full, "Heartbreaker" is an insane mishmash of questionable ideas — hell, how many other songs can you think of that end mid-word? — but the band's brilliance and sheer bravado carries it, making it one of their best and best-remembered songs, and proof that they could simply do things other bands could not.


2. "Kashmir" (Physical Graffiti, 1975)
The song Led Zeppelin themselves would most like you to remember them by, and for good reason. The biggest song on their biggest album in the biggest stretch of their career, "Kashmir" was, obviously, Led Zeppelin's ultimate too-big-to-fail moment: a plodding eight-and-a-half minute journey through a faraway land that Zeppelin themselves had never even been to, a song which was either going to define them as pretentious fops whose reach far exceeded their grasp, or simply, the greatest hard-rock band in the history of recorded music.

Naturally, it did the latter, as the song stands as their most singular, hypnotic and awesome-in-the-truest-sense epic of the band's career — though they'd have their moments in the former category soon enough. Puff Daddy caught some heat when he sampled the song for the silly "Come With Me" off of the 1998 Godzilla sountrack, but his instincts were right: The "Kashmir" riff is the sound of a gigantic green lizard wrecking a downtown metropolis, and like the rest of the song, it never ceases to amaze.


1. "Over the Hills and Far Away" (Houses of the Holy, 1973)
Why "Over the Hills"? It's not the band's best-known song or biggest hit. It's not the band's most rocking or prettiest song. It's probably not the first song that anyone thinks of when they think of Led Zeppelin. But it is the song that best demonstrates just about everything the band does well: the unforgettable and impossible-to-pin-down opening riff, the life-affirming transition from acoustic to electric, the constant switches in tone and dynamic, the piercing solo with double-tracked climax, the impeccable interplay of guitar, bass, and drum, the inimitable Plant shrieking, the gorgeous coda, even the super-oblique title... it's Zep through and through, checking all of the boxes and kicking your ass while doing so.

But the thing that really seals it for "Over the Hills" is the sense of wonder it inspires. Zeppelin's greatest quality, apart from the weird time signatures and otherworldly instrumentation and teenage-male-pandering lyrics, was their ability to elevate, to make you believe that there was a secret world of higher musical understanding that only they as the Ultimate Rock Gods had access to, and which they could transport you to for three to ten minutes at a time, depending on which side of which album you were listening to.

The climax of "Over the Hills," as the song's main hook starts to fold in on itself, and Plant does his "You really ought to know..." wailing, as the song echoes on and on into infinity, is as wondrous as the band ever got, achieving a classic-rock nirvana that only a handful of songs in history have ever been lucky enough to be able to touch. The harpsichord outro and brief fade-in of the rest of the band that closes the song brings it back down to earth a little, but the sensation lingers on far after you're done listening. Zeppelin rules.

---
I'm pretty pumped today…on the STP-CAST we will be chatting with Roddy Piper! That's right, Hot Rod joins us! You will also hear highlights from the interview tomorrow morning…and you will have a chance at meeting him at the Mad Monster Convention at the Hyatt Regency in Bellevue this weekend (10/3-10/5)!
Roddy will be there, as well as Peter Criss from KISS, Marky Ramone, and a bunch of people that horror film enthusiasts will be stoked to meet! People like CJ Graham, Stephen Geoffreys, Amanda Bearse, and more!

Get info here: http://madmonsterseattle.com/

One of the guys that will be there is a guy we work with! We work with David Katims, and one day I was B.S.'ing with him and I learned that he was in Friday The 13th Part 3…How crazy is that! He played Chuck…



Toppy and I are ready to do the STP-CAST…both of us are rocking the "colors"!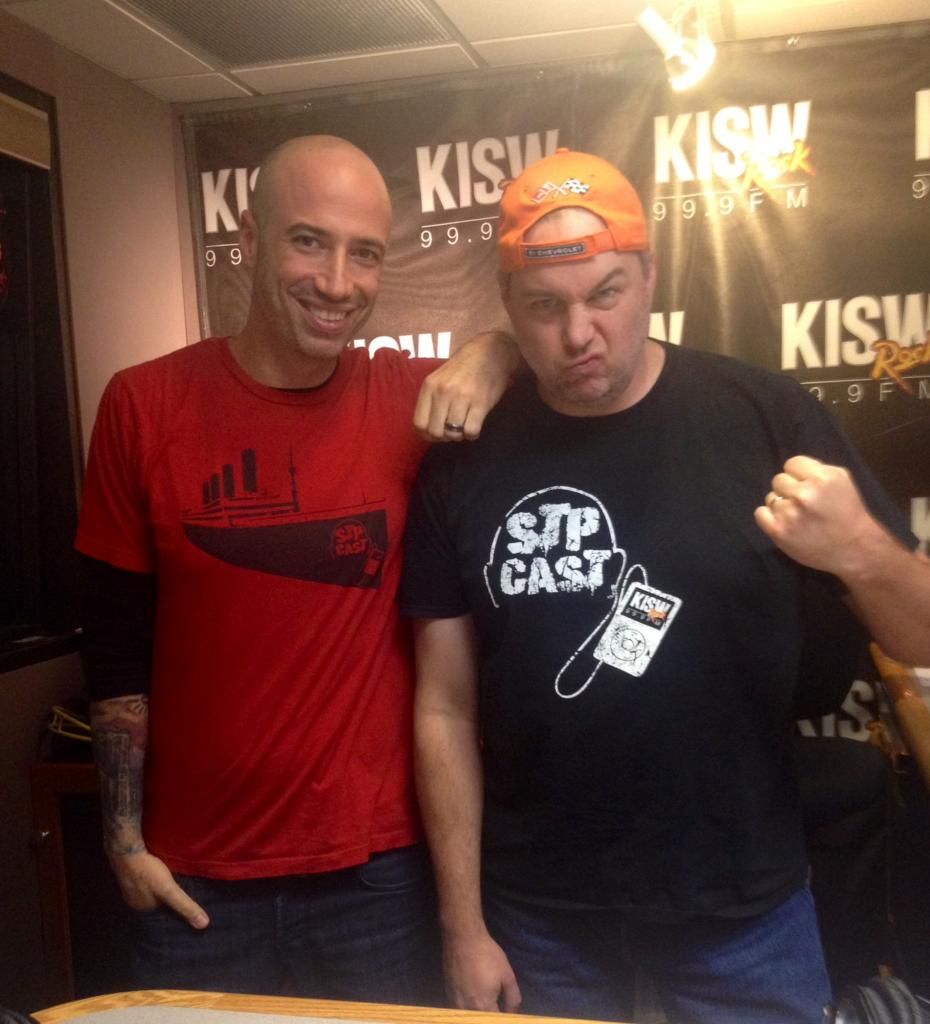 ---
Hey there, gang! You're looking really great these days! You, uh…wanna hang out some time? I know I wasn't interested before, but that was before you looked this good. Are you down for some Group Therapy?

We heard from Tanya, who has dropped a fair bit of weight in the last year – 50 pounds, and we congratulate her on the healthy achievement. A year ago, when she was still heavy, Tanya had a big crush on a guy who wouldn't give her the time of day. She ran into the same guy recently, and he gave her plenty of attention; in fact, they exchanged numbers, and he's already texted Tanya to ask her out!

Tanya's feelings on this situation are split down the middle: one side of her wants to embrace the opportunity to date her college crush, while the other wonders if he's only giving her a chance because she lost all that weight.

This one's too heavy for me, Rock-A-Holics. I'm turning it over to you for a judgment call. Let's hear it!

---
I just want to say – Go Mariners!

What an awesome weekend…who would have thought that the M's would have a chance to be in the playoffs on the very last game of the season? Sadly they didn't make it, but they took us on an incredible ride… baseball in Seattle is exciting again!

Thanks to King Felix for ending the season on a high note…he dominated yesterday! Thanks to Robbie Cano – he quickly shut up all the people that questioned how much the team spent to bring him here…yeah it was spendy, but he clearly brought a winning atmosphere to the team. If Felix doesn't win the Cy Young, that's com plete B.S. – Hell, I feel that Lloyd McClendon deserves manager of the year for what he accomplished this year.

Most importantly, thanks to Tom Wilhelmsen for bringing the sick dance moves to Safeco!



So on Friday Tom Morello was in town for a show at El Corazon, and Chris Cornell joined his former Audioslave bandmate. I wasn't there, but our station's photographer and blogger, Iron Mike Savoia, was there and he got some awesome video of their set together…



Click HERE to read Iron Mike's blog about it!
---
Today's blog comes from one of my mentor's, Dan Sanders:

Remember the song "Psycho"? It was written by Leon Payne, an incredibly good songwriter who wrote many top hits for country singers. He was known as the blind country balladeer, partly because he was blind and partly because he was a country balladeer. The song was actually inspired by a particular incident.

In 1966, a man named Charles Whitman strangled his mother to death, stabbed his wife, and then headed to the top of the University of Texas library tower and opened fire on an unsuspecting crowd, using his Marine Corps sniper rifle, killing sixteen people. Whitman was gunned down by police.

Apparently Whitman complained for a long time about headaches and strange feelings, and an autopsy later revealed he had a brain tumor. On the day he purchased his rifle, Whitman also bought a can of Spam.

The version of "Psycho" that inspired Elvis Costello's version was recorded by Jack Kittel, although George Jones (yes, that George Jones) and Eddie Noack both recorded it previously. In the remake of Hitchcock's Psycho, the song was recorded by Teddy Thompson.

Now, about getting smaller (I have derailed again. I tend to do that, and some readers think I've gotten weird, if not psycho, as well. I ask them to assure the newbies that they may continue reading without losing any more grip on reality than they are willing to lose). I moved from a big place to a small place, and in that process I parted, sometimes happily, sometimes with tears, with things that have been held precious for generations from many childhoods. Many things belonged to my wife Jennifer who got her wings on September 25, 2011. No one wanted the things she had held dear, and I did not have room for them. Some things were donated, but others, like an old clay pot, are now landfill and giving back to the earth. My possessions are fewer, my struggle for money is less important than breaking the shackles of dependence on material things, and my life is simpler. In a world of belonging and longing, I have gotten smaller. Getting smaller is not age-reliant, but it is one of the benefits of getting older, and I will say that getting smaller can make you feel bigger. Ridding yourself of Stuff is cathartic. When you tell that to someone attached to their stuff, they may indeed think you're psycho.

Anyone paying attention to the Charles Whitman story would have quickly seen that someone buying both a gun and spam had issues, but isn't a lot of material stuff a little like spam? No one really likes it or knows what it is, but everyone has had it at one time or another.

So, what part did "Psycho" play in this piece? Really, none. As I said, I derailed myself, but I'm sure it made things more interesting than 500 words on landfill, and there is nothing like adding a bit of information to my esoteric ramblings on life.

There's more on Spam on the shores of Rambling Harbor. I hope you'll join me there.

http://dbsanders.podbean.com/e/physco-spam/

---