Happy belated National Dog Day everyone. Hopefully you got to have a great day with your pup…took a pic…and hash tagged it #NationalDogDay. I know I did!




I'm so pumped, our building is now hosting Food Trucks in the afternoon for lunch, and yesterday I got to experience some great Food Truck eats…courtesy of Falafel Salem. Holy smokes their food is good. If you see their Food Truck around town…be sure to stop buy, and if you like your food spicy, be sure to get it spicy…it was damn good! Follow them on Twitter: @FalafelSalam or check them out here: www.falafelsalam.com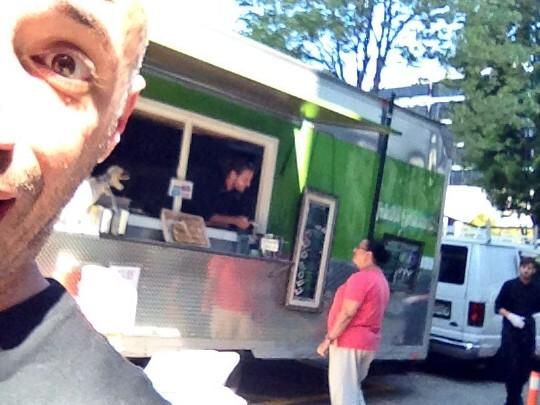 Huge thanks to the TV show Utopia for sending the coolest promo item ever... a survival kit that included one of those flint fire starter thingies. I had some fun with it, and of course BJ compared me to a cave man for my enthusiasm!




This is crazy…just yesterday I was talking about how tough the ladies are that play in the Legends Football League (or Lingerie Football League for you old school fans)….today we came across this video…it really does illustrate how intense these gals get on the field. Yes, they are hot…but they play hard! Check this out:

---
Ahhh … you gotta love the text line here at work. If you are having a good day, there will always be that one "kind soul" that will make that day even brighter. When I say that, what I really mean is that there is always that one jack-knob that will crap on your day. I present to you today's example:





So one of the big rules in radio…that we ALL break…is to never…EVER…eat or drink near the equipment. Well…this morning while we were on the air…Vicky learned a valuable lesson!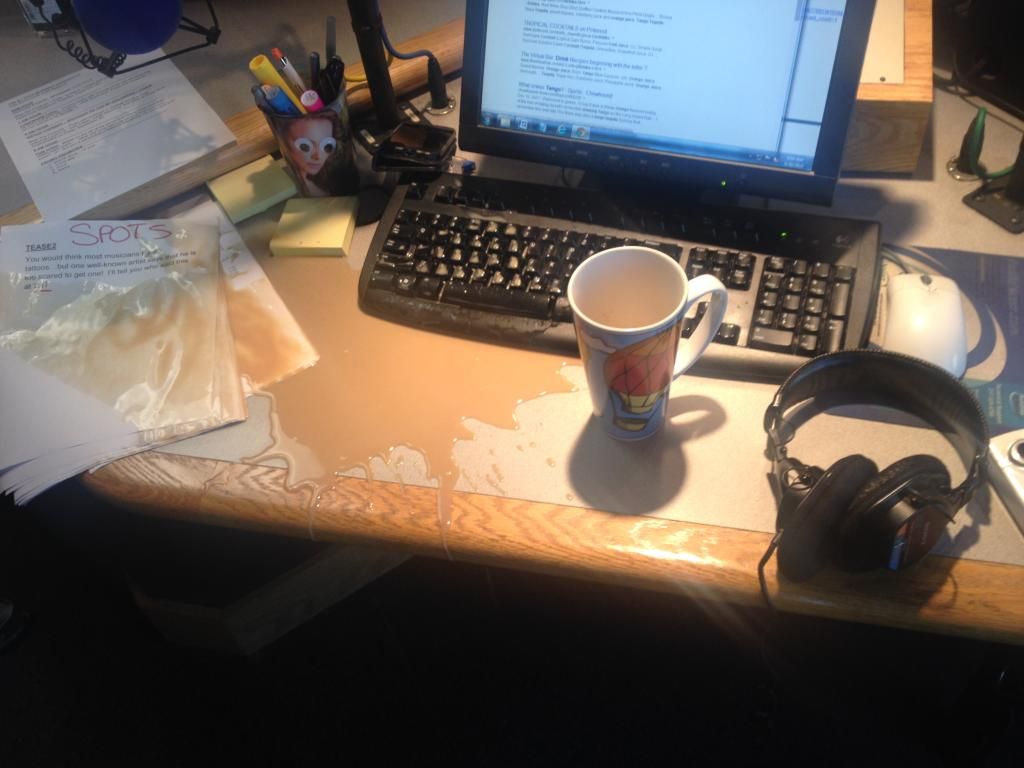 Doh!




She even got it on her dress…which I said looks like a "Monica Lewinsky" style dress.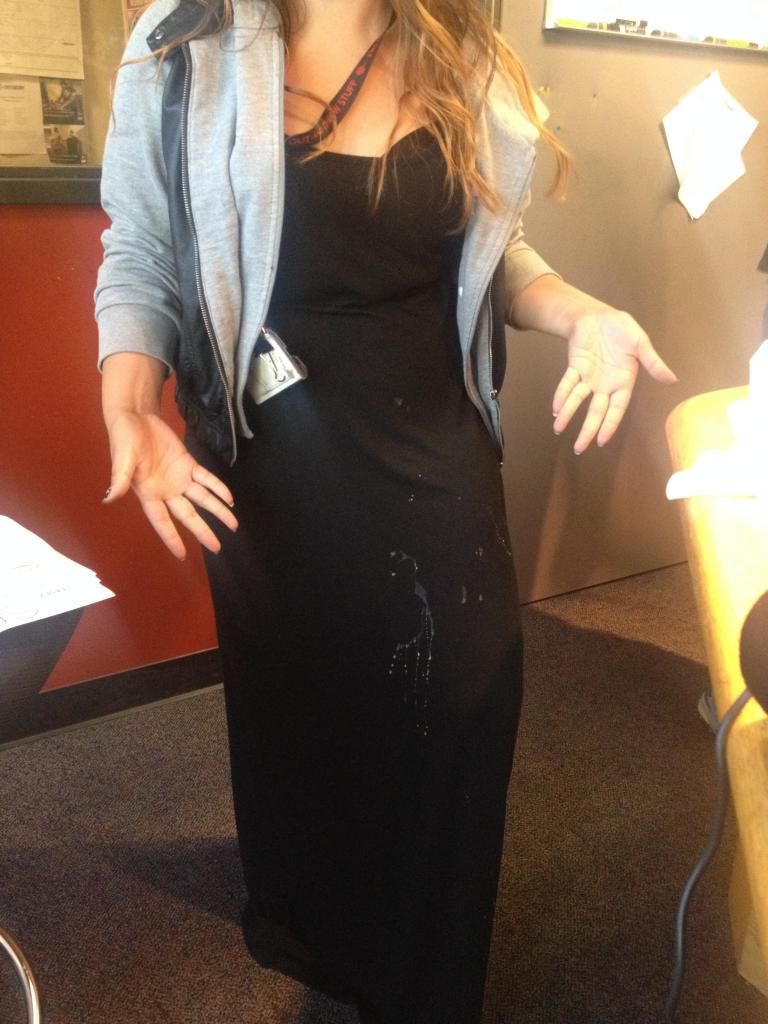 This morning at around 5:50 AM…a new Buckcherry song popped on our airwaves. It's a cover of the Icona Pop's hit song "I Love It"…and Toppy & I were "lovin' it".


---
Hello again, fellow Rock-A-Holics! It's always fantastic to see you, but why don't you introduce me to your date? Wow, what a specimen you are! It's lovely to meet you. Would you like to join us for some Group Therapy?

Today's edition is a real doozy. We heard from Marissa, who recently found herself in an awkward and confusing situation. Marissa and her boyfriend were out with several friends, hitting the club to go dancing. As they were dancing, one of the other couples approached them and asked Marissa's boyfriend if he would be interested in swinging with them!

Marissa is an open-minded young woman, so this request didn't shake her up at all. Her boyfriend said he'd have to ask how she felt about the idea, but the other couple said that they didn't want her to be involved.

OUCH.

Marissa was offended by the idea that she wasn't chosen to be a part of this sexual escapade. This is a pretty natural reaction; we have a society that thrives on inclusion, and being excluded can lead to some pretty serious hurt feelings, especially in a situation as intimate as this.

The boyfriend thinks that she should just drop the whole thing. Personally, I don't understand why a couple that's so open-minded in their sexual thinking would assume that asking one-half of a couple to have sex with them wouldn't have some dramatic repercussions.

Marissa wonders if she should ask the couple why they excluded her from their offer. What do you think, gang?

---
Today's blog comes from one of my mentors, Dan Sanders:

The last couple of weeks have been heartbreak city for many of us with the loss of Robin Williams, Lauren Bacall, and just last week the great voice of Don Pardo. My emotions, as yours probably are, are on sadness overload. So this week I have decided to drift into make-believe and fantasy. I leave the question open, though, is it really just a dream?

One summer in the 1700's, a boy walked up his favorite hillside, the dark blue sky and white clouds drifting above the water, and looked at the harbor below, seeing the sky reflected in the blue waters, made more beautiful by the white sails of the tall ships and the white clouds right next to them. It was as if the sky was the sea and the sea was the sky. It seemed to him that the world could be turned in either direction and still keep a steady keel.

He continued his hillside walk to the highest point, looking down on the harbor he loved, down on the schooners and whalers, the frigates and war ships. It was the ships that carried goods from faraway exotic places that thrilled him the most. He dreamed of the day he too would sail outside the harbor to those places of mystery and magic. The sea called to him like a mistress waiting in the dark, barely hidden behind a dream, calling to him to learn from the trade winds of life that would forever blow.

On this day as he looked at his town, he wondered what changes time would bring, how hundreds of years would change what he saw, the new and incredible things that would change his town that he would never see. Oh, how he longed to be a part of this place forever.
Hundreds of years later, I wake from this same dream, the dream I have had repeatedly since childhood, the dream of a boy and the great sailing ships, the harbor, and the view from the top of his hill.

That same morning, I walked to the top of the hill and looked down. I knew this place had spoken to me, had called to me through the ages. Even though the skyline had changed, the sky had not, and though the ships had engines instead of sails, my harbor remained. As I stood on my hill, I could not help but wonder, which was the dream?

It was once again as if one was either, and both existed one inside the other, and this place had always been and always would be my place in time and space. There was more to know, and I knew that the dream would continue and the question would remain. Which was the dream, the boy or the man? Could you turn one, one way and one the other way and still have an even keel? Is the dream a memory? Is the spirit of the boy still walking those hills today as the man? And what role is time playing?

Not sure what flights of my imagination wait on the shores of Rambling Harbor, but join me there and give a listen.

http://dbsanders.podbean.com/e/emotional-break-time/
---
We are back from vacation…and what an awesome vacation it was! I went to Maui and stayed at the Hyatt in Lahaina, or as I called it… "La-Hieney" – yes, I'm full of high-brow humor! Maui is my favorite place on earth…and while there I learned a valuable lesson… Do not sit in the sun and play on your iPAD. I did that and I apparently didn't apply enough lotion on my skin as later that night I looked at myself in the mirror and I was burnt everywhere except for a part where my arm was holding the iPAD…so I had a pale square spot right on my chest!

I will spare you the picture of that as it's too much sexy to handle for the internets, that…and I didn't take a pic. Here are a couple pix from Maui…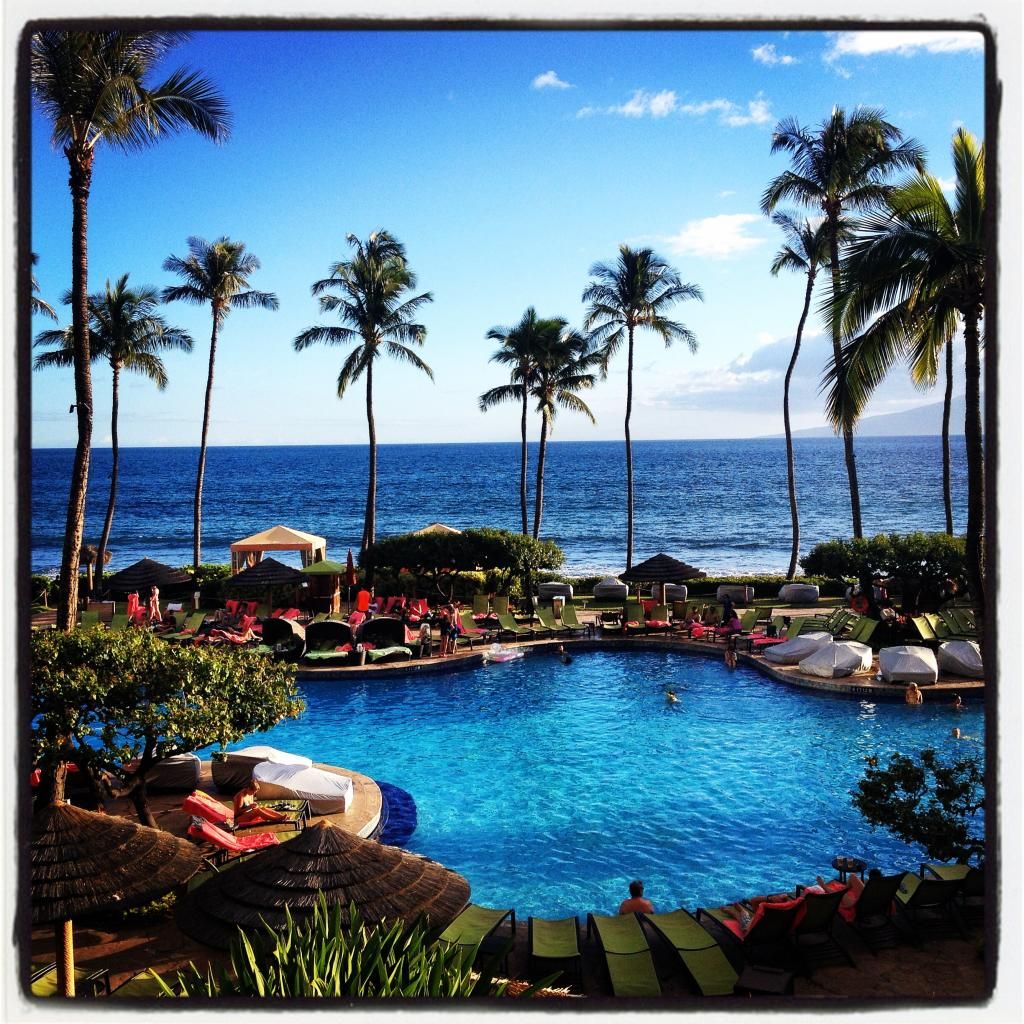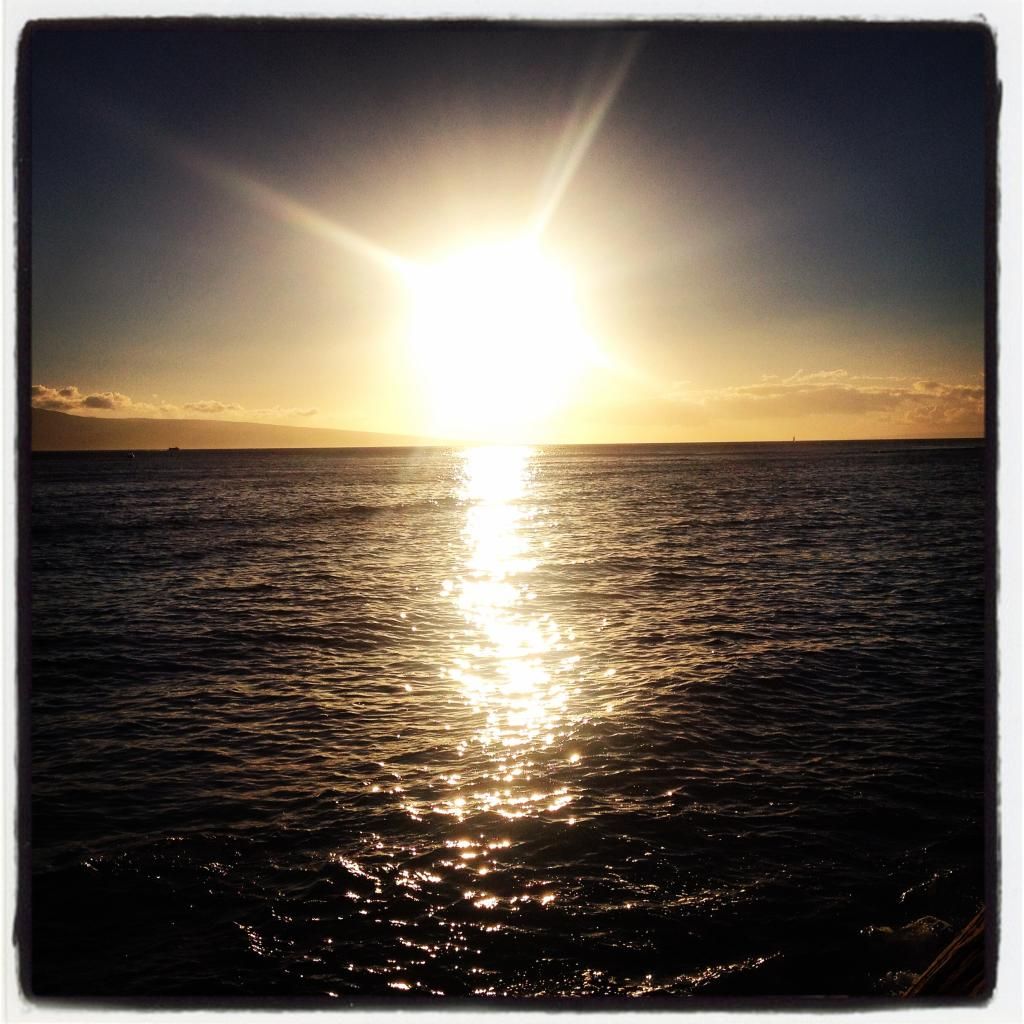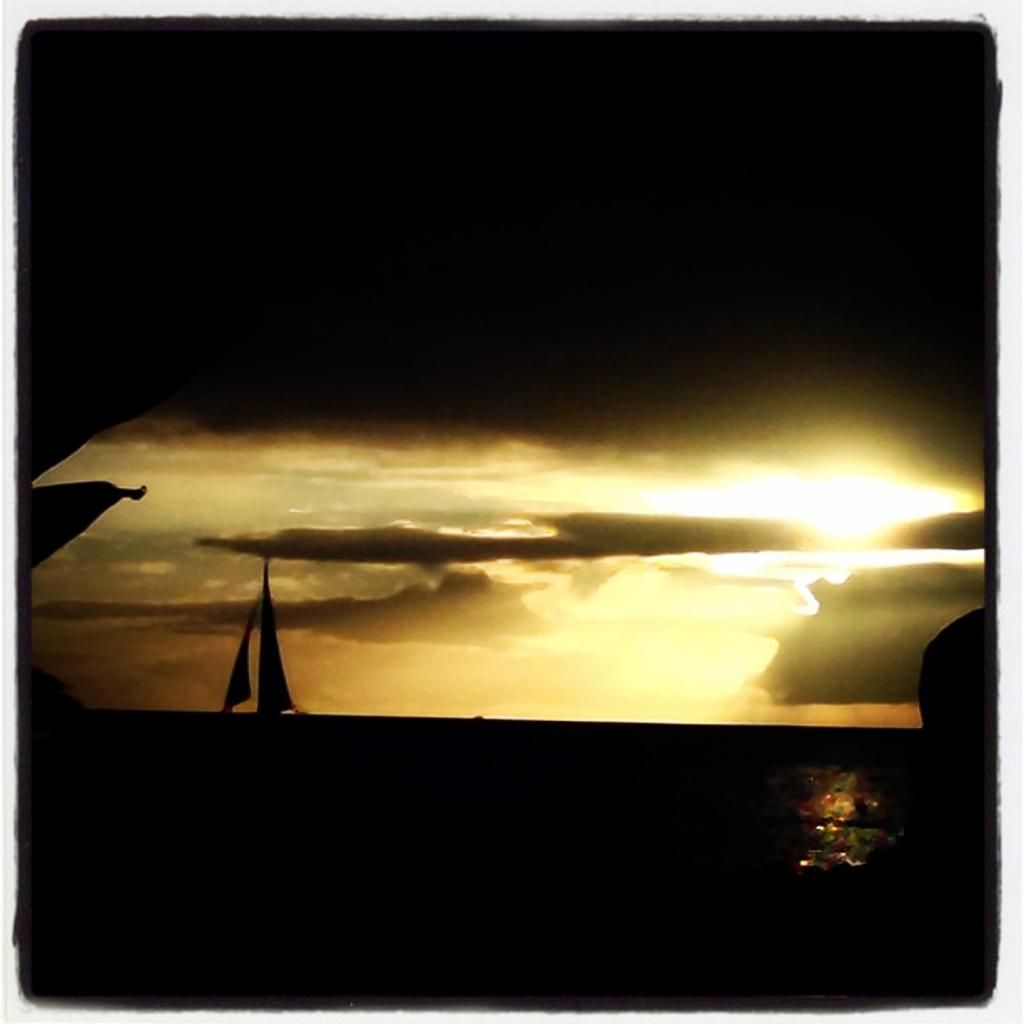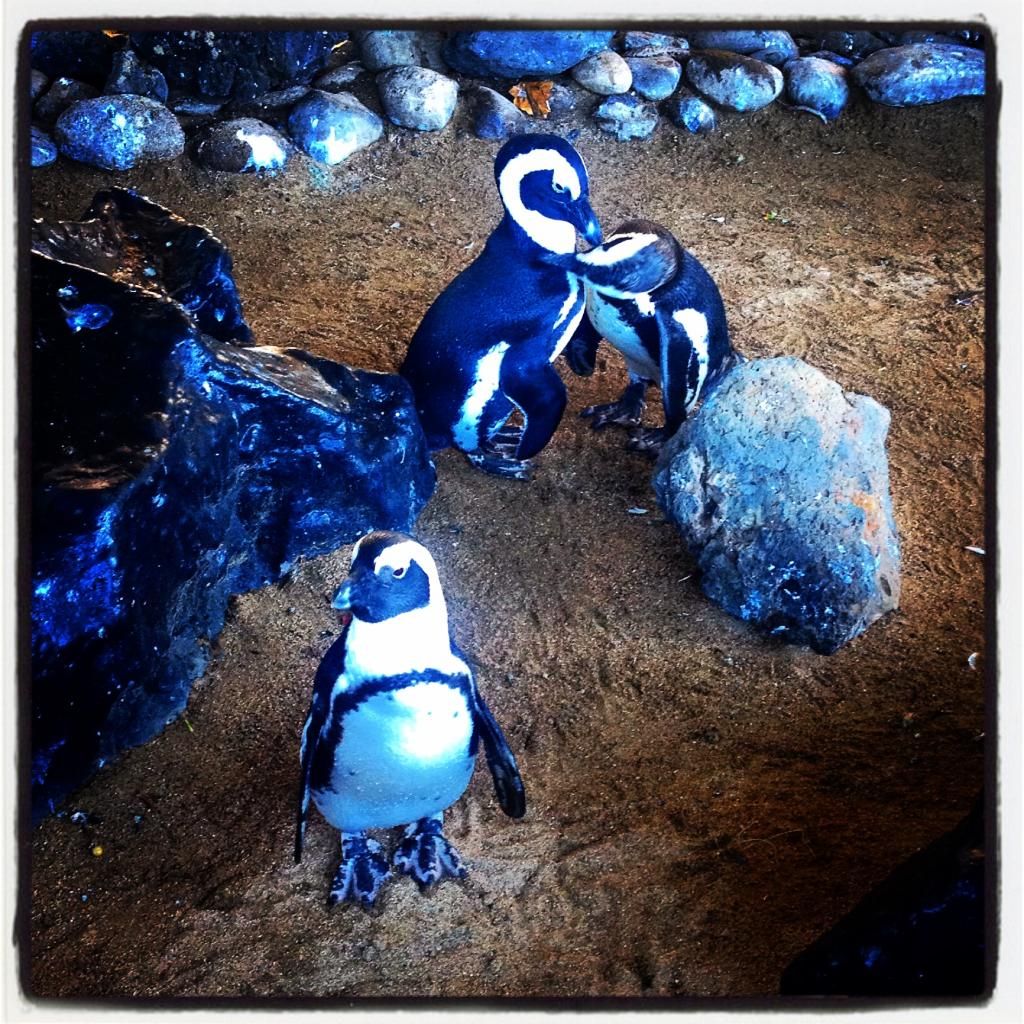 Over the weekend, thousands of people lined the streets as for the first time in seven years; Red Bull hosted the Soap Box Race in Seattle! Our very own Max Long was there to report on it…here is another installment of the Max Long report…

---
The summer is winding down and labor day weekend is just around the corner. It's time to end the summer off with some real righteous metal. There's no reason to lie, it was a pretty harsh toke when it was announced that the Summer Slaughter tour was skipping Seattle this summer. To many of us, Summer Slaughter is THE tour of the summer. While Mayhem Festival always has a few pretty choice bands you want to see, more often than not, Summer Slaughter hits the head right on the nail of underground loud music, mixing death metal, grindcore, tech metal and any other core under the sun for a days worth of ear-crushing chaos. So, without that, we've kind of had to make due. This Tuesday and Wednesday are our chance to watch some of the wildest guitar sweeping juggernauts this side of Yngwie....

On Tuesday (August 26th) at Studio Seven, The Faceless will be headlining a show that features a whole lot of awesomeness - Rings of Saturn, Archspire, Fallujah, Black Crown Initiate, Ashes of Existence and Prometheus. The show starts at 5 pm, so clock out and head right over !

You might as well spend the night at Studio Seven because that's exactly where you'll find yourself on Wednesday night ...that is, if you have solid taste in metal.
The almighty ORIGIN headlines a show alongside KIng Parrot, Beyond Creation, Your Chance to Die, Countless the Dead and Odyssian. This is another early one, it starts at 5:30.

If you haven't had the pleasure to listen to any Rings of Saturn....well, now's the time. Sit back, eat a cracker or two, drink your favorite beverage and enjoy the musical styling of this straight up insanity. For fans of: blowing your f****ing mind! Get familiar, then go see them open up for The Faceless on Tuesday. You owe it to yourself.




---
How is the summer going for you so far? I am back to asking questions to start the blog. Sorry I have been gone for a minute just got busy with summer and living. At this point in the summer I have been doing a ton of fun things and just enjoying the great Seattle weather. 80's during the day and they cool and night is just the best weather in my mind. Now I have become a Seattle person so I am looking forward to a rainy day in the fall but we will have plenty of those so for now I will take the sun and if I have to sweat a little bit then that's fine with me. I went to Hempfest on Sunday and if you like to people watch and good food options then you should go next year. It is crowded and long lines but it is fun and just have fun with the fact it is Hempfest and its going to be slow walking around. I had a tasty strawberry smoothie followed up by the best damn grill cheese sandwich ever thanks to The Grill Cheese experience. Summer is great in Seattle and I hope you are out there enjoying it. Have fun and Go Sounders, they are going to make the push into the playoff's soon so make sure to give your full 90
---

FOO FIGHTERS: Now This Is an Ice Bucket Challenge Video!
Well, it looks like Foo Fighters have made an ice bucket challenge video that tops all others.
After a serious intro from frontman Dave Grohl challenging Jack Black, John Travoltaand Stephen King, the video turns into a parody of the 1976 film Carrie that starred Travolta and was based on the book by King. It's worth three minutes of your day to watch it now on YouTube.

---

Last month, "WEIRD AL" YANKOVIC scored his first ever #1 album. It wasn't shocking that he'd never had one before, but it was a big deal that he got one now, after 30-plus years in the business.
And last week, TOM PETTY AND THE HEARTBREAKERS landed their first #1 album in 37 years. That career-long drought was a little more surprising.
Now, Billboard.com has put together a list of "10 Surprising Artists Without a #1 Album." Check out the full piece here. http://bit.ly/1oEcStg

1. David Bowie. He's had seven Top 10 albums, and four in the Top Five, but none that have topped the Billboard 200.


2. Marvin Gaye. His 1973 album, "Let's Get It On", reached #2.


3. The Who. They've had ten Top 10 albums, and they've hit #2 twice: With 1973′s "Quadrophenia" and 1978′s "Who Are You".


4. Cher. She hit #3 with her most recent album, "Closer to the Truth", and got up to #2 with "Look At Us", the album she put out with Sonny Bono in 1965.


5. Sting. He's had ten Top 10 albums as a solo artist, with three of them hitting Number Two. But he DID have a #1 album with The Police. "Synchronicity" spent 17 weeks at #1.


6. Aretha Franklin. She's made it to #2 twice . . . with "I Never Loved a Man the Way I Love You" in 1967 and "Aretha: Lady Soul" in 1968.


7. Willie Nelson. His 1982 album "Always on my Mind" spent four weeks at #2, but couldn't reach #1.


8. Tina Turner. Her 1984 album "Private Dancer" spent 11 weeks stuck at #3 behind Prince and the Revolution's "Purple Rain" at #1 and Bruce Springsteen's "Born in the U.S.A." at #2. And "All the Best" in 2005 hit #2.


9. Dr. Dre. "The Chronic" spent six weeks at #3 in 1993, and his album, "2001″ spent three weeks at #2.


10. KISS. They don't have a #1 . . . but they're the American band with the most top 40 albums, with 26. They got closest to #1 with 2009′s "Sonic Boom", which debuted and peaked at #2.
---
Today's blog comes from one of my mentors, Dan Sanders:

By the time you read this, we will have been a week deep into a very dark place, a place void of laughter, quick-thinking, brilliant-funny, and sometimes heart-breaking emotions, with the loss of Robin Williams and his cast of characters, including Mork from Ork, sitting on his head in a chair, and John Keating, a professor taking a stodgy, aristocratic school of boys and helping them see the world differently by standing on his desk whistling the "1812 Overture" in
Dead Poets Society.
Sometime around 1978, I was living on Beacon Hill in the fine aristocratic city of Boston. I have never been one to engage in an outpouring of vocal belly-busting laughter, but on one particular day (and for decades to come) Robin Williams was able to invoke that behavior in me. Then in 1989, he brought me to tears in the
Dead Poets Society
as a professor bringing humanity and real learning to a brain-numbing line-stepping school. I know how that can be, having spent two years in such a place until I convinced my father I would get thrown out if he didn't take me out. Good old dad decided I would indeed disgrace myself in private, so he figured it was better I do it in public, and I was released from those gates, and off to public school I went. Fifty years later I am still marching my own line-step and to my own beat. John Keating was that type of true Teacher. Mork from Ork, John Keating, and other memorable characters have left us, but fortunately for us all the memories remain.
People ask why such gifted people end their own lives--by drugs and alcohol in a slow death or more quickly. Personally, I think the powers-that-be do not always give great gifts
and
an unconquerable soul. The mind and heart are often veiled behind the gifts they give us. Emotionally, I am standing on my desk, whistling the "1812 Overture."
Speaking of whistling, we also lost Lauren Bacall to a massive stroke this week at age 89. Lauren Bacall had the level of sophistication and sensuality I look for in every woman I have ever known. Just check out the film
To Have and Have Not
and the "whistling" exchange between the characters played by Bogart and Bacall. From the voice to face no one will take her place.
There is so much spinning around in my head right now, and this blog has only touched the surface. Our learning to lock-step in blind obedience starts in the first year of school. Somewhere, I hope there are a lot of students who, if not now, will someday stand on their desks on their own two feet. I'm going out now to do what I have been doing all my life: whistle into the wind and hope someone catches the tune.
---