SIS Weed Week


Based on recent top stoner or marijuana-themed song lists created by Rolling Stone and Billboard, and a 1999 High Times list, Celebstoner.com came up with their own Top 10.

For more on the article. http://www.celebstoner.com/reviews/music/2011/04/25/top-10-stoner-songs/

Dig the playlist and scroll below for the Top 10 and many Honorable mentions from Celebstoner.com
http://kisw.tunegenie.com/u/__znjWJ0YSSKBC2kr2EE2Yg/sis-weed-week/


1. Legalize It - Peter Tosh
2. Sweet Leaf - Black Sabbath
3. Mary Jane - Rick James
4. Rainy Day Women #12 & 35 - Bob Dylan
5. Kaya - Bob Marley
6. Smoke Two Joints - The Toyes/Sublime
7. One Toke Over the Line - Brewer & Shipley
8. Pass the Kutchie/Pass the Dutchie - Mighty Diamonds/Musical Youth
9. Marijuana - Kid Cudi
10. Don't Bogart Me - Fraternity of Man/Little Feat


Honorable Mention:
If You're a Viper/The Reefer Song - Stuff Smith/Fats Waller
Roll Another Number (for the Road) - Neil Young
You Don't Know How It Feels - Tom Petty
Other songs on the lists:
Because I Got High - Afro Man
Big Spliff - Murphy's Law
Burn One Down - Ben Harper
Cali Dro - Birdman & Lil Wayne
Dead Men Don't Smoke Marijuana - S.E. Rogie
Don't Step on the Grass - Steppenwolf
Hash Pipe - Weezer
Hits from the Bong - Cypress Hill
How High - Method Man & Redman
How to Roll a Blunt - Redman
I've Got 5 on It - Luniz
I Like Marijuana - David Peel & the Lower East Side
In the Cut - Wiz Khalifa
I Wanna Get High - Cypress Hill
La Cucaracha - tradtional
(Let's Go) Smoke Some Pot - Dash Rip Rock
Muggles - Louis Armstrong
One Draw - Rita Marley
Panama Red - New Riders of the Purple Sage
Planets of Weed - Fountains of Wayne
Reefer Man - Cab Calloway
Seeds & Stems (Again) - Commander Cody & the Lost Planet Airmen
Sinsemilla - Black Uhuru
Stay High - Three 6 Mafia
Stoned Is the Way of the Walk - Cypress Hill
Take a Toke - C & C Music Factory
The Next Episode - Dr. Dre
The Reefer Song - Fats Waller
Twos Hits and the Joint Turned Brown - Dillard Hartford Dillard
Under Mi Sleng Teng - Wayne Smith
Vaporize - Broken Bells
We Be Burnin' - Sean Paul
Weed with Willie - Toby Keith

More Honorable Mentions:
Along Comes Mary - Association
Bag of Weed - Family Guy
Come Around - Collie Buddz
Ganja Babe - Michael Franti & Spearhead
Got to Get You Into My Life - The Beatles
I Got Stoned and I Missed It - Dr. Hook & the Medicine Show
It's So Nice to Be Stoned - White Witch
Mary Jane - Janis Joplin
Roll Me Up and Smoke Me When I Die - Willie Nelson
My Medicine - Snoop Dogg
Proud to Be a Stoner - Kottonmouth Kings
Puff the Magic Dragon - Peter, Paul & Mary
Pussy Marijuana - Brazilian Girls
Something About Mary - Wyclef Jean
Take Two and Pass - Gangstarr
Under Mi Sensi - Barrington Levy
Wild and Free - Ziggy Marley
Wildwood Weed - Bill Stafford
Who's Got the Herb - 311/Human Rights
2 a.m. - Slightly Stoopid
Tags :

Topics :

Entertainment_Culture

Social :

Entertainment_Culture

People :

Ben Harper Cali Dro, Birdman, Bob Dylan, Bob Marley, Cody, Collie Buddz, Dr. Dre, Hook, Jane - Janis Joplin Roll, Jane - Rick James, Kaya, Mary - Wyclef Jean Take Two, Mary Jane, Michael Franti, Neil Young, Peter Tosh, Rita Marley, Sean Paul Weed, Snoop Dogg, Song - Fats Waller Twos, Song - Stuff Smith, Wayne Smith Vaporize, Weed - Bill Stafford, Willie - Toby Keith, Ziggy Marley




---
Today is the first day of "Weed Week!" What, you ask, is "Weed Week!"? In a nutshell, "Weed Week!", is the week where we, The Men's Room, allow one of us to get completely baked to the be- Jesus and then do the show. The catch is, we ask you to guess which one of us is the stoned one. Yea, it seems to work out better for us than you, but, well, sorry. Feel free to get high too.

So today is Monday, day one of our 'green' shows. As always (and by 'always', I mean the last time we did this... about 6 months ago) we put names in a hat. Whoever's name was drawn was today's stoner. Basic stuff.

While Ted received the most votes as the show member who seemed high, it was actually me today who was very, very stoned during the show. To be fair, I received the second most votes. However, to put into perspective how high I was, I forgot to post the blog... so when you see this, know that it's now Tuesday Morning... no longer Monday evening.

Maybe there is something to that whole forgetful thing.


Keep checking back all week for updates and links to any article we read during Weed Week

Tuesday our favorite night host Jolene came by and had a list of the top 10 Stoner songs of all time, enjoy bitches.

Until later today, STAY BEAUTIFUL!"
---
Hopefully everyone made it out to either the Dream Theater or Volbeat shows last night in Seattle, unfortunately I took the night off recovering from 3 weeks gone on the Monsters of Rock, Moody Blues and the Cruise to the Edge cruises in the Bahamas/Mexico, but later this week I'll be back out and so should you! Tomorrow night at the Showbox Sodo the opening night of Zakk Wylde's Black Label Society Revolver Golden Gods Tour starts for the just released (4/8) new album 'Catacombs of the Black Vatican' on eOne Music.
Opening the show is Devil You Know (featuring ex-Killswitch Engage singer Howard Jones) and the one and only Butcher Babies! All-ages, show starts at 8pm click here to buy tickets!
Friday night Sevendust arrive to Seattle on their latest tour at El Corazon in support of their brand new CD "Time Travelers & Bonfires" releasing in stores today (4/15) on 7Bros. Records/ADA Label Services.
Sevendust re-recorded six classic tracks acoustically and cut another six new acoustic numbers for this release. This show will be an all-acoustic treat for fans! Don't miss it! 21 and over only, show starts at 9pm. Click here to buy your tickets now! Stream the new CD here from Guitar World on Soundcloud: https://soundcloud.com/guitarworld/sets/sevendust-time-travelers-bonfires and buy here.
For all other KISW sponsored shows this week please visit: http://calendar.kisw.com
---
With airlines in the news recently for what people tweet to them (that 14 year old that tweeted a terrorist treat) or what they tweet their customers (US Airways accidentally Tweeted a very dirty pic to a complainer)…it's nice to read a less troubling story like this one:

A Southwest flight attendant tried to turn her pre-flight safety announcements into a stand-up routine recently, and one of the passengers got it on video. Two of her biggest laughs were when she said that in order to activate your oxygen mask, you have to insert 75 cents for the first minute. She also said, "If you're traveling with small children . . . we're sorry." Check it out:


And now…a cute picture of my pup enjoying the sun yesterday!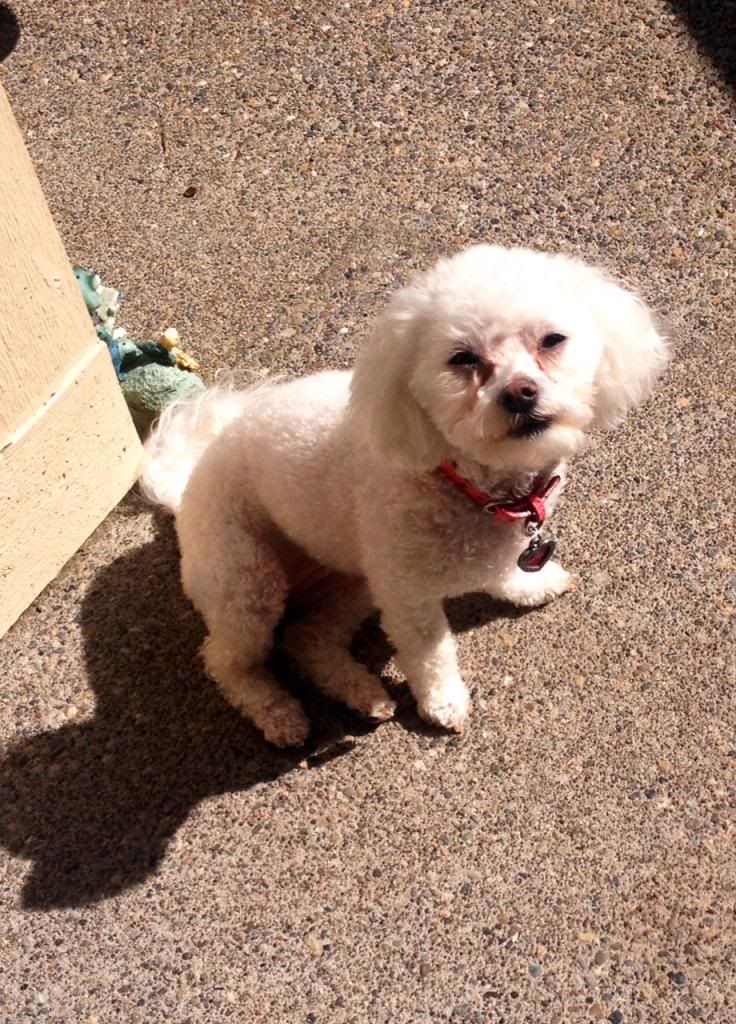 Yesterday something really cool showed up in the mail. It's a small wireless speaker called the PortaParty. Check them out at www.chicbuds.com -- you can play your music from your phone (or MP3 player) via Bluetooth. This is perfect as I can bring this with me when I travel as I like to listen to music in the hotel, plus…I can have this outside when Bar-B-Q'ing, etc. I have tried similar ones like this before, but they didn't have any bass, so I was stoked to hear bass in this little speaker…it sounds awesome. Here is a video of Vicky B. catching me trying it out for the first time.


---
Howdy, Rock-A-Holics! You wanna hang out? We could try some Group Therapy together, if you're into that…

Kevin and his girlfriend are both in their early 30s, and they've been together for a couple of years now…but she recently confessed something that has left Kevin in a state of shock. The girlfriend admitted that she was in a 5-year relationship when they met, and she dumped the guy when she and Kevin "started hanging out."

(My first question in this story: What does "hanging out" mean, exactly? Friendly get-togethers? Pants or no pants? It's so hard to decode the terminology these days.)

Kevin's world has been a little bit rocked by this revelation. He's bothered that she kept a secret from him, and he's worried that she might do the same thing to him.

I'm pretty sure that the majority of all relationships end up one of two ways: you're either together forever, or you don't earn your tenure. Even when the outcome falls into a grey area, it still comes to one of those two conclusions.

Is it worth the concern that Kevin's going through? Objectively, this girlfriend really only broke up a previous relationship in favor of Kevin. It's never good to lie, or keep secrets, in a relationship…but could she be the rare leopard that changes her spots? Furthermore, does she earn any points for being honest about it, even if it took her a little while to get there?

Have any of you been through this? Can you offer Kevin some advice?

BONUS HONESTY POINTS: Are you, or your partner, a reformed cheater?



---
DEFTONES: Mark Anniversary of Chi's Passing

Deftones frontman Chino Moreno marked the first anniversary of bassist Chi Cheng's passing with a unreleased track.
On Sunday afternoon, Moreno tweeted a link to a stream of "Smile," a song recorded with Cheng for the album Eros before his car accident. The band scrapped that album in 2009 and ended up working on a new batch of material with bassist Sergio Vega that became 2010's Diamond Eyes. Cheng stayed in a semi-comatose until his death on April 13th, 2013.


---
Today's blog comes from one of my mentors, Dan Sanders:

Music of the 1960's and 1970's was saved on an odd piece of recording equipment, the 8-track tape. Formally called Stereo 8, it was cutting-edge technology. April 11 was National 8-Track Day, but you can still celebrate by paying tribute to the Beatles and the White Album, their first record on 8-track (and I think it's fair to say, if you have that 8-track it might be worth a pretty Penny Lane.) Jackson Browne gave a nod to the technology of the time in "Stay," as you might recall. But alas, the great 8-tracks, as well as cassettes, are no more.

Something else that has all but disappeared from our landscape, smothered by mp3, is the good old-fashioned record store selling vinyl—touch me, feel me, play me. There is nothing like holding an album; feeling the groove, so to speak. Of course, there are still some record stores, fun dusty places where an audiophile can go on a treasure hunt and maybe find that lost piece of vinyl from childhood. When I moved from a very large place to a very small place I was forced to sell off over 300 mint-condition albums to the stores that bought and sold used records. I discovered there is still a big market out there for collectors of vinyl and also saw that vinyl is making a comeback and for good reason. There is no sound like it, and it's another cause to celebrate. The seventh annual Record Store Day is April 19.

Last week I talked about the Internet saving radio by giving it more life. Your local station is now anywhere you are, live and screaming in your car. If you missed that one, including my review of Twenty Feet from Stardom, check it out here: http://creative-treehouse.com/internet-saved-the-radio-world/

There's more on the magic that once was, a few words on the 2014 Rock and Roll Hall of Fame inductees, and other random thoughts at Rambling Harbor. Stop in and give a listen.

http://dbsanders.podbean.com/2014/04/13/8-track-cassette-and-sterio/
---
I had a memorable weekend…granted, I didn't get in trouble for yelling "bomb" at an airport like Aldon Smith of the 49ers (what the hell was he thinking), but mine was memorable for good reasons…

My beer league hockey team, the Tacoma Donkeys, won the RHL's Rainier Cup on Saturday night…it was an awesome night with great buds!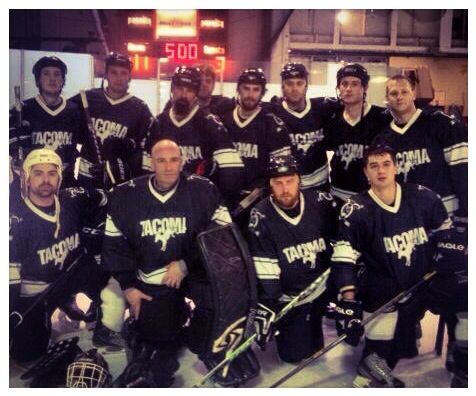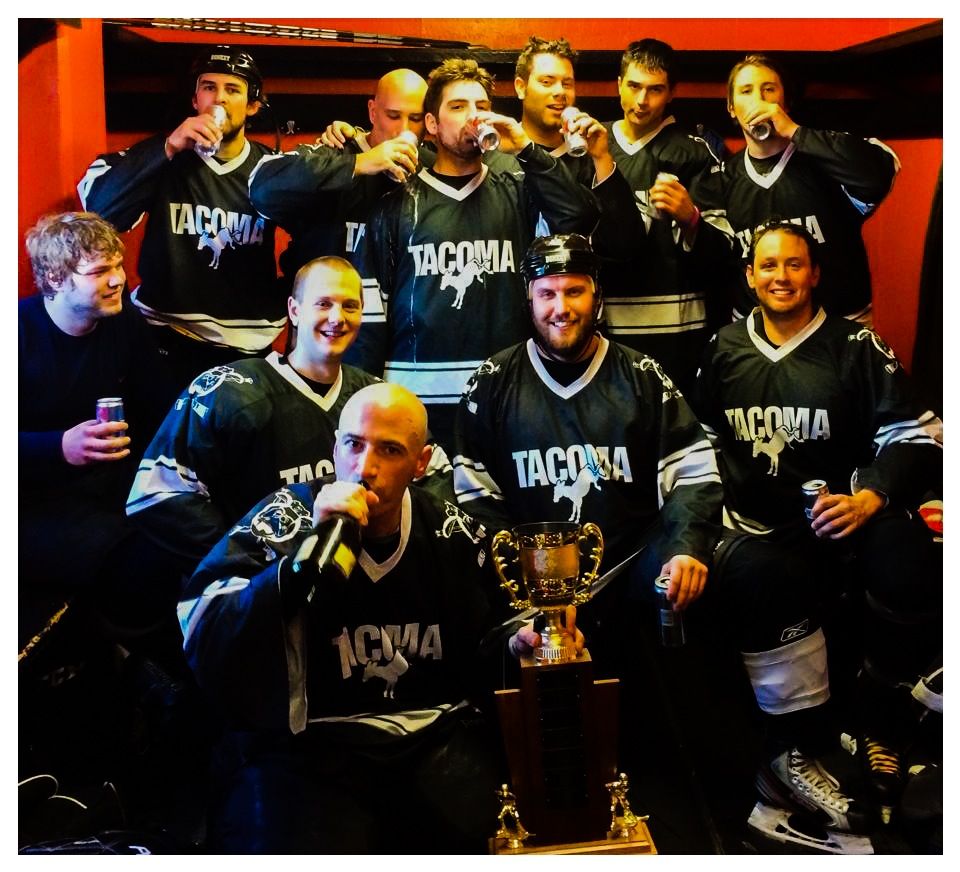 Of course we had to have the obigitory "Ellen Selfie"!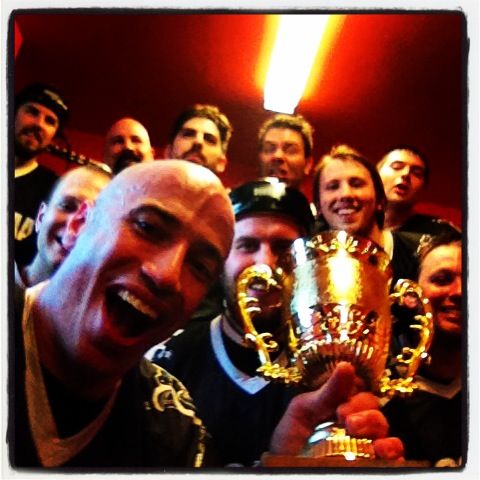 And when you play in a beer league…this is what the aftermath looks like…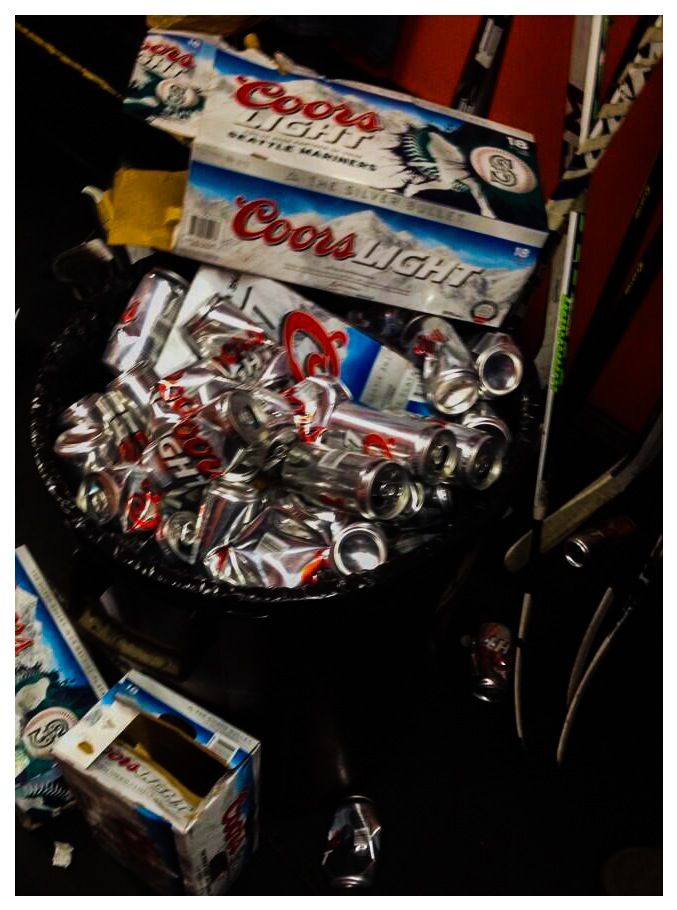 This is one of the greatest "fails" of all time! A student from Indiana University named Julian was one of the contestants on Friday's "Wheel of Fortune", and he had a chance to win a million dollars after the wheel landed on the million-dollar prize. All he had to do was solve the puzzle. This should have been easy as all of the letters were flipped over, and the answer was "Mythological Hero Achilles".

Slight problem…he didn't know how to pronounce "Achilles" – he pronounced it "AY-chill-ess" , so he got nothing!.

Later in the game, he had a chance to win a car by solving the puzzle "World's Fastest Man"… all but two letters in the word "Man" were exposed. Yet, he messed that up too.

That's not all…he still screwed up s'more! Tthere was a puzzle where it was fairly obvious that the answer was "On-the-Spot Decision", but he guessed "On-the-Spot DICE SPIN." What the hell?!? Check it out…


This seems so beyond incredible…I almost think this guy was purposely stinking up the joint so that he will forever be immortalized as the dumbest contestant to ever play Wheel Of Fortune! The crazy part (besides all of the above), was that he was the winner of that night's episode as he won the most money.
---
NIRVANA: Rock Hall Was Just A Warm Up

Nirvana's four song set at Thursday night's Rock and Roll hall of Fame induction ceremonies was just a warmup for a full show.
Rumors about the band playing a post-induction set started during the ceremony and fans started lining up at Brooklyn's Saint Vitus club -- which holds 230 people -- at about 10 p.m. After the ceremony was over, Dave Grohl, Krist Novoselic and Pat Smear hopped in a SUV and headed to the club. They went on around 2:00 a.m. and played with five different vocalists -- Joan Jett, St. Vincent's Annie Clark, Dinosaur Junior's J. Mascis,Sonic Youth's Kim Gordon and Deer Tick's John McCauley. (McCauley might have been the best qualified to lead the band, as his group has been playing all-Nirvana shows as Deervana for a few years.)
Here's the setlist from the first full Nirvana show in 20 years:
"Smells Like Teen Spirit" (with Joan Jett)
"Breed" (with Joan Jett)
"In Bloom" (with Joan Jett)
"Territorial Pissings" (with Joan Jett)
"Drain You" (with J. Mascis)
"Penny Royal Tea" (with J. Mascis)
"School" (with J. Mascis)
"Lithium" (with Annie Clark)
"About A Girl" (with Annie Clark)
"Heart Shaped Box" (with Annie Clark)
"Serve the Servants" (with John McCaluey)
"Scentless Apprentice" (with John McCaluey)
"Tourette's" (with John McCaluey)
"Aneurysm" (with Kim Gordon)
"Negative Creep" (with Kim Gordon)
"Moist Vagina" (with Kim Gordon)

---
Late fees, banking fees, credit-card fees -- the amounts might seem insignificant when taken individually. But if you're regularly paying penalties and fees, these charges can quickly eat a hole in your budget.

Avoid being nickeled and dimed! Read the fine print so you understand fee rules, and stay organized so you avoid breaching those rules.

Don't be afraid to shop around for a better deal.

---
Officer Ericca K. Figueroa
Apr 15