Posts from June 2013
"Hola,

because we're huge proponents of outdoor, summertime drinking, we're throwing a little shindig tomorrow called The Men's Room Original Red Fest. we've been telling you about it for the last few weeks and we're excited for one, specific reason; we love drinking in the Sun. It's how we roll. Then, in September, KISW is presenting the biggest, baddest Pain in the Grass in the history of history at the Gorge. Sure, there's some serious bands playing, but also, the Gorge is one of those places where people cut loose... all in the name of excessive fun. Next week is July 4th... one of those holidays where everyone seems to party, whether it's with drinks or with explosives. There's something that you look forward to if for no other than to tap your inner partyer and that's what today's question is all about: WHAT'S THE ONE PLACE OR EVENT WHERE YOU LET YOUR FREAK FLAG FLY?

Sorry everyone, got a little distracted today. A lot of stuff going on here today.

Remember, tomorrow is Men's Room Original Red Fest. Should be a stellar time. More importantly, you should be there. Do you have tickets? If not, you're a fool... a FOOL, I say. On the other hand, should you get a hair up your pasty ass and decide tomorrow that you would like to have a fantastic day of drinking, tickets will be available at the door. Hope to see you there, bitches.

Until Monday, do what you do best and STAY BEAUTIFUL!"
---
Sun is out and so is the Men's Room as tomorrow we have the first ever RedFest down in Georgetown at the Elysian Brewery. All four of us are fired up and hope that you will be there as well. To start off you get a cool mug and a couple beers with your ticket and we know Elysian makes some good beer. After a couple beers you might think well I sure could use some food and bam three different food trucks will be there. So now we are all having fun and eating good food and the last part of this puzzle gets put together as we have local bands The Mothership and Van Eps hitting the stage. The weather is going to be nice and I can't wait, I hope you got your ticket but if you did not you can walk up tomorrow and get your ticket at the event. As you can tell from this post I am real excited and I love having events like this because it is great to get to shake hands and meet people that are fans of the show and the beer. I hope you see you tomorrow and ladies feel free to bring some cute friends
---
---
Yesterday on the show we talked about some alleged sexual activity going on at a bikini barista stand involving a police officer!

On Tuesday, a Snohomish County sheriff's sergeant was arrested after police said he had sex with a bikini barista coffee shop owner and manager in exchange for tipping them off to when the police were going to come and do their investigation. The Everett police said the investigation was a part of an effort to stop prostitution and lewd contact.

The owner of Java Juggs was also arrested which wasn't her first time because she was also arrested in July 2011 during a prostitution investigation.

First off, I want to start off and say that if this is true and they were being dumb, they should be punished for breaking the law.

Secondly, the thing I don't understand is why prostitution is illegal in this day and age. Why can't it be a simple business transaction between two consenting adults? If we treated it like a business where we taxed it and also made sure it was safe, how could that be a bad thing?





---
Next week the weather is supposed to be awesome…which makes me very excited as I am throwing out the first pitch at the Tacoma Rainiers game on Tuesday night. It's supposed to be close to 90 degrees that day! I hope you can come hang with us, as we have an awesome Perk. Through get my Perks, you can buy tix to the party deck to hang with me and Toppy…plus we will have Bar-B-Que…drinks…VIP parking…Rainiers merch…a chance to meet players and the mascot...and you get to cheer me on as I attempt to get it over the plate for the ceremonial first pitch! Here is a link to the Perk:

http://www.getmyperks.com/deal/38883/tacoma-rainiers-game-party-deck-with-stp

Everyone has been asking if I have been practicing….up until this morning it has been years since I tossed a ball around…and it shows! At least it looks like I can kind of get it over the plate!



Yahoo had an article recently about 10 surprising things husbands miss about being single…in the article they said, quote, "don't take this personally- husbands often feel they've given up some things once they've tied the knot, and we're not talking about sleeping with different women. " They shared 10 things they miss…here they are:

1. Not explaining every purchase.
2. Attending only one set of family events.
3. Looking unfashionable in public.
4. Having a woman hang on every word of his stories.
5. Being a slob.
6. Having an entire bed to himself.
7. Not sharing in the stress of your day-or talking about his feelings.
8. His mom and her unconditional love.
9. Making little decisions.
10. Openly checking out other women.

Based on this list of things that husbands miss about being single…what about you? Ladies and fellas…What is that one thing you miss about being single? Or…are you single, and if so…what is something you are glad you DON'T have to miss? Here are some of the texts we got:

Walking buck naked anytime anywhere in my house.

I miss having privacy. I can't even use the can without my wife barging in wondering where I've went. Pat the vigilante courier

I miss not having to explain why I'm friends with some people.

Having extra money. Relationships are expensive.

Being able to take free dumps with the bathroom door wide open

I enjoy having the whole bed to myself. My GF constantly wants to cuddle and sleeps diagonally in bed, it's annoying

I miss not having too talk the whole time. It drives my wife nuts if we are in the same room and there is no talking. whats wrong with just kicking back

I miss being able to play as many sports as I like. I love playing softball and soccer but my girlfriend hates sports so, I find myself only playing in one or two leagues per season. Ryan

Today's video blog features Katie...she has never tried a Krispy Kreme donut, so we had her in studio to experience her first with us!



Here is the same Video Blog for you iPHONE users:


---
"Hola,

Former Patriots tight end Aaron Hernandez is in quite a bit of trouble after ?he was charged with murder... but things have gotten even worse for the idiot because now authorities have linked him to a DOUBLE homicide in the Boston area from a year ago. Meanwhile, a guy in Philadelphia was arrested after he was caught by 25 bike cops having sex with the ugliest woman ever to walk the Earth on a park bench. It was 4 o'clock in the afternoon... next to a public baseball field. If you get the chance to see a picture of the woman involved in this story, DON'T). And then there's George Zimmerman, the Florida dude who shot Travon Martin because he was a black kid in a white neighborhood, started his trial this week, hoping to avoid a murder conviction, in spite of murdering a kid armed with Skittles. Look, America has more laws on the books than any other country on the planet ('Land of the fee!') so 'breaking the law' is relatively easy to do, but we wanted to know: NOT THAT YOU EVER WOULD, BUT WHAT CRIME DO YOU FEEL CONFIDENT YOU COULD GET AWAY WITH?

Initially I was gonna say I'm black, so I can't get away with anything... but then

Could be the getaway driver in a robbery. He wouldn't want to be a part of the actual robbery because at 6 feet- seven inches tall and 300 pounds, he's REAL easy to identify

Drug dealing... their confidence suggested that it was something they are actively doing

Murder (???)... she watches a lot of 'CSI' and 'Snapped'. Two things; CSI is about as grounded in reality as Harry Potter and the reason 'Snapped' is on TV is because NO ONE got away with murder. Just sayin'

Embezzlement... granted, this guy isn't trying to go big; said he would only embezzle about $60 to $80 a week

Another vote for murder... says to (1) do it alone so that there are no "loose ends" and (2) bury the body "deep"

Could get away with stealing from work... see, they were robbed a while ago and the bosses didn't wanna call the cops

Could get away with shoplifting... has worked as a "loss prevention officer" for years and knows the ends and outs

Passport fraud... works with Homeland "Security" in the IT department and has access to all kinds of info. Pointed out that he could also red- flag anyone's passport at random, just to be a d*ck

OK bitches, I just got the hiccups, so I'm gonna go smoke some weed and get of these f**king things.

Until tomorrow, prepare for Red Fest and STAY BEAUTIFUL!"
---
During Group Therapy, we read a message from a Rock-A-Holic named Jeremy who needed some advice on loaning money.

His parents recently came to him asking to borrow $3,000 from him and they promised to pay him back in three weeks.

He doesn't know what they need the money for nor does he think he does but what doesn't make sense to Jeremy is that both his parent make substantially more than him. He asks if he should lend them the money or not.

Call me old and backwards but if you have to borrow money from your kid, you've made a lot of mistakes in your life.

Even if you make more money than your kid but still want to borrow some, I'm sorry but you're a loser.

Successful men and women will never want to ask their kids for anything. This makes me wonder what Jeremy's folks are really scheming.

As a father, I am very firm about what a good parent is and when the child has to take on the role and the mother or father starts acting like a kid, then they failed.

A lot of people texted said, "Well, they raised you, you owe them." It is a parent's job to take care of a child! I wish these vaginized people would open their eyes and see this is the truth.

Here is a good rule of thumb for loans: Don't ever loan money you couldn't give as a gift. If you consider it as a gift, you won't be upset or be in a financial bind if you don't get it back. This same rule should be applied to family no exceptions.

---
Have you ever wondered what goes on in the Steve household? Well, this short video sums it up…



Yup…that is my wife yelling "Steven". I recorded that video as a Snapchat that I sent to my buddies. I used to think Snapchat was a place for dong distribution…it's a photo/video sharing app where you set a timer and the video or picture will disappear from whoever's phone you send it to in that allotted time. Almost like a self-destruct feature. I figured this was for sexting purposes so I never had a need for it. But if you follow me on Twitter you saw my theory on Twitter…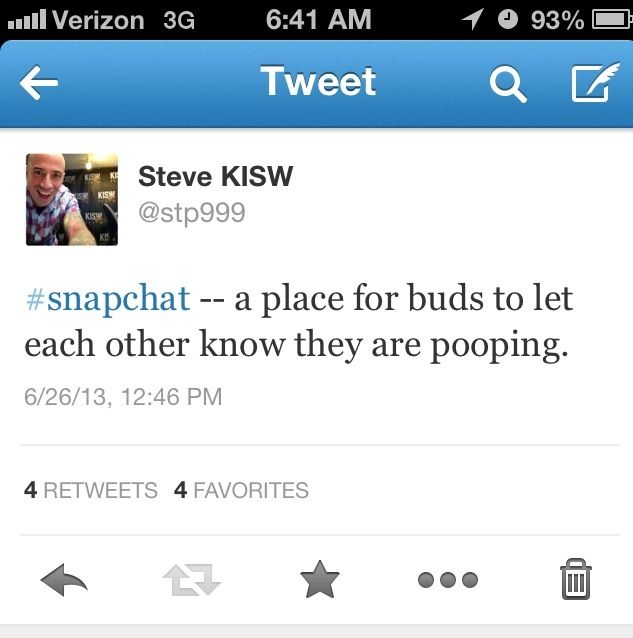 I have a question for you…it's summer right?



This morning we were talking about how Java Juggs, the Bikini Barista stand, is back in the news because a police officer was allegedly having sex with the owner and possibly some of the girls…in exchange for inside info on when there would be police stings at those stands for inappropriate behavior. This needs to be the plot to an adult film! C'mon Vivid, make "Java Juggs – the Movie!" If that stand sounds familiar – back in 2011 we had a couple of their girls come in to serve us coffee. If you don't remember, hell…check out our video blog from that day!



In April, a 20-year-old in New Jersey had a heart attack behind the wheel and caused a minor accident. And the cops gave him THREE TICKETS. Only two were eventually dismissed, and the guy had to pay a $133 fine. In the cops' defense though, they probably saved his life after the heart attack by recognizing there was a serious problem and calling an ambulance.

So we asked the Rock-A-Holics to finish this sentence, "I can't believe I got a ticket for doing ____." Here are some of the texts we got:

My fiance was crossing the street legally, when he got hit by a truck. The truck knocked him out of the crosswalk. It was given a jaywalking ticket in th e emergency room while they were giving him an MRI.

I can't believe I got a ticket for going too slow in a snowstorm on a highway

Yo guys I drive a sweet Subaru STI and I got a ticket for my license plate being too dirty... How lame is that!

Going four over the speed limit.

I can't belive I got a ticket for a crooked licence plate

I drag raced an unmarked police car once, he admitted he only ticketed me because I won.

Got a 320 dollar disrespecting a kitsap county sheriff ticket.......guess you shouldnt call them a-holes Dusty Bremerton

Boyfriend got a ticket on cinco de mayo for "license plate light too white" talk about stupid excuses!!

Got u all beat. In high school i got a ticket for 27 in a 25! Thank you Tukwila Pd!!!

I got a ticket on Mercer Island for not coming to a complete stop on my bicycle!

Got a ticket for indecent exposure, for having a threesome with my ex girlfriend and her sister in my car.

I got pulled over for not putting my blinker on for 150 ft before changing lanes on the freeway
Today's Video Blog features Mono-Nick making a trip down south to play disc golf, and eat at Big Ass Sandwiches in Portland!



Here is the same VLOG for you iPHONE users:


---
"Hola,

Down the road in Kennewick, Washington, a woman was just trying to enjoy a nice evening walk in Columbia Park with her 3 and 5- year- old children and their pet Chihuahua. At some point, one of the three humans had to use the bathroom, so they used the public restroom in the park. Unfortunately, the door to the bathroom became jammed, and for the next 2 hours, they were all stuck in a smelly public bathroom. Eventually, she and her kids (and dog) were able to escape thanks to some Good Samaritans, but the woman was very "shaken up"... and that was after only two hours. I'm sure that the Chilean coal miners are crying tears of sympathy. As are the people who have taken a Carnival cruise in the last 18 months. Anyway, we've all been trapped somewhere, scary or not, so today we wanted to know: WHERE WERE YOU TRAPPED, FOR HOW LONG AND HOW DID YOU MAKE YOUR GREAT ESCAPE?

Was working in a jail doing plumbing work when a fight broke out among inmates... he and his crew were trapped in a pipe chase for 7 hours

Stuck in a mall elevator with about 20 people for an hour and a half

Trapped in a car, upside down, wrapped around a telephone pole for an hour

Driving a Land Rover when there was an electrical short and he was stuck inside until a Land Rover associate was dispatched to get him out

Trapped into having a "big" wedding... she just wants to elope. Listen, fellas, if you are lucky enough to find a woman who doesn't wanna waste a bunch of money on a 4 hour event, ELOPE!

Stuck between 4 "huge" women on a dance floor... for 7 songs

Got trapped in an MRI machine. Small spaces don't bug me, but if you're claustrophobic, I could understand how that would freak you out

Got lodged under a logjam when he was rafting on a river

My personal favorite; got locked in a shower display at Home Depot by the 5- year- old she was babysitting

QUEENSRYCHE

Queensryche stopped by the studio today to chat all things Ryche-y. They're playing a sold out show at the Crocodile tonight and we couldn't be happier. The new album f**king rocks and the guys are real cool. We've been hanging with these cats for 8 years now and they have been tremendous.

OK, I'm on my way to see the Ryche do their thing.

Until tomorrow, eat more meat and STAY BEAUTIFUL!"
---
Today we see very sad news in the case of NFL football player Arron Hernandez. Now I say sad because he was charged with murder and someone lost a life. Not only that but someone also lost a son and a family member and murder is not acceptable. Sometimes I wonder about a guy like Arron, why would this happen? The guy just signed a huge contract last year and was becoming a household name and then he kill's someone over a beef. This is why I titled this growing up and that you have to be better than this at a early age of young twenties. Now I don't know much about the guy but I am guessing he grew up some where in a tough neighborhood were gun violence was the answer but clearly it is not and he never grew up. This is a extreme example of not changing your ways but it also should be a lesson for young people out there. The message is that you have to grow up and change how you think about things, being hard get's you two places in life Jail and Death. You might just be the guy that gets in bar brawls and thinks its fun but one day something is going to give. Imagine how you would feel when you punch a guy and he falls on his head and dies. Also at times when you get older you have to choose friends and stop hanging out with some. Growing up is hard and you will make mistakes as I have but please try to change and evolve into a adult because now in Boston we have a lost life and a lost life in jail. A damn shame this stuff happens
---