Sit N Spin Top 10 Football Songs from AOL


The piece below comes from http://aol.it/1nww48a

It makes perfect sense with Mens Room celebrating their 2,000 show Thursday for the start of the Season!! Lil get together…..get details here. http://bit.ly/1qmvNcp

A playlist of today's Sit N Spin! For your next Hawks prefunk! http://bit.ly/1rhDMb6


The Top 10 Football Songs are those that you're likely to hear blaring out of the stadium speakers at college and pro football games. High-intensity rock and rap songs seem to work best when it comes to getting the adrenaline pumping and bringing fans to their feet, and many of these songs have been adopted by individual football teams as their signature tunes. Check out AOL's selections for the Top 10 Football Songs.

10
'Kickstart My Heart'
Mötley Crüe
Mötley Crüe created a football favorite with 'Kickstart My Heart.' The high-octane rock song from the band's best-selling album 'Dr. Feelgood' was penned by bassist Nikki Sixx. The song's opening sounds of a motorcycle speeding down the highway -- actually created on guitar by Mick Mars -- are a great way to get fans fired up.


09
'Not Afraid'
Eminem
For an underdog football team, a song like Eminem's 'Not Afraid' can serve as an inspiration, due to its lyrical tale about perseverance and redemption. The track's dramatic keyboard swells can build up the tension and excitement in a stadium, and because the song hit No. 1, most everyone knows it and can sing along.


08
'Run This Town' Feat. Kanye West & Rihanna
Jay-Z
In 2009, rappers Jay-Z and Kanye West joined up with Rihanna on the smash hit 'Run This Town.' The National Football League used an orchestral remix of the song to open its coverage of Super Bowl XLIV, mixing clips of Jay-Z performing with highlights from the Indianapolis Colts' and New Orleans Saints' seasons.

07
'Super Bowl Shuffle'
1985 Chicago Bears
The 1985 Chicago Bears were so cocky they recorded a 'Super Bowl Shuffle' in which star players Walter Payton, Jim McMahon and Mike Singletary took turns rapping about their skills on and off the field. The Bears backed up their actions with a 46-10 thumping of the New England Patriots in Super Bowl XX. Incredibly, the novelty song earned a Grammy nomination for Best R&B Vocal Performance.


06
'We Are the Champions'
Queen
There's no song football fans want to hear more than Queen's 'We Are the Champions,' because it means their team has won the Super Bowl. The song became a Top 10 hit in 1977 when it was released as a double-sided single with 'We Will Rock You,' and it will continue to live on for as long as teams are celebrating championships.

05
'Crazy Train'
Ozzy Osbourne
'Crazy Train' is one of the most recognizable sports anthems. Fans get excited the minute they hear Ozzy's maniacal laugh and the thumping bass and drum intro. The New England Patriots used the song as their entrance theme during their championship run in the 2000s, and Ozzy performed it live on the 'NFL Opening Kickoff 2005' special inside a giant Patriots helmet.


04
'Hell's Bells'
AC/DC
The menacing sound of bells announces the appearance of AC/DC's 'Hell's Bells.' Though not a big hit on the charts, the track from the 1980 album 'Back in Black' has gone on to become one of the group's most popular songs. Just before kickoff, the New York Giants play the beginning portion of the song to get the crowd rocking at every home game.


03
'Are You Ready for Some Football?'
Hank Williams Jr.
Country music outlaw Hank Williams Jr. has provided the theme song for 'Monday Night Football' for 22 years with 'Are You Ready For Some Football?,' an updated version of his 1984 Top 10 country hit 'All My Rowdy Friends Are Coming Over Tonight.' Williams has rerecorded the song over the years as 'Monday Night Football' has changed announcers and networks.


02
'Enter Sandman'
Metallica
The thunderous intro to Metallica's 'Enter Sandman' gets football fans psyched up with its minute-long buildup before its memorable guitar riff finally explodes. Everything about the heavy metal classic is aggressive, from James Hetfield's singing to Lars Ulrich's furious drumming to Kirk Hammett's searing guitar solo.


01
'We Will Rock You'
Queen
No song is better at pumping up sports fanatics than 'We Will Rock You,' Queen's epic hand-clapping, foot-stomping track. Freddie Mercury sings about "kicking your can all over the place," while guitarist Brian May finishes it off with a rocking solo. The song's short running time makes it an ideal choice to play during stoppages in the game, and makes it our pick for the Best Football Song.
Tags :

Topics :

Entertainment_Culture, Sports

Social :

Entertainment_Culture, Sports

People :

Brian May, Eminem, Feelgood, Freddie Mercury, Hank Williams Jr., James Hetfield, Jay-Z, Jim McMahon, Kanye West, Kirk Hammett, Lars Ulrich, Mick Mars, Mike Singletary, Nikki Sixx, Ozzy Osbourne, Rihanna, There, Walter Payton




---
What an awesome weekend! I know the city of Seattle is proposing to change the name of Columbus Day…I have no problem with that…what I hope is that they also propose that Labor Day is Monday AND Tuesday…so that we get a 4 days weekend.
My weekend was great…went to an AWESOME wedding…congrats to Josh & Jessie on getting hitched. They got married at some real cool place in Sequim…the weather was perfect, and when a Donkey (my beer league hockey team) gets married…the Donkeys bring a level of class to any wedding…as you can see…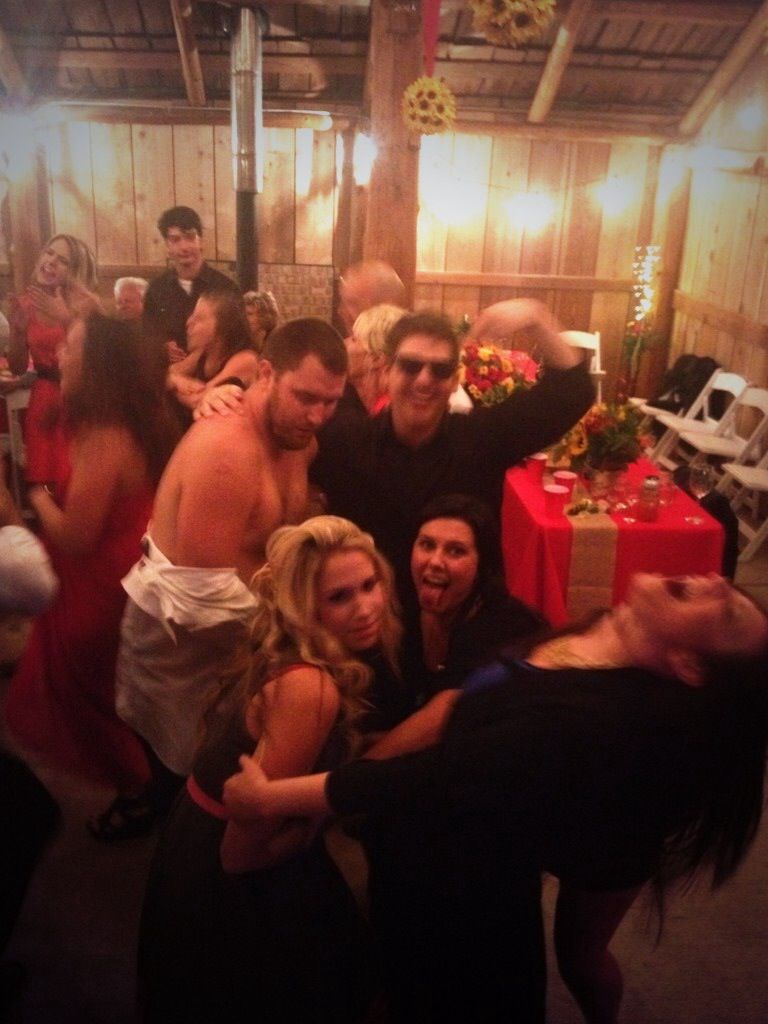 Yesterday I went to a fun bar-B-Que, I got to see some old buds…including my homie John Moffitt. John and I were stacking our plates with food when he noticed that I grabbed a slab of steak and put a little salmon on top (hey…I ran out of room on my plate). His response to this: "I see you are doing the 'Surf & Turf" huh?"




Also over the weekend, the Penny Arcade Expo went down, and many of the members of our show were there...check out this cool video that Vicky B. put together about their time!

---
Welcome back to Group Therapy, gang! I'm glad you're here, because we have a Rock-A-Holic in need of some serious advice.

Holly's a little bit worried about one of her boyfriend's exes…because the ex in question just happens to be a man. She says she feels guilty that she's a little bit weirded out by this recent discovery, but the whole thing makes her think that she's in competition with EVERYONE. Holly is especially concerned that her boyfriend will cheat on her with another man.

Our societal views on gay (and bisexual) life choices have certainly loosened up over the last couple of generations, but there are still some stigmas left to shake off for some people. Personally, I think that Holly's comfort level with her boyfriend's past shouldn't be affected by his flexible sexuality, because that doesn't have any direct correlation to his trustworthiness as a partner.

Does anyone have some feedback for Holly? Is she overreacting? I'd love to hear from all kinds of people, but I'm especially keen to hear from those of you who have experience with this kind of situation…
---
Who can you turn to for help in a financial crisis?

Fortunately credit counseling agencies are available - but not all credit counseling agencies are created equal.

Promises to eliminate debt should raise a red flag.

A good place to start is the National Foundation for Credit Counselors or NFCC. NFCC Members represent non-profit accredited agencies.

Visit NFCC.org to find an agency near you.

---


The Soundgarden/Nine Inch Nails co-headlining tour finally happened! Remember 20 years ago back in 1994 when Soundgarden backed out of the planned Nine Inch Nails tour supposedly because the announced Chris Cornell had some vocal issues? "Superunknown" had just debuted at #1 on Billboards Top 200 and Soundgarden were on top of the music world and Nine Inch Nails were at the top of their game too so it was disappointing to many it never happened. So to actually be blogging about a Soundgarden/NIN tour in 2014 is a miracle! This being the last show of the tour at the White River Amphitheatre you would've thought there would've been more people there (approx. 12k) with both these bands playing, but with the recent traffic and parking woes at the White River, Bumbershoot and Dave Matthews at the Gorge also going on those may have contributed to what I thought would've been a for sure sell-out. I have a feeling people stayed away at the last minute too especially with the announcement Soundgarden are playing a free show outside Centurylink Field for the Seahawks game this Thursday. NIN was just here 9 months ago too and sold out the Key Arena. Either way still a great turn-out even though the weather went monsoon for awhile on the people up in the grass area of the venue.

Opening the show was Cold Cave, a dark synthpop act headed by Wesley Eisold and touring partner Amy Lee. Their short set feature two keyboards worth of cool synth sounds and Wesley's melodic yet intense vocals. I like that 80s synth stuff so I'm definitely gonna check Cold Cave out. Hopefully this stuff we heard live is gonna be off their new album due out soon.

In a Big Unit surprise, as I was walking out of the photo pit after Cold Cave, to my surprise my fellow photographer buddy (all 6'10 of him) Randy Johnson jumped out at me from backstage to say hi as all of us photographers were leaving. Randy has been shooting the last couple of Soundgarden shows on this tour and got back into photography after his baseball career ended. Always been great to talk photography & music with him these past years on the phone. He surprised me for sure! Check out his concert and other world traveling photography at rj51photos.com
On this co-headlinging tour, Soundgarden hit the stage first. What a spectacular light and visual show both bands gave us. For us concert photographers shooting it was heaven to the eyes when Soundgarden came out with their monster visual effects and lights. Their "A" game was on tonight!

Great to see Matt Cameron playing with them tonight too since he hasn't been with the band at all in 2014 because of his Pearl Jam commitments. Matt Chamberlain has been tour drumming for Soundgarden this year.

The band just looked primed and ready. Chris Cornell was on fire from the beginning, running around and rocking out while Kim Thayil and Ben Shepherd roamed around in their subdued yet raging ways. Shepherd showed some real emotion at the end of the set pushing over his amps on his way off stage, a sign of happiness maybe that the tour is now done? Ha! Little surprised they didn't have any special guests come out on stage this being Seattle and the last show of the tour. Soundgarden's set: Searching with My Good Eye Closed, Spoonman, The Day I Tried to Live, My Wave, Outshined, Jesus Christ Pose, Hunted Down, Fell on Black Days, Mailman, A Thousand Days Before, Burden in My Hand, Rusty Cage, Beyond the Wheel.
This time around Nine Inch Nails were scaled down to 4 members including Trent Reznor. I actually liked it better, more raw. Trent was raging tonight onstage. Rumor has it this might be the last NIN show for a long while so I think he was leaving it all out onstage tonight as if it was forever.
With the technology of today and Nine Inch Nails electronic-influenced music, is there any other band giving us this awesome live experience combo of visual/music during a concert? Think not (Steven Wilson/Porcupine Tree is my other favorite live experience), Trent's vision is just plain awesome and visual director Rob Sheridan makes it all come alive. If you have photosensitive epilepsy, this would be the last band on the planet you'd wanna go see live. It's intense! Hope this isn't another NIN hiatis, just too damn good of a band live to go away. (See pics from last NIN Seattle show)
Nine Inch Nails set: Copy of A, Sanctified, Came Back Haunted, 1,000,000, March of the Pigs, Piggy, Terrible Lie, Closer, Gave Up, Disappointed, Find My Way, The Great Destroyer, Eraser, Wish, The Hand That Feeds, Head Like a Hole, (Encore) Hurt
Check out the full show video below from last years VEVO Presents: Nine Inch Nails Tension 2013. Filmed 2 weeks after the Seattle show last November.
Thanks to Lynden for the White River audience video show overview posted on YouTube.
---
Today's blog comes from one of my mentors, Dan Sanders:

We've watched and left behind the MTV Boobs, I mean Video Music Awards, which some of the females almost got dressed for. Don't get me wrong. It worked for me, and I'm sure it gave many males across the country a reason to watch yet another awards show for zillion-"dolly"-ers. Though I admit I gave up on the boob tube broadcast early on, I did see Justin Timberlake, who thankfully was clothed, win Music Video of the Year for "Mirrors," a case where a really good video saved a mediocre song. (Traveling in time, the first winner of that award was The Cars in 1984 for "You Might Think.") Oh, and let us not forget Miley Cyrus, who presented a new twist on jail bait. She chose Jesse Helt, a homeless Salem, Oregon, native to accept her award to draw attention to the homeless youth problem in this country. Almost instantly, it was discovered he was being sought for violation of probation, stemming from previous charges including criminal trespassing and criminal mischief, and he turned himself in to police the next day. Good idea, Miley, but next time, get 'em after they've been in jail.

The 66th Annual Emmy Awards, with Seth Meyers as host, was way more worthwhile in at least some respects. Sofia Vergara, spinning around like desserts on a Lazy Susan (take your pick from the goodies), no doubt kept many male viewers watching, but most noteworthy was the film The Normal Heart, originally a Tony Award­-winning play written by gay activist Larry Kramer, which deals with the rise of the HIV/AIDS crisis in 1981 New York City. The film received 16 nominations (almost every actor was nominated), and it won two Emmys, the top honor for Best TV Movie and a Creative Arts Emmy for Outstanding Makeup (Non-Prosthetic)in a Miniseries or Movie.

A sad note in the world of entertainment was the passing of Lord Richard Attenborough, President of the Royal Academy of Dramatic Art, on August 24. With such great film credits as Miracle on 34th Street, The Flight of the Phoenix, Gandhi, and Chaplin as Actor, Director, Producer, and Father, it bothers me that he might be most remembered for Jurassic Park.

In other news, Allstate Corp. has confirmed my belief that Boston has the worst drivers in the country. According to Allstate's recent survey, a Boston driver will get into an accident every 4.4 years. The full report included 200 cities, and Boston ranked 199, ahead of only Worcester, Massachusetts, an industrial city of 181,000 people 40 miles west of Boston. The large U.S. city that boasts the best drivers is Phoenix, where a driver, on average, will get into a collision every 9.5 years. Could it be that all the retirees there don't drive fast enough to hit each other, or are they just better drivers?

The ALS Ice Bucket Challenge, an event that seems ridiculous on the surface, at least to me, has raised $88 million, which proves that stupid behavior can pay off if the reasons are good enough.

There's more on boobs, drivers, spinners, and actors, as well as whatevers, on the shores of Rambling Harbor. I hope you'll grab your favorite driftwood seat and give a listen.

http://dbsanders.podbean.com/e/spinning-boobs-for-dollars/
Tags :

Topics :

Entertainment_Culture, Human Interest

Social :

Entertainment_Culture, Human Interest

Locations :

Boston, Massachusetts, New York City, Oregon, Phoenix, Salem, Worcester

People :

Dan Sanders, Gandhi, Jesse Helt, Justin Timberlake, Larry Kramer, Miley Cyrus, Richard Attenborough, Seth Meyers, Sofia Vergara




---
I got nothing today. One of those mornings, my brain is fried.

I do have this video to share…it's a good one!

It's a video of a little kid finding out his mom is pregnant again…he starts chewing her out for being so IRRESPONSIBLE, because she already had two kids.
---

Happy Friday to you, good people! Before you start your long holiday weekend, we'd love to get your thoughts on today's Group Therapy session!

Today's topic comes from Danny, who is struggling with his 17-year-old daughter's decision to get back together with a guy who cheated on her. Danny's first instinct is to interfere, and tell the girl that she's making a huge mistake…but Danny's wife says that their daughter needs to learn this lesson for herself.

It's hard being a parent sometimes. I have a daughter, and it's difficult to watch her experience the pain and disappointment that is part and parcel with becoming an independent woman in the adult world. As much as my heart might scream and yell for me to step in and save her from all of life's evils, my brain has learned to put the brakes on. Well, most of the time anyway.

Being a man makes it even more difficult! I've been a man (some people may say that I still am), and I know how men THINK. I know what we do, what we say, and what our stupid little reptile brains drive us to do. That doesn't really help to generate much support for the poor guys who want my daughter's attention.

What do you think, Rock-A-Holics? Should Danny just relax and let his daughter ride the roller coaster of adulthood without her father holding her hand?

---
Mono-Nick has whipped up another one of his "Stoner Songs'. To get us pumped for the Seahawks, Nick did a parody of that DJ Snake / Lil' Jon song, "Turn Down For What". Go Hawks!



How cool is this…yesterday at the Mariners game… Eddie Vedder was at the game with Jack White and Paul Simon. Check out this picture that the Mariners posted. I'm guessing Eddie and Jack swapped jerseys (that I hear they got from that cool store, Ebbets Field Flannels Vintage)…as Jack is from Detroit.



Then we got a simple text that instantly made us all feel old.

"Who's Paul Simon?"

Were you stuck in traffic yesterday? I was…and man it sucked! I left work at 12 noon, and I got home a little before 3 pm! The main souce of the traffic issues was this…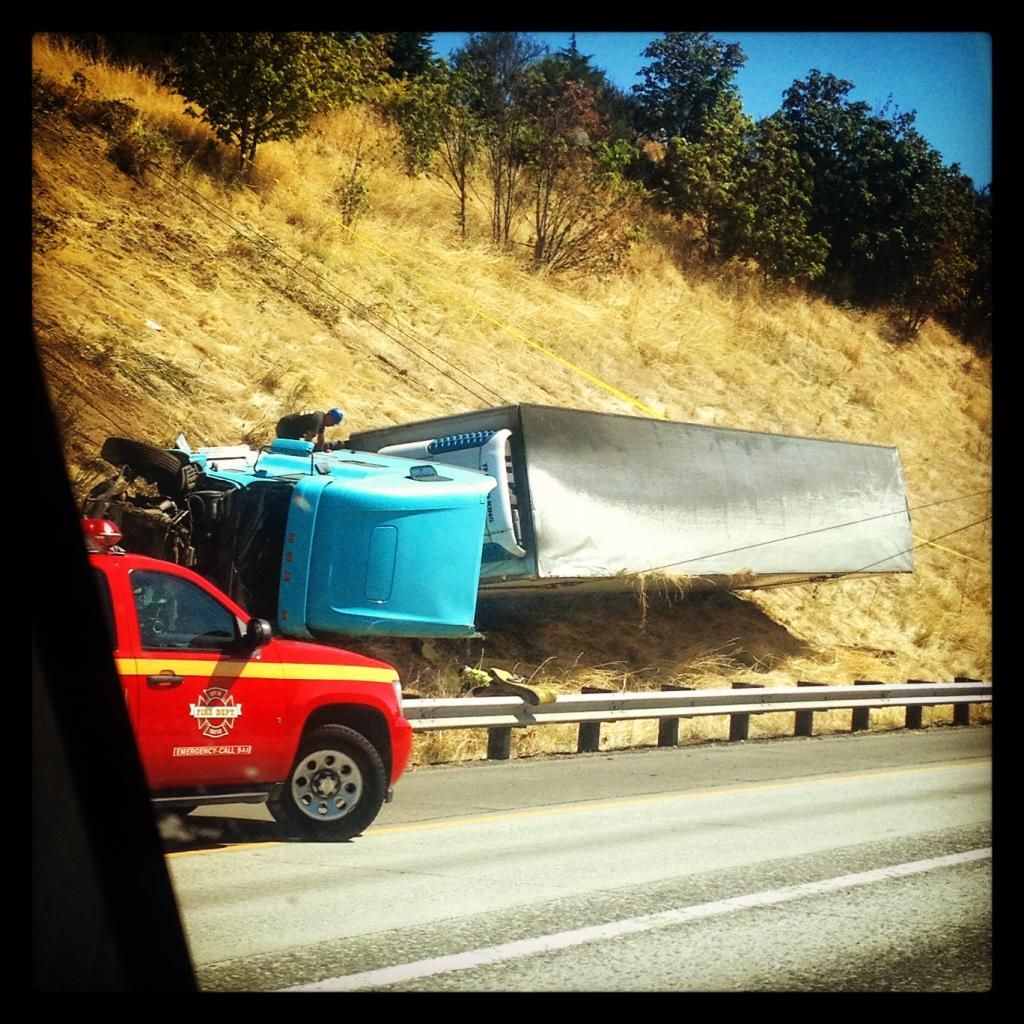 Thankfully those that were involved suffered minor injuries…and apparently it all started when some idiot driver cut off the semi and then it led to the semi hitting cars…slamming into the guard rail and then ended up on its side.

Ladies & gentleman…here is the greatest use of a Go-Pro camera. A band from Norway called NeoMania put out a music video earlier this month that's getting a bunch of hits. But it has NOTHING to do with the actual music. It's because the entire thing is a girl working out, with a GoPro strapped to her head …and it's pointed straight at her CHEST the whole time.

---
Welcome back to Group Therapy, people! Everybody's looking good—actually, just wait a second. You there, in the back - is that what you're planning to wear for this session? It is? Oh, no, it's cool. I was, um…I was just wondering. Enjoy the rest of the blog, but just, uh…just make sure you stay back there. We don't want you to lose your spot.

Today's topic comes from Beth, who has been dating a guy for about 6 months. He's always dressed incredibly well, but she thinks he may be too comfortable now. Whenever they go out, he wears jeans, t-shirts…and Crocs.

She likes the guy a lot, but she hates the shoes so much that she's forcing herself to get past them. This is hardly an earth-shattering Group Therapy matter, but here we are: Beth wants to know if her boyfriend is lame for wearing Crocs.

Here's my simple answer: There will always be something that your mate does that bothers or embarrasses you. If you love them, then you figure out a way to navigate around it. I have no affection for Crocs, but I can't help thinking that you've still got it pretty easy overall.

Perhaps the good people who read this blog will have something else to offer you, Beth. I'd love to hear some stories of spousal embarrassment…and BONUS HONESTY POINTS will be awarded to anyone who is willing to admit (with examples!) that they are the embarrassing one!
---
Machelle Montgomery
Aug 29