Posts from July 2013
"Hola,

A man in Illinois has the unfortunate distinction of being the first... and, thus far, only person diagnosed with eproctophilia. What is 'epoctrophilia'? Epoctrophilia is when a person is turned on by the sound AND smell of flatulence. Seriously. As researchers put it, 'he's not sexually attracted to the flatulence, but the person releasing it'... which would make ME the sexiest man alive. That's weird... but so is synesthesia, a condition where stimulation of one sense triggers others. There's a man in Canada who is only the second person to be diagnosed with synesthesia, and in his case, the James Bond theme makes him horny, baby. Actually, he described it as "orgasmic". It doesn't lead to the 'big O', but instead, the big "double O... seven". (YYEEAAAA!!!) We've all got weird things that turn us on... some weirder than others, and today, that's what we wanted to talk about: MOST PEOPLE MIGHT NOT GET IT, BUT ___________ TURNS ME ON!

Big band and jazz music from the 30's, 40's and 50's. ah yes, the voice of Louis Armstrong gets me every time too.

"Big, burly, hairy men"... in other words, Thee Ted Smith

Snow. I don't get it. What does he think of Frosty?

She's a tattoo artist and gets turned on when chicks squeal or squeak or moan when they're getting inked

She likes 'pasty, freckled' men, preferably with beards

He's attracted to pregnant women. Well, if nothing else, at least you know you won't get them pregnant

The smell of cigarettes and a certain perfume called "realities", which he experienced at a strip club when he got his first lap dance. Basically, he likes women named Tammy

Car grease. Her boyfriend is a mechanic

Leather sofas

When his woman yells at him

Cocaine... in a man's beard (???)

"Thick" women. Dated a chick who lost weight and he dumped

People with messed up teeth. Likes 'dental' pain. Turns him on to the point that on a "good" day, he'll floss up to 16 times a day. It's his version of masturbation

Yea... based on what we heard today, I'm pretty boring and unimaginative. I'm ok with that. I think I'm just always horny, so there's nothing in particular.

OK bitches, I'm outta here.

Until tomorrow, smell my finger before you pull it and STAY BEAUTIFUL!"
---
SIS 13 Dumbest Band Names according to Rollingstone.com

So couldn't get to all of them and you can figure out why as you read below.

Dig the direct piece from RS.
http://www.rollingstone.com/music/news/the-thirteen-dumbest-band-names-in-rock-history-20130701

Enjoy the playlist???
http://kisw.tunegenie.com/u/__znjWJ0YSSKBC2kr2EE2Yg/sis-rs-13-dumbest-band-names/

THE DEVIL WEARS PRADA "LOUDER THAN THUNDER"

NATALIE PORTMAN'S SHAVED HEAD "IGNIGION REMIX"

TOAD THE WET SPROKET "WALK ON THE OCEAN"

DOGS DIE IN HOT CARS "I LOVE YOU 'CAUSE I HAVE TO"

CHERRY POPPIN' DADDIES "ZOOT SOOT RIOT"

PANIC! AT THE DISCO "LYING IS THE MOST FUN A GIRL"

HOOBASTANK "THE REASON"

DAVE MATTHEWS BAND "CRASH INTO ME"

DALE EARNHEART JR. JR. "IF YOU DIDN'T SEE ME"

ANDERSON BRUFORD WAKEMAN HOWE "THEMES"

THE BEATLES "LUCY IN THE SKY W DIAMONDS"



The Thirteen Dumbest Band Names in Rock History


Hoobastank, Dogs Die in Hot Cars, Panic! At the Disco
By ANDY GREENE
July 1, 2013 2:35 PM ET
It's not easy to pick a band name. After 60 years of rock & roll, everything has been taken. There's the Eagles and the Eagles of Death Metal, the Who and the Guess Who. There's Asia, Europe, Chicago, Boston and Kansas. If you want to pick a color and an animal, there's already White Lion and Whitesnake. If you like the word "wolf," get in line behind Wolfmother, Wolf Parade, We Are Wolves and Howlin' Wolf.

The 10 Most Annoying Rock Star Behaviors

All this said, there's simply no excuse for picking a truly horrid band name, and rock is littered with them. Here are 13 bands with horrible names. Please note we aren't saying these bands suck, just their names. That'll become abundantly clear when you see the last group on the list.

The Devil Wears Prada
This Ohio-based Christian metal band picked their name one year before the 2006 adaptation of the Lauren Weisberger novel hit the big screen, but it's still a stunningly stupid name for a group. It was already one of the most popular chick-lit books in years.That's like calling your band Jurassic Park in 1992 or Gone With the Band in 1938. The group swears they picked it only to signify that materialism and consumerism is the path to hell, but it just makes people think of Meryl Streep and Anne Hathaway. It's frankly quite shocking no label or manager made them rethink the decision. It's also a wonder they weren't sued, but maybe it means every time they play, a group of women in their mid-30s line up thinking the movie is playing.

Natalie Portman's Shaved Head
The 2005 movie V for Vendetta wasn't quite the massive box office success the filmmakers were aiming for, but it did introduce the the world to the Guy Fawkes mask commonly used by the activist group Anonymous. It also gave a bunch of high school kids from Seattle a really, really bad idea for a band name. Natalie Portman has no hair in V for Vendetta, so they named their band Natalie Portman's Shaved Head. Against all odds, the band became pretty popular even though they were hobbled by this horrid name. In 2010, they came to their senses and changed their name to Brite Futures.

"We chose our band name on a whim when we were still in high school," they said in a statement. "And 'Natalie Portman's Shaved Head' has seen us through an unexpectedly amazing four years . . . But now it is summer once again, and time for a change. Also, it has recently come to our attention that our muse Ms. Portman is not so keen on us using her name in ours . . . so we feel it is time to move forward with a new name. We are Brite Futures."

The band broke up two years later. Turns out their futures weren't so brite.

Toad the Wet Sprocket
The guys on Wayne's World once made a list of singers and bands that sound like the male sex organ. High on their list, right near CeCe Peniston (I believe it even won), was Toad the Wet Sprocket. To be fair, the group took their name from a fictional band briefly mentioned in a Monty Python skit. But John Cleese finding some nonsensical/vaguely sexual name funny doesn't mean you have to spend nearly 30 years touring and recording as Toad the Wet Sprocket. That's not say they're a bad band. They just made a bad decision back in 1986 and are stuck with it forever. They could always change their name to Brite Futures. That name is free now.

Dogs Die in Hot Cars
Before we make fun of their name, let us say that this Scottish band has a very well-meaning lesson in their name: dogs do die in hot cars. Please, never leave your dog alone in a car for anything length of time over a couple of minutes. Cars get very hot in parking lots, even if you roll down the window. That comfortable, once air-conditioned vehicle becomes an oven. Please, please, please, don't leave your dog alone in a car.

Equally important, don't name your band Dogs Die in Hot Cars. It's a bummer. It reminds everyone their beloved dog will die one day, maybe even at their own hands. Babies die in hot cars, too. Even responsible parents sometime forget their kids are strapped to the car seat. It's just about the most horrible thing in the world, but it happens. We don't want to think about that while listening to music, either. This band should change their name to something more upflifting, like Dogs Love Long Walks or Dogs Enjoy Snausages.

Cherry Poppin' Daddies
Where to even begin with this one? Much like the simple fact that some dogs die in hot cars, some daddies do horrible things to their daughters. It's just about the most heinous act on the planet short of murder. It may be the last thing anyone wants to visualize when listening to music. Sure, the band took their name from an old blues record. Also, they don't specifically say whose cherries these daddies are popping, but it's (inadvertently) implied. That's enough said about this one.

A**l C**t
We aren't a bunch of prudes, but this one is a bit much. What exactly does this gross name even mean? Do they mean that someone they have labelled a "c**t" is acting in an a**l fashion? Are they describing some previously unimaginable hybrid female orifice? We don't know. Unsurprisingly, the Massachusetts grindcore band meant the name only as a joke on their first recording, but it somehow stuck. They've broken up a bunch of times since their formation in 1988, but somehow or another A**l C**t keeps coming back for more.

Panic! At the Disco
This Las Vegas emo band is on this list solely because of that oddly placed exclamation mark. It introduced the idea of creative punctuation into the music world. They hit right around the same time as Portugal. The Man, and they certainly paved the way for Fun. They dropped the exclamation mark in 2008 when they released the Beatles-inspired Pretty. Odd. The fans went absolutely bonkers, and the exclamation came back in 2009. Sadly, their large fan base didn't come back, though a faithful cult still remains.

Hoobastank
We generally don't have a problem with nonsense band names. Something about Depeche Mode, Duran Duran and even Kajagoogoo works. But Hoobastank is just too much. It sounds vulgar and gross, and the fact they usually stylize it as h∞bastank doesn't help matters. The band hasn't had a real hit since "The Reason" in 2003, but you can catch them this summer at McGuffy's in Dayton, Ohio or Mojoes in Joliet, Illinois.

Confrontation Camp
Here's a pro tip for everybody: when you're known for saying viciously anti-Semitic things, naming your band Confrontation Camp probably isn't a good idea. But that's exactly what Public Enemy's Professor Griff named his 2000 side project with Chuck D. For those who don't remember, Griff infamously told the Washington Times in 1989 that "Jews are responsible for the majority of the wickedness in the world." He said he learned about it in The Protocols of the Elders of Zion, a hoax book (loved by the Nazis) that didn't exactly paint African-Americans in the best light, either. The uproar from his comments caused a huge scandal and (temporarily) got him kicked out of Public Enemy. The whole thing had largely blown over by 2000, and few people raised a fuss when he named his band something that sounds awfully similar to "concentration camp." Still, it probably wasn't the best idea.

Dave Matthews Band
There are probably people with less exciting names in the world than Dave Matthews, but we've yet to hear about them. When Matthews formed a band in 1991, he could have called it anything. He didn't have to name it Dave Matthews Band to let everyone know he was in charge. Trent Reznor (a much cooler name than Dave Matthews) went with Nine Inch Nails, yet everyone knew he was the mastermind behind that group. But Dave Matthews went with the Dave Matthews Band, and forever we're stuck with it. I guess he's smart, though. There's no way anyone can fire him, though we imagine John Geils felt that way once too – until the J. Geils Band fired him last year. Poor guy.

Dale Earnhardt Jr. Jr.
To clear up any confusion, Dale Earnhardt Sr. is a legendary NASCAR driver who died in a 2001 race. His son, Dale Earnhardt Jr., is an extremely successful NASCAR racer who's alive and well. Then there's Dale Earnhardt Jr. Jr. They're a Detroit indie pop group with a stupid name. "Living in Detroit, listening to sports-talk radio, you don't hear much about NASCAR, even though it's one of the most popular sports in the country," the group's Josh Epstein told ESPN. "It was interesting to put into indie rock the fear of this pop culture icon . . . I sent [Dale Earnhardt Jr.] an email explaining that we didn't intend to mock him . . . He was responded and was so nice and down-to-earth."

Anderson Bruford Wakeman Howe
Many of the Seventies punk bands made fun of Emerson, Lake and Palmer for sounding like a law firm, but their name practically rolls off the tongue next to to Anderson Bruford Wakeman Howe. To be fair, Yes members Jon Anderson, Bill Bruford, Rick Wakeman and Steve Howe were in a tough spot in 1988. They wanted to record a new album that got back to the prog roots of Yes, but the "Owner of a Lonely Heart" incarnation of the band owned the name. They couldn't exactly tour as No, so they combined all their last names. Prog fans knew they were getting four-fifths of the classic Yes lineup, and they actually sold a lot of concert tickets. About a year later, both versions of Yes teamed up for the dreadful Union album and everything was resolved. Now, only Howe is in the touring version of Yes. If he ever leaves, we could get the long-awaited reunion of Anderson Bruford Wakeman Howe.

The Beatles
Before you start writing furious comments, stand back and think about this stupid band name. The Beatles is a dumb pun. That's all. They took the idea of naming themselves after an insect like the Crickets, but changed the spelling for a pun on musical beats. It's a simple as that. There's no deep hidden meaning. There's no wisdom here. Just a pun that might have provoked a very mild chuckle back in 1962. We accept it because we've heard it 50,000 times and they're the best group in history, but that doesn't mean they don't have a stupid name.

Tags :

Topics :

Entertainment_Culture

Social :

Entertainment_Culture

Locations :

Boston, Chicago, Detroit, Illinois, Joliet, Kansas, Las Vegas, Massachusetts, Ohio, Seattle

People :

Anne Hathaway, Bill Bruford, CeCe Peniston, CHERRY POPPIN, Chuck D, Dale Earnhardt Jr, Dale Earnhardt Jr., Dale Earnhardt Sr., DALE EARNHEART JR., Dave Matthews, Griff, John Cleese, John Geils, Jon Anderson, Josh Epstein, Meryl Streep, NATALIE PORTMAN, Rick Wakeman, Steve Howe, Trent Reznor, Wolf Parade




---
During Group Therapy yesterday, we read an email from a Rock-A-Holic named Larry who was upset over something his girlfriend wanted to wear.

Larry and his girlfriend have been together for almost three years; she is 25 years-old and he is 30. The problem is, she will be going to a company party at a lake and she wants to wear a bikini.

He explains that she works with 50 male coworkers and there are only three other women and none of them are attractive enough to wear a bikini. His girlfriend would be the only one getting attention and he doesn't want all these guys looking at what he "spent good money on" which would be her breast implants!

She thinks he's being too controlling but Larry says he trusts her but not these guys who will probably be drinking and doesn't see why she can't just wear shorts and a tee shirt.


First off, I think Larry was acting dumb when he paid for her boob job. Secondly, I am always suspicious of any woman who wants to get a breast implants. If I was dating a woman who even said that she wanted new boobs I would immediately be out.

Yes women dye their hair and wear make up to look good but to me, breasts are a sexual thing!
Before we had this technology, women had to like themselves for how they were but now they go under the knife to change anything about their looks to the point where it becomes a sickness.

---
How does John Stamos stay in great shape? C'mon – I know you guys have been thinking about this! Apparently it's because he does Pilates…even though he takes a lot of crap at those classes. He says, "I go in and it's all women except for me. I'm the only guy there, and I know they make up these exercises like 'come over here, John, and do the penguin….and then it looks like I'm getting a pap smear. They do it to make me look silly, but it keeps me in shape." I doubt this is Uncle Jesse, but this would be me trying to do Pilates…



Based on this, finish this sentence: "People give me a hard time because I do _____". Here are some of the texts….

People give me a hard time after I shave and have my hair down, apparently I look like a girl. John in bellevue.

I get a hard time from people for reading comics. If people would take the time to read one they would see they are not for kids anymore.

I'm 6 foot, 280, tatted out, bald headed and an ex con.. .... I get teased because I go roller skating

People give me crap because As a professional gardener I belong to a lot of gardening clubs. One of them is a fruit club. Thanks Joe in port orchard

Shower with a loufa- Steve in Aberdeen

Sit when I pee and im a guy, f em!

I get a hard time for getting a pedicure. Nothing wrong with a young woman cleaning and scrubing ur feet while sitting in a massage chair
Today's Video blog is an Intern Challenge! Our intern Cole has 60 seconds to find a stranger to do 5 push ups with him...will he do it?




Here is the same VLOG for you iPHONE users:


---
So it does not take a super smart person to realize that I am a big sports fan, but sometimes I ask myself is it too much. You look at all the different types of leagues and TV shows I start to wonder is it too much. I like a few sports that I watch almost religiously which are college football and soccer. Now clearly the number sport in the USA is the NFL and I get why all the coverage is on every network about the NFL so lets just take that out of it. I think my point is more to now you have MMA making a big impact and you also have all the extreme sports as well. I like a lot of the sports I just don't know when I have time to watch them. Hell I am lost these days even with baseball which I grew up playing and loving. I also should mention woman's teams and things, my buddy coaches as an assistant to the Reign which is the professional woman's team in Seattle. I went to a match and had fun but with all these other sports I wonder does the league really have a chance. I don't even watch NASCAR but you can't talk about popular sports and not talk about NASCAR, or this weekend you have the drag races. The other good news is that Fox is making another sports network to compete with ESPN who just sucks lately. I like watching live sports so all the extra sports are fun but at some point all this different leagues can't all be making money and some will end up folding and be gone.
---
Yesterday on the show, we read an email from a Rock-A-Holic named Janet who is sick to her stomach because of who her son is dating.

Janet's son is 19-years-old and she knows she can't stop him from dating but he is dating his former high school teacher.

He graduated from high school a year ago and swears that nothing happened while he was in school. It all started when they saw each other at the movie theatre and after they talked for a while, they hit it off.

She doesn't have a problem with the age difference (she is 25-years-old) but with the fact that it is morally wrong to date a former student.

I don't see how this is morally wrong; they are both consenting adults and he is no longer a student.

I appreciate that Janet wrote in to get some advice but if I was her husband in this situation, I would tell her that she overreacting. Women have no problem telling men they are being irrational and I don't think we have enough men pulling their women aside and telling them the same thing when they are acting in kind. I think it should go both ways and be fair.

If they had a fling while he was still a student, then it would be a problem because it is illegal because, due to her position of power.

Steve the Producer brought up the point that maybe she is worried about what her friends and peers will say when they find out. Personally, I hate talking to my peers about kids. Some people seem to value their self worth by how well their kids are doing! All I care about is if my kids are happy and healthy; people should judge me for me! Not by the actions of my kids.

Janet needs to step back and let her son make his decisions and if it works out with this woman then great, if not, he can chalk it up it's just another life experience.


---
Huge thanks to Johnathan Hillstrand and Scott Hillstrand for coming in this morning. The season finale for The Deadliest catch is tonight…3 hour special starting at 8 pm. Johnathan also put out 2 childrens books…how crazy is that! Get the books at www.timebandit.tv or at Amazon.






Yesterday we took Lulu on a walk…it's always fun taking her on a walk as one of my favorite things happens…Lulu freaks out whenever a car drives by…



Hell, she freaks out whenever anything with wheels goes by: Bikes, Motorcycles, Rollerblades, Unicycles, etc.

After the walk is done, you would think she would be tired…but no! It's then time for her to do laps around the house!



There is a picture spreading virally that started on the website Reddit of what a guy did after he realized that the woman he slept had a boyfriend. The Reddit user taped a note to the underside of the woman's toilet seat. It read, quote, "This chick just told me she has a boyfriend the morning after. Sorry to tell you like this, but I'd want to know if I was you. Sorry bro." The guy explained that he used a receipt and part of his, quote, "duct tape wallet" to fasten the note to the toilet.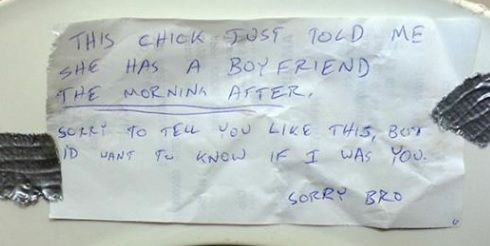 A guy leaves a note for a cheater's boyfriend…based on this, How did you get revenge on a cheater? Or how did someone get revenge on you for cheating?
I got revenge on my ex wife by sleeping with her best friendand two of her friends, unfortunately not at same time lol. All were in or wedding.
For revenge, I slept with his professor. He, on the other hand, set another guy's car on fire. Can't say I miss that relationship.
My ex girlfriend slept with my best friend so I slept with her mom and sister Jeremy from Seattle
Loaded her very new and ecpensive computer with every virus and pop up program I could find. Since she left me for a guy she met online Cajun
I banged my ex-girlfriend's hot stripper mom, and karma got revenge on me good... In the form of genital herpes. Damn it!
My girl cheated on me several times..... I banged both of her sisters.... Together.... In her bed...

Speaking of pictures spreading on the internet…have you seen this?




Yes…that is Eddie Vedder with the boy band One Direction. Eddie Vedder brought his family to meet "1 D" (yes, that is their nickname…how funny is that!), and apparently one of the members of the band is also a huge fan of Eddie, as he tweeted, "Eddie Vedder came in today with his family! #legend #PearlJam." Props to Eddie for doing a solid for his kids!

Today's Video Blog features two great friends to the show...one of them we almost lost to a terrible car accident.



Here is the same VLOG for you iPHONE users:


---
Today's blog comes from one of my mentors, Dan Sanders:
Gas prices, royal baby, baseball suspensions, computer hoaxes, social media, phony friends, fake music, cyber war, cyber whore, computer games, games of war, husband and wife war, talking head commentators.
What to write about, what to talk about, too much to think about, welcome to the world of Dan, to the world of too much.
Well, for starters, there's a new documentary coming out called "Blackfish," which shows baby Orcas being taken away from their crying - literally wailing - moms in the open ocean for capture at SeaWorld. It's causing a firestorm between SeaWorld and the documentary makers, more on that some other time, and little more in the podcast itself. But don't wait for me, look it up and act now.
Kanye West beat up another photographer, give me a break Kanye, you want publicity, and you have to have publicity. It's a significant part of what feeds you. If the DJ's ain't saying it, the band ain't playing it, and downloads ain't burning' it, then as the old master Bob Dylan said, "You ain't gonna nowhere" and you knew the deal going in, from whatever age you could think. That age has come right Kanye? You are one in many, many, and many to the second power of people that need of some alone time, especially of course celebrities. I agree. And one in a hand full that finds it necessary to beat someone up because you can't get your privacy in the middle of an airport. I think that if you believe strongly enough in any cause, truly believe in that cause, and that it is indisputably, irrevocably best for all human beings, and then with any type of acting skills and delivery you can create a theater of the mind just like the actor, the politician, the writer, the commentator. Yes, the commentator, the professional pontificator of Devin knowledge and devilish dealt doses of delirium that races through populations like a cold New York Egg cream at a soda fountain on a hot August day.
So I got tired of waiting for the Royal little bundle of constant poop machine to arrive. While every media outlet on earth and every professional broadcaster suffering from verbal masturbation (getting off on the sound of your voice) made me think this was the greatest event since the second coming. And as far as I know that event has not taken place. Come on I wish the kid a happy silver spoon, yea he has that. I do wish a happy healthy life to all involved, but did he change my life? Will he change my life? Not in this life, unless the kid does a reverse, Benjamin Button and is King in a Day? I know?! Give him time.
That list or line above? Yes that one the top, Way up, third word ' Subjects" that started as just the things I thought I might want to talk about here on this parchment paper with quill pen and then the amazing world of cyber space, throw in a few comments or trow out a few. As for what's in the podcast? Well, as Bob Seger said, "Deadlines and commitments, What to leave in what to leave out."
So splash ashore with me and will see were these tales will land us…
Oh! And back to the Cause thing and making people believe you if you believe strongly enough in yourself.
As far as the talking heads of forever enlightenment go. I think you shake up all the ideas and possibilities. Throw them on the table jump up and down on them with all the heat and emotion you and your brain can muster. And then, and then, make up your own mind, as best you can, for now, and go watch the sun set, and rise… again and again. And then, when you know what you truly believe, most of all, truly believe, just like the pontificators, go out and in some way, nonviolently, in spoken word, or song, or on paper or video whatever works for you. Express your beliefs, NOW! And maybe things will change. And you know what? The future king's birth at least dealt with life created not life destroyed. And at least they didn't name the kid Monty, Monty Mountbatten-Windsor, still better than North West.
http://dbsanders.podbean.com/2013/07/27/the-overload-list-royal-baby-kanye-west-kiss-ass-2/
---
This weekend I was at the Car Toys in Tukwila for their tent sale…it was a blast meeting everyone that came out to say hi….and one of the people that came out was a woman I have talked to a bunch of times on the phone, but never met….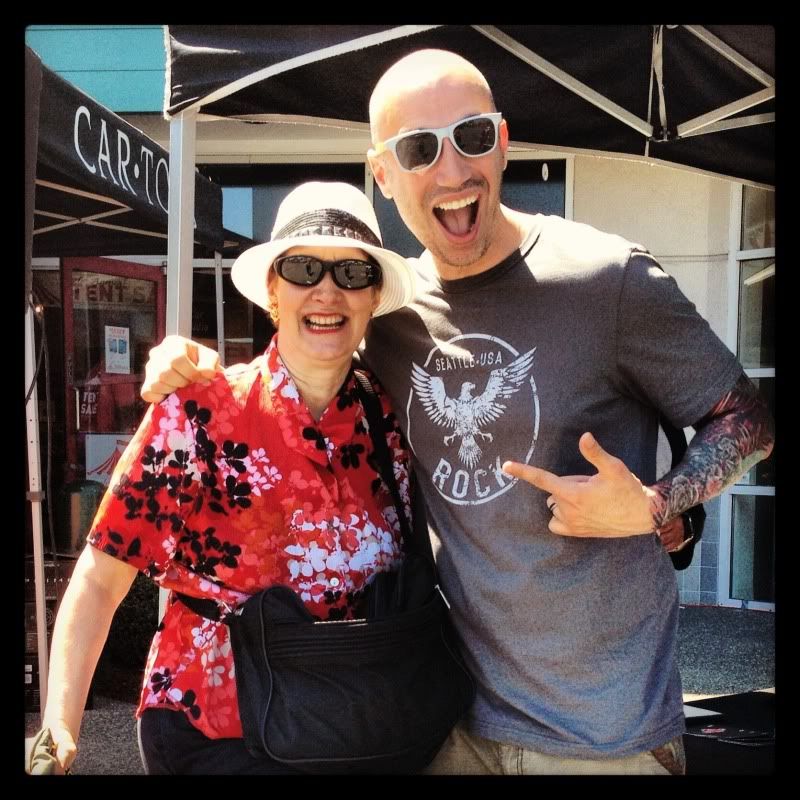 Who is that? Crazy Cheri! Yes, the one and only…the best part of it was that there were a couple people that were stoked to find out they were right next to the one and only Crazy Cheri!
As we were there, the fellas from Rockford Fosgate were hanging with us showing off their sweet car stereo options…so I had to check it out…



So in the word of radio there are a few guys that everyone looks up to in the industry, and one of the guys at the very top…many would agree, he is the one at the top…is Kidd Kraddick. Kidd changed the radio mentality for many, he helped pave the way for shows like ours that are character driven, and talk based. Inside the industry, he paved the way for radio people to network and share ideas…we all owe a lot to his vision. I have never met him, but have been fortunate enough to be at radio conferances where he talked and shared his thoughts. I have always respected what he did for the industry I love, and sadly he died over the weekend at 53 years old. It looks like he died from a aneurism, while at a charity event for his charity Kidd's Kids… www.kiddskids.com . I came across this video of a recent segment on the show…and I just love this, it's just a cool moment…I hope you dig it as much as I did:



This is a great quote from Kidd...

"Keep looking up, cause that's where it all is." – Kidd Kraddick
Today's Video blog is the final part of our interview with Simon Pegg, Nick Frost, and Edgar Wright. They were in studio promoting "The World's End" -- in theaters on Aug 23rd.



Here is the same VLOG for you iPHONE users:


---
"Hola,

There's a website called 'the stir' or something, and as best I can tell, it's a site for mothers, or women who want to be mothers or whatever. Anyway, they also provided a small article that's beneficial to EVERYONE! It's called "Six Ways to Handle Seeing an Ugly Baby For the First Time". Obviously, every parent is proud and excited about their newborns, but sometimes, frankly, your baby is uglier than a bucket of armpits. And if they are that ugly, it would be my duty to inform anyone else who might be meeting your baby to prepare themselves. If your girlfriend has a hair-lip or a lisp, warn me before I meet her. If you own a chimpanzee as a pet and you invite me over for dinner, let me know. If we're gonna have sex and you have herpes, gimme a heads- up. Unfortunately, you don't always get the info you'd like to know in advance, and that's the motivation behind today's question: WHAT DO YOU WISH YOU'D HAVE KNOW AHEAD OF TIME?

That his woman of 8 months would cheat on his best friend of 12 years in HIS truck at a camp fire

Wish she knew her co- worker was dating the boss's son BEFORE she complained about him to her

That his co-worker would live in his place for 8 months and not a few days.

Really wishes she knew that her co- worker was dying of leukemia before she asked him "how do you feel?"

That her father- in- law was in jail for 8 years following a murder conviction. Dude killed a cop.

That adding hand soap to your pee won't help you clear a drug test

Wishes he knew that his boss had set up cameras in the barn before he brought his girlfriend in for sex

OK bitches, it's Friday, it's f**king gorgeous outside and, most importantly, I have to take a sh*t, so I'm gonna say adios. Adios.

Until Monday, do what you do best and STAY BEAUTIFUL!"
---