Posts from August 2013
Yesterday on the show, we read an email from Trista who wanted the Rock-A-Holics' opinion on a problem she is having.

Trista has recently started planning her wedding which will be next year. This is her second marriage; she got married when she was 20 but that ended a year later. She is now 28 and has been with her fiancé for three years.

Her parents said that they will once again pay for her wedding, but will only do so if Trista and her fiancé sign a contract that says if the marriage fails before the 4th year, they have to pay them back for the wedding.

She explains that her parents do well for themselves financially and wanted to know if anyone else thinks her parents are being crazy!


I have no one to blame but my generation because we helped raised this society where everyone expects a trophy, expects to be electecd president one day andexpects to just have everything handed to them.

They expect to have their dream wedding for the second time all because mommy and daddy have money, which they probably made because they worked their asses off!

The reason most people have a wedding is for gifts and for the bride to feel like a princess for a day, but why not just have a small reception or just a nicer honeymoon instead? She already had her princess wedding and has no right to expect mommy and daddy to foot the bill again…sign the contract while the deal is still on the table.






---
I hope you can make it to a cool thing tonight… it's KISW Covers For Cancer At Slims Last Chance! Come down and show support for former Rock Girl Kristina Marie and her ongoing fight with brain cancer. Who's playing the covers you ask? Our band (Thrill, Ryan Castle, myself, and our friends) The New Originals will be there, as well as members of The Guessing Game, Witchburn, Vendetta Red, Loaded, and more!

Great win by the Hawks yesterday…closing out pre-season undefeated again. How about Russell Wilson…he looked great…for those 3 minutes he played! Haha. I hope you didn't get to the game late, or you missed his great drive to start the game.

How awesome was it that Snoop Dogg was at the game rocking a #24 Hawks jersey…he had "Snoop" on the back…so instead of Beast mode, it could be "Dogg Mode"!




Ben & Jerry's swung by yesterday and brought us ice cream. We got to try the Frozen greek Yogurt – the Banana Peanut Butter flavor is AWESOME!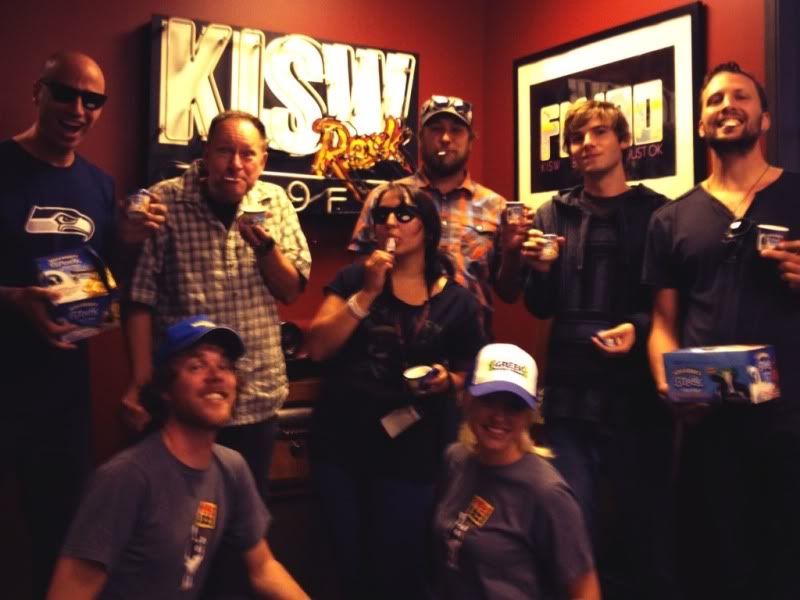 If you want them to come to your business…Tweet them @BenJerrysWest
---
"Hola,

Jerome Corsi, a Tea Party activist, was speaking earlier this morning at an event in Oregon. Among a bunch of other stuff he was talking about, Jerome offered this personal nugget of 'wisdom'; "sex is not about fun. You want to have fun, read a book." I don't know that anyone could offer a statement any farther from the truth and, obviously, I'm not alone in that assessment. Contraception, Viagra, Cialis, prostitution, polygamy... all of these things indicate that sex is primarily about fun... but then, you already knew that. Jerome might be a misguided fool with unrealistic advice, but he's hardly alone. Generally speaking, our parents are the first people to tell us questionable information... if information can really be questionable... and thanks to the folks at www.Reddit.com, we have the "10 Most B.S. Pieces of Advice Adults Give Kids"... and all of them are spot- on. Subsequently, we also had the "Top 8 Things Your Parents Did That You Swear You'll Never Do". Today's question: EVEN THOUGH I WAS TOLD ____, I DISCOVERED SOMETHING DIFFERENT.

His wife doesn't mean it when she says, "sure, go out with your friends."

Masturbation will make you go blind. It won't... and I should know

Took a bunch of crap from his cousin for not going to college; fast forward and he now makes more money AND has benefits... his cousin doesn't

"If you try your hardest and fail, it's OK"

Dated a black chick in high school... his hillbilly dad had a severe problem with this, but instead of forbidding him to date her, he told him that black women put their menstrual blood in their spaghetti sauce

"You'll live happily ever after"... no you won't

OK bitches, New Original practice. Playing a gig this Friday (tomorrow... uh oh) at Slim's Last Chance in Georgetown. Bring your ugly ass there.

Until tomorrow, Park Avenue leads to skid row, so STAY BEAUTIFUL!"
---
Today news came down that the NFL and the former NFL players have reached a agreement in the lawsuit on concussions. Now I am not sure if it is a good deal or not for the players, I would say it is not but that's just my two cents. I do think that it brings up a different question altogether in what does the NFL know about it's game and how damaging the effects are. Football is a violent game and has risk which everyone knows but is there more the NFL knows and does not want to share because they don't want to lose money? If you think that a league would not put it's guys at risk your wrong because we are talking about billions of dollars here. Yes Billions folks and that in itself is part of the problem it is so much money. Money like most drugs you have to get and make more and more to get you that high again. I just want to know the bottom line of how dangerous the game is or is not and then people can make their choices' about playing. I have got the opportunity to hang with some NFL players and they told before how much they hurt after the game. After talking with some of those guys it because a little more real how tough of a game football is. I played some football in high school and loved it and If I had a kid I would let them play in high school but not sure I would start them too young on the game. I should also say I love college football and the football in general I just hope no info is being covered up
---
Yesterday we had a lot of fun with this audio of a girl that left a voicemail for what sounds like an ex-boyfriend. The audio is priceless because when she cries, she sounds like a whale! Well, if you missed it…this morning we uncovered more audio…and we now know who she was calling:



Big thanks to everyone that swung by Trappers Sushi in Bonney Lake and Puyallup to pay tribute to Adrian, one of their sushi chefs who sadly died while rock climbing. I was at the Puyallup location, and it was extremely powerful to see a packed Trappers…there was a lot of love in the room for Adrian, a young man who obviously touched many people in the 20 years on this planet.

Yesterday we talked about that woman in Seattle was supposed to meet a guy for a date on Sunday, but her car broke down. It led to a great topic day..as the date was a date from hell! He reacted to her not going on the date by sticking a KNIFE into the side of her house . . . and threatening to defecate on her COUCH. Wow!
Based on this crazy story…When did you realize there wouldn't be another date? Here are some texts we got:

I knew there wouldn't be a second date when she said she was into 3-ways.....as she was looking my best friend up and down like he was a Little Debbie Oatmeal Creme Cookie....later bytch.... Lone Wolf

When she took me to a strip club to see her daughter dance

She was shaking when we kissed on the first date...after that I was a little freaked out then she starts texting me at random times in the night...Nah! I was over it...amateur hour

I had a guy invite me to his AA meeting for date #2 as he showed me his AA coins for a job well done. There was no date #2.

Girl pee'd on, yes ON my tv. Then she blamed it on my dog... I saw the whole thing and promptly kicked her out...bitches be crazy

My brother hooked me up with a blind date. At dinner she wouldn't stop texting her ex... I left and made her pay!!

She kept getting calls from her drug dealer while we were at the movies

On the 2nd date the girl introduced me to her kids and said "meet Ur new daddy"- nik from doofers

I knew there wouldn't be a 2nd date when she brought her therapist over the next day. ~Mandi
---
"Hola,

It was 50 years ago today that Martin Luther King Jr. delivered his famous "I Have a Dream" (two weeks after giving his original "I Have a Dream Speech") speech in front of 250,000 people at the National Mall in Washington DC. His speech and his dream have been well- documented, and in some cases, the 'dream' has been recognized, but, sadly, in many ways we're not even close. But then, that's the nature of having a dream... it's something you hope comes to pass, but there's no guarantees. On that note, in response to the oft- asked question, "how are you?", seems like more and more people are answering, "living the dream"... which really makes us wonder just what the hell it is you're dreaming about. MLK had a dream and told us, very clearly, what that dream was, so today we wanted to know what YOUR personal dream was. Maybe you wanna go on safari, meet Mick Jagger or be able to burp the alphabet. WHAT IS YOUR DREAM AND HOW ARE YOU LIVING IT?

Alright, got distracted. Apologies.

Until tomorrow, sip it and STAY BEAUTIFUL!"
---
Yesterday during Group Therapy, I read an email from a Rock-A-Holic named Glen who was having an issue with his future son-in-law.

On Monday he was out celebrating a recent promotion with some coworkers at a strip club. Things were going well then after an hour and half of being there, he noticed his daughter's fiancé at the strip club…alone! On top of that, he got three lap dances in a row while there!

He says he isn't a prude and thinks strips clubs are fine for bachelor parties, birthdays, or even promotions (which was why he was there in the first place) but he thinks it's odd that a guy would go by himself on a Monday afternoon. This hasn't settled well with Glen and is wondering if he should talk to his daughter or his future son-in-law about it since they will be walking down the aisle in six weeks.

If I was in Glen's place, I wouldn't have an issue with him being there but I may be concerned about the financial ramifications. How often does he go to the strip clubs? Also, if he gets frequent lap dances that can really put a dent in their budget.

Also, the other thing he has to think about is how is this going to affect his daughter if he tells her because not only will he be telling her he saw her boyfriend receiving lap dances but she will now know her dad was at a strip club as well. Does she really need to know all this?


Glen can pull this guy aside and as long as nothing inappropriate is happening or he's not spending money he doesn't have on this, it shouldn't be a problem.

---
A woman in Seattle recently met a guy through a mutual friend, and they were supposed to go out on a date last Sunday night. But on her way to meet him, her car broke down….and things went really really STRANGE after that! First, he started sending angry text messages. One of which said, "I swear to God if you [eff] with me, I will steal your car and melt it down…then [break into] your house and [defecate] on your [effing] couch." Well that will guarantee another date! Then when the woman got home a few hours later, her front door was somehow unlocked . . . and there was a KNIFE stuck in the side of house. Police are investigating it as a possible burglary and stalking case. I would hope she doesn't go to that friend for a date again…stick with Plenty Of Fish, Match.com, or something "safer".

Have you seen these two Madden commercials? Madden came out yesterday and 2 of their commercials features Hawks, and they are AWESOME! Here is the one with Russell Wilson…



Here is the one with Marshawn Lynch….



Tonight we mentioned this…it's tough to share, as a guy I was lucky to meet and chat with a few times has died at way too young of an age. Adrian was a Sushi Chef at Trappers Sushi…I would chat with him at the Puyallup location a few times…a great guy, and he died while rock climbing recently. Trappers will be honoring Adrian tonight at both the Bonney Lake and Puyallup locations from 4pm-6pm. I will be there to show support at the Puyallup location. They will donate 100% of the sales from Bonney Lake and Puyallup between those hours to Adrian's family, and will have a Balloon ceremony at 6pm at both locations, balloons will be made available for a $5 donation, and again all proceeds will go to Adrian's family. To quote what Trappers wrote on their Facebook, "All of us at Trapper's Sushi are saddened by this sudden loss, our thoughts and prayers to Adrian's family and friends."

In a new survey by a search site called Skyscanner, more than 700 international flight attendants talked about the WEIRDEST things people have left behind on planes. Here are the highlights . . .

Live animals, including a FALCON, a parrot, a frog, and a tortoise.

A box of dried fish.

A wedding dress.

A bag of diamonds.

Wigs and toupees.

One egg . . . not in a carton, just the egg itself.

A handwritten marriage proposal.

And a prosthetic leg.

The most common thing people leave behind on planes are passports, followed by cell phones and books.

Based on a story about the weirdest things people have left on a plane…it doesn't have to be on a plane...what's the oddest thing you've found or the oddest thing you have lost? Here are some of the texts we got:

I lost my eye down the bathroom sink drain.

Found **** beads and a huge sex toy in a drawer in a hotel room –kiana

My brother found our moms old vibrator in the garage while cleaning it out

Found a pencil box filled with "white" powder and "little bags" under a table at a bar...... Gave it back to the guy frantically looking under every table.

Bought a car from my boss and found a weed pipe in the back seat years ago.
Today's Video Blog is an intern Challenge... Our intern Nick has 60 seconds to find a stranger to do their impression of Miley's tongue performance with him...will he do it?



Here is the same VLOG for you iPHONE users:


---
SIS Insulting Celebrities

Today's Sit N Spin came from Cracked.com it was their list of the "6 Hit Songs You Won't Believe Are Insulting Celebrities"! Take a look at the complete list via the link below.
http://www.cracked.com/article_20596_6-hit-songs-you-wont-believe-are-insulting-celebrities.html

Dig the playlist!
http://kisw.tunegenie.com/u/__znjWJ0YSSKBC2kr2EE2Yg/sis-insulting-celebrities/

Hell even I learned some new things. Trash talking, not just for hip hopJ

AEROSMITH "DUDE LOOKS LIKE A LADY" Steven Tyler thinking Vince Neil was…..yup a lady. A hot one at that!

OASIS "LIVE FOREVER" The bands dig at Kurt Cobain, thinking he was too down on things.

JOHN LENNON "HOW DO YOU SLEEP" John Lennon vs. Paul McCartney……

TIMBALAND FEAT. JUSTIN TIMBERLAKE AND NELLY FURTATO "GIVE IT TO ME" Timbaland dissing Fergie, Janet Jackson & Scott Storch. JT hitting back on Prince who claimed sexy never went anywhere.

BOB DYLAN "LIKE A ROLLING STONE" About the dangers of hanging out with Andy Warhol to Edie Sedgewick.

FOO FIGHTERS "STACKED ACTORS" Courtney Love

STONE TEMPLE PILOTS "TOO COOL QUEENIE" Courtney Love.


Tags :

Topics :

Entertainment_Culture, Human Interest

Social :

Entertainment_Culture, Human Interest

People :

Andy Warhol, BOB DYLAN, Courtney Love, Edie Sedgewick, Fergie, Janet Jackson, JOHN LENNON, JUSTIN TIMBERLAKE, NELLY FURTATO, Paul McCartney, Prince, Scott Storch, Steven Tyler, Vince Neil




---
"Hola,

Seattle had a strange week last week. On Wednesday, two guys got into an argument about TV volume. After exchanging a few choice words and colorful metaphors, one of the men was assaulted... with a tub of I Can't Believe It's Not Butter. Seriously. a few days later, in the International District, a crazy lady walked into the Dim Sum King restaurant and started yelling at everyone to "go back to China". To emphasize her position, she sprayed several employees and patrons with soy sauce AND chocolate milk. She's brought the chocolate milk with her. She was arrested. And in England, a guy by the name of Leon Smith was in bed sleeping when his girlfriend climbed into bed with him and started cuddling. Nah... it wasn't his girlfriend, it was a wild fox that had crept in through the cat door. Upon discovering the animal in his bed, they continued to cuddle for another 10 minutes before the fox got bored and wandered off. true. Sometimes these things happen... albeit, not very often. Maybe you've unexpectedly been covered in imitation butter, soy sauce, chocolate milk, or maybe you, too, have nuzzled with a wild animal... if so, you can answer today's question: WHAT'S BEEN ON YOU... AND HOW DID IT GET THERE?

His "friend" put a scorpion on his head while he slept... the scorpion stung him

At age 14, he leaned in for a kiss with a girl, but was sh*t on by a bird before he got the chance

Some guy sneezed and inadvertently launched a BLOODY booger onto his arm... and he's a germophobe

On a carnival ride, someone sitting in front of him puked... it landed all over him and his buddy

A skunk came into his house through a cat door and snuggled up to him in bed

He works as a prison guard (still... for some reason) and in addition to being hit with a cup of poop, pee andsemen, he was also once hit in the back of the head by a penis AND a pair of b*lls that the prisoner had ripped off of his own body. Yes, you read that right... a prisoner (who was mad at the guard) tore of his twig and berries and threw them at him. I've been really, really, REALLY angry before, but never THAT angry

SIT AND SPIN
We had a list of songs from bands that you might be surprised were written as an insult to other people. Anyway, here's the link:

OK bitches, I'm outtie... as the 'cool' kids say.

Until tomorrow, lick it, stick it, and STAY BEAUTIFUL!"
---