Posts from October 2014
Happy Halloween! Group Therapy is IN SESSION!

Krystal is a Rock-A-Holic in search of some dating advice. She recently started dating a guy, and they've been together for two months. When they first met, she told him she was a bartender; it turned out that he's a bartender, too, which meant that their schedules and lifestyles were compatible. Sounds perfect, right?

Well, Krystal likes this guy a lot, but she's worried that he's going to be upset with her for lying about her profession: she's not a bartender, she's a stripper.

Krystal isn't ashamed of her job; she enjoys it, and the money is great. On the other hand, she knows that her job isn't accepted by everyone in society, and she's worried that the combination of her profession and the initial deception will result in the loss of a relationship that she's very happy with.

I don't like it when people lie, but I have some real empathy for Krystal's situation. She understands the judgment that follows her career, but she perseveres by her own choice. This is a person that deserves love just as much as anyone, whose life choices set her apart from basic polite society. That makes it one degree harder to find the elusive understanding relationship.

That being said, there is never a situation that is improved by a lie. If you want to find love, and expect some understanding from your partner, you have to live an honest life, Krystal. If you bare your soul about baring your body, he will either understand, or he won't. If he doesn't, then you can probably figure out the next step on your own.

Am I wrong about this one, people? Give Krystal your best advice…
---
Happy Halloween! My morning was made when BJ was beyond annoyed as a bunch of the peoplle from the show dressed up...which BJ HATES!





The winner...clearly Hot Kyle, who is BJ's daughter! Also in the pic...the Rev is a cat, Sara is a bee, and I thought our intern Erica was a witch, but I guess she is Gandolf from Lord Of The Riongs!

Being that IT IS Halloween, I thought it would be a great idea to share this with y'all again…

Huge huge HUGE thanks to Michael Olson for creating this awesome comic based on a story I shared on the STP-CAST from last Halloween.

Be sure to play the music with it, as it adds to the fun of it.

www.kiltercom.com

Thanks again Michael...I'm very flattered!

I love this still from the comic…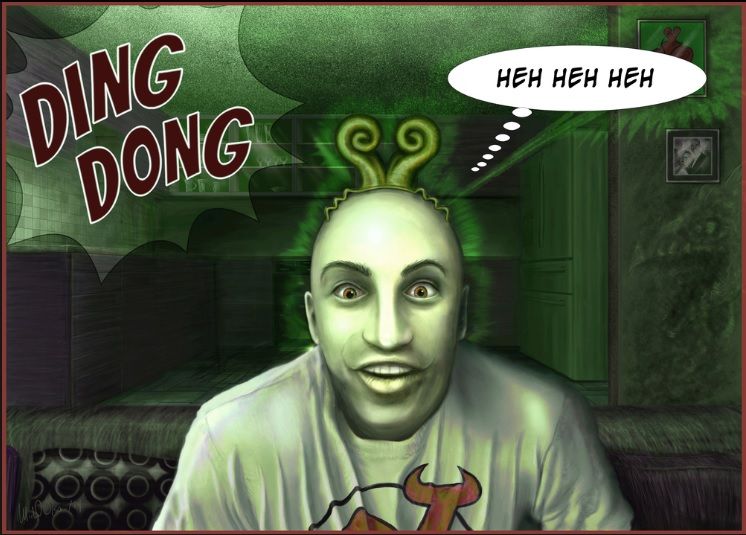 I post this every year...because it's awesome...here is Mike Tyson & Bobby Brown singing Monster Mash on Jimmy Kimmell!
---
Trick or Treat! Smell my feet!

Okay, let's be honest: I'm too old for this nonsense, and you do NOT want to smell my feet. Maybe we should just move on to Group Therapy. Maybe they'll have some candy for us.

A Rock-A-Holic named Mark is having a different kind of Halloween dilemma. His wife wants to take their son out for his first trick or treat excursion with the whole family in costumes, but Mark wonders if the kid might be too young…since he's only ten months old.

Mark thinks his wife is crazy, and that it's a terrible idea; in fact, he straight-up told his wife that he thinks she's dumb. Of course, the wife thinks the whole thing will be fun, and she doesn't agree with Mark's assertion that their son won't even remember this experience.

STP thinks that Mark should learn to pick his battles a little more carefully. Personally, I think the "Happy Wife, Happy Life" philosophy has become a little bit too one-sided, because women have stopped holding up their belief in the reciprocal "Boys Will Be Boys" way of thinking. The whole mutual happiness racket has turned into a heavy-ended see-saw, and nobody wants to ride that.

I need to go find some candy. Help this guy out with some advice, won't you?
---
This morning we played the audio of Ellen pranking Jake Gyllenhaal…again! She had a guy dressed as a doll hide in a box next to Jake's chair, but the box looked like a table. Then in the middle of the interview, the guy jumped out, and Jake let out an F-bomb…this is too funny!



BJ hated this… A. Because he doesn't like fun, and 2. Because BJ hates pranks. I'm not a big fan of pranks either, but clearly Jake doesn't mind…he's been pranked before and keeps coming back on Ellen's show…so if Bubble Boy did like it, he knows how to quit it! Sorry…the Bubble Boy "joke" was bad enough…that Broke Back Mountain ("I wish I knew How To Quit You") pun was way below par! You have my apologies.

We got a text about Ellen while we were talking about her…

You guys have to watch the video of Ellen's producer going through a haunted house. Its hilarious

I haven't seen this yet…so let's watch it together.



This inspired me to start a twitter campain… #STPonELLEN . Lets do it!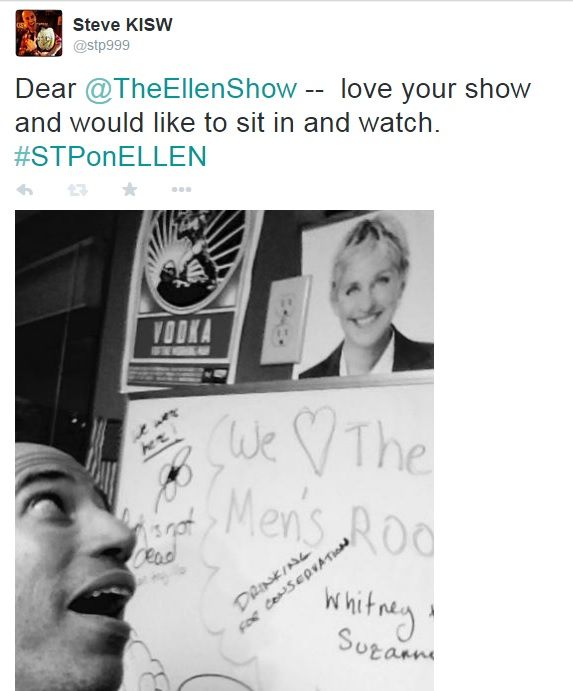 ---
This is Halloween week, ladies and germs! That's always a time of hope for me: it means that we're quickly approaching the one day each year when I can feel a little less unsettled by the creeps and weirdoes that I'm forced to work with around here.

For the other 364 days of the year, I just use Group Therapy to distract me.

We heard from a father who is reaching out for a little bit of advice from his fellow Rock-A-Holics. The man's son is 23 years old, living at home, and has been unemployed for a while; not surprisingly, his parents are concerned about his future, especially his mother. A few months back, Mom discovered a marijuana pipe in her son's room. What she doesn't know is that the pipe belongs to her husband.

Hoo-boy. Let's go on.

Dad convinced Mom it wasn't a big deal, so she didn't talk to her son. A few months later, the still-unemployed kid is back under his mother's suspicion: she thinks that he's a pothead, and that's why he can't get a job. Having never smoked pot before, Mom has told Dad that he should confront their son, or she will. Now, Big Daddy Weed is wondering if he should come clean to his wife, bring his son into his secret world of (legal) drug use, or go to an as-yet-unrevealed third option, which I assume he's hoping one of you (or us) can suggest.

My god, it's like a Lifetime version of "Breaking Bad".

Get a clue, Dad. You seem to have no idea where the heart of the problem lies, but here's a hint: it's nothing you said in your email. I suspect that your fellow Rock-A-Holics can pick up on this, too, so I'm going to let THEM speak to you.

Go ahead, folks. The floor is yours…
---
I'm going to get on my soap box for a second, if you don't mind. This needs to be addressed, as Friday is the day people hit the streets with their pumpkin shaped bucket…or a bag…going door to door for some candy.

Who really likes Candy Corn?

Could there be a more P.O.S. candy out there? C'mon…if it was THAT good…people would be buying it year round. It's so crappy it's only around for one "holiday". Eff Candy Korn…it taste like slightly flavored wax. If it's not good enough for the rest of the year, it's not good for me … EVER!

Thant being said…if you have ever been curious as to how they make Candy Corn…here you go…

---
Sit N Spin Billboards Top 10 Halloween Songs


Tis the season Rockaholics! Today's Sit N Spin featured a list from Billboard.com and their Top 10 Halloween Songs. They put the list together with airplay and sales in mind. Check it out here. http://bit.ly/1wDNEfz

Now it doesn't take a rocket scientist to realize that their list is pretty family friendly. And we also discussed how Rock Radio, KISW in particular……nearly every song we play could have a Halloween spin.

Now I told you I would make you a fat Halloween playlist instead of the list below. Dig that here! These are personal fav's that have Halloween and evil written all over them! Playlist includes: King Diamond, Type O Negative, Alice Cooper, The Sonics, Ministry, Ghost, Helloween, Motley Crue, Black Sabbath, Uncle Acide & The Deadbeats, Faith No More, Diamond Head, Misfits and more! http://bit.ly/1tgqdZs


Billboards list!

10. "This Is Halloween" - Danny Elfman
9. "Highway to Hell" - AC/DC
8. "Don't Fear the Reaper" - Blue Oyster Cult
7. "Creep" - Radiohead
6. "Superstition" - Stevie Wonder
5. "Werewolves of London" - Warren Zevon
4. "Deal With the Devil" - Pop Evil
3. "Ghostbusters" - Ray Parker, Jr.
2. "Monster Mash" - Bobby "Boris" Pickett & the Crypt-Kickers
Though it's been decades since this kitschy, creepy faux-Frankenstein party tune scared up a No. 1 slot on the Hot 100 in 1962, Bobby "Boris" Pickett & the Crypt-Kickers' "Monster Mash" has been on Halloween party playlists ever since.
"Thriller" - Michael Jackson
"Thriller," which hit No. 4 on the Hot 100 in 1984, is the most-downloaded Halloween-themed hit of all-time, with digital sales to-date of 3.4 million, according to Nielsen SoundScan. (It's also Jackson's best-selling download, ahead of runner-up "Billie Jean," which has sold 2.7 million).
---
Have you watched this new series on HBO called "Sonic Highways"…it's a show about the making of the new Foo Fighters record, and it is beyond incredible! The basic premise is that Dave and the gang travel to a few different cities that are rich in musical culture…they talk to some of the local legends, set up at a popular recording studio in that city and write and record new music. It's fascinating to see how the city and it's "vibe" will influence the music.

The first episode was all about Chicago…they were immersed in the blues, chatted with Buddy Guy…and they also spent time with Rick Nielsen from Cheap Trick (amongst other artists) and power pop rock was definitely discussed. The song that came out of that was "Something From Nothing", and Rick from Cheap trick even laid down some guitar parts on the song. At the end of the episode they have a video for the song…check this one out, and trust me…after you watch the show you will love this song even more!



Episode 2 is all about the Washington D.C. punk scene…heavily focusing on Bad Brains, as well as Fugazi's Ian MacKaye. I LOVED this episode as Dave is deep rooted in this scene (he was in a DC punk band called Scream before he joined Nirvana). It was cool seeing old footage of Dave, as well as learn a lot about an incredibly influential scene! The song that came from it truly blew me away…I must've listened to it 10 times this morning. I can't find the video of the song that ends the episode, but here is the song, "Feast And The Famine":



Finally…have you had a chance to check out what Larry King is doing these days? He is posting random thoughts on Twitter, and they are AWESOME! Check out some of the more recent ones: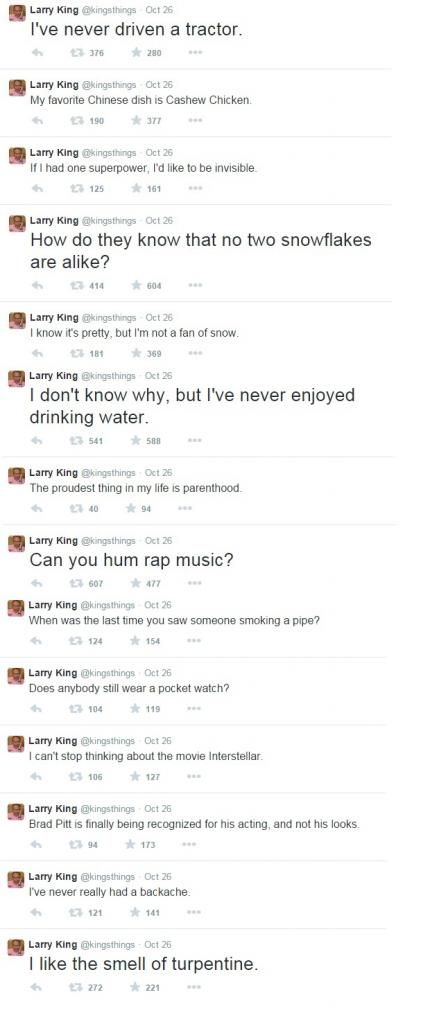 ---
Snap on the glowsticks, and tell the DJ to play my jam…it's time for Group Therapy!

(I think that's what the kids say, right?)

Daniel wrote us for some help. Halloween is coming up, and Daniel's daughter, who just turned 18, wants to go to something called Freak Night; it's a rave, and single parent Daniel's feeling uncomfortable because he has a lot of worries about crazy music, skimpy clothing, and less-than-legal party aspects that could rear their ugly head. He wants to know if he can put his foot down and forbid his daughter from going to the rave.

I speak from experience here: your kids turn legal at the age of 18, and it's pretty hard to play the Parent Card once that happens. You raised the kid, you're accustomed to having the voice of authority, and you want to invoke the "My Roof, My Rules" regulations whenever you get worried about a situation they want to get into.

You have to know your kids. Is your daughter the responsible type, Daniel? If she is, that needs to be your default setting when dealing with her. If she's NOT responsible, then maybe your concerns are based in something more than garden variety parental fear. Again, I've made these errors with my own (responsible) kids, and I wish I hadn't.

Sound off, Rock-A-Holics! Let's hear it from you!
---

Soundgarden have posted a brand-new song called "Storm" on Vevo. The band hasn't offered up much info about the track except to say that it was recorded in May with producer Jack Endino in Seattle. Stoked to have a new song…..even if things are still mysterious as far as this new song goes. I love the guitar! Kind of has a post punk, goth, feel. Reminds me of Killing Joke in a weird way. NOT U2. Enjoy "STORM"!!!

---