Posts from September 2013
Today's blog comes from one of my mentors, Dan Sanders:

I'm having happy issues. It's not that I'm unhappy; it's just that I'm not happy. I have many moments of downright giddiness, as a good friend said recently when I kidded her about drifting off into a late '60s or early '70s song, waving her hand at the sky for no apparent reason, not even drugs. She replied that "she was having a bit of a wobble." I have been known to wobble with the best of them.

This week, however, and actually for most of this month, my wobble has been a bit weak.
Now, I am sure if you are still reading this you are curious about why my wobble is off its axis. After all, I have checked out some great movies and added them, as well as some TV shows, to my list of must- see entertainment. I have also begun, in earnest, to write a book I have flirted with for at least 10 years.

In order to accomplish this viewing agenda, Chloe Cat and I have stocked up on food, hung an "Away until May" sign on the door, and are pretty much ready to become the media moguls of Rambling Harbor, observer class. Of course, most of Rambling Harbor is preparing to batten down the hatches and wait for the Montreal Express to descend. Already the leaves are leaving, and the steel gray of the North Atlantic grows darker and colder each day. So what to do? Watch movies and TV. Write blogs and talk and hope the wind chill doesn't freeze the will.

Now, back to my wacky wobble: I find it hard to be happy right now, as push comes to shove with the government shutdown, the health care debate rages on and on, people die every day from cancer and other disease, and we send men and women to foreign countries to die—and at what ridiculous financial cost. We seem hell-bent for destruction. If we can't kill ourselves off with poor health care, we will do it with war.

I wanted to write about happy stuff to make us all wobble wildly, but I can't get my mind to stop thinking about the state of the world. So, now I think I'll go relax with a calming movie—have you seen "Air Force One"?

Next week, I'll try to ratchet up the wobble and maybe debut a new dance: A combination of Twerking and Wobbling called the "Twerkwobble."

Meanwhile, inside the podcast, we are going to Rock and Wobble. Give a listen!

http://dbsanders.podbean.com/2013/09/30/rock-and-wobble/

---
Holy smokes what a great weekend! Lets start with Friday. Friday night all of us from KISW went to Fremont for a party with the Rock-A-Holics to sample Workers No. 9 Vodka at Fremont Mischief Distillery. Great drinks, fun times, and then as I am walking around…who did I run into? Check it out: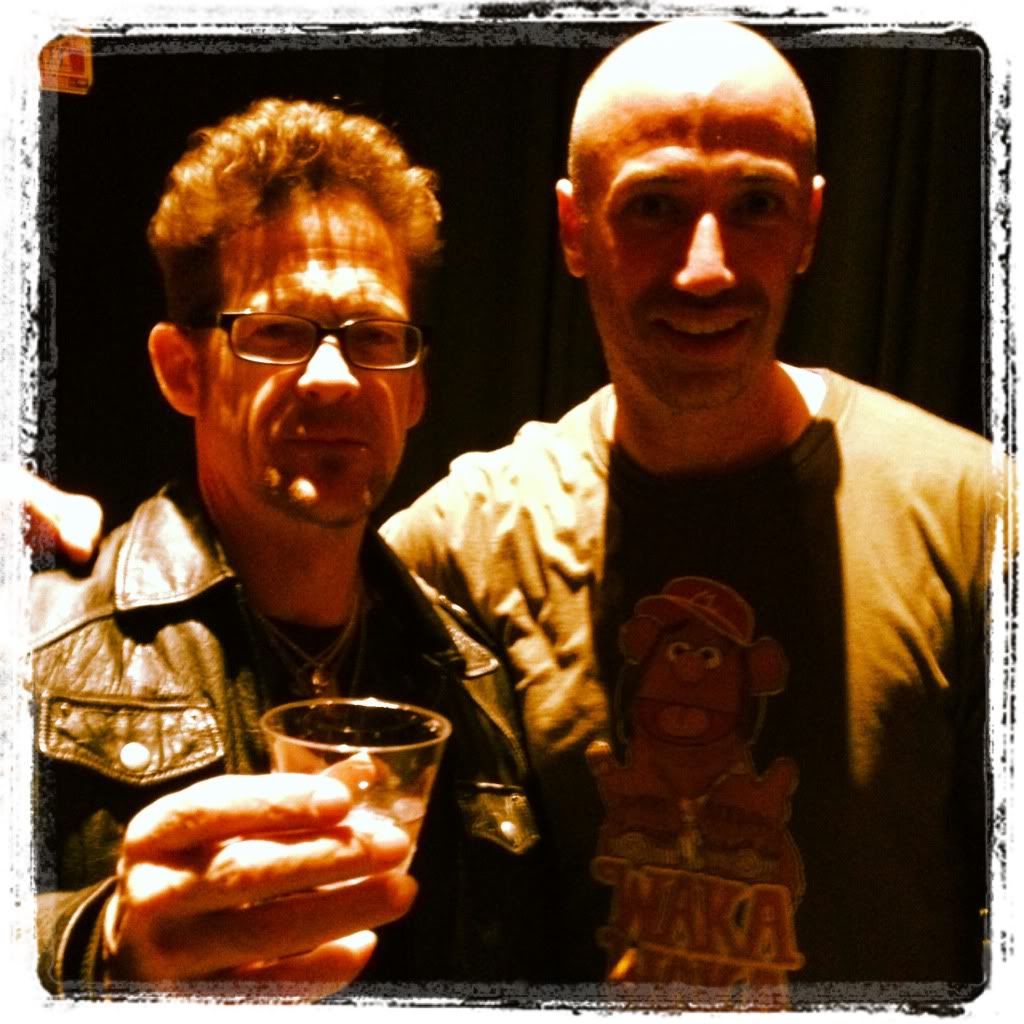 Yes, that's Jason Newsted…former bassist of Metallica! Jason has a new record out with his band Newsted called "Heavy Metal Music", and it seriously rocks. I love the disc. Jason was in town to do an interview with The Men's Room Friday afternoon, and then a very cool Q & A at Silver Platters…oh, he also co-hosted Metal Shop with Kevin & Ian Saturday night…how awesome is that!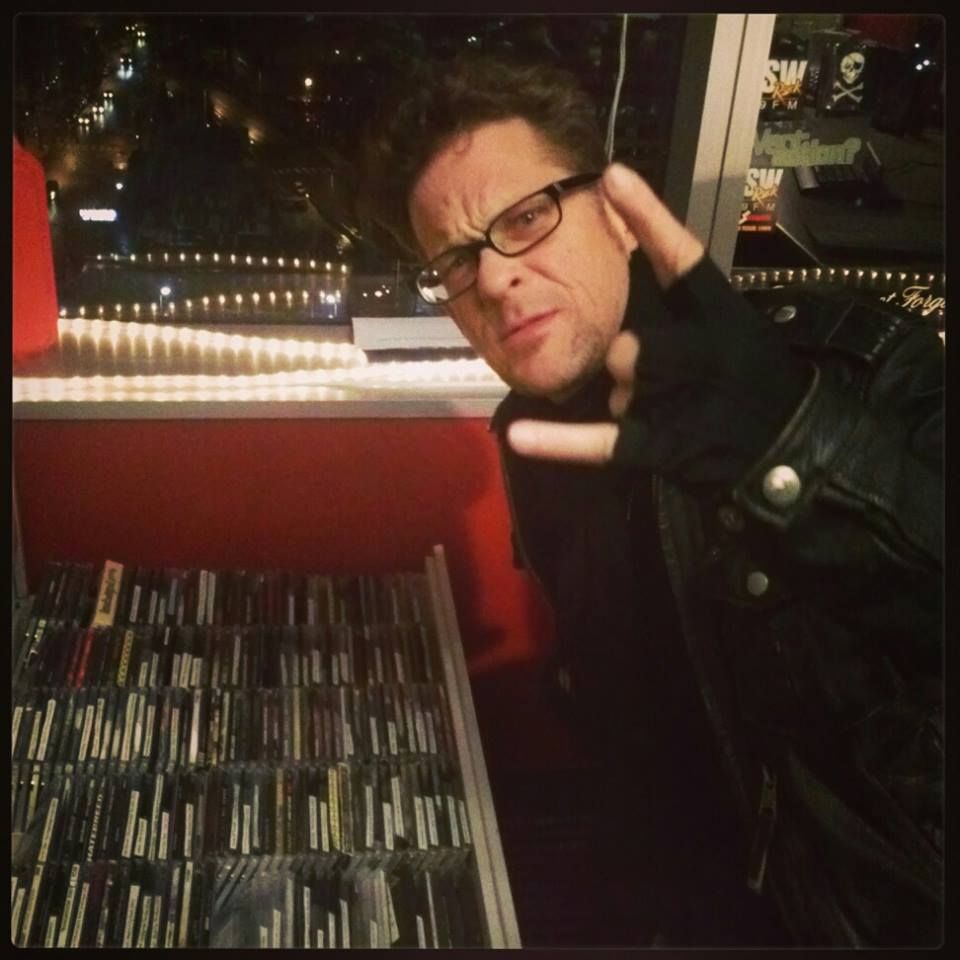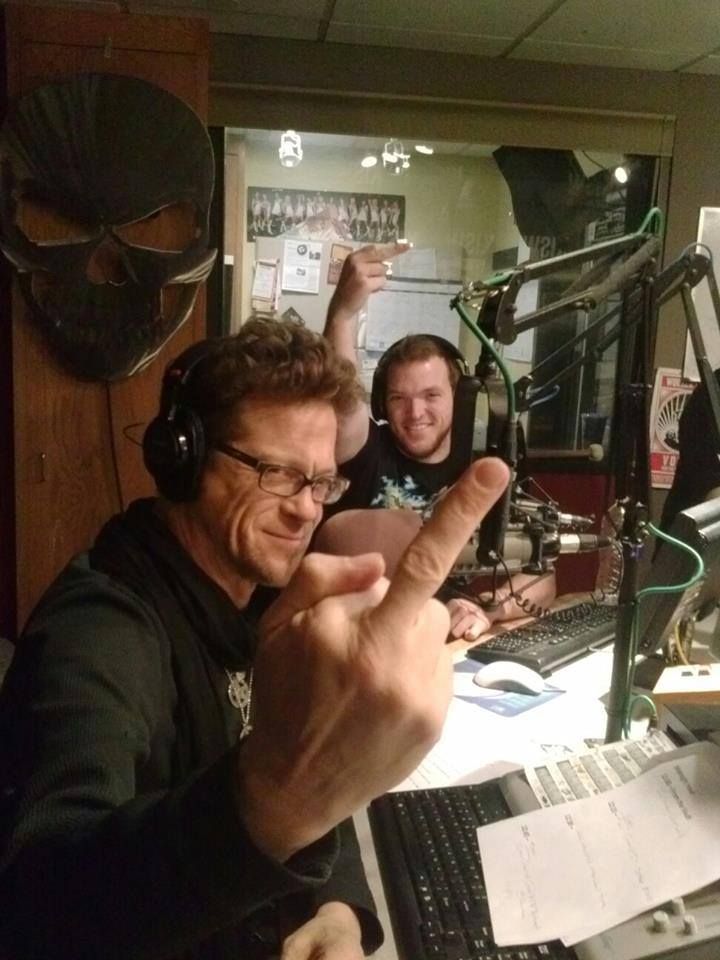 Saturday I had a great night with the family, and watched the Huskies dominate with their sick new helmets…how awesome is Bishop Sankey by the way?




Sunday was an intense day…I don't know which was more intense, the series finale of Breaking Bad, or the Hawks game? Ok…the answer is simple, even though Breaking Bad was amazing…the Hawks game had my heart pounding out of my chest! Awesome win…to rally from a 20-3 deficit to win in OT 23 to 20…wow wow wow. Even Lulu was in shock!




Speaking of Breaking Bad…if you listened to our show on Friday, I mentioned how I was going to watch the finale, even though I have only seen the first 2 episodes of season 1. Well I did it, thankfully a listener named Greg for sending this video to me as it helped get me up to speed in 8 minutes haha



So I watched the finale, and I think my tweets summed it up best: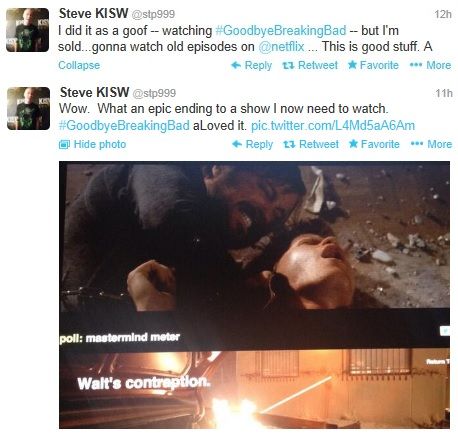 On Friday we were at our Workers No. 9 party at Fremont Mischief Distillery, and Jason Newsted (formerly of Metallica) was hanging with us! The STP-CAST caught up with Jason while there to chat about his awesome new CD "Heavy Metal Music". His new band is called Newsted.


Here is the same VLOG for the iPHONE people
---
"If you want quality work, call a professional."

I think this is a pretty smart rule of thumb, America...but there's one very specific set of "professionals" who will probably never join their local Chamber of Commerce (except in Nevada, maybe).

A Rock-A-Holic named Michelle has recently learned that her boyfriend – who, she admits, has a long list of spectacular traits – has "done business" with prostitutes on multiple occasions. As you may have already guessed, Michelle is not exactly thrilled about this, and that's what led her to Group Therapy.

I love it when women contact us for advice. It reinforces my belief that we're fair-minded when it comes to dealing out amateur psychological care to the masses. Sometimes, I do get frustrated with women who are shocked by the things that men do; it's one thing to be genuinely innocent and naïve, but we both know that doesn't apply to all of you, ladies.

Yes, I'm talking to you…and you…and you.

I'm not the only one who made this point, but go ahead and blame me, anyway: I don't see a world of difference between paying a hooker, and picking up a stranger in a bar. You don't have all the historical facts in either case, so it's essentially the same STD crapshoot.

Guys really get the bad rap for their sexcapades, and I feel like I need to play defense for a minute: Is it the most terrible thing in the world for a man to drop a few dimes to have casual sex with a willing participant, without all the extra negotiation and effort that comes along with trying to find a little satisfaction in the "amateur" world?

Sometimes, I wonder if the argument against hookers is less about the risk, and more about the money. After all, the 100 bucks he spent for an hour of stress-free horizontal happiness could have been spent on a long, awkward first date with you…that ended with him going home alone.

Steve suggested that Michelle should dump her boyfriend based solely on the fact that he was dumb enough to confess to something that is far behind him. I have to show a little support for that one. Dumb move, dude.




---
It's Blue Friday yo! Go Hawks!




If this was Twitter or Instagram, I would say #GoHawks, because…well…that's what the kids do these days.

Speaking of Hash Tags, have you seen that bit that Jimmy Fallon and Justin Timberlake did? It's hilarious…and spot on!



While we are gaterered around the internet equivalent of the Tee Vee…have you seen the short film that was made for Pearl Jam's new record "Lighning Bolt"? The record is out in a few weeks, and I am so pumped for this record, I think it's going to be a great one!



We were talking about their song Sirens this morning, and I was telling BJ how this song is quickly becoming one of my all time fave PJ songs…it's so good! One texter even brought up a great observation…

STP, Sirens reminds me of Mother Love Bone ... which is a good thing!


---
"Hola,

Although the drug has been big in Russia for the last 10 years, a drug called 'krokodil' (pronounced 'crocodile) is making its first appearance in the states... namely Arizona. Basically, it's codeine mixed with something like GASOLINE or PAINT THINNER or OIL... and then it's INJECTED directly into the vein. And yes, it's as bad of an idea as it sounds. It's a flesh- eating drug (because, as it turns out, paint thinner does a number when it's inside of your body) but before your skin falls off of your bones, it turns green and gets scaly... hence the name. If you're squeamish, don't click the link, it's right over there but seriously, don't click the link. Armed with this knowledge, people choose to inject it anyway... and all of them live to regret it... or die. On the subject of regrets, we also had a list of the 'phases' that people went through in their younger days that still make them cringe; whether it was a hairstyle, a nickname or an affiliation. These things happen, and they led to today's question: WHAT DO YOU WISH YOU'D NEVER TRIED OR DONE?

Crack and heroin... kicked crack, but has been knee- deep in the H for 5 years.

Tried to climb into a 2nd story window when he was drunk. Fell and broke his leg

Wishes she wasn't such a slut as a teen

Salvia... even though the trip only lasted about 5 minutes, says it was a bad trip

Had sex on 'shrooms (which I'm a fan of) but says it wasn't such a good idea

Drink and drive... like EVERYONE who I've ever heard make this claim, it has nothing to do with the drinking and driving, but everything to do with getting busted and paying the price

Sure, she was on meth, and yea, she was f**king her dealer, but what she regrets is kidnapping the two guys who broke into the dealer's apartment. Like the drinking and driving thing, the regret was the social debt she incurred after getting busted

Wishes he'd never started playing World of Warcraft because it's a time- consuming, soul draining hobby

OK, that's all I've got today. Frankly, I have to pee and I'd like to think that by the time you read this, I'll have done it.

Until tomorrow, deny all and STAY BEAUTIFUL!"
---
---
I am fascinated by communication.

For my money, there's really nothing better than good conversation. I love to talk, I love to listen…and yes, I will occasionally stop talking long enough to actually listen.

I'm also the guy who will talk to pretty much anyone. Movie star, busboy, stripper with a wooden peg-leg, 90-year-old man passed out drunk on my lawn in a Black Widow costume – I only care if you can keep up your end of the chit-chat.

The best conversations happen between good friends, of course. You know each other, you have a rhythm, and the topics can range from mundane to intensely personal. If we're close friends, you can talk to me about anything.

Having said all that, I need to let you know that I am sick and tired of hearing you moan and whine about your never-ending relationship problems!

I'm your friend, not your therapist. You know how we all have that one friend who's always moping around and wallowing in their own misery? You know, the friend that you finally start avoiding, because you don't want to spend an evening out with Eeyore?

YOU ARE THAT FRIEND. Go get some therapy. I know you're skeptical, but it's pretty much a scientific fact that trained therapists give better advice than the average person.

Plus, they have to listen to you. That's why you pay them.




---
This is the video of the day…Earlier this month, a reporter named Sabrina Rodriguez was reporting live from a wine and music festival in Northern California . . . and for some reason she was standing with a baboon named Mickey. Then a few seconds into the report, Mickey decided to fully cup Sabrina's right BREAST . . . and hung on for a solid 15 seconds with a huge baboon SMILE on his face.



No…that baboon is not a fan of grapes…he's a fan of melons! Waka Waka!

For some reason the guys think I look like that baboon when he smiles…I don't see it, but OK.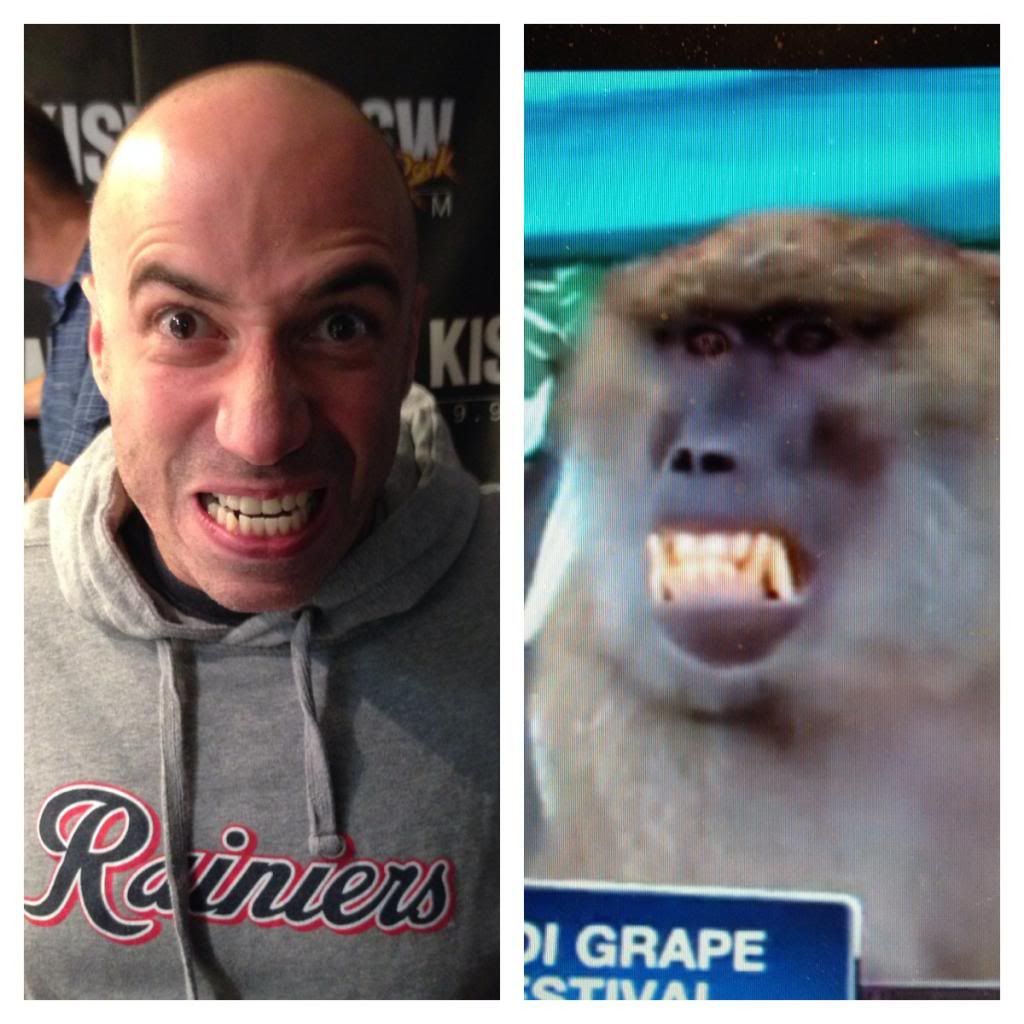 Crazy things seem to happen to reports when it involves grapes…lets never forget this classic moment:



I got this message from a fellow Rock-A-Holic named Steve…please check it out and support the cause!

Please, Please, Pleazzzzze Promote that we are sponsoring a Block party this Saturday to raise the funds for a remodel of the Tom Schuster Memorial Park.. All vendors welcome, admission is Donations Only. This Saturday starting at 10 Am, McKinley Ave East and E. Harrison Street, Tacoma
This morning we got talking about that time we recorded "God Bless America" with Jonathan Jayne. Jonathan was the cast off on American Idol that's from here that the judges were super douches too back in the day, and we got to know and love the kid…and his big dream was to sing/record "God Bless America", so Thrill and I gathered some of our friends and we went in a studio (Orbit Studios) to record it:


According to a new survey from Canada, 47% of people say they're currently, quote, "LIVING THE DREAM" at their job. That's almost half of people who are working at their dream job. 65% of people say they look forward to going into the office each day.

Almost half of people say they're currently "living the dream" at work…is this you? If not, what would it take for you to be "living the dream" at work? Here are some of the texts we got:

I'm living the dream because I get to drive around all day and listen to you on KISW. Thanks a lot guys you rock

I'm living the dream! You know, because nightmares are dreams too.

I love my job I work as a vet tech 3 to 4 long days a week. Dream job would need to be closer home with a better boss.

I'm living the dream currently at the age of 23. I am a chef and own a very successful restaurant business.

My dream job is to be professional fighter, my debut is in November. Next step is to make enough to not have to work at the same time

Nope. I like to stay busy but this is not my dream job. My dream job would be to own a gaming store. Tabletop and video that had a bar and a stripper pole Cajun

If waking up and cold calling is a dream job then yes I'm in heaven. As great as it is to get hung up on, I would turn around and go back home today if I could

I work at Nintendo in the video game testing department and for me Monday is the best day of the week. I love my job.

I love my job! I'm a baker and go to culinary school for baking. I get to spend all my time in a kitchen, covered in flour. Its awesome!

I get to fix other peoples $100,000 cars for a living.. It's pretty sweet

Dream job - general manager for the seahawks

I a police officer and it's the best job in the world.
---
"Hola,

Customers who bought the 20- year reissue of Nirvana's "In Utero" at Silver Platters Records ALSO got a free tattoo of the Nirvana smiley- face logo. You didn't HAVE to get the tattoo, but if you're a Nirvana super- fan, the opportunity was there to prove your devotion. Earlier this week, Apple fan- boys proved their (somewhat misplaced) devotion to the latest iPhone by waiting in line overnight. Camping out the day before a new iPhone release has become par for the course, but you can't doubt their allegiance. It's like going to a new Star Wars movie, or Star Trek or Harry Potter or the Avengers; a lot of people go, but the guy dressed like Mr. Spock or Thor or Chewbacca... that's the real fan. Today's question: WHAT PROVES THAT YOU ARE A SUPER- FAN?

Makes his own costumes for Comic- Con... did a Mr. Freeze costume (Batman enemy) complete with refrigeration

Rob Zombie and Korn... got their autographs on her body and then had them tattoed

The show Firefly... has a ton of memorabilia and is about to get a 'Brown Coats' tattoo. Yes, there was a theme today; tattoos are the ultimate proof of your devotion

KISW... listens to the station about 10 hours a day

Our show... has stickers of our logo all over the inside of his work truck

The Dallas Mavericks... has their logo tattooed on his leg

The 'Wizard of Oz'... she even wanted to name her daughter Glenda (the good witch), but her husband, mercifully, put the kybosh on it

Has an in- ground pool in the shape of the Rolling Stones lips and tongue logo. THAT is dedication

He's a fan of the Mariners... he even (foolishly) makes a $50 bet each year with his brother that the Mariners will finish .500 or better. He openly admits that he loses way more than he wins

OK amigos, I'm outta here like Vladimir... whoever Vladimir is.

Oh yea, I've posted pictures of my daughter's furniture "art" for your viewing pleasure. I got a lot of response (positive) after ranting about her desire to write on everything in my house, so, as requested, I've included a small sample of her efforts.

Until tomorrow, rock it like you love it and STAY BEAUTIFUL!"
---
NIRVANA: Buy Kurt's Childhood Home

If you're a big time Nirvana collector, you can buy Kurt Cobain's childhood home.
Cobain's mother, Wendy O'Connor, is putting the 1.5-story bungalow in Aberdeen, Washington on the market this week and listing it for $500,000. She says she would welcome selling it to a partnership to make the home into a museum. Cobain's room still has the stencil-like band names -- including Iron Maiden and Led Zeppelin -- he put on the walls, as well as the holes he put in them.
Cobain's parents bought the house in 1969, when Kurt was two. He lived there until they separated when he was nine, and again with his mom during his later teen years.
Source: Seattle Post-Intelligencer

---