Posts from October 2013
"Hola,

Parents can do some things that just make us, their children, cringe. Maybe it's suffering through a sex scene in a movie... and they comment on the action, or they hit a midlife crisis and normally bald father starts rocking the dreaded toupee. The Daily Mail came up with a list of the 10 most cringe- worthy moments with your parents and the above represents two of them. Then there's a story out of Belgium that you'll probably find disturbing. First, you should know that in Belgium, euthanasia is legal for people 18 and older. If you're an adult and feel the need for an assist in your wish, Belgium's got you covered. Here's where it gets f**ked up; the Belgium government is now considering extending the right to children... as long as they have the consent of their parents. Think about that. Sure, as a parent, there are times I wanna "kill" the kids, but figuratively. The idea of signing off on their literal death is just messed way the f**k up. Just me? Nevertheless, in Belgium, I suppose there are just enough parents out there willing to have their kids killed to justify the consideration of the bill. I'm all for parents supporting their kids decisions, but Goddamn. Look, maybe your parents were the cool ones who let you and your knuckle- head friends underage drink in the basement or they encouraged you to beat the sh*t out of the assh*le neighbor kid, but today we wanted to know: WHAT WERE YOU SHOCKED YOUR PARENTS WERE COOL WITH?

At age 14, he stole weed from his mother... when he got busted, they started smoking weed together

When he was 17, his mother forged a doctor's note so he could skip school and see Metallica

Was "astonished" when his 62- year- old father was busted at a motel in Eugene, Oregon... for dealing 10 pounds of meth

Was surprised when his "super- Christian" parents let him listen to metal

Black chicks!

Parents bought him a keg for senior skip day

Found out that his 'conservative' dad used to do copious amounts of drugs back in 'the day'

Got out of jail for assault, let out of prison, returns home and started smoking weed... with his mom

Mom would buy him beer if he promised not to do drugs... held to the promise... until he moved out of the house

There you go, bitches.

Until tomorrow, I'm coming to get ya... so STAY BEAUTIFUL!"
---
Today is Halloween and I am sure you fired up, well maybe not since it is a weeknight but either way enjoy some candy. See there is not a ton of times you can just eat candy without feeling a little bad but it is Halloween so get some. I think the best trick is to buy more candy then is expected so you have leftovers. Now if your a parent I am sure you can just steal some from your kids. I think when I was a kid I tried to count all my candy before bed because I knew my Dad would be trying to steal snickers. It is also the time of year where people like to dress up and act a little more crazy. Lots of cleavage and short skirts today as well. I wonder what kind of candy will be giving out and what I will get if I was going trick or treating. I will be handing out Twix, snickers, and M&M's which I feel like are three of the classics. I hope you go out and have some fun and get a little candy tonight
---
Lewis Black Candy Corn from Dan Flaaen on Myspace.
---
Happy Halloween, Rock-A-Holics! Don't be afraid to stop by Group Therapy while you're out trick-or-treating; I know you probably think we'll be giving out dental floss, or psychology textbooks, but I promise we'll do our best to give you something sweet.

Melissa reached out for some Halloween-related help: She and a friend were recently prepping their costumes for an upcoming party, when they spoke to another friend, who was planning to hit the party dressed like Dany from GAME OF THRONES (that's the very attractive Mother of Dragons, played by Emelia Clarke). Needless to say, this is definitely a "sexy" costume.

Here's where it gets awkward: The friend in question isn't in very good shape at all, and Melissa isn't sure if she should try to talk her out of wearing such a revealing outfit. There's a lot of potential embarrassment at play here, and it isn't limited to just the girl wearing the costume. It can be tricky to judge these situations without knowing the hard facts about all the people involved, so we're going to rely on common sense in our judgment.

I know that guys have it easier when it comes to being "Doughy Superman" or "Hairy Harry Potter"; it's a double standard, and it's wrong, but we're not here to solve that issue right now. Women are judged far more harshly in regards to their costumed sexiness, and that won't change by the end of this blog…so it leaves us without a true black-and-white answer to Melissa's dilemma.

The best advice I can give is this: Halloween is day of disguises and deceptions; it's a time to step outside of your normal existence, and live in your own imagination for a few hours. If the friend is comfortable in her costume – regardless of her physical state – then more power to her. If Melissa isn't comfortable with her friend's decision, then a second Group Therapy session may be in order…because that's a different problem altogether.


---
Did you catch the E:60 special on Marshawn Lynch on ESPN? It's amazing. I already loved Beast Mode, but I love him even more after watching this.



Speaking of sports…Props to the Red Sox, as they won the World Series last night. BJ is obviously a happy camper…or as happy as he can be since he is such a miserable human being – waka waka! I always love watching the celebrations of any championship game…as there are always memorable moments, and this was easily that moment! Here is Erin Andrews interviewing relief pitcher Koji Uehara's Son…



I hope that the Mariners management looks at what happened to a team that went from worst to first and now have rings to show for it. It can be done, hell…this Bo'Sox team was supposed to be a rebuilding team.

Word just came out that Bryon Russell once challenged Michael Jordan to a one on one game…but MJ shot him down! There has been a "friendly" rivalry between them since the NBA finals back in 98 when Jordan had that famous shot where he pushed off Bryon. I think Bryon had ill will towards MJ due to Jordan's 2009 Hall Of Fame acceptance speech where he said he could take Bryan any time anyplace.
Based on this…if you could go "one on one" with any celeb, who would it be, and what would you do (it doesn't have to be a sport)? Here are some of the texts we got:

Yo bj, if I could I would have a "cocaine off" with charley sheen. Some crazy stuff would likely ensue!

Bonghits with Phelps Jay ;)~

Chris brown in a boxing match just cause hes a douche and deserves an ass beating

I would wanna sit in the back of a dark theater and have a race to the fimish line with Pee Wee Herman. Ted im Tacoma

Golf against Stephen Hawking. I suck at golf but pretty sure id win

I could go one on one with Miley Cyrus, i'd be a wrecking ball. Also, STP roll at Trapper's Sushi is excellent!

Beer pong vs. Steve-o and Johnny Knoxville

I would like to play BJ Shea in a Magic the Gathering if I could challenge a celebrity

Get in the ring for one round with Iron Mike Tyson

One on one I'd Love to get into the WWE ring with CM Punk! Especially if it were here in Seattle or in his backyard in Chicago.

I would get in the octagon with Chuck the iceman Liddell...just for one round of course
Tags :

Topics :

Human Interest, Sports

Social :

Sports

Locations :

Chicago, Seattle

People :

Bryon Russell, Chris brown, Erin Andrews, Johnny Knoxville, Koji Uehara, Michael Jordan, Miley Cyrus, Stephen Hawking, Wee Herman




---

ALICE COOPER: His Guide for a Scary Halloween

If you're looking to spend a quiet and scary Halloween at home, Alice Coopersuggests you watch one or all of the following movies and TV shows. Here are his Top 10 choices for the best and scariest:
1) Salem's Lot - "It just accidentally became one of the scariest vampire movies of all time. The book was scary enough, but the movie, that might be the best Stephen King adaptation. The character, Barlow, the vampire, was by far the scariest vampire of all time. When he shows up, it's the full screen of his face, and it's the most evil face I've ever seen in my life. It literally took my breath away."
2) Ghost Hunters - "I watch Ghost Hunters every night. Here I am -- a 65-year-old guy -- and I'm sitting in my house in Phoenix, and of course it comes on late at night. Our kids are gone, they all live in their own houses now, so we're in this big hacienda in Arizona. My wife goes to sleep early, so she's on the other end of the house. After watching Ghost Hunters, I have to walk all the way through this dark house to the other end, and every other little noise, of course, is something that makes you go, 'What was that?' For some reason, that TV show gets me... It's not like Nightmare on Elm Street or 'Jason' -- this stuff is real stuff."
3) Insidious: Chapter Two - "If you want to get close to your girlfriend or boyfriend, go and see this, because they'll be grabbing onto you and holding onto you tight!"
4) Suspiria
5) American Horror Story: Coven
6) Welcome to My Nightmare
7) The Evil Dead
8) Ghost Adventures
9) Carnival of Souls
10) Frankenstein's Army
Cooper will be celebrating Halloween on stage in Montgomery, Alabama.



---
"Hola,

There are just some things you should know. In particular, if it's something that you claim bothers you. For example, the media is having a field day pretending that the website glitches at www.Healthcare.gov are on par with a national tragedy. There was even a Congressional hearing about it. Not to rain on the media's parade, but, if you're having trouble with the website, call 1 800 318 2596. You can sign up and get coverage that way too. How no one has mentioned that with their pathetic 24- hour news cycles is beyond me... but it tells you all you need to know about your "news" organizations. Furthermore, there is no difference between 'Obamacare' and the Affordable Healthcare Act; they're one in the same. Doesn't matter your political affiliation, they're the same thing. Here in Washington State there's a major battle brewing over genetically modified foods. Whether or not they're labeled is at the heart of it, but some folks have their dander up because the very thought of genetically modifying food is a bit of an apocalyptic nightmare to them. Sounds a little too 'sci- fi' for their comfort... and on some level it does sound sci- fi. It's also a former and current reality... and you've been eating GMF's for most of your life. Seedless grapes, seedless watermelon, bananas, broccoli, papayas, most sugars, wheat and soy products are genetically modified... and have been for decades. Then there's more trivial and abundantly more obvious things you should know. Back in 2007, current Seahawks running back Marshawn Lynch was drafted by the Buffalo Bills. Since Buffalo is in New York (state) Lynch believed (in his own words) that he'd be hanging out with Jay- Z... who lives in New York CITY. Buffalo is almost twice as far away from NYC as Seattle is from Portland. And 'actress' Julianne Hough issued an apology last weekend after attending a muckety- muck Halloween party in Beverly Hills. She showed up in black- face. Guess she never got the 135 year- old memo. Nobody is perfect and no one knows everything, but: WHAT DID YOU JUST RECENTLY FIND OUT THAT MAYBE YOU SHOULD HAVE ALREADY KNOWN?

Found out that a woman he used to date used to be a MAN, BABY. In case you're wondering, he ran outside and puked when he found out

Thought 'fromage' was a type of cheese, but 'fromage' is French for 'cheese', so no matter what type of cheese you're eating, it's fromage. In his case, a girl ate a piece of brie and commented that it was really good fromage; he said, "no, this is brie". And then she laughed at him.

Her boyfriend only realized that Seatac and Sea- Tac are combinations of Seattle and Tacoma

Only recently discovered that canned tuna is not raw tuna... it's cooked tuna in a can

Thought that reindeer were just regular deer that were dolled up at the holidays... didn't know they were an actual animal

This is, by far, the best answer of the day: found out 2 years ago (at the age of 21) that July 4th is actually celebrated on the 4th day of July. Thought it was like Labor Day or Thanksgiving, where the date floats... in spite of the fact that the date is in the name

I can't stop farting today. Now you know.

Until tomorrow, make sure the sausage is cooked all the way and STAY BEAUTIFUL!"
---
Watch this with the sound off first.


---

Group Therapy is in session, Gang! When you don't have the time or money to seek professional help, you can always count on the unprofessional (but often very helpful) advice from your fellow Rock-A-Holics!

Today's topic comes from Mary Ann, whose best friend recently expressed interest in dating Mary Ann's ex-husband! The friend went so far as to ask if Mary Ann was okay with the idea. As you might expect, Mary Ann has a couple of major concerns about this, starting with the fact that her friend is fully aware of the problems that led to the divorce, four years ago. Mary Ann is happily remarried, so there's no jealousy at work here; in fact, she doesn't really believe that the relationship would have much of a future, anyway…but if it does work out, will she have to develop some kind of new middle-ground with her ex, for the sake of her friendship?

Mary Ann doesn't feel like she can say anything in this situation. If she points out the negatives, her friend may take it the wrong way; if she encourages the idea, she's willfully turning a blind eye to those same negatives. One bad decision could lead to a damaged friendship.

Personally, I don't understand why Mary Ann's friend can't find a man of her own. It seems a bit lazy to me, and more than a little bit ignorant of the big picture. Like many of the questions we deal with, this one really comes down to personal comfort, and mutual respect. Unfortunately, it sounds like Mary Ann is going to have to sacrifice both of those if she wants to keep her friend.

It's a risky prospect, but I think this is one case where honesty is definitely the best policy. Mary Ann's friend asked for her opinion, so we can only hope that she's willing to accept some honesty. The truth isn't always comfortable or convenient, but it IS absolute. In a situation like this, a strong foundation can make all the difference.












---
I know a lot of people are calling Ubur and the Cheezburger people genius's for their "Rent A Kitten" thing they did yesterday…all for a great cause, but there is someone out there that is more brilliant than those two companies when it comes to ideas…and that man is…..

MILES MONTGOMERY

Yes, one of the fine fellas from The Men's Room is the man of all men. Why you ask? Here is photographic evidence: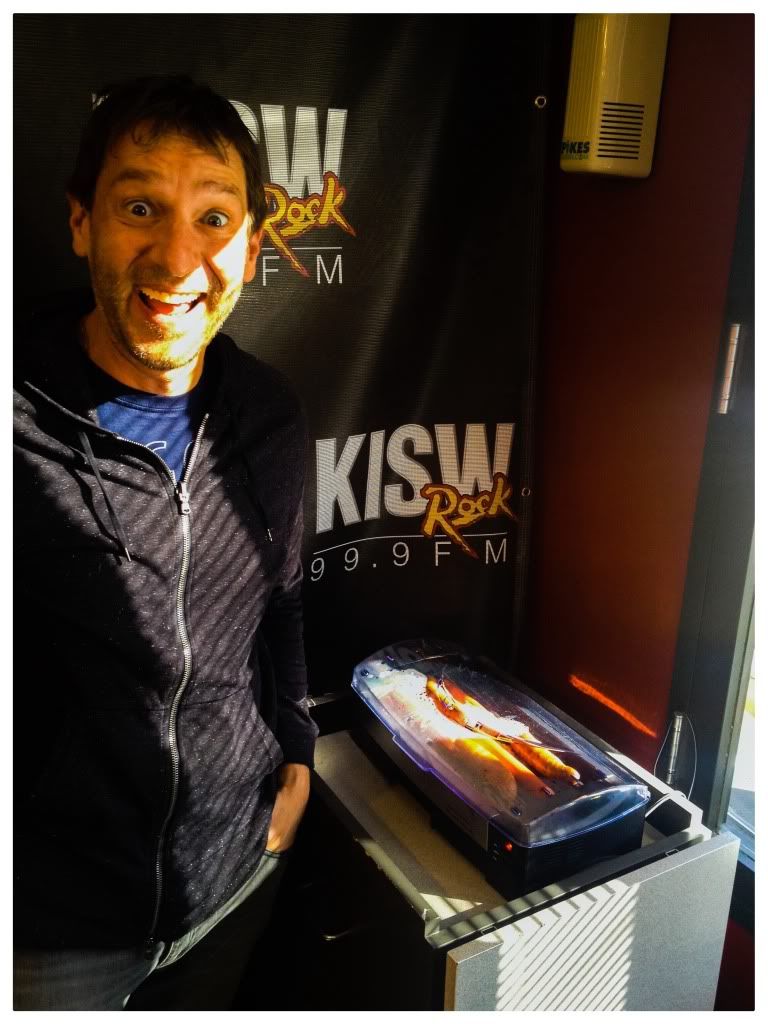 Yes, Miles installed a Hot Dog roller in the studio so that he can cook hot dogs during their show. Are you serious? Best 80 bucks spent. Kudos Miles…Koo…Doze!

Last week, there was a story floating around about a 33-year-old man who had $100,000 worth of plastic surgery to try to look like JUSTIN BIEBER. Sadly, I saw the pic and he looks like Jim Carrey's character from Dumb & Dumber. Oddly enough, he's not the only one that would want to do this.

In a new survey, 6% of people 18 to 30 years old say they'd consider getting plastic surgery to try to look more like a specific celebrity. Overall, 83% say they have a celebrity whose style they'd want to imitate. 72% of people have copied a celebrity's hairstyle, 62% have copied a celebrity's clothing style, and 32% have copied a celebrity's make-up.

What about you? Be honest…when have you tried to look like a celebrity, and how did you do it? Here are some of the texts we got:

In the late 80's early 90's I was known for my MacGyver mullet

Without even knowing it, I was doing my hair loke Pauly D. My friend broke the news to me. -Taylor on Orting.

I tried looking like BJ Shea by buying a wig like his and wearing button up shirts with dragons on them.

Eminem in 6 grade... I have black hair. So when I dyed it, it came out orange.

When I was 15 I was trying to look like uma Thurman by the hair style tried to dress like her tried to slim down and be a tom boy
In the early 90s after high school I got my nipples pierced to copy Nikki sixx. My buddy thought I was crazy and it hurt like hell. My kids recently saw a picture from back then and couldn't stop laughing!

When I was 6 I had to cut strripes in my hair like Brian Bosworth of the Seahawks haha

My sister has put a significant effort into looking like Jennifer Aniston. Im talking about dying her hair, cutting weight, and even a boob job. And she pulls it off pretty well. I can't even find Aniston hit anymore because she looks too much like Jennifer Aniston. Thank god for Emma Stone.

Late eighties tried to look like Brian Bosworth. Had the Seahawks colors in my hair and his fancy mullet..

Sadly when I was in my teens I always rocked the red NY hat cuase people said I looked like Fred Durst. You can disown now. Taylor from Puyallup

I was walking through the grocery store once with a jar of Peanut Butter & someone yelled out, "hey look everyone, its steve the producer"

Big thanks to Matt "The Attack" Kovacs and Ben Fodor (AKA Phoenix Jones) for coming on the STP-CAST...they were on to promote that they will both be fighting at Cage Warrior Combat at the ShoWare Center in Kent. I'll be there too, not fighting, but hanging with Rock Girls...and cheering on my brother Matt Kovacs! Get tix at www.ShowareCenter.com , or get an awesome deal through GetMyPerks.com for a meet & greet, buffet, etc. Listen to the STP-Cast on iTunes or right here:

http://media.kisw.com/a/83262462/stp-cast-10-29-13-guest-matt-the-attack-kovacs-and-ben-flat-top-fodor-who-are-fighting-at-the-cage-warrior-combat-mma.htm?

Speaking of the STP-CAST -- today's video blog stems from a moment on this weeks podcast where Mono-Nick tries to give himself a hickey!


Here is the same VLOG for you iPHONE users!


---