Posts from May 2015
Jolene's announcement was like the same feeling I had back in 1999 when I heard the NFL's Barry Sanders of the Detroit Lions just up and quit the game in his prime with no real reason why. Sanders left the game just 1,457 yards short of being first place on the list for the NFL all-time rushing record at that time. Now we don't have to lay down any statistics as to how Jolene is perceived in the Seattle airwaves, she was the Queen of the night time FM radio. As a teen she dreamed about working at KISW and 11 years ago she conquered that dream. Last Tuesday she shocked Seattle by announcing her retirement from radio and Friday was her last day at KISW. Just like the Barry Sander situation I was in shock. Takes some big balls to quit anything at the top of your game. Jolene felt it was her time to move on in life and with her upcoming wedding I can see a life shift that backs up her decision.
For 8 of her 11 years at KISW I got to hang and photograph her at events. In the beginning (she'll admit) she didn't like her photo taken. Took a good 2 years for her to loosen up then BAM she was rocking the camera as you'll see in my photo gallery (2007-2015) video below:
So on May 29th I put on one of these Jolene wigs hanging around the station and went to work with her covering her last time on-air at KISW.
The response was awesome in support. Phone calls in from Duff McKagan (Loaded/GNR/Walking Papers), Sean Kinney (Alice in Chains), KISW Hall of Famer Cathy Faulkner and current morning radio giant BJ Shea. In studio visits from former KISW DJ Ricker, performances from Windowpane and Witchburn. Famed producer Jack Endino, Musician Paul Passereli stopped by and more.
Check out my full photo gallery HERE.
Here's a video of Windowpane and Witchburn's performances and other quick clips I did in the studio. For all the audio interview and phone call clips plus some videos go to KISW: http://www.kisw.com/Jolene-s-Last-Ride/21561570
Jolene will be missed. Her support of local music was undeniable at the station and hope someone there continues that tradition. Thought it would be cool to end the blog with a photo of her last second on-air.
Good luck Jolene! "Iron" Mike Savoia
---
Today's blog comes from one of my mentors, Dan Sanders:

With so much racial unrest in our sad little world, I thought I would view race from a musical standpoint. It's obvious when you look at the history of modern music that race played a major role in music as we know it now.

In 1946, King records began producing what was called race music, music produced primarily by and for African-Americans. People who had been brought to this country already full of rhythm and blues and gospel were forced into servitude by white land barons, but the whip could not silence their music. They found hope in their music, and these African people began to mingle with Native Americans, who themselves were already enslaved and close to being exterminated, clinging to their own music, beliefs, and hope for freedom. As these different musical traditions flowed into and around each other, a beautifully unique musical world was created. All of these cultural traditions formed the roots of jazz, American folk, gospel, and the blues. As I mentioned last week on his death, the music of blues great B.B. King was once labeled race music.

Fast-forward to 1954 and Blackboard Jungle, a film about a teacher at an inner-city school that featured Bill Haley and the Comets' "Rock Around the Clock" in the opening credits. The film helped boost the popularity of rock and roll among teens, but for the rest of the population, it raised fears that rock music was related to juvenile delinquency. In January 1957, the U.S. congress considered legislation that would require song lyrics to be screened by a review committee before they could be sold because of a controversy over so-called obscene lyrics.

As recently as February 2015, Cleveland's Fox 8 news anchor Kristi Capel used the word jigaboo during a live broadcast to describe Lady Gaga's music, saying "It's really hard to hear her voice with all that jigaboo music, whatever you want to call it...jigaboo." Apparently, Capel is one of the newsies with hair and no brains. I have some hope she didn't know that jigaboo was an old racial slur against African-Americans, a term I heard growing up in the south. What I don't get is why she used a word she probably didn't understand. Hair got in her eyes and affected her brain, I guess, as she made this statement.

We all have our own tastes in music, and thank god, or we might all be listening to nothing but spoons ensembles. I don't like rap, especially the violent, gang, damn-you type of rap, so I don't listen to it and hope it doesn't encourage violence. But rap music is an example of free speech, whether I like it or not, and it is music to some ears. Anyone who tries to stop rap music is as much a racist as the first Americans who brought slaves to the colony of Jamestown, Virginia, in 1619, or the people of 1946 who established race music as a genre or the congress of 1957. I still believe that music can save our mortal souls.

There are more thoughts on all this and other topics on the shores of Rambling Harbor. Play the podcast and join me there.

http://dbsanders.podbean.com/e/let-the-music-play-1432476273/
---
This weekend is Memorial Day and it is a great weekend to fire up the grill and enjoy some times with friends and family. The reason we have Memorial Day is to honor those that have given the ultimate sacrifice in their service with their life. While it is a somber thing I believe it is also a time to remember the good times you had with these fallen men and women while honoring them. I went to high school with a guy that lost his life in Afghanistan 2010. I want to tell you about him. Brendan Looney was his name and he was a NAVY SEAL who had graduated from The Naval Academy. Looney was a awesome dude and fun to be around, a nice guy who had a smile and a laugh with you. When I think of Looney I tend to not think about him as a SEAL fighting wars but more of who he was a the fun times we had at DeMatha. One time I remember, and keep in mind this was the late 90's, he had this shell he had to wear on top of his football helmet for head injurious. One day I am in the old part of the school in class and Looney is in the hallway walking around with just that goofy shell on making us all laugh. Our teacher was cool with and he had us cracking up and no way to explain but it was damn funny. I miss my buddy and what he stood for as man but I will also honor him in different ways but I still like to think of him as smiling and laughing.
---
Happy Friday, Rock-A-Holics! Before you take off for the holiday weekend, we could use your help with some Group Therapy!

Today's patient-in-need is Doug, who texted us (at 7999, of course) looking for some advice about his wife. Doug thinks his wife – who is in her 50s - doesn't dress appropriately for her age, and he's a bit embarrassed by some of her choices. He insists that he loves his wife dearly, but she just doesn't have the figure to pull it off.

Some may disagree, but I think Madonna is a perfect example of a woman who doesn't dress her age. Sure, she's in great shape, but she still looks like an older woman to me, and I find myself wincing a bit when I see some of her clothing choices. I'll even admit that I had to ditch my preferred skater-casual style, because I was definitely in danger of looking like an old guy who's just trying too hard.

So, my opinion comes down in support of Doug. I'd love to hear from you, gang – are Doug and I being old-fashioned and sexist, or do you agree that older women should stay in their lane, and dress their age?
---
Gotta love coming to work and checking my mailbox, and receiving some mail from Crazy Cheri!



That wasn't the only awesome thing that came today! Thank you Pac Man and the Pixels movie for bringing a cake by! Thanks to Irish Rose Bakery in Renton for making an awesome looking cake! http://irishrosebakery.com/



Pixels is out July 24th, and Happy 35th Birthday to Pac Man. Yup…35 years old…man I am feeling old! Check out the trailer for Pixels here:
---
Ah, it's that time of year again: flowers in bloom, sunshine on a regular basis, and love in the air. The conditions are perfect for a wedding…or Group Therapy.

Karen is in love, and the feeling is mutual. She and her boyfriend have been together for four years, and the guy proposed, in true romantic style, on a recent trip to the beach. There's just one problem: he has a very prominent tattoo of his ex-girlfriend's name on his arm. Karen wants it removed before they get married, but he's not too keen on going through that very painful process. So, she's wondering if she should put her foot down, or just move past it.

People have a lot of expectations that they foist upon other people, and this isn't the most typical situation, but I think that a lot of people would probably be sympathetic to Karen's position in this case. That being said, it's no easy feat to remove a tattoo, and the result can certainly be unattractive if things don't go too well.

I'm leaning in favor of the boyfriend here, but maybe you can persuade me otherwise, Rock-A-Holics…
---
It was nice to go on Facebook and see people posting fun stuff yesterday as opposed to the usual doom and gloom that many like to spew onto the social networks… and we will mainly have to thank David Letterman for that.

Last night was Dave's final show as the host of The Late Show. I really enjoyed reading everyone's connection to Dave. I know he had an impact on my life, just like many others. Dave was my late night host. I dug the other hosts, and was entertained by them… guys like Carson, Arsenio Hall, Conan, Jimmy Kimmel, and nowadays Jimmy Fallon… but Dave is the gold standard.

Letterman was the guy I watched growing up… staying up late to see what crazy antics he would get into. Whether it was him jumping onto a Velcro wall, attaching a camera on a monkey, having people and/or their pets perform dumb tricks, or tossing random crap off the top of the building… I sat there in awe. Dave felt like a member of my family… that's why whenever a listener tells us that we feel like a member of their family it is easily the greatest and most humbling compliment I could get.



I was lucky enough to see Letterman twice in my life. The first experience was my favorite, and it had nothing to do with the guests… his only guest was Homeland Security director Tom Ridge, and musical guest Puddle Of Mudd…it had everything to do with the experience. I was just walking around Times Square when a intern for the show just walked up to me and asked me if I wanted to go to Letterman the next day. I of course said YES, and she said I would need to answer a question. The question was… who is David Letterman's stage manager? That was easy -- Biff Henderson. She then gave me the info to get tickets, and my day was made.

When I got there the next day… the process to go in could only be described as a full on "brain washing". I am not kidding. From the moment you get in line, to the moment you sit in your seats, multiple interns and production assistants come up to you to explain to you the importance of laughing at Dave's jokes, smiling, and applauding. By the time we all entered the Ed Sullivan Theater we all looked like smiling laughing zombies.

The moment that Dave walked out to greet us was a moment I can't put into words. To be 10 or 15 feet from a man that helped define my sense of humor, and fall in love with the talk show medium was an overwhelming feeling.

The next time I saw Letterman I was able to put a request in through their site months in advance and when I arrived to New York I got a call saying that I got tickets. That time was equally as awesome, equally as brain washing, but the guests were way better – it was Sandra Bullock (or Julia Roberts – I get those two confused all the time), and the Black Eyed Peas were the musical guests.



This was one of the coolest parts of last night… The Foo Fighters were his final guest, and they played a song that Dave loves… "Everlong" … and they showed highlights spanning 33 years of Dave's career during the performance.



I think Jimmy Kimmel gave Dave the best send off a couple days ago, as he fought back tears while talking about his idoil…and he told his viewers to not watch him and watch Dave's final show instead!

Tags :

Topics :

Entertainment_Culture

Social :

Entertainment_Culture

Locations :

New York

People :

Arsenio Hall, Dave, David Letterman, Erin DeLucia-Benson, Jimmy Fallon, Jimmy Kimmel, Julia Roberts, Puddle Of Mudd, Sandra Bullock, Steve Migs, Tom Ridge




---
We want to see your good side, Rock-A-Holics!

Not like THAT…we're talking about the good side that is always ready to help out one of our own with some Group Therapy!

Today's topic comes from Will, who started following a woman on Instagram a while back. Most of her pictures are a little bit racy, and she has a large number of followers. Not long after Will started following her, she messaged him, wanting to hang out. Will was shocked, but he went for it…and two months later, they're officially a committed couple.

Unfortunately, the social-media-savvy new girlfriend hasn't taken her new relationship status as a sign that she should stop sharing her provocative photos online. She isn't willing to give up her fan following, but Will doesn't want his new mate sharing her goods with the mass audience. He's wondering if he should draw a line in the sand, or just let it go.

This is a tough one (aren't they all?) because Will met this woman under these established conditions, and got into a relationship with her, having full knowledge that she does this. Most guys don't want anyone else seeing their girlfriend in a revealed state, but I don't know if he has much room for negotiation here.

We'd love to hear your thoughts, good people!
---
Today is awesome. Why? because this happened!


I am a HUGE fan of the TV show Entourage. I mean… HUGE. Hell… just a few months ago I watched the entire series again. We binge watched it and cranked out all of the seasons in just a couple of weeks. The show still holds up as one of the greatest comedies of all time.

When I heard that they were going to put out a movie, I was of course excited that I could see the fellas again and watch whatever crazy antics they get into…but I was also nervous that it might be a let down, or just feel like a really long episode. Well yesterday I got to see an advance screening…and damn this is an AWESOME movie. The did a phenomenal job with this. If you are a fan of Entourage, you will LOVE it. Hell…even if you have never seen an episode before, they did a great job in the film setting the characters up so that you too will enjoy it. Props to Doug Ellin and the crew…they knocked it out of the park.

The film is out on June 3rd, and the reason why I got to see it so early is that Doug, along with a few of the guys – Kevin Dillon, Kevin Connolly and Jerry Ferrara (along with director and creator Doug Ellin) flew into Seattle yesterday to meet up with Russell Wilson of the Seahawks and show the movie to the team… as well as join us in studio. How cool is that?

Thanks to Warner Brothers Pictures for sending us these pix… this picture looks like it could be the promo pic for the new version of Entourage…where the fellas ditch Vincent Chase and hook up with Russell Wilson!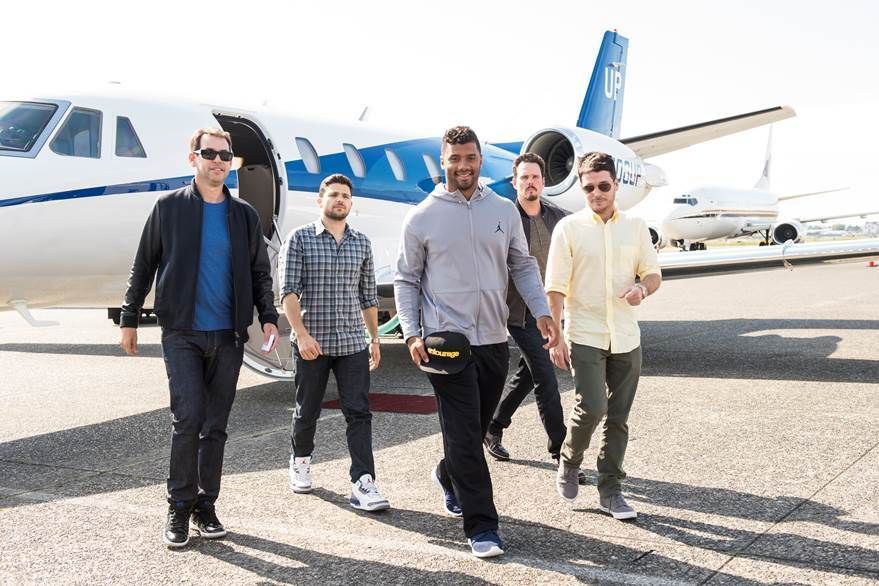 Here they are kicking it in the locker room as well…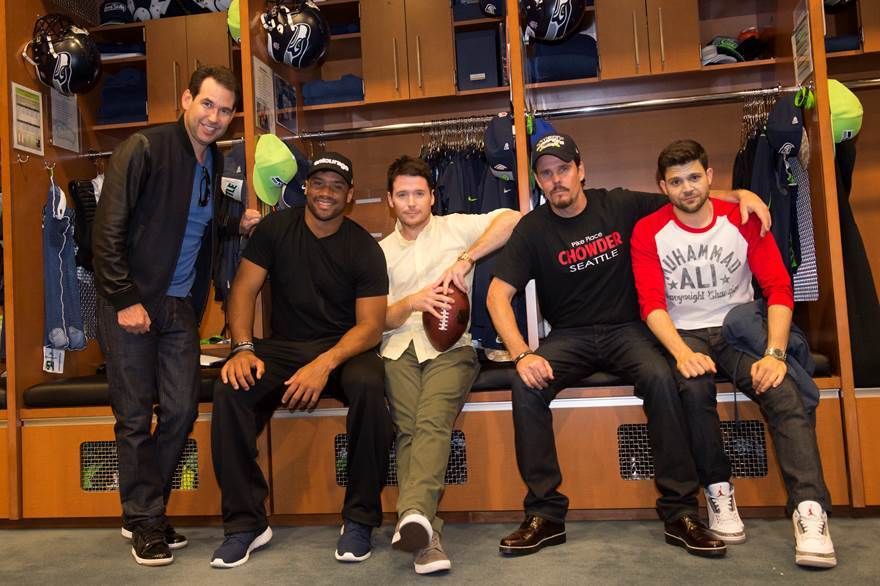 I was following them on Twitter and Instagram yesterday as they were enjoying the sights of Seattle…like going to the original Starbucks…



Hitting up Pike Place Market….



And enjoying some time at the VMAC – the Seahawks practice facility!



Here is the trailer for the film… I highly recommend seeing this movie!



Oh yeah… Russell Wilson makes a cameo in the movie… this is one of the scenes that he is in….

---
As the weather gets warmer and summer quickly approaches I have to think about smells. The summer time can afford a lot of different and fresh smells in my mind. Now one of the first ones that comes to mind is fresh cut grass which I will add as someone that used to be a landscaper, it smells better when someone else has cut it. Another thing I like when I think about summer is how you can get up in the in the morning and you know its going to get hot but right now it is that nice morning temperature. For a lot of people summer also means that they will be going to the beach which has it own smells. First off the ocean clearly has a smell and then of cores the smell of the food. The smells of the beach can mean many things but I think of seafood especially crabs and also some type of fried treat maybe a elephant ear or funnel cake type thing. The other big smell is the ever present grill, weather you are cooking fancy steaks and salmon or just the standard hot dog the smell of the grill says summer. Side note last summer was all about shrimp on the grill and I believe this summer I will cook different fish often as I am trying to eat more fish. Summer of fish does not have the same ring as summer of shrimp though. Now there is also bad smells like sweaty people on the bus. I myself tend to be a sweater and I am not fired up for that but I am fired up for jumping in bodies of water. I say bodies of water because I enjoy all of them. Lakes, rivers, oceans and pools. I am getting excited for summer just writing this. Last note is don't forget the sunscreen
---