We appreciate your commitment to Group Therapy, but we totally understand if you don't want your friends to find out! Sometimes, I wish I could hide the fact that I'm associated with Steve…

Today's patient-in-need is Katie, who admits that she's reluctant to share…because she's afraid of my reaction. I'll do my best to be fair and balanced, as they say on the TV.

Katie has been married for three years, and she goes out with her single girlfriends every so often. When she hits the town with her girls, she has started taking off her wedding ring. She says she's certain she won't cheat, but she does like having the freedom to flirt. You see, she was finding that men would gravitate to her friends, leaving her alone…you know, as if she's MARRIED or something.

But wait…Katie says she knows where to draw the line with these flirtatious guys! She thinks it's healthy to go out and have fun once in a while, and she's definitely not cheating! Of course, if you listen to this obscure television personality named "Oprah", then Katie has already cheated on an emotional level.

I'm going to take a short walk right now, folks. I need to blow off some steam – totally unrelated to this, of course – and I'm leaving this in your capable hands. What do you think about this ring-a-ding-ding situation?
---
Looking to have your day made? I have a video for you!
Some guy in Florida is training for the show "American Ninja Warrior", where you have to run a crazy obstacle course…and he recently ran through a practice course in a tyrannosaurus rex costume. Enjoy & have a great weekend!



Oh before I forget… please vote for our podcast in the Best Of Western Washington for KING5. We are in first right now, but in the past we have lost out at the end of the voting… lets get this lead padded!

http://best.king5.com/the-migs-cast/biz/633659

Also, while you are there...please vote for me in the radio category:

http://best.king5.com/steve-migs/biz/701198

Speaking of the Migs Cast… this week we had a powerful episode… it was an emotiuonally tough one to do, but it's all about finding that moment of positivity…that beacon of light…when life gives you news that puts you in a dark place.


---
Is it time for Group Therapy AGAIN? You know it is, Rock-A-Holics!

Five years ago – in college – Marcia did something that seemed like no big deal at the time, but now she's afraid it might come back to haunt her: she sold some naked photos of herself to a guy who was building his own private collection. Marcia wasn't the only college student who bared herself on camera for this buyer, and doing it didn't really bother her at all; it was easy money at a time when she needed the extra income.

Here's the catch: Marcia's old photo collector associate is around again…as a co-worker at her new job! She spotted him during her first workplace walkthrough, and now she's a little worried about gaining a bad reputation if he spills the beans. He isn't aware of her presence yet, but it's a small office; their paths will cross eventually.

What advice do you have for Marcia, folks? If you were in this situation, how would you handle it?

---
Yesterday was NXT Takeover… if you are a wrestling fan and you aren't watching NXT on the WWE Network, you are missing out on the best in ring action out there right now. This is the "developmental" division for the WWE, but I put that word in quotes because they are far from that…these wrestlers are at the top of their game.

In the world of wrasslin' they often refer to a match as telling a story…after all, the basic premise of a match is good guy vs. bad guy. What makes a match great…what makes it compelling…is the story that they tell in the ring. Last night two wrestlers told a story on par with some of the greats…and the best part…the two wrestlers are females.

The main event last night was a 30 minute "Iron Man"…or "Iron Woman" match between NXT Women's champ Bayley & Sasha Banks. This was a rematch from their last match where Bayley won the championship in what I deemed the greatest women's match ever, and a strong candidate for Match Of the Year. Here is a cool highlight video from their mach a couple months ago…



Last night's match was on the same level… amazing story telling… you were fully invested in what these two did in the ring…and yet again, Sasha Banks confirmed to me why she is not just my favorite WWE Diva, but my favorite WWE Superstar overall! She has an amazing ability to get the crowd invested in every move she makes, and her in ring abilities are "A" level!



Here is a great clip from last nights match…

---
If I had a nickel for every time I said, "I hope I get to climb the Space Needle one day." I'd have zero dollars and zero cents. The thought never even crossed my mind! Maybe that's because the opportunity wasn't even possible before Ben The Psycho Muppet and I signed up for Base 2 Space. Before this awesome event, the stairs of the Space Needle had never even been open to the public! When we were presented with the chance to do this, Ben and I both were ALL OVER IT!

What made Base 2 Space even more special, was the fact that we'd be raising money for Fred Hutchinson Cancer Research Center. This organization is so near and dear to my heart and the hearts of many, because they are dedicated to the elimination of cancer and related diseases as causes of human suffering and death. We have ALL been touched by cancer in our lives - A family member, a friend, a co-worker. There are very few, if any people, who can say they've never experienced a cancer battle. My first experience with cancer was when I lost my uncle John to prostate cancer when I was 14 years old. Years later, his daughter and my awesome cousin Megan was diagnosed with breast cancer at a VERY young age, and she won her battle! She kicked cancer's ASS! Whenever I'm presented with an opportunity to fight back against this horrible disease, I do. Because cancer does not discriminate. It doesn't give a damn about your age, your sex, your political affiliation, your economic status. Cancer is a real jerk.

Every year, organizations like Fred Hutch are making HUMONGOUS strides and advances in treatment options and discoveries through innovative research, and this is made possible through critical funding. We have come leaps and bounds in the 16 years since my uncle passed away. But there is still much work to be done, until cancer is a thing of the past, and we no longer have loved ones being taken from us.

Ben and I together raised nearly $1,000 for Fred Hutch leading up to the event! We are so proud that our Rockaholic brothers and sisters stepped up and supported us on this journey - THANK YOU! Knowing that everyone has a story of how cancer has touched their lives gave me SO much motivation when we were training and preparing for the big day. And let me tell you - Ben was WAY more prepared than me! Every day he'd come into the station and tell me how many flights of stairs he climbed that morning. That definitely helped me get my ass in gear!

When we arrived at the Seattle Center under the needle to pump ourselves up, we were nearly distracted by the Elysian beer garden, and almost missed our start time... Haha not really. But it was a BAD ASS set up, with a big stage and bands playing throughout the afternoon. Lots of great booths and food trucks were set up so that finishers and their supporters were fully entertained for the day. SO awesome!




Waiting to climb, they split us into two groups, and we utilized both stair cases for the way up. Yes, there are TWO stair cases in the Space Needle! Who knew?!?! Ben and I were both in the Trotter category. Before us that day were the Elite and the Runners, and later would come the Walkers. Although let's be honest, after I trotted three flights of stairs, I myself became a walker... There were a few great photo opportunities that caused me to pause and snap pictures of different angles of our city on the way up. I could help myself. Yeah, it cost me some seconds off my finish time, but TOTALLY worth it!



When we got to the top, I learned that Ben had finished a whole three minutes earlier than I had - NOT SURPRISED! His finish time was under 9 minutes, mine under 12. I think we were both pretty pleased with those times! The views on a cloudless fall day were stunning. The finishers were given some time to walk around, enjoy the views, and celebrate an awesome feat.




The best news? We got to take the ELEVATOR down! WOO HOO!!!!! We met up with our cheerleaders in the beer garden - my boyfriend and my brother, Ben's wife, and Thee Ted Smith. So stoked to know that we had so many people rooting us on - both on site and in spirit!

All in all, I am COMPLETELY committed to making this an annual thing for me. It was an amazing experience, being a part of the inaugural Base 2 Space climb! I would encourage and invite ANYONE to join in this incredible event in 2016! I'll keep you posted as soon as the details roll out. :)

Thank you again to all who supported me - YOU are the best!

Happy Adventuring,

Taryn Daly
#TarynItUp
---
Welcome back to Group Therapy, where there's never a cover charge! We do, however, recommend a two-drink minimum. As always, we would like to remind you to keep your hands off the talent at all times, and don't forget to tip generously.

Today's Rock-A-Holic in need is Aaron, and he's worried about his buddy's new relationship. His friend has been seeing this girl for a while now, and he told Aaron that he thinks she might be "the one". The problem is this: Aaron's friend thinks his girlfriend is a waitress on the south end, but Aaron met her recently, and couldn't shake the feeling that he knows her from somewhere. After some reflection, Aaron remembers their previous meeting…two weeks ago, when she gave him a lap dance!

That's right: his friend's new girlfriend is a stripper. Aaron is feeling pretty awkward about it, and he's just not sure how to approach the subject, if at all.

We live in an interesting time, don't we? Even just ten years ago, a guy might try to conceal that he's dating a stripper, but we've knocked down a lot of social barriers since then. What if Aaron's friend knows, but he doesn't want to tell all of his friends that they can see his girlfriend naked on a regular basis? Alternately, what if he DOESN'T know? How would he react to that news?

This is a tough one. Have any of you been in this situation? If so, we'd like to hear your thoughts. We'd especially LOVE to hear from some strippers, and maybe hear about that relationship-work balance that they're dealing with! Bring it on, folks!



---
Huge thanks to the fine folks at Maris Farms in Buckley…not only do they have an awesome Haunted Woods feature during this time of the year, but they also have Pig Races. I am proud to say that there is a pig named after me! Meet "This Little Miggy"!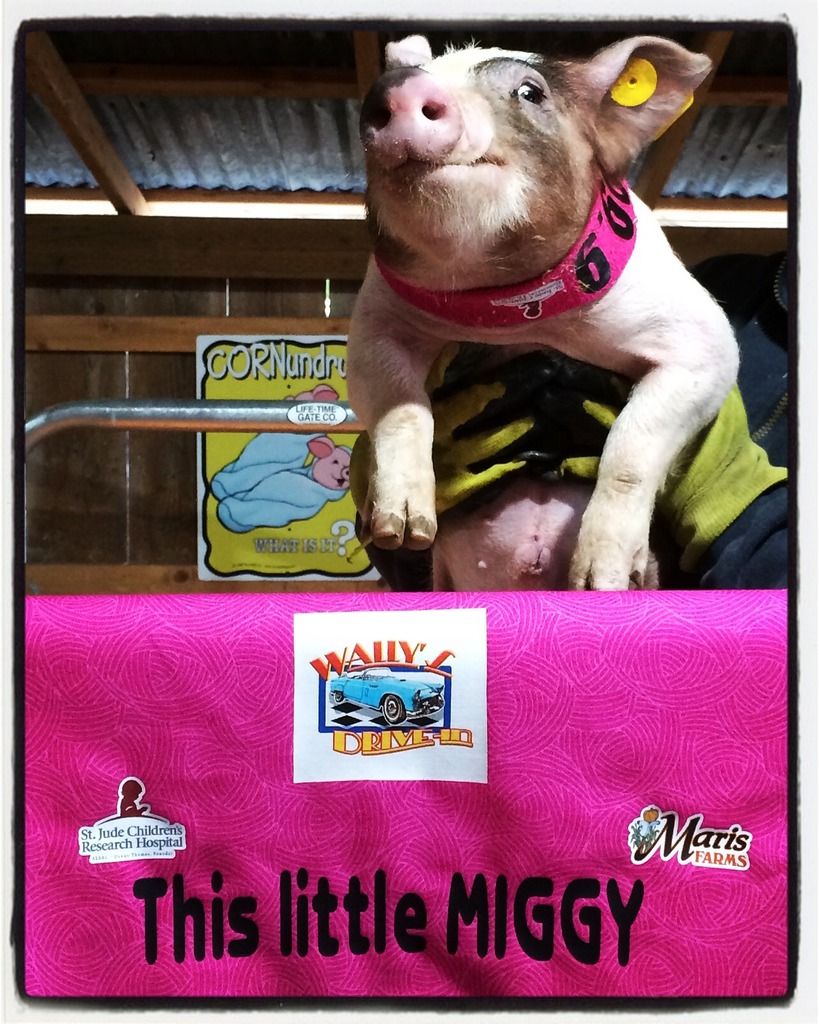 There are 2 other radio inspired pigs…. 100.7 The Wolf's BACON Fitz, and KISS 106's Ben SUUUUbert! One of these days the three of us plan on going to root our pigs on…wait, that sounded odd.

Apparently after the first 6 races, Ben's won 3 times, Fitz's won twice, and Little Miggy only won once. But according to my bud Steve at Maris Farms…

"This Little MIGGY has got the talent, he just kinda rested on his loin chops after taking the very first race of the weekend. I've seen him get pretty physical in training and actually knock his fellow race-mates into the track walls. We call him "HAM-HAM" sometimes cuz he's a lot like "BAM BAM Kam Chancellor".

Their press release cracks me up…

Others still vying for the remaining three spots (in the "Pig-Tucky Derby"): 106.1 KISS FM"s Ben SUUUUUbert, with three victories and #100.7 The Wolf"s BACON Fitz…
"Let"s face it, I"m leaner, I"m meaner and I"m prettier," said SUUUUUbert, referring to his race mates. "I"m confident that my fellow DJ race mates know this and fear this."
"Bull-Pork" snorted This Little MIGGY, when told of SUUUUUbert"s comments. "He"d better watch his ham this weekend."
BACON Fitz agreed, "He"s not a lock for the Derby" and I"m right on his baby backs. If I were him, I"d keep my snout shut until after final qualifying Saturday morning."

Speaking of giving some love to other radio folks… my buddy Kevin Rolston is the host of the "Kevin, Virginia, and Jason Show" in Florida. I love these guys…they do a great show, and he just sent me an awesome video.
Kevin wrote:

"Florida is edging closer to legalizing marijuana. Now, smoking marijuana in public is only a $100 ticket. It's basically like jaywalking. Yet, most people still get really nervous about smoking weed in public, as you can see in this video."

---
Hello again, Rock-A-Holics! I'd like to start by saying that we love your contributions to Group Therapy, you can always email us at bj@kisw.com.

Nelson emailed us… he has been dating a girl for the last three months, and he loves everything about the relationship so far. Things are pretty serious (they've said "I love you") but there's one nagging thing: the girlfriend shares custody of her six-year-old daughter, but she hasn't introduced the kid to Nelson yet. He's totally prepared for that to happen, but it's not happening as quickly as he would prefer.

Recently, Nelson said that he wanted to spend more time with his girlfriend AND her daughter, but she says she's not quite ready yet. Nelson can understand her protective nature, but he's starting to wonder if she feels as strongly about the relationship as he does.

Nelson…man, I guess I'm a little bit surprised by how quickly you're moving. Three months in, and you've already dropped the L-bomb? How can you be sure this soon? Maybe I'm just not the romantic type, but this seems a little quick for a grownup relationship.

Let's see if your fellow Rock-A-Holics feel differently. Give this man some advice about his "daughter dilemma", won't you?
---
If you missed it last night…what a strange ending to the Hawks game. Long story short… hawks looked like they were gonna walk away with a sloppy 13-3 win (on the offensive side, the defense looked fierce)…then in the 4th quarter Russell Wilson fumbled for the second time…this time it was walked into the end zone to make it a 13-10 game. Then Matthew Stafford gets hot and leads the Lions with a 91 yard drive to the red zone…passes to his star receiver, Calvin Johnson…Calvin reaches the ball to the end zone, and before he can get it in there…Kam Chancellor punches the ball out, and it's a touchback!



Then these the controversy… KJ Wright batted the fumbled ball out of the end zone, which according to the rules means that the Lions should have gotten the ball back on the 1 yard line. That didn't happen, so once again the Seahawks had a controversial win at the end of a MNF game (a couple years ago there was the "Fail Mary" vs. the Packers).

The highlight of this game happened during a post game interview with Kam Chancellor, where Michael Bennett interrupted the interview to play the role of Kam's agent…


Speaking of Bennett…how funny is this dude? Check out what our bud Craig Gass posted on his Facebook page… Bennett doing some cheering with the SeaGals!


How about the crew that Craig was rolling with at the Hawks game… Sean & Jerry from Alice In Chains, and Duff from Guns N' Roses: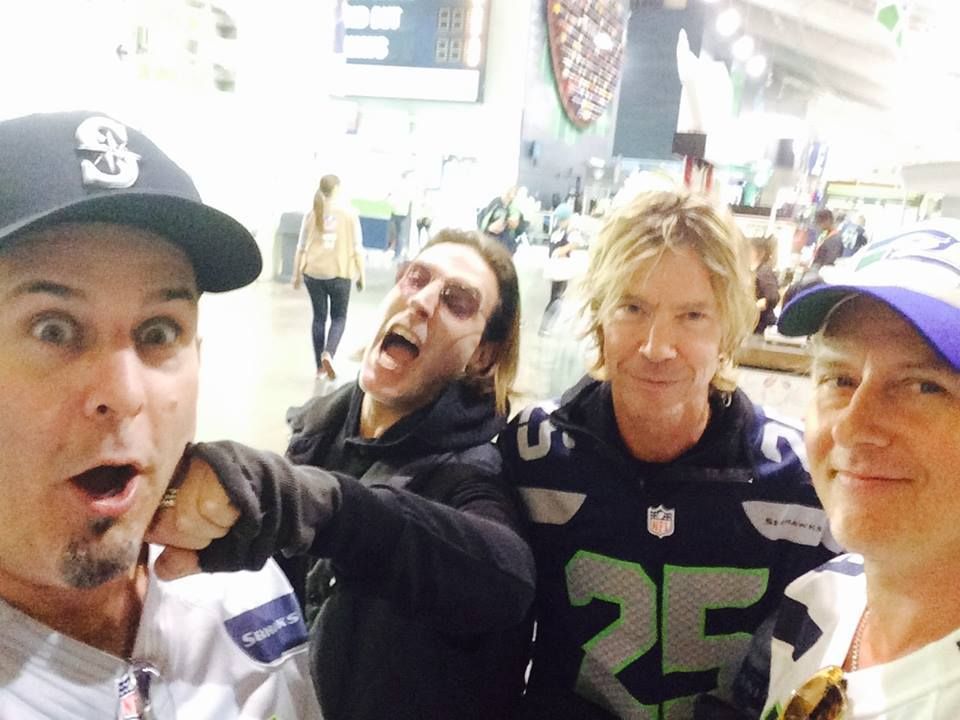 This video is pretty cool…12 people who work for a used car website in Canada pooled their money last month to buy a bunch of lottery tickets, and hit the jackpot for 46 MILLION BUCKS. Here is the awesome part… the guy who bought the tickets kept it a secret all weekend. He found out on a Saturday, but didn't tell any of them until their morning meeting the following Monday …check it out:



They'll each get about $3.8 million, but they all say they plan on keeping their jobs for now.
---
Today's blog comes from one of my mentors, Dan Sanders:

There is an angry beauty about New England in the fall. Rolling thunder bounces from dark cloud to darker cloud, and the Atlantic Ocean turns colder and more unsympathetic, whipped into frenzy with wind gusts that can make small people suddenly do their best Mary Poppins impression. The humpbacks begin their journey to the Caribbean, as the little town of Rambling Harbor becomes clogged with boats on trailers straining to make their way around roads barely wide enough for two cars to pass. It's Rambling Harbor getting ready for fall, the season of mysteries that always enshrouds old New England towns, especially villages on harbors and oceans.

There is folklore that crows are attracted to shiny objects. I say folklore because apparently crows are just plain attracted to things, and any thing that might glitter would catch their eye. Based on that legend, I lovingly called my wife Crow Woman, one of many nicknames, and this one loosely based on some Native American idea. If she were walking down the street, a $500 bill on the pavement would not catch her eye as quickly as a shiny bobble in a window. Price was never the point, shiny was.

I love Ritz Crackers. During the first spring after my wife died, I found myself standing in the backyard, very early one quiet, beautiful morning. This was not a place I usually went. I was taking care of my landlady's plants while she was away. Suddenly a crow landed on a nearby lawn chair, left an almost complete Ritz cracker on the arm, and flew away. I was stunned and when I regained some of my senses, I went inside to get my camera. It took me a couple of minutes, and I figured this thing-loving crow would have returned for his Ritz. It's that Ritz in the picture. The crow never returned.




Maybe it's the early darkness, the angry sky, and the raging ocean, or maybe it's just being in old New England that makes us so aware of the possibilities. What could be more perfect than a New England fall, bursting with color, spirits, and mystery?

There will be more stories of hauntings and mysteries and of course a rock-and-roll timeline on the shores of Rambling Harbor. Join me there.

http://dbsanders.podbean.com/e/new-england-the-crow-the-cracker-and-me/
---