Posts from November 2013
HAPPY THANKSGIVING everyone!

Huge thanks to Faizon Love fior joining us in studio yesterday. Faizon is always hilarious, and one cool dude! You remember Faizon – he was Big Worm from Friday! Faizon is at the Parlor Live on Friday, Saturday, and Sunday. Go to www.ParlorLive.com for info and tickets.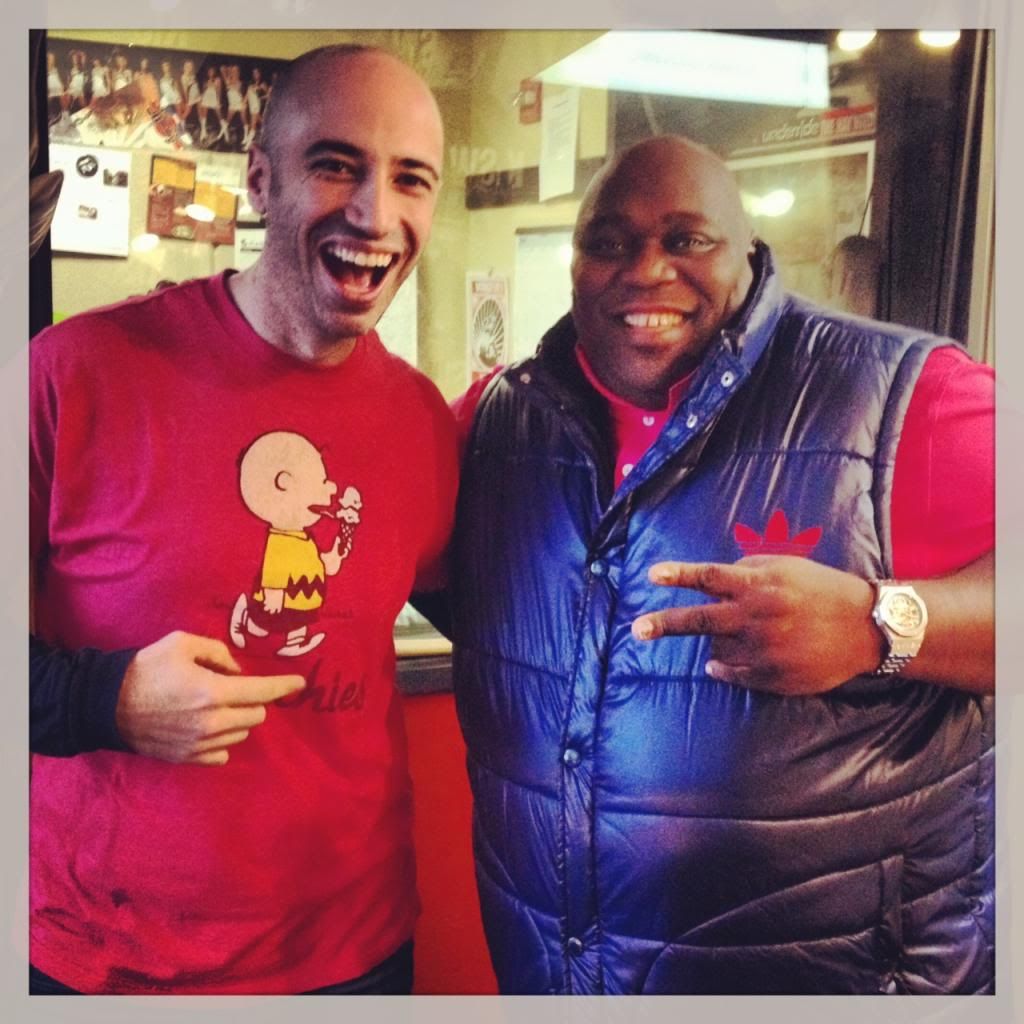 Here is part one of our interview with Faizon!



Here is the same vlog if you are looking at this on your phone….


---
"Hola,

Tomorrow is Thanksgiving and, if you're like most people, you'll be a gluttonous pig in the company of family. The thing about spending a lot of time with family is that, well, you're spending a lot of time with family. Most family dynamics seem to be about the same; there's the drunk uncle, the cousin who is going through some kind of 'issues', the sibling who's either strung out on drugs or fresh out of prison, the family member who decides that 'turkey day' is the day to come out of the closet, etc, etc. The long and short of it is this; the potential for drama escalates substantially when you mix family with the holidays. It's just one of those things. so today we wanted to know: WHAT DO YOU HOPE DOESN'T HAPPEN AGAIN THIS HOLIDAY SEASON?

Hopes that her father- in- law doesn't get drunk and start another fight with her. Last time, it was her first Thanksgiving as a part of that family

Her mother had a bunch of antique ceramic reindeer (???)... until her uncle knocked over a table and broke them all

His wife punched her 31- year- old daughter in the face and spent 3 days in jail

Her birthday, like our very own Thee Ted smith, is on Christmas Eve... on that day, her drunk brother started the punching the car window (from the inside) and broke it... while she was driving

Her father got lost... while walking the dog. why yes, he WAS drunk at the time... why do you ask?

Tried to celebrate the holidays at the casino... everything was fine until she went into labor

Hopes the dog doesn't snag the turkey off of the kitchen counter right before they're about to eat again... they ended up eating cold cuts

Really, really, really hopes his grandmother doesn't put porn on the TV again during dinner. Said it made for a very awkward moment... if watching porn with your grandmother bugs you.


OK bitches, time to start preparing for football and turkey. Have a good Thanksgiving... or at least try!

Until Monday, do what you do best and STAY BEAUTIFUL!"
---
This is what I'm thankful for.


---
BJ shared a messed up story this morning. Tomorrow is Thankgiving, and we talked about how many people are more excited for left-overs as opposed to the actual meal…I get it, nothing beats a cold turkey sandwich…so damn good! So BJ apparently is not even having turkey dinner tomorrow…his family is having chicken.

Chicken?

Wrong effing bird BJ…a chicken? C'mon man...cook a turkey! One texter summed it up perfectly…

Cooking chicken on thanksgiving... terrorist

I got a couple other texts about Thanksgiving, check it out:

I get baked Turkey Thursday then Friday I get smoked Turkey an Mac An cheese. Two thanksgiving feast for me. I lost 7lb last week, An looking to gain it back this weekend lol

Cold turkey sandwiches! I cannot wait until Friday. Thanks for being with me today boys I have to work also. Jamie the driver

Speaking of Thanksgiving…it's the perfect time to share this… a great video that Vicky B made about how to cook a turkey!


---
SIS Food Songs in honor of Thanksgiving



There are many a food songs out there. Here are some! Enjoy the playlist below!
http://kisw.tunegenie.com/u/__znjWJ0YSSKBC2kr2EE2Yg/sis-food-songs-in-honor-of-thanksgiving/

Happy Thanksgiving!

COLT FORD "CHICKEN AND BISCUITS"

DEE DEE SHARP "MASHED POTATO TIME"

JIMMMY BUFFET "CHEESEBURGER IN PARADISE"

LENNY KRAVITS COVERING JOHN LENNON'S "COLD TURKEY"

MADONNA COVERING "AMERICAN PIE"

POTUSOA "PEACHES"

SEUSSIAL ORIGINAL CAST "GREEN EGGS AND HAM"

TOM WAITS "EGGS AND SAUSAGE"

VAN HALEN "POUNDCAKE"

VINCE GUARALDI TRIO "GREAT PUMPKIN WALTZ" (FROM A CHARLIE BROWN CHRISTMAS"

WARRANT "CHERRY PIE"

WEIRD AL "FAT"

What other food songs do you have????

Jolene

---
"Hola,

It's kind of an unspoken agreement, but most (most) adults make an effort to protect kids... whether that be protecting them from themselves or the indifferent universe in which we all exist. The idea is that we want to protect their innocence as long as we can. It's why we try not to use profanity around them or why we don't surf porn when their around. It's why we don't have the heart to tell them that Simba from 'The Lion King' would, eventually, eat his friends after crushing their throats in his mouth or that Mary's little lamb's ultimate fate is gyro meat. Well, New York City is getting in on the 'protect the kids' action, as the NYPD is asking bartenders not to OVER- serve anyone dressed up as Santa. Why? As one person asked, "what do you tell a five- year- old when they see Santa passed out on the street, vomiting or defecating in front of the house?" We don't have an answer to that question (not a radio- friendly one, anyway) but we hoped that you had an answer to our question: WHAT DID YOU SEE AS A KID THAT SCARRED YOU FOR LIFE?

11 years old...found a bunch of used needles on the beach... brought them home to a VERY unhappy father

Lost his innocence when his friend died in a car crash on the LAST day of high school

Was at a barbeque at age 5... went into the backyard of the host and saw a bunch of rabbits (still alive) hanging upside down by their feet... one guy bashed them over the head with a bat, the other guy was slitting their throats... a little while later, rabbit was served for dinner

Was watching what he thought was a video of Brittney Spears getting naked... it was one of those videos where a demon's face pops up and screams at you

In fifth grade, he and a group of friends saw an old man with an axe split a cat's head open

10 years old, walked in on his parents having sex... the next day, he heard his GRAND parents having sex

Playing on a trampoline, landed on a stump and broke his leg... to this day, he can't deal with seeing anyone with broken legs

Did search and rescue at age 13 (at the urging of his mother) so in addition to seeing many dead bodies, he also found an old man who was alive... and then died in front of him

He was in 4th grade sitting next to his 78- year- old grandmother eating dinner... she took one bite of dessert, suffered a massive heart attack and then died

Saw his drunk mother sitting naked on the toilet after she'd just had sex with his step- father

SIT AND SPIN
Ever wonder what the best 12 songs are that are about food? Me neither, but here's a link:

OK bitches, I'm outta here.

Until tomorrow, thoughts arrive like butterflies, so STAY BEAUTIFUL!"
---
Thanksgiving is just around the corner! Personally, I'm feeling thankful for all of the Rock-a-Holics who put their faith in Group Therapy, each and every day.

Speaking of which, we have a new situation to discuss: Rock-a-Holic Kim is distressed, because her pregnant sister has decided to name her daughter "Stormy."

The as-yet-unborn baby girl was conceived during a storm; the sister wants to pay tribute to that, while also giving her daughter a unique name. Meanwhile, Kim feels like naming a little girl Stormy is a sign that her sister should just go ahead and buy a stripper pole.

Let's throw this out to all the blog readers: Does it really matter? Does the name define the person?

We'd also love to hear from anyone with a strange name! Has your name been a difficult thing to live with? Tell us your life story (please don't tell us your life story).

I guess I'm also thankful that B.J. is a relatively normal name. At least it doesn't stand for "Buffalo Jeremiah" or "Banana Jammer"…
---
Everything that is going on off the field with the Hawks is rather troubling… 2 guys are now suspended (Thurmond & Browner) for violating the league's drug policy. Both are non-PED violations, and I have no idea what is true and what isn't so I won't try and speculate here…at the end of the day it's a bummer to lose 2 guys that are game-changers when out there.

All of this insanity has been rather interesting to follow on Twitter, as we now have a direct line to the thoughts and opinions of team mates and other players. The most interesting exchange on Twitter happened with a guy that we have had on the show a couple times, Doug Baldwin Jr., and a random guy named Jeff. I posted the exchange below, as I think it's a great discussion between the two...it's nice to see Twitter being used for something other than straight up trolling:
---
Today's blog comes from one of my mentors, Dan Sanders:

Netflix, which I have had for a few months, is full of movies both theatrical and TV, dealing with the supernatural, the paranormal, demons, ghouls, and other forms of terrifying, blood-sucking, stomach-churning, eye-popping things-that-go-bump-in-the-night. There are also movies that instill fear regardless of the time of day, such as Jaws, featuring sunny days and the beach, but condemning the viewer to fear going into the water. Now, a TV movie has brought the water to us in Sharknado, portraying L.A. swamped by the ocean as sharks swim down Hollywood Boulevard (and incidentally. show no interest in the Brown Derby restaurant where all the Hollywood sharks used to dine).

Possession, shown in movies such as these, is just one kind of possession; house possession is another kind. The S.P.I.R.I.T.S of New England is an organization that investigates places believed to be haunted, and a friend of mine involved in the organization and her team were privileged to be allowed to spend two nights in one of those places, the USS Constitution. What she saw and heard confirmed that our life force lives on.

Another type of possession is portrayed in classics such as The Exorcist, featuring the girl with the spinning head, and The Shining, with Jack Nicholson's famous line "Heeere's Johnny," which he added to the script.

I love this stuff, but I don't go for a lot of violence. I do not need to see a body split in half before my mostly covered eyes. Scare my mind with the possibility of reality, though, and you've got me. I believe a series like Sleepy Hollow is more a possibility, if you can get past the headless part, which seems a bit farfetched to me. The point is, I do believe in spirits, and that some people may be actually possessed. (Perhaps Ted Cruz has been overtaken by Dr. Seuss?)

Back to why I called this piece "Possession Obsession": So many movies and TV shows revolve around the occult and spirits, witchcraft, and on and on. Is it because all of us, myself included, are searching for something we can't explain, something that goes way beyond what we see as reality, something that no one can explain, but seeing it makes it real? I think we are obsessed with the desire to find that other place. If we can't go to the source of the mystery, we will let the magic of the movies and TV bring the mystery to us, and after watching a good movie or show, think, wow, that really could happen.

Hear more on mysteries on Rambling Harbor.

http://dbsanders.podbean.com/2013/11/24/possession-obsession/
---
So my beer league team was having some bad luck against one of the teams we play in the "R" – for those not in the know, that's the RHL – the Rainier Hockey league. So as a show of solidarity we decided to grow mustaches…some already had facial hair, while others didn't and had a week to grow it…but all tried. The effort worked as we won our game, and more importantly we have this creepy picture to stay with us for a lifetime. I think the red eye's make it even more creepy!




If you want to see what I was rocking…this was the best I could pull off, as I had an important meeting last Wednesday so I had to shave on Tuesday night. It was still enough…my wife said I look creepy, I think it's a good look. Sadly it's already gone as I shaved it when I got home.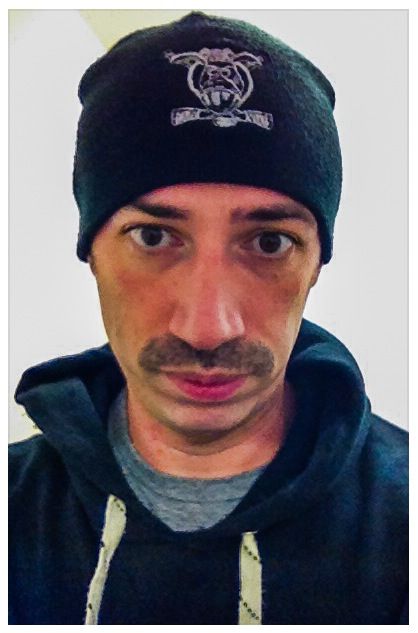 Christopher Walken was trying to hail a cab in New York City last Tuesday when some random fans stopped and offered him a ride. He took them up on it . . . and they posted their story on Reddit.com. One of the guys says, "We told him we are huge fans and offered him a lift. He responded politely 'I don't want you guys to go out of your way. I am going straight downtown and you can leave me anywhere. He got in the car and we went on talking about stories from growing up in the city. He is an incredibly nice person, the conversation was great and Mr. Walken thanked us again for the ride."

So Christopher Walken hitched a ride with some random fans in New York…based on this, when have you had an odd run-in with a celebrity? Here are the texts we got:

Russel wilson at a golf course

Ran into Daniel Bryan and Bri Bella in Airizoa before the Hawks-Cardinals game! So awesome

Met motley crue on an airplane

I played poker with ice t in Vegas

I met rick flair in 1984 at a wrestling event...I had to go take a leak, and noticed him standing in a entryway watching the match that was going on...I asked him if he was nervous about his upcoming match, and he said..I never get nervous kid.

In 1987, I had a paper route in Laurelhurst. Gary Larson, the writter of the "Far Side" comic, was a customer. Cool guy, great Christmas tipper.

I had the chance to meet lt. Dan (Gary sinise) when I was injured in Afghanistan and played him in ping pong

I bumped into Mark Calloway, aka The Undertaker from WWE, in Orlando, FL while working a grocery store. He was buying Doritos. Cool Ranch.

I ran into Steve Pool on Tom Sawyer island in Disneyland. I asked him "Hey, are you Steve Pool?" he said you must be from the Seattle area.

I played golf with Jerry Rice at Newcastle and beat him.... I won $5 from and had him sign the $5 bill

Luke Wilson Seahawks TE and Jerry Cantrell came in to where I work to get there trucks worked on. Both really cool guys.

I met Manny Pacquiao in the Philippines. Played a game of pool with him. Awesome guy.
Today's Video Blog features The Max Long Report, as Max checks out the big XBOX ONE release in the University Village.



Here is the same VLOG for those looking at this on their phone:


---