If you're reading this blog at work, I hope you made sure your boss isn't watching! We don't want any trouble in the workplace, do we?

Today's request for Group Therapy comes from Jacqueline, who is worried that her boyfriend's boss might be interested in creating a different kind of trouble for him. The boyfriend recently got a fantastic job with a big company; this was a surprise to Jacqueline, who didn't think he was qualified enough to even apply for the job in the first place!

Some girlfriends might be proud of this achievement, but Jacqueline suspects that her boyfriend might have been chosen for non-professional reasons. After all, the boss is a woman, and only 7 years older than Jacqueline's boyfriend.

Wait, there's more! The boss added the boyfriend on Facebook, and he added her back! GASP! Now they're friends on a social media site!

(I note for posterity that the Facebook information in Jacqueline's message was typed in ALL CAPS, which means that it's pretty major, right?)

With her suspicions already raised, Jacqueline went snooping on the boss's Facebook page, and discovered that her husband looks a lot like J's boyfriend: their height, build, hair color, eye color, and even eyeglass style are all very similar!

(My daughter calls this kind of social media stalking "creeper" behavior. Make of that what you will.)

We're getting more women participating in Group Therapy, and we really do love to see that happen. However, this situation really illustrates the point that women have just as much "stuff" to deal with as men. Speaking from the male point of view, I think that the best thing a man could do in a case like this is to combat those jealous feelings and fears by being the very best partner they can be. Don't be afraid of losing your mate to someone better…just BE someone better.

(I would assume that this advice would work just as easily for women, but what do I know?)

You've heard my two cents, and now Jacqueline wants to hear from her fellow Rock-A-Holics! Do you think her jealousy and suspicions are stepping out of line, or is she justified in her thinking?



---
Here is a video that should warm any cold hearted human being out there. This made my morning:

There's a kid outside Green Bay named Noah VanVooren, who's 18 and has down syndrome. You might remember him from October, when his high school football team let him suit up, and he scored a touchdown.


But now he's in the news again, because he just got into Edgewood College in Madison as part of its "Cutting Edge" program. It's for students with disabilities, and there's an awesome video of him opening the acceptance letter.

I love the part where he pulls the hoodie off and "Hulks It Out"! I need to incorporate that move into my repertoire when I am excited about something!

Yesterday I wrote a blog all about this great new band called The Guessing Game, and how they were on the STP-CAST (available on iTUNES, Stitcher, and HERE). Here is another song that they played live…I love this song, it's called "Dear God":


---
I am excited as I write this blog because I have a weekend trip planned with my good buddy Steve the Producer from the BJ Shea Morning Experience. I am going to Spokane for the second year in a row with his hockey team the Tacoma Donkeys. They play in a hockey tournament out there and I am in as coach/moral support for the boys. The first thing I learned about hockey and you can just say F*ck boys whether it is a bad thing or a good thing. Let me show you how it works, a guy chugs a beer and spills "F*ck boys come on". Now on the same token it can used for something good as well, the team is playing well and dominating "F*ck boys, great shift". At this tournament there is also a lot of Canadian guys and they are fun to drink beers with, did I mention that there is a beer garden that has people in it no matter what time of the day it is. I do enjoy the ride out as well since we have a party bus to take us out there. Now I am sure that you have taken a rode trip before but a five hour road trip in a party bus is just unreal. Last year we took a limo out there and I was not in good shape by the time we made it to Spokane. My point of this blog is I am going to have fun and I hope that you get a chance to have some fun trips in your life. I do believe that having a escape some times is good for the soul and your friendships. Party on my friends and get a trip in with your buddy's. Lets get it Donkeys
---
There is a brand new STP-CAST up! It's a real good one, as my buds in The Guessing Game joined us to play a couple songs. Who is The Guessing Game you ask? Well…it's a band of great musicians that have played in bands you are probably familiar with…fronted by Jeff Rouse from Duff McKagan's LOADED. Also in the band…Kathy Moore (Brad, Satchel) , Gary Westlake (Kristen Ward, Flight To Mars), Keith Ash (Star Anna) , and Shawn Zellar (Redneck Girlfriend).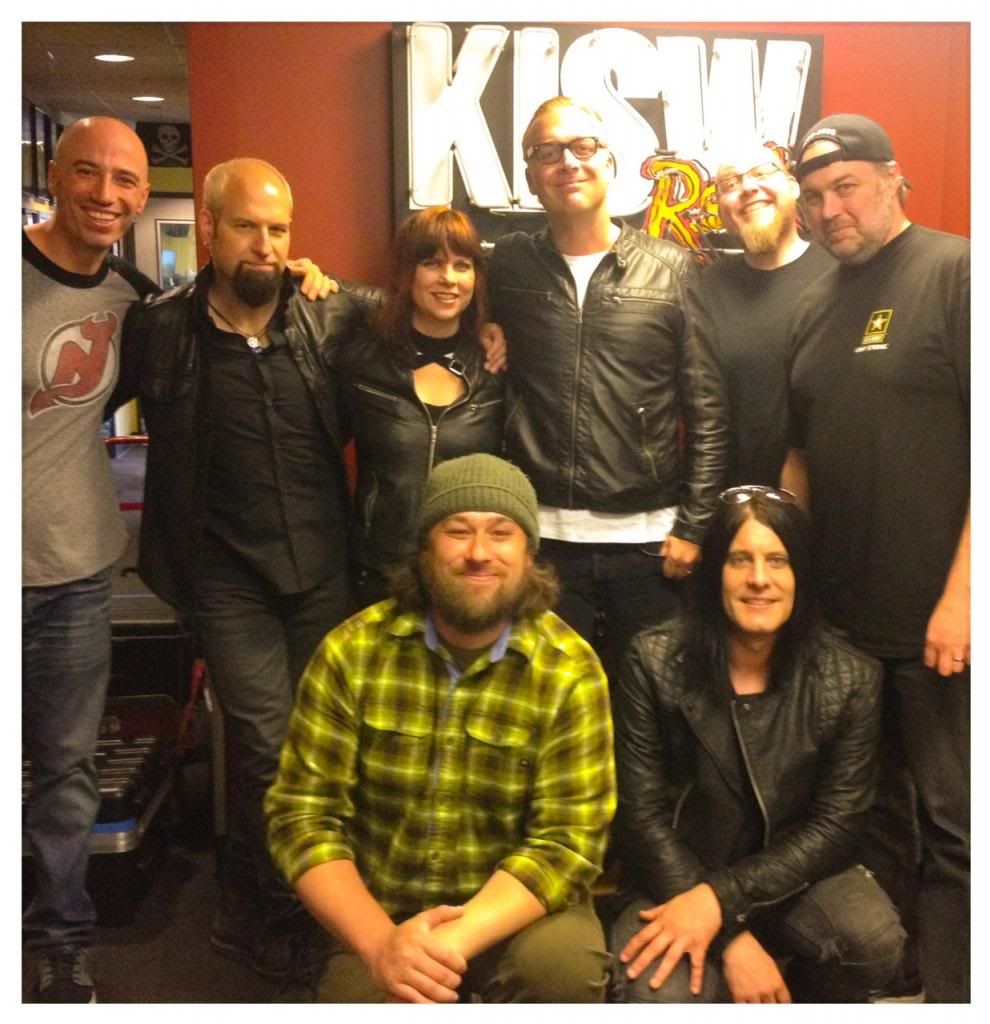 Their new CD is out now, titled "Holy Crow", and I absolutely love it. If you are a fan of powerful songs with great hooks, you will dig this! It reminds me of my favorite time music-wise... 90's rock/alt-rock. Last week on the STP-CAST we were jamming to this great song…


They are playing their CD release show on May 9th at the Sunset tavern in Ballard, I will be there…in fact I will be jumping on drums with them for a song at some point during the set! Get more info on the band at www.theguessinggameband.com

Listen to the entire interview on iTUNES, Stitcher (search STP-CAST), or click HERE!

Here they are performing "Selling Heartbreak" on the STP-CAST!


Speaking of the STP-CAST, we got this message from Brett on our STP-CAST Facebook Group:

Holy cow, I just pulled an ab muscle laughing when Toppy switched the channels on Mono Nick and Steve! That was amazing!!!!

What is he talking about? Well we wound up having a conversation wondering if anyone has ever done a podcast on acid, and this happened…

---
Welcome to the Group Therapy club, ladies and gents. Grab yourself a drink, and put it on my tab.

(Please note: we only serve water, and it's free. Remember to tip your server.)

Lauren is a Rock-A-Holic who doesn't let her relationship status keep her from flirting with guys at the bar, and letting them buy drinks for her. She recently spent 45 minutes drinking with a strange man (on his dime) before mentioning that she was in a committed situation. The would-be suitor wasn't too happy about this; he bailed out immediately, and told Lauren that she'd been leading him on. He also said that he wouldn't accept that kind of behavior from a girlfriend.

Naturally, Lauren isn't sure if she's doing anything wrong.

I can appreciate the fact that Lauren reached out, told her story, and is now looking for opinions from her fellow Rock-A-Holics…but I'm not sure if she's going to appreciate my feelings on the matter.

Personally, I think there's an implied social understanding when a woman allows a man to buy her a drink in a bar; it creates the hope of a possibility for something beyond acquaintance. If you're in a relationship, I think it's best to put your cards on the table at the beginning of the game. You could almost reduce that down to simple common courtesy.

I'm not saying there's a reasonable expectation of something physical happening because a man buys a drink for a woman, but can we agree that most people don't engage each other in bars for purely platonic reasons? It's not a Sunday Social.

Is Lauren doing anything wrong by accepting drinks from guys in bars, and talking to them for an extended amount of time before telling the truth? Oh, and she hasn't told her boyfriend about the guy who felt she was leading him on…but she wonders if she should.

Let's hear it from you!
---
SIS Weed Week


Based on recent top stoner or marijuana-themed song lists created by Rolling Stone and Billboard, and a 1999 High Times list, Celebstoner.com came up with their own Top 10.

For more on the article. http://www.celebstoner.com/reviews/music/2011/04/25/top-10-stoner-songs/

Dig the playlist and scroll below for the Top 10 and many Honorable mentions from Celebstoner.com
http://kisw.tunegenie.com/u/__znjWJ0YSSKBC2kr2EE2Yg/sis-weed-week/


1. Legalize It - Peter Tosh
2. Sweet Leaf - Black Sabbath
3. Mary Jane - Rick James
4. Rainy Day Women #12 & 35 - Bob Dylan
5. Kaya - Bob Marley
6. Smoke Two Joints - The Toyes/Sublime
7. One Toke Over the Line - Brewer & Shipley
8. Pass the Kutchie/Pass the Dutchie - Mighty Diamonds/Musical Youth
9. Marijuana - Kid Cudi
10. Don't Bogart Me - Fraternity of Man/Little Feat


Honorable Mention:
If You're a Viper/The Reefer Song - Stuff Smith/Fats Waller
Roll Another Number (for the Road) - Neil Young
You Don't Know How It Feels - Tom Petty
Other songs on the lists:
Because I Got High - Afro Man
Big Spliff - Murphy's Law
Burn One Down - Ben Harper
Cali Dro - Birdman & Lil Wayne
Dead Men Don't Smoke Marijuana - S.E. Rogie
Don't Step on the Grass - Steppenwolf
Hash Pipe - Weezer
Hits from the Bong - Cypress Hill
How High - Method Man & Redman
How to Roll a Blunt - Redman
I've Got 5 on It - Luniz
I Like Marijuana - David Peel & the Lower East Side
In the Cut - Wiz Khalifa
I Wanna Get High - Cypress Hill
La Cucaracha - tradtional
(Let's Go) Smoke Some Pot - Dash Rip Rock
Muggles - Louis Armstrong
One Draw - Rita Marley
Panama Red - New Riders of the Purple Sage
Planets of Weed - Fountains of Wayne
Reefer Man - Cab Calloway
Seeds & Stems (Again) - Commander Cody & the Lost Planet Airmen
Sinsemilla - Black Uhuru
Stay High - Three 6 Mafia
Stoned Is the Way of the Walk - Cypress Hill
Take a Toke - C & C Music Factory
The Next Episode - Dr. Dre
The Reefer Song - Fats Waller
Twos Hits and the Joint Turned Brown - Dillard Hartford Dillard
Under Mi Sleng Teng - Wayne Smith
Vaporize - Broken Bells
We Be Burnin' - Sean Paul
Weed with Willie - Toby Keith

More Honorable Mentions:
Along Comes Mary - Association
Bag of Weed - Family Guy
Come Around - Collie Buddz
Ganja Babe - Michael Franti & Spearhead
Got to Get You Into My Life - The Beatles
I Got Stoned and I Missed It - Dr. Hook & the Medicine Show
It's So Nice to Be Stoned - White Witch
Mary Jane - Janis Joplin
Roll Me Up and Smoke Me When I Die - Willie Nelson
My Medicine - Snoop Dogg
Proud to Be a Stoner - Kottonmouth Kings
Puff the Magic Dragon - Peter, Paul & Mary
Pussy Marijuana - Brazilian Girls
Something About Mary - Wyclef Jean
Take Two and Pass - Gangstarr
Under Mi Sensi - Barrington Levy
Wild and Free - Ziggy Marley
Wildwood Weed - Bill Stafford
Who's Got the Herb - 311/Human Rights
2 a.m. - Slightly Stoopid
Tags :

Topics :

Entertainment_Culture

Social :

Entertainment_Culture

People :

Ben Harper Cali Dro, Birdman, Bob Dylan, Bob Marley, Cody, Collie Buddz, Dr. Dre, Hook, Jane - Janis Joplin Roll, Jane - Rick James, Kaya, Mary - Wyclef Jean Take Two, Mary Jane, Michael Franti, Neil Young, Peter Tosh, Rita Marley, Sean Paul Weed, Snoop Dogg, Song - Fats Waller Twos, Song - Stuff Smith, Wayne Smith Vaporize, Weed - Bill Stafford, Willie - Toby Keith, Ziggy Marley




---
Today is the first day of "Weed Week!" What, you ask, is "Weed Week!"? In a nutshell, "Weed Week!", is the week where we, The Men's Room, allow one of us to get completely baked to the be- Jesus and then do the show. The catch is, we ask you to guess which one of us is the stoned one. Yea, it seems to work out better for us than you, but, well, sorry. Feel free to get high too.

So today is Monday, day one of our 'green' shows. As always (and by 'always', I mean the last time we did this... about 6 months ago) we put names in a hat. Whoever's name was drawn was today's stoner. Basic stuff.

While Ted received the most votes as the show member who seemed high, it was actually me today who was very, very stoned during the show. To be fair, I received the second most votes. However, to put into perspective how high I was, I forgot to post the blog... so when you see this, know that it's now Tuesday Morning... no longer Monday evening.

Maybe there is something to that whole forgetful thing.


Keep checking back all week for updates and links to any article we read during Weed Week

"Hola,

Welcome to Day 2 of "Weed Week!"

Sometimes, when you really, really have to go to the bathroom and you find yourself at the mercy of a public bathroom, few things prove to be more frustrating... or gut crippling... than a door that requires a punch- code to be unlocked. Happened to a guy early Sunday morning at the Francis Marion Hotel in downtown Charleston, South Carolina. He had to poop and he had to poop badly. Anyway, he repeatedly tried to get the code right, but he couldn't do it in time... so he pulled down his pants and pooped on the floor JUST outside of the bathroom. He was arrested and the police report states that "a large quantity of fecal matter" was observed. For his part, the pooper was genuinely remorseful, saying that he didn't mean to do it, he couldn't hold it (long enough to give the keypad another try) and that he'd clean it up. He spent the night in jail... and all he wanted to do was poop. He got SO close.

On a much more serious note, Frazier Cross, that's the former KKK p*ssy who opened fire at two separate Kansas City- area Jewish Center, murdering three people because he hates Jews, blah, blah, blah... well, none of the three people he murdered were Jewish. Small detail, but we know just eats Frazier up. Hard to be a martyr when you screw up. Today's question: WHAT DID YOU ALMOST ACHIEVE, BUT JUST DIDN'T?

SIT AND SPIN
Jolene contributed to "Weed Week!" by bringing us the 'top 10 stoner songs of all time'. Here's the link:

I agreed with some of the list, most of it, really, but with the caveat that I don't know how I'd rankthem, but they're (almost) all good songs to listen to when you're stoned.
Aw crap, did it again! Maybe it's because of "Weed Week!" , but I forgot to post this blog yesterday as well!"

Wednesday our head chef, Thee Ted Smith brought us a list of the 25 best stoner foods. No matter if you agree or dissagree, you will be hungrey by the end of this list.


Until later today, STAY BEAUTIFUL!"
---
Hopefully everyone made it out to either the Dream Theater or Volbeat shows last night in Seattle, unfortunately I took the night off recovering from 3 weeks gone on the Monsters of Rock, Moody Blues and the Cruise to the Edge cruises in the Bahamas/Mexico, but later this week I'll be back out and so should you! Tomorrow night at the Showbox Sodo the opening night of Zakk Wylde's Black Label Society Revolver Golden Gods Tour starts for the just released (4/8) new album 'Catacombs of the Black Vatican' on eOne Music.
Opening the show is Devil You Know (featuring ex-Killswitch Engage singer Howard Jones) and the one and only Butcher Babies! All-ages, show starts at 8pm click here to buy tickets!
Friday night Sevendust arrive to Seattle on their latest tour at El Corazon in support of their brand new CD "Time Travelers & Bonfires" releasing in stores today (4/15) on 7Bros. Records/ADA Label Services.
Sevendust re-recorded six classic tracks acoustically and cut another six new acoustic numbers for this release. This show will be an all-acoustic treat for fans! Don't miss it! 21 and over only, show starts at 9pm. Click here to buy your tickets now! Stream the new CD here from Guitar World on Soundcloud: https://soundcloud.com/guitarworld/sets/sevendust-time-travelers-bonfires and buy here.
For all other KISW sponsored shows this week please visit: http://calendar.kisw.com
---
With airlines in the news recently for what people tweet to them (that 14 year old that tweeted a terrorist treat) or what they tweet their customers (US Airways accidentally Tweeted a very dirty pic to a complainer)…it's nice to read a less troubling story like this one:

A Southwest flight attendant tried to turn her pre-flight safety announcements into a stand-up routine recently, and one of the passengers got it on video. Two of her biggest laughs were when she said that in order to activate your oxygen mask, you have to insert 75 cents for the first minute. She also said, "If you're traveling with small children . . . we're sorry." Check it out:


And now…a cute picture of my pup enjoying the sun yesterday!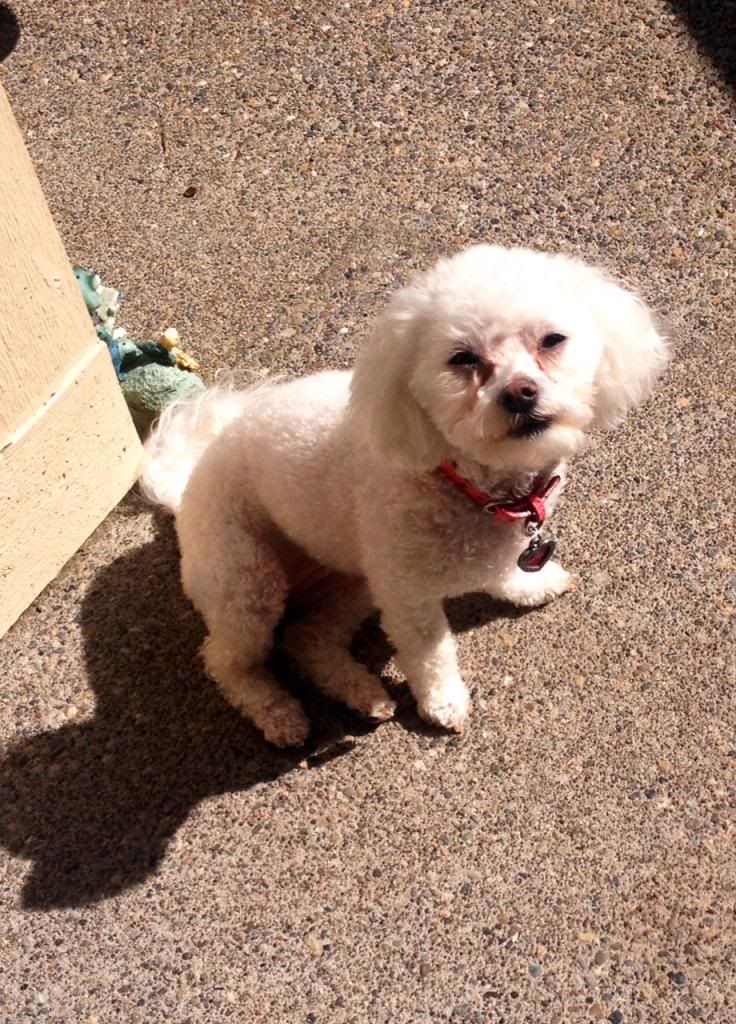 Yesterday something really cool showed up in the mail. It's a small wireless speaker called the PortaParty. Check them out at www.chicbuds.com -- you can play your music from your phone (or MP3 player) via Bluetooth. This is perfect as I can bring this with me when I travel as I like to listen to music in the hotel, plus…I can have this outside when Bar-B-Q'ing, etc. I have tried similar ones like this before, but they didn't have any bass, so I was stoked to hear bass in this little speaker…it sounds awesome. Here is a video of Vicky B. catching me trying it out for the first time.


---
Howdy, Rock-A-Holics! You wanna hang out? We could try some Group Therapy together, if you're into that…

Kevin and his girlfriend are both in their early 30s, and they've been together for a couple of years now…but she recently confessed something that has left Kevin in a state of shock. The girlfriend admitted that she was in a 5-year relationship when they met, and she dumped the guy when she and Kevin "started hanging out."

(My first question in this story: What does "hanging out" mean, exactly? Friendly get-togethers? Pants or no pants? It's so hard to decode the terminology these days.)

Kevin's world has been a little bit rocked by this revelation. He's bothered that she kept a secret from him, and he's worried that she might do the same thing to him.

I'm pretty sure that the majority of all relationships end up one of two ways: you're either together forever, or you don't earn your tenure. Even when the outcome falls into a grey area, it still comes to one of those two conclusions.

Is it worth the concern that Kevin's going through? Objectively, this girlfriend really only broke up a previous relationship in favor of Kevin. It's never good to lie, or keep secrets, in a relationship…but could she be the rare leopard that changes her spots? Furthermore, does she earn any points for being honest about it, even if it took her a little while to get there?

Have any of you been through this? Can you offer Kevin some advice?

BONUS HONESTY POINTS: Are you, or your partner, a reformed cheater?



---