Posts from January 2014
It is Friday and a very Blue Friday since the Seahawks are in the Super Bowl this Sunday. Now as I have stated before I am a Redskins fan being as I grew up in the DC area (Shout out to PG County) l am though caught up in the Seahawks fun. I have lived in the city for nine years and for me I am pumped to see all the people of this town get a Super Bowl win. As a season ticket holder for the Seattle Sounders FC I have also put in a lot of time at the C-Link myself and know how ready this city is for a champion. I am also fired up for Seattle to win for many reason's but has to be for just how much fun the city is right now. People are in it to win it together and I don't know that I have ever seen this town more fired up then right now. My thoughts on the game are very simple I have always believed that defense and running the ball wins championships and I think that will prove true in this game and after a hard fought game the Hawks pull out a gutty win in the fourth quarter. Also I believe that the kickers will play a important part in the Super Bowl. Clearly special teams are always part of the game but I feel they will have a huge impact in the Seahawks winning on Sunday. So enjoy the day and the game and be safe, but most important for this weekend is Go Hawks
---
Happy "Blue Friday" everyone…easily the biggest "Blue Friday" ever! For me it's been "Blue Everyday", as I have been rocking Seahawks based clothes every day for the past couple of weeks…here is just a sample…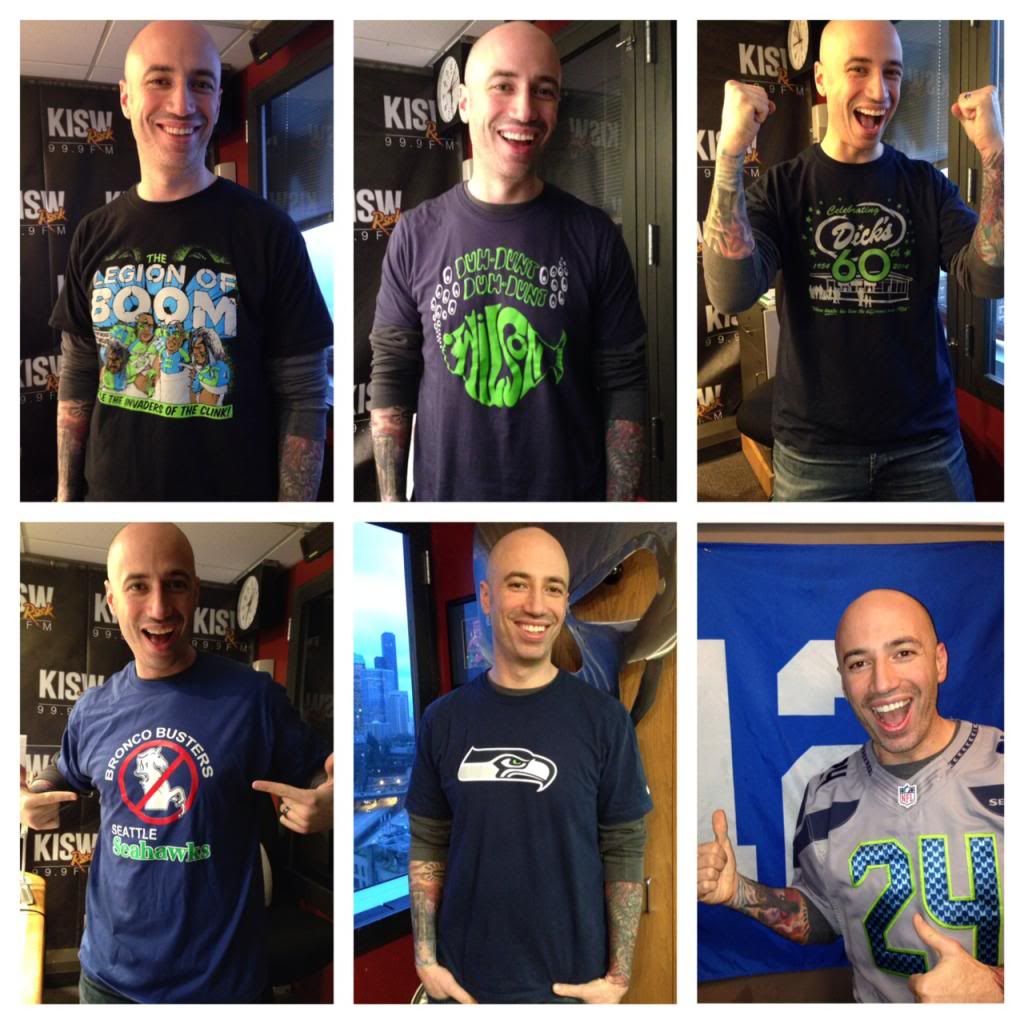 Well, it's official…I know who is winning the Super Bowl. There is no need to wait until Sunday to find out…because Eli the Ape has been picking Super Bowl winners for the last 6 years, and has been RIGHT every year. Who did Eli pick? The Seahawks? The Broncos? Check it out:



That's right Hawks fans…Eli says the Hawks are winning, we now have nothing to fear…GO HAWKS!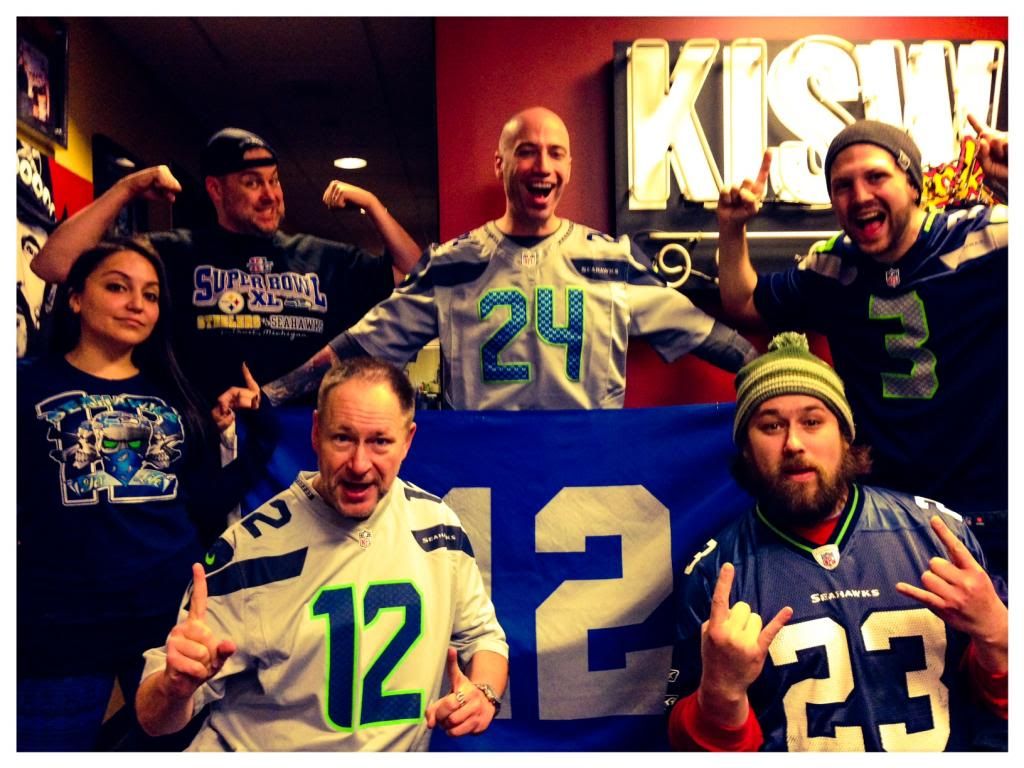 I took this off my bud Todd's Facebook wall…it's an awesome time lapse video of the Hawks travelling from the VMAC to the airport, and you can see all the fans that showed up. I got serious goose bumps at the end when you see how man people were there…enjoy…


---
"Hola,

It's no secret that Justin Bieber (yea, him again) is an idiot, but like any celebrity with a seven- figure income, there's no real ramifications for anything he does... and so he continues to be an idiot. Outside of his inexplicable fan base, everyone else is pretty tired of the fool. Well, here in the states we have one advantage; he, like Ted Cruz, is Canadian. In one week, a petition to deport his candy- ass has reached 174,000 signatures. That means that the White House now, legally, has to issue a ruling on the matter. We're pretty sure that the 'Biebs' will be safe, but we like the idea that that many people are asking him to just go the f**k away. All of that being said, all of us have done something that resulted in us being asked, or told, to leave. WHY WERE YOU ASKED TO LEAVE?

Was asked to leave the entire state of Indiana. Had gotten into a fight, was told by the police to leave the state or go to jail

Got kicked out of a bar where he was a regular because of some crazy chick

Kicked out of a Lil' Wayne concert for fighting. Truth was, he was breaking up a fight

Booted from Safeco Field for sneaking in booze... twice!

Was asked to leave WORK after cracking an OBGYN joke to a female employee

Peed in the sink of the ladies room at a local bar. Would have gotten away with it if the bouncer hadn't been watching him the whole time

Was asked to leave work for wearing a bulletproof vest. His brother had been shot and killed a few days before so he was especially paranoid

Kicked out of a Mariner's game because his (now ex) wife is a loud- mouthed drunk. She was almost Tasered, but he managed to talk the cops out of doing it... which is impressive since she was calling the cops 'pigs'

Was tossed from Cow Girls Inc for licking the ass of one of the dancing girls

Involved in a bar fight and punched one of the bouncers... didn't realize it was a bouncer

Before legalization, he was thrown out of a head shop for uttering the word "weed"

Thrown out of Disney World for getting drunk... and fighting Goofy

Gotta run, bitches.

Until tomorrow, drink up, stand out and STAY BEAUTIFUL!"

---
Royal Blood "Out Of The Black".


The band is called Royal Blood and the song is "Out Of The Black." These guys are a relatively new British rock duo. Some reference The Black Keys when talking about the band. I think they've got a sprinkling of The Mars Volta myself.

But before we jump to conclusions how about a listen?

Please listen, and let me know what you think! Cool?

Thank you as always.
Jolene

---
Our good bud Craig Gass was at the Super Bowl Media day…what happens when you take a fellow Hawks super fan and give him access to players? This…


Did you see what Boeing did in the spirit of the Hawks? It's AWESOME! Check out this 747-8 Freighter…thanks to my brother Ryno for sending these pix to me: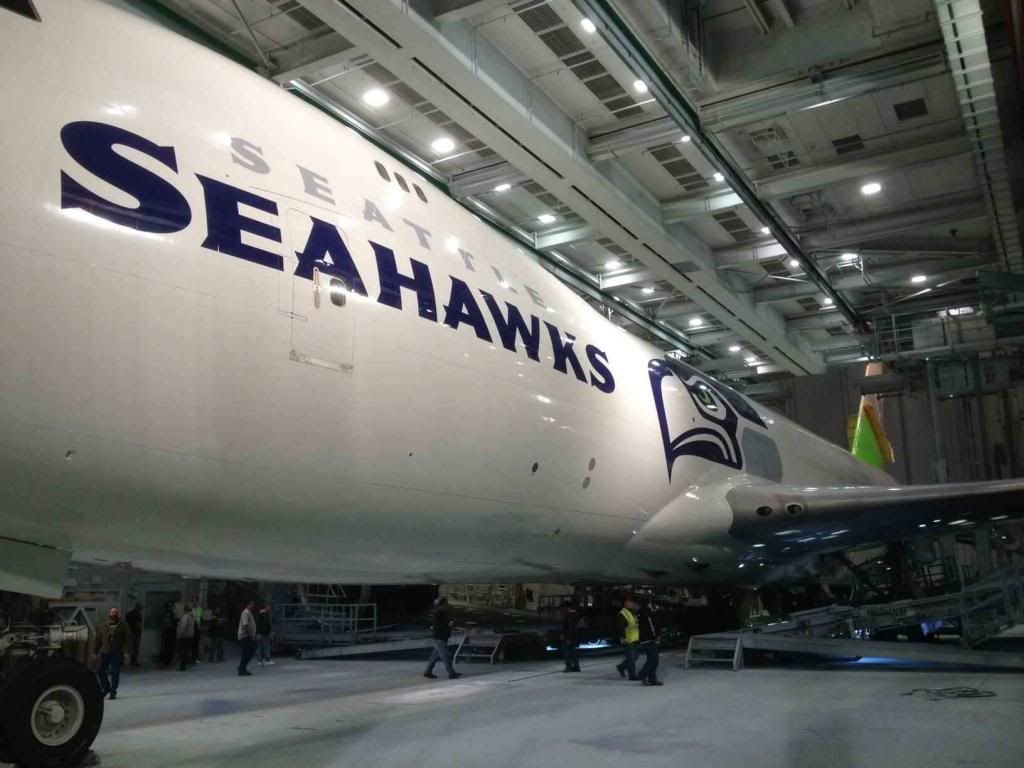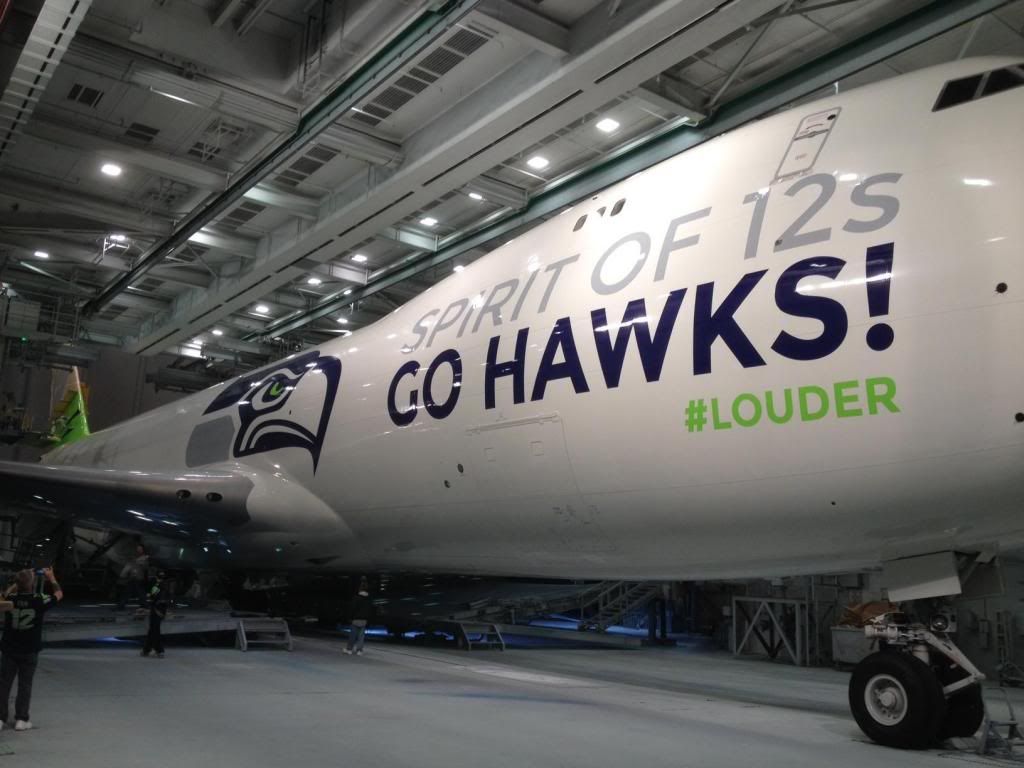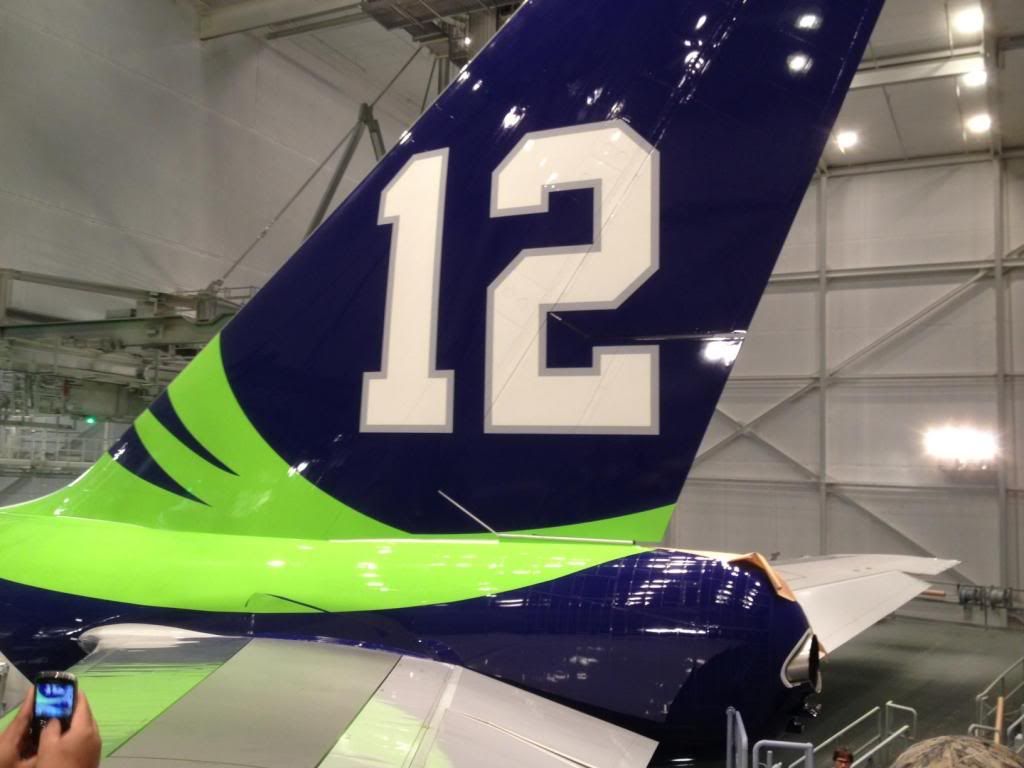 We are just days away! Are you as pumped as I am? Go Hawks!




Ok…when is the NFL going to loosen up their rule that players MUST do interviews with the media and will be fined if they don't I understand that they want players to be available to media, but I am guessing there are enough guys that are willing to and comfortable with speaking to the media. Marshawn Lynch is not one of them. Every time he is interviewed he looks painfully uncomfortable. What good is it having him do these? It makes him look bad, and in turn the NFL looks bad. I watched yesterday's interview that Marshawn did with the media, and I absolutely hated the media. If the NFL won't shut the interviews down, maybe the media should (I know this will sound shocking) act responsible and just leave Beast Mode alone. Watch this interview…yes, Michael Robinson saves it with some great humor, but Marshawn has been asked these questions before…in fact he answered most of them with Deion Sanders the day before…and he's being asked them again. Why? For the hope he snaps? Or because media has such a stick up their collective you-know-what and are "punishing" Marshawn for not wanting to speak with the holy media?



Media – knock it off already…BOSS!
---
I don't know if we've used this joke before…but we're using it anyway! Think of it as a potential bonus joke, but please laugh like you've never heard it before:

Group Therapy is going to the dogs today, folks.

Richard loves his girlfriend very much. They have a strong relationship, a great sex life, and she gives him all the love and support a man could ever want or need.

There's just one tiny, shivering, whimpering problem:

Her Chihuahua.

Richard can't stand this dog. It whines constantly, sheds all over the place, and takes a leak on Richard's belonging every time the girlfriend sleeps over. Richard doesn't want the little mutt up on his bed, which causes it to whimper all night because it can't sleep next to its human "mommy". As a compromise (to everyone but Richard) she lets the dog sleep on a hairy towel beside her on Richard's bed.

When they stay at her place, it's even worse: she lives in a terrible neighborhood filled with garbage and nasty people. The girlfriend walks the dog through filth every night, and her bed is gross and covered with grit, as a result of the dirty dog being all over it.

If you're a hardcore animal lover, you might wag your finger at me, but…I agree with Richard. This situation sounds like a nightmare, and I would probably be contemplating the future of the relationship, too.

My own dog's cleanliness is a struggle to maintain, and even though I love her, I am constantly disgusted by some of the nastiness that she leaves in her wake. Where do we draw the line, especially if the pet that you hate doesn't even belong to you? Is disliking your partner's animal enough of a reason to put the relationship in a kennel?

---
"Hola,

In the lead up to the Super Bowl, yesterday was "media day", the day where some of the dumbest journalists on earth ask some of the dumbest questions on earth and, essentially, waste everyone's time. Unfortunately for the players, the NFL REQUIRES that they make themselves available for this idiot- fest. Even 'Hawks running back Marshawn Lynch showed up... albeit, not for long. Most players hate media day, and here a few shining examples why; Richard Sherman was about what he thought of Justin Bieber, another player was asked which fat head coach he'd rather see in a thong, while another player was asked who had the smelliest farts in the locker room. Seriously. Ahhhh 'media day'! For us normal folks, we're burdened with plenty of stupid an oft repeated questions. If you're a red headed woman, you KNOW you're gonna get asked 'does the rug match the drapes?' If you own a pick-up truck, you're everyone's go- to when they need to move, if you have a tattoo you'll be asked 'did it hurt?', and on and on it goes. Today's question: WHAT ONE QUESTION, FOR WHATEVER REASON, DO YOU GET ASKED A LOT?

"Having fun yet?" He's a plumber's apprentice

"Are you Irish?" He's a short red- headed dude with Leprechaun- like facial hair

"You got a joint?" Has long hair and a beard

"Are they twins?" He has IDENTICAL twin daughters

"What's in it?" He's a UPS driver and customers assume he knows what THEY ordered

"Can I touch your beard?" He has a huge beard

"Can you eat eggs?" He's lactose intolerant. WTF do eggs have to do with it?

"What nationality are you?" Well, he's AMERICAN, but they mean to ask is what ethnicity he is... and he doesn't know because he was adopted by a black family... and he's not black... or white.

"Does it rain a lot in Seattle?" That's the question he gets every time he travels. I think we all do.

"What's wrong with your eyes?" Has a condition I can't pronounce that causes his eyes to twitch all the time. People assume he's high

"Did you kill anyone in Iraq?" He did three tours of duty there.

"Do you shave your head?" Yes... because his head is shaved

"Are you related to Elvis?" His last name is Prestly. He should say, "yes, Elvis Costello."

OK bitches, I'm outta this mofo.

Until tomorrow, targnabbit and STAY BEAUTIFUL!"

---
Media day at the Super Bowl is a crazy day where all types of people from the media show up and ask questions. Now some of the questions are legit and there is a ton of sports reporters there but there is also a lot of silly questions. People dress up and to be honest media day is about the media being on show as well as the players. If you are a football fan I don't have to explain to you the zoo that is media day but I thought the Seahawks handled it very well. Now there is some truth to the fact not one single Seahawk has ever played in a Super Bowl but on the same token from what I saw it appeared to me that the Seahawks are ready for action. A few years ago I had some buddies on Sounders that would hang with from time to time and I remember seeing them the week of a playoff game and their demeanor was a lot different than the rest of the season. I saw that kind of change in the Seahawks at media day, while they are enjoying it I like the fact they were all so serious. I also like the fact the Pete Carroll put the game plan in last week so they could have a normal practice week. The wait is almost over and this town is about to burst at the seems. Should be a hell of a weekend in town and I can't wait for the game either
---
Brits tackle American Football, its championship game and Richard Sherman.


---
Yesterday was Media Day for the Super Bowl, and after seeing the circus that Media Day is, I don't blame Marshawn Lynch for doing a quick press conference. You have people dressed as super heroes, people in 1700's outfits, etc…all asking players stupid questions. don't they know that's my job to ask dumb question when players call in to our show? I mean there were questions about Russell Wilson's hair, someone asked Percy Harvin if he likes playing football, and someone asked Michael Bennett who on the team has the stinkiest farts. The ultimate dumb question moment happened with Richard Sherman…and props to Richard, he took a ridiculous question/statement and gave a great answer:



It would have been hilarious if Richard then finished the answer by invited her to go to Scores with him. Waka Waka!

Marshawn did spend some time with Deion Sanders, and the interview was awesome. A. Marshawn has a great chill sense of humor, and 2. You can tell he is all about the team. Props to Deion for going with the flow, he did a great job with this interview…



On this week's STP-CAST, we spoke with David Barrionuevo. David is making headlines because he has been to EVERY Hawks game this year…and he doesn't even live in Seattle. David is a Seahawks fan from New York, and flies to every game. There was a great article on him in the Daily News in New York: http://www.nydailynews.com/sports/football/bondy-bk-based-seahawks-fan-chases-super-dream-article-1.1579928

David has a blog that chronicles his experience: SEAFENSE.BLOGSPOT.COM
Check out the entire interview on the STP-CAST – available on iTunes, Stitcher, or here: http://media.kisw.com/a/86639987/stp-cast-01-28-14-stp-has-switched-from-spotify-to-beats-music.htm?

Based on David's story…it doesn't have to be sports related, have you ever wanted to spend a year travelling and doing something like David did? What is it? Or…have you done something like it? What did you do? Here are some of the texts we got:

My grandfather wants to see a baseball game in every state. As far as I know, he's only done Georgia, Washington, and Kentucky. However the Kentucky game he saw was minor league.

I would like to get a divorce, travel around the country and sleep with a woman from every state.

I am a race fan, always wanted to go to every Nascar race for a season, GO TONY STEWART, John

I hated my job so I took a year off and fished almost everyday. Traveled all over chasing steelhead. 6 months in I designed a fishing lure and by the end of that year I was the owner if a tackle business and I haven't looked back. That was 2002.

Hi I'm branden shires I live in federal way wash. Im 17 and my dream is to follow the mariners to every baseball game they play

44 year old father of 2 A local soft ware enginer of eighteen years qqite his job and took a year off to go to every game this year

I've seen Dave Matthews Band 67 times the past 4 years in 13 different states

Hey Steve I have seen 36 PJ Shows, the longest stretch was 5 shows in a row. I hear ya, would love to go to Europe and follow them for a couple of months

Yesterday was a big day at the station…we received a surprise visit from the man himself…Mickey Mouse!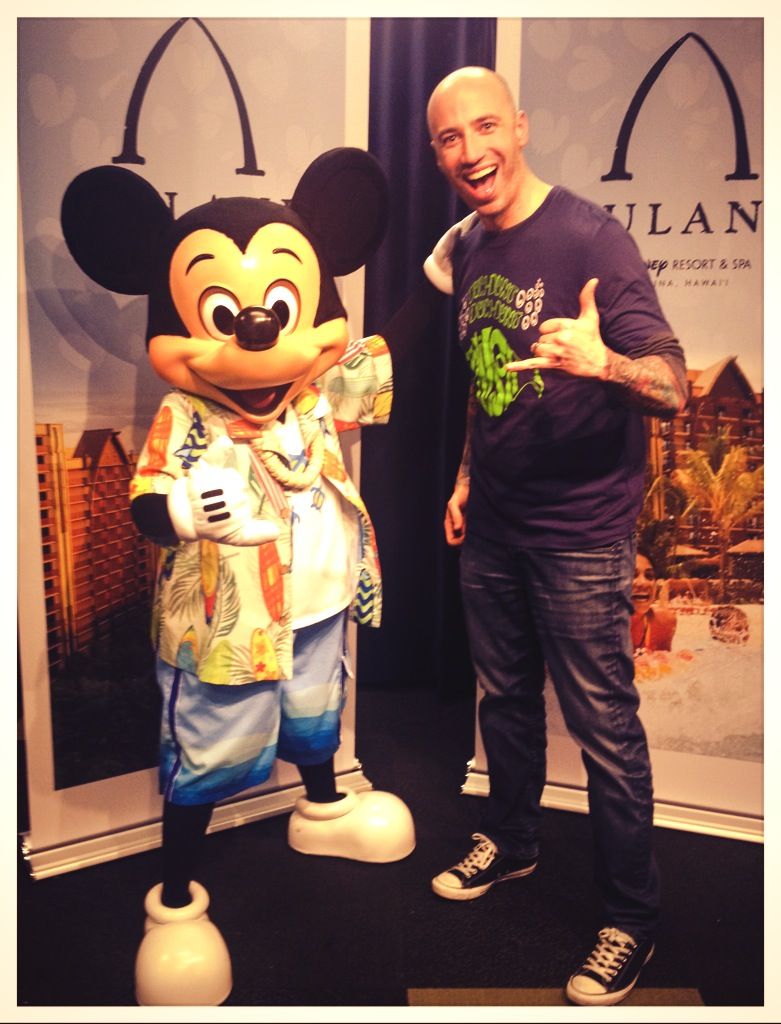 Today's Video Blog is all about meeting Mickey!


Tags :

Topics :

Sports

Locations :

Georgia, Kentucky, New York, Seattle, Washington

People :

David Barrionuevo, Deion Sanders, Marshawn Lynch, Michael Bennett, Percy Harvin, Richard Sherman, Russell Wilson




---