Today's blog comes from one of my mentors, Dan Sanders:

This blog was inspired by a group of young males I saw on a street corner before school while I was stopped at a red light. Whether they ever made it to school remains a mystery.

It troubles me when I see people of any age marking time, lock-stepping to a beat chosen by the world around them, falling in line, afraid to disrupt the order of things. One thing that drives me crazy is inertia, a resistance to change.

The Stepford Wives, a 1972 satirical thriller by Ira Levin, is a story about Joanna Eberhart, a photographer and young mother who moves to a perfect Connecticut town and begins to suspect that the submissive housewives there might be robots created by their husbands. In that case, the wives were simply replaced by machines. These days we have advanced way beyond the Stepford wives, no longer needing to replace a person with a machine. We do that ourselves by sticking the machines in our hands and ears. Unless some outside force knocks us in the head, we will continue staring at our hands and listening to the programmed hypnosis attacking our ears and eyes. It bothers me most of all when I see young people—anyone under age 30—doing that. I remember when we use to say, "Don't trust anyone over 30." Now I would reverse that and say, "Don't trust anyone under 30."

On February 8, 1931, James Dean was born, and in 1955, at the age of 24, he made a movie called Rebel Without a Cause. It offered both social commentary and an alternative to previous films depicting delinquents in urban slum environments. Dean played Jim Stark, a teen from a troubled family who in the end loses a friend to death but gains a father. On that corner, I witnessed what appeared to be the Belt Buckle Rebellion. The group of young men stood puffing on electronic cigarettes, not one of them with their pants up to their waists. I supposed this was some sort of rebellion, although I'm wasn't sure against what. Belts?

Politicians moving into New Hampshire have no doubt noted that the state is in drug addiction shock. In one survey, the New Hampshire Center for Public Policy Studies placed New Hampshire among the top 10 states in the nation in terms of abuse of either alcohol or drugs by teens, a self-induced inertia, to say the least. It's time for young people to stop standing around with their pants down and do something and time for older people to kick conformity and acceptance in the behind. Everyone should grab life by the bull rope and ride the damn thing to the buzzer.

There will be more thoughts on inertia maybe and other things on the shores of Rambling Harbor. Join me there.

http://dbsanders.podbean.com/e/be-a-rebel-you-have-a-cause-and-it%E2%80%99s-called-life/
---
So over the weekend I went to Vegas…many assumed I was going to party in Sin City for the Super Bowl, but that wasn't the case…hell I watched the Super Bowl at the air port bar, and then on the plane. I was in Vegas for another one of those Draft Tournaments (hockey). This was my 4th one in the past year… easily the most fun time playing hockey and making new friends. This time around the team I was on didn't win the tournament; hell…we didn't even win a game! We went 0-4-1 (one tie), but still had a blast at the rink in Vegas all weekend. Plus we had a sweet view from our room at Treasure Island!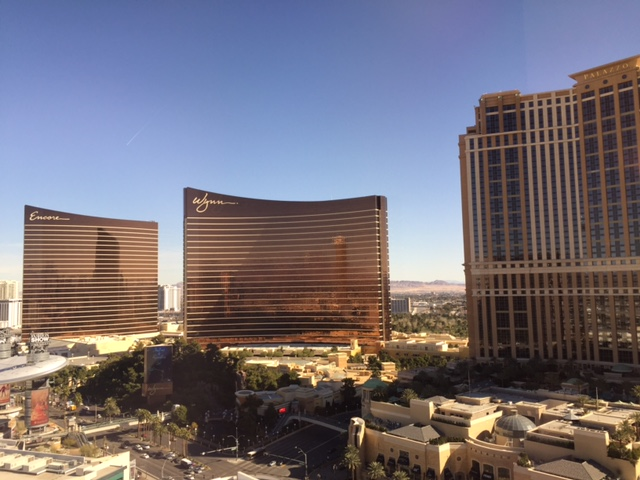 This one was no different than the other ones I have attended; I met and partied with some awesome people. Plus I got to rock the Senor Frog head on Friday night… Ok, I wasn't technically allowed to and was told that cannot happen again, but I got some pix with it on!




Here I am with my fellow Donkey, The Jay Mac…and the man behind the Draft Tournaments, Nick. If you ever listen to the Migs Cast, we have had Nick on a few times in the past. Plus he now hosts an awesome podcast about beer league hockey called " Beer League Talk".




Here are a couple other pix from our weekend. The theme for the jerseys this time was the Village People, which is why my bud Chris showed up dressed like this… at least I think that's why he dressed up like this… hell maybe this is his "Vegas Attire"… Chris is one of the coolest and funny dudes… every time we are at the same tournament; we have been on the same team.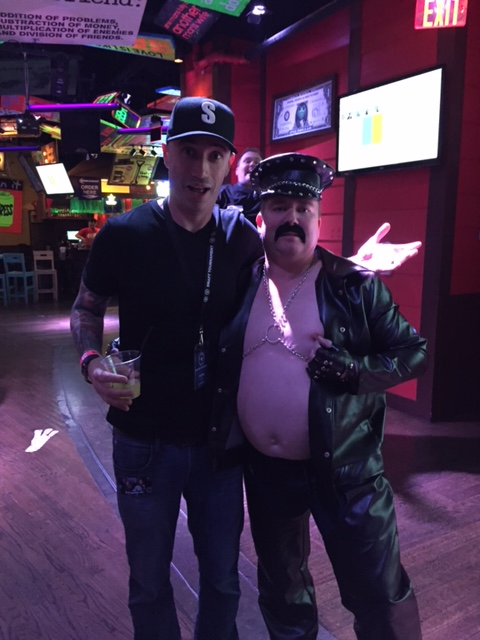 Clearly a lot of beer was consumed in a room full of beer league hockey players…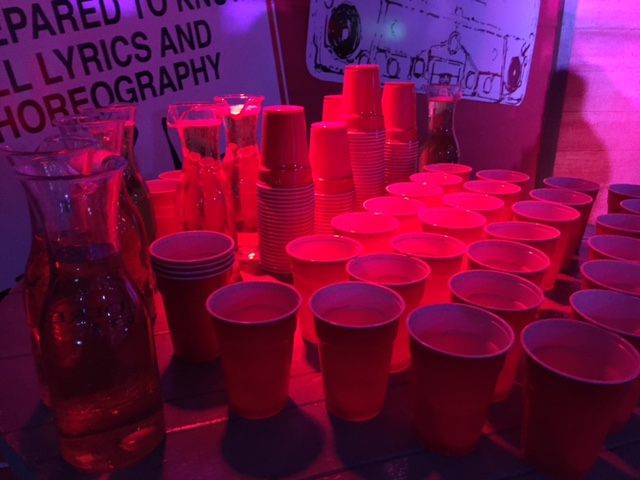 Somehow, thanks to our bud "Swampy" (he's playing on my phone in this pic)…we ended up with a limo taking us around…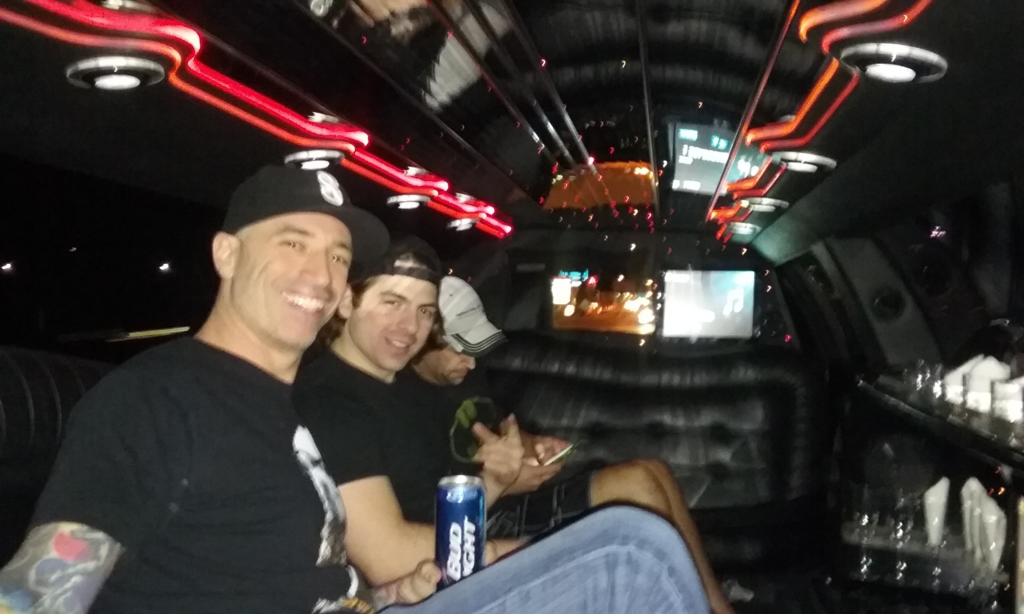 Here I am with my bud Dave…just like with Chris, we have been on the same team every time we have attended the same tournament. Dave is an awesome fella, both him and his son Jack play in these tournaments, and I love hanging with them both! We ended up being on the "Biker Guy From The Village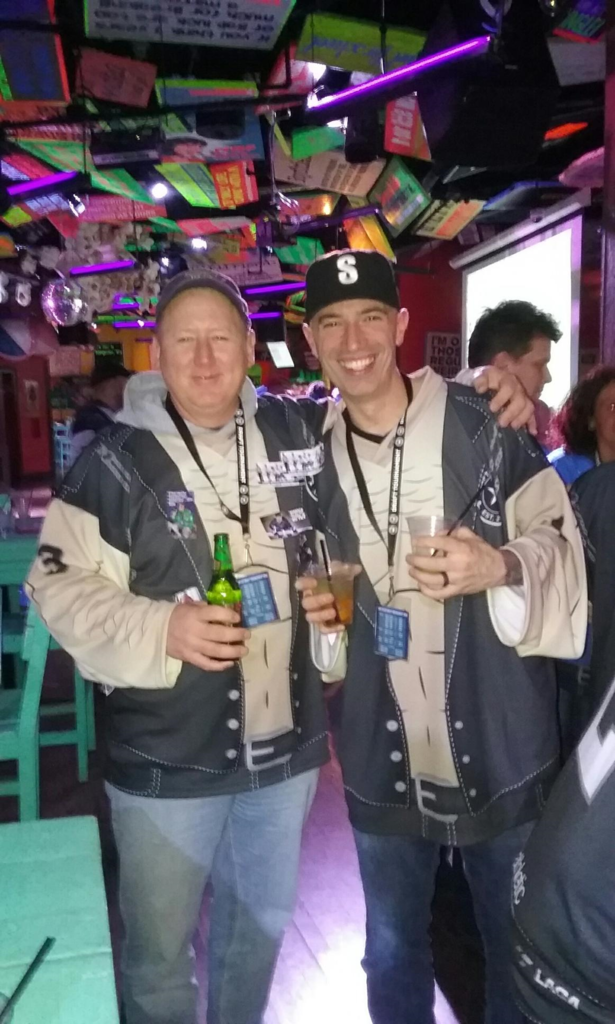 I have no pix of us playing hockey (yet)…lets just say we love playing hockey, but that's not the main attraction…the main thing is having friends with new and old friends.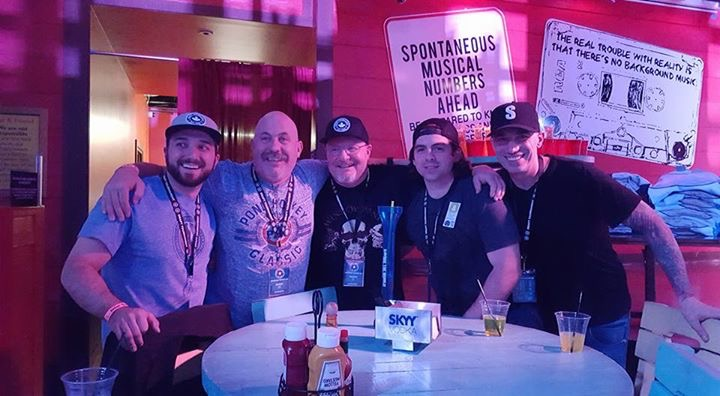 ---
"Hola,

Ever have one of 'those' days? You know how it goes; you get out of bed to start your day and everything just kinda goes off the rails for no good reason. You stub your toe, your shower goes cold just as you've lathered up, you spill coffee on your lap, get splashed by passing traffic, trapped on the elevator with a smelly person, hit your funny bone, bite your tongue, sneeze with food in your mouth... and you haven't even had lunch yet.

Well, stop feeling sorry for yourself, Maggot... happens to all of us.

You COULD be this guy in Melbourne, Australia. He lost his wife. Five days later he has a memorial service at his home. Plenty of mourners came by to give their respects, but after the last one left, a surprise guest showed up... his wife.

You'd think that her husband would be ELATED to see her, but it was pretty awkward because he'd paid two hit men to kill her.

You can see how sh*t got weird, right?

Well, he inspired today's question: WHEN WERE YOU HOPING FOR A BETTER REACTION?
---
Up until now I was 100% rooting for the Broncos this Sunday – many of my buds are Broncos fans, and if the Hawks aren't in the game I will pick the team that most of my buds are a fan of. I'm a good friend like that. However…. HOWEVER… I watched Craig Gass's video he just put out of him at Super Bowl Media Week…and I have to say, if I was picking the team I want to hang out with the most… I would have to go with the Panthers. Both teams seem to have good dudes on it, but the Panthers players seemed to be having a lot of fun with Craig. Plus, I love the Creed moment! Check it out:



Speaking of football… did you see Marshawn Lynch yesterday? He was a part of 2 different things that were funny for different reasons… first off… he was featured on Conan. JUST LIKE LAST YEAR… Conan did a fun bit with a couple players in the Super Bowl. Last year it was Beast Mode and Gronk… this time Conan had the Denver Broncos' Von Miller & the Carolina Panthers' Josh Norman play Doom. They had a surprise guest…Marshawn Lynch!



Marshawn was also making news for addressing the rumors that he is retiring. A TMZ guy asked him, and his answer was priceless.

---
This is a serious Super Bowl Weekend Warning, friends. I know your first instinct will probably be laughter, and I can't blame you…but I want to stress that this isn't actually a joke!

When a city's team is in the Super Bowl on a given year, more people in that city die from the flu that year. So, that's a deadly flu epidemic in two different cities every year. The same is NOT true of the city that hosts the actual game.

People who are staying at home and hosting small gatherings are at the highest risk, and it all comes down to double dipping your chips in the dip. Again, this isn't a joke! Frequent hand washing and a "no double dipping" sign are recommended as preventive measures.

Personally, I like to break a chip in half, and dip each half independently. There's also the "flip" method, which is where you dip one end of the chip, and then flip it around to dip the side that hasn't yet touched your mouth. Neither of these methods has proven to be very popular in mixed company. Trust me, I'm speaking from firsthand experience.

What do you think, Rock-A-Holics? Is this a real health scare, or are we just being scared into getting flu shots each year? I'd love to know how you feel about this, but please, put on this surgical mask first…
---
So this is how Steve doesn't get work done. It's all You Tube's fault. Yes, once again I fell into that worm hole of watching the suggested videos after watching something.

Today's example… I came across this hilarious video featuring Seahawks legend, Jerry Rice. I know, I know… Jerry was barely a Seahawk, but it's still funny that we can reference him as a Hawk.




Most remember Jerry from his time of being one of the all-time greats, playing for the San Francisco 49'ers. Well the ride app Lyft had him pose as a driver in San Francisco, and mess with the passengers. When he starts dancing with people, I was laughing out loud. Jerry seems like one cool dude!



So I then see that Lyft has done this before… they once did it with Chicago Cubs third baseman Kris Bryant.



I then come across one of the funniest things I have seen in a while. A bit that Conan did where he shared a Lyft car with Ice Cube and Kevin Hart. I was in tears watching this.



The idea of celebrities going "undercover" is always fun to watch… and being a hockey fan, I had to click on this video and watch it. It's Ryan Kesler of the Ducks going "undercover"…



Finally… this is a video I have shared before, but it popped up while watching the Kevin Hart and Conan clip… I love this video because I have been on this roller coaster, and I love it. Here is Kevin Hart on the Tonight Show with Jimmy Fallon!

---
Is anyone else obsessed with having a miriad of hot sauces available at any given time? I put hot sauce on almost EVERYTHING. Pizza, tacos, breakfast, BBQ... But I require a different hot sauce for almost every dish! Here's a list of my favorites, and you'll find them all in my "hot sauce section" in the fridge:

Sriracha
Tapatio
Cholula
Uli's Curry Ketchup
Blair's Jalapeno Death Sauce
Frank's Red Hot Sauce
Tabasco (red)
Tabasco (green)
Trappey's Louisiana Hot Sauce

What am I missing?! If you can think of a hot sauce that would round out my collection, send me an email! I'm always looking to add new spices and flavors and tear up my stomach lining a little more!

Happy Adventuring,

Taryn Daly
#TarynItUp
Tags :

Topics :

Entertainment_Culture, Hospitality_Recreation

Social :

Cajun cuisine, Condiments, Don Tacos, Food Paradise, Hot sauce, Ketchup, Sauces, Sriracha sauce, Tabasco sauce

People :

Curry Ketchup Blair, Taryn Daly




---
"Hola,

A woman in New Jersey recently found a living, 3- inch lizard in her bag of organic spinach. I felt HORRIBLE for the lizard... spinach is disgusting. Anyway, she found it, and instead of freaking out and suing (as we LOOOOOVE to do in this country) she gave the lizard (named Green Fruit Loop... seriously) to her daughter and now Green Fruit Loop is the mascot of the kindergarten class.

That led to today's question: HETHER YOU MENAT TO OR NOT, WHAT DID YOU BITE INTO?

Look, I'm just gonna cut to the quick on this one; the most vile thing we heard today involved a guy who "didn't back down". So much so, that when he was challenged to eat a piece of corn out of HIS OWN TURD, he obliged.

That is all.

Until tomorrow, do what you do best and STAY BEAUTIFUL!"
---
For over 3 of ACDC's 4 decades I've seen them live in concert a few times. The first one was in this same Tacoma Dome 1983. Who could forget that show? Ft. Lewis soldier sneaks in rocket flares by hiding them them up his girlfriends dress and during the show lites them off right into the dome's wooden roof during "This House Is On Fire"! The 3x4 foot hole burned in roof was fixed in time for the next nights Neil Diamond show. He obviously had a lesser of greater fates.
Here we are decades later in 2016 and ACDC is bigger than ever! Angus might be a little slower, but he's 60 years old and still runs circles around musicians today in their 20s! In a nearly talk style, Brian Johnson can somehow miraculously hold some tune still at 68 and with the way he sings with the razor blade grit style I'm surprised he's still at it. I'm not gonna lie, it was a little difficult to handle at times, but you know what, there was NO backtracking NO autotune just plug in a play! RESPECT! Both Young and Johnson were all over the stage in a display that defineds logic! Still complete entertainers!!


Blazing through a killer set that included: Rock or Bust, Shoot to Thrill, Hell Ain't a Bad Place to Be, Back in Black, Got Some Rock & Roll Thunder(1st time live), Dirty Deeds Done Dirt Cheap,Thunderstruck, High Voltage, Rock 'n' Roll Train, Hells Bells, Given the Dog a Bone (1st time live since 1980),Sin City, You Shook Me All Night Long, Shot Down in Flames, Have a Drink on Me, T.N.T., Whole Lotta Rosie, Let There Be Rock, Encore: Highway to Hell & For Those About to Rock (We Salute You) the fans loved every minute of it.
Lets not forget this tour was to back up the great new ACDC album Rock or Bust.{BUY}
Overall I'd say get out and see ACDC now if you never have. Age is catching up on all our rock heroes and who knows how much longer the rockers from down under can march on. We're seeing the end of arena rock as we know it in today's music business. For show photos please visit KISW.com [Click Here] or at my Facebook concert photography page Savoia Photography Live for complete album [Click Here]
"Iron Mike Savoia
---
Here's something for the Rock-A-Holics with an interest in law enforcement…

I'm sure a lot of people find it annoying when they're pulled over for speeding, and later see a police officer cruising down the highway at 90 MPH, with no emergency in sight.

Well, a Miami woman recently pulled over a speeding police officer for speeding. She gave him a lecture, and recorded the whole thing on her phone. To his credit, the cop took it in stride, probably because he knew she was right. He didn't exactly admit it, but he did apologize, and even offered his name and badge number. The woman refused that information, but she did give him a long speech that would be played off the stage at the Oscars for length.

I admire the accountability on display here, and kudos to the woman for tackling this without devolving into complete stupidity. Granted, she was probably pushing a little too hard for attention, but at least she didn't flip out. We're still struggling with the citizen-police dynamic in this country, but interactions like this give me a tiny bit of hope.

Your thoughts are welcome, as always…

---