Posts from February 2014
Sometimes, Group Therapy is a little bit like a family. Yep...just one big, weird, deeply disturbed family.

Betsy is having some serious problems with her boyfriend's mother. The boyfriend complains when his mother isn't around, but their relationship turns weirdly clingy when she is.

In short, Betsy is dating a Mama's Boy, and his mother loves to push that in Betsy's face whenever the opportunity arises.

What say you, Rock-A-Holics? Do you have the mother of all good advice for Betsy?

---
You know it's gonna be a good day when a huge bag of meat arrives!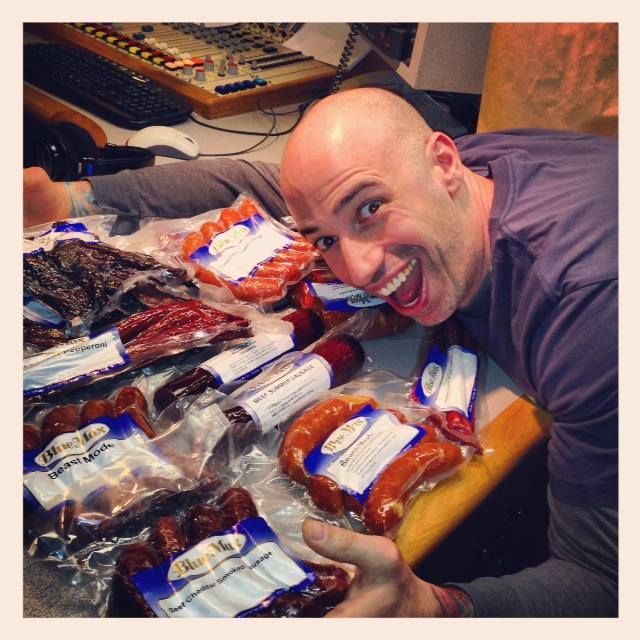 Thanks to my buds Tommy, Evan, and Vince from Blue Max Meats in Puyallup for coming by with some of their meat. If the name sounds familiar…this is the place that created the Skittles Infused "Beast Mode" sausage! All of their sausage is incredible, like I said this morning… "What a great day, sampling meat!". Check em out here: 9512 Canyon Rd E in Puyallup. Or on Facebook: www.facebook.com/BlueMaxMeats
It's Friday…what better way to get the weekend going than to watch JCVD do a split…in SPACE!



Happy Friday!
---

According to a new study, women are faster than men when it comes to breaking up with someone.

On average, a woman will take 6 days of thinking before pulling the trigger on a relationship. Men, on the other hand, have a tendency to think it over for much longer; their average time is a full month. I can actually see how this leads to some confusion for women, because they can usually tell when something's going in a guy's head, and a whole month of hemming-and-hawing is ripe territory for miscommunication.

This is the age of the casual relationship, so there's probably some room for debate when it comes to the definition of "breakup." Whatever the case may be, it seems like women are probably going to come out considerably quicker on the draw overall.

I'd love to hear what you think about this, gang! Do these numbers match up with your personal experience? Do you have any thoughts on why women might end things first? Ladies, do you need 6 days to think over your answers to these questions? Guys, do you need a whole month? Honestly, I'm not sure if we have that kind of time…
---
Have you seen this awesome hit by Seattle Thunderbirds player Evan Wardley! I already loved watching this dude play, but after this…he might be my new favorite player… Go T-BIRDS!


So we are dog sitting for our friends right…who happen to be Ben The Psycho Muppet and his wife. It's funny…their dog's name is Lulu as well…so we have 2 Lulu's kicking it at the house…who knew one house can handle such awesomeness!




We had a fun topic this morning…it was awesome to hear what the Rock-A-Holics had to say. Soundgarden is going to play "Superunknown" front to back for the first time at a concert in Austin (SXSW)…based on this, if you could have one band play one of their albums front to back, which band and album would it be? Here are some of the texts we got:

it's not possible but Pantera's Vulgar Display of Power then en core with Cowboys from Hell in its entirety!

AC/DC Back in Black

Have stone temple pilots play purple or core ! Bad ass

Offspring -Smash. Metallica -black. Nirvana unplugged. Thanks - Dan the Man

Michael Jackson Thriller... Beginning to end...

Pearl Jam, Vs. Best pj album ever

It would have to be Rush 2112 for me, greatest concept album of all time, phenomenal musicians telling a credible yet futuristic story with the raw energy that was solid rock. Jerry in shoreline

Alice In Chains, Jar Of Flies best album of all time! 23 year old mom with a 3 year old named Layne. :)

Adrenaline album – Deftones

Love to see Green Day play Dookie all the way through. First album I ever bought
Tool lateralus
Seasons in the Abyss, Slayer.

Alice ... Facelift. I know mist people would say Dirt, but Facelift is the beginning and includes a lot of what they were playing in the bars here. A Social Parasite encore would be epic. m/

Metallica - And justice for all

Absolutely no question. "Apple". One band I never got to see and a true talent lost way too early. Mitch, the best damn garbage man in Lacey.

Motley Crue shout at the devil $ Tiny $

Sublime 40oz to Freedom Lakewood Larry... Hey Toppy...

Skid Row - Slave to the Grind! Front to back!

Foo Fighters, The Colour and the Shape. Mark from Renton

AIC Unplugged Onedge
---
This week Late Night with Seth Myers kicked off after Jimmy Fallon moved to The Tonight Show at 11:30pm. Now I will not lie some of the first couple episodes have been not great and some moments of Seth looking uncomfortable but it is his first week. I think that is some of the things I want people to sit back and realize that these shows talk time to develop into show's you like and are used to seeing. Conan O'Brian was not awesome when he first started and don't forget Jimmy Kimmel fist week of shows was almost stopped because he had a bar and drunk people on the show. I was not that old when Conan started but I remember people thinking not only was he the wrong choice but he sucked in general. these types of shows take a while to get going and get their feel down. I am not sure that Seth Myers is the right choice but on the same token I do think with a show like that we have to at least give him a year to figure it out and let's revaluate then. The Seahawks did not just roll into New York and win this year it was a team that had been building for two years. Time is brutal but sometimes you just have to give it time
---
I just saw the Godzilla trailer…and as a fan of Godzilla since I was a kid (I had that 2 or 3 foot tall toy that spit fire…and by spit fire I mean you pulled a lever and a plastic flame came out of his mouth), I 100% approve of this trailer! The Matthew Broderick Godzilla movie was OK at best, but it looks like they might have gotten this one right! Plus, Heisenberg (Bryan Cranston) is in it! Check it out!


More and more stuff seems to surface that makes me dig Justin Timberlake more and more. Look, he's no Affleck, but I would put him up on my list of celebs that I think it would be fun to kick ut with. Did you see this video of him calling out a fan that was flipping him off from the second row?


That's too funny…I love the fact that she probably paid a "G-Spot" for that ticket, and she flipped him the bird during the show!

How lucky are we Hawks fans to have such an awesome QB? Russell Wilson was all over the TV yesterday, and he handles himself like a dude that has been in the league for 15 years…what a great representation for our city. He was on Seth Meyers new late night show, and he was great on there…

I really dig the way Seth Meyers does his interviews…he comes off like an everyday guy that is enthusiastic about who he is speaking with! I know everyone is showing a ton of love for Fallon and his Tonight Show (deservedly so), but I think Seth is going to be great as a late night host as well!

He was also of MSNBC's "Morning Joe" show, and even though the interviewers were tools, he handled every question like a pro…
---
If there's one thing I know for sure, it's this:

The Rock-A-Holics are a loyal and trustworthy lot…well, except for that guy in the back. Oh, and I didn't see you there, ma'am. That couple who just walked in? You can't trust 'em as far as you can throw 'em, but I don't have much upper arm strength, so maybe that's unfair.

We need to open up some Group Therapy for Danny, who is looking for feedback from any Rock-A-Holics who are surviving an affair. Danny's wife cheated during a rocky part of their marriage, but he feels like anybody can make a mistake, even one as a serious as infidelity, and he'd like to give their marriage another shot.

Danny's friends think that he should dump her, but he's not ready to give up. His wife also wants to keep the marriage going, so there's no question about the willingness of both parties. Danny would love to hear your advice and stories, successful or otherwise.

BONUS HONESTY POINTS: Have you ever been the cheater in this scenario? How did you rebuild the relationship after your own indiscretion?
---
Sit N Spin Top 10 Selling NW artists




So the fine folks over at Northwestmusicscene.com compiled a list of the Top 10 Selling NW artists. For the sake of argument they classified the Northwest as Oregon To British Columbia.

See the complete article!
http://www.northwestmusicscene.com/2014/02/top-ten-best-selling-northwest-artists-of-all-time/

Dig the playlist!
http://kisw.tunegenie.com/u/__znjWJ0YSSKBC2kr2EE2Yg/sit-n-spin-top-10-selling-nw-artists/


The top 10 are as follows

10. LOVERBOY

9. ALICE IN CHAINS

8. BRYAN ADAMS

7. NICKELBACK

6. HEART

5. JIMI HENDRIX

4. STEVE MILLER BAND

3. NIRVANA

2. PEARL JAM

1.KENNY G
---
At times it's as though she's doing battle with an invisible angry dwarf. His aggression matched by her violent thrashing and kicking. Be gone Unlucky Charms.
---
Yesterday I found 2 new ways to waste my days away.

1. The WWE Network. It's basically Netflix for the WWE Universe, and it's awesome! I said screw the one week trial, and I just subscribed to it…it's $9.99 a month and I now have access to all the WWE, ECW, and WCW Pay Per Views of days past…and a whole lot more. Plus…with the subscription, I get all future Pay Per Views. Lets just say my wife is really excited. Yes, that is sarcasm in the air.

2. NHL 2K14 for the XBOX 360 – I was at Best Buy getting ink for our printer and came across a used copy for a cheap price…man that game rules. I know it's been out for a few months already, but this is the first time in over 10 years that I have played a hockey video game, and the game play on this is unreal!

Speaking of wrasslin'…I tweeted this yesterday…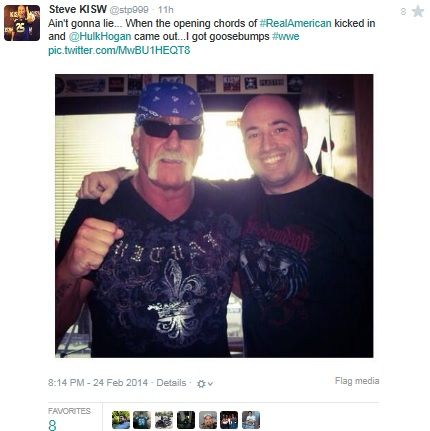 Did ya see the Hulkster on WWE Raw last night? Man it was AWESOME! I didn't think it would affect me in the way it did, goose bumps and all, but judging from all the tweets I have read about it…I wasn't the only one that was stoked to see him come out, especially since he came out to the Real American theme!

---
Major Michael R. LaCasse Chief Deputy
Apr 24