Happy Blue Friday everyone!!! Some of us at work were feeling it! Here I am showing some Hawk love with Hot Kyle, BJ, and our new intern Erica!




Today is also Pain In The Grass Friday! I hope to see everyone at the White River Amphitheater today…I can't wait to see all of the bands, especially Rob Zombie and Godsmack! I have been LOVING the new Godsmack CD…I especially can't wait to hear this song live!

Yesterday BJ and I were on New Day Northwest for their Hot Topics segment. It's always a blast going on their show…the always awesome Margaret Larson wasn't hosting yesterday, so we got to meet Kim Holcomb…she is one cool lady! Here's a cool pic that they took while we were on…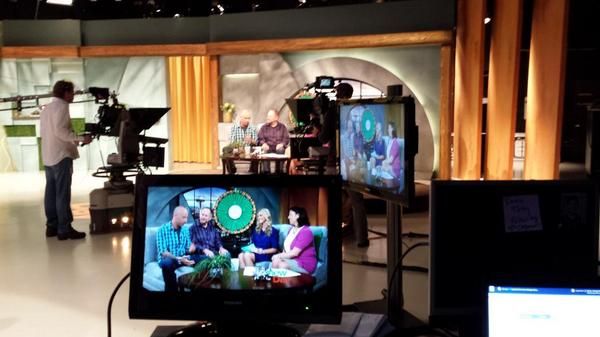 It's always a blast to get to be on the Tee Vee…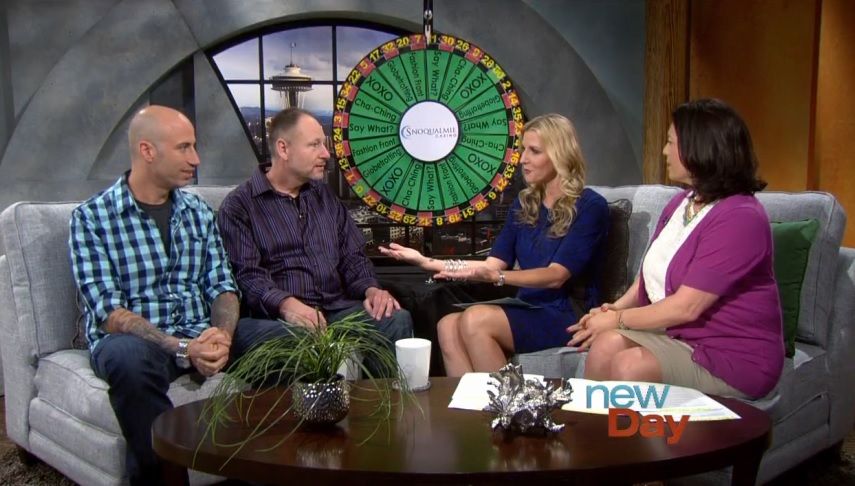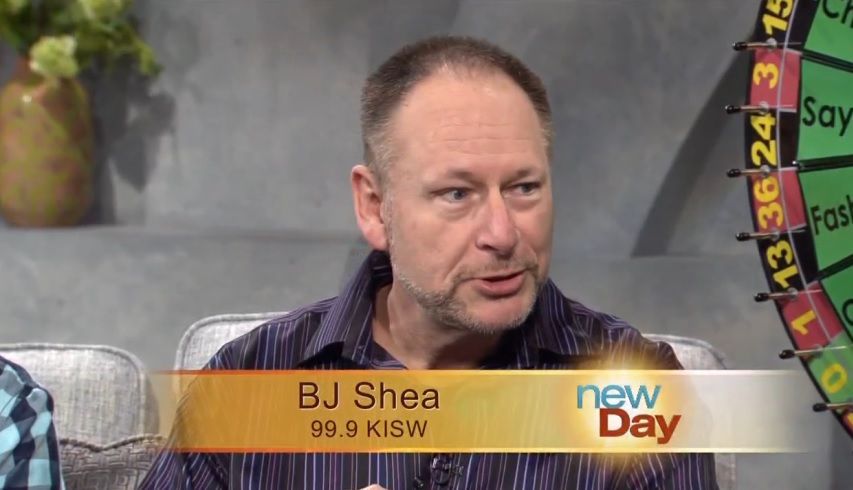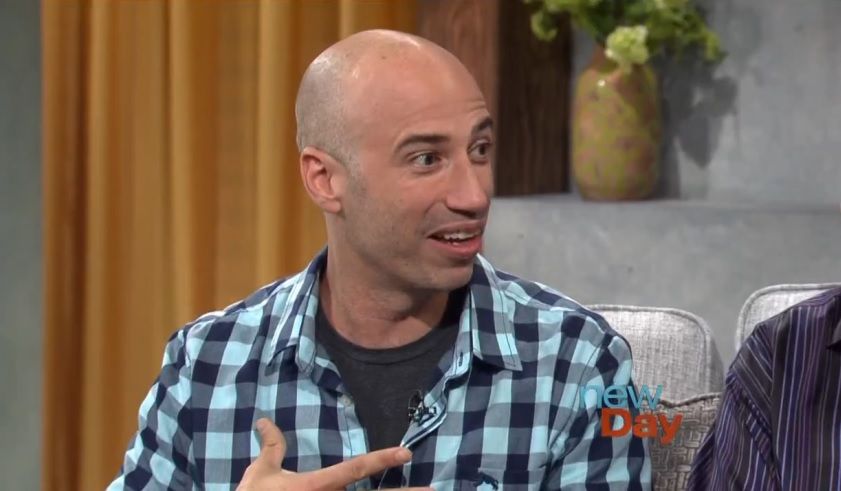 If you missed it, here is our appearance:



If the video isn't showing, click HERE to check it out!
---
"I farted on the first date, and the guy hasn't called me in four days. Should I be worried?"

Please read that again, and then continue on with the rest of this blog.

There are times, my friends…oh, so many times…when I think that I could just post the new Group Therapy topic without any additional comments, and let all of you have a field day. That isn't what we do here, but…well, there are times, and this is definitely one of them.

I'm going to do the right thing, and take the high road. After their first night out, Heather was alone with her date in the car. He was planning to come in to her place, but she let out a massive gas explosion, and he ended up just walking her to the door, suddenly remembering an early morning meeting.

Heather is mortified, because the date was great otherwise. The guy hasn't called in 4 days, and she's not sure what to do. Help this poor gal out with some advice, won't you?
---
A YouTube musician named Andrew Huang has a pretty impressive video out. I say that it is impressive…while also being completely stupid…but in a very entertaining way!

Remember the song "99 Red Balloons"? Well, he played the song on ACTUAL red balloons.
He did it by hitting, rubbing, or popping them to make drum sounds. Then he did the melody by letting air out and making them squeak. Check it out…

---
Life may change in many ways, with no shortage of twists and turns along the path…but Group Therapy will always be here for you.

Kelsey writes in with this dilemma: It seems that Kelsey's BFF has started dating a new guy…who happens to be Kelsey's ex-boyfriend.

Kelsey and her ex ended their two-year relationship about a month ago, and she discovered this new relationship via a Facebook status change. Kelsey is extremely angry, because the ex-boyfriend used to say that her BFF was loud and obnoxious. She texted the BFF to verify this news, but has yet to receive a reply.

Two things:

1) Let this be the first and last time that the term "BFF" appears so many times in one Group Therapy blog.

2) Why do some people seem to crave drama like a kid craves candy?

My advice? Let it go. At the end of the day, that's all you can do. If your friendship can survive this new development, then move ahead with your BFF; if you can't move past the situation, just move on.

What say you, good people?
---
Been feeling like crap…so this will be a quick blog, but it might be the funniest blog that you will read today…or something. As I have mentioned before…last weekend I got to play in a Celebrity Flag Football game put on by Mike McCready of Pearl Jam at Century Link Field. Well…Iron Mike, our photographer, posted the pictures…and I present to you the funniest picture you will see today…or something.




Yes…if you ever wondered what it looks like if a blind man plays football, it would probably look like this.

We go more into detail about this pic on the STP-CAST thios week. Check it out on iTUNES, Stitcher, or HERE!
---
Welcome back to another session of Group Therapy! We need your help today, because we're trying to cut to the heart of a big question. There's no need to get snippy about it, just try to have a knife time!

(Why did half the men reading this blog just cross their legs uncomfortably? Very interesting.)

John and his wife just had their first kid. He loves the little girl, and has found being a father to be something that he enjoys very much...but the delivery was extremely rough on John's wife, and she's still dealing with postpartum depression, months after the fact. The couple had intended to have two kids, but 27-year-old John is feeling like he's ready for a vasectomy.

John's wife feels this measure is a bit extreme, even though she agrees that a second pregnancy is probably not a good idea.

I don't get this one, folks: if both parents agree that one child is enough, then what's the problem? Here's a man who is willing to take an extremely responsible stance in birth control, and he's getting resistance from his wife, who went through hell and back having their first child.

John wonders if he's being naïve, and is now second-guessing his desire to have a vasectomy. In a world that's nearly overrun with kids whose families can't take care of them properly, I applaud his choice, but your mileage may vary. What say you, Rock-A-Holics?
---
Not much for you today, sorry! I did come across this awesome video…

Some girl in Australia told her dad that if he could make a one-handed basketball shot over his shoulder, without looking, he didn't have to give her any money for the rest of his life.

So he shot the ball, and it was WAY too far . . . but then hit the top of a fence, bounced back over the backboard, and went in…damn!!

The reaction rules…I don't blame him for reacting like this…an ultimate parent victory!! At one point…maybe he gets a little too amped, he's laughing like a maniac and flipping her off…she is his daughter after all…still funny, but maybe the bird didn't need to be shown haha
---
Today's session of Group Therapy seems like it will inspire a slew of responses, and they may be all over the map. I'm curious to hear what you have to say, gang!

Kim writes in, looking for advice because her boyfriend is always texting other women. They've been dating for seven months, and they've been living together ever since they met (she gives no details, but says it's "a long story".)

I read that as, "don't judge me, because you would roll your eyes if you heard this story", but what do I know?

So, this dreamboat boyfriend doesn't have a car, and he texts other women constantly. He recently texted back and forth with a woman he went to high school with for FOUR HOURS, with Kim lying right next to him. Kim admits that she's an extremely jealous type, and knows she needs to manage that issue, but she feels like this is out of line.

The boyfriend says she's too jealous, and he won't let her see his messages, because she has invaded his privacy on multiple occasions. Naturally, the suspense is killing her. The boyfriend says he isn't doing anything wrong.

Let me just say a couple of things before I turn it over to the peanut gallery. First off, I don't fully understand why a man would spend much time communicating with any woman that he's not in a relationship with, and certainly not for hours on end. I'm not saying this guy is automatically a cheater because of this, but it certainly makes me scratch my head.

To Kim, I offer this: you're fighting invisible enemies here, and the worst of these enemies seems to be your own self-esteem. You have to decide what works for you, and what doesn't; if you can't live with your boyfriend's texting habits, maybe it's time to move on. You're at a crossroads of trust, and you need to choose a path before one is chosen for you.

Your turn to weigh in, Rock-A-Holics…
---
What an awesome, awesome weekend. If you listened on Friday, I was invited to play in the Celebrity Flag Football game that Mike McCready put on for Crohn & Colitis Foundation Of America *CCFA.org). Over 100, 000 dollars was raised, and it was an honor to be a part of it along with people like Mike, Duff McKagan, Kenny Mayne of ESPN, former Hawks Craig Terrill and Joe Tafoya, Bill Wixey from Q13, Brad Adam from ROOT Sports, Craig Gass, Jeff Angell from Walking Papers, our very own Ryan Castle, GregR from The End, Ellen from Fitz's show, Spike from Bob Rivers show, ESPN radio's Michael Grey, Bob Stelton, and Jessamyn McIntyre, former KISW personality Rockfish, and HUGE thanks to the M.C. of the day, the Gas Man… Mike Gastineau! Thanks to Iron Mike for some of the pix I am about to share!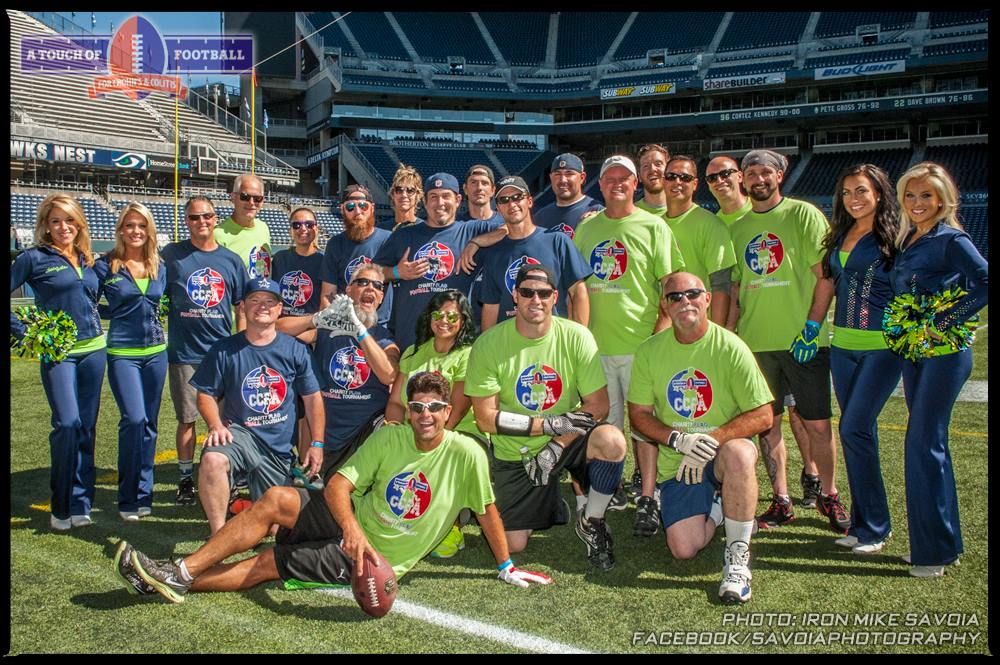 It was beyond surreal to be able to play on the field that the Seahawks play on…then on top of that, for the entire game I was matched up with Mike McCready…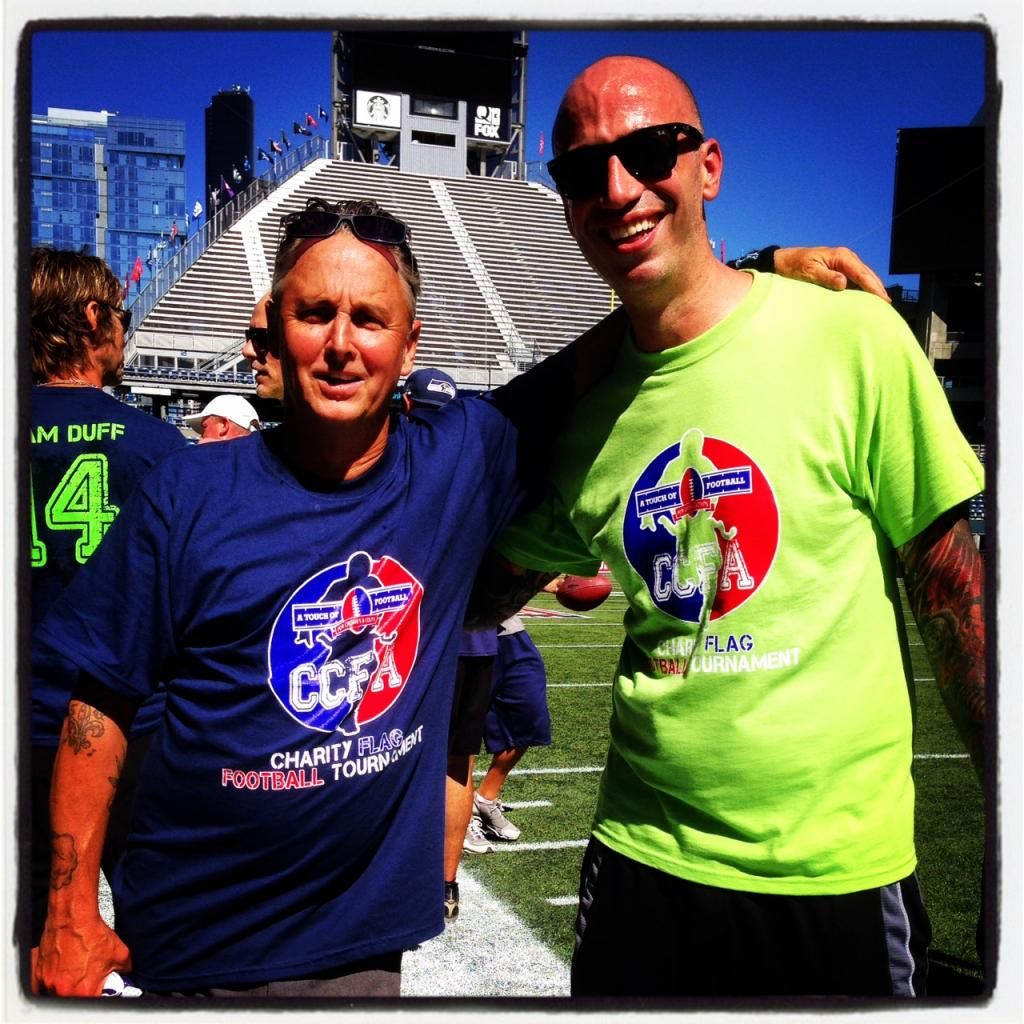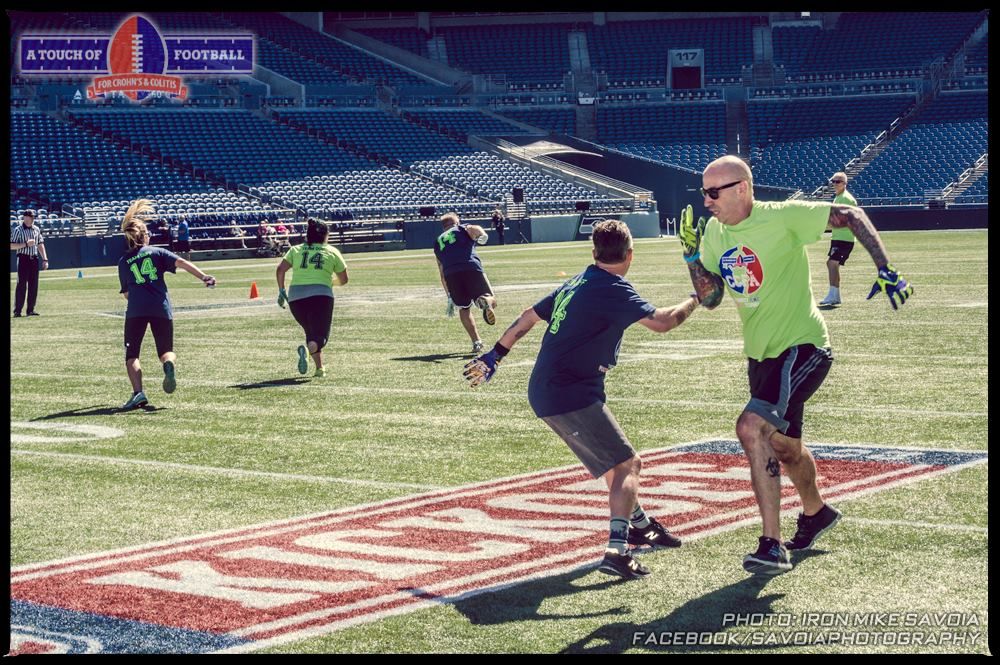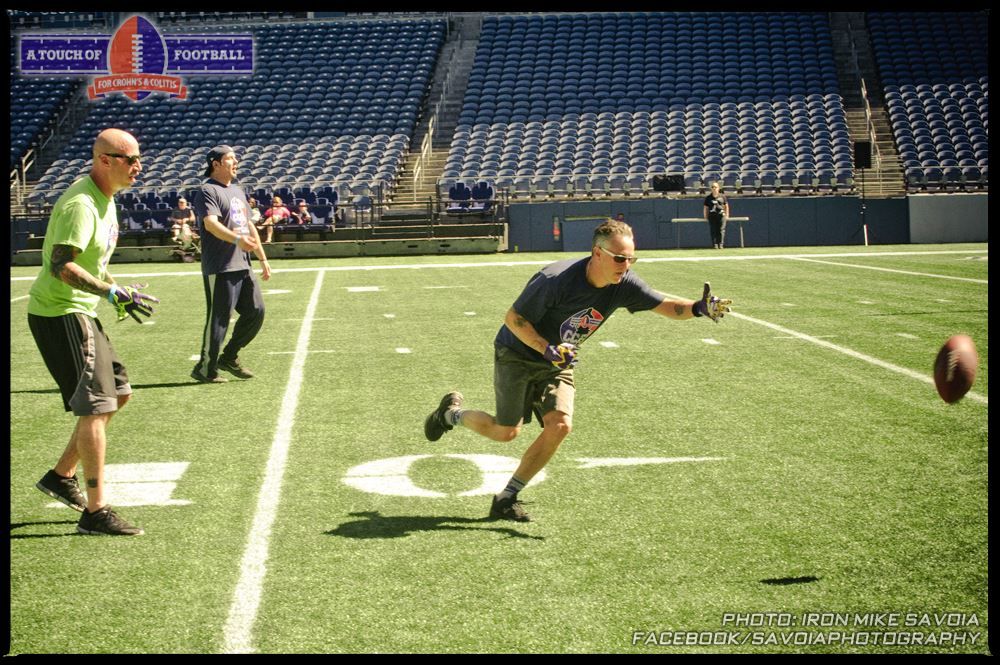 I ain't gonna lie…if I could go back in time and tell my teenage self that one day you would not only get to know Mike & Duff, but you will also get to spend an afternoon just shooting the "ESS" and playing flag football together…teenage Steve would roll his eyes and say "yeah right".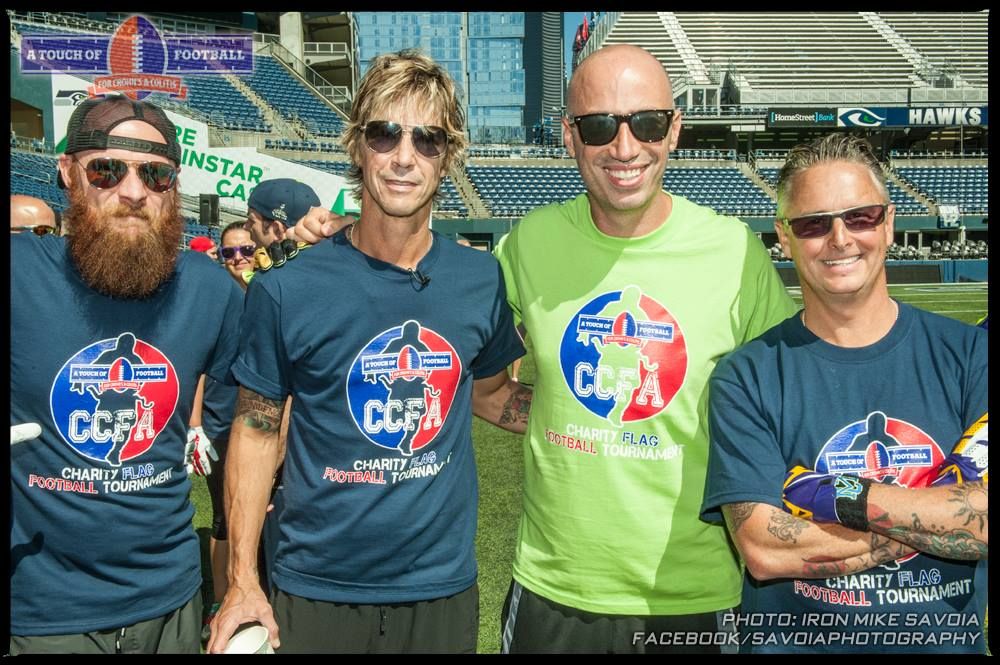 Castle & I had a blast…I think all of us at one point looked at each other and said… "How cool is this?"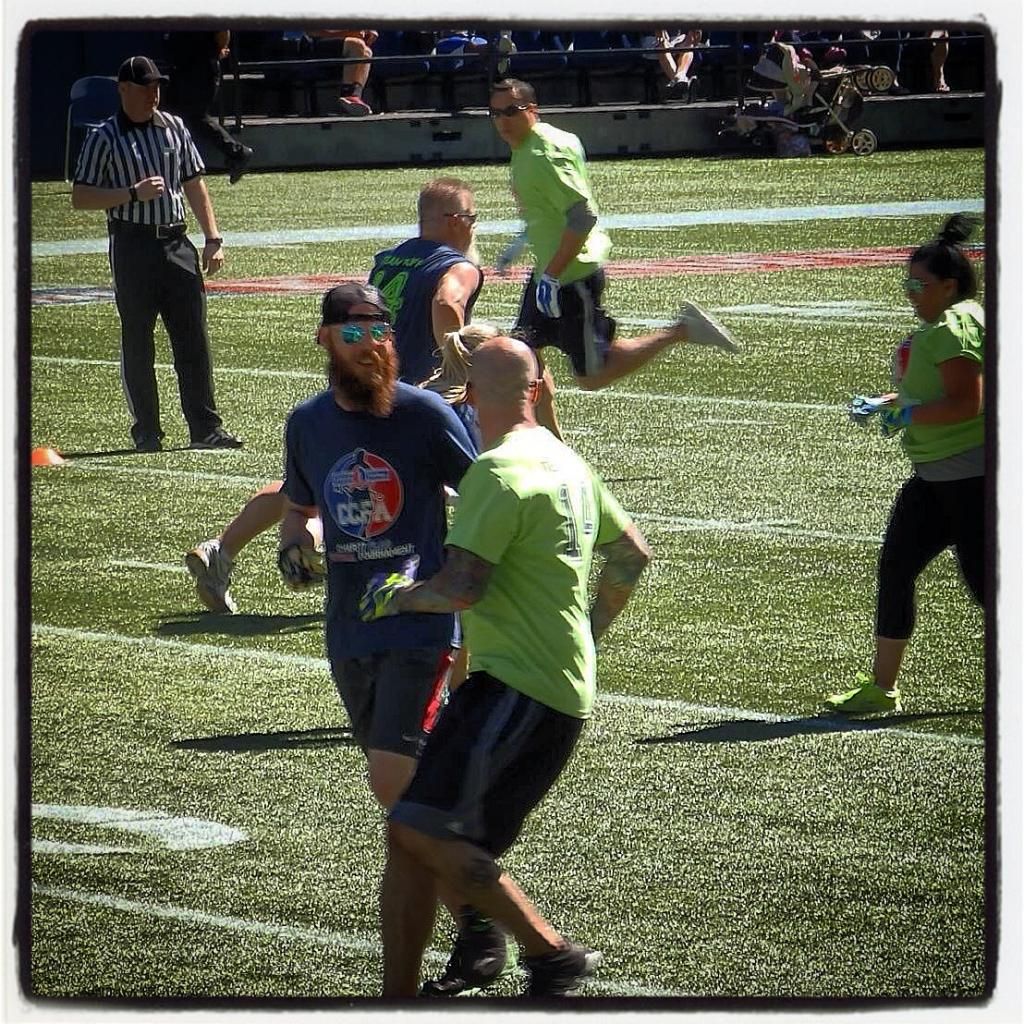 Huge props to Vicky B for coming down to support us and film the event! Thanks to Gasman for the pic…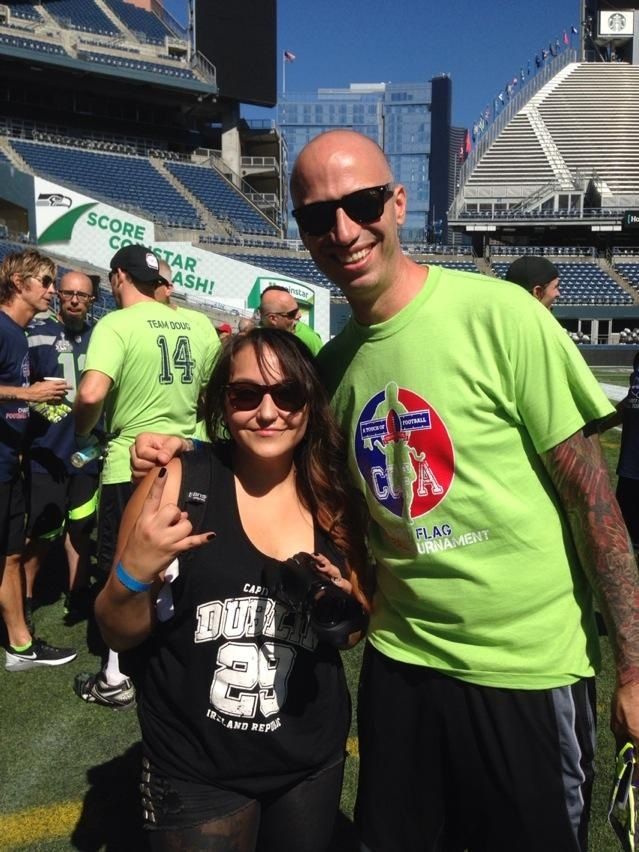 Here are some of the highlights from Mike McCready's celebrity flag football game Vicky B. put together!

Tags :

Topics :

Sports

Social :

Sports

People :

Bill Wixey, Bob Stelton, Brad Adam, Craig Gass, Craig Terrill, Duff McKagan, Jeff Angell, Jessamyn McIntyre, Joe Tafoya, Kenny Mayne, Michael Grey, Mike Gastineau, Mike McCready, Spike




---
Today's blog comes from one of my mentors, Dan Sanders:

Just when I thought the great Justin "Dweeber" may have grown up, he proved me wrong when his ATV collided with a mini-van in Canada on August 29 and he was arrested on assault and dangerous driving charges stemming from an alleged fight after the crash. Justin Bieber's lawyer said the singer was being chased by people with cameras when the incident happened.

You may have thought I would never say anything in defense of a rich kid who thinks he can get away with anything, but if the statements by Bieber's lawyer are true and he was being chased by paparazzi (and even if they're not true in this case), there really needs to be some type of protection from the privacy-grabbing, picture-taking creeps we know as paparazzi.

The word paparazzi originated in the 1960 film La Dolce Vita, directed by Federico Fellini. One of the characters is a news photographer named Paparazzo. Robert Hendrickson, in his book Word and Phrase, said that Fellini took the name from an Italian dialect word describing a particularly annoying noise, that of a buzzing mosquito. As Fellini said in his interview with Time magazine, "Paparazzo ... suggests to me a buzzing insect, hovering, darting, and stinging."

There have been many incidents where paparazzi may have caused an accident. We all remember the death of Princess Diana and all the theories that have whirled around that for years. An inquest that began in London in 2004 and continued in 2007–2008 attributed the accident to grossly negligent driving by Henri Paul and the pursuing paparazzi.

No degree or license is required to work as a paparazzi photographer, but the job requires that you consistently capture professional-quality photos of celebrities in a variety of situations. Often the subject you attempt to photograph is uncooperative or even hostile to your efforts. If you have a camera, a good camera, you could go out stalking some celebrity and call yourself paparazzi. What you would really be, though, is a loose nut with a camera who wants to make a buck with little regard for your safety or anyone else's.

I still think "the Bieb" has a lot of growing up to do, and I think old friend Kanye West had his brain screwed in backwards when he said the way he is treated by the paparazzi is like being raped. But I also believe a jerk with a camera and a desire to make money at all costs should be legally restricted from blatant buzzing and stinging and possibly causing the death of an intended subject. A certain amount of lost freedom and privacy comes with billion-dollar paychecks or fame or both, but even the super-famous are human beings.

There's more on this and other things on the shores of Rambling Harbor. Join me there and give a listen.

http://dbsanders.podbean.com/e/ill-be-watching-you-papparizi/
---