Ah, it's that time of year again: flowers in bloom, sunshine on a regular basis, and love in the air. The conditions are perfect for a wedding…or Group Therapy.

Karen is in love, and the feeling is mutual. She and her boyfriend have been together for four years, and the guy proposed, in true romantic style, on a recent trip to the beach. There's just one problem: he has a very prominent tattoo of his ex-girlfriend's name on his arm. Karen wants it removed before they get married, but he's not too keen on going through that very painful process. So, she's wondering if she should put her foot down, or just move past it.

People have a lot of expectations that they foist upon other people, and this isn't the most typical situation, but I think that a lot of people would probably be sympathetic to Karen's position in this case. That being said, it's no easy feat to remove a tattoo, and the result can certainly be unattractive if things don't go too well.

I'm leaning in favor of the boyfriend here, but maybe you can persuade me otherwise, Rock-A-Holics…
---
It was nice to go on Facebook and see people posting fun stuff yesterday as opposed to the usual doom and gloom that many like to spew onto the social networks… and we will mainly have to thank David Letterman for that.

Last night was Dave's final show as the host of The Late Show. I really enjoyed reading everyone's connection to Dave. I know he had an impact on my life, just like many others. Dave was my late night host. I dug the other hosts, and was entertained by them… guys like Carson, Arsenio Hall, Conan, Jimmy Kimmel, and nowadays Jimmy Fallon… but Dave is the gold standard.

Letterman was the guy I watched growing up… staying up late to see what crazy antics he would get into. Whether it was him jumping onto a Velcro wall, attaching a camera on a monkey, having people and/or their pets perform dumb tricks, or tossing random crap off the top of the building… I sat there in awe. Dave felt like a member of my family… that's why whenever a listener tells us that we feel like a member of their family it is easily the greatest and most humbling compliment I could get.



I was lucky enough to see Letterman twice in my life. The first experience was my favorite, and it had nothing to do with the guests… his only guest was Homeland Security director Tom Ridge, and musical guest Puddle Of Mudd…it had everything to do with the experience. I was just walking around Times Square when a intern for the show just walked up to me and asked me if I wanted to go to Letterman the next day. I of course said YES, and she said I would need to answer a question. The question was… who is David Letterman's stage manager? That was easy -- Biff Henderson. She then gave me the info to get tickets, and my day was made.

When I got there the next day… the process to go in could only be described as a full on "brain washing". I am not kidding. From the moment you get in line, to the moment you sit in your seats, multiple interns and production assistants come up to you to explain to you the importance of laughing at Dave's jokes, smiling, and applauding. By the time we all entered the Ed Sullivan Theater we all looked like smiling laughing zombies.

The moment that Dave walked out to greet us was a moment I can't put into words. To be 10 or 15 feet from a man that helped define my sense of humor, and fall in love with the talk show medium was an overwhelming feeling.

The next time I saw Letterman I was able to put a request in through their site months in advance and when I arrived to New York I got a call saying that I got tickets. That time was equally as awesome, equally as brain washing, but the guests were way better – it was Sandra Bullock (or Julia Roberts – I get those two confused all the time), and the Black Eyed Peas were the musical guests.



This was one of the coolest parts of last night… The Foo Fighters were his final guest, and they played a song that Dave loves… "Everlong" … and they showed highlights spanning 33 years of Dave's career during the performance.



I think Jimmy Kimmel gave Dave the best send off a couple days ago, as he fought back tears while talking about his idoil…and he told his viewers to not watch him and watch Dave's final show instead!

Tags :

Topics :

Entertainment_Culture

Social :

Entertainment_Culture

Locations :

New York

People :

Arsenio Hall, Dave, David Letterman, Erin DeLucia-Benson, Jimmy Fallon, Jimmy Kimmel, Julia Roberts, Puddle Of Mudd, Sandra Bullock, Steve Migs, Tom Ridge




---
We want to see your good side, Rock-A-Holics!

Not like THAT…we're talking about the good side that is always ready to help out one of our own with some Group Therapy!

Today's topic comes from Will, who started following a woman on Instagram a while back. Most of her pictures are a little bit racy, and she has a large number of followers. Not long after Will started following her, she messaged him, wanting to hang out. Will was shocked, but he went for it…and two months later, they're officially a committed couple.

Unfortunately, the social-media-savvy new girlfriend hasn't taken her new relationship status as a sign that she should stop sharing her provocative photos online. She isn't willing to give up her fan following, but Will doesn't want his new mate sharing her goods with the mass audience. He's wondering if he should draw a line in the sand, or just let it go.

This is a tough one (aren't they all?) because Will met this woman under these established conditions, and got into a relationship with her, having full knowledge that she does this. Most guys don't want anyone else seeing their girlfriend in a revealed state, but I don't know if he has much room for negotiation here.

We'd love to hear your thoughts, good people!
---
Today is awesome. Why? because this happened!


I am a HUGE fan of the TV show Entourage. I mean… HUGE. Hell… just a few months ago I watched the entire series again. We binge watched it and cranked out all of the seasons in just a couple of weeks. The show still holds up as one of the greatest comedies of all time.

When I heard that they were going to put out a movie, I was of course excited that I could see the fellas again and watch whatever crazy antics they get into…but I was also nervous that it might be a let down, or just feel like a really long episode. Well yesterday I got to see an advance screening…and damn this is an AWESOME movie. The did a phenomenal job with this. If you are a fan of Entourage, you will LOVE it. Hell…even if you have never seen an episode before, they did a great job in the film setting the characters up so that you too will enjoy it. Props to Doug Ellin and the crew…they knocked it out of the park.

The film is out on June 3rd, and the reason why I got to see it so early is that Doug, along with a few of the guys – Kevin Dillon, Kevin Connolly and Jerry Ferrara (along with director and creator Doug Ellin) flew into Seattle yesterday to meet up with Russell Wilson of the Seahawks and show the movie to the team… as well as join us in studio. How cool is that?

Thanks to Warner Brothers Pictures for sending us these pix… this picture looks like it could be the promo pic for the new version of Entourage…where the fellas ditch Vincent Chase and hook up with Russell Wilson!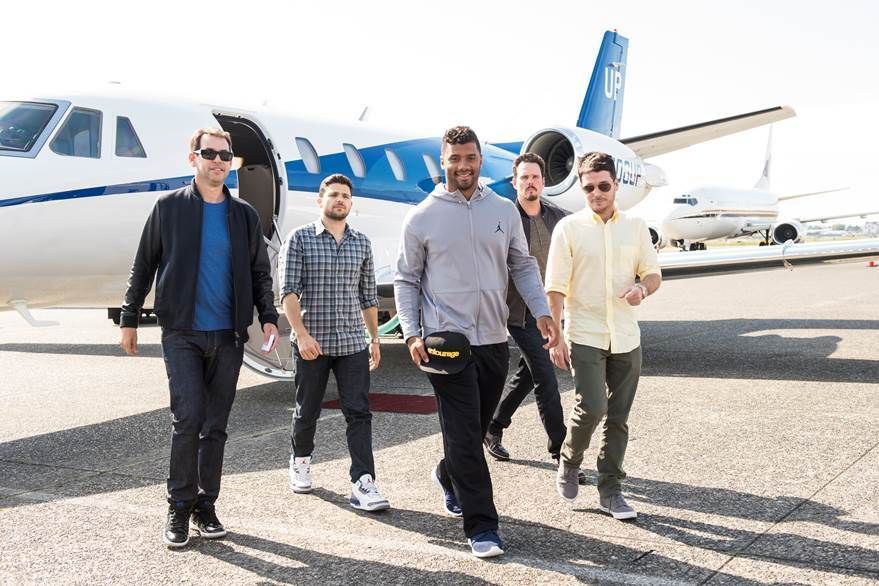 Here they are kicking it in the locker room as well…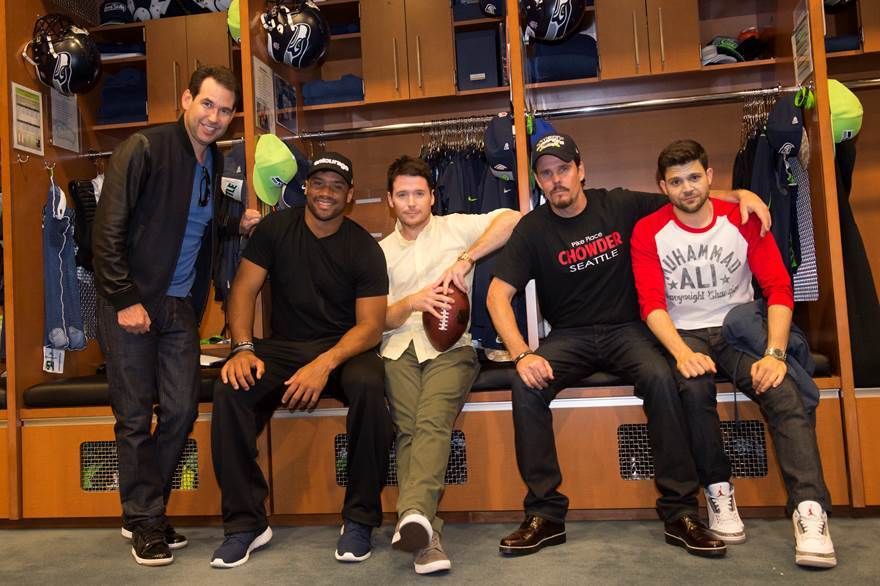 I was following them on Twitter and Instagram yesterday as they were enjoying the sights of Seattle…like going to the original Starbucks…



Hitting up Pike Place Market….



And enjoying some time at the VMAC – the Seahawks practice facility!



Here is the trailer for the film… I highly recommend seeing this movie!



Oh yeah… Russell Wilson makes a cameo in the movie… this is one of the scenes that he is in….

---
As the weather gets warmer and summer quickly approaches I have to think about smells. The summer time can afford a lot of different and fresh smells in my mind. Now one of the first ones that comes to mind is fresh cut grass which I will add as someone that used to be a landscaper, it smells better when someone else has cut it. Another thing I like when I think about summer is how you can get up in the in the morning and you know its going to get hot but right now it is that nice morning temperature. For a lot of people summer also means that they will be going to the beach which has it own smells. First off the ocean clearly has a smell and then of cores the smell of the food. The smells of the beach can mean many things but I think of seafood especially crabs and also some type of fried treat maybe a elephant ear or funnel cake type thing. The other big smell is the ever present grill, weather you are cooking fancy steaks and salmon or just the standard hot dog the smell of the grill says summer. Side note last summer was all about shrimp on the grill and I believe this summer I will cook different fish often as I am trying to eat more fish. Summer of fish does not have the same ring as summer of shrimp though. Now there is also bad smells like sweaty people on the bus. I myself tend to be a sweater and I am not fired up for that but I am fired up for jumping in bodies of water. I say bodies of water because I enjoy all of them. Lakes, rivers, oceans and pools. I am getting excited for summer just writing this. Last note is don't forget the sunscreen
---
Hello again, Rock-A-Holics! We're gearing up for another session of Group Therapy, and we could really use your help!

Peter wrote in for some assistance with a dating situation. He's been dating his girlfriend for about eight months, and he is considering asking her to move in with him, but he's a little concerned about a particular ring that she's always wearing. When he asked her about it, she told him that the ring came from an ex-boyfriend, who gave it to her…before he died. Peter knew that she had an ex who died, and they were broken up, but still friends, before he passed away; he didn't know that the late ex gave her this ring.

Peter's girlfriend said that she wouldn't wear the ring if the ex was still alive, but she has chosen to honor his memory with it. Peter isn't very comfortable with that idea, and he's not sure what to do about it.

This is a tough one, folks. I can certainly understand the urge to keep that sentimental notion alive with a simple gesture like wearing a ring. It's also understandably a note of discomfort for her current boyfriend, who would like to get serious.

What are your thoughts, Rock-A-Holics?

---
Music will always have an emotional effect on me... more so than any other medium. Sure there are some lyrics that will hit me from time to time, but for me…it's more about the passion behind the playing. The energy of a performance can honestly bring me to tears. I'll never for get the first time I listened to Jane's Addiction's "Three Days"… when the band comes back together after the tribal break down… I felt emotionally exhausted and although I didn't actually cry… I felt the tear ducts putting in some work, and the goose bumps we in full effect.



Last night David Letterman had Eddie Vedder as his musical guest. This is Dave's last couple of shows before he calls it quits, so it's pretty cool that Eddie is final musical guest. Eddie performed the great Pearl Jam song with the CBS orchestra, andman did his performance hit me in an emotional way. The passion in his playing, the energy of the band…the back story of it being one of the last thiongs we will see on the David Letterman show… all of it left me speechless.



I am so glad that I got to sit in the audience to see David Letterman do his show. Growing up being a fan of his, I will always remember that first moment that he came out in front of the crown… he's larger than life. Unfortunately I didn't get to see as awesome of a performance as Eddie Vedder rocking out… the musical acts I saw were Puddle Of Mudd the first time I went, and Black Eyed Peas the second time.

Today is an exciting day for music… one of my all time favorite bands, Faith No More, release their first album of new material in about 18 years. 18 Years! Damn! The record is called Sol Invictus, and I was able to get an advance of the record, and I have honestly listened to it every day, sometimes multiple times a day, for the past 3 weeks. This record gets more amazing with each listen. There are so many interesting layers of sounds, and every few days I fall more in love with certain songs.

One of the main reasons why I have been such a huge fan of the band is that they don't conform to any certain sound (other than dark and heavy) with each record they put out… you will never accuse them of having 2 records that sound the same. The cool thing with this record is that they seem to have paid tribute to their older records with each song. Some songs sound like they could be a perfect fit on Angel Dust, others sound like they were written during the time they recorded King For A Day…Fool For A Lifetime, and other songs feel like they could have been on their pre-Mike Patton releases, We Care A Lot and Introduce Yourself.

I could list my favorite tracks of the record, but honestly I would wind up listing every song. I love them all. If I had to pick one, I always get excited when "Cone Of Shame" comes on. The lyric, "I'd like to peel your skin off…to see what you really think" gets me every time.





Finally… there is a newer band out that I have raved about in the past, and they have a new record out today as well. They are called Twenty One Pilots, and their new record is called Blurryface, and I hope people give this band a listen. They have been making some rather interesting music, and have built a very passionate following…and I am feeling like this record could make some waves in the music world. I am obsessing over this song, it's called "Stressed Out"…and the video makes me wish I had an adult version of a big wheel!

---
Soundgarden fans you gotta check this out! Super stoked to have contributed photos to this awesome project benefiting the Canary Foundation, the first and only foundation in the world solely dedicated to the funding of early cancer-detection solutions. All Net Proceeds Go To Charity! "In the course of making this book our friend Tiffany Patterson-Gross passed away in late 2013. It made this project an even greater labor of love as we also dedicate this book to our friend and fellow Knight. She was a pillar of strength and inspiration to us and everyone she touched. Tiffany fought a battle against cancer with her otherworldly strength while showing grace, humor, and kindness towards others." Jaye and Mike English - Photofantasm Authors
Here's a little page sample of one of my photos in the book and its extra special because my cousin and long time Seattle music critic Gene Stout contributed some of his work for the project too and its right on my page. Our families will be proud. For complete book information check out the press release below and visit http://www.photofantasm.com to order one of only 1000 books made right now.
"Iron" Mike Savoia - www.facebook.com/SavoiaPhotographyLive
PHOTOFANTASM SOUNDGARDEN: NUDEDRAGONS TO KING ANIMAL — THE FIRST EVER FAN-BASED COMPILATION PHOTOBOOK — IS NOW AVAILABLE!
The only book ever created by the fans for any high-profile band, Photofantasm Soundgarden is dedicated to rock pioneers Soundgarden. It features commentary and recollections from fellow artists, the music press, and other notable contributors.

SEATTLE, May 18, 2015 /PRNewswire/ Photofantasm Soundgarden: Nudedragons to King Animal highlights the Seattle band's rebirth via hundreds of pages' worth of photographs, graphic art, anecdotes, interviews, and reviews. In a truly collaborative effort, fans, artists, musicians, authors, photographers, and other notable personalities all help chronicle Soundgarden's performances across the globe from 2010 to 2013.

To quote Everybody Loves Our Town: An Oral History of Grunge author Mark Yarm in his foreword to Photofantasm Soundgarden, the book is "by the fans, for the fans"—the book boasts more than 300 contributors from more than 30 countries on six continents—and captures what promises to be just the beginning of a very long second chapter!

Much like classic vinyl, Photofantasm Soundgarden is a quality, limited-edition collector's item (only 1,000 copies) meant to be savored by the fans (and the band itself) for years to come. The heart of this book is a section devoted to the loving memory of an extraordinary friend and Soundgarden fan who courageously fought cancer. All net proceeds will go to Canary Foundation, the first and only foundation in the world solely dedicated to the funding of early cancer-detection solutions.

Photofantasm totals 592 pages, much of it exclusive content. It includes more than 1,000 photographs, plus concert posters, original artwork, hundreds of stories, interviews, reviews, and more. Printed and bound in the USA, Photofantasm Soundgarden: Nudedragons to King Animal can be purchased exclusively at www.Photofantasm.com. Also check out the site for a sneak peek at some of the book's highlights and a list of all the contributors.
"This book is a must-have for Soundgarden fans and an opportunity to give to a great cause!" say authors Jaye and Mike English. "It took passion and several years to collaborate with fans and artists around the world to create Photofantasm and have it remain authentic. We're happy we made history together and proud to give back. We thank everyone who contributed!"
Soundgarden, which features members Chris Cornell, Kim Thayil, Matt Cameron, and Ben Shepherd, have released six studio albums, won two Grammy® Awards, and sold millions of records worldwide. They are currently planning another album and working on their own personal projects.

For more information, please contact Spoondog Entertainment Group, LLC. Like us on Facebook and follow @SpoondogENT on Twitter and Instagram.
---
Today's blog comes from one of my mentors, Dan Sanders:

A friend got me to thinking the other day, an accomplishment most of my friends try to avoid. This friend once said, "Give Dan a subject, and he will think it to death." Another good friend from radio once introduced me, saying "Here is Dan Sanders. Give him a subject, and he'll give you 20 minutes whether he knows anything about it or not." I never believed those last eight words.

So I was thinking about the hidden talent and connections in music we forget or never even know about. For example, my friend told me the hit song "The First Cut Is the Deepest," a song I like a lot, was written by Cat Stevens, and he gave it to the great soul singer P.P. Arnold. P.P. Arnold recorded it in 1967 and had a hit. It's also interesting to note she was a member of the Ikettes, the troupe that provided vocal and dance accompaniment for the Ike & Tina Turner Revue. In 1973, "The First Cut Is the Deepest" was an international hit for Keith Hampshire, a well-known British singer who between July 1966 and mid-August 1967 was also a DJ for the offshore pirate radio station Radio Caroline. The Rod Stewart version of the song, which I and most of the world knows and loves, was not recorded until 1977.

Here's another name for you: Lisa Fischer. Any Rolling Stones fan has heard her a thousand times but might not know the name. Since 1989, she has toured with The Rolling Stones and is a popular background singer with Mick. Check her out on later versions of "Gimme Shelter" (Merry Clayton recorded the first version) and "Honky-Tonk Woman." She is also featured in a great documentary about background singers called 20 Feet from Stardom.

Just as I was finishing up this blog, I got the news that on this day, May 15, B.B. King died at age 89, the same day astronomers discovered a rare Quasar Quartet. More than ever, I want that job at WHEA, Heaven's Radio, where there are a multitude of great quartets. Can you imagine hearing "Goooooooood morning, universes, galaxies, and stars of all ages! We've got some B.B. King, Ben E. King, Percy Sledge, and James Brown to kick off your sunrise today!"

All of this got me into particularly ponderous pondering (god, don't you love alliteration?). I discovered not only something about a song I love but also about the first person to record it and the second and then more about them. I learned P.P. Arnold was one of the Ikettes and Keith Hampshire was a radio pirate on Radio Caroline, and I kept going. The history of one song, "The First Cut Is the Deepest," I found fascinating as one thing led to another, a result of song sleuthing, a term I made up to describe getting down to the deepest links. My interest in music details is why I became a DJ, or at least one of the reasons.

A few more song-sleuthing moments and other thoughts are on the shores of Rambling Harbor. Drop anchor and join me there.

http://dbsanders.podbean.com/e/pp-arnold-lisa-fisher/
Tags :

Topics :

Entertainment_Culture, Human Interest

Social :

Entertainment_Culture, Human Interest

People :

B.B. King, Ben E. King, Cat Stevens, Dan Sanders, James Brown, Keith Hampshire, Lisa Fischer, Merry Clayton, P.P. Arnold, Percy Sledge, Tina Turner Revue




---
Friday night we all had a blast at the Mariners game. Well all of us except BJ…as the Mariners beat the Red Sox in the 9th thanks to Nelson Cruz hitting a walk off single to lead the M's to a 2-1 victory! There was a silver lining for BJ… thanks to a fine Rock-A-Holic named "The Juster"… BJ was able to get some beef jerky (if you listened Friday, BJ shared a story of getting snubbed for free jerky since he is a Red Sox fan)…



I got to fulfill my pretzel addiction fix while there, and catch Toppy in a not-so-flattering moment!



On Sunday, Vicky B and I had the honor of hosting the Cystic Fibrosis Foundation's "Great Strides" event with Tony Ventrella… it's always an honor to help out for such a great cause.



While there…we got to meet Seahawks kicker, Steven Hauschka!



Plus…I got to make a new friend.

---