Posts from April 2014
I always wondered if home school kids got summer break.


---
I know you're all excited for the beautiful weather, but we'd love for you to stick around to help with some Group Therapy before you head outside. We'll try to make it quick!

Today's session was requested by Mark, whose wife hates that he's on Twitter. She saw that he follows an account called "I Like Girls Daily" and she flipped out. Mark's wife thinks that he's on Twitter looking for women, but he insists that he pretty much only uses it to follow his favorite Seahawks, and the fine folks on our morning show, like me!

(P.S. – Mark wants to say thanks for the hot Twitter account recommendations, STP.)

Mark thinks his wife has been trolling him on Twitter, and here's why: a super-hot woman started following him recently, and is re-tweeting his posts. This woman keeps trying to get him to follow her on Twitter, sending him flirty messages, etc. Mark says that he believes this is a fake account created by his wife to ambush him, but he's not falling for it.

First off, let me advise Mark to be careful when he says that he knows a hot chick wouldn't be interested in him, so it's obviously his wife. It's all in the way you say it, my friend.

I had to be schooled on how easy it is to see someone's Twitter followers, and who they're following…but now that we've made it past THAT lesson, I have a new understanding. If his wife checked out his Twitter account, it's not entirely difficult to see why she was worried…but this tactic might be a little bit much.

Has this ever happened to you? Do you think Mark should try to beat his wife at her own game? What happens if he's wrong, and it's not her? And will I ever truly get up to speed with how things work in the 21st century?

We need some advice here, people!




---
I swear there is some kind of strange concert radar with the STP-CAST. We talk a lot of music on the STP-CAST…in a very Beavis & Butthead kind of way, and it seems like whenever we geek out about a band, they are playing within a few days of us talking about them. It's never intentional too…I swear! The older I have gotten, the less I keep up on concerts as I don't go out on weeknights like I used to when I was a 20-something whipper snapper. Some recent examples…we nerded out about In This Moment, Halestorm, Mastodon, Alan Parsons Project (yes…the guys that wrote the Chicago Bulls song)…and after we talked them up I find out they are playing either in the very near future, or were just here.

This week's STP-CAST was a perferct example of that…I was sharing my love for a band calkled Manchester Orchestra. Yesterday, I decided to tweet the video of theirs that I love, so I figured I would tag them in it, and then I go to their page and I kid you not…they played a show last night! Whoa…trippy brah!

This is the video of their that I LOVE…I especially love the back story…this video was made by a fan for some kind of school project I think…and he sent it to the band…they loved what he did, and decided to make it their official music video. How cool is that?


Check out this week's STP-CAST…it's a fun one. Not only do we chat about Manchester Orchestra, we debate if you can lick your shower wall, and we created a new word for Urban Dictionary: "CLAMFATHERED" – sadly, Urban Dictioonary shot it down within minutes! Listen to our podcast on Stitcher, iTUNES (search STP-CAST and subscribe please), or listen HERE!

---
NIRVANA: Death-Scene Note Mocks Marriage to Courtney Love

A newly released note that was in Kurt Cobain's wallet at the time of his suicide seems to mock his marriage to Courtney Love and suggest that all was not well with the couple of the time of his death.
The note, written on stationary from San Francisco's Phoenix Hotel, includes the words "Do you Kurt Cobain take Courtney Michelle Love to be your lawful shredded wife...even when she's a b**ch with zits and siphoning all [your] money for doping and whoring..."
That message conflicts with Cobain's suicide note, which refers to Love as a "goddess...who sweats ambition and empathy."
The note was released by the Seattle Police Department following a public information request filed by CBS News.

---
Sit N Spin! Buzzfeed's list of Difficult to strip to hits!!



Buzzfeed.com did it again! Check out their complete list of the 23 most Difficult Songs To Hits! http://www.buzzfeed.com/copyranter/k-tel-presents-difficult-to-strip-to-hits

Here are the 10 songs we featured. And you are welcome heh!

Wait, you need a playlist to try this out at home!
http://kisw.tunegenie.com/u/__znjWJ0YSSKBC2kr2EE2Yg/sis-buzzfeeds-most-difficult-songs-to-strip-to/


HARRY CHAPIN "CATS IN THE CRADLE"

THEME FROM THE ANDY GRIFFITH SHOW "THE FISHIN' HOLE"

JUDY GARLAND "SOMEWHERE OVER THE RAINBOW"

ERIC CLAPTON "TEARS IN HEAVEN"

PAUL ANKA & ODIA COATES "YOUR HAVING MY BABY"

MOODY BLUES "NIGHTS IN WHITE SATIN"………I NEED THE POEM AT THE END OF THE SONG.

DARTH VADER'S THEME "IMPERIAL MARCH"

NEIL YOUNG "OLD MAN"

WOODY GUTHRIE "THIS LAND IS YOUR LAND"

JUDY COLLINS "SEND IN THE CLOWNS"

SOLOMON LINDA & THE EVENING BIRDS "THE LION SLEEPS TONIGHT"

---
24: Live Another Day kicks off with a special two-hour premiere this Monday at 8pm on Q13 FOX! Get Jacked for the return of the legendary series 24!


I have your chance to win a FitBit Flex or $1,000 Grand Prize to create your own fitness package. To enter, watch the trailer below and then

click here to enter

and answer this question:

How long was Jack Bauer off the grid? a. 4 years b. 2 years c. 10 years

Don't miss special two-hour premiere of

24: Live Another Day

this Monday, May 5th, at 8pm on Q13 FOX!
---
So the Mariners are in NY to play the Yankees today…it's a big deal as this is Robinson Cano's return to his former team/city…he left the Yankees to sign with the Mariners in the off season for a monster deal, and many Yankees fans are not happy about that, especially since it's usually the other way around where a guy will leave the team he is on to join the Bronx Bombers! In the bit, Yankees fans think they're being asked to boo a cardboard cutout - until Robbie comes out from behind it and surprises them. Check it out!


I love this bit…and I love how he comes off…the Mariners have had a tough start to the season, but hopefully things are turning around, it seems like they have built the team around a good dude! Here is Cano being interviewed by Jimmy last night…

---
The American middle class isn't what it used to be, folks. I can remember when the middle class was a great place to be for the American household, but a new report says that we've fallen behind several other countries. We used to be very rich and powerful as an entity, but I think the so-called Rich and Powerful people (note the capital letters) have ruined that for so many people in our own nation.

Rich people used to be cool, because they would spread it around. The wealthy weren't always thought to be stingy jerks, but that's definitely changed over the years, too. Here's a quick rundown of some of the worst tippers in Hollywood, with a couple of horror stories thrown in for good measure…

Katherine Heigl
Sean Penn
Kirsten Dunst
John Cena
Bill Cosby
Jeremy Piven
Rachael Ray has said on her show that a mere 7% tip is acceptable. This is someone whose entire life revolves around food and restaurants!
Britney Spears once threw change at a valet's feet and said "there's your tip." Of course, she's only worth about 200 million dollars.
Usher is known for leaving autographed pictures in lieu of a tip. The Rev checked out the current selling price for an Usher autographed picture, and it's ALMOST four whole dollars!

Is it so hard to leave a decent tip, especially if you're a privileged member of society?

Even worse: famous people often get their meals paid for, but you would hope that they would have the sense and goodwill to take care of the server. I maintain that the right thing to do is tip as if you paid for the full meal to begin with…and probably more.

If I get "outed" as a media figure, I immediately become even MORE hyper-aware of how the server is treated, and whether or not they were tipped well for excellent service. I even tip upfront sometimes, and it can really make all the difference. It lets the server know that you're the type of customer who rewards good service, and in my experience, your glass is never empty at any point in the evening.

You have the power to make someone's day a whole lot better, especially if they have earned it by making YOUR day better by giving you exceptional service. Don't be a penny-pinching jerk. If you get something good, then you should give something good. That's the right and proper thing to do.



---
We had a fun weekend as the crew got together to help raise money for the Sleep Country Pajama Bowl. We were at Tech City Bowl, and it was a great time! Check all of us out rocking our PJ's…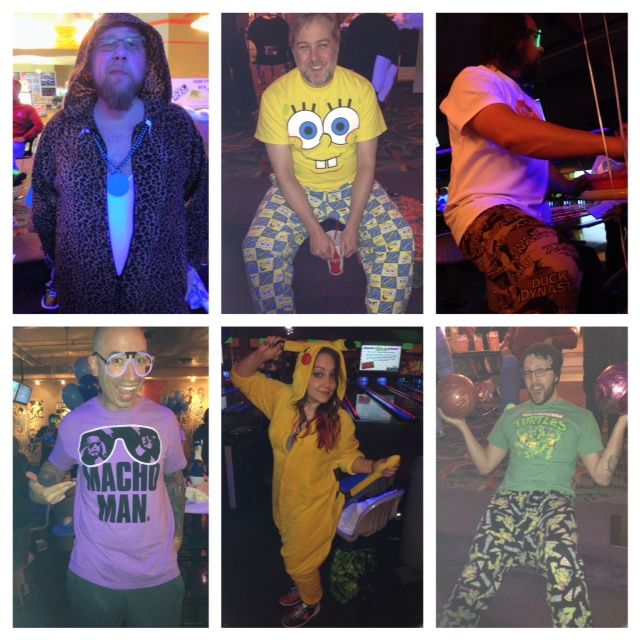 What also makes it fun is that we are bowling alongside some of our radio friends… our buds from the Candy & Potter show were there, as well as Fitz's show, the gang from The End were there too, and I ran into my bud Bender as well.

I always love running into GregR from The End…so much so that I not-so-subtly "photo-bombed" his selfie!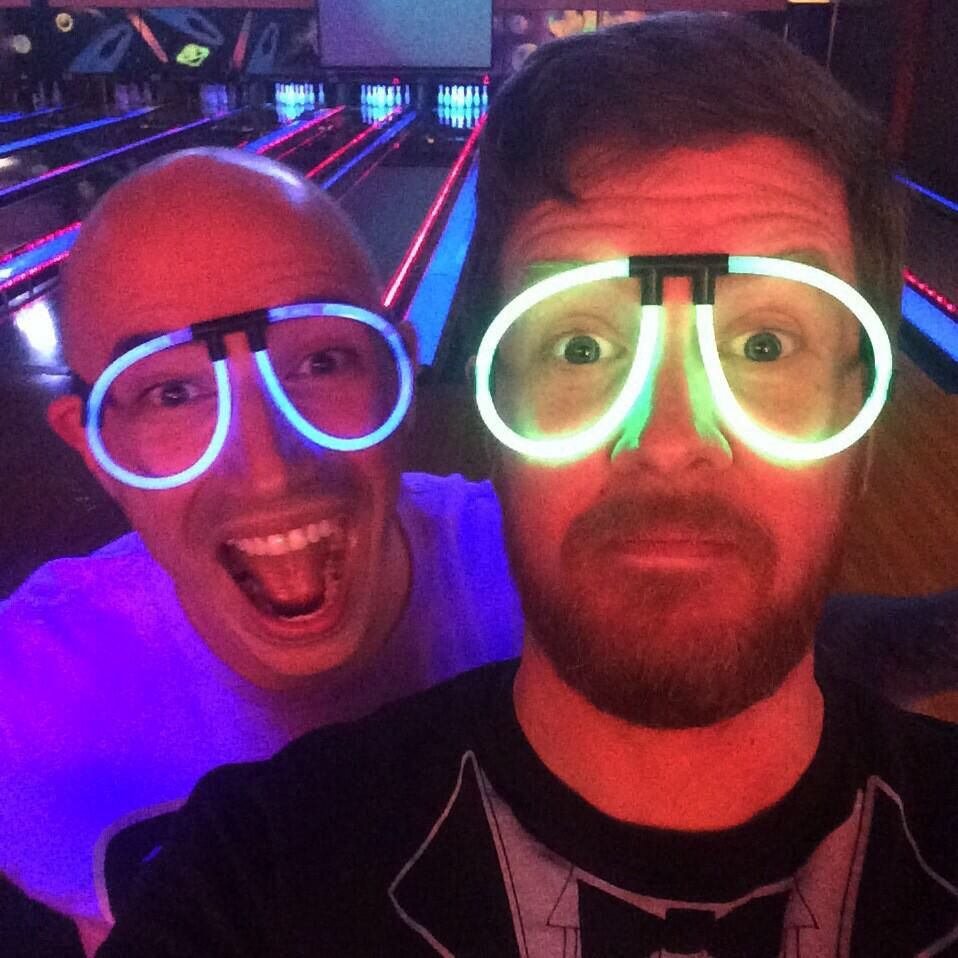 Tony from The Wolf & I shared a beer – we finally tried "Loser" – the Sub Pop inspired beer from Elysian, which is really really good! So good that I sent a Snap Chat out about it (stp9 on Snapchat if you want to see silly things like this!):
---
Today's blog comes from one of my mentors, Dan Sanders:

Summertime in the northern hemisphere is long-awaited and short-lived. It's time to take in every possible ray of sunshine, early rises and late-to-beds, for the sun has also come to play, what most of us have dreamed of as we trudged through snow and ice.

Sorry, anyone south of the state of Georgia, you miss all that fun, but most of the country trembles for around 6 months a year, waiting for weather conducive to human survival, and all of the waiting, shivering, shaking, swearing, slipping, and falling leads us to one of America's great past times: VACATION!

Here's where I have some issues with vacation travel, but first I will admit that as a very young person, I was lucky, though that fact did not occur to me until many years later. You see, my dad was with the government, and it seemed that we were never in one place for more than a couple of years and then on to some other place. For a child, that was a problem, not a gift. You go through the trauma of being the new kid in town, finally make new friends, and then off you go again. Any government or military brat will, of "curse," know exactly what I mean.

We did some traveling overseas, but most of our trips were in this great country of ours. I saw a lot of America, and as I grew older I began to appreciate the beauty. I also caught wanderlust and for many years traveled many a lonesome mile on many a lonely highway. I often hitchhiked, for back in my early days, the world was a different place, and hitchhiking, especially in the 1960's, was not uncommon and a lot safer than it is today. Discounting sleeping by the side of the road or under a bridge somewhere, it was reasonably safe and comfortable.

I know people who have seen the Eiffel Tower but never the New Mexico desert. They may have seen the Alps but never the Smokey Mountains, compared in beauty to the Alps. Many people have never walked the shores of Oregon or New England, some of the world's most beautiful coastlines.

I hear people say they want to dash off to England or France, Ireland or Italy, beautiful places to be sure. But I believe we should see America first! Why not spend our dollars on our land, the back roads of Appalachia to Big Sur, the coastlines that surround us, the desert that is more beautiful than you will ever know until you see it. Spend your money here and get to know America.

In some ways our country is still wild, and you can still find those wild places. Travel America, my friends, get to know your neighbors. Wherever you are, we are all one. Our country is magnificent, and so are we.

There's more on the shores of Rambling Harbor. Pull up a driftwood log and give a listen.

http://dbsanders.podbean.com/2014/04/26/ride-me-through-america/
---