It's always fun when we get cool promotional stuff in the mail…like this! Thanks Teenage Mutant Ninja Turtles!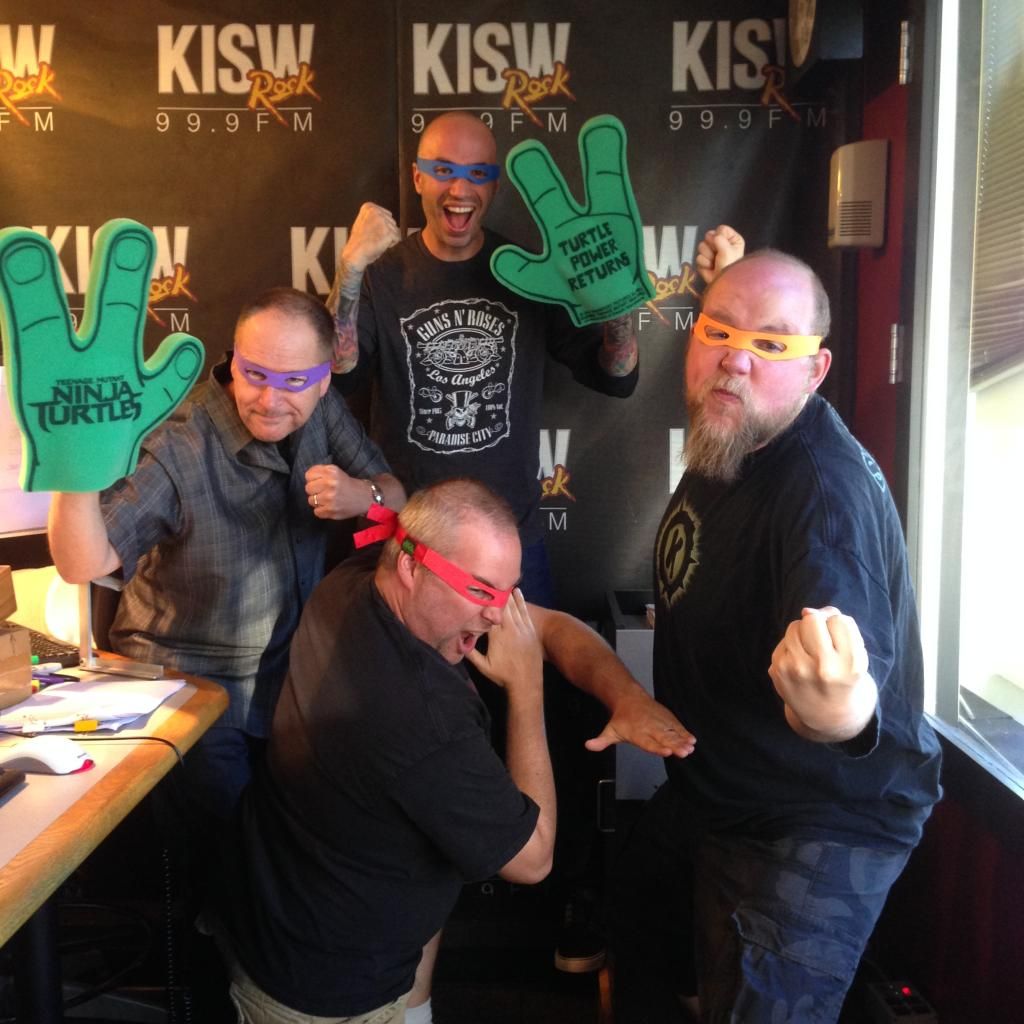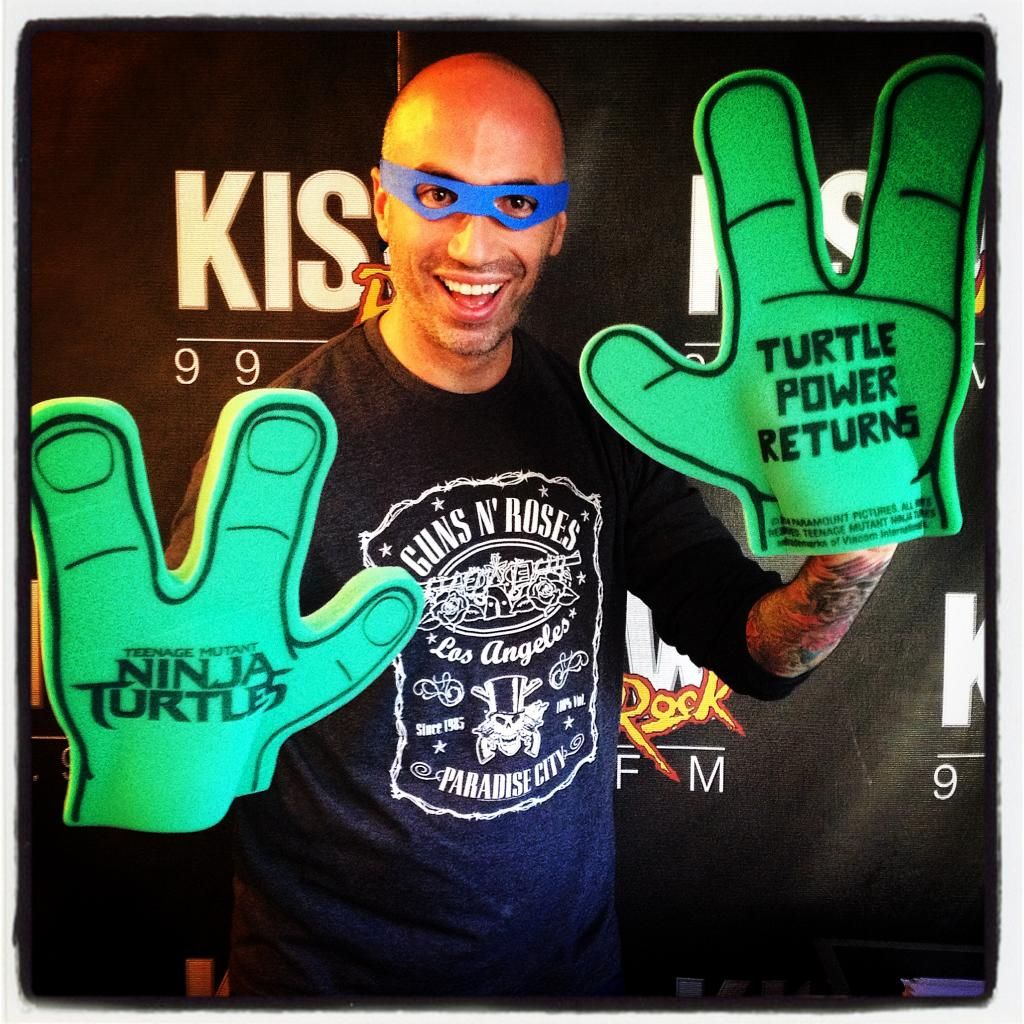 The movie looks like a blast! Have you seen the Trailer? The film comes out next Friday!

Speaking of moviews…Did you know that there is another "50 Shades" inspired film…and it stars BJ daughter, Sara! Check it out!
---
Hello again, Rock-A-Holics!

We have a lot of relationship conversations around here, and today's discussion follows that tradition. I'd like to talk about one of the biggest obstacles in a productive relationship – CHEATING.

Human beings are raised with a sense of individual identity. Sure, most people have a family, and pretty much everyone is exposed to relationship dynamics from birth onward, but we still develop and evolve as singular beings. If you're going to survive in the world, you have to learn to take care of yourself, first and foremost.

As you get older, you start to learn, and adopt, a sense of community; the tribe mentality starts to take hold, and we (hopefully) move past self-absorbed singularity, and begin to understand the benefits of sharing our life with someone else. Still, it can be extremely hard for us, as individuals, to shed the narcissism that we carry around with us through life.

We generally understand "being self-centered" as selfishness, and it certainly does come out that way at the worst of times; but it's also self-centered for a person to believe that they are the reason for other people's decisions. That extends to a partner's reason cheating in a committed relationship.

There's a new list of reasons that people give for cheating, and the #1 excuse was, "it just happened." Maybe that's a better explanation than assigning blame to the person who was cheated on, but I still think it's a lame cop-out.

The #2 reason: "It was exciting." Some people get a thrill from breaking the rules, and that sensation is probably doubled by the basic biological drive that governs our sexual identity.

At #3, we have plain old, garden-variety loneliness. If you're lonely in your own relationship, maybe you're in the wrong relationship.

"I was bored with the sex in my relationship" comes in at #4 on the list. Honesty is the best policy, and it does far less damage than cheating. Think about it, and talk about it.

It's hard to make a perfect argument against the #5 reason, "I fell in love." While I constantly make the case for complete honesty in a relationship, sometimes love comes out of nowhere. That being said, there is usually a warning sign, either on the failing side of a current relationship, or the exciting feeling of a new romance.

I have zero support for the terrible justification at #6: "I thought I could get away with it." You know what? That's never an acceptable excuse for a decent person to make in ANY situation. What would you like to get away with next?

The list ends at #7, with "I thought I deserved it." If you think you deserve to have sex with someone else, then you need to get out of your relationship.

There are always extenuating circumstances and gray areas in every scenario, but there isn't a single reason on this list that can truly justify cheating in a committed relationship. Cheating doesn't ever solve a problem; it only adds to the existing ones. If you need more out of your romantic and sexual coupling, then you need to ask for it. If your needs can't be met, then it's time to hit the road. Better to move on with a clear conscience, don't you think?
---
It's time for a stupid rant from yours truly….

A new study in the "American Journal of Infection Control" found that a fist bump is way more hygienic than a handshake…a fist bump passes about 95% fewer germs than a handshake.

We all need to get on board with how we great each other because I'm getting sick of it. We just don't know what to do. That's great that fist bumping passes less germs…but next time I go in for a "fist", the other person will probably go in for the "shake"…then there is that awkward moment where I switch to "shake" and they switch to "fist", and then the next thing you know I'm shaking their fist. Then there are times that someone goes in for the bro hug and you aren't prepared for it…or vice versa, and then someone if feeling odd for awkwardly pulling another person closer to them. Then there is the fast slap shake thingy…someone inevitably is "that guy" that grabs the hand going in for just a slap.

My point…it's a dumb one, but it's still a point….we need the President's help on this. We as a country need to have one set way of greeting each other. Why do we even need to touch each other any way? Let's be like Japan…lets bow…or let's make it our own and just have a simple head nod as a greeting. We know what to expect and we will stop these awkward greetings all together.

Bam. Off my soap box.

Now here is something funny. Dogs never seem to learn their lesson no matter how many times they do something…this video is a great example… a mailman in Oklahoma posted a 12-second video of a bulldog running face first into a FENCE trying to get to him. He says it does it every single day.

---
Welcome back to Group Therapy, gang! I'm glad we get to spend time together on a regular basis; especially when we hear things like this…

Today's case comes from Gary, who's been in a long-distance relationship with a woman for a couple of months. They're not exclusive, but things definitely seem to be heading that way. That being said, Gary is troubled by something that happened during a recent visit: right before the couple was about to have sex for the first time, the girlfriend told Gary to get a condom from a box in her medicine cabinet. When he did, Gary found that the box was already open, and several condoms were already absent.

As you might expect, Gary is a bit unsettled by this development, and he wants to know if he should ask her about her sex life, specifically as it pertains to the time that they spend apart from each other.

Here's my thing about long-distance relationships: I guess I don't think they're a completely bad thing on principle, but I do wonder how people can engage in a situation like that and still feel entitled to an expectation of monogamy. It just doesn't seem logical – or actually, even likely – when two people have some semblance of a commitment to each other, but only see each other sporadically at best.

(Of course, I also wonder about sending your partner to get a condom out of your bulk supply, especially when the ABSENCE of a bulk supply might raise some issues, or at least questions.)

I'm a married guy in a world of modern singles. What are your thoughts, Rock-A-Holics?


---
Metallica's 30th Anniversary of Ride The Lightning!!!

Tonight to mark the 30th Anniversary of Metallica's masterpiece "Ride The Lightning" nothing but Ride The Lightning tracks for Dude It's The 80's @ 8!!!

Rolling Stone released a really good interview with the bands time in Denmark and the recording of the album. Sh*t I even found out something I didn't know.

Lars Ulrich: "Mercyful Fate's rehearsal room was right next to Sweet Silence Studios. We actually finished the last couple of songs we did for Ride the Lightning – like "Fade to Black," "For Whom the Bell Tolls" and "Escape" – in their rehearsal room. We were obviously huge fans of theirs, but we also became friends and they were our peers." For the full article peep the link. http://rol.st/1rw4xGI

For those that don't know Danko Jones is a MASSIVE rock historian, who's love for the early San Francisco bay thrash scene is HUGE! I'm a big fan of his podcasts and his that featured Harold Oimoen author of "MURDER IN THE FRONT ROW: Shots From the Bay Area Thrash Metal Epicenter', by Harald Oimoen and Brian Lew is a MUST LISTEN FOR METAL FANS. Seriously, If you love THRASH at all, listen. The sh*t you will learn will blow your mind. Podcast via the link. http://bit.ly/1qHW07y


Speaking of "MURDER IN THE FRONT ROW": The book is amazing!!!! A must have!! For more go here. http://bit.ly/1tkbrTe




1984, when Metallica were first called sellouts. I think they got the last laughJ Dig the video's and tune in tonight for all "Ride The Lightning" edtion of Dude It's The 80's @ 8!!







---
Last night was the final Motley Crue concert in the Western Washington area…I sadly did not go. Thankfully I have seen them 3 times in my life, and they are always awesome, but I just couldn't be out late on a Sunday night when I get up at 2:15 in the morning.

I was mostly curious to see what Tommy Lee was going to do. Ever since I saw them back in the late 80's (or early 980's – whenever the Dr. Feelgood tour happened), Tommy has always done something spectacular behind the kit…from playing upside down…hovering over the crowd…etc…and it looks like yesterday was no exception. Thanks to our concert photographer and blogger, Iron Mike Savoia, for posting this!



Yesterday afternoon I met up with some of my fine friends and co-workers for a "Dog Day Afternoon" at Gasworks Park. Lulu and I met up with Ben & Miles from The Men's Room…Ryan Castle…and Sgt. Hairclub for a fun day out. Lulu loved it there!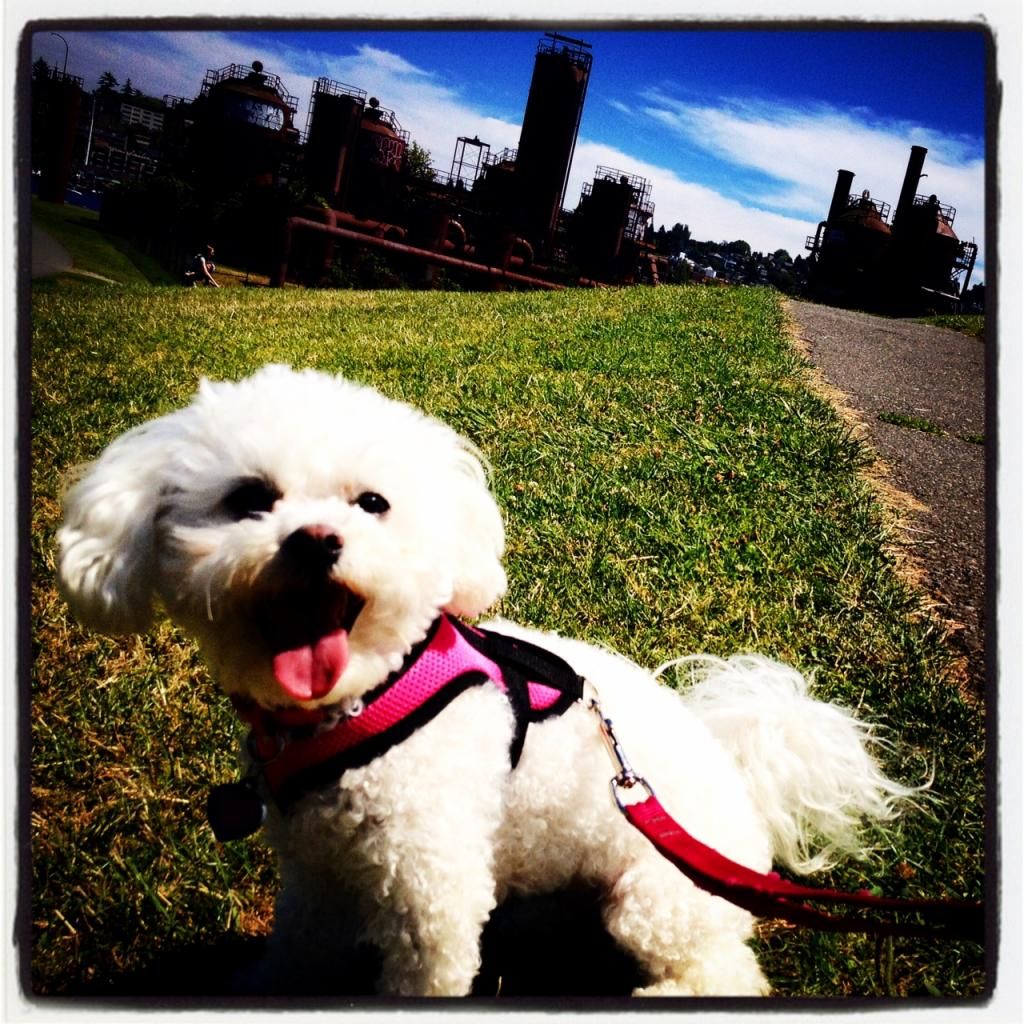 Miles took this awesome pic of Lulu and me…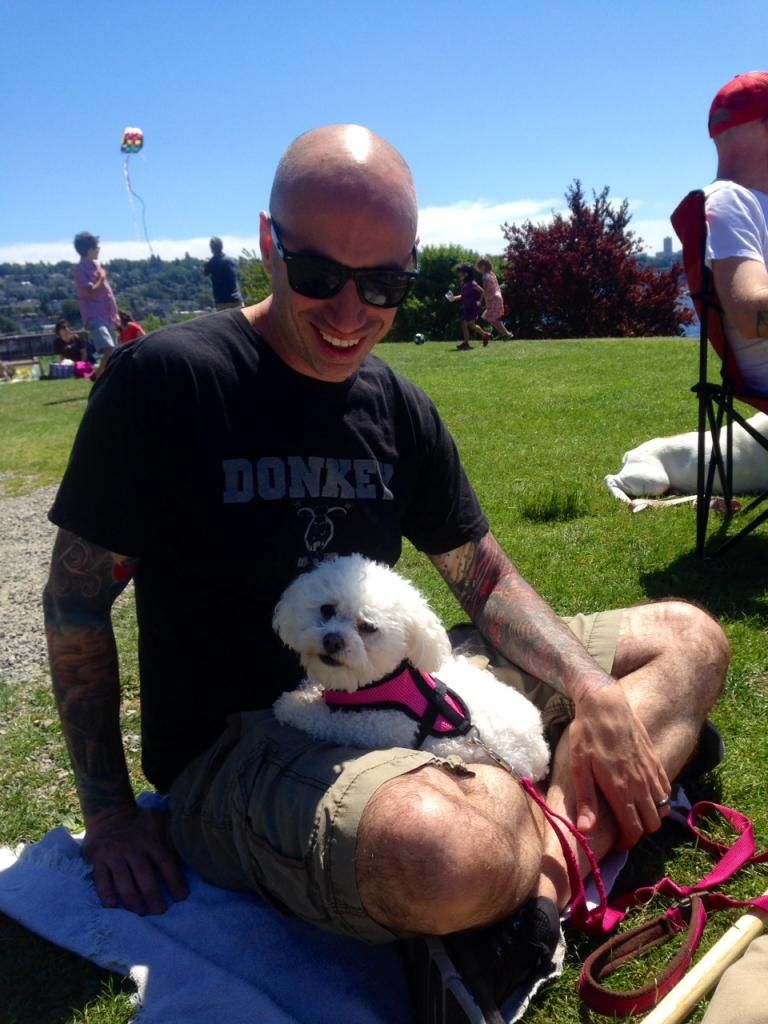 Here is Miles dog, Chewy, hanging…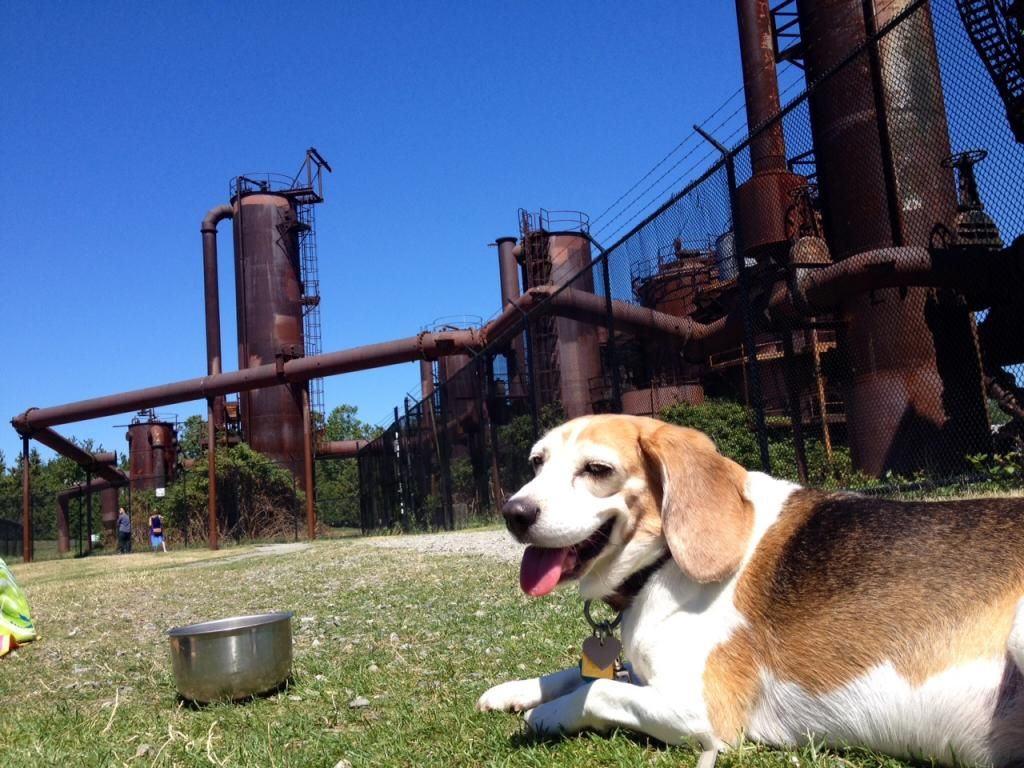 Here is Hairclub's dog, Bentley, enjoing the view!


---
Today's blog comes from one of my mentors, Dan Sanders.

My mind sometimes befuddles me. I don't know why I think the things I do, but I think them anyway. Here are a few from the past week.

In 1980, poet and punk musician Jim Carroll wrote "People Who Died," which was on his album Catholic Boy. Ironically, the song could have been titled "People Who Died in July," including punk rocker Tommy Ramone, who wrote a song called "Too Tough To Die." It still bothers me, as I said in last week's blog, that his death went largely unnoticed, as did the passing of Johnny Winter and Muddy Waters.

As the list grows on, here's another name for you: Dick Jones. You probably wouldn't know him if he were sitting next to you, but you have heard his voice many times. Dick Jones was the voice of Pinocchio, and he died on July 7. James Garner, the "Tall Dark Stranger" named Maverick, died July 19.

Under "Man, is that a strange day, indeed," we can post that a pine tree, planted near L.A.'s Griffith Observatory in 2004 in honor of George Harrison, was killed by his band's namesake insect. The Beatle's memorial tree was killed by beetles! Harrison's pine had grown to more than 10 feet tall by 2013, and the good news is the tree will be replaced, time and place to be announced.

In other bizarre and unexplained news, Russia seems to be sinking. Russian scientists conducted a primary examination of a giant sinkhole in the Yamalo-Nenets Autonomous District. There was no dangerous radiation detected on the site, and the scientists, who arrived to examine the sinkhole on the instructions of the regional governor, said it appeared "as a result of a natural phenomenon, the nature of which is impossible to establish yet."
Personally, I'm expecting the four horseman of the apocalypse to burst out of there in a frenzy of flaming glory and head directly to the Westboro Baptist Church, consisting of a collection of hate-mongering protesters who have targeted everyone from the singer Lorde to Brad Paisley, of all people. Recently this bunch of ghoulish protesters met their match with a bunch of punks. They planned on protesting at a "Panic! At The Disco" concert, announcing plans to picket the pop-punk band's Sunday night show in Kansas City, Missouri, but Brendon Urie of the group retaliated. He said that for every member of the Westboro church who showed up he would donate $20 to the Human Rights Campaign, America's largest civil rights organization, working to achieve lesbian, gay, bisexual, and transgender equality at home, at work, and in the community. Brendon said, "This is pretty much the perfect way to render the protesters' hateful intentions useless" and would actually be useful and raise money for a good cause.

In the podcast, you'll hear a few minutes about Ted Nugent as well as other topics. Come on shore and give a listen.

http://dbsanders.podbean.com/e/punks-for-salavation/
Tags :

Topics :

Entertainment_Culture

Social :

Entertainment_Culture

Locations :

Kansas City, L.a., Missouri, Yamalo-nenets Autonomous Distr

People :

Brad Paisley, Brendon Urie, Dan Sanders, Dick Jones, George Harrison, James Garner, Jim Carroll, Johnny Winter, Lorde, Muddy Waters, Ted Nugent, Tommy Ramone




---
When it comes to documentaries…I am such a fan of anything music related. I loved the Pearl Jam Twenty doc, and have loved other documentaries like the Foo Fighters one, Sound City, A Band Called Death, Malfunkshun: The Andrew Wood Story, and Hit So hard (the Patty Schemel of Hole story)…the list goes on and on.

There is a guy by the name of Marcus Haney, and he has never paid to go to a festival. He makes replica wristbands, sneaks past security guards, and walks in with confidence. Somehow he weasels his way into the photo pit and has documented some awesome moments.

Check out this movie trailer for "No Cameras Allowed." I look forward to watching this…



I posted this on my Facebook…and I love this comment about this movie by Andrew…it's a great observation:

Andrew: Never pays to get into a concert…wants people to pay money to see his movie. I'll definitely pay money to see this and most certainly won't download it by illegitimate means. No siree.
---
Happy Friday, gang! Before you head out for the weekend, we could sure use some help over here in Group Therapy!

A Rock-A-Holic named Nicole is looking for some advice. It seems that her best friend and her brother had an affair, and even worse – Nicole's sister-in-law caught them! Nicole's brother and his wife eventually reconciled, but that recovery came with the condition that Nicole's BFF had to be cut out of everyone's life altogether.

This isn't just a casual stipulation: Anyone who is still in contact with Nicole's friend is regarded as no longer being a friend of the couple, and is not allowed in their home. This includes Nicole, of course, and even though she doesn't condone the affair, she's feeling pretty upset about the whole situation.

Nicole can't call or email her old friend; if she does, she will be cut off completely from her brother and his family – that includes their kids, too – and the sister-in-law is actually angry that Nicole still misses her friend.

I can understand the brother's wife insisting that her husband avoid the woman he had an affair with, but declaring it a law for everyone else seems pretty harsh. Did the couple go to counseling? Sounds like a "no" to me, because I can't imagine a professional counselor would ever dispense this kind of advice, or even go along with it.

Infidelity is a huge thing, and I don't think you can sort out the damage without therapy of some kind. There's a lack of perspective between the two parties in that situation, and you can't fully unpack that mess without a thoughtful, impartial third party.

Maybe it's just me, but I think it sounds like the situation is out of control. Let's hear it from you, folks! What advice do you have for Nicole?

---
It's Group Therapy time once again, Rock-A-Holics! Let's walk down the aisle and see what we find, be it new or slightly used.

We're trying to help Rachel today: she got divorced after 5 years, and plans to marry a new guy this fall. Like everyone in the world, she's trying to save a little bit of money…and she wants to know if it's okay to re-wear the wedding dress from her first wedding.

Rachel hasn't said anything to her husband-to-be yet, but she has sought the advice of the people around her. She says her family believes the dress is jinxed, and they're a little horrified by the idea. Likewise, some of her friends think that wearing the dress again is disrespectful to the new groom.

I'm handing this one off to the good people who read my blog. I have my own beliefs about second (and third, fourth, fifth) weddings, but I've only been married once. So, I don't know if I really have much of a perspective here. I do find it curious that a groom traditionally rents a tuxedo that's been used by countless men before him, but a wedding dress seems a little more sacred.

Give Rachel your best advice, folks! Maybe you can teach me something in the process…

---
Sheriff Tony Lippa
Jul 29