Posts from June 2014
METALLICA: Out-Fox Brit Crits at Glastonbury With Film

Metallica attempted to make light of some protesters at this weekend's Glastonbury Festival in England by introducing their set with a tongue-in-cheek seven-and-a-half-minute film. The protests came in reaction to frontman James Hetfield's hosting The Hunt, a History Channel mini-series about Alaskan bear hunters.
The short film, directed by Julien Temple -- who helmed the notorious Sex Pistolsdocumentary The Great Rock and Roll Swindle, among others -- seems to suggest that Britain's own sport of fox hunting is more inhumane than bear hunting. It ends with the four Metallica members in bear costumes shooting the fox hunters with rifles. Oddly, it begins as a tribute to The Good, the Bad and the Ugly actor Eli Wallach, who died last week, before abruptly shifting scenes to the fox hunt, accompanied by The Sweet's 1970s hit "Fox on the Run."

---
Last night was the KISS/ Def Leppard show…and holy smokes, that was a show I won'tr forget!

First off…I know this is going to seem silly, and I was biting my tongue in the car as we were driving until the rest of the crew I was with mentioned something…I saw a "Double Rainbow" and it was AWESOME! Yes, we have all seen the video of that guy…Ok, if you haven't…here you go:



I now get the excitement…I saw it, I lived it, and let me tell you…it was incredible!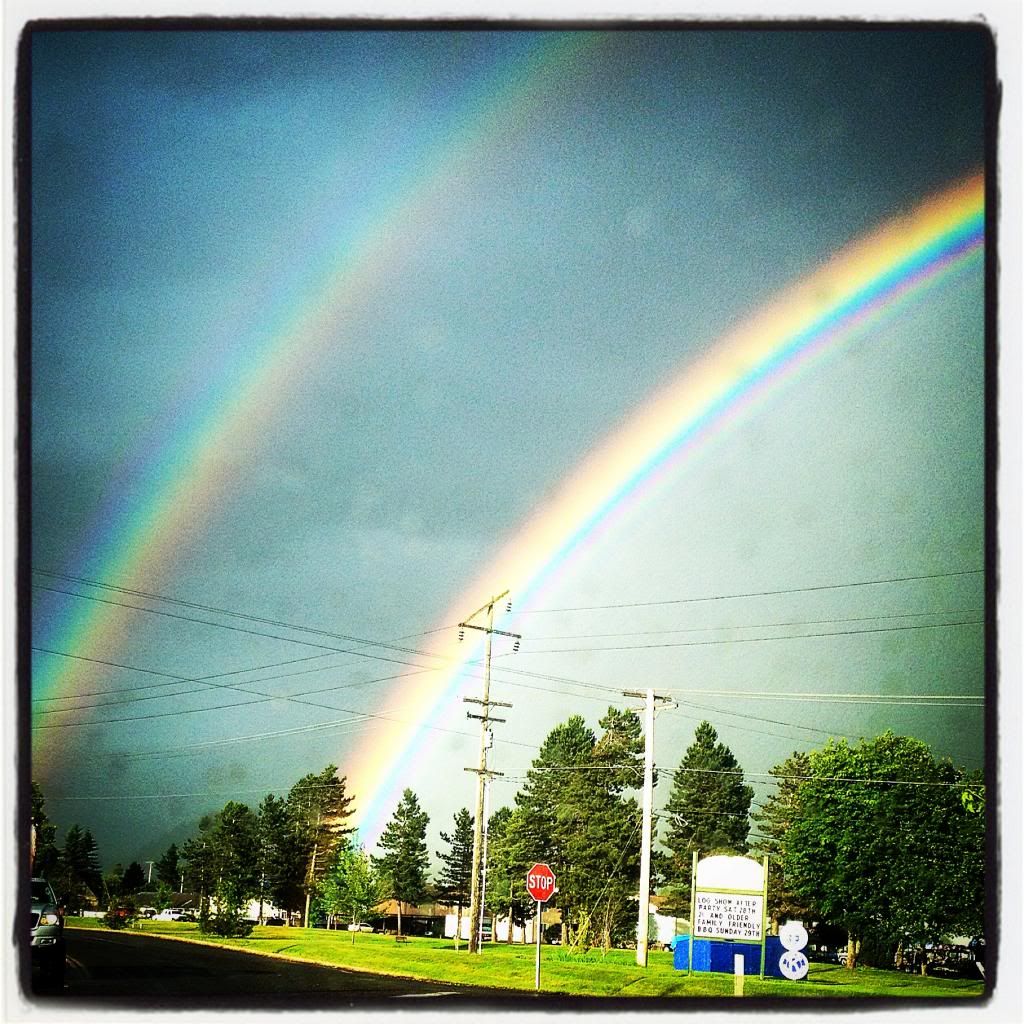 OK…now to the show…I apologize if this blog will be even more scatterbrained than my usual ones, as I am working on about 2 hours of sleep (I didn't get home until midnight). Def Leppard sounded great…they played the songs I hoped they would play, including "Photograph", and "Rock Of Ages"…and of course they busted out this bad boy…making all the retired strippers have flashbacks while dancing in the crowd…as I posted on Instagram!



Huge props to frontman, Joe Elliott…for showing love to the Hawks!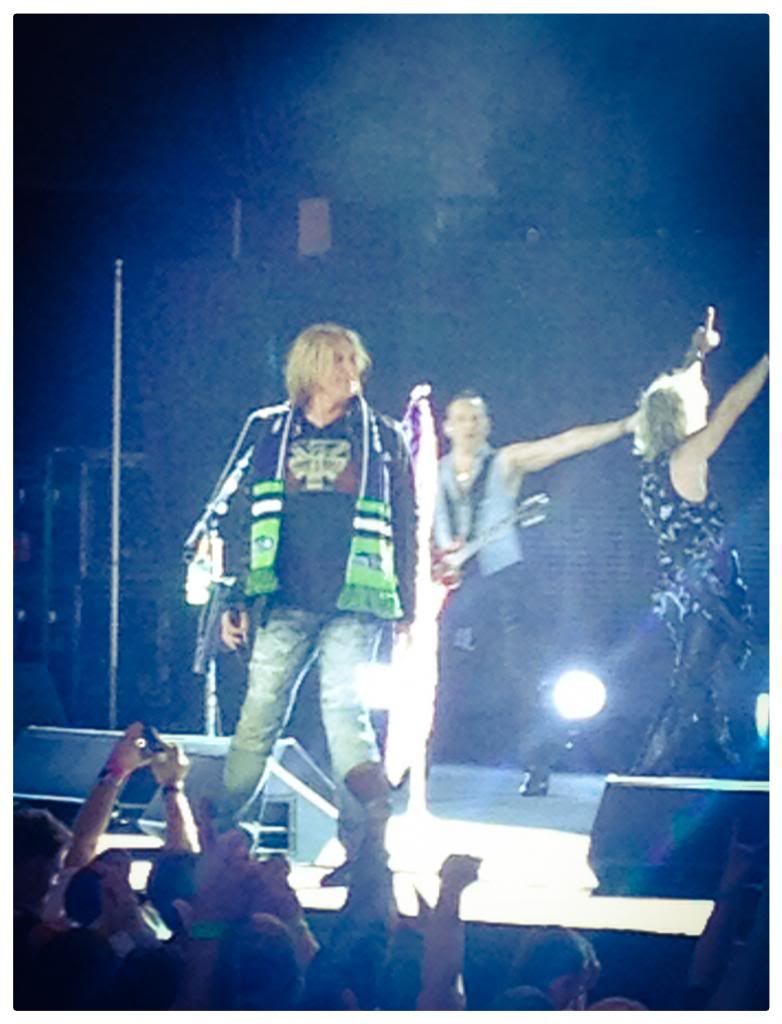 Speaking of Joe…I have to say, his voice is still sounding great!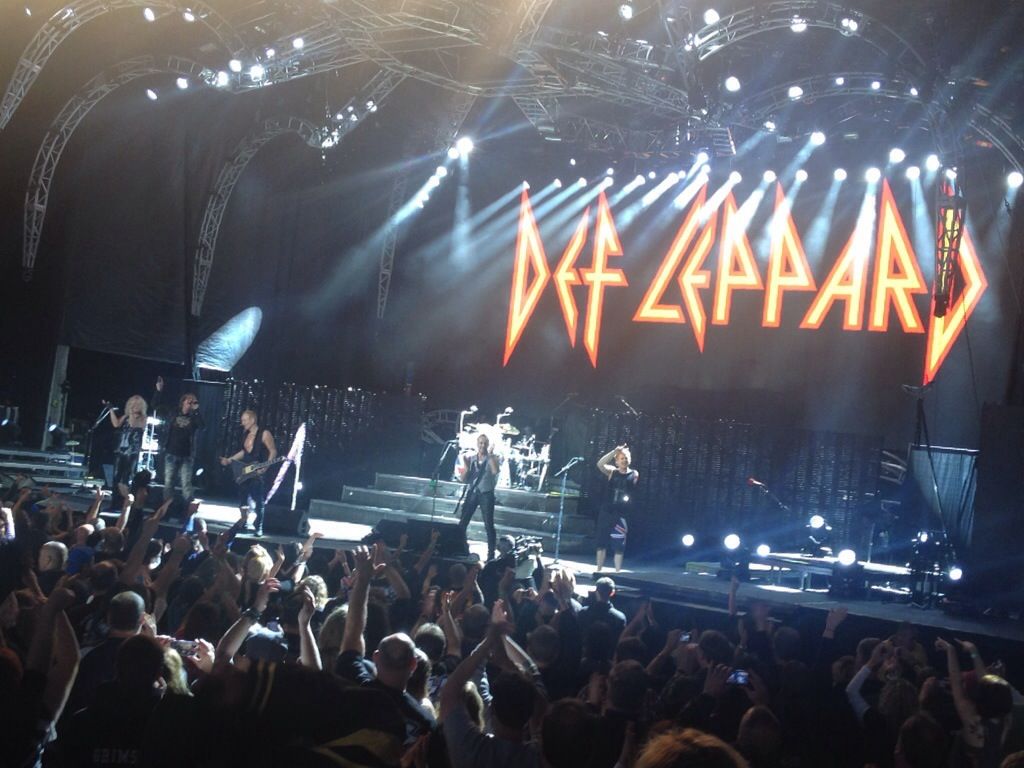 During Def Lep's show…I noticed the best shirt of the night…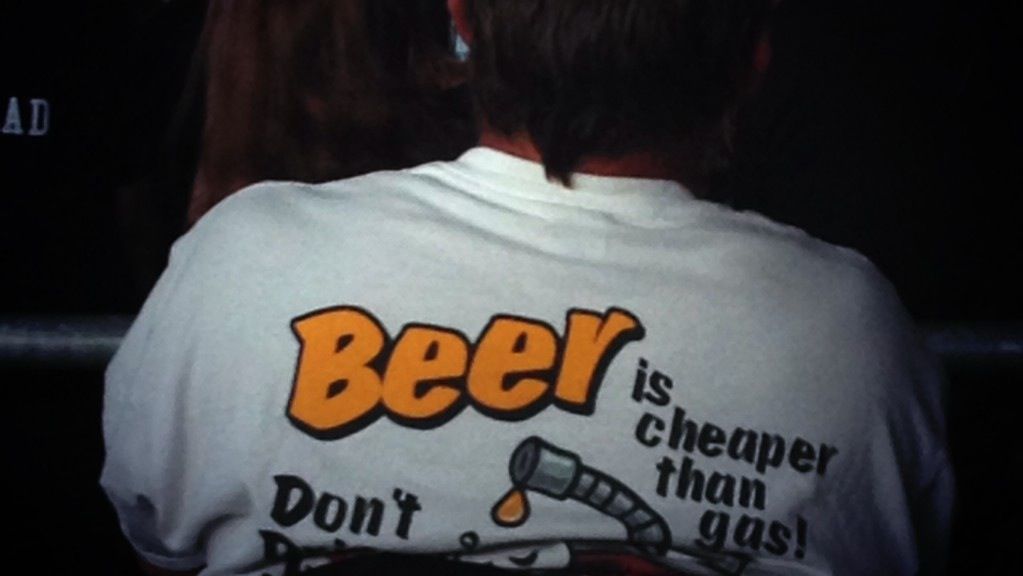 OK…now on to KISS! I was so pumped…they started their set off with my favorite song, "King Of The Night Time World"…and didn't look back., Fire, blood, explosions, confetti…we wanted the best, and we got the best! Here are some pix I took…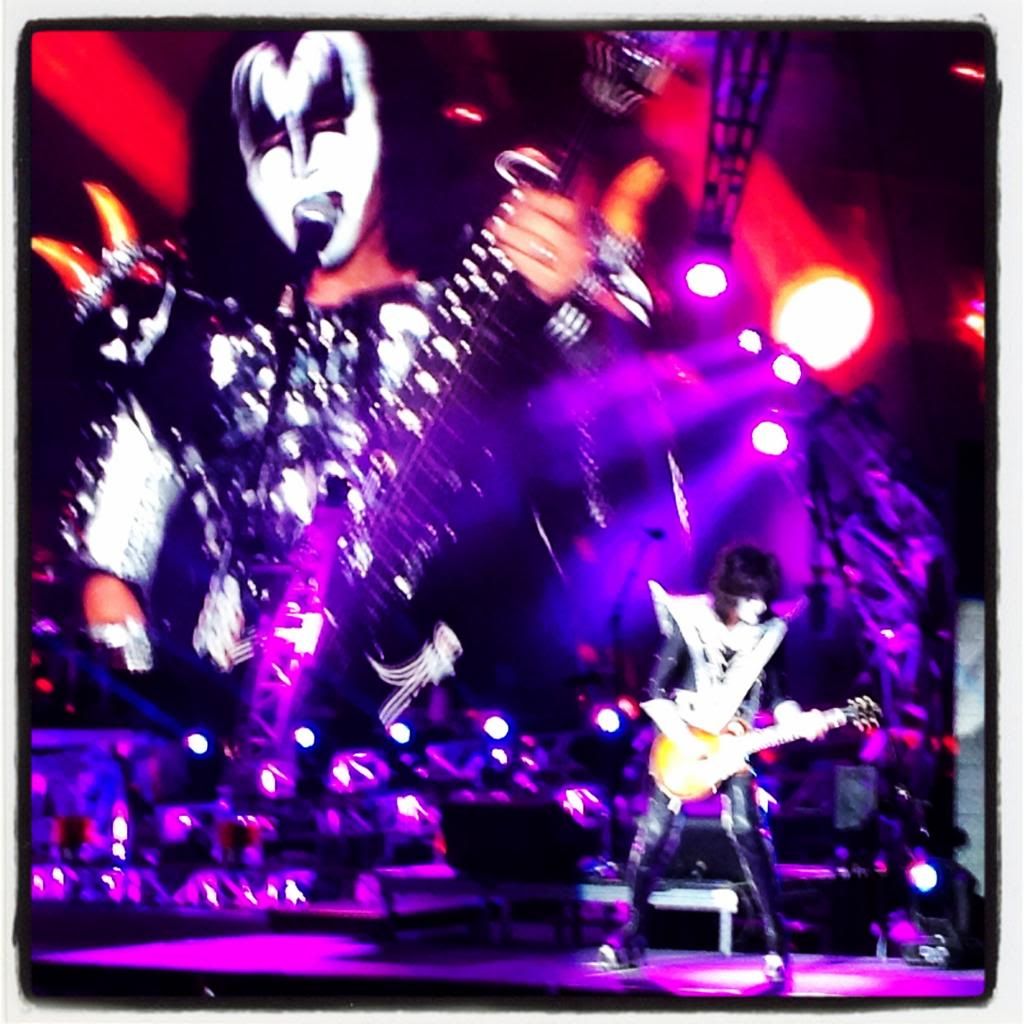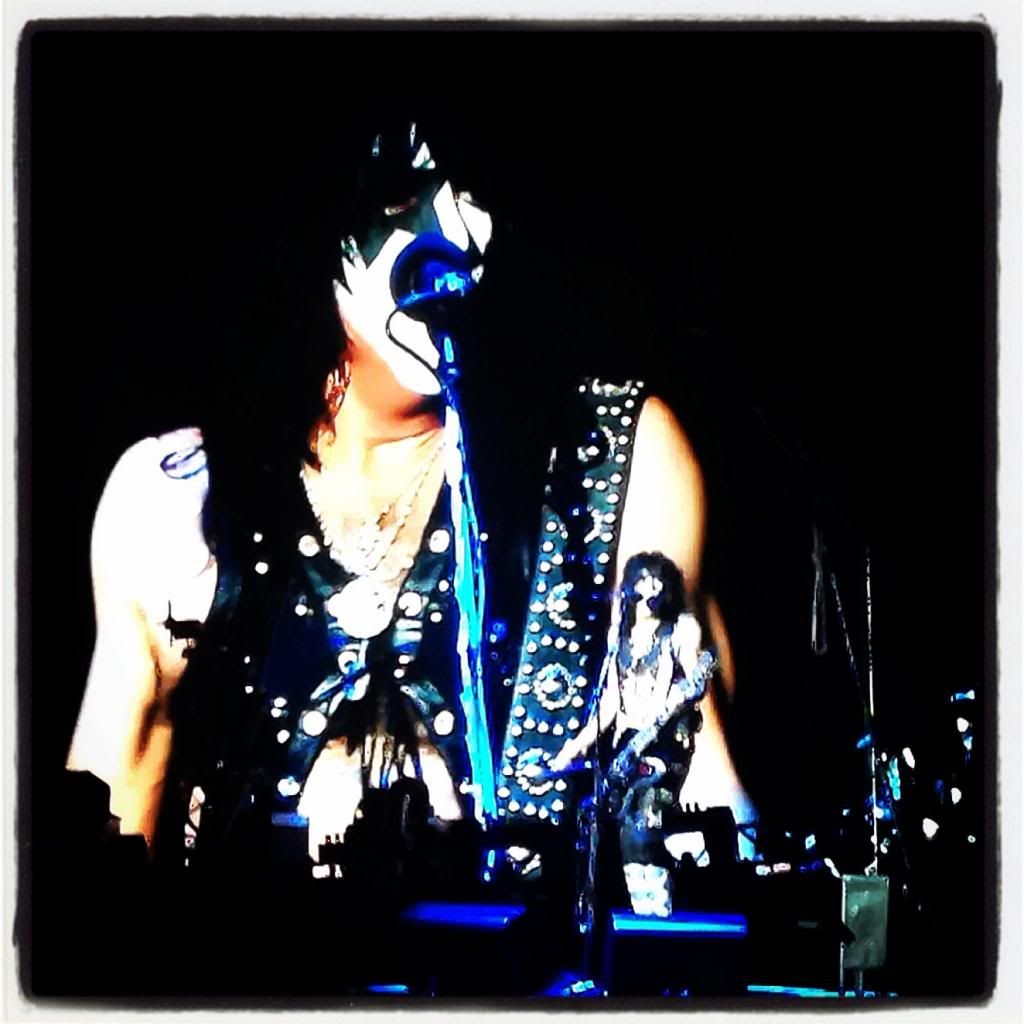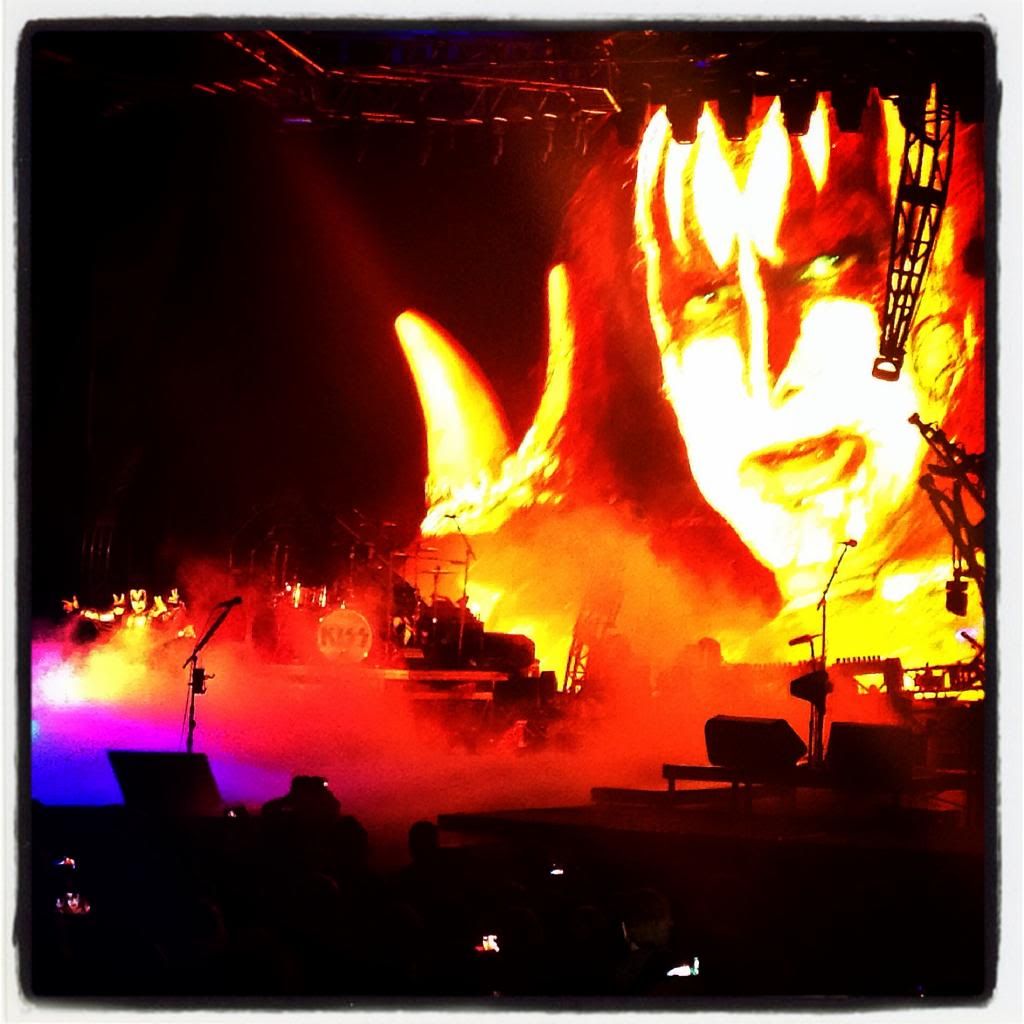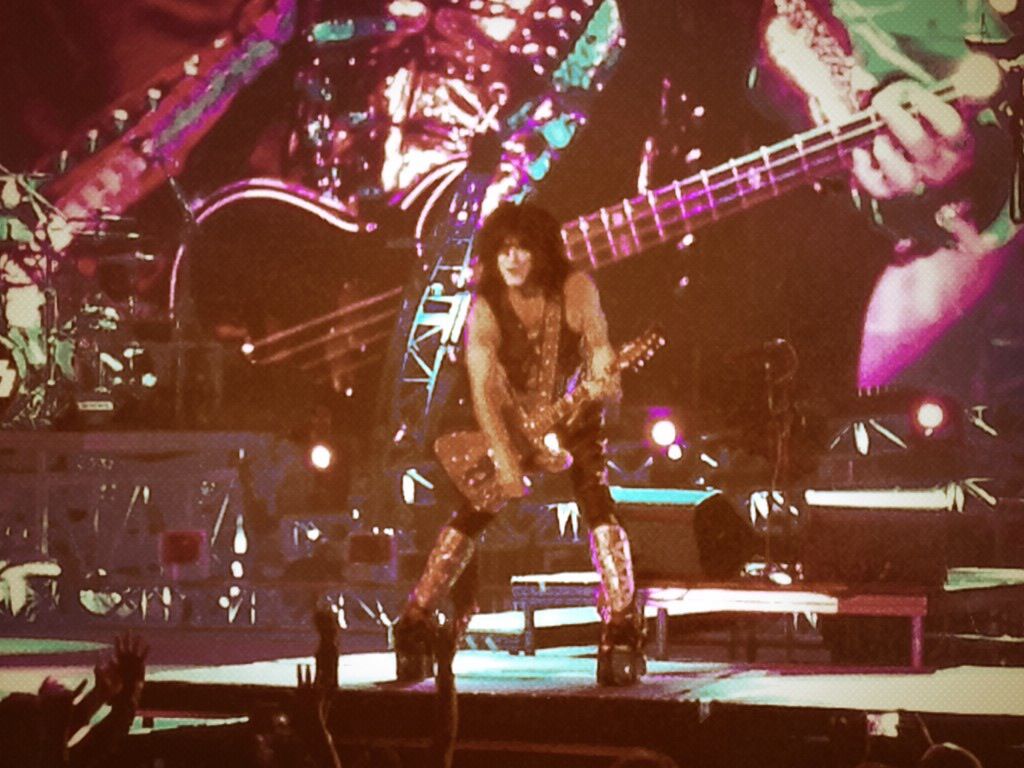 Here is my favorite pic of the night…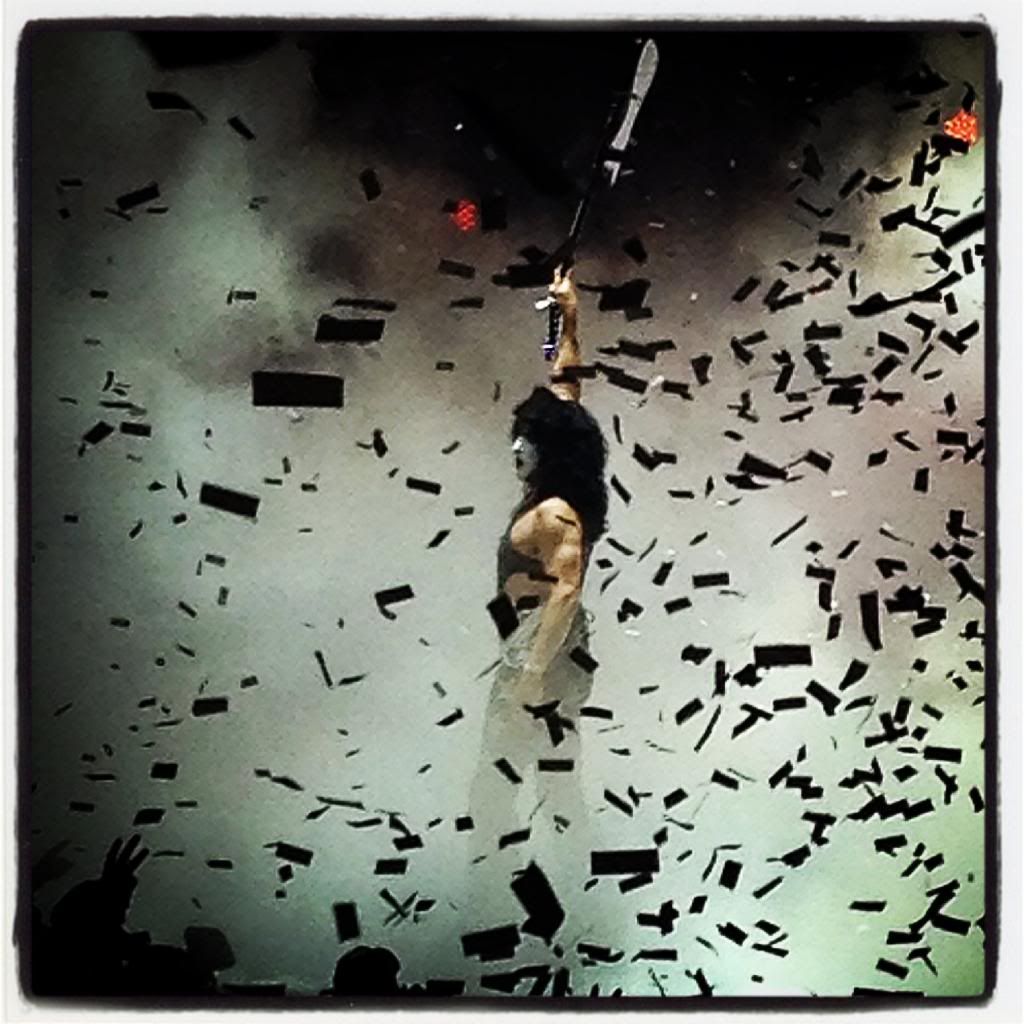 I ain't gonna lie…I geeked out when I saw that KISS was retweeting some of the pix I posted!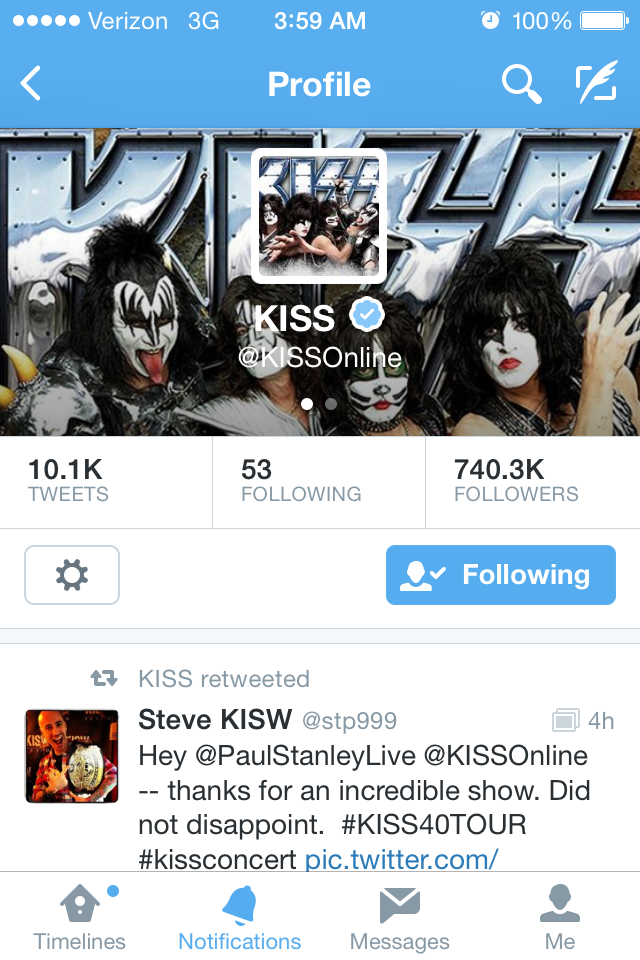 Here is a montage of some video I took while there…

---
Today's blog comes from one of my mentors, Dan Sanders:

Happy Independence Day! Happy August 2nd! Huh? What happened to July 4th, you might ask? Let me explain with some little known (or long forgotten) facts about the 4th of July.

On July 2, 1776, John Adams wrote to his wife: "The second day of July, 1776, will be the most memorable epoch in the history of America. I am apt to believe that it will be celebrated by succeeding generations as the great anniversary festival. It ought to be commemorated as the day of deliverance, by solemn acts of devotion to God Almighty. It ought to be solemnized with pomp and parade, with shows, games, sports, guns, bells, bonfires, and illuminations, from one end of this continent to the other, from this time forward forever more."

While we celebrate the 2nd of July on the 4th, which is the date shown on the Declaration of Independence, in fact historians are convinced that the Declaration was signed nearly a month after its adoption, on August 2, 1776, and not on July 4th, as is commonly believed.

In a remarkable coincidence, John Adams and Thomas Jefferson, the only signers of the Declaration of Independence later to serve as Presidents of the United States, both died on July 4, 1826, which was the 50th anniversary of the Declaration. I can't help but wonder if maybe they really died on August 2, 1826.

Now, all the odd facts aside—and there are many more—the one fact we feel sure of is we are celebrating our independence from the kingdom of Great Britain, as it was known then. I always wonder, though, why we need a date like the 4th of July to remember what freedom means, not just to me and you but to the whole of US. Perhaps summed up best in the Declaration of Independence, I wonder why, among us "Free Americans," there are still groups that would deny these words and try to enslave those who do not agree with our views of freedom: "We hold these truths to be self-evident, that all men are created equal, that they are endowed by their Creator with certain unalienable rights, that among these are Life, Liberty, and the pursuit of Happiness."

Here at Rambling Harbor, we celebrate Independence Day 365-and-one-quarter days a year. Come on shore where all men and women are created equal and give a listen.

http://dbsanders.podbean.com/e/happy-august-2nd/
---
Yngwie Malmsteen/Gary Hoey/Bumblefoot - Guitar Gods Tour 2014
Showbox Market - Seattle, WA 6.26.14
Review/Photos" "Iron" Mike Savoia


What a day it was! One of Time magazines 10 Greatest Electric-Guitar Players back in Seattle. For Yngwie Malmsteen, it's been over 10 years since he last played Seattle on the G3 Tour in 2003. I first saw Yngwie way back Jun 12, 1985 at the Mountaineers building in Seattle on the Rising Force Tour. Four more times he played Seattle and I saw them all before but last nights show at the Showbox Market took the cake. Before I talk a little bit about the show let me mention that earlier in the day Yngwie, Gary Hoey & Ron "Bumblefoot" Thal (Guns 'N Roses) went all the way to Guitar Center in Lynnwood to do a Q&A and M&G with fans (view all photos). What a great time that was for everyone that packed the place to see the guys.


Yngwie, Gary and Bumblefoot answered tons of questions ranging from beginners to the advance players in the audience. Loved how accommodating they all were to even the most simplest question of "How do I play faster?". Bumblefoot even had some of his hot sauce on hand to sell and when asked about it gave one of the best "ShopHQ" channel-like sales I've ever heard. Everyone got a laugh out of it.


Back to the show. Opening the whole show was Guns 'N Roses lead guitarist Ron "Bumblefoot" Thal. Jamming through a 7 song set that included songs like "Turnaround", "Raygun" and "Abnormal" it was his ending "Pink Panther Theme" song that got everyone's attention.
He rocked out his signature double neck gold Vigier guitar like a madman. One of the necks fretless and the other fretted. Thing is so big he had a hard time bending over to open his bottle of water. I ended up grabbing it and helping him open it in which he thanked me during the show to the crowd. Check out Bumblefoot online at www.bumblefoot.com.


Next up was Gary Hoey. World renowned guitarist who nearly got the Ozzy job back when Zakk Wylde ended getting it but took Ozzy's advice and moved to LA where in 1993 he eventually landed a Top 5 rock radio hit with the Focus cover of "Hocus Pocus".


Gary's new album, "Deja Blues," takes on his blues side of playing in which he opened his show with "Going Down" and later showcased the title track during his set. Not only is he technical in his playing but he showed complete feel that sets himself from the rest and not pigeonholed in the only shredder category. Check Gary out online at www.garyhoey.com


Of all the years I've seen Yngwie Malmsteen play, I have to admit I've never seen him in such great mind, body and spirit. Saw him smile more times this day than all the years combined. This great spirit really showed.


Blasting through a set that included "Evil Eye", " "Seventh Sign", "Rising Force", "Baroque & Roll", "Overture / From a Thousand Cuts / Arpeggios from Hell", "The Star-Spangled Banner", "Black Star", "Spellbound" and " I'll See the Light Tonight" to name a few, I'm still in awe how fast, precise and technical he is with everything he plays. This God among Gods of the electric guitar kept his show interesting with his showmanship of throwing guitars, kicking guitar picks to the crowd and playing stuff us normal humans can only dream of playing. His neo-classical playing style in heavy metal can be closely viewed when he releases a new live DVD/CD this August. Check Yngwie out online at: www.yngwiemalmsteen.com
For more photos on KISW: http://www.kisw.com/Yngwie-Malmsteen-Guitar-Gods-Tour-2014/19322389
For full photo albums: https://www.facebook.com/SavoiaPhotographyLive

---
KISS & Def Leppard are playing at the White River Amphitheater this Sunday, so in order to get ready...Toppy & I decided to "jam" at 5:30 this morning. Enjoy!



I am so pumped…I have been listening to pretty much just KISS for the last several weeks… there are 2 songs that I keep coming back to, so I hope Paul & the boys bust these out on Sunday….

"King Of The Night Time World"




"Do You Love Me"




Yesterday…as I was walking around, people kept looking at me & looking rather intensely at me and I couldn't understand why…then it hit me…I think I confused people with the shirt I was wearing.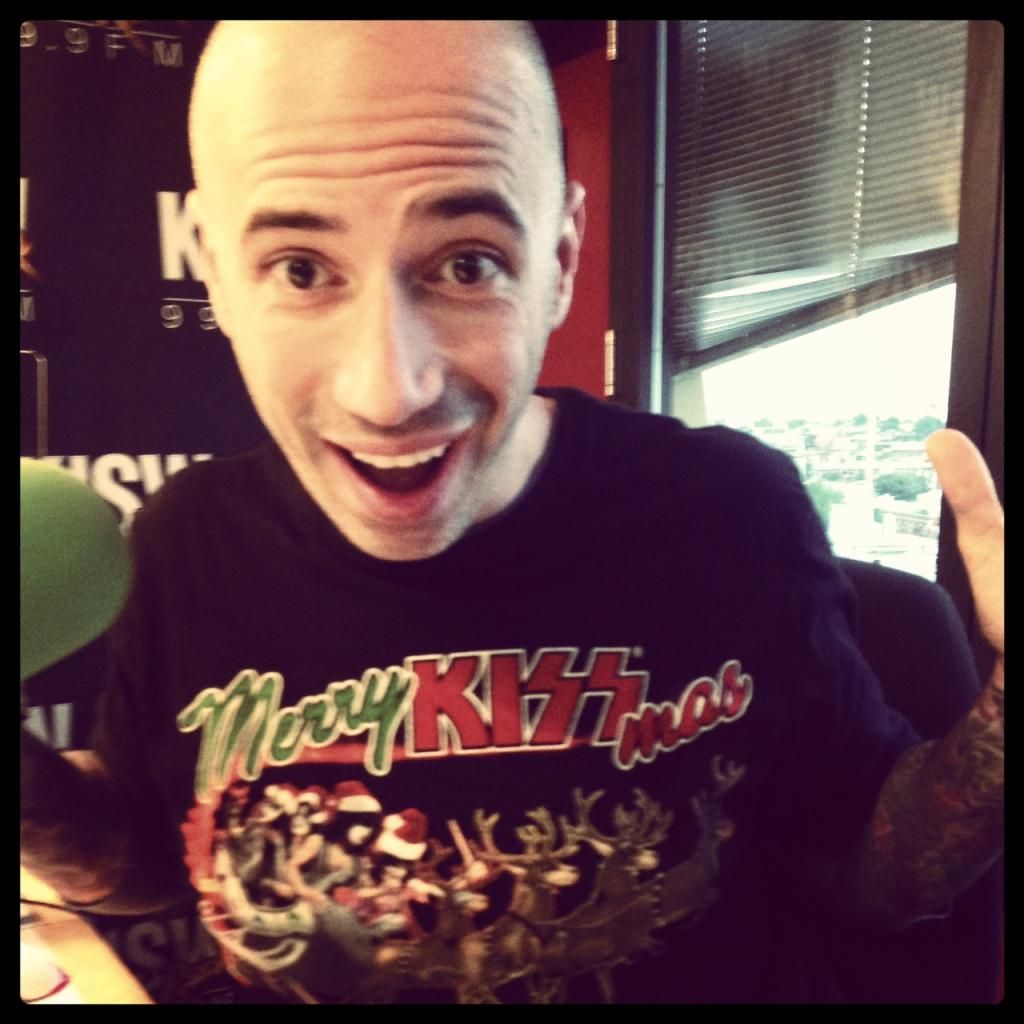 Yes I was wearing a Merry KISS-Mas T-Shirt. Hell…it was only 4 bucks on KISS's website…the shipping cost me more than the shirt!

OK…back to reading my Paul Stanley book…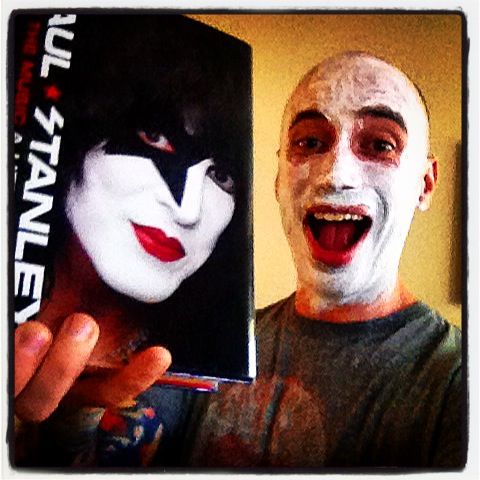 ---
Honestly, I'm just not sure if we should believe a damn thing on the internet anymore…but on the other hand, I'm relieved to hear that one particularly troubling recent "news item" has possible been debunked as a hoax.

You may have heard (or read) about the 3-year-old girl who was asked to leave a KFC because of her physical appearance. The kid in question was reportedly disfigured by a pit bull, leaving her terribly scarred. The restaurant story goes like this: the restaurant staff found her appearance too disturbing for the other customers, and asked the girl and her family to leave.

After this story broke, the good people of the world raised $135,000 on the girl's behalf, and a Las Vegas plastic surgeon pledged to help restore the child's appearance. The initial report said that the girl's grandmother was the source of the story, but KFC says the claim has been thoroughly checked against receipts and security camera footage…and simply cannot be true.

Is the whole thing a hoax? That's the latest angle on this strange, terrible story. Meanwhile, the girl's aunt insists -- on Facebook -- that it's NOT a hoax. Whatever the truth may be, there's a very real child who has been made a victim twice now, and it makes me sick to think that it could EVER happen to someone, much less in the first three years of their life.

What do you think, folks?

---
Pain In The Grass Blog Rob Zombie!

ROB ZOMBIE: Heading Up Tribute to Johnny Ramone
Rob Zombie is heading up an event marking the 10th anniversary of Johnny Ramone's death.
The birthday tribute to Ramone will take place on August 24th at the Hollywood Forever Cemetery. Zombie will be hosting a screening of his movie The Devil's Rejects and leading an all-star band -- including Duff McKagan of Guns n' Roses and Steve Jones of TheSex Pistols -- through a selection of Ramones covers. And Kirk Hammett of Metallicawill be displaying his collection of horror-movie posters and memorabilia in the cemetery's mausoleum.
Proceeds from the evening will benefit cancer research through the Johnny Ramone Foundation and the Center for Applied Medicine at USC.

Don't miss Rob Zombie at Pain In The Grass 2014 Friday September 12th! http://bit.ly/TbeUo8

---
Seahawks cornerback Richard Sherman has chosen to boycott Seattle media, after some Seattle newspaper reporters decided to reveal the address of Sherman's newly-purchased home. Yes, this is information of public record…if you really go looking for it. The reporters in question have practically invited people to bother a public figure – one who has proven himself to be a great supporter of Seattle on both a civic and charitable level.

I can't blame Sherman for drawing the line. What an invasion of privacy this is! Sherman and his girlfriend are both quite unhappy about this turn of events, and they have every right to be.

Newspaper reporters are capable of some pretty low stuff, and I speak with some degree of experience here. You'd think that a dying form of media would try to turn its situation around by taking a high road, and acting with journalistic integrity. It's a real shame that we're seeing exactly the opposite.

Let's hear it from you, gang: do you think Richard Sherman is justified in his decision to step away from the local press, or is this much ado about nothing?
---
Huge thanks to BJ…as he hooked me up with one of the coolest giveaways at a sporting event…SOCKS! Yes, Socks. The Mariners did a Mariners Sock Night last night & BJ was kind enough to grab me a pair!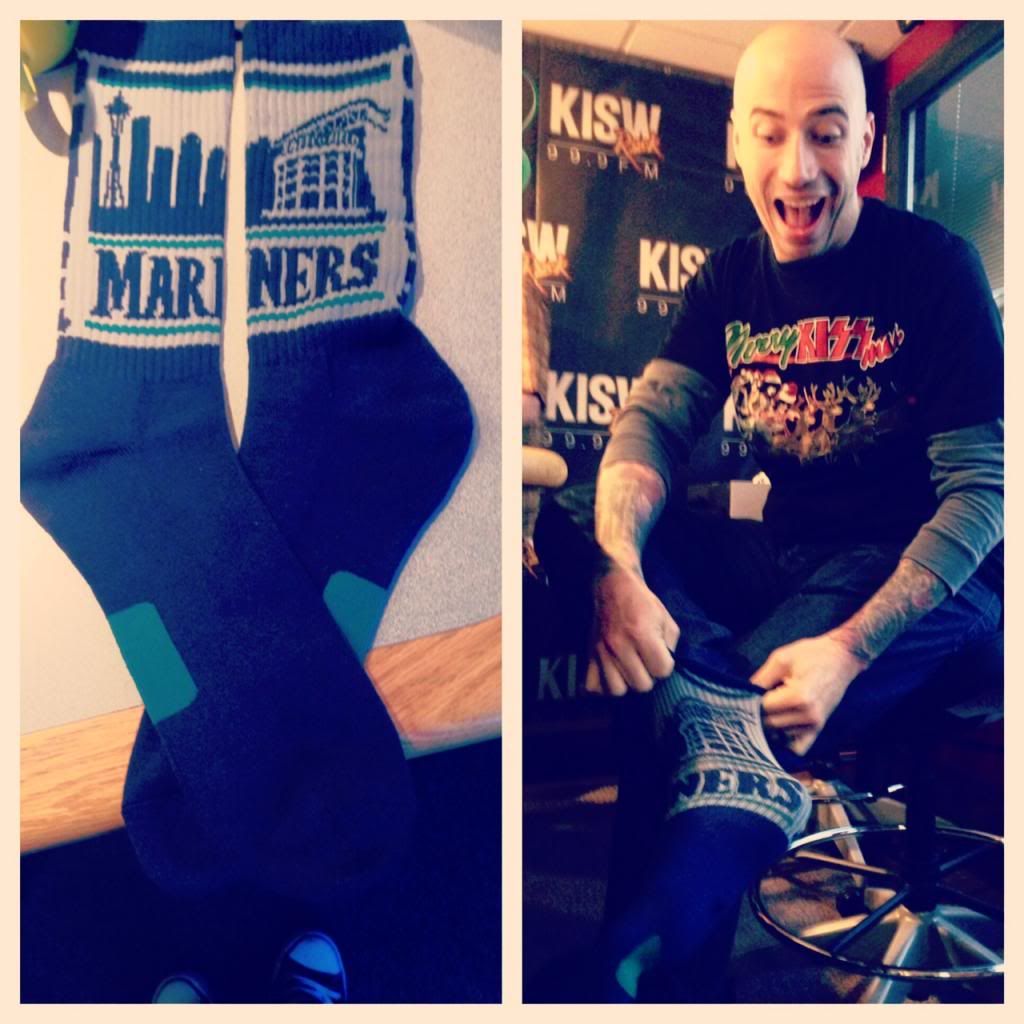 Man this week has been very awesome for me thanks to the Mariners. On Tuesday morning, Mono-Nick brought me something he got at the game the night before. Monday night, BJ & Nick were sitting in the Diamond Club, and the Diamond Club is awesome…you get free food & drinks in that section so I jokingly (ok not so jokingly) asked Nick to snag me a pretzel…and he did!




Check out their seats…not a bad way to watch a game!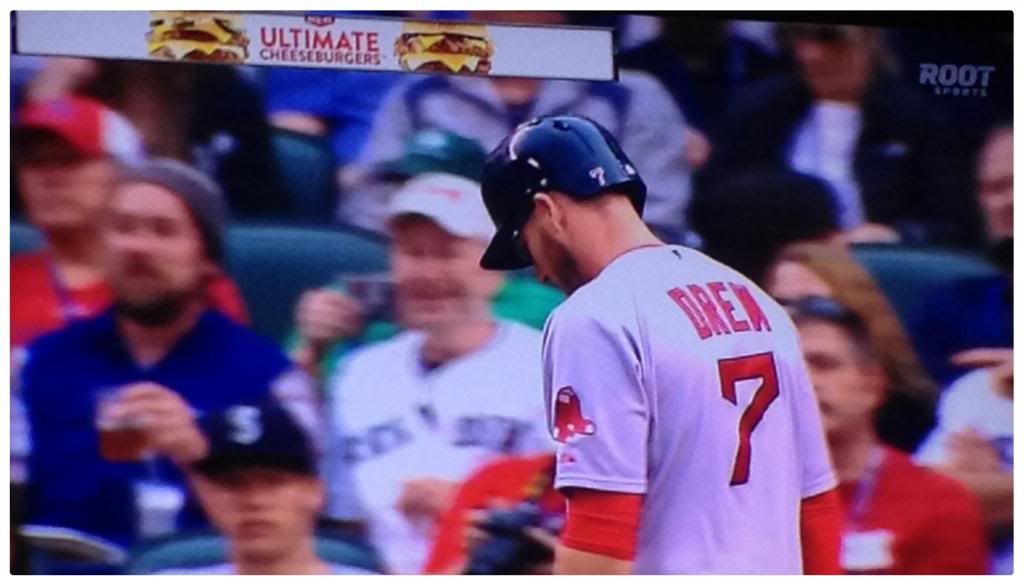 ---
Pain In The Grass Blog! Theory Of A Deadman and Alice Cooper!


Pain In The Grass 2014 artist Theory Of A Deadman have a new album coming out. It's dropping July 29th. The title track is called "Savages". But what you may not know, is that it features FREAKING ALICE COOPER!!

Pretty cool eh?

Check out the song for "Savages" Theory Of A Deadman featuring Alice Cooper!

---