Hello again, Rock-A-Holics! I'd like to start by saying that we love your contributions to Group Therapy, you can always email us at bj@kisw.com.

Nelson emailed us… he has been dating a girl for the last three months, and he loves everything about the relationship so far. Things are pretty serious (they've said "I love you") but there's one nagging thing: the girlfriend shares custody of her six-year-old daughter, but she hasn't introduced the kid to Nelson yet. He's totally prepared for that to happen, but it's not happening as quickly as he would prefer.

Recently, Nelson said that he wanted to spend more time with his girlfriend AND her daughter, but she says she's not quite ready yet. Nelson can understand her protective nature, but he's starting to wonder if she feels as strongly about the relationship as he does.

Nelson…man, I guess I'm a little bit surprised by how quickly you're moving. Three months in, and you've already dropped the L-bomb? How can you be sure this soon? Maybe I'm just not the romantic type, but this seems a little quick for a grownup relationship.

Let's see if your fellow Rock-A-Holics feel differently. Give this man some advice about his "daughter dilemma", won't you?
---
If you missed it last night…what a strange ending to the Hawks game. Long story short… hawks looked like they were gonna walk away with a sloppy 13-3 win (on the offensive side, the defense looked fierce)…then in the 4th quarter Russell Wilson fumbled for the second time…this time it was walked into the end zone to make it a 13-10 game. Then Matthew Stafford gets hot and leads the Lions with a 91 yard drive to the red zone…passes to his star receiver, Calvin Johnson…Calvin reaches the ball to the end zone, and before he can get it in there…Kam Chancellor punches the ball out, and it's a touchback!



Then these the controversy… KJ Wright batted the fumbled ball out of the end zone, which according to the rules means that the Lions should have gotten the ball back on the 1 yard line. That didn't happen, so once again the Seahawks had a controversial win at the end of a MNF game (a couple years ago there was the "Fail Mary" vs. the Packers).

The highlight of this game happened during a post game interview with Kam Chancellor, where Michael Bennett interrupted the interview to play the role of Kam's agent…


Speaking of Bennett…how funny is this dude? Check out what our bud Craig Gass posted on his Facebook page… Bennett doing some cheering with the SeaGals!


How about the crew that Craig was rolling with at the Hawks game… Sean & Jerry from Alice In Chains, and Duff from Guns N' Roses: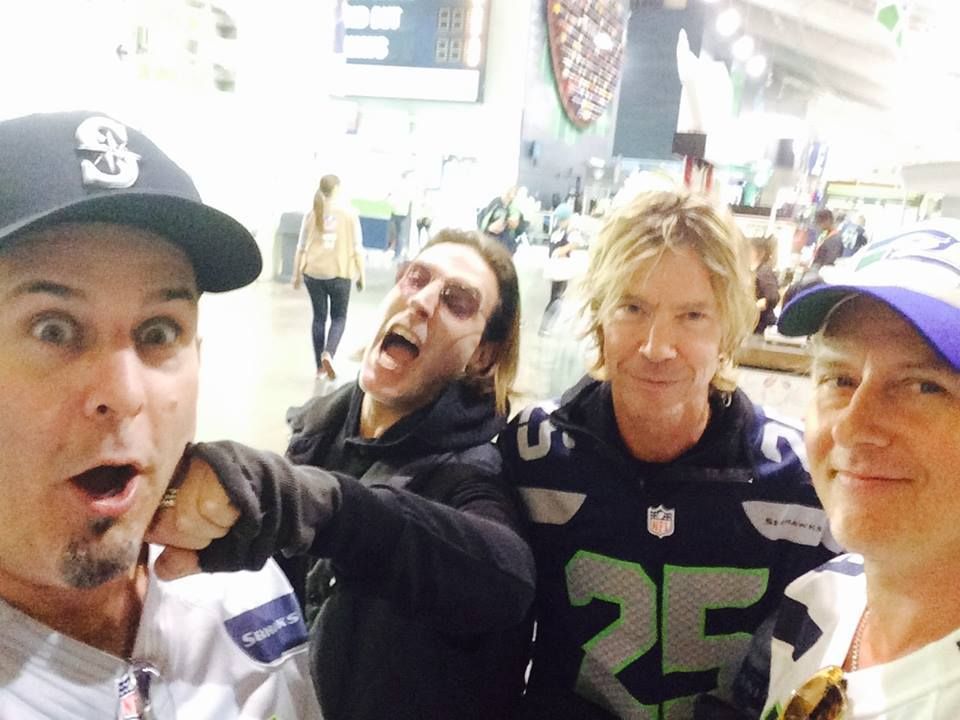 This video is pretty cool…12 people who work for a used car website in Canada pooled their money last month to buy a bunch of lottery tickets, and hit the jackpot for 46 MILLION BUCKS. Here is the awesome part… the guy who bought the tickets kept it a secret all weekend. He found out on a Saturday, but didn't tell any of them until their morning meeting the following Monday …check it out:



They'll each get about $3.8 million, but they all say they plan on keeping their jobs for now.
---
Today's blog comes from one of my mentors, Dan Sanders:

There is an angry beauty about New England in the fall. Rolling thunder bounces from dark cloud to darker cloud, and the Atlantic Ocean turns colder and more unsympathetic, whipped into frenzy with wind gusts that can make small people suddenly do their best Mary Poppins impression. The humpbacks begin their journey to the Caribbean, as the little town of Rambling Harbor becomes clogged with boats on trailers straining to make their way around roads barely wide enough for two cars to pass. It's Rambling Harbor getting ready for fall, the season of mysteries that always enshrouds old New England towns, especially villages on harbors and oceans.

There is folklore that crows are attracted to shiny objects. I say folklore because apparently crows are just plain attracted to things, and any thing that might glitter would catch their eye. Based on that legend, I lovingly called my wife Crow Woman, one of many nicknames, and this one loosely based on some Native American idea. If she were walking down the street, a $500 bill on the pavement would not catch her eye as quickly as a shiny bobble in a window. Price was never the point, shiny was.

I love Ritz Crackers. During the first spring after my wife died, I found myself standing in the backyard, very early one quiet, beautiful morning. This was not a place I usually went. I was taking care of my landlady's plants while she was away. Suddenly a crow landed on a nearby lawn chair, left an almost complete Ritz cracker on the arm, and flew away. I was stunned and when I regained some of my senses, I went inside to get my camera. It took me a couple of minutes, and I figured this thing-loving crow would have returned for his Ritz. It's that Ritz in the picture. The crow never returned.




Maybe it's the early darkness, the angry sky, and the raging ocean, or maybe it's just being in old New England that makes us so aware of the possibilities. What could be more perfect than a New England fall, bursting with color, spirits, and mystery?

There will be more stories of hauntings and mysteries and of course a rock-and-roll timeline on the shores of Rambling Harbor. Join me there.

http://dbsanders.podbean.com/e/new-england-the-crow-the-cracker-and-me/
---
Over the weekend was my birthday, and we celebrated it in great fashion at the Mariners game on Saturday night… huge thanks to everyone at the Mariners for allowing us to take over the terrace club, thanks to Robbie Cano for delivering on his promise of hitting me a home run...and thanks to new GM Jerry Dipoto for wishing me a happy birthday on the big screen!



Huge thanks to Jeff and Stevie from the Mariners for not only hooking me up withy a cake…but an ICE CREAM CAKE! I love that they gave love to my podcast with the #TD4L. That stands for "Titanic Douche For Like" – we call ourselves Titanic Douches… Luke Burbank called us once that as an insult, so we embraced the name and turned it into a positive.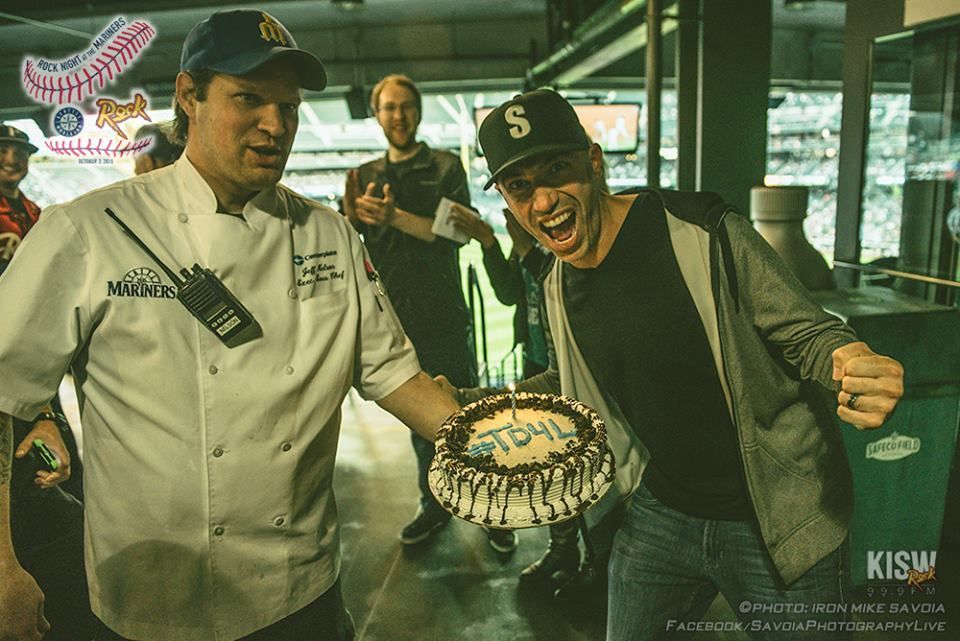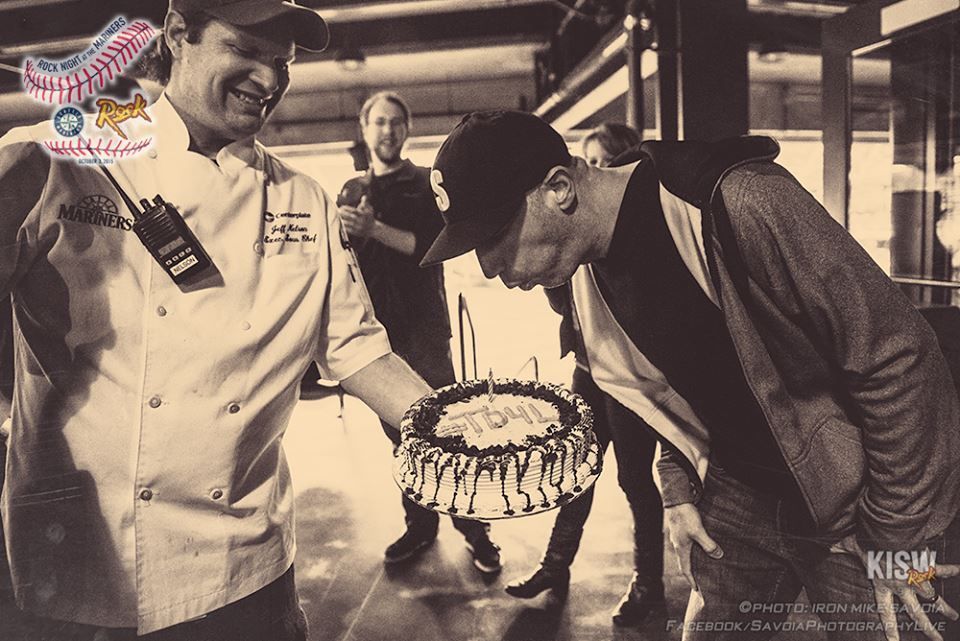 Speaking of our podcast… please do me a solid and vote for us as best local podcast on the King 5 Best Of Western Washington poll. Vote for us here: http://best.king5.com/the-migs-cast/biz/633659

Here are some other cool pix that Iron Mike took.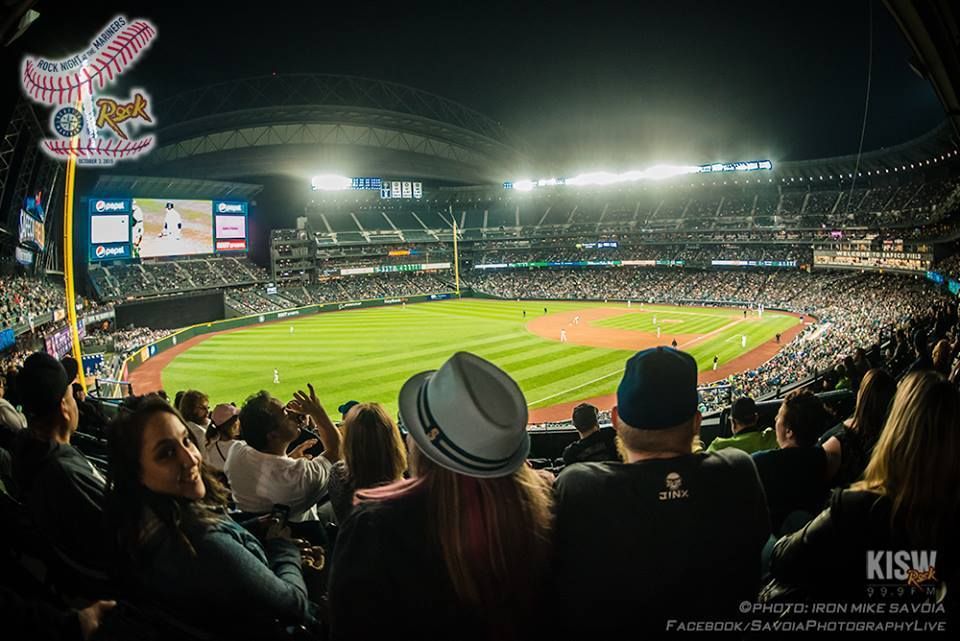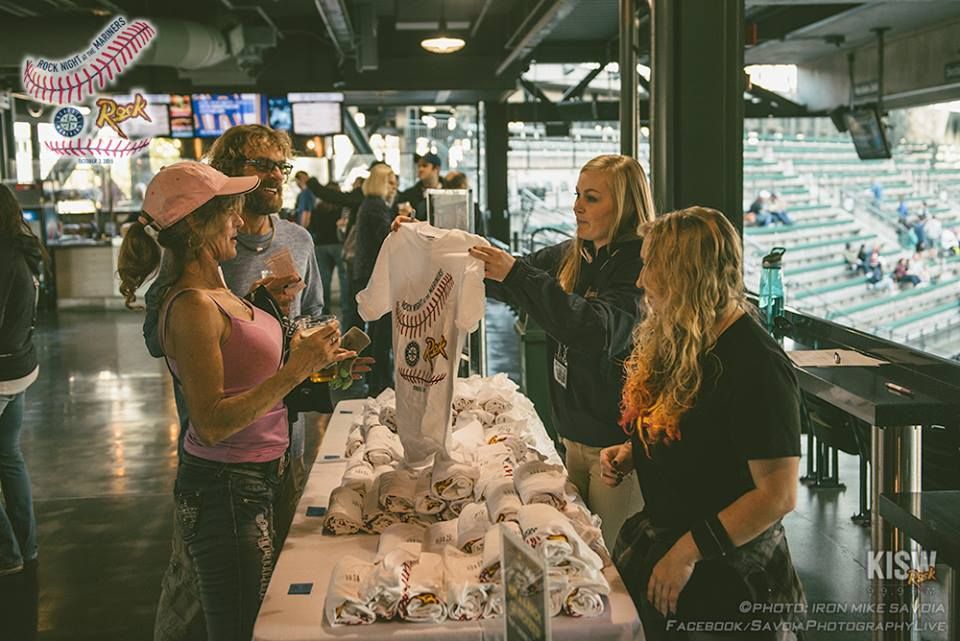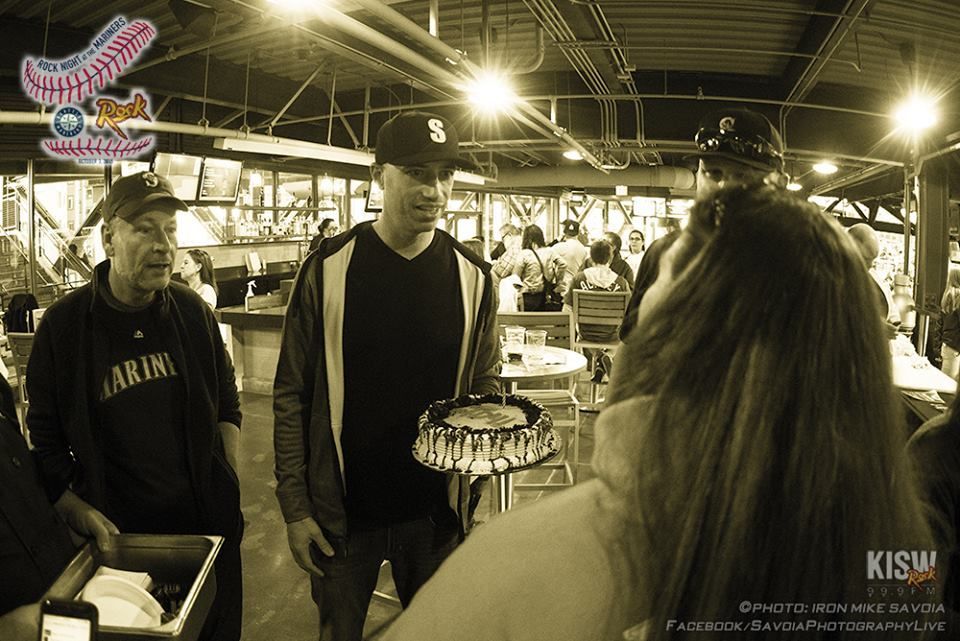 ---
Hey there, Rock-A-Holics! Let's get into some Group Therapy before the weekend starts, shall we?

Mark plays on a coed soccer team, and he ended up having dinner with a female teammate after their game was canceled. He has a girlfriend, but she was out with her friends that night, so Mark decided to carry through with the dinner plan; after all, he is NOT attracted to this teammate, so he didn't see the harm in it.

Unfortunately, a friend of Mark's girlfriend secretly spotted the two soccer chums at dinner, and sent a picture of them eating to Mark's girlfriend. Naturally, the girlfriend was furious, and has now accused Mark of "emotional cheating" with this other woman.

Wow, this is some serious drama…and strangely enough, the females in this situation have generated it all. Hell, the chief architect of this nonsense isn't even "in this situation" – she's just a nosy friend who wanted to get in on some trouble. Just a reminder, folks: people are stupid. Give 'em a chance, they'll prove it every time.

Mark says he's innocent, but the girlfriend says that dinner with someone of the opposite sex is cheating, plain and simple. Do you subscribe to that notion, or do you side with Mark? Your opinions are welcome, so fire away…
---
I always get a kick out of watching people attempt to take selfies…the facial expressions and time spent doing it is rather entertaining…so this video cracks me up! A bunch of sorority girls were at an Arizona Diamondbacks game on Wednesday, and the announcers made fun of them because they weren't watching the game at all….they were just posing for selfies with their FOOD.



This will be a short blog as our internet keeps going on and off so I don't want to risk not getting this posted! This was an internet moment this morning...
---
Yesterday I mentioned how I had an opportunity to chat with Chris Cornell before his sold out show at Benaroya Hall.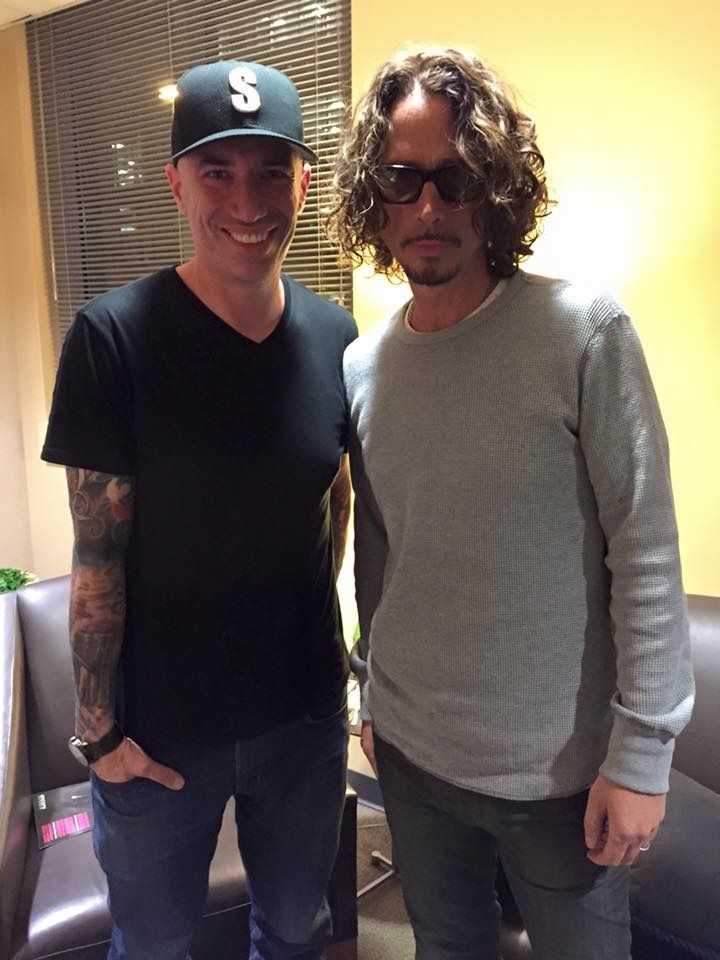 Here is a clip from that interview…it was pretty surreal…as I was about to start asking him stuff about the new record "Higher Truth", which is such a good record…Chris was distracted by my tattoos!



Here we are chatting about music...it was great hearing his thoughts about song writing...



If you want to catch my full review of his show, as well as the full interview… listen to this week's Migs Cast!


---
It's time for Group Therapy, folks!

Alexis needs some help with her ex-boyfriend…because he is now her best friend. They have no interest in getting back together; in fact, the ex-boyfriend is now dating someone new.

Alexis wishes him well in his new relationship, but she's not too happy with his request that his relationship with Alexis remains a secret when she meets the new girl next week. He begged her to carry through with this deception, and even went so far as to ask her to rope their mutual friends in on the deal!

I realize I'm famous for my stance on women and men having post-relationship friendships (DON'T DO IT), so nothing I have to say about this will come as a surprise. That's why I'm turning it over to you, the Rock-A-Holics who offer up advice to their own. Should Alexis let her ex-boyfriend (and current best friend) drag her into a lie for the sake of his new relationship?

---
As the weather turns a little bit chilly and fall is amongst us. As the weather turns and you get ready for the winter I want to remind you to get ready. Now honestly it is not that chilly yet soon it will be. I say you should be ready but in the end I am really just telling myself but I will write it in this blog for everyone. My main thing is that I want to make sure my fitness is at a high level, high level for me that is because the food and doing nothing around the corner. See if I start getting lazy now by the time Thanksgiving and Christmas come around I will huge. See I just kind of plan on putting on a couple holiday pounds so I figure it is best to head into the holiday in fighting shape or at least staying in the gym. Also the summer is a great time for fun and exciting adventures but I feel the fall sound be a time to kind of reel it in a bit. Now don't get me wrong I still plan on some fun Halloween parties and stuff like that but not all the random beers and shows that come along with the summer. Also it is a good time to sit around after that workout and watch some sports. Oh yeah don't forget to get that crockpot fired up as well, I mean it's fall right?
---
Do you hear wedding bells, gang? Maybe that's the sound of a cash register. It's so hard to tell sometimes…

A Rock-A-Holic named Will is trying to tell the difference between "bing-bong" and "ka-ching" at the moment, because he gave his daughter some money for her wedding, and she spent it…on something else. Did we mention that the amount he gave her was FIFTEEN THOUSAND DOLLARS? No? Well, now you know.

Will's daughter was supposed to spend the money on a lavish wedding, but the happy couple has decided to elope. Now, the dough is financing a trip to Australia that was never part of the plan. Will and his wife disagree about the situation, with the wife defending the daughter and her husband-to-be; Will feels like he's been the victim of a swerve, and he wants his money back!

This is a tough one, folks. I can really see both sides of the coin here, so let's hear what you have to say! What would you do if this was YOUR hard-earned money?
---