Posts from August 2014
I got nothing today. One of those mornings, my brain is fried.

I do have this video to share…it's a good one!

It's a video of a little kid finding out his mom is pregnant again…he starts chewing her out for being so IRRESPONSIBLE, because she already had two kids.
---

Happy Friday to you, good people! Before you start your long holiday weekend, we'd love to get your thoughts on today's Group Therapy session!

Today's topic comes from Danny, who is struggling with his 17-year-old daughter's decision to get back together with a guy who cheated on her. Danny's first instinct is to interfere, and tell the girl that she's making a huge mistake…but Danny's wife says that their daughter needs to learn this lesson for herself.

It's hard being a parent sometimes. I have a daughter, and it's difficult to watch her experience the pain and disappointment that is part and parcel with becoming an independent woman in the adult world. As much as my heart might scream and yell for me to step in and save her from all of life's evils, my brain has learned to put the brakes on. Well, most of the time anyway.

Being a man makes it even more difficult! I've been a man (some people may say that I still am), and I know how men THINK. I know what we do, what we say, and what our stupid little reptile brains drive us to do. That doesn't really help to generate much support for the poor guys who want my daughter's attention.

What do you think, Rock-A-Holics? Should Danny just relax and let his daughter ride the roller coaster of adulthood without her father holding her hand?

---
Mono-Nick has whipped up another one of his "Stoner Songs'. To get us pumped for the Seahawks, Nick did a parody of that DJ Snake / Lil' Jon song, "Turn Down For What". Go Hawks!



How cool is this…yesterday at the Mariners game… Eddie Vedder was at the game with Jack White and Paul Simon. Check out this picture that the Mariners posted. I'm guessing Eddie and Jack swapped jerseys (that I hear they got from that cool store, Ebbets Field Flannels Vintage)…as Jack is from Detroit.



Then we got a simple text that instantly made us all feel old.

"Who's Paul Simon?"

Were you stuck in traffic yesterday? I was…and man it sucked! I left work at 12 noon, and I got home a little before 3 pm! The main souce of the traffic issues was this…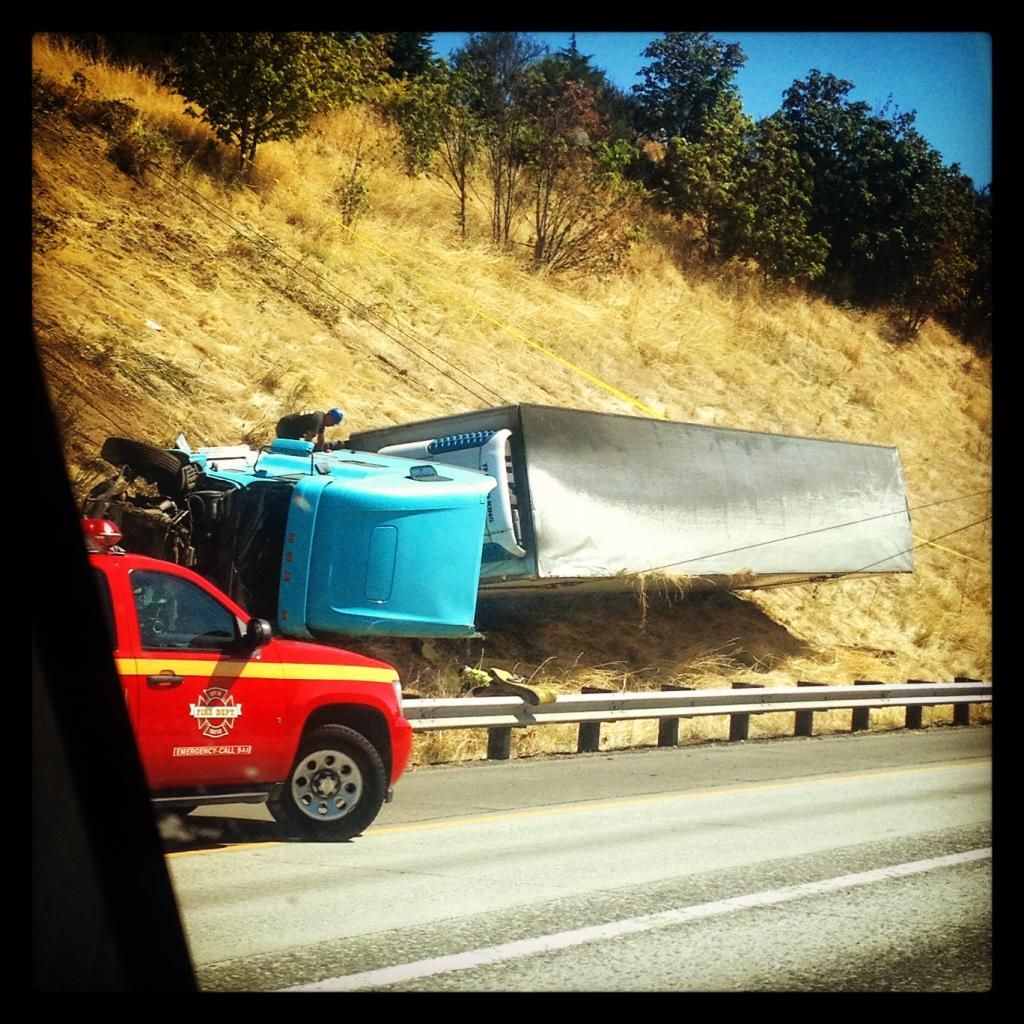 Thankfully those that were involved suffered minor injuries…and apparently it all started when some idiot driver cut off the semi and then it led to the semi hitting cars…slamming into the guard rail and then ended up on its side.

Ladies & gentleman…here is the greatest use of a Go-Pro camera. A band from Norway called NeoMania put out a music video earlier this month that's getting a bunch of hits. But it has NOTHING to do with the actual music. It's because the entire thing is a girl working out, with a GoPro strapped to her head …and it's pointed straight at her CHEST the whole time.

---
Welcome back to Group Therapy, people! Everybody's looking good—actually, just wait a second. You there, in the back - is that what you're planning to wear for this session? It is? Oh, no, it's cool. I was, um…I was just wondering. Enjoy the rest of the blog, but just, uh…just make sure you stay back there. We don't want you to lose your spot.

Today's topic comes from Beth, who has been dating a guy for about 6 months. He's always dressed incredibly well, but she thinks he may be too comfortable now. Whenever they go out, he wears jeans, t-shirts…and Crocs.

She likes the guy a lot, but she hates the shoes so much that she's forcing herself to get past them. This is hardly an earth-shattering Group Therapy matter, but here we are: Beth wants to know if her boyfriend is lame for wearing Crocs.

Here's my simple answer: There will always be something that your mate does that bothers or embarrasses you. If you love them, then you figure out a way to navigate around it. I have no affection for Crocs, but I can't help thinking that you've still got it pretty easy overall.

Perhaps the good people who read this blog will have something else to offer you, Beth. I'd love to hear some stories of spousal embarrassment…and BONUS HONESTY POINTS will be awarded to anyone who is willing to admit (with examples!) that they are the embarrassing one!
---
Happy belated National Dog Day everyone. Hopefully you got to have a great day with your pup…took a pic…and hash tagged it #NationalDogDay. I know I did!




I'm so pumped, our building is now hosting Food Trucks in the afternoon for lunch, and yesterday I got to experience some great Food Truck eats…courtesy of Falafel Salem. Holy smokes their food is good. If you see their Food Truck around town…be sure to stop buy, and if you like your food spicy, be sure to get it spicy…it was damn good! Follow them on Twitter: @FalafelSalam or check them out here: www.falafelsalam.com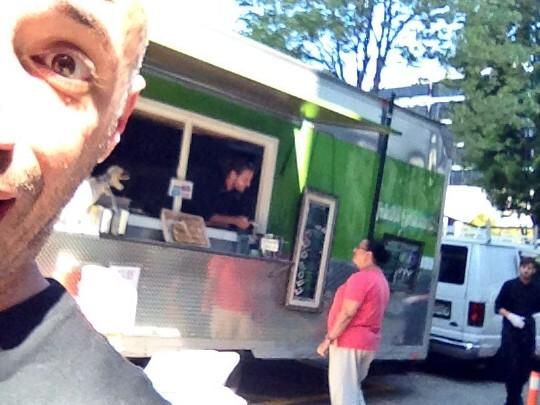 Huge thanks to the TV show Utopia for sending the coolest promo item ever... a survival kit that included one of those flint fire starter thingies. I had some fun with it, and of course BJ compared me to a cave man for my enthusiasm!




This is crazy…just yesterday I was talking about how tough the ladies are that play in the Legends Football League (or Lingerie Football League for you old school fans)….today we came across this video…it really does illustrate how intense these gals get on the field. Yes, they are hot…but they play hard! Check this out:

---
Ahhh … you gotta love the text line here at work. If you are having a good day, there will always be that one "kind soul" that will make that day even brighter. When I say that, what I really mean is that there is always that one jack-knob that will crap on your day. I present to you today's example:





So one of the big rules in radio…that we ALL break…is to never…EVER…eat or drink near the equipment. Well…this morning while we were on the air…Vicky learned a valuable lesson!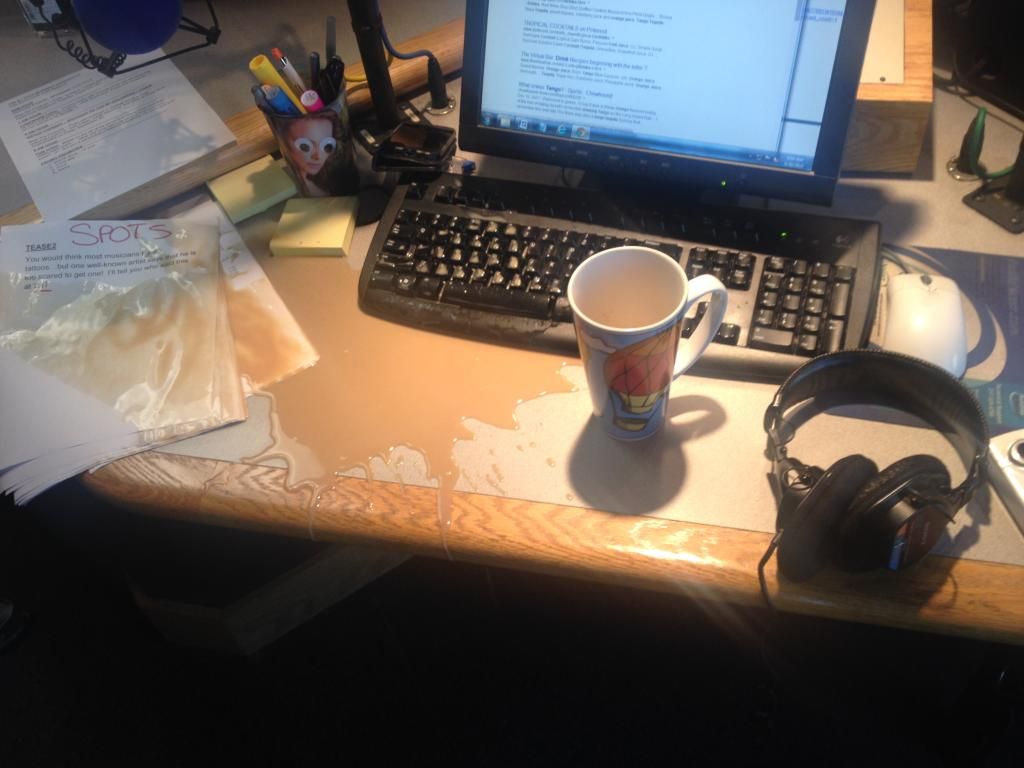 Doh!




She even got it on her dress…which I said looks like a "Monica Lewinsky" style dress.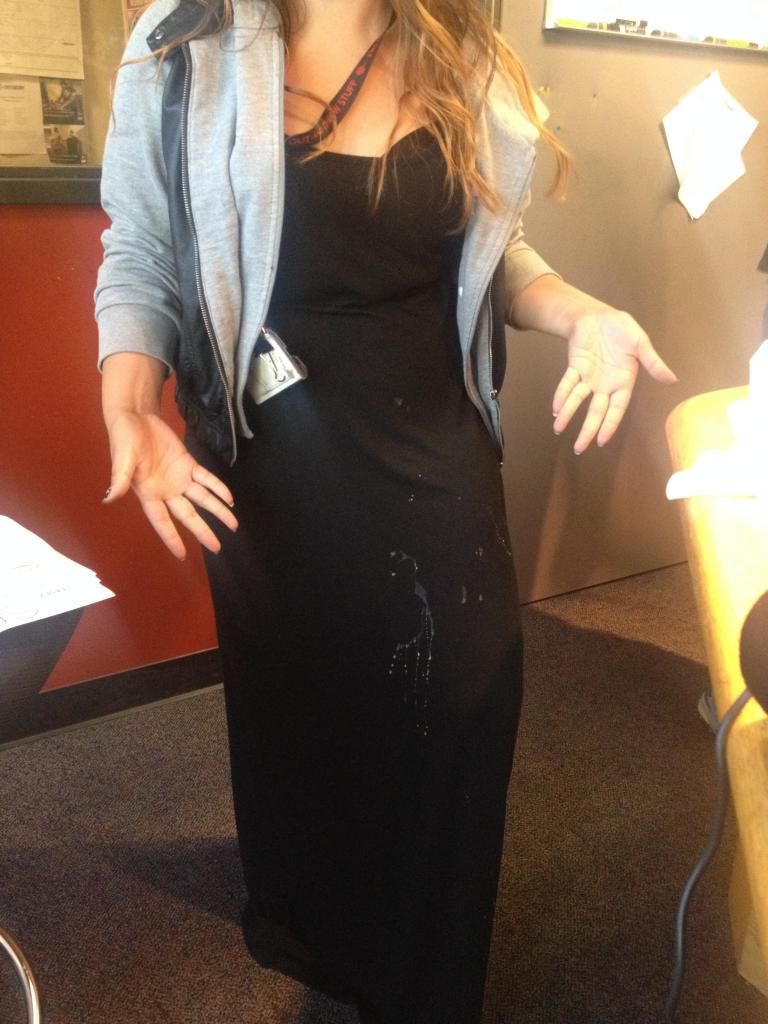 This morning at around 5:50 AM…a new Buckcherry song popped on our airwaves. It's a cover of the Icona Pop's hit song "I Love It"…and Toppy & I were "lovin' it".


---
Hello again, fellow Rock-A-Holics! It's always fantastic to see you, but why don't you introduce me to your date? Wow, what a specimen you are! It's lovely to meet you. Would you like to join us for some Group Therapy?

Today's edition is a real doozy. We heard from Marissa, who recently found herself in an awkward and confusing situation. Marissa and her boyfriend were out with several friends, hitting the club to go dancing. As they were dancing, one of the other couples approached them and asked Marissa's boyfriend if he would be interested in swinging with them!

Marissa is an open-minded young woman, so this request didn't shake her up at all. Her boyfriend said he'd have to ask how she felt about the idea, but the other couple said that they didn't want her to be involved.

OUCH.

Marissa was offended by the idea that she wasn't chosen to be a part of this sexual escapade. This is a pretty natural reaction; we have a society that thrives on inclusion, and being excluded can lead to some pretty serious hurt feelings, especially in a situation as intimate as this.

The boyfriend thinks that she should just drop the whole thing. Personally, I don't understand why a couple that's so open-minded in their sexual thinking would assume that asking one-half of a couple to have sex with them wouldn't have some dramatic repercussions.

Marissa wonders if she should ask the couple why they excluded her from their offer. What do you think, gang?

---
Today's blog comes from one of my mentors, Dan Sanders:

The last couple of weeks have been heartbreak city for many of us with the loss of Robin Williams, Lauren Bacall, and just last week the great voice of Don Pardo. My emotions, as yours probably are, are on sadness overload. So this week I have decided to drift into make-believe and fantasy. I leave the question open, though, is it really just a dream?

One summer in the 1700's, a boy walked up his favorite hillside, the dark blue sky and white clouds drifting above the water, and looked at the harbor below, seeing the sky reflected in the blue waters, made more beautiful by the white sails of the tall ships and the white clouds right next to them. It was as if the sky was the sea and the sea was the sky. It seemed to him that the world could be turned in either direction and still keep a steady keel.

He continued his hillside walk to the highest point, looking down on the harbor he loved, down on the schooners and whalers, the frigates and war ships. It was the ships that carried goods from faraway exotic places that thrilled him the most. He dreamed of the day he too would sail outside the harbor to those places of mystery and magic. The sea called to him like a mistress waiting in the dark, barely hidden behind a dream, calling to him to learn from the trade winds of life that would forever blow.

On this day as he looked at his town, he wondered what changes time would bring, how hundreds of years would change what he saw, the new and incredible things that would change his town that he would never see. Oh, how he longed to be a part of this place forever.
Hundreds of years later, I wake from this same dream, the dream I have had repeatedly since childhood, the dream of a boy and the great sailing ships, the harbor, and the view from the top of his hill.

That same morning, I walked to the top of the hill and looked down. I knew this place had spoken to me, had called to me through the ages. Even though the skyline had changed, the sky had not, and though the ships had engines instead of sails, my harbor remained. As I stood on my hill, I could not help but wonder, which was the dream?

It was once again as if one was either, and both existed one inside the other, and this place had always been and always would be my place in time and space. There was more to know, and I knew that the dream would continue and the question would remain. Which was the dream, the boy or the man? Could you turn one, one way and one the other way and still have an even keel? Is the dream a memory? Is the spirit of the boy still walking those hills today as the man? And what role is time playing?

Not sure what flights of my imagination wait on the shores of Rambling Harbor, but join me there and give a listen.

http://dbsanders.podbean.com/e/emotional-break-time/
---
We are back from vacation…and what an awesome vacation it was! I went to Maui and stayed at the Hyatt in Lahaina, or as I called it… "La-Hieney" – yes, I'm full of high-brow humor! Maui is my favorite place on earth…and while there I learned a valuable lesson… Do not sit in the sun and play on your iPAD. I did that and I apparently didn't apply enough lotion on my skin as later that night I looked at myself in the mirror and I was burnt everywhere except for a part where my arm was holding the iPAD…so I had a pale square spot right on my chest!

I will spare you the picture of that as it's too much sexy to handle for the internets, that…and I didn't take a pic. Here are a couple pix from Maui…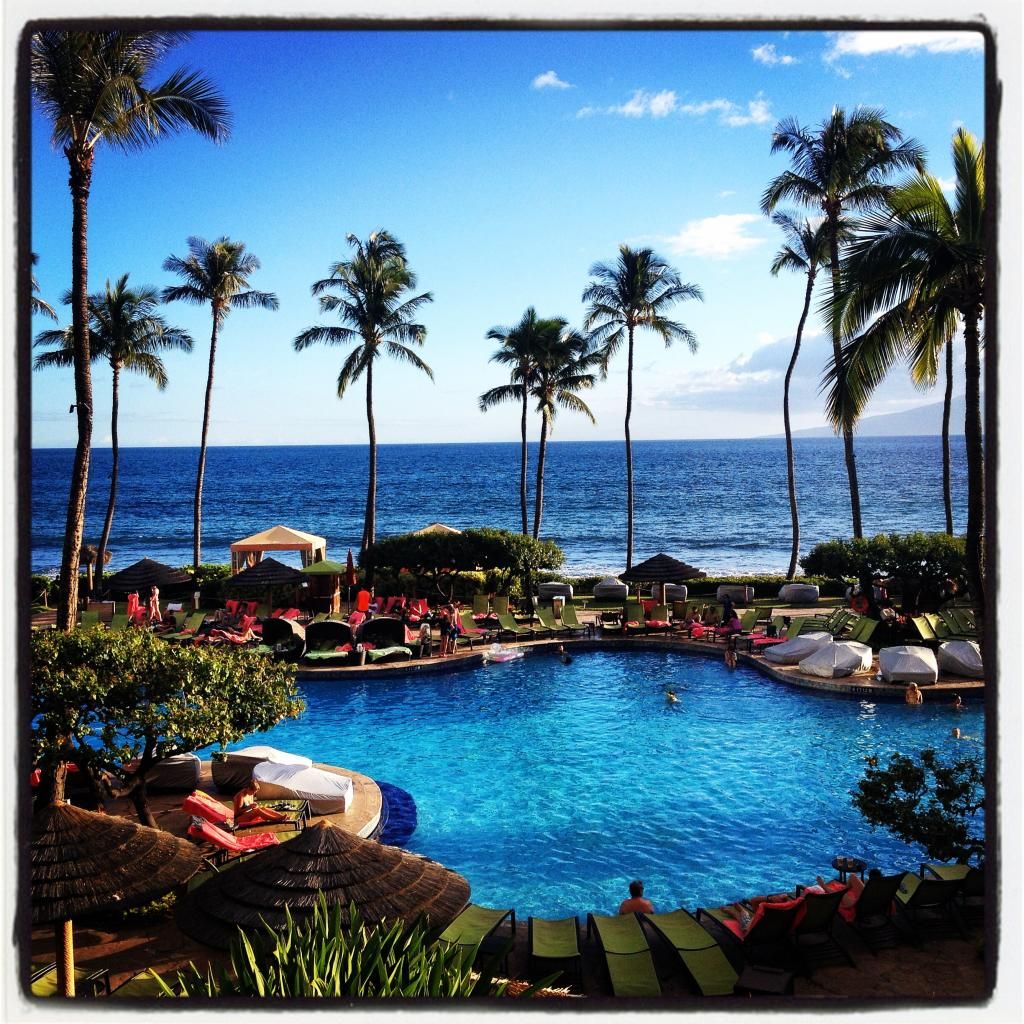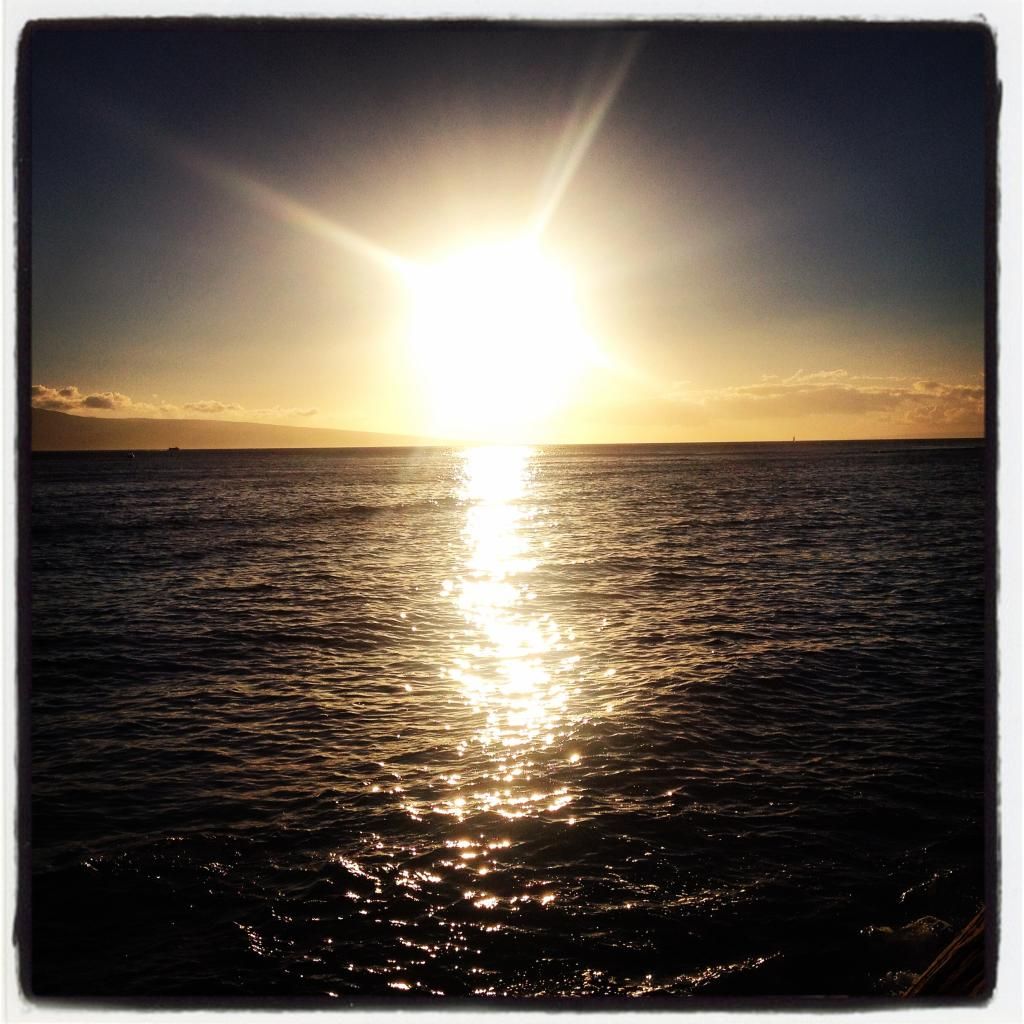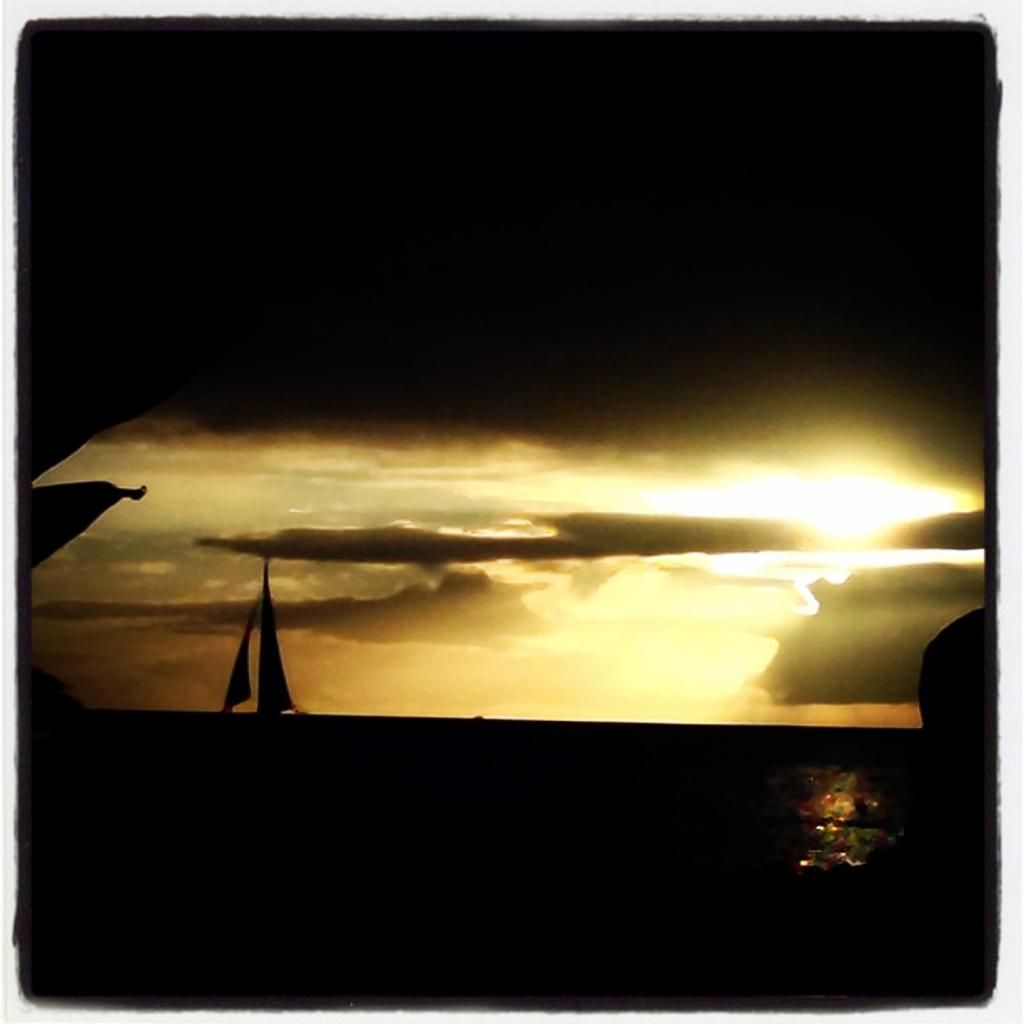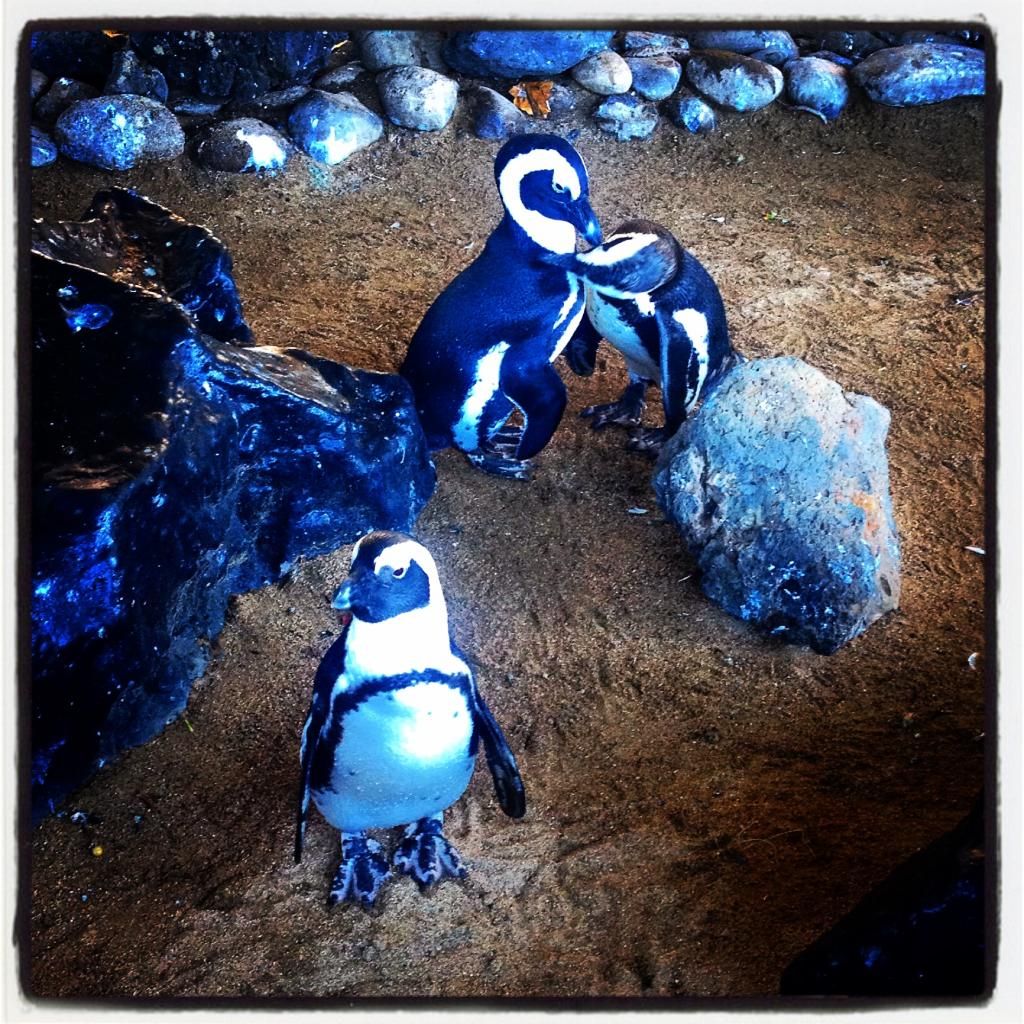 Over the weekend, thousands of people lined the streets as for the first time in seven years; Red Bull hosted the Soap Box Race in Seattle! Our very own Max Long was there to report on it…here is another installment of the Max Long report…

---
The summer is winding down and labor day weekend is just around the corner. It's time to end the summer off with some real righteous metal. There's no reason to lie, it was a pretty harsh toke when it was announced that the Summer Slaughter tour was skipping Seattle this summer. To many of us, Summer Slaughter is THE tour of the summer. While Mayhem Festival always has a few pretty choice bands you want to see, more often than not, Summer Slaughter hits the head right on the nail of underground loud music, mixing death metal, grindcore, tech metal and any other core under the sun for a days worth of ear-crushing chaos. So, without that, we've kind of had to make due. This Tuesday and Wednesday are our chance to watch some of the wildest guitar sweeping juggernauts this side of Yngwie....

On Tuesday (August 26th) at Studio Seven, The Faceless will be headlining a show that features a whole lot of awesomeness - Rings of Saturn, Archspire, Fallujah, Black Crown Initiate, Ashes of Existence and Prometheus. The show starts at 5 pm, so clock out and head right over !

You might as well spend the night at Studio Seven because that's exactly where you'll find yourself on Wednesday night ...that is, if you have solid taste in metal.
The almighty ORIGIN headlines a show alongside KIng Parrot, Beyond Creation, Your Chance to Die, Countless the Dead and Odyssian. This is another early one, it starts at 5:30.

If you haven't had the pleasure to listen to any Rings of Saturn....well, now's the time. Sit back, eat a cracker or two, drink your favorite beverage and enjoy the musical styling of this straight up insanity. For fans of: blowing your f****ing mind! Get familiar, then go see them open up for The Faceless on Tuesday. You owe it to yourself.




---