This is Halloween week, ladies and germs! That's always a time of hope for me: it means that we're quickly approaching the one day each year when I can feel a little less unsettled by the creeps and weirdoes that I'm forced to work with around here.

For the other 364 days of the year, I just use Group Therapy to distract me.

We heard from a father who is reaching out for a little bit of advice from his fellow Rock-A-Holics. The man's son is 23 years old, living at home, and has been unemployed for a while; not surprisingly, his parents are concerned about his future, especially his mother. A few months back, Mom discovered a marijuana pipe in her son's room. What she doesn't know is that the pipe belongs to her husband.

Hoo-boy. Let's go on.

Dad convinced Mom it wasn't a big deal, so she didn't talk to her son. A few months later, the still-unemployed kid is back under his mother's suspicion: she thinks that he's a pothead, and that's why he can't get a job. Having never smoked pot before, Mom has told Dad that he should confront their son, or she will. Now, Big Daddy Weed is wondering if he should come clean to his wife, bring his son into his secret world of (legal) drug use, or go to an as-yet-unrevealed third option, which I assume he's hoping one of you (or us) can suggest.

My god, it's like a Lifetime version of "Breaking Bad".

Get a clue, Dad. You seem to have no idea where the heart of the problem lies, but here's a hint: it's nothing you said in your email. I suspect that your fellow Rock-A-Holics can pick up on this, too, so I'm going to let THEM speak to you.

Go ahead, folks. The floor is yours…
---
I'm going to get on my soap box for a second, if you don't mind. This needs to be addressed, as Friday is the day people hit the streets with their pumpkin shaped bucket…or a bag…going door to door for some candy.

Who really likes Candy Corn?

Could there be a more P.O.S. candy out there? C'mon…if it was THAT good…people would be buying it year round. It's so crappy it's only around for one "holiday". Eff Candy Korn…it taste like slightly flavored wax. If it's not good enough for the rest of the year, it's not good for me … EVER!

Thant being said…if you have ever been curious as to how they make Candy Corn…here you go…

---
Sit N Spin Billboards Top 10 Halloween Songs


Tis the season Rockaholics! Today's Sit N Spin featured a list from Billboard.com and their Top 10 Halloween Songs. They put the list together with airplay and sales in mind. Check it out here. http://bit.ly/1wDNEfz

Now it doesn't take a rocket scientist to realize that their list is pretty family friendly. And we also discussed how Rock Radio, KISW in particular……nearly every song we play could have a Halloween spin.

Now I told you I would make you a fat Halloween playlist instead of the list below. Dig that here! These are personal fav's that have Halloween and evil written all over them! Playlist includes: King Diamond, Type O Negative, Alice Cooper, The Sonics, Ministry, Ghost, Helloween, Motley Crue, Black Sabbath, Uncle Acide & The Deadbeats, Faith No More, Diamond Head, Misfits and more! http://bit.ly/1tgqdZs


Billboards list!

10. "This Is Halloween" - Danny Elfman
9. "Highway to Hell" - AC/DC
8. "Don't Fear the Reaper" - Blue Oyster Cult
7. "Creep" - Radiohead
6. "Superstition" - Stevie Wonder
5. "Werewolves of London" - Warren Zevon
4. "Deal With the Devil" - Pop Evil
3. "Ghostbusters" - Ray Parker, Jr.
2. "Monster Mash" - Bobby "Boris" Pickett & the Crypt-Kickers
Though it's been decades since this kitschy, creepy faux-Frankenstein party tune scared up a No. 1 slot on the Hot 100 in 1962, Bobby "Boris" Pickett & the Crypt-Kickers' "Monster Mash" has been on Halloween party playlists ever since.
"Thriller" - Michael Jackson
"Thriller," which hit No. 4 on the Hot 100 in 1984, is the most-downloaded Halloween-themed hit of all-time, with digital sales to-date of 3.4 million, according to Nielsen SoundScan. (It's also Jackson's best-selling download, ahead of runner-up "Billie Jean," which has sold 2.7 million).
---
Have you watched this new series on HBO called "Sonic Highways"…it's a show about the making of the new Foo Fighters record, and it is beyond incredible! The basic premise is that Dave and the gang travel to a few different cities that are rich in musical culture…they talk to some of the local legends, set up at a popular recording studio in that city and write and record new music. It's fascinating to see how the city and it's "vibe" will influence the music.

The first episode was all about Chicago…they were immersed in the blues, chatted with Buddy Guy…and they also spent time with Rick Nielsen from Cheap Trick (amongst other artists) and power pop rock was definitely discussed. The song that came out of that was "Something From Nothing", and Rick from Cheap trick even laid down some guitar parts on the song. At the end of the episode they have a video for the song…check this one out, and trust me…after you watch the show you will love this song even more!



Episode 2 is all about the Washington D.C. punk scene…heavily focusing on Bad Brains, as well as Fugazi's Ian MacKaye. I LOVED this episode as Dave is deep rooted in this scene (he was in a DC punk band called Scream before he joined Nirvana). It was cool seeing old footage of Dave, as well as learn a lot about an incredibly influential scene! The song that came from it truly blew me away…I must've listened to it 10 times this morning. I can't find the video of the song that ends the episode, but here is the song, "Feast And The Famine":



Finally…have you had a chance to check out what Larry King is doing these days? He is posting random thoughts on Twitter, and they are AWESOME! Check out some of the more recent ones: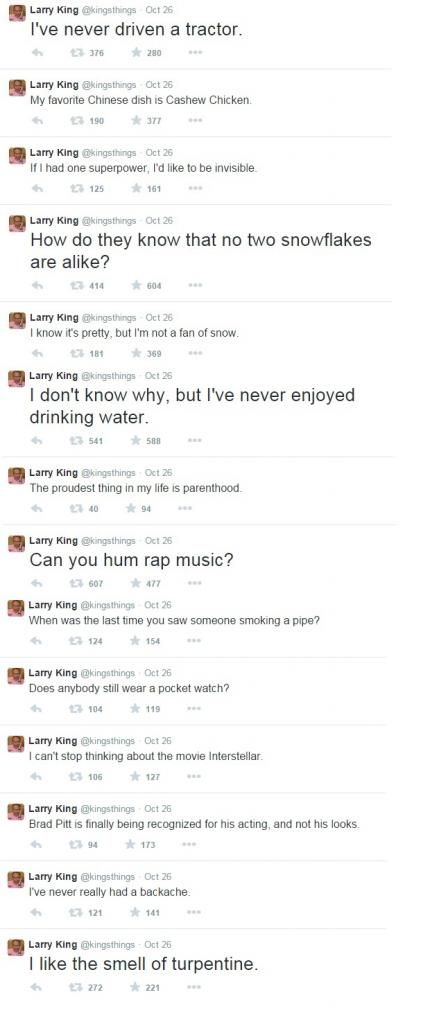 ---
Snap on the glowsticks, and tell the DJ to play my jam…it's time for Group Therapy!

(I think that's what the kids say, right?)

Daniel wrote us for some help. Halloween is coming up, and Daniel's daughter, who just turned 18, wants to go to something called Freak Night; it's a rave, and single parent Daniel's feeling uncomfortable because he has a lot of worries about crazy music, skimpy clothing, and less-than-legal party aspects that could rear their ugly head. He wants to know if he can put his foot down and forbid his daughter from going to the rave.

I speak from experience here: your kids turn legal at the age of 18, and it's pretty hard to play the Parent Card once that happens. You raised the kid, you're accustomed to having the voice of authority, and you want to invoke the "My Roof, My Rules" regulations whenever you get worried about a situation they want to get into.

You have to know your kids. Is your daughter the responsible type, Daniel? If she is, that needs to be your default setting when dealing with her. If she's NOT responsible, then maybe your concerns are based in something more than garden variety parental fear. Again, I've made these errors with my own (responsible) kids, and I wish I hadn't.

Sound off, Rock-A-Holics! Let's hear it from you!
---

Soundgarden have posted a brand-new song called "Storm" on Vevo. The band hasn't offered up much info about the track except to say that it was recorded in May with producer Jack Endino in Seattle. Stoked to have a new song…..even if things are still mysterious as far as this new song goes. I love the guitar! Kind of has a post punk, goth, feel. Reminds me of Killing Joke in a weird way. NOT U2. Enjoy "STORM"!!!

---
Man…I don't usually get heavy or serious in my blogs, but I…like probably many of you…still can't make sense of what happened at Marysville-Pilchuck High School on Friday.

My thoughts and prayers have been with everyone affected, and will continue to do so…it's tough one to digest. I won't bore you with my opinions on this (and shame on those that are using this to push some political agenda…let people heal please), other than that High School is a tough time…it's not always fun and it might seem to be the be all / end all, but it's not.

The one thing I wanted to highlight is a teacher that proves that during a insanely scary time, true heroes arise. Megan Silberberger is a first year teacher and when she heard the shots, she didn't run…which understandably is the first reaction for many, instead she ran to the shooter and from all the reports I read…she stopped what could have been an even more tragic scene.

You can read all about it HERE. Take a second to do so, and lets all be thankful that a woman like Megan Silberberger was there.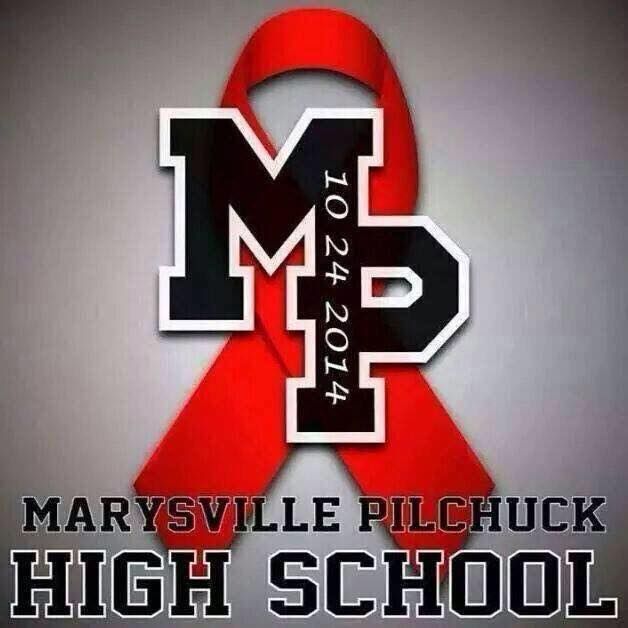 ---
Today's blog comes from one of my mentors, Dan Sanders:

For the last episode of a scary Rambling Harbor this Halloween, I want to tell you a true story that happened to me.

Sometime around 1974 in the spooky month of October, on a clear cold night around 1 a.m., I was driven up a narrow winding road in a rural, out-of-the-way location. The road led up to what I later learned was called Hawthorne Hill. I wasn't sure why I was being taken up this hill, and I have to say I wasn't sure I wanted to go. The driver remained completely silent, a small smile escaping from the corner of her mouth. Had she been sealed in secrecy by some demon? Oh, the power of one's imagination on a haunting New England night!

Nearing the top of the hill, I could see the twisted figures of leafless trees dancing against the sky, old abandoned buildings hiding not just their past but their present, a dim light coming from a smaller building still in use—but for what demonic purpose? With that thought, as suddenly as cold wind chills the body, a feeling of death covered me. I knew people had been brought here and died horrible deaths, buried in the woods with nameless markers. Still I had no idea why I had been taken here.

My driver was a woman I had known for only a few weeks who had come to America from Sweden as a stowaway on a tramp steamer, and what did I really know about her? Did some horrible death await me as it had others she may have brought here? Again, the power of imagination on a cold clear haunting New England night!

My friend, knowing my part-time fascination with the supernatural and macabre, had driven me to see "The Lunatic Asylum."

Danvers State Hospital was a place so scary that the 2001 movie Session 9 was filmed there. (If you want to see a good scary move for Halloween, Session 9 is it!) Danvers State Hospital has gone by many names over the years—the State Lunatic Hospital, Danvers State Insane Asylum, and even Hell House on the Hill. There were reports that inhumane shock therapies and lobotomies were used on humans—Danvers Lunatic Asylum is known as the birthplace of the lobotomy—and experimental drugs and straitjackets were used to keep the crowded hospital under control. How many people are buried on the grounds and what horrible deaths brought their lives to an end will never be told but are perhaps reflected by the dancing trees and the walls of the old buildings. I can tell you that the feeling I had about the place that night had nothing to do with my imagination.

After being closed for many years, the Danvers State Hospital site has been redeveloped as luxury apartments, but stories are still told about unexplained voices and images, and the only thing left of the asylum is the cemetery and the nameless markers.

Join me on the shores of Rambling Harbor as we wrap up our tribute to Halloween.

http://dbsanders.podbean.com/e/the-lunatic-asylum/
---
Alright Rockoholics it's time to get your metal gear on and hit the Moore Theatre this week for King Diamond (Tuesday) and In This Moment (Thursday).
The lead singer of Mercyful Fate - King Diamond is currently on his first solo tour of America since his 2010 triple-bypass heart surgery in which he came out of the procedure healthy enough to make a full recovery over these past years. As a vocalist, he is known for his extensive multi-octave falsetto vocal range. Lyrically one of the best storytellers of Horror, Satan and Grandma stories you'll ever here and theatrically put into the show. This North American tour will be bearing witness to the band's full European festival stage show! Yes the full stage gated one! This show has been SOLD-OUT for a awhile so unless you find some tickets on Ebay you're outta luck.
Opening the King Diamond show the cool Finnish mainstream occult rock from Jess & the Ancient Ones.
Thursday 10/30 In This Moment play the Moore Theatre. Always a great theatrical act to see live, Maria Brink and her band mates are starting out their 2 month long tour supporting their new album "Black Widow" out on Atlantic Records November 17th. Here's the first single and video "Sick Like Me" from the album. Buy your tickets now: http://purchase.tickets.com/buy/TicketPurchase?pid=7855460&orgid=30247 and pre-order the new "Black Widow" album here: http://inthismomentofficial.com/landing/ Show openers: Twelve Foot Ninja, 3 Pill Morning & Starset
Also on Sunday 11/2 the New Wave of British Heavy Metal kings RAVEN play Studio Seven! Back in the day they sold out the Moore Theater many times over and still to this day some of the greatest shows ever seen in the Moore! Many tracks on their classic "Live at the Inferno" album back in 1984 was recorded at the Moore! RAVEN was the first band ever to take Metallica out on the road! Be badass to see them tour again sometime! Buy tickets here: http://www.etix.com/ticket/online/performanceSearch.jsp?performance_id=1833247
Watch for my show reviews and photo blogs later this week! "Iron" Mike - www.facebook.com/SavoiaPhotographyLive
---
Yesterday I was given awful…awful news. It even pains me to write about it. I got this alert on my email…
ONE DIRECTION ANNOUNCE EUROPEAN AND NORTH AMERICAN DATES FOR THE WORLDWIDE ON THE ROAD AGAIN 2015 STADIUM TOUR
Seattle, WA – CenturyLink Field
Wednesday, July 15, 2015
When I think of some of the bands that have taken the stage at Century Link / Qwest Field…I think of Metallica...I think of The Rolling Stones…I surely don't think of One D. It felt like someone kicked me in my "One D".

Isn't there something Paul Allen can do? Can't Russell Wilson pull a favor and have something else scheduled? Anything…hell even a dog race would be better! We got a few texts about it…

Hey STP - At least on the bright-side, you know it's going to pour down rain at the one direction concert. ;) –Shane

If Ted Nugent can be banned from a venue in our state those assclowns can too
---
Sheriff Tony Lippa
Oct 29