Posts from September 2014
Sit N Spin All 87 Led Zeppelin Songs, Ranked according to SPIN



The gang over at Spin.com have ranked according to them the top 87 Led Zeppelin songs. This is a HIGHLY DEBATEABLE LIST!

Check it out! http://go.spin.com/1uzEjYC

For Sit N Spin we went to the top of the list and covered the final 10.

Dig the playlist of sweet, sweet Zeppelin tunes!! http://bit.ly/1vsUcNL

Below is Spin.com's thoughts on the top 10.

10. "Immigrant Song" (Led Zeppelin III, 1970)
With an opening and riff as classic as either "Love" or "Dog" (and twice as violent), "Immigrant Song" also has the advantage of being under 150 seconds long, an improbably compact shore-invading assault that barely gives you time to process its ass-kicking awesomeness before it gives way to "Friends" on LZIII. Any hockey game where this song isn't played at least once — and preferably once per goal, home or away — is not giving its attending fans the experience they deserve. (And in terms of geeky metal imagery cliches, norse mytholygy >>>> Frodo.)


9. "The Rain Song" (Houses of the Holy, 1973)
That's the Way" is the band's best acoustic number, but "The Rain Song" is their best ballad, a gorgeous, chiming epic that builds and unwinds itself perfectly, with strings, piano, and even mellotron all adding to the song's stately mystique. Even without the title and "Just a little rain..." section of the song's climax, it evokes the feeling of rain falling outside your window as well as any other song ever has, and shows that the world's biggest band didn't always have to go huge to achieve maximum impact.


8. "Misty Mountain Hop" (Led Zeppelin IV, 1971)
The secret weapon of the group's best album, cleansing the palette post-"Stairway" with one of the group's simplest, most accessible and most addictive rockers. The overstuffed verses create a tension with their mantra-like intonation, one gleefully alleviated by the sheer release of the main riff, a streamlined guitar, and electric piano wallop that keeps Plant's raving about a late-'60s hippie bust from ever getting bogged down in flower-power dippiness or self-righteousness. It's an absolute blast, and one of the more underrated numbers from Zep's classic period, if such a thing is even possible.


7. "Ten Years Gone" (Physical Graffiti, 1975)
Perhaps the best Zeppelin song that radio never seemed to really get a handle on, a dark and devastating epic that lives up to the contextless drama of its title. It's also the secret masterpiece of Jimmy Page's ouevre, a stitching together of about a half-dozen riffs, each of which has its own unmistakable identity, somehow woven together to create the base for a surprisingly coherent masterwork of regret and unease. "It sounds like nature coming through the speakers," Rick Rubin once said of the song, and he wasn't wrong.


6. "When the Levee Breaks" (Led Zeppelin IV, 1971)
If John Bonham never did anything for Led Zeppelin but the first two measures of "Levee," his place in rock history would still likely be secure. The song's thundering intro — the famous sound of which was achieved with two mics at the other end of a staircase from the kit — has been sampled and rebuilt so many times in rock and rap history that you'd think it'd lose its impact, but when it hits as the last track on LZIV, right before Plant zooms in with that swampy harmonica blaring, it doesn't matter how many thousands of times you've heard it before. The rest of the song is nearly as great, but when you have the best intro on a Led Zeppelin song — the group with more classic intros than any other rock band in history — it's worth keeping the focus on that.


5. "Fool in the Rain" (In Through the Out Door, 1979)
A large portion of the Zep-listening population would likely bristle at the inclusion of the band's final Top 40 hit in their all-time top five, and it's not hard to see why. Conceptually, the song sounds disastrous: a pop song closer that's just as much "Bennie and the Jets" as "Whole Lotta Love," which drops out with a hissing disco whistle for an extended samba breakdown? Luckily, Led Zeppelin were really good goddamn songwriters, and "Fool" is as tight and catchy and clever as any other late-'70s crossover, with one of Plant's finest story lyrics — a mopey tale of getting stuck in the rain waiting for a date, with the perfect last-line resolution — and an out-of-nowhere Page solo that shreds about as much as anything he did on the band's first few albums. Ignore the haters: "Fool" is classic Zep, and shows that the band was still capable of excelling in new and interesting modes, right up until their untimely breakup the following year.


4. "Stairway to Heaven" (Led Zeppelin IV, 1973)
The most monolithic song in rock history, a song that's no fun to write about and is occasionally no fun to even listen to. But what can you say? "Stairway" is "Stairway," and there'll never be another song like it. If it's not the band's best song, it is the one you need to have heard, the one that tells you everything about the band's lyrical and musical infatuations, their strengths and their weaknesses, their power and their legacy. And by the end, yeah, it rocks pretty damn well too, with a Page solo consistenly ranked as the greatest in music history, and deservedly so. It might not be our favorite Zeppelin song — the Song Remains the Same doc might have permanently ruined any chances of that — but if you were to put it No. 1 on your list, we couldn't really disagree with you.


3. "Heartbreaker" (Led Zeppelin II, 1969)
A typically searing main riff and Plant vocal for the first few verses, but "Heartbreaker" doesn't reach its highest gear until the key shifts unexpectedly for the song's makeshift third verse, which goes all crazy at the end ("Why'd you call me some other guy's name / When I'm tryina make LOOOOOVEEEE TO YOUUUUU!!!") before cutting out completely for a solo Page showcase. His playing in that section, sans accompaniment — rivaled only by "Eruption" as the most famous true guitar solo in rock history — is peerlessly electrifying, and the moment when the band kicks back in is nearly as good.

Taken in full, "Heartbreaker" is an insane mishmash of questionable ideas — hell, how many other songs can you think of that end mid-word? — but the band's brilliance and sheer bravado carries it, making it one of their best and best-remembered songs, and proof that they could simply do things other bands could not.


2. "Kashmir" (Physical Graffiti, 1975)
The song Led Zeppelin themselves would most like you to remember them by, and for good reason. The biggest song on their biggest album in the biggest stretch of their career, "Kashmir" was, obviously, Led Zeppelin's ultimate too-big-to-fail moment: a plodding eight-and-a-half minute journey through a faraway land that Zeppelin themselves had never even been to, a song which was either going to define them as pretentious fops whose reach far exceeded their grasp, or simply, the greatest hard-rock band in the history of recorded music.

Naturally, it did the latter, as the song stands as their most singular, hypnotic and awesome-in-the-truest-sense epic of the band's career — though they'd have their moments in the former category soon enough. Puff Daddy caught some heat when he sampled the song for the silly "Come With Me" off of the 1998 Godzilla sountrack, but his instincts were right: The "Kashmir" riff is the sound of a gigantic green lizard wrecking a downtown metropolis, and like the rest of the song, it never ceases to amaze.


1. "Over the Hills and Far Away" (Houses of the Holy, 1973)
Why "Over the Hills"? It's not the band's best-known song or biggest hit. It's not the band's most rocking or prettiest song. It's probably not the first song that anyone thinks of when they think of Led Zeppelin. But it is the song that best demonstrates just about everything the band does well: the unforgettable and impossible-to-pin-down opening riff, the life-affirming transition from acoustic to electric, the constant switches in tone and dynamic, the piercing solo with double-tracked climax, the impeccable interplay of guitar, bass, and drum, the inimitable Plant shrieking, the gorgeous coda, even the super-oblique title... it's Zep through and through, checking all of the boxes and kicking your ass while doing so.

But the thing that really seals it for "Over the Hills" is the sense of wonder it inspires. Zeppelin's greatest quality, apart from the weird time signatures and otherworldly instrumentation and teenage-male-pandering lyrics, was their ability to elevate, to make you believe that there was a secret world of higher musical understanding that only they as the Ultimate Rock Gods had access to, and which they could transport you to for three to ten minutes at a time, depending on which side of which album you were listening to.

The climax of "Over the Hills," as the song's main hook starts to fold in on itself, and Plant does his "You really ought to know..." wailing, as the song echoes on and on into infinity, is as wondrous as the band ever got, achieving a classic-rock nirvana that only a handful of songs in history have ever been lucky enough to be able to touch. The harpsichord outro and brief fade-in of the rest of the band that closes the song brings it back down to earth a little, but the sensation lingers on far after you're done listening. Zeppelin rules.

---
I'm pretty pumped today…on the STP-CAST we will be chatting with Roddy Piper! That's right, Hot Rod joins us! You will also hear highlights from the interview tomorrow morning…and you will have a chance at meeting him at the Mad Monster Convention at the Hyatt Regency in Bellevue this weekend (10/3-10/5)!
Roddy will be there, as well as Peter Criss from KISS, Marky Ramone, and a bunch of people that horror film enthusiasts will be stoked to meet! People like CJ Graham, Stephen Geoffreys, Amanda Bearse, and more!

Get info here: http://madmonsterseattle.com/

One of the guys that will be there is a guy we work with! We work with David Katims, and one day I was B.S.'ing with him and I learned that he was in Friday The 13th Part 3…How crazy is that! He played Chuck…



Toppy and I are ready to do the STP-CAST…both of us are rocking the "colors"!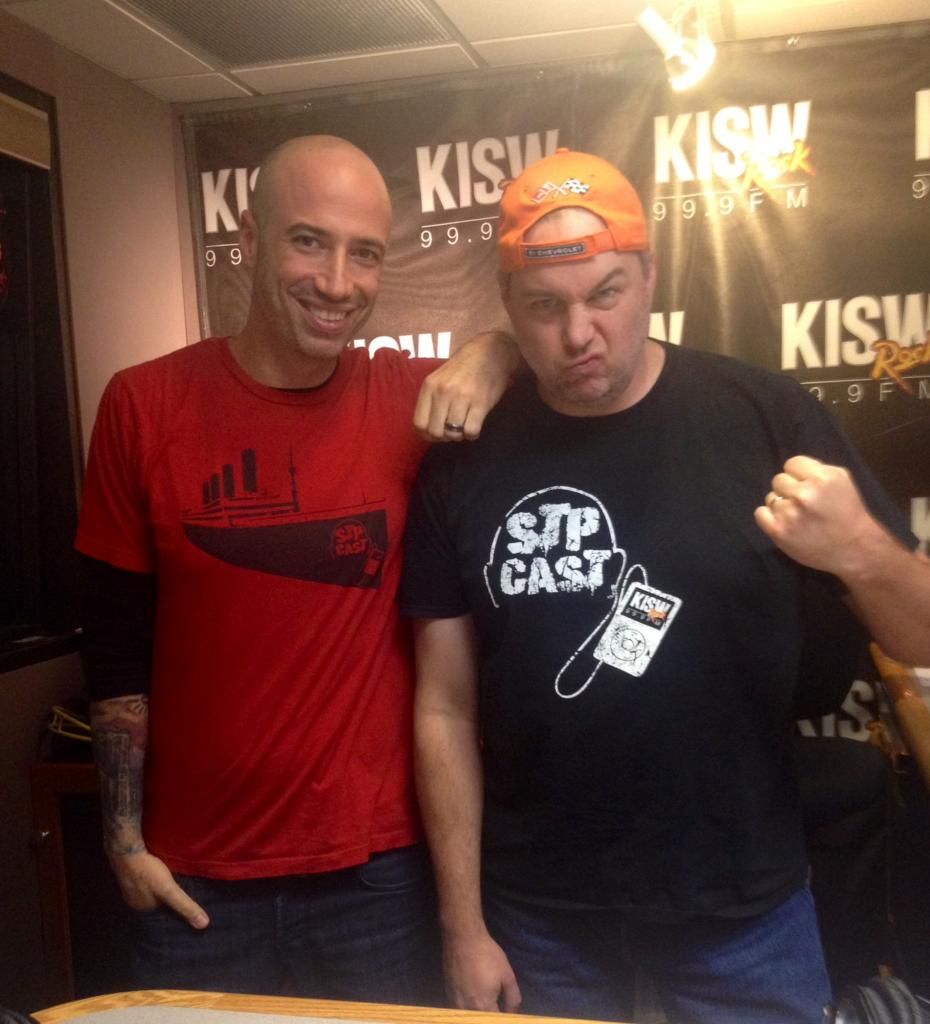 ---
Hey there, gang! You're looking really great these days! You, uh…wanna hang out some time? I know I wasn't interested before, but that was before you looked this good. Are you down for some Group Therapy?

We heard from Tanya, who has dropped a fair bit of weight in the last year – 50 pounds, and we congratulate her on the healthy achievement. A year ago, when she was still heavy, Tanya had a big crush on a guy who wouldn't give her the time of day. She ran into the same guy recently, and he gave her plenty of attention; in fact, they exchanged numbers, and he's already texted Tanya to ask her out!

Tanya's feelings on this situation are split down the middle: one side of her wants to embrace the opportunity to date her college crush, while the other wonders if he's only giving her a chance because she lost all that weight.

This one's too heavy for me, Rock-A-Holics. I'm turning it over to you for a judgment call. Let's hear it!

---
I just want to say – Go Mariners!

What an awesome weekend…who would have thought that the M's would have a chance to be in the playoffs on the very last game of the season? Sadly they didn't make it, but they took us on an incredible ride… baseball in Seattle is exciting again!

Thanks to King Felix for ending the season on a high note…he dominated yesterday! Thanks to Robbie Cano – he quickly shut up all the people that questioned how much the team spent to bring him here…yeah it was spendy, but he clearly brought a winning atmosphere to the team. If Felix doesn't win the Cy Young, that's com plete B.S. – Hell, I feel that Lloyd McClendon deserves manager of the year for what he accomplished this year.

Most importantly, thanks to Tom Wilhelmsen for bringing the sick dance moves to Safeco!



So on Friday Tom Morello was in town for a show at El Corazon, and Chris Cornell joined his former Audioslave bandmate. I wasn't there, but our station's photographer and blogger, Iron Mike Savoia, was there and he got some awesome video of their set together…



Click HERE to read Iron Mike's blog about it!
---
Today's blog comes from one of my mentor's, Dan Sanders:

Remember the song "Psycho"? It was written by Leon Payne, an incredibly good songwriter who wrote many top hits for country singers. He was known as the blind country balladeer, partly because he was blind and partly because he was a country balladeer. The song was actually inspired by a particular incident.

In 1966, a man named Charles Whitman strangled his mother to death, stabbed his wife, and then headed to the top of the University of Texas library tower and opened fire on an unsuspecting crowd, using his Marine Corps sniper rifle, killing sixteen people. Whitman was gunned down by police.

Apparently Whitman complained for a long time about headaches and strange feelings, and an autopsy later revealed he had a brain tumor. On the day he purchased his rifle, Whitman also bought a can of Spam.

The version of "Psycho" that inspired Elvis Costello's version was recorded by Jack Kittel, although George Jones (yes, that George Jones) and Eddie Noack both recorded it previously. In the remake of Hitchcock's Psycho, the song was recorded by Teddy Thompson.

Now, about getting smaller (I have derailed again. I tend to do that, and some readers think I've gotten weird, if not psycho, as well. I ask them to assure the newbies that they may continue reading without losing any more grip on reality than they are willing to lose). I moved from a big place to a small place, and in that process I parted, sometimes happily, sometimes with tears, with things that have been held precious for generations from many childhoods. Many things belonged to my wife Jennifer who got her wings on September 25, 2011. No one wanted the things she had held dear, and I did not have room for them. Some things were donated, but others, like an old clay pot, are now landfill and giving back to the earth. My possessions are fewer, my struggle for money is less important than breaking the shackles of dependence on material things, and my life is simpler. In a world of belonging and longing, I have gotten smaller. Getting smaller is not age-reliant, but it is one of the benefits of getting older, and I will say that getting smaller can make you feel bigger. Ridding yourself of Stuff is cathartic. When you tell that to someone attached to their stuff, they may indeed think you're psycho.

Anyone paying attention to the Charles Whitman story would have quickly seen that someone buying both a gun and spam had issues, but isn't a lot of material stuff a little like spam? No one really likes it or knows what it is, but everyone has had it at one time or another.

So, what part did "Psycho" play in this piece? Really, none. As I said, I derailed myself, but I'm sure it made things more interesting than 500 words on landfill, and there is nothing like adding a bit of information to my esoteric ramblings on life.

There's more on Spam on the shores of Rambling Harbor. I hope you'll join me there.

http://dbsanders.podbean.com/e/physco-spam/

---
Yes you read that headline right! Former Audioslave members Tom Morello (Rage Against The Machine) & Chris Cornell (Soundgarden) played together in Seattle last night for a 15Now benefit concert at (yes you re reading this right) El Corazon! I couldn't acheieve a photo pass from organization so I did the next (or better) best thing for you folks that couldn't be there with us 800 other hot sweaty lucky peeps, video. Since cameras were not allowed my iPhone5 did the kick ass job to cature video of this historic show in Seattle ;) Enjoy your next hour of rockin entertainment which the video includes:
Now in the Fire cut (Rage Against the Machine)
Save the Hammer for the Man (The Nightwatchman)
(What's So Funny 'Bout) Peace, Love, and Understanding (Nick Lowe)
Imagine (John Lennon)
One (U2 with a bit of Metallica - One lyrics)
I'm the Highway (Audioslave)
Doesn't Remind Me (Audioslave)
Your Time Has Come (Audioslave)
The Ghost of Tom Joad (Bruce Springsteen)
Cochise (Audioslave)
This Land is Your Land (Woody Guthrie)
Enjoy ! "Iron" Mike Savoia - Facebook - Instagram - Twitter
---
This feels like a non-story to me, but it seems that a large number of people would tend to disagree:

The National Organization of Women (NOW) is putting some stock into the suggestion that something within organized sports – specifically, the NFL – is perpetuating a subculture that contributes to, or perhaps diminishes the seriousness of, domestic violence.

The NFL is not the government. There must be rules and consequences within the NFL, but matters of domestic violence are criminal in nature. Just like any other offense that violates our established social guidelines, these matters should be dealt with by law enforcement on the direct level, and addressed within the greater body of the law by the U.S. government.

I simply don't agree with people who are casting blame on the NFL, in its entirety, for the poor behavior of isolated individuals. Don't get me wrong: I'm just as bothered by the actions of those players as the next guy, but I certainly don't see how the business that employs these people should be involved in the blame game.

"Hate the player, don't hate the game" has never had more meaning than it does right now.

Your thoughts are welcome, friends. My head hurts too much when I try to figure this one out…
---
Have you seen this yet? I am probably the last guy in America to finally watch this, as everyone has posted this on their social media pages. I probably see it more than most around here as I have a lot of friends from New York on my pages...it's the Gatorade commercial for Derek Jeter. if you haven't seen it, check it out:
I'm a sucker for a good sports film, and now I guess I am just as much of a sucker for a good sports commercial. Wow. Gatorade knocked it out of the park with this ad.
I grew up loving the Yankees as that was my grandpa's team. For him and I, that was how we bonded...we watched the Yankees. We didn't just watch the Bronx Bombers, we complained about the Yankees...as this was during the 80's...the dark years for Yankees fans (the one decade where they were not championship caliber). This team was bad...always disappointing us, yet...we always watched.
Even though they were pretty bad most years....the team was full of personality...guys like Don Mattingly, Dave Winfield, Graig Nettles, Dave Righetti, Chris Chambliss, Goose Gossage, Butch Wynegar...of course sweet Lou Pinella. I loved that team. I will forever think of that decade as the final decade before greed took over...the 90's will always be the decade of "Strikes" (and not of the pitching variety)...and I slowly started falling out of love with baseball. Those were the days of players (especially the star players) staying with one team for their entire career, or most of it. If they did leave and go to another team it was HUGE news. Free agency surely changes that. That loyalty to one team was what made me love that sport...there was a certain level of comfort in knowing that Donny Baseball would be on first base every year. You never had to worry about a day that you would have to root against your favorite player, because he was on your favorite team until he hung up his cleats.
This is one of the reasons why Derek Jeter rules. I know, that name is causing many people to roll their eyes and say "Enough with this Derek Jeter crap". I get it. With social media and the internet at our disposal we are inundated with Derek Jeter talk. I don't mind it because he epitomizes what I loved about baseball. Drafted by the Yankees...played his entire career with the Yankees...and his final game at Yankee stadium couldn't have been more perfect, as he had the game winning hit.
I wish there were more Derek Jeter stories out there. The fact that I just spent the first 30 minutes at work writing this means that it clearly has an affect on me. Hell...it's currently 4 AM as I type this...I never do that, but I needed to get "it" out.
Thankfully the Mariners have this. This is why I LOVE Felix Hernandez as much as I do. If all goes according to plan, "King Felix" will be on the mound at Safeco his entire career. That loyalty makes me excited about a team, and makes me excited to root for the Mariners. Yes, I know that the dollar signs can help make a guy loyal, but I do think with Felix that it's not just the money...just watch the press conference he did after he signed his deal...
I know their playoff hopes are slim to none...but there is still hope with only a couple games left in the season...when is the last time we experienced that!
---
Here is the most disturbing picture you will see today!




Why are four grown men sharing one coffee? Ok…because it's awesome is a valid reason, but the real reason is explained in this week's STP-CAST! Listen on iTUNES, Stitcher, or right HERE!

Speaking of the STP-CAST – it's that time of the year again. I swear I am not going to inundate you with constant requests to vote…but some have asked where to go vote for us as Best Podcast in the Best Of Western Washington poll that KING 5 does. Here is where you go…we would love to come in at #2 for the 3rd straight year!

http://best.king5.com/stp-cast/biz/633659

If you do vote, please leave a comment on the voting page…the odder the better… I love reading some of the comments people have left…some hilarious stuff!

Any show that will put icy hot on their "beans", text dong pix to their women for their reaction, and squirt easy cheese down their throats is OK with me! TD4L -- Dave

There is none better. Their stupidity makes me feel smarter, and they make me laugh all the time. – Darryl

Some times it's a hilarious train wreck! The rest if the time it's just flippin hilarious! – Billy

I was down and out thinking that I was the only Titanic Douche in the world, but then I heard these guys. Thanks to their Titanic Douchebaggery, I feel more secure with my own Jerkmobilia. Raised in Bellevue, listening from Wellington New Zealand. – Cooper

Anyone who will slap icy hot on their boys for my entertainment has my vote. –Richard

I'm Stp's dog LuLu. I like when he plays my growl on the show. Woof woof. Grrr grrr. – Lulu

One minute they have a deep conversation about music, and then they race each other in who can "pee" longer in the morning. They don't try and act like anything they are not, and not your typical snarky podcast. This is an absolute listen. – Chuck

And now…here is a picture of me dressed as Bert, and I'm hanging with my pup Lulu…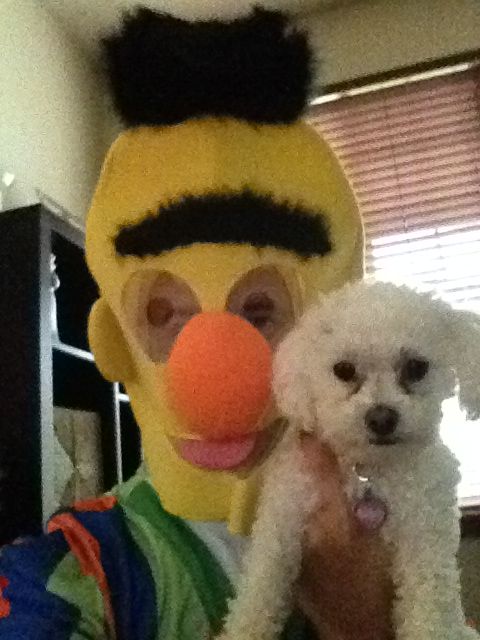 ---
Hello again, good people! It's time for some Group Therapy!

Today's topic was texted to us by a Rock-A-Holic named Mark. He has a sex tape with his ex-girlfriend, and they each have a copy of it. Mark is engaged, but he hasn't revealed this little tidbit to his fiancé, and he's wondering if he should. Mark is leaning toward NOT saying anything, but he says his ex is a little on the crazy side, and she knows the bride-to-be.

This is almost a generational question, because people who are currently in their 20s have come up in a society where shame and discretion are rapidly flying out the window, and recordings and photos of a sexual nature are extremely commonplace. Maybe this is a new "checklist question" for prospective mates: do you have a sex tape that might come back to haunt you?

I can see both sides of Mark's conflicted thinking, so I'm just not sure what the right answer could be. What do you think, gang?

BONUS HONESTY POINTS if you've been in this situation…and EXTRA SPECIAL BONUS HONESTY POINTS if you include a link to the video.*

(*Please don't include a link to the video. I see enough terrible things around here already.)
---