---
BJ's BLOG 10/24/11 "Victoria Liss"
Last week we talked about some new revelations to the Victoria Liss "horrible tip" story. For those who don't know, Victoria Liss is the waitress from Bimbo's in Capital Hill who posted a picture of a tip she received that said, "You could stand to lose a few pounds" and has received nationwide attention.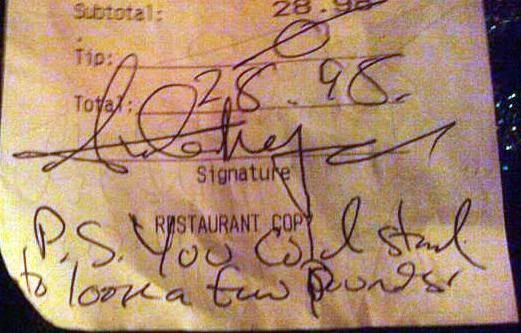 The newest revelation was of an online review from an unidentified person who describes the night of said incident.

The reviews states:

"My girlfriend and I had without question the worst restaurant/bar experience of our lives. The woman who was supposed to be serving us seemingly ignored us for 25 minutes."

Also according to the reviewer, they were served double-decker tacos, which they didn't order and they asked for regular tacos, the reviewer says that their waitress shot back with the snarky comment about how he "could use a little weight."

That is a big part of the story that Victoria Liss left out and if that's true, that's pretty lame on her part.

So basically he was given too much food after receiving bad service, and then was insulted by Victoria which led to his response.

Victoria responded saying that she didn't do anything to offend this person and as a feminist she thinks it's completely uncalled for a man to pick her apart physically when angry.

Didn't you say something to offend him first?

Why is ok for a feminist to comment on a man's appearance but it's not ok for a man to recommend back on the woman's appearance?

Aren't feminists about equality? Then why is it that you believe that you should be treated better?

By the way Victoria, maybe everyone else in the city won't grill you the proper way, because you're a woman and you're not supposed to do that but guess what? I will! If you are an idiot, male or female, I will grill you!

Victoria really sounds like a smarmy, Facebook, internet troll, who only likes to go and make other people's lives miserable even though she caused the miserable interaction in the first place.