---
BJ's BLOG 06/05/14 "Sully at Godsmack"
Yesterday I got our office talking…all because of a couple of tweets I put out there while I was on the crapper! Usually I wouldn't tweet pix while on the toilet, I save that foir SnapChat of course, but this was an exception to the rule… this is the first tweet…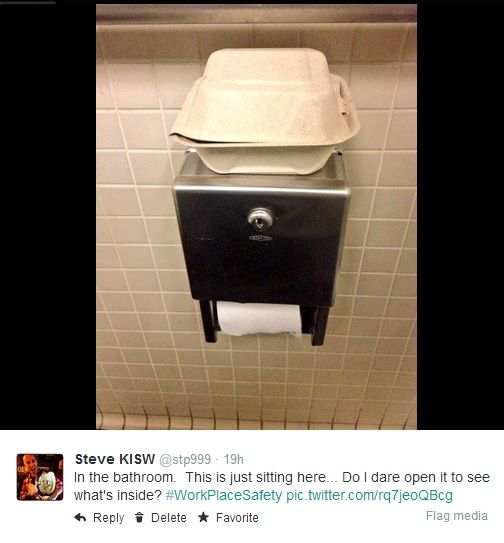 Then after a couple of people urging me to open the box, I did…and here is my second tweet…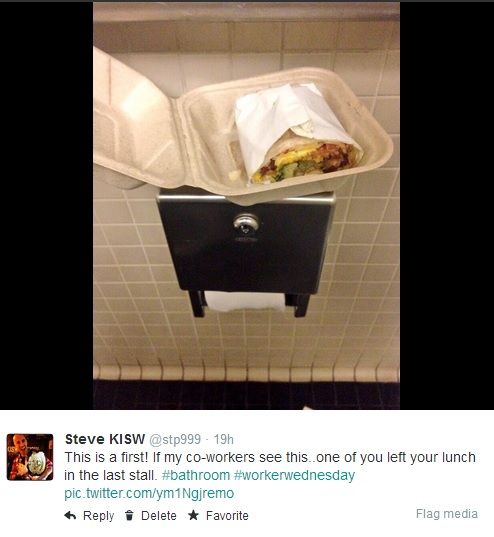 So a bunch of people were trying to figure it out, and Ben from the Men's Room saw the tweet…mentioned it to his crew, and Thrill replied, "That's where my burrito went". Yup…it was Thrill's…when he came into my office to tell me about it, I was in tears from laughing so hard.

The best part of this was that somehow a reporter from Buzzfeed.com saw the tweet and messaged me to see if she can use my tweets for a story…of course I said yes…so fingers crossed we will see those pix in Buzzfeed!

So I am officially excited for Pain in the Grass…and I have Godsmack to thank for this! PITG is going down Friday September 12th at the White River Amphitheatre featuring: Godsmack, Rob Zombie, Theory of a Deadman, Buckcherry and more! Tickets on sale TOMORROW at 10am through LiveNation.com

Godsmack have a new song and album coming out titled "A Thousand Horse Power". The CD will be out in the summer, and we will have the full song on Monday. The band released a 30 second teaser of the new song; here is a taste of "A Thousand Horse Power":



Yesterday afternoon I had an opportunity to speak with Sully Erna as he was heading to the studio to put the finishing touches on their new record…I grabbed my buddy (and future MegaCast collaborater) Thee Ted Smith from the Men's Room and we chatted with Sully from Godsmack! Click HERE to listen to it!