---
Day 895 (02/08/10) Food Hangover.
I am still full from yesterday…the Super Bowl is kind of like Thanksgiving…lots of food…only food at the Super Bowl is even more awesome because it's like appetizers from heaven…chicken wings, cheese dips, chili, and the all important devil eggs!!!!  My buddy Vic & I were like Devil Egg junkies…scarfing them down like addicts….and we  both nearly cried when the last couple of eggs were thrown away before our cries of "We'll eat them" were heard.  The funny thing was that my lady had no idea how much I was eating, until she leaned back on me and realized that my gut had ballooned & it was rock hard!  The game was awesome…I was glad to see that the Saints won the Super Bowl…my reason wasn't because of the "It would be good for their city" mentality, my reason for being happy for them is that I love seeing teams win championships for the first time! 

My lady & I contributed to the Super Bowl party by making a football shaped cake...she did a great job with the chocolate frosting, but left the vanilla frosting in my incapable hands...yes...I screwed up on the easiest part of the cake...it looks like Tim-May decorated the white lines.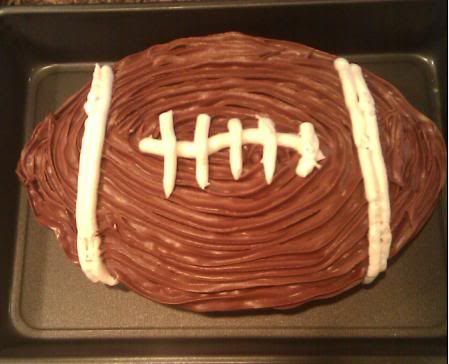 Speaking of cakes, Duff Goldman from Ace of Cakes will be on the show tomorrow at 6:50 am!

The commercials this year were under-par…however, there were a couple good ones…like the Auto-Tune spot, the new Super Bowl Shuffle, the Dog Collar Doritos one, but my favorite was more of a promo than a commercial…it was the one for the Late Show with David Letterman:

 

For those that think that NBC is gonna be pissed at Leno for doing this…don't worry….NBC gave Jay permission to do this.  Apparently Dave wrote this bit himself…he just wanted to make a funny piece, and I have to say that Dave succeeded in that mission.

Double R had a fun event at Hooters for a Big Game party…The Rev's girlfriend made it to the party, but the Rev didn't…why you ask?  Because he was busy watching The Puppy Bowl.  You can watch clips from the Puppy Bowl here:

http://animal.discovery.com/videos/puppy-bowl-vi/

Here is a trailer of the Puppy Bowl…in case you don't wanna go to that link:



Double R & I went to the Alice In Chains show on Friday…once again, another amazing show from the boys in AIC.  I'd like to thank the fellas in Alice In Chains, as they played Junkhead…which is my favorite song…as well as my gals fave…and the whole ride there we kept hoping that they would play that song.  Once I heard the 4 high hat hits to start the song…goose bumps popped out!  They also played Nutshell, and dedicated the song to Layne…which was real cool.  Props to William Duvall, who thanked the crowd for welcoming him into the band…and that he appreciates the opportunity to celebrate the past…and the future as well.  My bud Mike Savoia once again took amazing photos at the show…check him out at http://www.savoiaphotography.com/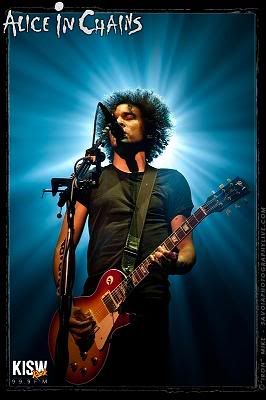 Thanks to David Crowe for joining us…David is a funny dude…and on Sunday he has his annual Valentine's Day "Laugh Lovers Ball" at the Moore Theater – get more info at www.laughloversball.com

David talked about his experience in South Africa, and he tried Ostrich Riding...this seems insane...check out a video of riding an Ostrich:



 

Today's Video Blog features David Crowe.



Here is the same VLOG for you iPHONE people.