All of us are recovering today after a great wedding on Saturday…when everyone's favorite drunk, Topshelf, throws a party…a wedding…his wedding…you know it's going to be a bash! All of us went to the Liberty Theater and had a great time…hell, BJ was dancing with Ted on the dance floor at one point…




Later in the evening Ben from The Mens Room and I went a block down to Bumpy's for a drink, and dang…Bumpy's is an awesome place to hang out. Great drinks, and everyone in there was beyond cool. We met a ton of Rock-A-Holics, and paid dearly from it thanks to all the shots that we had (thanks Cody, and Marc). We posted a pic of of Ben & I on the KISW Facebook, and people that were at the bar saw it in their news feed and tracked us down…it was too funny!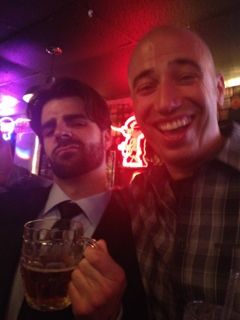 Toppy's wedding was different than any other wedding that we have been to…it was a musical…it was filled with songs and dance routines…hell, his wife came down the aisle singing! Big thanks to Patt for emailing us this cool picture he photoshopped: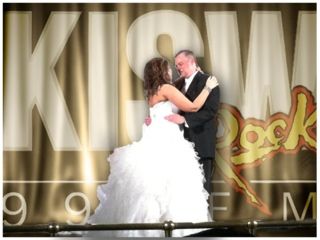 Today's video blog features a surprise at Topshelf's wedding on Saturday night...he and his bride sang a duet soon after saying "I Do"!



BJ mentioned this morning how this was one of the coolest weddings he has been to because of the performance aspect of it all. So this led to a topic…whether it be positive or negative, what was the most outrageous party you have been to? Here are the texts we got:

Naked wedding

Some passed out dude got his entire face colored with a black Sharpe marker.

2 parts of wierd. 1st part was a karaoke machine at the,wedding. 2nd part was the groom sang closer by nine inch nails unedited to the all ages crowd . Cajun

I saw a 3 story beer bong at a frat party at wsu! One guy up on the balcony feeding It beer and the guy on the bottom chugging away

At a ex gfs grandmas party. The grandma sang hot for teacher to her husband who was a ex teacher. It was bad ass

My 19th birthday watching my 40 yr old mom play beer pong and trying to smoke 3 ciggs at once cause my friends told her it was cool.... hahahahaha

At a party a friend show his new Prince Albert to everybody. Pretty darn cool. Kirk.

my wife's grandfather skinny dipped at our wedding in front of both families! He did it 2 later in Italy at our cousin's wedding. New family tradition apparently!

When weezer was at bumbershoot rivers was all over the stage, climbing and being crazy at memorial stadium. He ended up singing on top of the porto potties.

My wife and I did bride and groom keg stands. Me in my tux and her in her dress. It was epic.

In a new survey by Target, almost ONE QUARTER of Americans say they skip getting flu shots because they don't like needles. Overall, only about 40% of American adults get the flu vaccine.
One quarter of Americans avoid Flu shots because they don't like needles…based on this finish this sentence: "Even though I should do it…I'm afraid to do _____". Here are some of the texts we got:

Even though I should get married to my girlfriend of 3 yrs an mother of my 2 daughters. Im scared s***less of the idea. –nick

The dentist. My dentist when I was little would put kids on timeout if they cried. I was a crier. It scared me for life!!

C a doc, havnt seen 1 in 7 years

even though it's been over 20 years since my partying days, and I'm in reasonably good health, I'm still afraid to get to THE test...

The prostate exam, keep that latex covered hand to yourself doc.

I'm afraid to workout. I'm a cardiac patient and whenever my heart start pounding even though it's beneficial, it still scares me that something could the wrong.
On Friday, that new band called Walking papers played Slims Last Chance...I heard the show was awesome...the band features Duff McKagan, Mike McCready from Pearl Jam, Barrett martin from Screaming Trees, and Jeff Angell from Post Stardom Depression. Here is a 2 song video from the show...