The Pro-Bowl was this weekend…Toppy loves it, he got all drunk by himself and cheered for the second to last football game of the season. I watched some of it…I dug how the Seahawks were on display and kicked ass…Russell Wilson threw 3 TD's, Leon Washington had a huge 94 yard return, Marshawn Lynch ran in for a TD, Earl Thomas had an interception…but most importantly, John Moffitt…who wasn't even playing, was there rocking a Brian Bosworth T-shirt hanging with fellow Hawk Breno Giacomini. How awesome is this?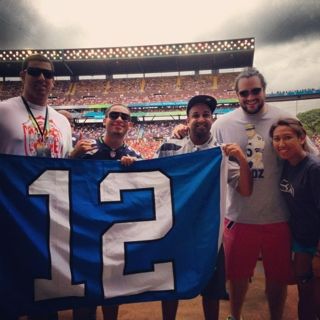 Here is a closer look…




Photo credit goes to @reubenTjoeseph on Twitter for this pic.

I think the NFL needs to show a skills completion…have QB's tossing long distances into a garbage can or something…have kickers try and hit 70 yard field goals…have players try and pull their "thingy" out of their zipper in a bathroom, quicker than Ben Roethlisberger. You know…things that show off a players true skill!

Over the weekend I went to the T-Birds for Pub Night…what a great time. I got a free hat!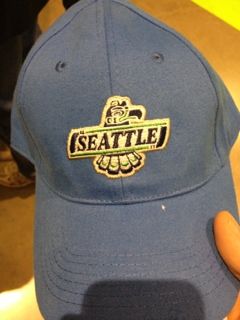 Plus we found a great place to pre-funk before the game…Trappers Sushi! I finally got to the new Kent Station Trappers, and man it's an awesome spot. A great bar…and awesome Happy Hour…we powered down a few of the Trapper, the Timmy, and the Firecracker rolls! Plus…the beer is super cheap during Happy Hour!




Speaking of Trappers…I dig it when I get messages like this Tweet…I'm a huge fan of Trappers Sushi, so I love it when I see someone trying it based on my recommendation…and becoming a fan as well.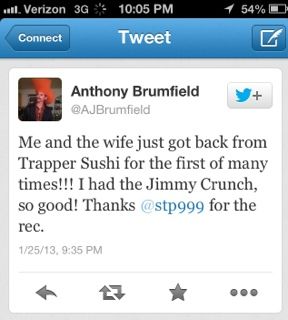 So it's looking like JJ Abrams is going to direct the next Star Wars film. Yes, JJ is the guy that also directed the latest Star Trek movie. The power is in his hands…he can be thew one that finally unites the Star Wars fans with the Trekkies out there. All he has to do is cast Chris Pine as Luke Skywalker, John Cho as Darth Vader, and Simon Pegg as Chewbacca…this will either bring the two parties together or cause Star Wars fans to want to fall on a light saber. Waka Waka!

David Kime Jr. of Pennsylvania died on January 20th at the age of 88. The World War 2 veteran was apparently such a big fan of eating fast food that his family arranged for his hearse — and the rest of the procession — to make one last drive-thru visit before reaching the cemetery. On Saturday, the funeral procession stopped at a Burger King where each mourner got a sandwich for the road. How awesome is this? Not to mention this is a cool tribute, but they also screwed with the hgeads of everyone who was not in the know…could you imagine? I would be thinking "how hungry are these people that they can't wait until after the funeral to get food?!" Kime got one last burger too, it was placed atop his flag-draped coffin at the cemetery.

This is great! Which got me thinking…how would I like my send off to go? Here is what I came up with. I would want to have my casket rolled out on the ice at a T-Birds game between the 2nd and 3rd periods, and instead of playing "Chuck-A-Puck" with a car, they do it with my casket. One more thing…they prop my arm up outside my casket with my goalie glove for an added bonus!



Ok…maybe that is a little too much, what about you? What would you like your send off to be? Here are the texts we got:

I'd like to be pushed out of an airplane dressed like superman. - Nate in Olympia

Bury me in my 12th Man Seahawks jersey and make sure everyone has some Elysian beer. Make mine Men's Room Red, please. –Bjorn

I would like strippers dancing around my coffin

Per my grandmas request we played ding dong the witch is dead

We stopped at a garage sale on the way to my grandmothers funeral, she used to hit garage sales every weekend!

To honor my father, who had worked for the state ferry system, we ride the ferry out of Seattle. They stopped and let us send his urn of the ship into the Sound

Today's Video Blog features The Nerdist -- Chris Hardwick. In this clip, Chris talks about Doctor Who, The Walking Dead, and more!



Here is the same VLOG for your iPHONE users: