---
STP's BLOG 02/04/13 "A Super Bowl"
Wow…what a Super Bowl. What a difference a power outage makes! The game was looking like a blow-out, and then a minute or so into the second half…BAM…the power went out. At first I thought it was the broadcasting Gods trying to shut Phil Simms up…and then I thought maybe this was a way for God to say he is NOT on Ray Lewis's side, despite how Ray would say that he is every 5 seconds when interviewed! Lots of great theories behind the power outage…one of my favorites was that people thought it was Buffalo Wild Wings way of extending the game. A great call back to their funny commercials. I had my own theory…which I Tweeted out there:




Halftime … I have to say, I dug Beyonce's performance. I'm not even a fan of hers, but I though she put on a great show…and I really don't know what is wrong with me, but when the other two gals from her old group Destiny's Child popped out from under the stage…I actually got excited and yelled – "oh cool, a Destiny's Child reunion". No sooner those words came out of my mouth did I wish I could hide under a rock…why the hell was I excited about THAT!?!?
The commercials…were underwhelming, but there were a couple I liked. One of my faves aired before kick-off…it was that Hyundai Flaming Lips spot. I love the Lips, so any chance for them to get mass exposure is OK with me…



I also thought Dorito's knocked it out of the park with both the goat spot and the guys as princesses commercial. I dug the Letterman/Andrew Luck commercial, and this one was a huge fave as well…Leon Sandcastle…I hope the Hawks can trade up to get him!



There were two spots that made me nearly puke in my mouth…I hated them both. One was the Calvin Klein commercial with the guy wearing nothing but muscles and underwear. I hear that the 49'ers Chris Culliver hated that one too – waka waka! On a side note, man was I stoked to see him look like a fool on the field…that was awesome how Jacoby Jones made him look like a joke. The other spot that I hated was the Go Daddy commercial…the sounds were disgusting!



Thanks to Andrew for sending us this video…Richard Sherman of the Hawks was in New Orleans for the Super Bowl, and he hit Bourbon Street to have some fun with those hanging and drinking!



Another awesome thing I saw that was football related was something that involved Seattle's own Macklemore... someone asked him to sign his jersey, so Mack did…only he showed where his fandom lies…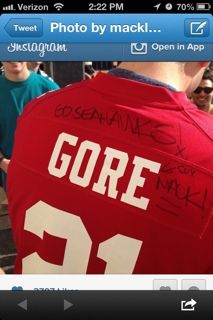 Speaking of Macklemore…did you catch him on Letterman? What a great performance…



I hope one day I can get Macklemore on the STP-CAST (my podcast)…that would be so damn cool…I would love to pick his brain and have him perform a couple songs!

Even though for many the big game yesterday was the Super Bowl…for me, the big game happened at noon…the Devils played the Islanders and won 3-0…of course Lulu and I watched the game!




Today's video blog features Don and Joe...they came in to cook us Chicken Fried Steak Burgers!



Here is the same VLOG for the iPHONE folks...