---
STP's BLOG 02/05/13 "Lesson learned"
Some things I learned this morning:
Robin Williams has a daughter, named Zelda. Zelda. What? Does he have a son named Tetris? Turns out that he says that she was named after the game because he and his wife played the game a lot around the tiume she was born. Good thing they weren't playing Mike Tyson's Punch Out. Waka waka!

I also learned to not EFF with a homeless surfer guy that has an ax! Kai was a hitchhiker who took down a crazy, 300-pound, racist guy using a HATCHET. Kai was in the passenger seat when the guy who picked him up started claiming to be JESUS. Then for no reason, the guy rammed his car into the back of a utility truck, pinning a utility worker between the two bumpers. Then he got out of the car, started saying racist stuff to a woman who ran over to help, and attacked HER. So Kai grabbed the HATCHET that he apparently carries with him at all times, and went after the guy with it. Here's Kai explaining what happened...



Smash Smash Smash!

The most important thing I learned today is that no matter how many times I hear it…as soon as Toppy hits play on "Here I Go Again" by Whitesnake my immediate reaction is saying this: "EFF Yeah Toppy!"



It's safe to say everyone has done something rash in the name of true love. But tattooing your partner's name on your face less than 24 hours after you've met?

Rouslan Toumaniantz is a tattoo artist in Belgium, and is making news for doing something BEYOND impulsive! He met some chick from Russia online, her name is Lesya…after 24 hours of being together, she got his name tattooed on her FACE! Not a small tattoo either…it's 5 inches tall and covers her whole face. That's right…her FACE! Check it out: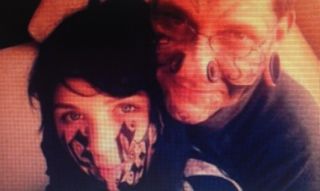 What the hell!!! I'm not one to judge…but…this is stupid!!! Based on this… What was your biggest impulsive regret? When have you done something impulsively that you wish you didn't? Here are the texts we got:

I knocked up my ex-wife within 24 hours of us getting together

Put a girl I just moved in with on my bank act. She emptied it of $70k and split.
I joined the army and was off to basic tent 3days later.

I collect baseball cards and years ago I wanted to get into hockey cards so I dropped $10,000 on a small case of cards from Canada. Needless to say a few years later that same case was about 1/3 the value. Loved it! Topppppyyy...,
thanks gimp

Back about 14 years ago when I was married I went on my lunch break and bought two waverunners on an impulse buy.

My ex got my name tattooed across her left ring finger when we had been dating only a few months. Weve been broken up for years and she still has it

I signed a 7 year car loan with my boyfriend only to find out 2 months later he had been cheating on me for over 6 months

The last nine inch nails concert in 2010 bonaroo- I impulsively ate way too many shrooms.