---
STP's BLOG 02/06/13 "Faking It"
I love this video…Jeff Ament of Pearl Jam teams up with Kenny Mayne from ESPN…talking Sonics!



I love walking in this morning to see notes like this. I agree 100% with the note…I never understand people that use a kitchen item at work, and just leave it on the counter or the sink…like the cleaning fairies are gonna show up and do the cleaning for you?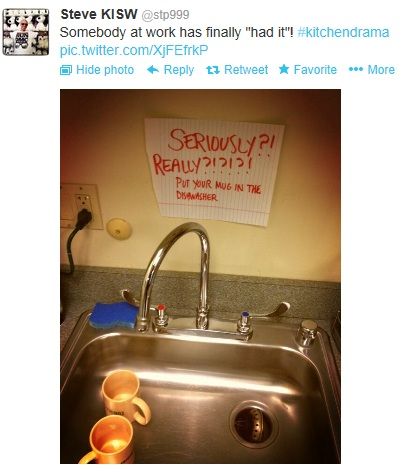 So Chris Brown is in the news because he is in trouble with the law for allegedly faking doing community service that was court ordered. One way he got busted was that while doing community service that he logged hours for…he was also…at the same time…performing concerts out of the country. Whoops! This led to us asking the Rock-A-Holics when they have faked it…we got some great texts:

Faked going to AA, would bring my AA sheet to work and have everyone at morning muster sign the sheet with different pens

At a highschool party me in a couple friends fake being sick in the bathroom to cover up a drinking a 25,000 dollar wine collection her mother had. Jeremy

I can dislocate my shoulder and one time in high school I laid at the bottom of the stairs faking that I fell down the stairs and broke my arm. A teacher found me and ran for the nurses office to get help, when they returned I was gone. Nathan from Tacoma

Was in the coast guard years ago and had to stand pointless duty for 24 hrs every 3 days while inport. Falsified documents and never showed. Didnt get caught.

I got drunk in college and fell off my top bunk and messed up my legs. I told work I got hit by a car so I couldn't come in. Sodajrrk

Went to a gay bar with my gf and her friends, while they was dancing i was pretending to be gay for free drinks

My friend faked going into labor to get through traffic

2 years ago I had a vasectomy. I replied to a Craigslist ad in which a married couple wanted me to get the wife pregnant. I banged her for 2 months before revealing that I was fixed. lol - Taxi Nate in Olympia

Match.com just released a new survey of more than 5,000 single people in the U.S. The way they organized their findings was sloppy and unpredictable . . . kind of like the dates you'll have on Match.com . . . but we pulled out 10 highlights.

1. 42% of people say they would NOT date a virgin. That includes more than HALF of single women.

2. Only 3% of people say THEIR satisfaction is what matters most during sex. The other 97% claim their goal is to make the OTHER person satisfied.

3. 48% of women say if they got REALLY desperate and the clock was REALLY ticking, they'd consider having sex with a friend to try to get pregnant.

4. 6% of men and 4% of women say they fell in love for the first time before age 10.

5. 44% of people say they've had a "friends with benefits" arrangement transform into an actual relationship. And 33% say they've had a one-night stand transform into an actual relationship.

6. 48% of women and 38% of men Facebook stalk someone before a first date.

7. 5% of people say they'd find it SUSPICIOUS if the person they were dating wasn't on Facebook. But on the other side, 10% say it would make a person MORE ATTRACTIVE if they weren't on Facebook.

8. 16% of people have stopped dating someone because of something they saw on Facebook. The most common things are their date's photos, a wall post on another person's wall, or their date's status updates.

9. 15% of people with BLOGS say they're waiting until they get married to have sex.

10. 90% of people say it's not okay to break up with someone over text message.
Today's Video Blog is an Intern Challenge! Our intern Jay has 60 seconds to find a complete stranger to let Jay smell their armpit...will he do it?


Here is the same VLOG for you iPHONE users: