What an awesome weekend! Friday night the lady and I hit the Paramount for the sold out Soundgarden show…but first, we grabbed dinner at Dragonfish…I love that place, great food, great service, and super close to the Paramount. Then we crossed the street and went and saw an incredible show. This was the first time that I have ever seen Soundgarden live, and they sounded great…playing some of my favorite songs like Jesus Christ Pose, Pretty Noose, Big Dumb Sex, Blow Up The Outside World…they did not disappoint. My wife was impressed too…she only knew there "hits", and I love the fact that she loved the rest of their music…and agreed that they are a trippy, loud, interesting band. The star of the show had to be Matt Cameron, the entire band is great…but matt's drumming is so unique and impressive, he nailed it on Saturday night. Plus he had his son join them on stage and play guitar…it was a very cool moment!


On Saturday, we got on the road and went to Leavenworth to hang out with my buddy Monson and his lady. What an awesome time! Leavenworth is such a cool town….great food, awesome beer…we had some great beer at the the Icicle Brewing Company!




Even though it was a one day/night trip…it was awesome.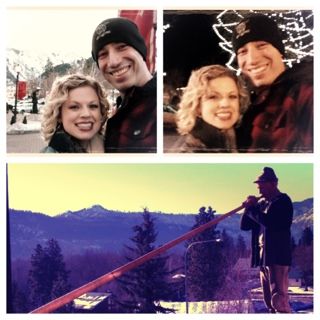 If you are wondering what that guy is doing at the bottom of the picture….it's a daily tradition at the hotel we stayed at, the Enzian Inn (awesome place) where they have a guy play the Alpine Horn as we ate breakfast…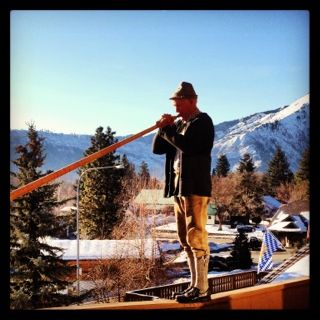 Pope Benedict XVI annouced today that he will resign on February 28th, the first pope to do so in 600 years. He's resigning because he's getting old. Everyone is shocked by his decision…but really, why are they shocked? He's 85! Myquestion is…does he get to keep the Pope-Mobile? Or at least get a replica one to not drive around? I say NOT drive because he is 85!

Based on the fact that the Pope is resigning…People were shocked to hear that I did _____." When did you or someone you know make a shocking decision? Here are the texts we got:

When I was accepted to med school. I was never the smart guy in HS and bit of a stoner. Surprises everyone to find out the route I took.

People were surprised to hear that I jumped from a plane in Vegas last summer. -Justin Marysville

I was shocked when I found out an old friend had bought a Delorean just to style it after the car from back to the future.

Peope are shocked to here that i have my bachelors degree at age 20. Brandyn in gig harbor

My friends were shocked that I slept with a pregnant chick

People were shocked to hear I railed my ex girlfriends mom after I caught her cheating

I knew a guy that lost his virginity to a pregnant chick. Third trimester

When I proposed to my bf. I was always anti marriage, it's how I was raised. I was nvr the girl who fantasized about a wedding. ~Christine~

Last week, a 58-year-old prisoner in Sri Lanka was caught with a cell phone hidden in his "Backside" . . . when it started RINGING. The man is doing 10 years for theft. As guards were doing a routine cell search last week, they heard the faint, muffled sounds of a phone ringing. And they QUICKLY realized where the ring was coming from. The man was taken in for a cavity search and it turned out he had the phone up there AND a hands-free device. There's no word on what new charges he may be facing.

Talk about the ultimate Butt Dial! Waka Waka!
Should've put it on vibrate! Waka Waka
I bet he has crappy service on that phone! Waka Waka

Based on this, How did YOU get busted? What were you doing? Here are some texts we got:

My mom found out I smoked pot when I forgot my screen in my pocket. She washed my cloths and it was stuck to her underware.-mindy

When I was living with my parents my mom called and said she was to drunk to drive soooo I took a fat bong rip to prepare for my jorney then as soon as inhaled the garge door opened and she was pulling in the drive way almost got kicked out of the house
Got caught having sex in my moms bed because the girl left her panties in the bed. Roger in tacoma.

I am 39. When I was 18, I got busted by my Mom, having sex with my then girlfriend. How? She just walked into my room, to ask me about dinner. Awkward.

Today's Video Blog features us checking out the new menu item at Jack In The Box -- The Hot Mess!



Here is the same VLOG for you iPHONE users: