---
STP's BLOG 02/22/13 "Pho-Get-About-It"
BJ mentioned how there are all of those Pho places with creative names…like It's Pho You, What The Pho, It's Pho Fun, etc…hell we got a text about it:

Pho shizzle in Renton –DV

That's an awesome name…but I'm thinking we could open our own Pho place…it could be a Pho meets Italian hybrid, and we can call it "Pho' Get-About-It!"

Valuable lesson learned. When being involved in a crime…it's never a good idea to brag about it on Facebook! These 2 Everett chicks broke into a place…robbed a bunch of stores…were dubbed the Barbie Bandits, and then posted pix and comments about committing the crime. Here is a pic of them….




According to a survey by a British travel site called sunshine.co.uk, these are the biggest regrets people over age 50 have about their lives. I love the #1…it is from a travel site after all!

1. 91% wish they'd traveled more.
2. 72% regret their career choice. (--People could choose more than one thing.)
3. 64% would like to take back some bad relationship choices.
4. 55% wish they'd taken better care of their bodies.
5. 53% are sorry they lost touch with friends.
6. 46% wish they'd been more careful with their money.
7. 27% regret having children too early.
8. 25% think they worried about things too much.
9. 19% wish they'd been more of a "yes" person.
10. 8% regret having children too late.

Today Bobby Lee joined us in studio…that is always an adventure is randomness!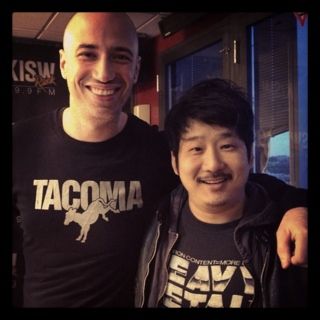 We love having Bobby Lee on, he's at The Parlor Live this weekend….Get tix at www.parlorlive.com .. Check him out in today's Video Blog …



Here is the same VLOG for you iPHONE users:


Tags :
People :
Bobby Lee