---
STP's BLOG 02/25/14 "Hulk-A-Mania is BACK!"
Yesterday I found 2 new ways to waste my days away.

1. The WWE Network. It's basically Netflix for the WWE Universe, and it's awesome! I said screw the one week trial, and I just subscribed to it…it's $9.99 a month and I now have access to all the WWE, ECW, and WCW Pay Per Views of days past…and a whole lot more. Plus…with the subscription, I get all future Pay Per Views. Lets just say my wife is really excited. Yes, that is sarcasm in the air.

2. NHL 2K14 for the XBOX 360 – I was at Best Buy getting ink for our printer and came across a used copy for a cheap price…man that game rules. I know it's been out for a few months already, but this is the first time in over 10 years that I have played a hockey video game, and the game play on this is unreal!

Speaking of wrasslin'…I tweeted this yesterday…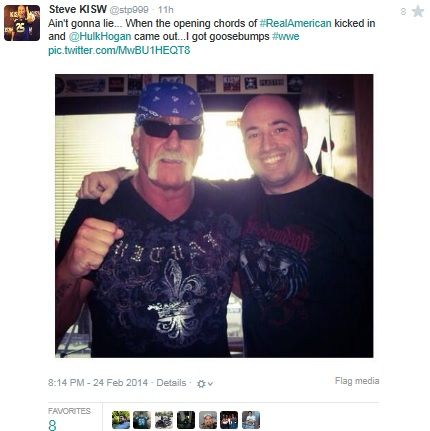 Did ya see the Hulkster on WWE Raw last night? Man it was AWESOME! I didn't think it would affect me in the way it did, goose bumps and all, but judging from all the tweets I have read about it…I wasn't the only one that was stoked to see him come out, especially since he came out to the Real American theme!