You just never know what is going to happen when you first turn on the stations text line (7-7-9-9-9) … this was the first text I saw…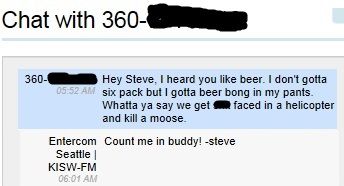 The kids on the internets love doing this #ThrowbackThursday, and I found a good one…this stems from my college days…I was clearly going through a Mike Patton phase!


Speaking of College, I came across this awesome promo that I made with my bud's Joe & Scott. This was at the height of the Beastie Boys "Sabotage" video…so we spoofed it. Our head engineer in the communications department wasn't thrilled when he found out that we hung out of a car with a school video camera that was tens of thousands of dollars in cost at the time. Here is the video…yes, that skinny guy running is me with hair!


We came across this list of things men over 30 should just NEVER wear.
1. Fedoras.

2. Choker necklaces.

3. Dangly earrings.

4. Skull jewelry.

5. Fake tanner.

6. A wrist full of bracelets.

7. Crocs.

8. Sports jerseys customized with their name on the back.

9. Backwards hats.

10. Mohawks.

Based on this list…I'm doing OK, as I don't do any…I'm closed on a couple, but I don't do exactly what is listed (cough wear jerseys with a players name on them cough).

It doesn't have to be just clothes…what is something you shouldn't do over 30? Or…what is something you wish you could still do, but you are "too old" for that? Here are some of the texts we got…

I wish I could still be banging my wife. But I'm diabetic and 45, and not everything works anymore. And she's refusing adding Viagra to the situation u ntil I can get my blood sugar levels under control.

though tempting after 30 taking a beer bong seems a little too adolescent as if ur trying to relive some old memory u want to get back...Frank the TANK! Lol

People over 30 shouldn't be going to 'the club'. That's just creepy.

My dad is over 50 years old and he still shops at zumiez and Pac sun. I'm 19 and I don't even shop that stuff for high schoolers

Video games my wife is always telling me I am too old for video games. I'm 36 and I rock the hell out of my backwards hat.

Women that wear sweats with words on the butt.

After 30 everyone should stop talking like they are from the "hood", no one should talk like that in general but over 30 you sound like a idiot

Wish I could do general admission at concerts. Just to darn old to stand there for 4 hours to see a band.

im getting too old to take drugs like lsd, molly,ect love the show, joe
Today's video blog is a Throwback Thursday! Here is an old video of me in college... lesson learned, don't let college kids host a TV show under a herbal influence!
Here is the same video for those on their phone...