Man I am kicking myself for missing the T-Birds game this weekend. They played their rivals, the Everett Silvertips, and you gotta love hockey when it's towards the end of the season and teams are battling for a playoff spot! It was a pretty intense game and the Silvertips won 4-3…so intense that the goalies got into a tilt! Check out Danny Glover from the T-BIrds squaring off with Austin Lotz of the Tips.



I love that the linesman that is in between them trying to stop the fight is former T-Bird, Ryan Gibbons!

I came across this on Facebook ( Thanks to Andrew K. for sharing it), and I have to say that this is one of the funniest things I have seen in a while. How awesome is Tom Hanks???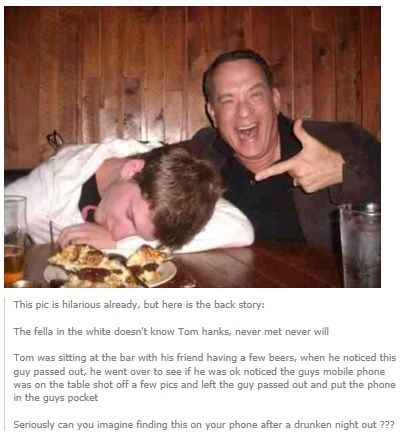 See more pix here:

http://www.dailymail.co.uk/tvshowbiz/article-2194470/Tom-Hanks-wasted-fan-photos-viral.html

Last month, a 33-year-old woman in New York was arrested for hiring two STRIPPERS to come to her son's 16th birthday party. And the strippers gave underage boys lap dances in their underwear. The woman is facing five counts of endangering the welfare of a minor. On Thursday she pleaded not guilty and said she only ordered a "bikini gram" to sing "Happy Birthday", NOT give lap dances.

Based on this, finish this sentence: "Looking back, I can't believe my parents did _____". Here are the texts we got:

Can't believe my mom for my 18th birthday got me and all my girlfriends drunk on the way to a female strip club. And it was only to a female strip club because there's no male clubs around here.
I can't believe my dad rented Orgasmo (the guys from South Park) for my birthday. I had a sleepover with about 8 friends eating food and hanging out. I was 13!!
I can't believe my mother gave me a 3 pack box of condoms when I was 13. It was extremely embarrassing when she handed them to me. I didn't need them for another 8 years. :(

I can't believe my dad got me high when I was eight. Nate in the Quah.

My took into local bar and let me but a keg for my 18th bday. Only I had to carry 4 blocks hm by myself if I wanted it.

I can't believe my parents confiscated my bag of mushrooms and then ate them... They party!

On Friday, a guy who goes by the Twitter handle TheRealMyron tweeted a photo of his brand new Netflix TATTOO. From the photo, it looks like he got it on the right side of his torso. On top of a random floral pattern that, as far as we know, has nothing to do with Netflix. Check it out: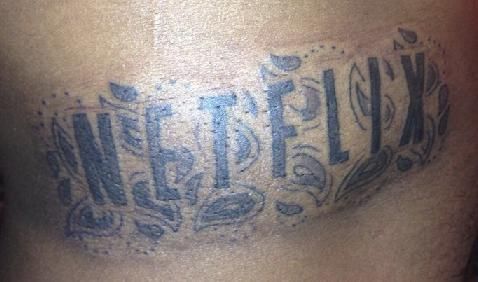 And Netflix saw his tweet and the tattoo, and immediately gave him a reward . . . one year of free Netflix streaming. Retail value . . . approximately $96.There's no word on how much Myron spent on the tattoo.

A man gets a year of Netflix for free because they saw that he got their name tattooed on his body…based on this, finish this sentence: "If it meant getting their product for free for a year, I would tattoo _____ on my body." Here are the texts we received:

Any gas company!! Free Gas for a year would be awesome!! I average $3,000 a year in gas

I would get the Men's Room Red logo tattooed if I got their beer free for a year!

My name is phillip i would tattoo moonlite bunny ranch on my body for a year of service

Can i get deja vu tattoo on my body and get free lapdances for a year. As long as the wife doesnt find out lol.

Rockstar energy drinks...awesome logo too

showbox would love to be able to go to any show of my liking....

x-Finity/Comcast baby Free cable and internet Nothing better!!!!

I would tattoo trapper sushi on my body I I could get it free for a year

Today's Video Blog features a gift thet the Rev got in the mail from "Ted Head Bill" (Thee Ted Smith's biggest fan).



Here is the same VLOG for you iPHONE users: