Taylor Swift is making news, people are up in arms because she apparently has been throwing away a bunch of fan letters without reading them. A woman in Nashville was recycling newspapers and found a whole bin full of Taylor's fan mail and some of the letters were unopened. Now I don't know if it's Taylor's fault bor if the people that receive the letters on her behalf are to blame, but we even got a text from someone pissed about it:
Taylor Swift pisses me off. My 10 yr old daughtter is such a HUGE fan she wrote a letter to her. She has been checking our mailbox daily for the last 5 months just to find out her letter was trashed

I smell a whole new song by Taylor – "I…am never ever ever gonna read your letter" – waka waka!

I remember once writing a public figure a letter and being stoked to get a response. Who was it? First Lady Laura Bush I wrote her back when her man was in office to see if she would come on the show back when I worked with Andy Savage. I wrote her a letter, and as added incentive I gave her a copy of the CD "Invisible Touch" by Genesis! She wrote me back, and gave me an autographed photo! Check it out….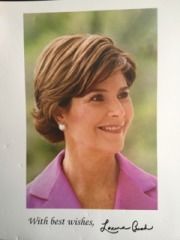 The best part is that her letter never said she would or wouldn't join us on the show. I should have sent her a Journey CD or something to get an answer!

Speaking of letters…we got a Facebook message from Brandon looking for some help from the Rock-A-Holics:

Hi BJ, I am a huge fan of the show and was wondering if you would be willing to give some press for my daughters' project. We are collecting stuffed animals to give to hospitals, DV children, Kid's of fallen soldiers, and ect... Basically kids that are in pain. We started this to repay a kindness that a nurse did for my daughter when she was in the ER.

Get more info here to help out: www.facebook.com/EmergencyBearProject

According to a new survey by Direct Line car insurance, women are more likely than men to swear while driving.

Nearly HALF of all women . . . 48% . . . admit to cursing behind the wheel. Only 40% of men do. Here are the five things most likely to make us swear:

1. The GPS: 55% of people who use one say they've sworn at it.

2. Getting cut off by another driver.

3. People who don't use their turn signal when turning or changing lanes.

4. People who talk on their cell phone while driving.

5. Someone driving slow in the fast lane. This is the ONLY thing that MEN were more likely to swear at than women. 15% of men mentioned it . . . while only 7% of women did.

What about you? When it comes to driving…what drives you nuts! Or…when have you pissed off another driver? Here are the texts we got:
I f'ing hate it when people don't use their signals and when people take their sweet I'm on a hill because I drive a stick shift -Brett in Puyallup

Driving in the rain. Don't you think we do it enough we would be used to it. Too many timid northwest personalities.

People that cut off big trucks. Your putting not only your life at risk but every other driver in danger.

I cannot stand when people just drive in the left lane, not passing anyone and not moving over for traffic behind them! It's the "passing" lane!!!

The people who don't get up to speed on the on ramp. PeopleMerging into 60 mph traffic at 35-40mph sets me off.

Pat in puyallup stupid drivers that dont use there blinkers also when they turn and throw there turn signal on as they turn last minute stupid drivers!

The private equity firm that bought Hostess's brands has announced they'll have Twinkies back in stores by this summer…. Based on this, it could be food or anything else…what would you like to see the return of? What do you miss and wish would come back?

FIREFLY!!! I would actually get cable just for it!

Mike-Shoreline, bring back Peter Parker as spider-man

I wish they'd bring back the Keebler Pizzeria chips.They were AWESOME! Flavor for days and enough MSG to kill a small horse, so u know they're good Painterguy D

I know people are saying basketball, but I want the return of hockey to Seattle. Everett is too far away so I only get to see them play against the T-birds. –DV

he Sonics!!! But the 1995-96 team with Payton and Kemp. The "Original" Lob City. So many childhood memories. Harley from Renton

I wish the attitude era of the wwe could come back. Ed in Sumner

Im waiting for acid washed jean shorts to make a comeback

Ricks strip club

Today's Video Blog is another intern challenge! Our intern Jay has 60 seconds to find a female that will try to do a Arnold Schwartzenegger impression...will he do it?
This challenge stems from audio we played yesterday of woman that couldn't do a good Arnold impression!



Here is the same VLOG for you iPHONE users: