---
STP's BLOG 05/16/13 "Super Groovy"
Huge thanks to the UFC Flyweight champ for joining us in studio today. Demetrious "Mighty Mouse" Johnson is part of the main event at UFC On Fox 8 (vs. John Moraga) at the Key Arena July 27th. Tix go on sale tomorrow at 10 AM through Ticketmaster. DJ is a local guy…from Parkland, trains in Kirkland, and now is my neighbor in Puyallup! It was awesome having him in…great guy!





Last night BJ had a great time at the Jay and Silent Bob's Super Groovy Cartoon Movie…he got to go up on stage to introduce Kevin Smith and Jason Mewes as they also did a podcast/Q&A at the Moore Theater after the movie. Check out BJ on stage…




While backstage, BJ and Vicky B. got to finally meet up with Kevin Smith after all these years of chating on the phone and Twitter!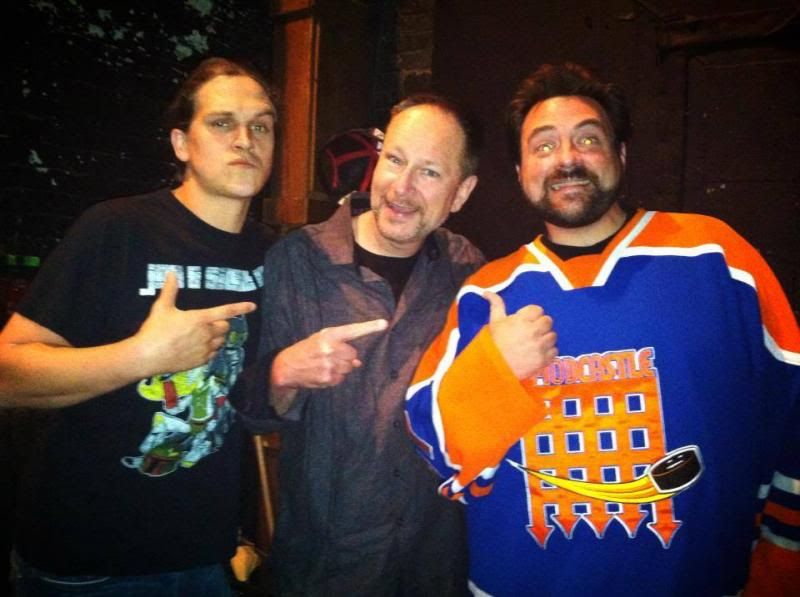 I almost got into a car accident yesterday, as I was driving home I was listening to the David Stern press conference on the fate of the Sacramento Kings...the league decided to not re-locate the team to Seattle, which sucks...but the punch in the gut was when he said this:

"This is going to be short for me, I have a game to get to in Oklahoma City."

I honestly stared at my radio in shock that he said that, gave my radio the finger, and then had a few no so pleasant words pop out of my mouth...Inearly drove off the road I was so pissed. I surely hope expansion happens...it sounds like the guy thyat will be taking over for David Stern in 2014 wants to work with Seattle to bring a team here...fingers crossed!

Today's Video Blog is part 2 of our chat with Jason Mewes (Jay and Silent Bob from Clerks).



Here us the same VLOG for you iPHONE people.