---
STP's BLOG 05/16/14 "Michael Bennett Is Coming!"
I'm so pumped...yesterday evening I was able to lock in an interview with one of my favorite Seahawks. Next week we are going to have Moses Bread himself (that's his Twitter handle: @mosesbread72) -- Michael Bennett in studio! Not only is Michael a beast on the field, but is hilarious on the microphone...I loved this interview he did on ESPN:



Michael has a great charity event coming up on May 31st... "Michael Bennett's Champs & Cocktails For A Cause." It's happening that Saturday afternoon at the Columbia Tower Club, and is a fundraiser for Michael's charity: Ocean! (fighting obesity through community, education, activity and nutrition). A bunch of Seahawk players will be there...this should be fun! Get more info here: http://michaelbennett72.shindigg.com/

To get you pumped...here is an awesome highlight video someone made for Michael...



Another awesome thing happened for me yesterday…if you listen to the STP-CAST, you know that I am obsessed with the Hold Steady, and yesterday my tickets for their show on July 18th showed up in the mail. I tweeted it out there, and the singer of the band, Craig Finn, "favorited" my Tweet. Yes, I know that is a silly thing to be excited about…but for that half of a second it took him to click the "favorite" icon on Twitter…he knew what's up!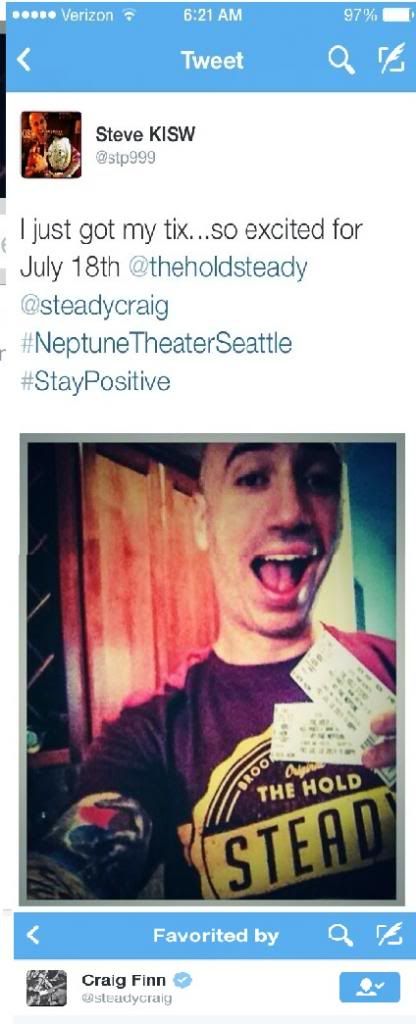 Their new CD, Teeth Dreams, has been in heavy rotation for me… here is one of the songs off of their new disc to give you a taste of my favorite band!


This is my favorite song off of the new record…