Yesterday we all went to the Mariners game…what an awesome day for a game!


We are all paying for it…not because we boozed…but because we didn't lotion up. The person who got it worst…The Rev!


Here is a quick compilation of the "damage":



Plus BJ and I got to try out the Cheese Steak Sandwhich…which was damn good!



Yesterday was an exciting day…Pearl Jam released a brand new song called "Mind Your Manners", and announced their new CD "Lightning Bolt" will be out on October 15th. If this song is any indication of how the rest of the record will sound…it's going to be an awesome effort from the boys in PJ! I love this song…it rocks; hell…they even played the song yesterday at the Mariners game…enjoy!



At a KINGS OF LEON concert in Birmingham, England on Tuesday, some guy stripped naked and crowd surfed during the song "Sex on Fire". Check it out:
He ended up on the jumbo screen, and apparently the band was "Hey Birmingham sausage man, if you're on twitter, [direct message] me. We owe you a beer."
So the guy got in touch, and they invited him to come backstage the NEXT night when they played a second concert at the same arena. He posted photos of the meet-and-great on Twitter.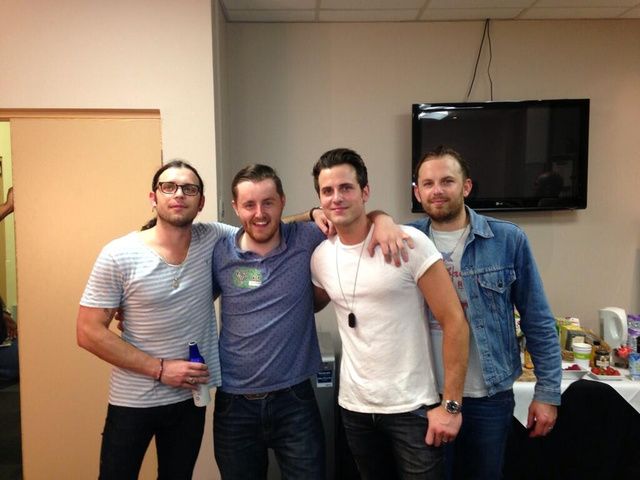 A guy got invited backstage at a Kings Of Leon concert by crowd surfing NAKED. Based on this…what is the most insane thing you have seen at a concert? Here are the texts we got:

The most insane thing I saw at a concert was at a mid 1980's judas priest concert at the tacoma dome where some fans overturned a police car! The pressure inside was just as intense as I was in the middle of the pit I was able to lift my legs off the floor and I was held up by the pressure of the crowd! Insane! Don in olympia.

I went woodstock 99... where would you like to begin?

At a motley crue concert in the 80s saw a couple having sex. He just bent her over, pulled up her skirt, and went to town

I was at a Chevelle concert at The Machine Shop in Flint, MI where I saw two dudes stand face to face, ready to fight. Then, the smaller guy launched himself at the bigger one, grabbed his head and bit his frickin' nose off! Crazy!

Also the singer of mindless self indulgence said he made something for his fans, and proceeded to spit on them

At a Black Sabbath concert I saw a women doing bumps of cocaine of her friends boobs. John int-town

By far the craziest thing I've ever seen at a concert was five years ago in Sturgis South Dakota When Steven Tyler took a 10 foot fall off the stage breaking his collarbone show was canceled a lot of unhappy bikers but at least it was towards the end of the show Shelby from Snohomish

An 80 year old woman showed her boobs at a steel panther show at the show box -joe fedway
Today's Video Blog features us at the mariners game yesterday.



Here is the same VLOG for you iPHONE users: