---
STP's BLOG 07/19/12 "CM Punk & Bob Saget!"
What an awesome day…we got to talk to my favorite wrestler, CM Punk…not only is my fave wrassler…he was Lucy's favorite too…check her out with one of her favorite toys…a CM Punk stuffed bear!




The last time we had CM Punk on, he dropped a "Pipe Bomb" way before the term even existed…back in 2009 I asked him about Hulk Hogan joining TNA, and his comments led to a firestorm of comments in the wrestling internet world…



Punk was on this morning to promote the 1000th episode of RAW on Monday…where he will defend his title agains John Cena. Should be a good match…if it is anything like their Money In The Bank match last year in Chicago, we are in for a treat. So last night I tweeted out there if people had any questions for Punk, and I sent it to Paul Heyman (he's back in the WWE…the mastermind behind ECW back in the day) as well…and he tweeted me back. Being a huge Heyman fan like I am, when I saw this…I would be lying if I didn't say I was pretty stoked:




While getting ready for the interview, I went online and watched some CM Punk interviews…I became obsessed with watching Punk doing morning local TV interviews when he is in certain towns. You can tell these anchors are clueless to who Punk is, and he has fun with it. I love the beginning of this interview when he says: "Thanks for squeezing me in before your Gonorrhea story"



This is another great one...I love the ending when he says: "You are falling apart...woman"



Researchers from Cornell University surveyed men and women to see what would make them most jealous when it came to their boyfriend or girlfriend . . . and an ex.
Basically, people were asked to rank interactions between their partner and an ex based on how jealous they would get. Results were the same for men and women. Here are the top four responses.

1. Going out for a meal: The researchers said that there's just something special about sharing food .
2. Going out for coffee: It's not as troubling as eating together, but it's still a problem.
3. Talking on the phone.
4. Exchanging emails.

Based on what makes people jealous…what is your moment of extreme jealousy? What did you or someone you know do? Here are the texts we got:

Me ex sent me nudey pictures the week of my wedding. That was bad.

My ex got drunk and blew up my phone with texts. On Valentines day. I was with my girl at the time and she was acting jealous about that. As If I could've stopped it.

Most guys usually get crazy jealous when i communicate with any other guy.... Because i'm not allowed to have friends. The #1 reason i stay single.

Ha perfect topic today. I get jealous when my husband gets a massage by an attractive woman.

Me ex sent me nudey pictures the week of my wedding. That was bad.

My ex fiance asked me if he could have dinner with his ex, I said yes... No problem.

He was gone until 2 am and broke up with me 3 days later. I am now happily married to a guy who enjoys my time and not his ex

This just happened a week ago, my gf's ex showed up after apparently a year of no conversation, to give her a birthday card. I was pissed and because women

Facebook!! My last 2 relationships ended due to the girl finding a new love or rekindling an old flame!!!

What a great way to end the show...Bob Saget joined us in studio!!!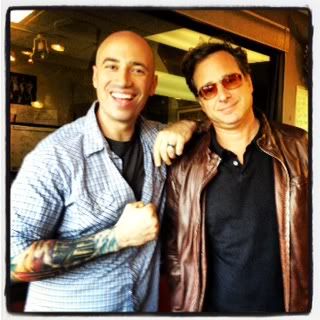 Today's Video Blog features Bob Saget...he's in town because he is at the Moore Theater tonight filming a Comedy Special. Tickets are avaialble through STGpresents.org , he is doing 2 shows... 7pm & 9:30 pm.


Here is the same vlog for the iPHONE users: