Last night Seattle was full of energy in Capitol Hill…it was like the ultimate warm up for the Capitol Hill Block party which is this weekend (Flaming Lips on Sunday…I can't wait!)…what was going on? This…



Yes, That is Macklemore and Ryan Lewis on top of the Dick's in Capitol Hill. Word broke earlier in the day that Macklemore was going to be at Dick's, and he wasn't going for a Deluxe, 2 Fries, and a Strawberry Shake like I do when I go there…he was there to film a video for the song "White Walls" – one of the best tracks off The Heist. This song is a total summer song, so the timing is perfect! They filmed that scene a few times…here is another take…



I love how they kept the walk up at Dick's clear of a crowd, so that people could still get food…



Props to Macklemore for not only repping Seattle by performing on top of Dick's, but for rocking the Cortez Kennedy Hawks jersey!

Twitter was on fire last night because of this…my whole feed was filled with people snapping photos of him at Dick's…which prompted me to tweet this…


You have probably seen all over the internet Geraldo Rivera's half-naked "selfie".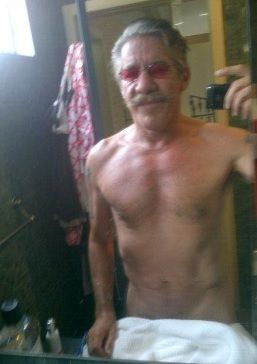 Why would he post something like that? Geraldo joined a New York radio show, Scott & Todd in the Morning, and discussed why he posted a topless picture of himself on Twitter over the weekend….and Tequila was too blame. Ok…anyone who has ever been drunk on tequila is nodding their head right now, thinking "yeah…I get it".



Geraldo Rivera says that Tequila was the culprit for that half-naked "selfie" ...based on this, finish this sentence: "Alcohol was the culprit when I did _____". Here are some of the texts we got:

Alcohol was to blame when I thought it would be a good idea to rail my brother's ex. They got back together three months later.

I was drunk when i cut my cast off 3 weeks early because i ran out of diapers for my son and thought i could go back to work with a broken ankle. Month and a half later i could walk.

Alcohol was the culprit when I cut my pinkie finger off in my wood splitter. They put it back on but won't mix patrone and beer and wood splitter again.

All got drunk one night girlfriend passed out so I decided to have oral negotiations with her mom the next morning was kinda awkward.

Tried to get frisky with one of my best girlfriends(I'm a girl). She still jokingly brings it up to this day, and it completely mortifies me.

My girlfriends brother and I split a margarita bucket and thought it was a great idea to pour gasoline across the road and light it on fire... 10-15 foot flames and a huge burn mark left on the road for weeks

I showed up to my job at Burger King drunk. I started frying the burgers in the deep fryer instead of broiling them. Didn't have my job much longer after that.

Caused me to lube wrestle with my best girlfriend and then make out with her In front of all my friends at a house party!

Today's Video Blog is part 1 of our chat with Simon Pegg, Nick Frost, and Edgar Wright. They visited us to chat about their new movie "The World's End" -- in theaters August 23rd. These are the guys that gave us Shaun Of The Dead and Hot Fuzz...if you liked those films, you will love "The World's End"!



Here is the same VLOG for you iPHONE users: