On Wednesday we made the trek to Knott's Berry Farm. After a rather interesting cab ride where our cabby couldn't wait for the "big" earthquake so that he could engage in a zombie apocalypse (not kidding, needless to say I tipped him well), we made it to what I learned is the oldest theme park in the U.S.
Knott's has 2 themes...Peanuts (Snoopy & gang), and a ghost town/wild west theme. Both sides were awesome. Anytime you walk into a park and can catch a photo with Lucy and Franklin, is awesome if you ask me!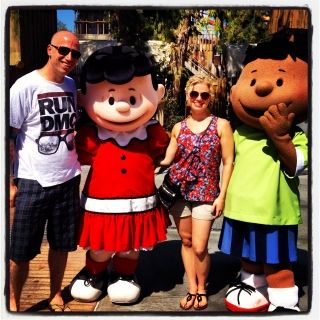 We immediately hit the rides...the first ride was the Sierra Sidewinder! This ride was a blast...it's a roller coaster with a twist...literally!!! As you are on the track, your cart is spinning on its axis!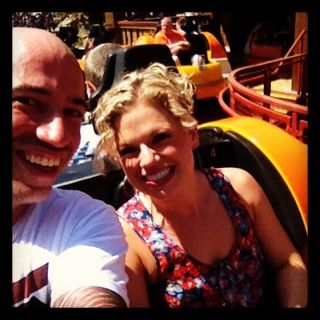 Next up was a ride I loved so much that I had to go on it multiple times...the Silver Bullet! This is one of those suspended coasters, so my feet were hanging...and this had it all: steep drops, crazy corkscrew spirals, and we went upside down 6 times!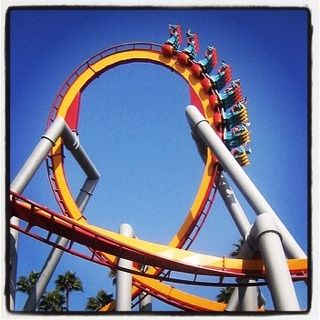 Then we were off to the races... Enjoying all that Knott's had to offer! I never got to meet Snoopy, but this was close enough....
The Ghost Town part was amazing...the detail in the way the town looked was great, as was the main attraction there: The Ghostrider!
The Ghostrider is one of the longest and tallest wooden roller coasters in the world...to quote Road Warrior Hawk: "ooooohh What A Rush!"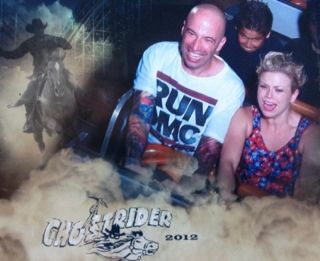 Throughout the day we experienced a ton of great rides, from the ones I mentioned, to others like Montezooma's Revenge, Jaguar, Pony Express, Boomerang...but there was one that loomed in the back of my head...the one I even dedicated my blog on Tuesday to: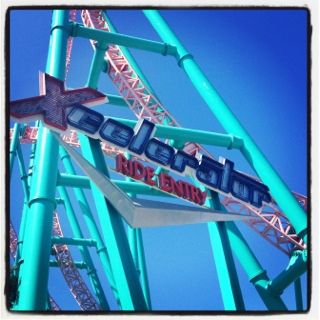 The XCELERATOR! A ride so crazy I typed it in all caps! This ride is CRAZY! You sit down, strap in, and then bam! You hit 82 mph in 2.3 seconds...yes, that is how the ride begins!!!!! You then fly up over 200 feet and immediately head down at a 90-degree angle! Can I just say...I was nervous anticipating this ride, but once I did it....it was AWESOME! If you missed my blog on Tuesday where I posted a video that features my hero Bert The Conquerer...here ya go:
As you can tell, Knott's Berry did not disappoint! Get more info at www.KNOTTS.com