---
STP's BLOG 08/12/14 "RIP Robin Williams"
Man…if you were on Twitter or any social media you are well aware of the passing of Robin Williams. Robin was found dead of an apparent suicide at the age of 63. I tweeted this about it…as I was at a loss for words, and this one stung more than most celebrity passings.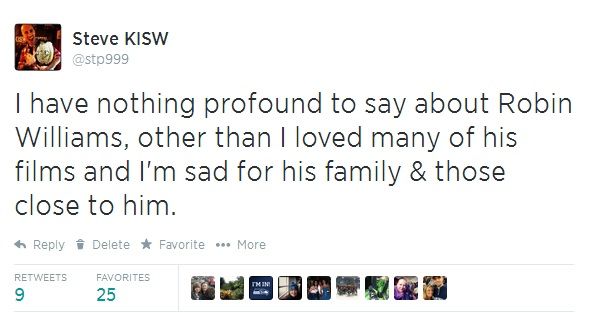 I think this might be the biggest celebrity death of our generation. All of us grew up with his movies…his comedy entertained us through the years, and he had this likeable charm that I think made us all feel like we knew him. If you ask 10 people, you might get 10 different answers as to what their favorite Robin Movie is… from films like Hook, Good Morning, Vietnam, Good Will Hunting, Dead Poets Society, One Hour Photo, Aladdin, Jumanji, Mrs. Doubtfire, the list goes on and on.

For me…my favorite will always be Popeye! I was a huge Popeye fan as a kid…I watched the cartoons all the time, and Robin nailed it when they brought it to life!



I also loved a small cameo he made in one of my favorite films… Shakes The Clown…he played Jerry The Mime, and was AWESOME in it. Speaking of Bobcat Goldthwait … if you haven't seen him in the dark comedy, World's Greatest Dad, you should check it out. It's a dark but funny film!

My friend Jonna from the Showbox wrote a great post on her Facebook page about Robin…if you have a second, read this…asd it's a great story.