---
STP's BLOG 08/17/12 "Duff & Tim"
Today on the show we had Duff McKagan on…he has a new band called Walking papers, which features Barrett Martin from the Screaming Trees, and Jeff Angell from Post Stardom Depression, and Mike McCready from a little known band called Pearl Jam too! Walking papers have a cool Bluesy Rock sound…check them out here:



You can see Walking papers tonight at Slims Last Chance in the Georgetown area, they will also be at Pain In The Grass. Tonight's show is a benefit for The Heroes Project www.theheroesproject.org. The Heroes Project is an organization that works with the veterans, solider and military families. They do a cool thing called "Climbs for Heroes" where they go on a climb supports with wounded soldiers and veterans. This organization was founded by Tim Medvetz, who also joined us in studio…this guys life is beyond fascinating!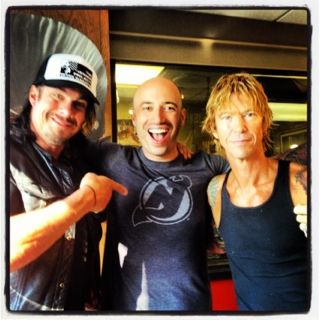 Check out this video on Tim:



According to a new survey by Dunkin' Donuts and CareerBuilder, almost HALF of American workers say they couldn't be productive without coffee. 46% of workers say they NEED coffee to get through the work day. Of that group, three out of five need at least two cups. Scientists and lab technicians are the professions that drink the most coffee. They're followed by marketing and PR professionals . . . education administrators . . . editors and writers . . . and healthcare administrators.

Half of Americans say that they cannot work without their coffee…based on this…finish this sentence… "I couldn't get through my day without ____". Here are the texts:

Couldn't get thru my day without you guys!! Seriously, you #ROCK !! -Angela (hey Toppy!!)

Steve from barrie VT (mountain Dew) need it love it 2 leters aday

I'm a pilot and I couldn't get through my work day without my buddy in the air traffic control tower.

We joke, he sings and even messes with me in the air. Keeps me sane on my repetitive daily flights!

I could not get through my day without rubbing one out Corey des moines

I can't get through my day without a good helping of peanut butter from Steve, LULU

I work accounting. my job is f'ing boring. I go through 3 rockstars a day. Without them I night nod off and cost someone a bunch of money.

I need KISW. I listen every day from Beat The Producer to the Shot of the Day. Without you guys I would go crazy. –Bjorn

The rocks morning tweets an the bj show

I can't get through the day without flirting with the hot book keeper

Couldn't get through without my morning tug

If im not on the road by the time beat the producer starts i know im gonna be late for work. Please dont ever change it from 6:47!

Today's Video Blog features a video of Vicky doing something interesting to get soap out of a soap dispenser!



Here is the same VLOG for you iPHONE users: