---
STP's BLOG 09/25/13 "Diamond Dallas Page -- DDP Yoga!"
Uh oh…looks like Burbank is catching up to us kids…we are practically neck and neck in the race for best Podcast.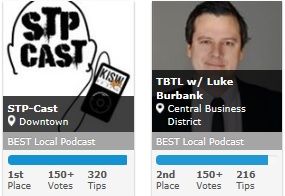 I need your help…lets blow this wide open…let's get the killer instinct…lets…uh…insert sports rally call here. Just vote! Be sure to post a comment on that page as that helps in the voting so I hear. I encourage you to be creative with your comments…like this one comment from Amanda:

From inspiring messages about staying positive to dong races, this podcast is just plain awesome!

Or this comment from Geological C. 4 days ago:

JPM for life! Didn't know Toppy loved Shemale porn so much!
You can VOTE here:

http://best.king5.com/stp-cast/biz/633659

Speaking of the STPCAST…check out this weeks, as we talk to wrestling great Diamond Dallas Page! Dallas ischanging people's lives these days with his DDP Yoga…get more info at www.DDPYoga.com , and listen to the interview here:

http://media.kisw.com/a/81282782/stp-cast-09-24-13-diamond-dallas-page-joins-us-ddp-yoga.htm?

We talk about this video in the interview…check it out, and good luck having a dry eye by the end of this video!



I have decided to do DDP Yoga, I got the videos yesterday and started it up once I got home, and I have to say…damn it was a great workout. I felt great after doing it, and I look forward to doing it when I get home today. I am sure I will blog more about it in the very near future, plus Dallas said he will join us again in a month to check in!




Thanks to DDP Yoga for retweeting us as well...I was stoked to see that!




"Life & Style" magazine shared an interesting story about Gwyneth Paltrow when she's at the gym. A source says, "Before she showers she makes someone go into the stall and wipe the entire shower dry. She refuses to touch what she calls 'somebody else's shower water.'" That's not all . . . "She also refuses to use toilet paper that anyone has touched and demands an unopened package." Gwyneth's rep says none of this is true.

Now that is an odd quirk…so what about you? Based on this, what is your odd quirk? Here are some of the texts we got:

Have to use half a roll of tp on the toilet seat before I even get close to that thing...

My odd quirk is I can't have my windshield wipers on automatic or I have count the seconds till the next wipe. It drives me insane. So I just let my windshield get to the point where I can't see then let the wipers do the magic. Brad

I have to blow my nose with baby wipes nothing else.

I will only order customized food at fast food restaurants to make sure it didn't sit under a heat lamp.

My fiancé quirk is a hat on the bed. If I leave a hat on the bed she freaks. I've learned don't do it!!! Michael in Redmond

This was actually my ex and it was so weird but whenever he scratched "himself" he smelled his fingers.

I cannot eat meat that's on the bone. I have to strip everything off of the bone and then eat it. Wings are a no go on all occasions.

I check my computer three times to make sure I cleared the porn history