---
STP's BLOG 10/18/12 "Hawks & Donkeys"
Big game tonight for us Hawks fans…the battle for 1st place in the NFC will be on the national stage. Thursday Night Football…Hawks Vs 49'ers in San Fran. Go Hawks…It's Blue Thursday, I hope you are wearing your Hawk colors. I don't own one of their sweet new jersey's as I can't afford it right now (although I would like a #25/Richard Sherman jersey one day)…but I did get this sweet shirt at Walmart for 18 bucks over the weekend: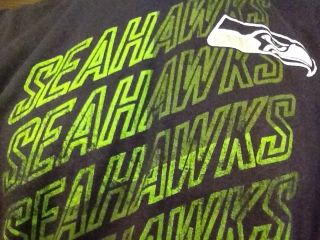 There's a new book called "You Can Be Right (Or You Can Be Married)", based on interviews with hundreds of married and divorced people. And it found that only 17% of marriages are actually happy. That's ONE IN SIX. The majority of experts say that couples therapy only works up to three-quarters of the time. Between 25% and 50% of couples who attend therapy get divorced anyway.

A new stat says that only 17% of marriages are happy…what about you? Why aren't you happy? If you are out of that relationship…why did it take you so long to get out of it? Here are the texts we received:

I'm super happy in my marriage. I wouldn't want to be with anyone else. I'm mean look at me I'm lucky to have such a hot wife RED

Unhappy because my bf has been from job to job and pay is always low. Employers never appreciate his hard work! Ever since the economy went down hill I s tay because money isn't everything and we will pull threw

Married at 19 to my HS sweetheart for 31 yrs.Very happy!!

Not happy she a crazy bitch......staying for kids...8 more years

I've been married for a year and 1 month after we got married the sex stopped and she wouldn't shut up about having kids I hate kids! attorney has ben called

I'm not because she is lazy and uses every excuse to not have a job. Her parents even agree with her. The only reason I stick around is my nine month old daughter.

Im happy with my marriage because my wifes sister knows how to keep a secret ;) ;)

Totally unhappy in my marriage but we are $100,000 upside down in our mortgage and can't get out of it and pay rent someplace else.
24-year-old Allen Casey and his boyfriend, 33-year-old Todd Fletcher, live together in Florida. But things went bad on Sunday, because of Todd's apparent OBSESSION with Alanis Morissette. Allen wanted Todd to stop listening to her constantly, and Todd said no way. They argued, and it ended with Allen smacking Todd IN THE FACE with a PLATE.
When the cops came, he told them he attacked his boyfriend over Alanis because, quote, "That's all the mother[effer] listens to." He was arrested for felony domestic battery.

Granted, you should never go THAT far, but based on this story… finish this sentence: "I'm going to lose it if I have to hear ___________ again!" Here are the texts we got:

The friends intro song.

Owl city

Josh from olympia... The gummy bear song... Search on YouTube. I hate that song with a passion

I'm going to lose it if I ever have to listen to Justin bieber, ever again...Hence why I listen to your radio station. No crap music. Brieanna in Kirkland.

I'm going to lose it if I have to hear from my ex

If I hear that Call Me Maybe song one more time!!!!!! –Stephanie

Are you gona clean THAT up!!!

Someone needs to play that stupid 'Its Friday' song for BJ.

I'm going to loose it if my wife tells me one more time " Honey we will do it tomorrow, I promise". I hear three times a week. Aaaaaaaaaaaaa

The chicken dance. I lived in Leavenworth for too many years

If i ever hear "i wasn't thinking" again from my 40 year old husband. At what point should a man start thinking and stop using excusses.

Is I ever hear my mom talk about that saprano singing guy from americas got talent andrew de lione

Its a small world...we took my inlaws to disneyland for their 50th anniv. I swear we went on that ride 15 times in 3 days....arrrrrrrrr The Dr. in Port Orchard

I'm going to lose it if my co worker who's double my age(I'm 20) and in the army reserve's complains about working to hard and not getting paid enough.

Today's video blog is all about my beer league hockey team…the Tacoma Donkeys. This is the trailer for the upcoming film "DONKEY". The film chronicles the on and off ice experiences of the most elite beer league hockey team in the known universe. There really isn't a movie done or anything…we are hoping to make one. If there are any film makers that want in on this magical journey, let me know! Keep up on the Donkeys here: www.Facebook.com/TacomaDonkeys and www.TacomaDonkeys.com


Here is the same VLOG for you iPHONE users: