---
STP's BLOG 11/20/12 "Chronic Art"
This morning we wound up talking about a talented artist in town named Cliff Maynard. Not only is an amazing tattoo artist at my buddy (and my tattoo artist) Tony Mitchell's Tattoo shop in Port Orchard – Tony's Tried & True Tattoo (www.tonystriedandtrue.com), but he is also a "chronic artist". What does that mean…seriously, you have to check this out! Cliff makes art from burnt/used roach paper. He takes all of these little pieces of paper and glues them together to make some insanely awesome artwork. He has been featured in High Times magazine for what he does…check out this Jimi Hendrix piece that he made: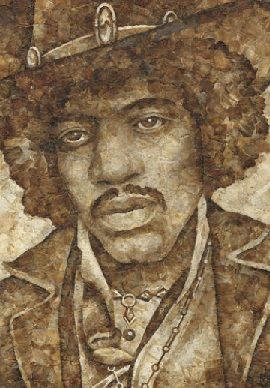 We were we wondering if he colors any of the paper, but after going to his site, www.chronic-art.com , I learned that he doesn't…the coloring is from the variety of color tones that the paper makes from being smoked. Talk about recycling! Wow…here is a pic of the process to make these roach paper mosaics: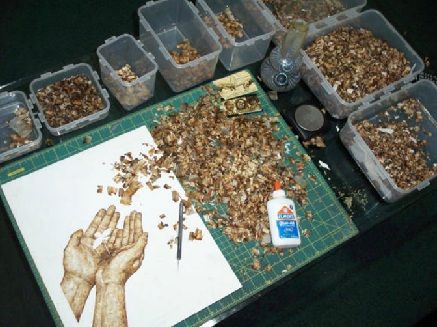 A recent survey was done on the big BURNING QUESTION of Thanksgiving:
What are you most thankful for this year? The top answer was family, and health came in second. God came in third, and friends came in fourth.

They also asked what Thanksgiving food is a must-have? Turkey was rated the most "must-have" food. Stuffing came in second, mashed potatoes were third, pie was fourth, and yams or sweet potatoes were fifth.

Based on this…finish this sentence: "I am thankful for _____." Here are the texts we got:

I'm thankful for guns and coffee

Im thankful for jack daniels honey and halo 4 -every single guy thhs holiday season-

Wakeing up in the morning next to my loved one

The men's room , your show and that d bag castle

I'm thankful for easy hot chicks who work at department stores and have no issue going lesbian with me in a dressing room. :) –KB

I'm thankful for parenting plans cause with out them I'd never get to see my 2 beautiful boys

I am thankful I survived a brain aneurysm and that my crazy ex wife is finally gone. Haha. Dan in Everett

Birth control-raw dawg pilgrim
I'm thankful for peanut butter –lulu
Speaking of Lulu…check this out! We have an escape artist on our hands. My wife left the house for less than 2 hours, and when she came back…she was greeted by our pup Lulu. Here is the problem…when we leave the house for a couple hours or less, we put Lulu in a crate….well apparently Lulu has been working on an escape plan, and it came to fruition yesterday!




It's funny…I showed this picture to some of my hockey buds when I got this pic texted to me from my wife…and one of the guys asked me what kind of vicious dog do I have…I then showed him a picture of the "vicious" Lulu!




A new study broke down women's online dating profiles and found the words that are most likely to help you get dates. Here are the top 10 most desirable words a woman can use to describe herself:

1. Witty.
2. Girl-next-door.
3. Educated.
4. Intelligent.
5. Small town.
6. Sexy.
7. Big heart.
8. Fun.
9. Classy.
10. Master's degree.

Guys...what should women put in their profile to get your attention? Ladies...what words should a guy put in a dating profile to get your attention? Here are some of the texts we received:

No holes barred

Motivated, dependable, trustworthy

"Durable"

How bout young & hung.

It's nice to see "employed" on a woman's profile

No gag reflex

Intelligent humorous and active ~biscuit

8.5" long. Enough said :)

Today's video blog is part 2 of BJ & STP's adventure in New Orleans.



Here is the same VLOG for you iPHONE users: