I'm sure you have wondered from time to time, much like myself, what is Perry Farrell up to when he's not touring with Jane's? On vacation perhaps, pumping money into some tropical third world country's economy? Kicking it with his pet chinchilla Ivan singing along to Porno for Pyros cassettes in the basement? Kegle exercises? Or maybe he's saving attractive aliens from an evil robot with the power of the key-tar. The answer is in this video.




---
BJ was a casualty of Daylight Savings Time…he was late this morning because of it. But the show must go on, so the "B" team took over…as Toppy and I talked about the big stories of the day. Ok, we hit on one story…but, my friends, this is the only story that matters today!

Last week, a 24-year-old named Ronnie and his 31-year-old girlfriend Jessica bought some steak at a Walmart in Tampa, Florida. Then they took it home, cooked it up, and ate it with their two young daughters.

After they finished eating . . . everything started looking strange…Because their Walmart steak was LACED WITH LSD.

Could you even imagine that? I can't! Damn! The crazy part is that Jessica was 9 months pregnant!!! I'm getting tripped out by this story and all I have had this morning is coffee!
They went to the hospital, and doctors had to INDUCE LABOR while Ronnie and their daughters were on breathing tubes. Fortunately, everyone turned out okay . . . and Jessica and her new baby son were released a few days later.

Even thought this has nothing to do with the story…whenever I think of people tripping on acid, I think of this scene from Hot Rod… when Dave is trippin' his face off!



Lots of changes for the Hawks in the off season…sadly Red Bryant is off to Jacksonville to play with the Jaguars, or as I like to call them, the "Junior Hawks". One guy that was picked up in the off season was Travis Beckum…Travis is a tight end, we shall see how he does on the field, but I think you will agree with me that based on his off the field antics…he will be loved in the North West! Check out this video off of his Instagram page!

http://instagram.com/p/lVnPF_R29b/#
---
Today's blog comes from one of my mentors, Dan Sanders:

I begin by paraphrasing a line from Richard III by William Shakespeare, or as my cool friends like to call him, Willie Shake: Now is the winter of our discomfort, as we shiver and wonder where glorious summer has gone, seemingly never to return. If you look at a map of the United States, excluding Florida and Hawaii, most of our land is pretty much frozen tundra from November through most, if not all, of March. There is a bill in Washington to have trade embargoes against Florida, if they continue to refuse to participate in winter.

On my small piece of land stretching into the icy Atlantic, we began many, many, many long months ago to batten down the root cellars, moor the ships, split wood for the stoves, and prepare to settle in. I'm not altogether sure how my neighbors survive these long cold months, but no doubt there is a reason there are three liquor stores within a ten minute walk from me.

This winter has truly been trying to the hardest of souls, and I feel sorry for those who have to go out and trudge across the ice through the wind to struggle for the legal tender. Living as long as I have has brought many advantages, not the least of which is the ability to cocoon and do my work from home. But my mind at this point has begun to travel in the most mysterious of ways, looking for the oddest elements of news I can find as an escape from the reality that causes icicles to drip from my windows.

As Rod Serling might have said, "Consider, if you will, some of the headlines from my last few days of exploring: an honor student sues her parents for tuition; Scientist Resurrects Mysterious Ancient Virus; a cute convict is suing a site over her mug shot." I also saw a very believable video of UFOs over the Red Sea in Egypt and have been watching a lot of odd things on Netflix.

By the time we get into the podcast, my mind will have found other things to share. Look! There's the sign post up ahead: next stop, Rambling Harbor. Come on ashore and give a listen.

http://dbsanders.podbean.com/2014/03/09/the-frozen-zone/
---
Well today is just one day away from the kickoff of the MLS season and I am excited for this one. The Sounders FC will take to the field this Saturday with a different group then we are used to but will still have the names you love in Dempsey, Evans and Alonzo. I am pumped for this season for many different reason's but the main one is that people in my ticket group. The group I sit with is a good group of guys and we are friends so it will be great to see all the fellas and grab a couple beers. The play on the field I expect to be a lot better too then the way last season ended. Also don't forget last season ended with a loss to the hated Portland Timbers in the playoff round. What a bad taste to end the season with and it seemed the boys in green never really got their footing and chemistry as a team. There was some awesome highlights but this year I am like a bunch of people and saying that this year needs to be a title year. I myself have help the US Open cup trophy (Thanks to the ECS) and I need some more hardware in my life and so do all the Sounders FC supporters. I really do think this team needs to and will win a MLS cup this year, Sigi is ready and sounds pumped for the season. Just remember it is a long campaign and keep the faith. Either way us the fans are in for another fun year of soccer......Beer Me
---
Tomorrow the Sounders kick (no pun intended) off their season at home…and I came across a great soccer inspired video. If you want to run on the field during a sporting event and NOT get tackled by security, you just have to be a kid!

During a soccer match between Brazil and South Africa on Wednesday, a little kid somehow got down on the field and started running around. Here is the best part…he didn't get into trouble, instead the players lifted him in the air and did an impromptu photo shoot with him. Check it out!


---
Linkin Park interview fun!


Heyo!!

Earlier today I had a fun chat with Chester Bennington of Linkin Park! We had lots to discuss including the RAWKING new song "Guilty All The Same"!!! Chester told some great stories including a very phallic show & tour pranks with the Deftones!

Davey Havok of AFI joined us as well. Good dude! Don't forget we got tickets for you to see the Carnivores tour stop September 13th at The Gorge.

Details here! http://www.kisw.com/WIN-LINKIN-PARK-TICKETS/18521570


Enjoy the interview!!

---
JIMI HENDRIX: Film Clip Leaks


A clip from the upcoming Jimi Hendrix bio-pic All Is By My Side has hitYouTube.
The clip features Hendrix, played by OutKast rapper Andre Benjamin, flirting withImogen Poots's Linda Keith, the onetime girlfriend of Keith Richards who inspired songs by both men. The film, which debuted last fall at the Toronto Film Festival, will have its U.S. premiere at the South by Southwest Film Festival in Austin, Texas on Wednesday. It was written and directed by 12 Years a Slave writer John Ridley.

---
You just never know what is going to happen when you first turn on the stations text line (7-7-9-9-9) … this was the first text I saw…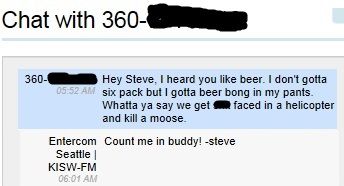 The kids on the internets love doing this #ThrowbackThursday, and I found a good one…this stems from my college days…I was clearly going through a Mike Patton phase!


Speaking of College, I came across this awesome promo that I made with my bud's Joe & Scott. This was at the height of the Beastie Boys "Sabotage" video…so we spoofed it. Our head engineer in the communications department wasn't thrilled when he found out that we hung out of a car with a school video camera that was tens of thousands of dollars in cost at the time. Here is the video…yes, that skinny guy running is me with hair!


We came across this list of things men over 30 should just NEVER wear.
1. Fedoras.

2. Choker necklaces.

3. Dangly earrings.

4. Skull jewelry.

5. Fake tanner.

6. A wrist full of bracelets.

7. Crocs.

8. Sports jerseys customized with their name on the back.

9. Backwards hats.

10. Mohawks.

Based on this list…I'm doing OK, as I don't do any…I'm closed on a couple, but I don't do exactly what is listed (cough wear jerseys with a players name on them cough).

It doesn't have to be just clothes…what is something you shouldn't do over 30? Or…what is something you wish you could still do, but you are "too old" for that? Here are some of the texts we got…

I wish I could still be banging my wife. But I'm diabetic and 45, and not everything works anymore. And she's refusing adding Viagra to the situation u ntil I can get my blood sugar levels under control.

though tempting after 30 taking a beer bong seems a little too adolescent as if ur trying to relive some old memory u want to get back...Frank the TANK! Lol

People over 30 shouldn't be going to 'the club'. That's just creepy.

My dad is over 50 years old and he still shops at zumiez and Pac sun. I'm 19 and I don't even shop that stuff for high schoolers

Video games my wife is always telling me I am too old for video games. I'm 36 and I rock the hell out of my backwards hat.

Women that wear sweats with words on the butt.

After 30 everyone should stop talking like they are from the "hood", no one should talk like that in general but over 30 you sound like a idiot

Wish I could do general admission at concerts. Just to darn old to stand there for 4 hours to see a band.

im getting too old to take drugs like lsd, molly,ect love the show, joe
Today's video blog is a Throwback Thursday! Here is an old video of me in college... lesson learned, don't let college kids host a TV show under a herbal influence!
Here is the same video for those on their phone...
---
I often blog about the weather is this will be no different. The winter as we know it has returned to the Northwest. Winter for us does not include a ton of snow in the city but a ton of snow up in the mountains. Also the return of winter for use the last couple weeks really means a lot of rain and wind. I personally don't mind the big rain storms nearly as much as I used too since I have lived here now for nine years. I will say this though when those storms do come though I don't feel like doing much. Last weekend for instance one day was just a soaker and a bunch of wind I got basically nothing done. The rain just seemed like a good excuse to do nothing and chill. If you are in a relationship then those are the nights to get a big cover and watch the tube with your girl. If you are single it is a great time to grab a big cover and watch the tube by your-self. Also keep in mind that the temperature is very important here because soon it will be rainy but over 60 degrees and that will suck because warm rain just makes you wish it was not raining so you could play outside. The rainy season is almost over and soon we can start bitching about not enough sun in June and I can't wait.
---
Hey, gang! Welcome back to another edition of Group Therapy! If you're a Rock-A-Holic who needs some advice, we're ready and willing to help!

How far is too far when it comes to jealousy? That's the question on the mind of Paul, whose otherwise-wonderful girlfriend is – his words, here – "extremely jealous." (This is already sounding like a bad deal to me. Still, we carry on.)

Is it another woman triggering the girlfriend's jealousy? Not exactly; the source of the problem is a gift from another woman. Specifically, a 2005 Chicago White Sox championship jersey, covered in team signatures, that is framed and hanging up in Paul's house.

What an amazing souvenir. I'm sincerely jealous that Paul has this incredible piece of sports memorabilia…but it's the healthy, manly, sports-related kind of jealousy, so that's totally okay.

This particular item was a gift from Paul's ex-special-lady. The new girlfriend has given Paul an ultimatum: if they move in together, he has to sell the jersey, or simply get rid of it. Love has blinded Paul to a considerable degree, because he's actually trying to figure out a way to compromise.

Personally, I think that the new girlfriend sounds like the exact opposite of championship material, and Paul should send her back to the minor leagues. Let's hear what you have to say…
---