Yesterday some of the guys (and gal) on the show finally got to experience eating my roll! That's right…BJ, Rev, Mono-Nick, Vicky, and I went to Trapper's Sushi in Kent Station for lunch! Huge thanks to Chris and everyone at Trappers for making it a great experience. I'm still full from all the sushi we had…I think this picture sums it up best…and this wasn't the only "plate" of sushi we had!


I'm not kidding when I say we scarfed those rolls down in less than 10 minutes!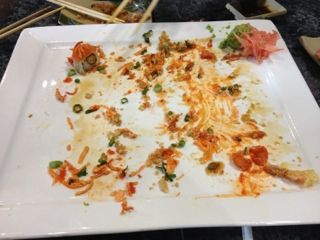 Not only did we try the new STP roll, but had some of their other rolls…the Thunderbird, and the Rock & Roll…and they were equally as awesome!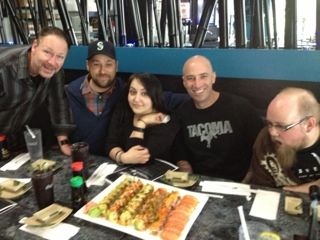 If you haven't been to Trapper's…check them out at TrappersSushi.net.

CareerBuilder did a survey on the weirdest things bosses have asked employees to do. Here are 10 of the strangest things bosses have asked employees to do:

1. One boss asked the staff to be ready to delete ALL files and email at a moment's notice.
2. A female boss asked a female employee to be a surrogate mother for her . . . on more than one occasion.
3. Another boss asked an employee to buy a rifle for him . . . and said he'd pay him back.
4. One guy asked if anyone could, quote, "hook him up" with drugs.
5. A boss had an employee come up with a science-fair project for his daughter.
6. One guy didn't want to be the one to fire his brother . . . so he asked an employee to do it for him.
7. One guy asked an employee to lend him $400 for a down payment on a car.
8. After having surgery, one woman asked her employee to help remove her stitches.
9. One boss asked for help planning her wedding.
10. And finally . . . one boss sent his employees to an abandoned office building to try to recover furniture and office supplies they could use.

Based on this list of this list of the weirdest things bosses have asked employees to do…what about you? What is the weirdest thing that your boss had you do? Or…what strange thing did you make your employee do? Here are the texts we got:

I was a usher at a movie theater and my boss asked me to go clean a bathroom stall. When I got there someone had rubbed poop all oved the stall and walls I refused to clean it and I quite. Thax Bj. Herrick

Working as a photographer my boss had us Bail and Buck Hay for two days

Boss had me do her LAUNDRY! Dirty underwear and everything. I was her assistant at a small family owned company. Most humiliating moment of my career.

I had to carry a dead guy out of our office

I had to pick up a mannequin from my boss's home. It was in his bedroom dressed as a schoolgirl.

I was asked by my boss to join him and his wife in a threesome. She was hot so I did it.

My older female boss at a company party made me give her a lap dance in my boxers. I was 16...she was 54....I didnt care I got a day off and free booze haha.

I was a manager at a Cadillac dealership. I got in a car on a service lift and made my tech put it up in the air so i could take a nap for 2 hours without being found. But in my defense i was very hung over

Today's Video Blog features BJ, The Rev, Vicky, Mono-Nick, and me...as we try out the new rolls at trapper's Sushi in Kent...including the new roll named after ne: The STP Roll! We also enjoyed some other awesome rolls on the menu...check out trapper's Sushi at www.trapperssushi.net



Here is the same VLOG for you iPHONE users: