---
STP's BLOG 05/02/13 "Mayor Of Tenino Resigns!"
Yesterday some serious crap went down! May Day May Day! The big protests happened in the streets of Seattle yesterday; everything was peaceful, until the dummy "anarchists" with their bandana on their faces tried to wreak havoc. The highlight of the stupidity was that people were doused with silly string. Yes, silly string. A TV news reporter was hit with the silly string, but most importantly Phoenix Jones the Seattle super heroes were hit as well. Things have gone too far when Super Heroes are getting hit with silly string!

The other big story was that our bud, Eric Strawn, the Mayor of Tenino, has decided to step down as mayor. Mayorjuana is saying goodbye! He tweeted to tell us this, and then I saw it on Q13's website, I got a kick out of the fact that Q13 used a pic from a You Tube video of Eric in our studios for their picture:




I tweeted Mayorjuana to see if all was good, and here was the thread….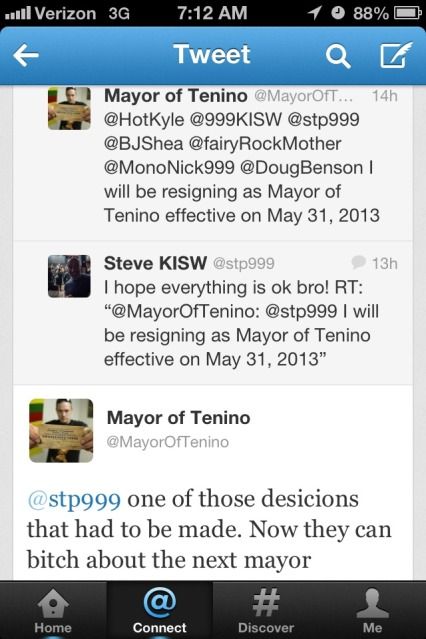 A man is accused of pretending to be a member of the band Pink Floyd at a Minnesota hospital — and racking up as much as $100,000 in unpaid medical bills. Police say the 53-year-old man went in for treatment on April 20th. He claimed he was Pink Floyd singer-guitarist David Gilmour and that he didn't have health insurance. He was treated and released, but not before signing an autograph. Hospital security was suspicious about the man's identity and his medical records were flagged. The man returned for more treatment several days later and, confronted by police, admitted he wasn't Gilmour. The man was booked into jaIl on a possible charge of theft by swindle.

Based on this… When did you or someone you know pretend to be someone you are not? Here are the texts we received:

I once pretended to be Top Shelf at a bar and got free shots of crown all night!

I once pretended to be a firefighter and made out with a chick on her bachelorette party. I noticed "kiss a firefighter" was on her list of things to do.

I pretended to be a lawyer once while getting kicked out of bar in pioneer square. The bouncer did not care

I used to pretend to be related to motocross champ Chad reed and print fake emails and autographs to get free stuff from friends back in high school.

One of my friends was pretending to be a 14 year old girl, chatting with older men online. They were sending him phones, cameras, and hundreds of dollar

I work with a guy that looks like chuck Norris so he is constantly getting asked to pose for pictures

Today's Video Blog features a gift that BJ got in the mail.




Here is the same VLOG for you iPHONE users: