I'm just going to leave this here for your entertainment…

There is a video spreading virally, and it's just a baby laughing…however; this baby laughs like an evil genius…check it out:



If you listen to our show, you know the guys like to "flag" moments when I say ridiculous things./ Nothing beats going on KISW's twitter page to see that they "flagged" a fine moment from this morning's show…

---
Welcome back to Group Therapy, gang! We like to think of you all as members of our big, weird family!

One Rock-A-Holic who likes to keep it in the family is Robert, who wrote us to say that he's thinking about dumping his girlfriend…for her mother.

It's okay, you can take a second. Go back and read it again. We'll wait here.

A couple of years back, Robert had a one-nighter with a woman, and he was definitely interested in a return engagement. She was freshly divorced, and not looking for any kind of relationship. Jump ahead to a couple of weeks ago, when he met his current girlfriend's mother. Do you see where this is going?

The mom sent Rob a friend request on Facebook, and messaged him to confirm that she would keep their mutual secret. As the conversation went further, she told Rob that she regretted not getting into a relationship with him after the one-night stand. Rob is 38, the girlfriend is 28, and Sexy Mom is 46. Guess which one of the two women he can't stop thinking about?

I need some help here, folks. I'm shaking my head so hard at this one – especially in the mom's direction – that I can't even think straight. What should Rob do about this situation?
---
We talked about this video on the air this morning...this video is nuts…literally (waka waka). Someone secretly filmed people as he had a giant bulge in his pants. His goal was to illustrate that women check dudes out in an objectifying way as well. I don't know how real or fake this is, but it's an entertaining watch. Plus the first chick is quite the looker!



This is crazy! A guy in Canada named Andrew MacDonald was in a nasty crash last month, where rescuers had to use the Jaws of Life to get him out of his car. So what did Andrew decide to do… he shot a selfie video during it! He kept filming his face while they were cutting through the car, and it seemed like shock and adrenaline took over as he was pretty chill throughout it!

I am glad he is OK…the video is crazy, but c'mon man…film it horizontally not vertically. OK…OK…he gets a pass…since the dude in in a CAR WRECK! Check it out:




So Marshawn Lynch has a movie being made called "Family First: The Marshawn Lynch Story". His little brother Davonte plays him in high school, and then Marshawn takes over for the college years. Here is a promo video that just got posted to drum up interest in the film….



I will absolutely watch this film, as I am curious to learn more about his life story – that being said, I do have to question some of the acting and writing in this video that was posted…especially that part where the guy says: "your body and your mind took a back seat while your body took over"…I will have to stew on that line for a bit as it makes ABSOLUTELY NO SENSE!
---
For today's Group Therapy session, we're going to keep it short on top. We may also take a little off the sides, and probably tease the back. Let's get started, shall we? Chop-chop!

A Rock-A-Holic named Lindsay wrote to us, looking for some advice; let's see if we can help her out. Lindsay is a hairdresser whose clientele happens to include a married couple, and she considers herself friends with the wife. The husband and his wife come in separately, and the conversation is usually pretty easygoing and friendly. During a recent appointment, however…the husband told Lindsay that he's with another woman.

(Hang on for a second. I'm going to make an early prediction about this one: the husband is trying to get with Lindsay. Men don't talk to women about this stuff unless they have an ulterior motive.)

When Lindsay reacted with shock, the man backpedaled quickly, and told her that his other woman was no problem, because he and his wife have an open relationship. Lindsay is almost completely certain that he was lying about that, because the wife has said multiple times that she would kill him if he ever cheated on her. Lindsay concedes the point that the wife may be keeping that aspect of her relationship a secret from her hairdresser, but she's worried that the husband's revelation has put her in a terribly awkward position.

What kind of advice can you offer to Lindsay?
---

We're back on the job with some Group Therapy, but we definitely need some human resources…in the form of Rock-A-Holics helping their own kind!

Sheila has some inside information about a fellow employee who's about to lose their job. Unfortunately, that employee is her boyfriend! The two of them work together, but not directly, and Sheila's a little bit higher up on the food chain than her man. It was Sheila's boss that spilled the beans, but he didn't know about the relationship; he thought he was just sharing the facts about a soon-to-be-dismissed employee whose job performance apparently isn't up to snuff. As you might expect, Sheila is feeling a bit conflicted, and she came to us for some help.

This is privileged information, and Sheila is really stuck in the middle of a bad situation. Should she tell her boyfriend that he's losing his job in a couple of weeks? There are so many things that could go wrong if he finds out his termination is imminent. People don't always take rejection and dismissal in the most mature fashion.

On the other hand, if she doesn't give him a heads-up, it probably won't take him long to figure out that his girlfriend knew about his firing in advance. The repercussions for that scenario are fairly obvious, I think.

This sounds like a job for the fine folks who read this blog! What advice do you have for Sheila?
---
It's time to play a fun game…do you think this person is attractive? Before we start the game…I have no idea what she looks like as I cannot find a mug shot…but…I think we will all have the same answer!

A 33-year-old woman in Mexico was arrested last week for "enjoying" herself in a movie theater during "50 Shades of Grey". Yes…right there in the theater. You would think that would be like the IMAX added experience for a film like this, but no…one movie goer did not enjoy seeing this. That person called the cops, and ironically…the woman was escorted out by the cops…in HANDCUFFS! The should have blind folded her too… waka waka!

So…what do you think? Toppy said it best…this woman must have been a 3…at best!

Over the weekend, the world's largest cannabis business and lifestyle expo was happening in Seattle…it's called "CannaCon", and our very own Max Long was there to report on it. Here is another edition of The Max Long Report.

---
How would you like a great way to start your day…or finish it…I guess it depends on what time you are reading this. Ok…how would you like to see an insanely adorable picture of my pup Lulu? Here you go:



Huge thanks to everyone that came out to the Seattle Thunderbirds game this pastr Saturday. The T-Birds smoked the Everett Silvertips 7-0, and all day the T-Birds helped the Ronald McDonald House raise money with their annual Hockey Challenge. As always, they did a great job with the event as it was a fun day of hockey!
Before the game a bunch of the former T-Birds and local media gathered for an autograph session…of course I had to grab a pic with Cool Bird!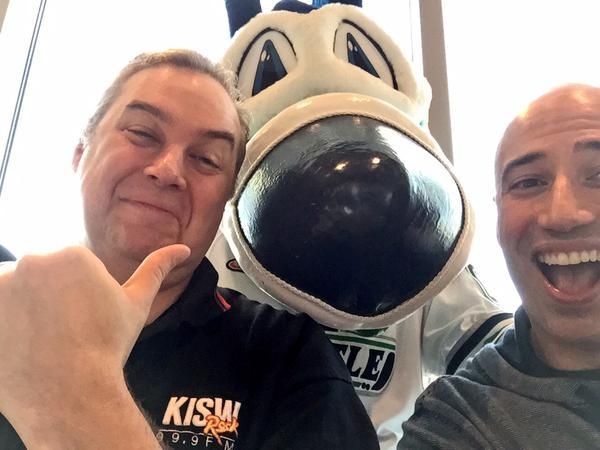 Check out this motley crew of hockey folks!




I was lucky enough to be a part of the ceremonial puck drop…



As for the game…man was it a blast! Our team, team Topshelf, wound up winning in a shoot out – thanks to the stellar coaching by Toppy…oh, and a little help from some of the former T-Birds on our team like Regan Mueller, Ryan Gibbons, and Yashar Farmanara!
Getting to spend time on the ice with some former T-Birds (as well as NHL'ers) is something that I'll never forget… it was a blast having a guy like Brendan Witt coming down and shooting on me…sure he scored 2 goals on me, but it was damn cool to experience playing with a guy that was once the captain of the Washington Capitals…plus he is one cool dude. It was great hearing his stories about living in Seattle back at the height of the Seattle music scene exploding with Nirvana, Alice In Chains, pearl Jam, and Soundgarden.




Here I am with a couple other T-Birds legends…Jamie Huscroft, and Lloyd Shaw!




Here are a couple action shots…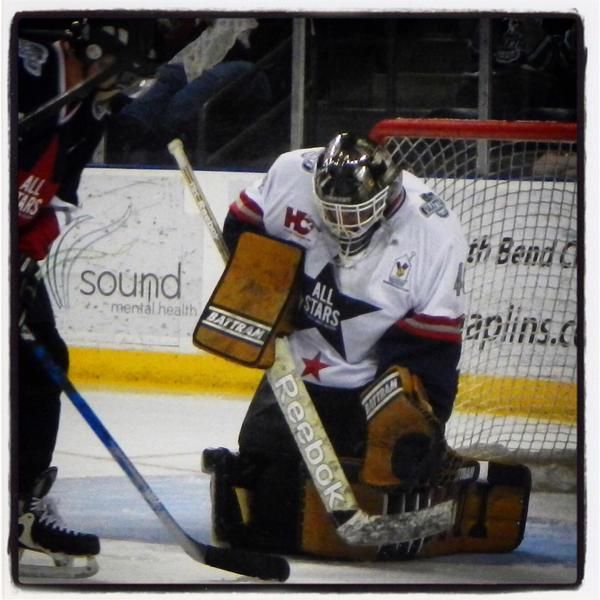 Before the big Hockey game on Saturday... Toppy popped into the locker room to see how I was doing!
---
Today's blog comes from one of my mentors, Dan Sanders:

I love sci-fi, every angle of it: music from David Bowie and his "Space Oddity" to R.E.M singing "Man on the Moon," mostly about Andy Kaufman and hoaxing, you know, like putting a man on the moon; movies like Alien, where we got to watch Sigourney Weaver give birth to a monster (and to this day still causes me to fear the worst whenever I have stomach ache); and TV from My Favorite Martian to Alphas. We've been spacing out for generations, if not hundreds of years, fascinated with what's over yonder or out there. Somehow the place we've been planted is not the place we want to grow. In fact, it seems we are hell bent on destroying what little earth we have been granted.

Now, if missing out on the winning Powerball wasn't enough to make you cry, I'm sure this will do it. The process is over for picking the final 100 applicants out of 200,000 who had their hearts set on the Mars One program and so desperately wanted to be shot to Mars and die there, 33 of them Americans. This is a $6 billion trip financed through sponsorships, crowdfunding, intellectual property revenue, and the sale of broadcasting rights. Broadcasting rights, wow! Maybe Brian Williams would like to go; I understand he needs a new gig. Or imagine being the first spaced-out spaced-out DJ. All this makes me wonder, why they are trying so hard to get off the earth? What are they not telling us?

In 1903, the Wright brothers successfully flew a plane for a whopping 59 seconds, Apollo 11 landed on the moon in 1969, and just 55 years later, in 2024, we're off to Mars. I heard one scientist say it would help us better understand the meaning and origin of creation, but sweet mother of the cosmos, we haven't done anything but screw up Earth. If there is intelligent life out there, and I'm sure there is, at some point they are going to say, "Back away from our planet, Earthlings. This is a pollution-free galaxy. Just turn your little spaceship around before we have to show you what a real probe feels like."
Oh! Guess what they are going to shoot into space next. Really!

There are more thoughts both orbiting and submerging on the shores of Rambling Harbor and one obvious blunder. In the podcast, I say that Lesley Gore died on Monday the 23rd instead of the 16th. Oops! Give a listen.

http://dbsanders.podbean.com/e/i-dont-wanna-be-a-space-man/
---

Came across this YouTube video channel called SockPuppetParody that had me on the floor laughing! What creative genesis!! Take a music video and create it using sock puppets and changing the lyrics to wash machine related themes. Example: Metallica = Lintallica / Slayer = Stayner / Static X = Static Cling / etc. Then you have the lyric changes...just watch the views and laugh!!!! My favorite has to be the Rage Against The Washing Machine video...classic!!! Ha! Check them out on Facebook: www.facebook.com/sockpuppetparody YouTube: www.youtube.com/SockPuppetParody
"Iron" Mike Savoia
Nirvana - Smells Like Teen Spirit (Sock Puppet Parody) - Smellvana "Smells Like Stinkhole"
Metallica - Master of Puppets (Sock Puppet Parody) - Lintallica "Master of Sock Puppets"

Slayer - Raining Blood (Sock Puppet Parody) - Stayner "Raining Bleach"

Rage Against the Machine - Killing in the Name (Sock Puppet Parody) - Rage Against The Washing Machine "Searching For The Lost Sock"

Static X - Push it (Sock Puppet Parody) - Static Cling "Sew It"

Radiohead - Creep (Sock Puppet Parody) - Sockhead "Sock"

Sex Pistols - Anarchy in the UK (Sock Puppet Parody) - Sox Pistols "Mess-Anarchy"

---
Hello again, good people! Let's all be friends to a fellow Rock-A-Holic, and gather around for some Group Therapy!

Thomas just learned that his girlfriend has an arch-nemesis…and she happens to be someone that Thomas used to hook up with!

The whole thing started when the girlfriend started a new job a couple of months ago. As she settled in to her new gig, she started complaining to Thomas about a co-worker that gives her a real hassle on a regular basis. It didn't take long for her to start absolutely hating this mysterious woman, and when she recently showed Thomas a picture of her work group, he realized that he recognized the enemy. This was a woman he hooked up with a few times, but it wasn't serious.

Unfortunately, he's going to be in the same room as both women very soon, as a work function will force him to confront the issue. Thomas is worried that the woman will recognize him, and their past will be revealed; whether the truth comes out by awkward accident, or as a malicious revelation from this woman who picks on his girlfriend, things aren't looking very good.

Thomas, you are on the highway to the Danger Zone. You need to decide if you're going to reveal the truth in advance, or let it come out awkwardly. I'm turning this one over to the Rock-A-Holics, because you need all the help you can get…
---